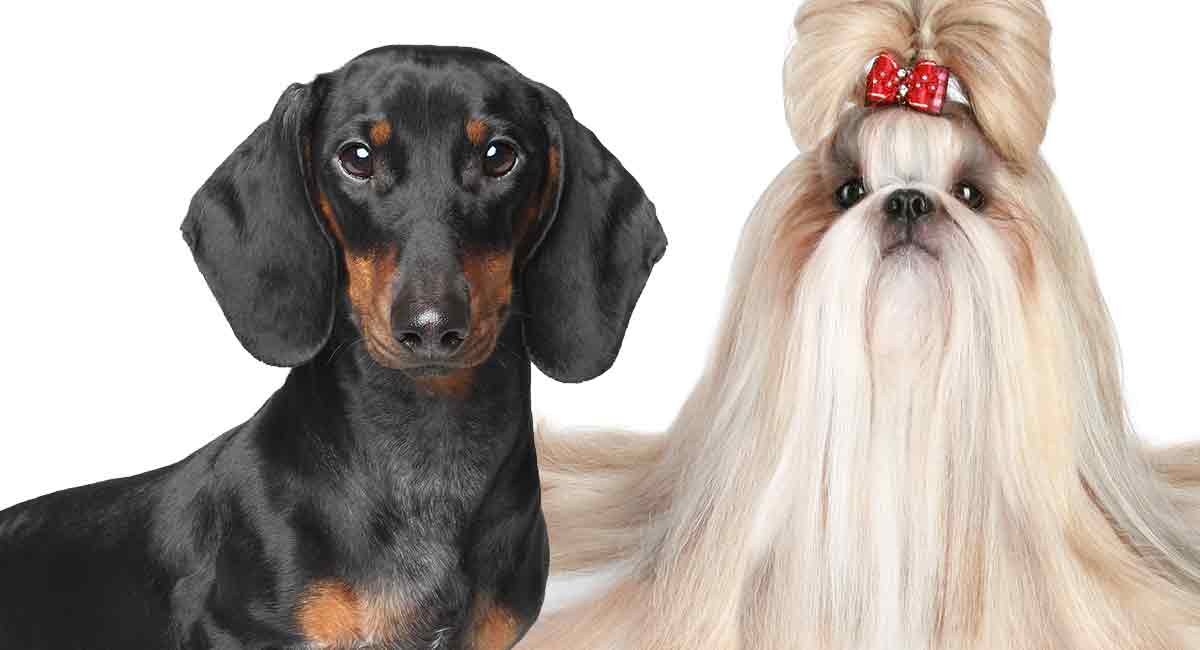 Would a Shih Tzu Dachshund mix be right for you?
The breed is a hybrid dog.
The parent breeds are the Shih Tzu and the Dachshund.
These are small dogs, but their size may fool you.
They are brave and playful pups, with big hearts.
But are they the right fit for your family?
Where Does the Shih Tzu Dachshund Mix Come From?
DNA analysis placed the ancestors of today's Shih Tzu breed in the group of "ancient" breeds.
People say that the breed originated around 800 BCE in China, hence the name "Lion Dog."
The Shih Tzu was such a valued dog that the Chinese refused to trade, sell, or give any away.
This breed of dogs was first brought into Europe in 1930 and was classified by the Kennel Club as "Apsos."
The first European standard for the breed was written in England in 1935 by the Shih Tzu Club.
Later, the dog spread throughout Europe and was brought to the United States after World War II.
The modern Dachshund is a creation of German breeders and includes elements of German, French, and English hounds.
The first references to the Dachshund came from books written in the 18th century.
The Dachshund was initially named the "Dachs Kriecher" (badger crawler) or "Dachs Krieger" (badger warrior).
This hybrid is a mix of these two dogs.
There is some controversy surrounding hybrid breeds.
Some people claim that these dogs make bad pets due to their unpredictability.
On the other hand, though, they also tend to be healthier than purebred dogs, thanks to their more diverse gene pool.
Fun Facts About the Shih Tzu Dachshund Mix
The Dachshund was intended to be a hunting dog.
This breed is commonly known as a Schweenie among breeders.
The Dachshund is a brilliant dog.
The Shih Tzu breed is more than 2,000 years old.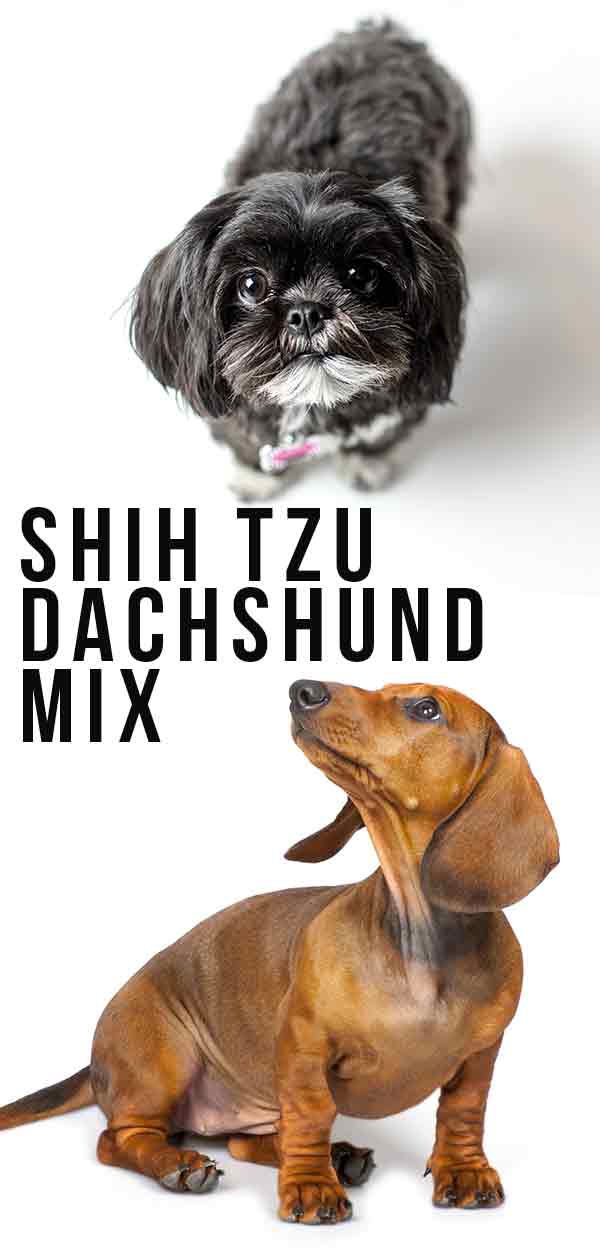 Shih Tzu Dachshund Mix Appearance
Because this breed has Shih Tzu in the mix, Schweenie dogs are ordinarily short and small.
While they usually have a good mix between the Shih Tzu and Dachshund, you can expect common coat colors of:
white
black
brown
gold
cream or orange
Black is the most common color for this breed.
They tend to have longer hair length.
They have broad shoulders, floppy ears, dark eyes, and tend to get their legs from the Dachshund parent.
Their size, shape, and weight will vary from pup to pup, but they usually weigh around 9 to 20 pounds and stand 11 to 20 inches when fully grown.
Shih Tzu Dachshund Mix Temperament
The Shih Tzu has a loyal, affectionate, outgoing, and cute personality, but they can be stubborn when it comes to training them.
Since the Shih Tzu tends to have a good personality, they typically interact well with children and adults.
The Shih Tzu also makes an excellent watchdog.
This trait makes them alert and vigilant, and theycan reliably bark when someone unexpectedly approaches your home.
If not adequately trained, the barking can get out of control, so teaching them early on to obey commands to not bark can help cease barking.
The Dachshund is known for its daring nature and will sometimes take on other animals larger than they are.
Additionally, the Dachshund can be aggressive towards other dogs and strangers.
These are great family dogs because they usually are good with children.
They also make excellent watchdogs.
Another excellent quality of the Dachshund is how intelligent and independent they are.
Training Your Shih Tzu Dachshund Mix
When it comes to training your new puppy, you will need to make sure you house train them.
This training will keep you from having any unwanted accidents in the house.
Here is an article to begin training.
It is also essential to crate train your dog.
This mixed breed can experience separation anxiety, so crate training should take place deliberately and gradually.
Luckily, we have an article to help you out on this.
You need to pick a small dog crate that allows your dog to sit, stand, and turn around.
The crate should also have ventilation on all four sides.
Making a walk schedule to give your dog exercise is a good idea.
This schedule will ensure that your dog can use the bathroom and give your canine the daily activity they will need.
Making sure your dog gets along with others is also very important.
To get a start on this, you need to understand your dog and how to go about socialization.
We recommend reading this article to begin.
You can do this by letting them play with other dogs their size or playing with other family members.
This will help them get used to being around other people or animals and possibly help with barking issues.
This breed does have spinal and breathing problems though, so all exercise and training sessions should be kept short.
Shih Tzu Dachshund Mix Health
The Shih Tzu and the Dachshund both can suffer from intervertebral disc disease.
This disease can cause back pain, loss of coordination, and paralysis.
Other common issues with the Shih Tzu are breathing problems, eye issues, and hypothyroidism.
This breed tends to live from 10 to 16 years.
The Dachshund breed itself is prone to spinal problems.
Their long spine and short rib cage can cause many issues.
Another common health problem with the Dachshund is patellar luxation, where the kneecap can become dislodged.
Dachshunds may also be affected by osteogenesis imperfecta (brittle bone disease).
Together, this breed will need the right amount of attention due to their separation anxiety, active lifestyle, and common spinal issues.
Make sure to brush and groom your dog to also help with any skin or fur issues.
Do Shih Tzu Dachshund Mixes Make Good Family Dogs?
The Shih Tzu's docile personality makes them a perfect fit with kids.
The Dachshund can sometimes be aggressive towards other dogs and strangers.
As a family dog, they are very loyal companions and watchdogs.
This breed does suffer from quite a few health problems, however.
Both the Shih Tzu and the Dachshund have elongated backs.
This unproportional back makes them prone to spinal issues, like we have discussed.
The Shih Tzu's shortened snout can also cause this mix to have breathing problems.
These problems can significantly affect this canine's quality of life and cause many long-term health problems.
For this reason, we recommend adopting an adult dog.
This will prevent you from purchasing an unhealthy puppy that might have lots of spinal and breathing problems.
Rescuing a Shih Tzu Dachshund Mix
If you decide that you want to rescue a Shih Tzu Dachshund mix, you will need to keep a few things in mind.
Like any rescue dog, they will need time to get used to a new environment.
Because this breed is more playful and affectionate, it shouldn't take them too long to get used to their new surroundings.
Sadly, it is common that a rescued Shih Tzu Dachshund will have knotted hair and skin problems.
You will need to take proper precautions before rescuing the dog to make sure that you can take care of the hair and skin problems that they may have.
Also, you will need to watch out for fleas.
Because these dogs have longer hair, you will likely need to treat them for fleas if the shelter hasn't already.
Finding a Shih Tzu Dachshund Mix Puppy
Finding a breeder dedicated specifically for Shih Tzu Dachshund mix breeds can be a little tricky.
However, mixing breeds are growing in popularity among breeders, making mixed breeds more common.
We recommend reading our complete guide on finding a healthy and happy puppy.
This article will help ensure that you get a dog from an ethical breeder that is as healthy as possible.
You want to avoid adopting a puppy from a puppy mill, due to their unethical breeding practices.
You also want to avoid pet stores, as they are most likely to stock puppies from a puppy mill.
Raising a Shih Tzu Dachshund Mix Puppy
One of the first things you want to do is make sure you feed them the right food and get them on a proper training and exercise regimen.
Feeding your dog is one thing, but you want to make sure you get them the right nutrients to keep them happy and healthy.
While this breed is known to be stubborn when trying to train them, there are some different actions you can take to get them on the right track for successful training.
Shih Tzu Dachshund Mix Products and Accessories
Because this breed is prone to having a narrow mouth, you may want to consider this when choosing toys for your dog.
This breed is courageous and active.
You will need a toy small enough to bite onto and durable enough for frequent use.
We recommend taking a look at our article about squeaky toys.
It will give you everything you need to know about the toys and maybe help you find the perfect toy for your dog.
Pros and Cons of Getting a Shih Tzu Dachshund Mix
Cons
Shih Tzus are prone to intervertebral disk disease, which is a common disorder for these dogs, causing acute back pain, loss of coordination, paralysis, and loss of ability to feel deep pain sensations.
The Dachshund breed is prone to spinal problems, especially intervertebral disc disease.
This disorder is due to an extremely long spinal column and short rib cage.
This breed also can be stubborn like the Shih Tzu.
It can also be aggressive to strangers and other dogs.
Pros
This dog will bring joy with its personality.
It is loyal, affectionate, outgoing, and cute.
They are playful with other dogs, adults, and children.
Despite their issues, they are brilliant dogs.
With this intelligence, you can give this canine a command, and they will listen 50% of the time or more.
Plus, they are known for their devotion and loyalty.
Similar Shih Tzu Dachshund Mixes and Breeds
Because of this breed's health problems, we recommend choosing a different dog breed instead.
If you want a dog that is like the Shih Tzu or Dachshund, we recommend looking into other toy dogs that have fewer health problems.
These include
Bolognese
Border Terrier
Coton de Tulear
Norfolk Terrier
Shih Tzu Dachshund Mix Rescues
There are a bunch of rescues for this type of dog.
If you would like to be added to this list, comment below!
Is a Shih Tzu Dachshund Mix Right for Me?
This breed mix is very intelligent but has the potential to sometimes be aggressive.
Due to the long back of this breed, they may be prone to have spinal issues too.
Sadly, we cannot recommend this dog because of its pervasive health problems.
Instead, we suggest choosing a toy dog with a more proportional back and longer snout.
If you do choose a smaller breed, check out our guide to small dog names!
References and Resources
Deborah L. Duffy "Breed differences in canine aggression" Applied Animal Behavior Science. 2008.
Cord Drogemuller "A Missense Mutation in the SERPINH1 Gene in Dachshunds with Osteogenesis Imperfecta" Abstract. 2009.
William A. Priester "Size, and Breed as Risk Factors in Canine Patellar Dislocation" Journal of the American Veterinary Medical Association. 2012.
Morgan JP "Vertebral canal and spinal cord mensuration: a comparative study of its effect on lumbosacral myelography in the dachshund and German shepherd dog" Journal of the American Veterinary Medical Association. 1987.
William A. Priester "Canine intervertebral disc disease – Occurrence by age, breed, and sex among 8,117 cases" Theriogenology. 1976.
Heng-Kuang Chou MD "An Unusual Cause of Thyrotoxic Periodic Paralysis: Triiodothyronine-Containing Weight Reducing Agents" The American Journal of Medical Sciences. 2009.