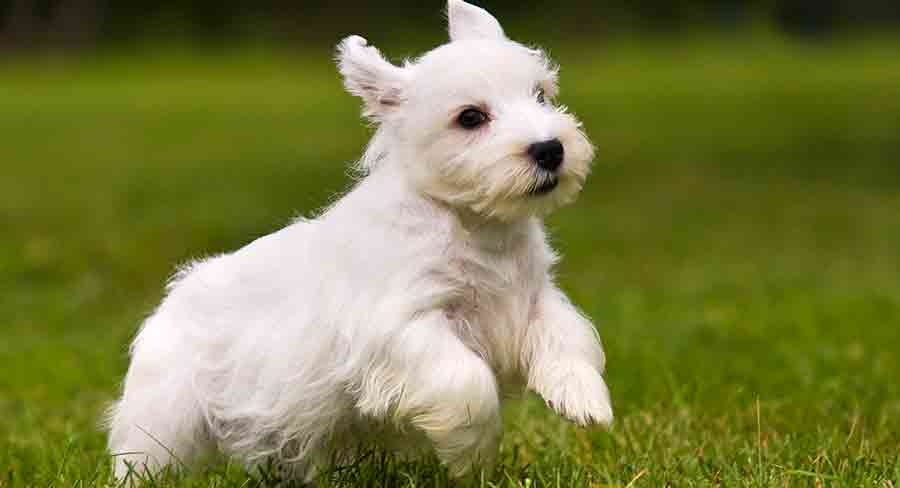 The Sealyham Terrier is a small but sturdy breed. These short dogs grow to around 10.5 inches tall, weighing from 20 – 24 pounds as an adult.
Their only coat color is white. But, black, tan, lemon, or badger markings are possible. This coat color hails back to their original purpose as otter hunters.
Sealyham Terriers are not very popular nowadays. So, finding puppies might be hard. But, this can also mean breeder waiting lists are shorter!
Is this your new ideal family dog?
Sealyham Terrier – Quick Links
Are you thinking about welcoming this small and personable terrier into your family? Here are the top things you'll need to know about.
To get started, let's find out where this breed first came from, and how that history shapes it today.
Sealyham Terrier History and Original Purpose
This small terrier breed was first established in Pembrokeshire, Wales by a man named John Edwardes.
In the mid-1800s, Edwardes set out to create a breed that could tackle otters, which were then considered pests.
No one knows exactly which breeds Edwards combined to create the Sealyham. But, some potential contributors include:
Dandie Dinmont Terrier
Wirehaired Fox Terriers
Sealyham Terrier Fun Facts
Nowadays, the Sealyham Terrier is more common as a family pet or therapy dog. Its popularity has waned in modern years.
But, in its earlier years, the breed enjoyed huge admiration. Famous owners included Elizabeth Taylor, Cary Grant, Alfred Hitchcock, and even Princess Margaret!
Sealyham Terrier Appearance
Sealyhams are a small breed with short legs. In total, they will grow to be around 10.5 inches tall.
However, despite their short height, they are quite stocky dogs. As adults, they tend to weigh somewhere between 20 and 24 pounds.
Females are usually shorter and lighter than males.
They have folded ears, dark oval eyes, and a generally powerful appearance.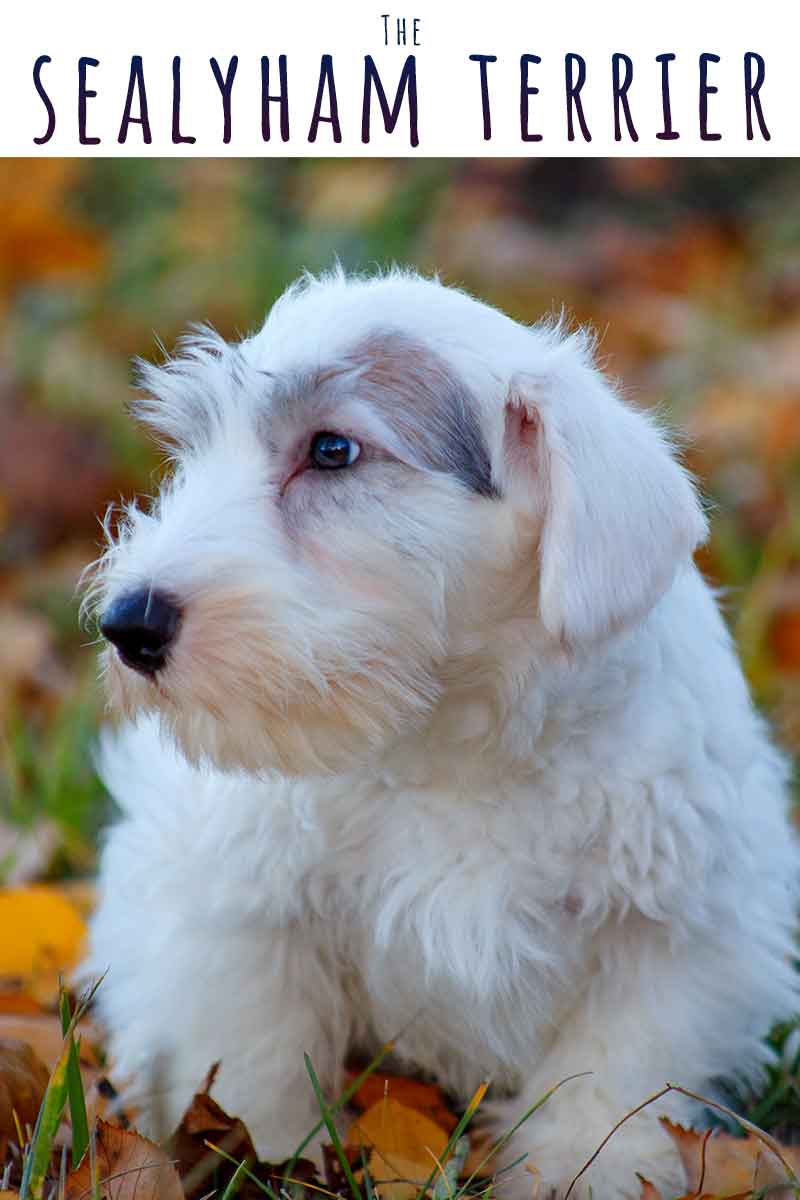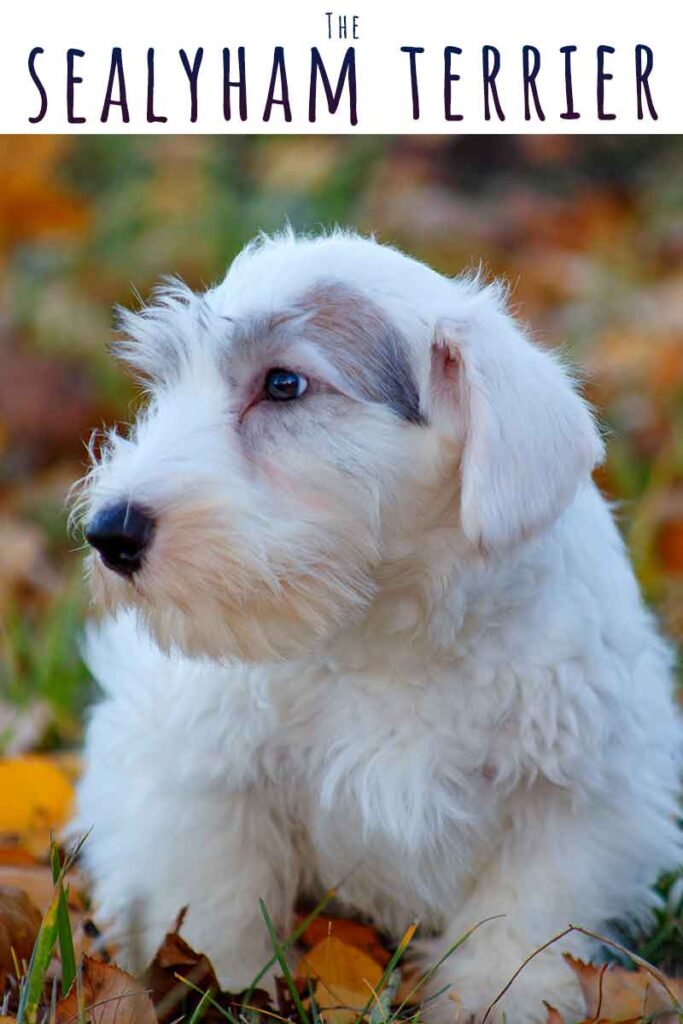 Coat Type and Colors
Since they were first bred for outdoor pest control, Sealyham Terriers have a weather-resistant, double layered coat.
Their undercoat is soft and warm, but the outer layer is wiry and coarse to the touch.
Sealyhams were bred to have white coats that would help them stand out against the undergrowth whilst hunting.
However, they can also have the following markings:
Sealyham Terrier Temperament
The Sealyham breed is alert, courageous, and energetic. All traits that helped them in their original role as a pest exterminator.
Since they were originally bred to work at distance from their owner, they have a confidence in their own decision making skills which can seem like stubbornness today.
We will look at some ways to work around this in the training section coming up.
These little dogs will form strong bonds with their families. When socialized from a young age, they are affectionate, friendly, and very playful.
They often do well in homes with older children, and can be good with other pets when raised together.
However, due to their natural hunting instincts, they may chase and nip other animals. Particularly small pets like cats or rabbits, and potentially even young children.
Sealyham Terrier Training and Exercise
Since Sealyhams are a relatively small breed, they don't need as much exercise as larger working breeds.
But, they do need active periods every day to burn off energy and stretch their little legs. Ideally, time to run or play in a safely enclosed yard or area is great.
Or, you can take your Sealy for a walk in the morning and evening.
Training will also offer your Sealyham Terrier a generous helping of mental exercise.
However, make sure to stick to positive reward methods. These help to forge a strong bond between the two of you, and build motivation – which overcomes that terrier 'stubbornness'.
Start socialization and training from a young age for best results. Keep training sessions short, consistent, and engaging.
Sealyham Terrier Health
On average, Sealyham Terriers tend to live to around 12 years old. However, with proper care and a good breeder, some puppies can live into their mid- or late-teens.
Like any dog breed, there are some hereditary problems that owners should be aware of and look out for.
In particular, the Sealy can be prone to certain eye issues.
Owners should be aware of the following:
Retinal Dysplasia
Primary Lens Luxation
Ear infections
Tear stains
Eye infections
Sealyham Terrier Grooming
Sealys have a double coat that can become easily matted, particularly if they're working or spending a lot of their time outdoors.
Owners should learn how to groom them, brushing them every few days. And, will need to hand strip or clip their Sealy's coat regularly.
Since Sealyham Terriers have white fur, dirt and stains can show up easily. So, in general, they will need bathing every few weeks.
But, in reality, you may find yourself having to wash them more regularly. Take particular care around their eyes and keep watch for any infections.
You can wipe away tears stains gently with a damp cloth to try and prevent red marks.
During grooming sessions, you should also trim their nails if needed, and always check their ears for infection or waxy buildups.
Are Sealyham Terriers Good Family Dogs?
For the right home, Sealys can make a great family pet. However, they may not suit households with very young children or other small pets.
In addition, first-time owners may find them quite hard work to train.
Sealyhams will be friendly, playful, and energetic. They make great dogs for homes that want a fun-loving companion.
They need regular exercise, but will also be content to curl up on the couch with you after a busy day.
Owners must also be prepared to care for their coat – including hand-stripping fur and wiping away dirt regularly to avoid staining.
All in all, these little dogs can be great pets. But, don't be fooled by their small size, they will need plenty of time and care dedicated to them!
Finding Sealyham Terrier Puppies
If you've fallen in love with this uncommon little Welsh breed, you'll be looking for Sealyham Terriers for sale.
However, since this breed is not hugely popular, finding a puppy can actually be quite tough.
Make sure to look for reputable breeders that health screen dogs before breeding them, and are aware of the health issues that can affect Sealys. Particularly eye issues.
You may need to sit on a waiting list for a while until puppies become available. But, finding a healthy puppy will make this wait worthwhile.
Price of puppies will vary depending on your location, the parentage, demand, and more.
But, you can get started on your search using our puppy search guide.
Sealyham Terrier Rescue
If you're struggling to find a puppy, or simply don't mind how old your dog is when he or she comes home, you can also consider rescue.
This is a great way to help Sealys that may have been given up because of health issues, or just those that have lost their previous homes.
Make sure to work with rescue center staff to make sure your chosen Sealy will suit your home, including getting along with current pets and any kids.
Rescue dogs are usually much cheaper than puppies. But, you may struggle to find Sealyham Terriers up for adoption, since the breed is still so uncommon.
If you can't find any Sealy-specific rescues, you can also consider looking at general terrier breed rescue centers.
Let staff know what breed you want, and they may be able to contact you if one comes in.
Sealyham Terrier Products and Accessories
If you've secured your terrier pup, here are some great product guides to help you prepare for their arrival home!
Do You Have a Sealyham Terrier?
This small terrier breed is quite uncommon, despite being around since the 1800s! But, they can make a great family pet in homes with plenty of time for interaction and grooming.
Do you have a Sealyham Terrier at home? Or is a Sealy going to be your next family dog?
Readers Also Liked
References and Resources
Hughes, E. 'Sealyham Terriers: The Dogs that are Small, Friendly, Full of Character and Great for Families', Country Life (2020)
'Official Standard of the Sealyham Terrier', AKC (1974)
Adams, V. (et al), 'Methods and Mortality Results of a Health Survey of Purebred Dogs in the UK', Journal of Small Animal Practice (2010)
Ashton, N. (et al), 'Retinal Dysplasia in the Sealyham Terrier', The Journal of Pathology and Bacteriology (1968)
Gould, D. (et al), 'ADAMTS17 Mutation Associated with Primary Lens Luxation is Widespread Among Breeds', Veterinary Ophthalmology (2011)
Farrell, L. (et al), 'The Challenges of Pedigree Dog Health: Approaches to Combating Inherited Disease', Canine Genetics and Epidemiology (2015)