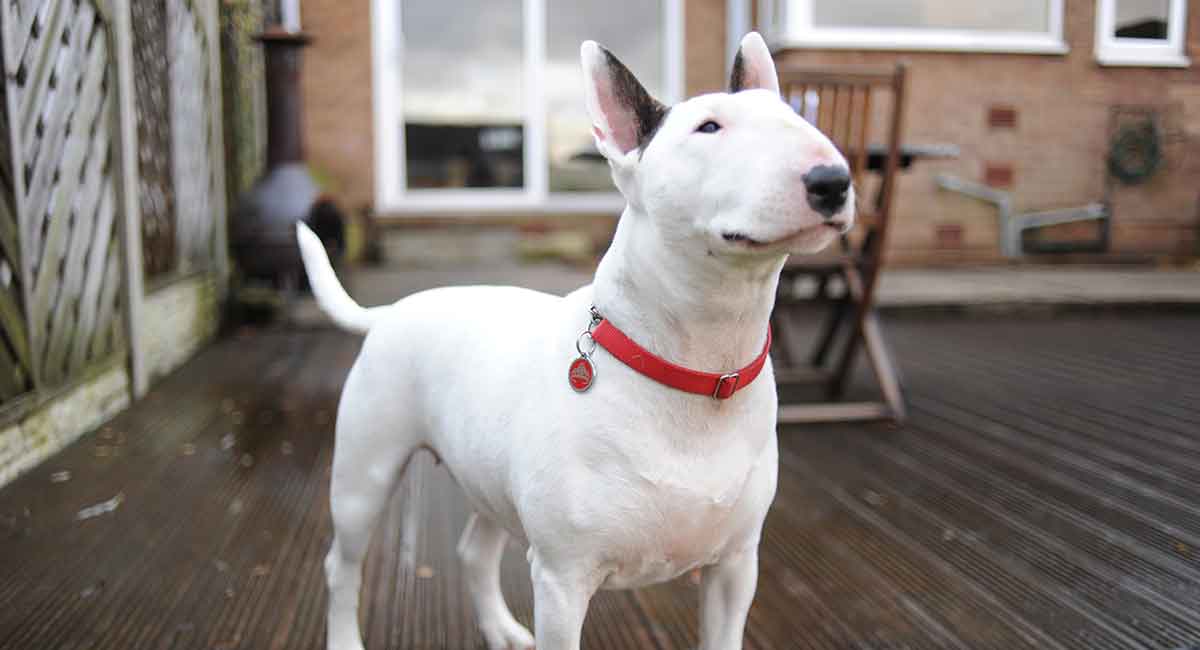 The English Bull Terrier is a strong, muscular bodied dog, with a unique rounded head and short, shiny coat. They come in a Standard or Miniature size, and their characteristics pair the feistiness of Terriers with the power of Bulldogs. Today we'll look at how these breed traits fit in with family life as a pet or watch dog. And learn all about the English Bull Terrier's temperament, personality and health too. We'll look at where to find a Bull Terrier puppy, and how to raise them into a happy adult with a long lifespan.
Although not traditionally associated with being a lap dog, a purebred Bull Terrier puppy can still be very cuddly and loyal to their owner. Provided you train and exercise them properly, they can even make great apartment dogs. Although the Teacup or Micro Bull Terrier varieties are generally best avoided, these are generally fit and active dogs with amazing loyal natures and a distinctive physical appearance.
What Is A Bull Terrier?
A Bull Terrier is a confident medium to small sized dog with a rounded head and alert attitude. They are known for their pale colors and brave character.
Popularity: Ranks 62 out of 193 on AKC
Purpose: Agility, companionship.
Weight: 50 to 70 pounds (standard), 18 to 28 pounds (miniature)
Temperament: Lively, intelligent and strong-willed
Your Top Bull Terrier Questions
Get answers to some of your burning questions:
History and original purpose of the Bull Terrier
English Bull Terriers were originally cross-breeds created to combine the audacious Terrier with the powerful Bulldog.
In the early 1800s in Britain, dog fighting and bull baiting became a common form of entertainment.
Bull Terriers were created as a powerful dog with lots of energy that could defeat its opponents.
Soon enough, dogfighting was banned and suddenly the fiery bullies were bred to be a companion to upscale gentlemen.
The breed was first welcomed into the show ring in Birmingham in 1862, brought along by a man called James Hinks.
He wanted to turn a fighting dog into a good pet, so he crossed his own white English Terriers, and other Bulldogs to sweeten its temperament. Little by little, the dog we know and love today was born.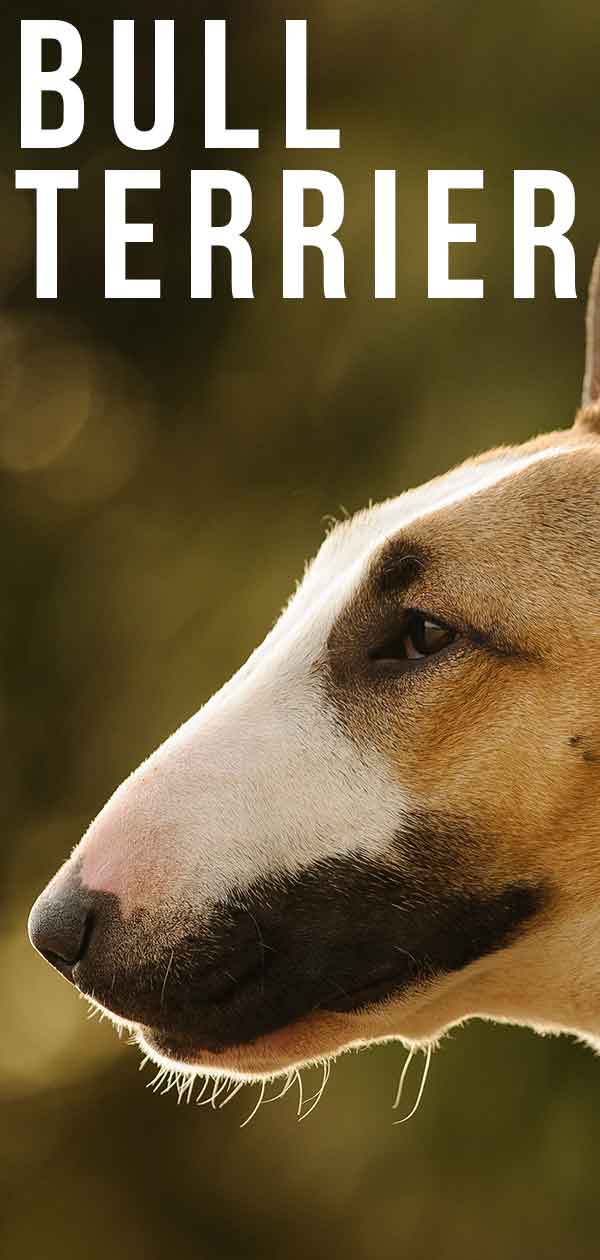 Fun facts about the Bull Terrier
Bullies have become a staple of popular culture.
In the late eighties, a fictional Bully called Spuds Mackenzie was used in a Bud Light beer campaign.
Nowadays, a miniature one named Bullseye is the mascot of Target.
Their solid build and smart eyes have distinguished them from other breeds.
Bull Terrier Appearance
The Bull Terrier's shape and size reflect the job he used to do.
They are stocky and well-muscled, which gave them an advantage when fighting. The signature feature of the breed is the unique shape of their heads.
The current Kennel Club breed standard states "Viewed from front egg-shaped and completely filled, its surface free from hollows or indentations. Top of skull almost flat from ear to ear. "
Nevertheless, before the early 1900s this feature wasn't part of the standard. In fact, dogs bred by non-show lines still have more traditional canine skulls, while show-bred lineages have more prominent ridges on their foreheads.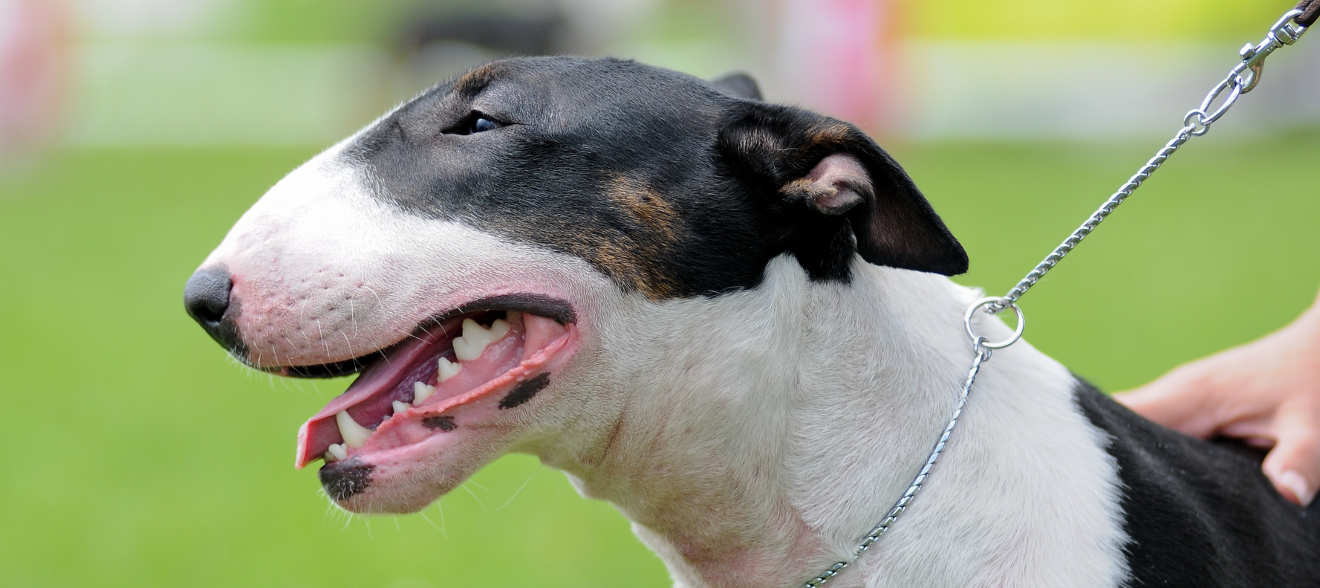 Whether you like this extreme look is a matter of personal preference, but there has been concern about the "egg-shaped" head having health consequences.
Color-wise, Bullies come in many shades, although a majority of them feature some kind of white in their coats.
These are medium-sized dogs although they vary a lot in size. An average standard bully is around 60lbs, but a miniature can be significantly smaller.
You can estimate your puppy's final size using our growth chart here: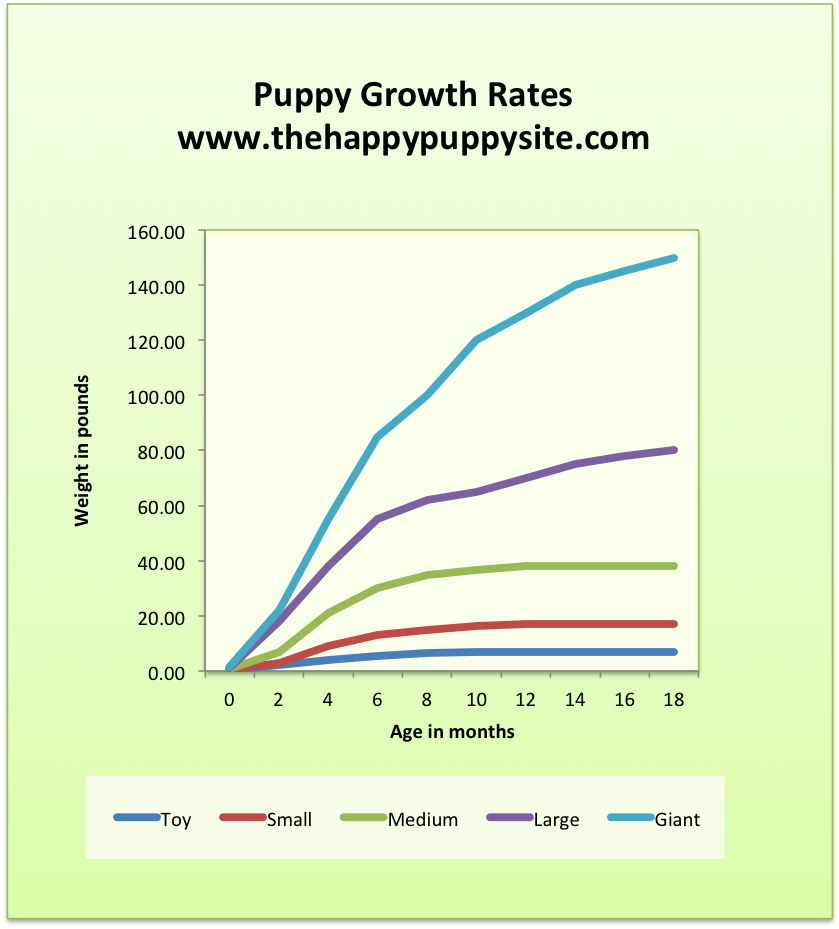 If you think a Standard bullie might be too big, check out the smaller version!
Mini Bull Terriers
Miniature Bull Terriers have all the appeal of their standard counterparts in a neat little package.
They originated around the same time as the standard variety and were recognized as a breed in England in 1939 and in the US in 1991.
Standing at around 10 to 14 inches tall and weighing between 18 and 28 pounds, mini Bull Terriers might be better suited for smaller spaces. Keep in mind these little furballs still need lots of exercise!
Miniature Bull Terriers have pretty much the same traits as the standard ones but are a little more prone to suffer from patella luxation.
Aside from that, Miniature Bull Terriers have the same character as their standard counterparts.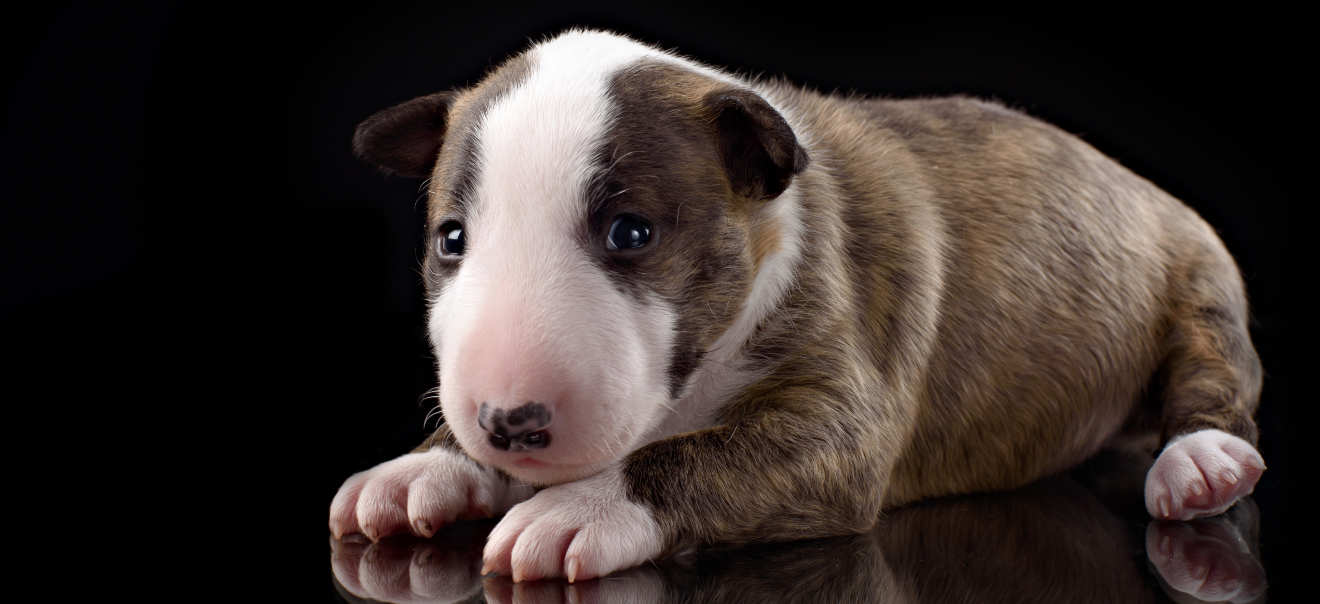 Bull Terrier Temperament
Most people are aware that Bull Terriers have a reputation for being tough. Nowadays, the breed is still prone to being strong-willed, like other Terriers.
Even though they are significantly tamer than they were a couple centuries ago, an inclination to pick fights with other dogs does sometimes still shine through.
On occasion, this can extend to misplaced aggression. It can be against people when provoked, or when they feel provoked.
Nevertheless, a 2010 study found that when adequately socialized, Bull Terriers reacted appropriately to threatening situations and behaved themselves without aggression.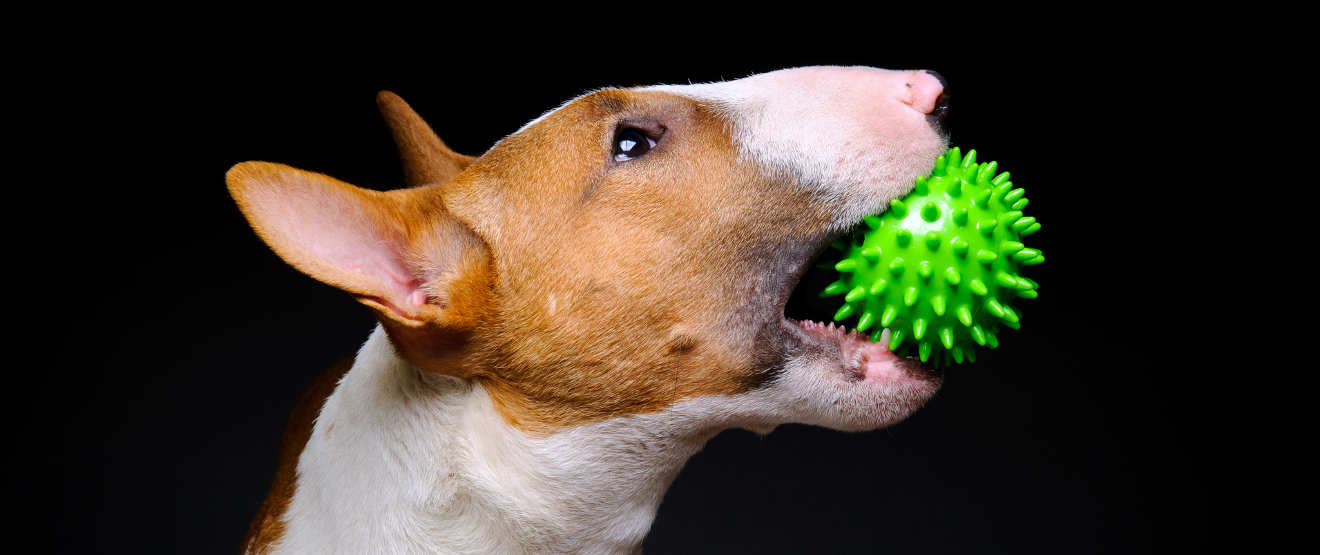 Contrary to their original purpose, Bull Terriers are affectionate and loyal, boasting spirited terrier playfulness.
They also enjoy acting like a fool, playing with their toys and giving their families hours of entertainment.
In order to properly enjoy the true character of your bully, it's important to offer a solid training program.
Training your Bull Terrier
This breed tends to thrive in calm and placid conditions. To help your pup stay calm even under unpredictable circumstances, socialization is a key part of their training.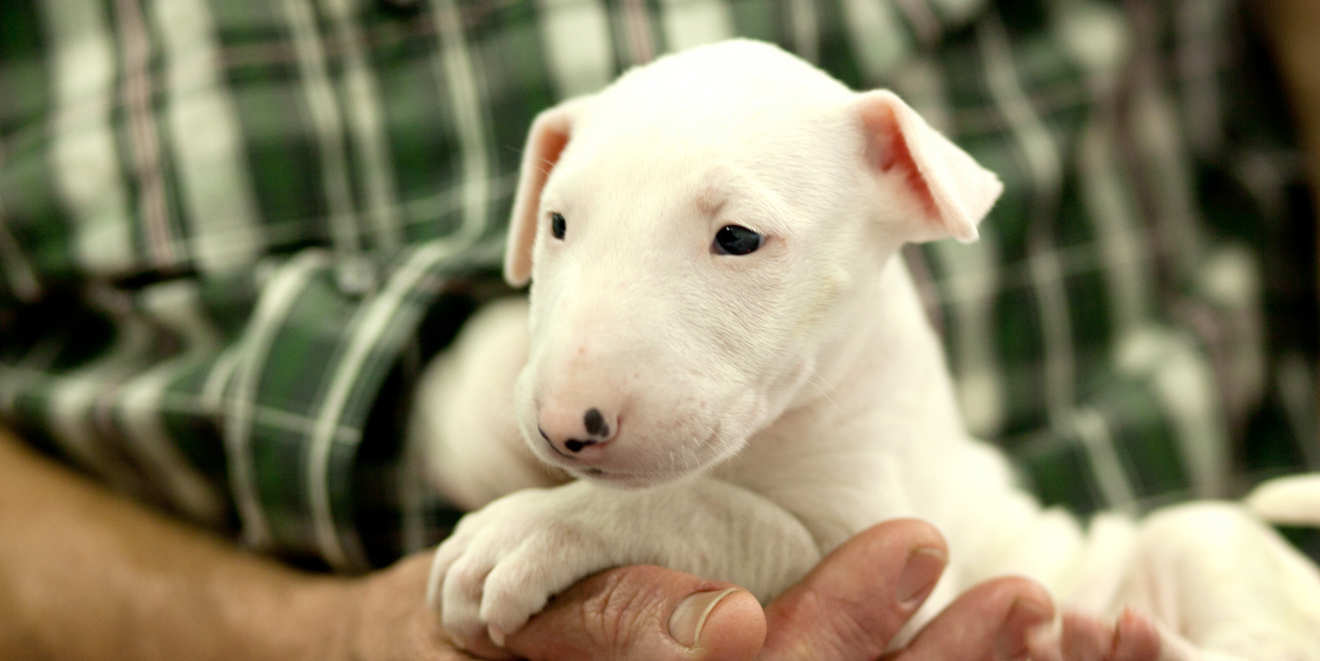 Carry your puppy to a large variety of places from the first week you bring them home.
See lots of dogs. Meet lots of people. Help them feel as relaxed as possible in new situations, and positively reinforce new experiences making sure he has lots of fun and plenty of treats.
With all dogs, training should be based on positive rewards.
Make training a fun experience, praising and rewarding good behavior so your puppy will naturally want to please you.
While training your pup, it's important to offer them adequate exercise time.
Exercising your Bull Terrier
Bull Terriers are lively dogs with bags of energy, and it's your responsibility to offer healthy outlets.
Without proper exercise, these dogs can become bored and foster negative behaviors.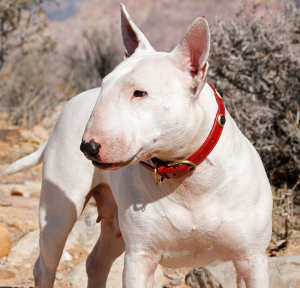 They do best when offered plenty of structured time to burn off their energy. Thus, they will need frequent exercise sessions either in the form of walks or games in your backyard to keep their health.
Bull Terrier Health
Bull Terriers have an egg-shaped head that can cause some complications at birth. While some people claim their particular head can cause other health problems, as of 2019 there has been no published scientific research proving a breed-specific disorder related to their head shape.
Kidney disease
Kidney disease is a recognized problem for Bull Terriers, appearing as Polycystic Renal Disease and as Hereditary Nephritis. When present, these conditions can lead to fatal kidney failure and death.
Puppies can be genetically tested for Polycystic Kidney Disease but there is no specific test for Hereditary Nephritis.
Urine testing can show signs of kidney failure in the parents of your puppy. Nevertheless, results aren't completely fail-proof. Many puppies won't show signs of disease until they are several years old.
Because of that, it is vital to find out from the breeder whether the grandparents or great grandparents suffered from it, and if they did you shouldn't get a puppy from their line.
Heart Disease
This is also a common concern among Bull Terriers because Mitral valve disease and Aortic stenosis are frequent.
Heart conditions can go undiagnosed and be passed on to the puppies in a more severe form, so make sure your puppies' parents have both had their hearts checked.
Patella Luxation
Whilst more common in miniature Bull Terriers, their full-sized counterparts can still suffer from Patella Luxation.
This is a condition where the knee joint is malformed and prone to dislocation. If your puppy seems lame or has an odd gait, you should ask your vet to look into it.
Other conditions that you still need to be aware of include dry eyes, partial seizures and bone abnormalities.
Although this breed usually has healthy skin, a 2011 study found that some individuals carried a gene mutation that caused Lethal Acrodermatitis (LAD).
This condition is characterized by poor growth, skin lesions and immune deficiency that leads to premature death. LAD can be tested to prevent carrier dogs from having offspring with the mutation.
Deafness in Bull Terrier puppies
Deafness is prevalent in this breed, especially in dogs with white coats.
According to the Bull Terrier Club around 2% of colored Bull Terriers have hearing problems, while almost 20% of white ones do.
Puppies from five weeks old can be tested with BAER (brainstem auditory evoked response) hearing tests, allowing the breeder to establish your puppy's level of hearing. This way, you can know before taking them home if they have some degree of deafness.
Although special needs puppies can be a challenge, they can also be amazing companions. Training a deaf puppy is possible using sign language instead of traditional verbal orders. To know more, check out our deaf dog training guide.
Bull Terrier Care
Bull Terriers have fairly easy to care for short coats. Unless your dog gets particularly mucky, they shouldn't need more than brushing once or twice a week.
Nevertheless, the breed is prone to pollen and insect allergies, so in the spring and summer, your puppy might have very itchy skin because of it.
Allergies can be avoided by limiting your pup's exposure to being bitten by insects and your vet might recommend further therapies to help him feel better.
Now that you know how to care for your Bull Terrier, is time to know if they are good options for you.
Pros And Cons of Getting A Bull Terrier
Weigh the pros and cons to really see if you are a good match for a this breed:
Cons
Need lots of exercise
Require a lot of socialization
Best for experienced dog owners
Strong prey drive might make living with other animals troublesome.
Pros
Loyal
Fun and mischievous
Fit for active households
Great with older children and teens.
Do Bull Terriers make good family pets?
These can be loving, loyal dogs that thrive in a family environment. Nevertheless, if improperly socialized they can show aggression toward other dogs.
Because of this, they are best for experienced dog owners committed to properly training and socializing their new pup.
Thanks to their strong prey drive, life with other animals can be tricky but not impossible.
If you already have a beloved cat or other pets, puppies are your best bet. They will get used to your cat and treat them as part of their family.
If you live in an area with many smaller animals and without a fenced backyard, this breed might not be the best option. They might still chase animals that aren't part of their family.
Due to their rambunctious nature and exercise requirements, this breed is a better fit for families with older children and teens, ready to spend at least an hour a day playing.
If you still want your own Bullie, check out your local rescues!
Rescuing a Bull Terrier
From time to time, Bull Terriers come into dog shelters and rescue societies.
Although there are pros and cons to rescuing a dog, many people find it can be very rewarding.
When adopting a rescue, make sure to ask all questions about the health and temperament of your prospective dog. If you're new to dog ownership, it might be better to avoid dogs with problems or in need of specialized care.
Nevertheless, adoption is usually a smooth process and soon enough you'll have a loving pup to keep you on your toes.
Finding a Bull Terrier puppy
To make sure you get a healthy, happy puppy, finding a good breeder is your best option.
Pet stores and puppy mills breed pedigree dogs indiscriminately, without regard of passing on dangerous health conditions common to the breed.
A reputable, trustworthy breeder will provide you with written proof of all health tests, as well as a puppy pack containing advice on rearing your puppy.
They should also openly offer to support you throughout the puppy's lifetime. Check out our puppy search guide for helpful information on finding a puppy.
Raising a Bull Terrier puppy
Your choice of dog breed should be a considered decision, taking into account all of the information you can gather about them.
If you've already made up your mind, here are some useful resources to caring for your new puppy:
Check out our guide to introduce your new puppy to your beloved cat, to make it an easy transition for both of them
Find out how to deal with a biting pup and get ahold with our ultimate puppy potty training guide to start house training your pup right away.
Popular Bull Terrier breed mixes
Even though this breed came to be through mixing different dogs, nowadays there are new mixes that are thought to strengthen the health of purebred dogs.
Check out our guide with everything you need to know about some of the most popular Bull Terrier breed mixes!
If this feisty breed doesn't sound like what you're looking for, here are some other options.
Similar Breeds
Here are other dog breeds you might want to consider:

If you've made up your mind, here are some great rescues you can choose look into!
Bull Terrier Breed Rescues
US
UK
Canada
Australia
Do you have or know a Bull Terrier rescue? Let us know your experiences with this loving breed in the comments below!
References And Resources
Gough A, Thomas A, O'Neill D. 2018 Breed Predispositions to Disease In Dogs and Cats. Wiley Blackwell
O'Neill et al. 2013. Longevity and Mortality of Dogs Owned In England. The Veterinary Journal
Schalamon et al. 2006. Analysis of Dog Bites In Children Who Are Younger Than 17 Years. Pediatrics
Duffy D et al. Breed differences in canine aggression. Applied Animal Behavior Science 2008
Strain G. Deafness prevalence and pigmentation and gender associations in dog breeds at risk. The Veterinary Journal 2004
Packer et al. 2015. Impact of Facial Conformation On Canine Health. PlosOne
Adams VJ, et al. 2010. Results of a Survey of UK Purebred Dogs. Journal of Small Animal Practice.
Asher et al. 2009. Inherited defects in pedigree dogs, part 1: Disorders related to breed standards. The Veterinary Journal.
O'Leary et al. 2002. Renal pathology of polycystic kidney disease and concurrent hereditary nephritis in Bull Terriers. Australian veterinary journal.
Schalke et al. 2010. Assessment of a Bull Terrier bloodline regarding possible hypertrophic aggressive behavior in situations of dog-dog-contact of the temperament test of Lower Saxony]. Berliner und Münchener tierärztliche Wochenschrift.
Schnabl B, et al. 2006. Results of allergen-specific immunotherapy in 117 dogs with atopic dermatitis. Veterinary Record.
Strain, G. 1999. Congenital Deafness and Its Recognition. Veterinary Clinics of North America: Small Animal Practice.