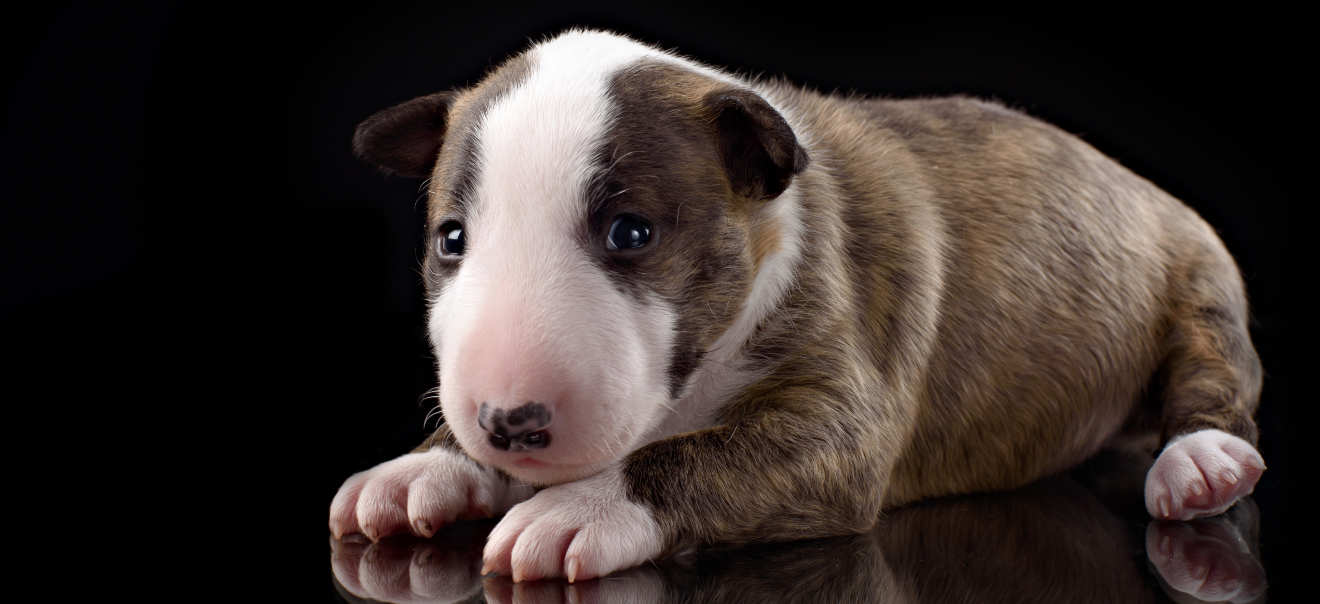 Are you thinking of buying a Bull Terrier puppy, but are unsure because of all the bad press they receive?
Do you want advice on choosing the right puppy, properly socialising your young Bull Terrier, or the right way to care for him?
In this article we will answer all of your Bull Terrier questions, and give you all the information you will need as a prospective puppy owner, or a current one.
We are going to take an in-depth and above all honest look at this wonderful but controversial breed.
Where do Bull Terriers come from?
Bull Terriers were originally cross-breeds. Formed from the mating of old English Terriers and Bulldogs in the 1800's.
They were traditionally used for sport and gambling, namely dog fighting and bull baiting.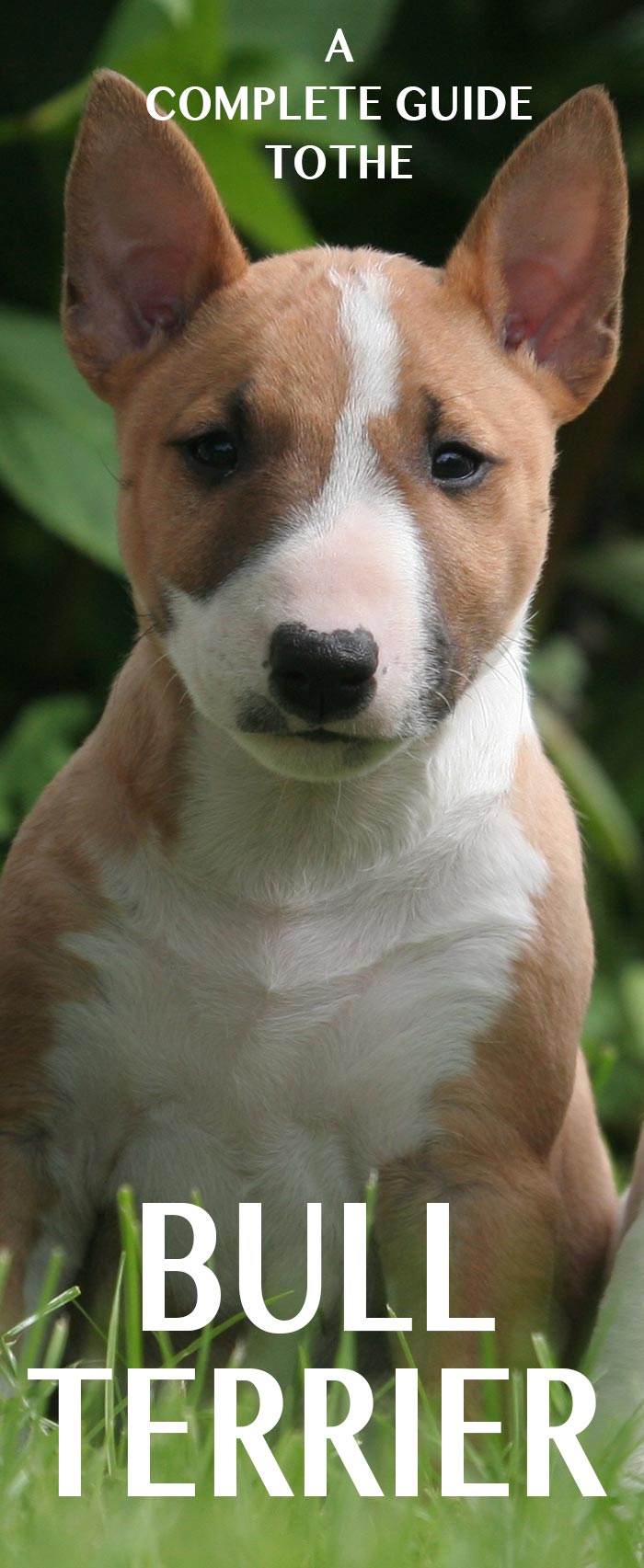 Both pastimes that now are highly frowned upon for their cruel and vicious natures, and have been illegal since the Humane Act of 1835.
They were first welcomed into the show ring in Birmingham in 1862, by James Hinks, who sought to breed a variant from the fighting dog who would make a good gentleman's companion.
It is thought that Bulldogs, Terriers and possibly Dalmatians played a part in bringing together the dog we know today.
What do Bull Terriers look like?
Like so many breeds, on the whole the Bull Terrier's stature is a reflection of his original purpose. He is stocky and well muscled, as this gave him an advantage when fighting. They vary a lot in size, with an average somewhere around 60lbs.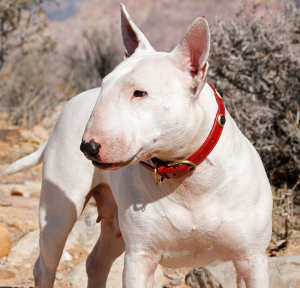 Although they used to come in a range of colours, the fashion is for predominantly white Bull Terriers.
This has been a preference especially in show circles since their origin in the 1800's, although other colours like brindle, red and tri-colour are permitted by the Kennel Club for registration.
The perhaps most iconic image of a Bull Terrier is that of Fagin's dog in the play Oliver Twist, who was entirely white except for a black patch over one eye. That fictional Bull Terrier remains one of my favourite dogs to this day!
As time has gone on, increasing changes have been pushed onto the breed, which are as a result of show breeders going for a certain look rather than functionality. Which hypothetically is no bad thing, given the nature of their original function, but has potentially had some draw backs.
Bull terriers are medium sized dogs. You can estimate your Bull Terrier puppy's final size using our growth chart here: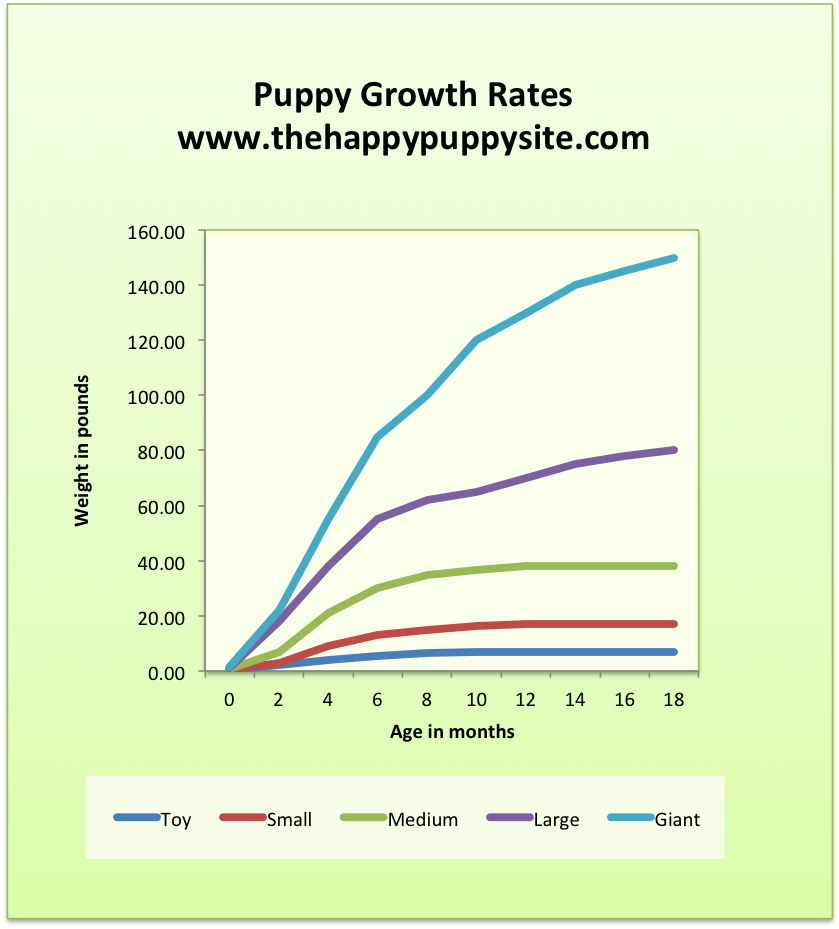 Why does the Bull Terrier have a domed head?
Some Bull Terriers nowadays have very bizarre skull shapes. Before we discuss the reason why, it is worth mentioning that original Bull Terriers did not have such a raised protrusion. And indeed Bull Terriers bred by non-show lines still have fairly unremarkable skulls.
However, show bred Bull Terriers are displaying increasingly more prominent ridges on their foreheads.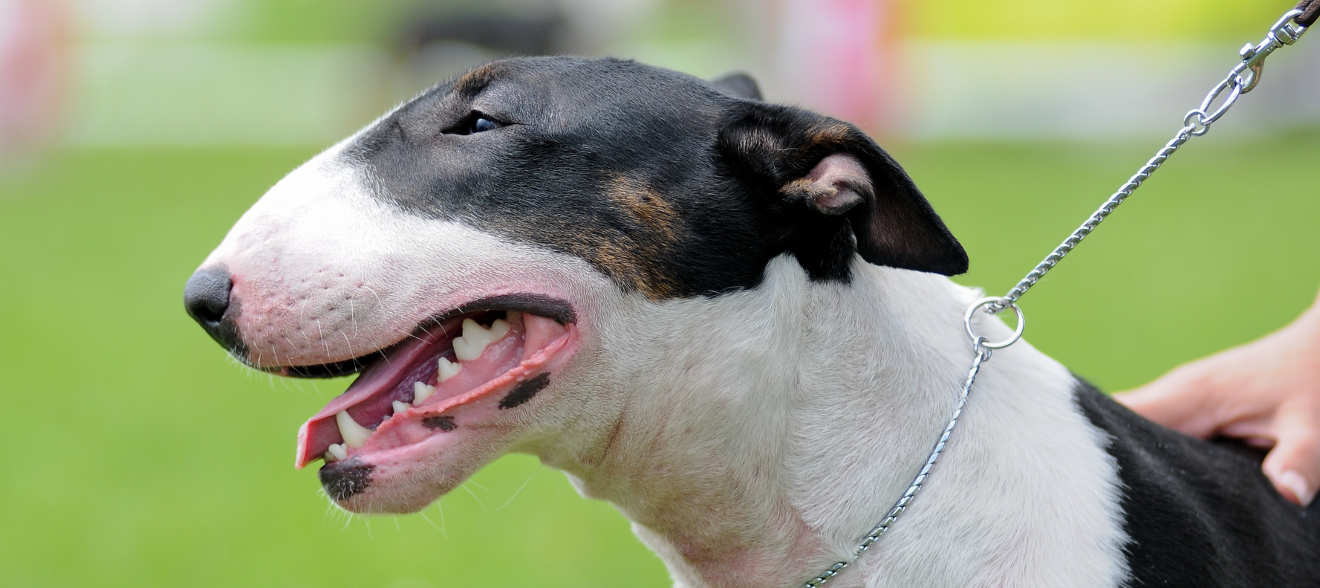 The current Kennel Club breed standard states "Viewed from front egg-shaped and completely filled, its surface free from hollows or indentations. Top of skull almost flat from ear to ear. "
The section referring to 'egg-shaped' is given broadly as the justification for show breeders to develop an increasingly extreme cranium. On their website the KC state that the breed type was standardised in the 1850's to select for the egg-shaped head, however it is interesting to note that this was not actually a part of the breed standard until the early 1900's.
Whether you like this extreme look is a matter of personal preference. Personally, I think it's a shame to exaggerate something which was perfectly beautiful and appropriately canine in the past, but views differ.
However, whether it is damaging to the dog's brain or vision is the more important point. Although I have not been able to find any scientific evidence yet that it has impacted their health, people are certainly hypothesising that it could and potentially already does.
To find out more about the debate on the impact of changing a dog's skull, check out the Pedigree Dogs Exposed blog here.
Bull Terrier Grooming
Bull Terriers have quite neat coats, which don't need excessive attention.
He will probably only need a brush running over him once or twice a week, unless he gets particularly mucky!
It is still worth getting him used to being groomed from a young age though, so that the experience can be a pleasant and bonding one when you need to carry it out.
Bull Terrier Temperament
Most people are aware that Bull Terriers have a reputation for being tough. They are prone to being stubborn and strong willed, as are many terrier breeds.
They were also bred for generations for fighting activities, and therefore understandably still carry with them the inclination to pick fights with other dogs.
This can sometimes extend to misplaced aggression against people when provoked, or when they feel provoked.
However, it's worth noting that breeders over more recent years have worked hard to reduce the innate canine oriented aggression of the Bull Terrier, and promote some of their positive characteristics even further. And they have these in abundance.
Bull Terriers have some incredibly endearing personality traits, which keep them highly appealing to dog lovers.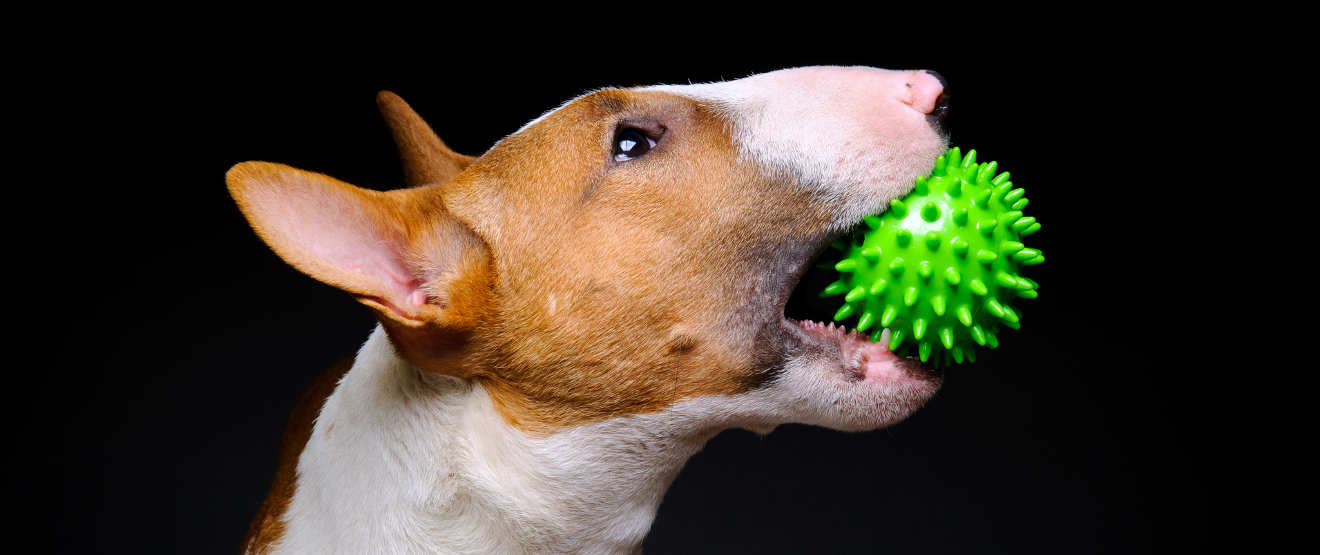 They are affectionate and devoted to their families. Showing a strong desire to be in the company of their humans, and seeming to enjoy cuddling up on the sofa together. They show great loyalty, but also a great sense of fun.
One of the real clowns of the dog world, they have that spirited terrier playfulness. Enjoying acting a fool, playing with their toys and giving their families hours of entertainment.
Do Bull Terriers Make Good Pets?
Bull Terriers tend to thrive under predictable conditions, that are calm and placid. They might be the class clowns, but they like to be the ones being silly. They are generally at their best when given an active and organised day, with plenty of structured time to burn off their energy.
Their great sense of loyalty and affection towards their owners makes them a good pet for adults with active structured days, and cosy evenings on the sofa.
However, as they have a terrier's prey drive and an instinct for fighting, there are potential pitfalls for some families looking for a pet.
Let's take a look at some possible areas you will need to consider, primarily to do with their reactions to other pets, before deciding whether a Bull Terrier puppy is a good pet for your particular family situation.
Can Bull Terriers live with other dogs?
Bull Terriers can get along with other dogs, but they are not naturally inclined to share canine company.
Years of breeding for canine on canine aggression has not completely worn off, and many Bull Terriers still display great ferocity when faced with another dog.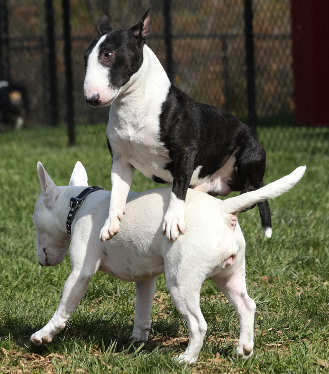 This can be a little tricky to deal with because it is not always easy to predict, and they can lull you into a false sense of security!
There are also lots of anecdotal repots of Bull Terriers seeming quite happy to share their home with another dog for a few weeks or months, then suddenly turning against them.
Again anecdotally, many Bull Terrier breeders believe that they are more likely to get along with other dogs of the opposite sex. However, they still recommend not leaving two Bull Terriers unsupervised together.
It is therefore sensible to keep a Bull Terrier as a pet if he is the only dog in the family, and if you currently have a dog to pick another breed to keep him company.
Can Bull Terriers live with cats?
Bull Terriers are fundamentally terriers. This means that they were bred for generations to thoroughly enjoy chasing other smaller furry animals.
This doesn't mean that it's impossible for a Bull Terrier to live with a cat, but it does complicate things slightly.
If you get your Bull Terrier as an 8 week old puppy, and you already have a cat, then they should be fine. They might not be the best of friends, but they will muddle along well enough.
However, this does not mean that your Bull Terrier will be accepting of all cats. He might well still try and chase or even attack a visiting neighbours cat. You will also find it incredibly difficult, though not impossible, to introduce your adult Bull Terrier to a new cat.
Whilst many Bull Terriers live with a cat without causing issues, this is almost always when the new puppy has been introduced to a currently resident cat.
Make sure to keep your cat safe by never leaving them shut in a room together where the cat has no way to escape out of reach, just to be on the safe side.
Are Bull Terriers Safe Around Children?
As you have seen, Bull Terriers prefer calm and ordered environments. Children rarely possess these qualities, and this is something you will need to consider as a potential owner.
The other factor to consider is that of your Bull Terriers breeding. They are packed full of fighting instincts, which are brought to the surface by triggers.
Your dog's ancestors were fighting dogs, and loved a good scrap. They were also terriers, who love a good chase with a furry prey animal.
Small children and babies make weird noises, that sound for all the world to some dogs like prey animal ones. This isn't a reflection on the dog as a nice or nasty person, or of how they feel about kids even, it's simple animal instincts and misplaced prey drive.
The problems come when this misplaced prey drive is linked to a vulnerable person and a very strong dog.
Children and Dogs in General
When you are a dog owner, you love your dog and tend to see them through rose tinted spectacles. However, even the nicest soppiest dog in the world is still a dog.
No dog in the whole world is 'safe' around children, because children are unpredictable.
Some dogs are statistically more likely to injure children, and Bull Terriers are one of these breeds due to their instincts.
Don't Forget To Add Your Dog!

However, basic dog safety applies whatever puppy you bring into your home. And the rules you need to follow the protect your Bull Terrier from kids, and them from him, are the same as any other breed.
As an owner you are responsible for not putting your dog into a situation where he could injure someone. Not just for the safety of the human, but because a dog which has injured a person will almost always be put to sleep.
Protect your dog by protecting the people he interacts with. To summarise, the best way to do this is make sure he always has an escape route, that children are always supervised around him, and that you intervene whenever your dog gives a warning sign of being uncomfortable with a situation.
Bull Terrier Socialization
Socialization of your Bull Terrier puppy is essential.
When you bring your puppy home you will have a tiny window of opportunity, a matter of weeks literally, when they will be susceptible to taking in new experiences and accepting them as normal.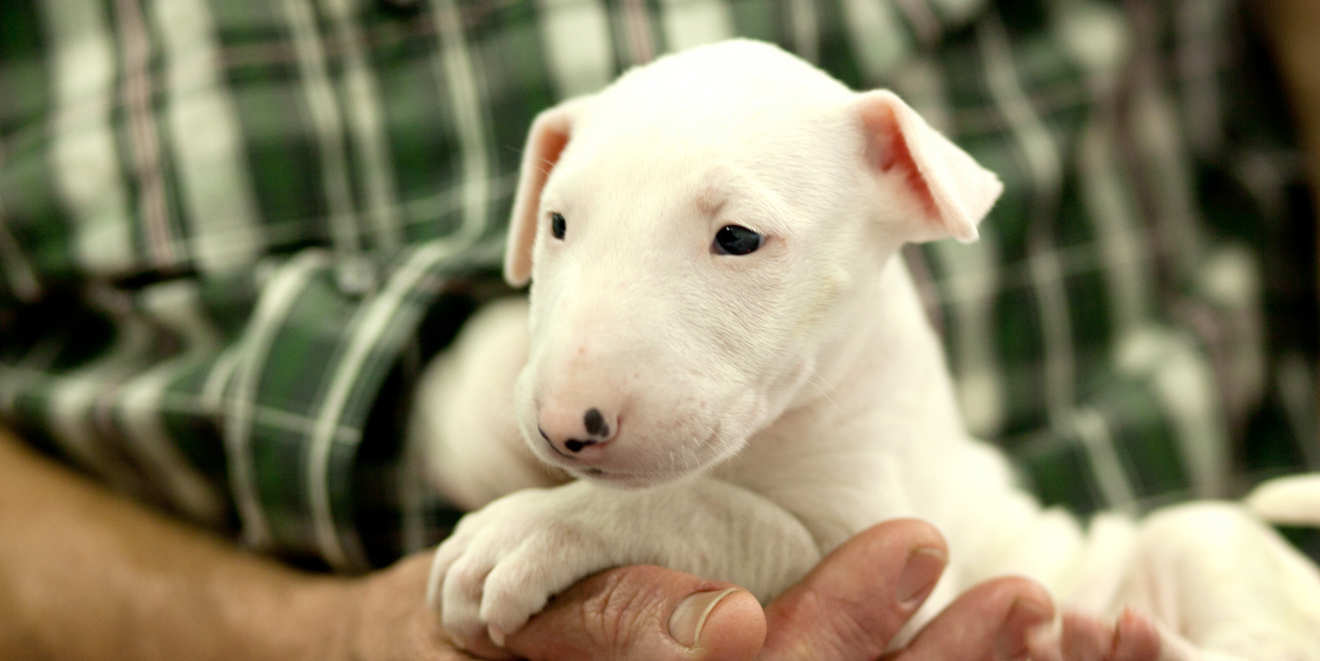 Vets will advise that your puppy is not safe from diseases until his second set of jabs at around 12 weeks old, but if you wait until then to start socialising him you will have used up all but a couple of weeks of prime socialisation time.
We therefore recommend that you carry and travel in the car with your puppy to a large variety of places from the first week you bring him home.
Primarily to get to see lots of other dogs, but also to meet lots of people.
Bull Terrier breeding means that they have the potential to be wary of strangers, worried by small children and aggressive towards other animals. Your responsibility is to help them to feel as relaxed around these things as possible.
Take him to busy dog parks, outside the school gates, to the local pub, to the pet shop, to a train station and to the mall.
Invite everyone you know around to your house to visit, especially friends with small children, big men with huge beards, and even the postman! Show your pup that all of this and more is perfectly normal and lots of fun, with plenty of treats.
Bull Terrier Exercise
Bull Terriers are lively dogs with bags of energy. They will need frequent exercise sessions, either in the form of walks or games in your back yard.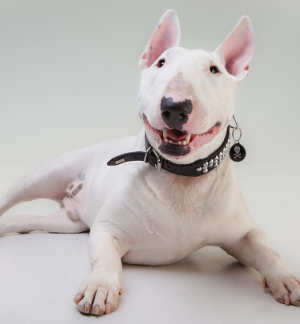 To prevent your Bull Terrier from potentially injuring another dog which annoys him when out, you may want to consider muzzling him.
Although this can be frustrating as an owner, as it gives the impression that your dog is unpleasant, it will protect him from getting into trouble and being the victim of another dog's angry owner.
When in the back yard, your Bull Terrier's instincts to chase could potentially be activated by spotting a neighbours cat or another dog beyond the boundary.
Due to sheer strength and tenacity, they have been known to simply run straight through weak fencing panels. Make sure that your garden is very secure, with an enforced thick fence. Preferably at least 5 foot high, and without gaps so that your dog cannot be tempted to confront passersby.
Bull Terrier Dominance
It is now widely understood that dominance theory in dogs was misinformed and incorrect. Although some popular trainers still persist in telling people that their dog is trying to be in charge, this simply is not the case.
Your Bull Terrier isn't being difficult because he wants to run your household. He is actually just doing what works for him. If you show him that doing your thing instead has positive results for him, he will become much easier to live with.
Punishment can also be a dangerous way of dealing with a dog. For example, dominating your Bull Terrier by punishing him when he growls will only stop the noise, not the feelings your dog is having that caused them. Taking away his growl will remove his ability to warn you that he might display physical aggression later if the situation continues.
For a breed with a bit of a checkered past, this is especially important to remember. Positivity is the only safe way to train and communicate with a Bull Terrier.
Bull Terrier Training
Punishment based training is slowly being replaced by positive training methods, but a lot of people do still use punishment on their dogs. Whether this is verbal or physical.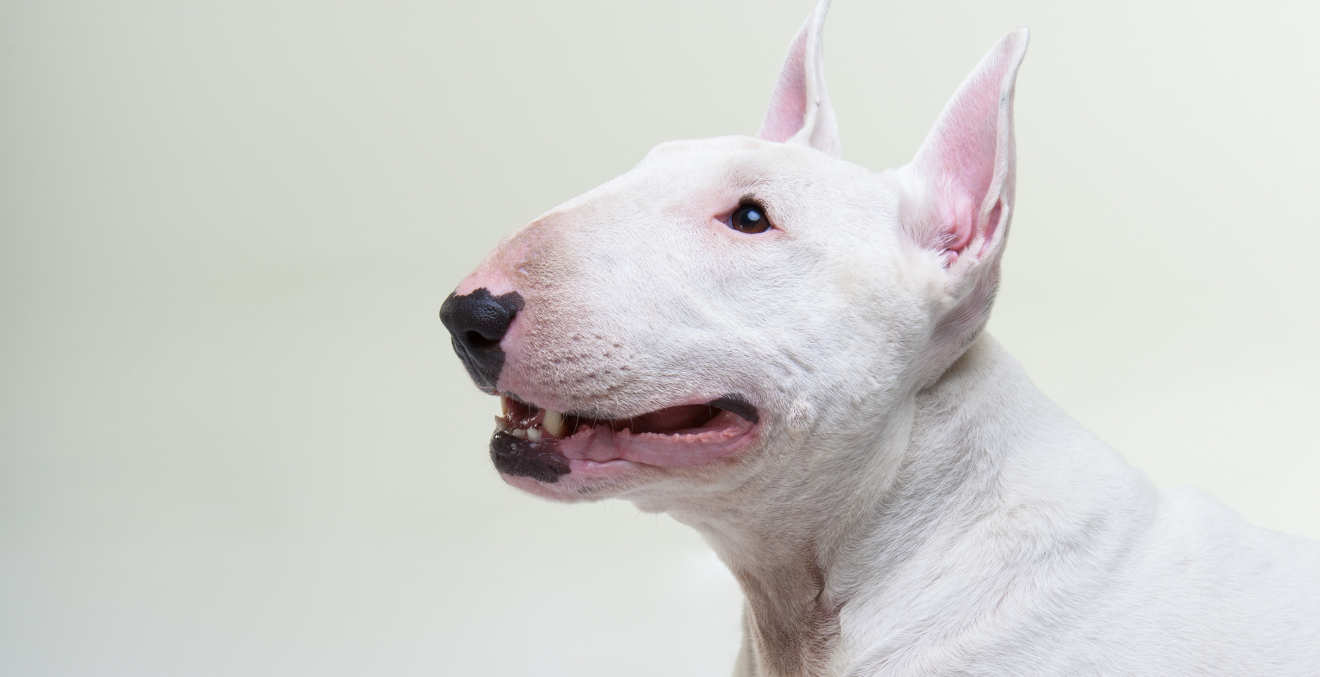 At The Happy Puppy Site we recommend using positive reinforcement training, but I would go even further with regards to the Bull Terrier breed.
Bull Terriers are well known for being stubborn, obstinate and frankly unphased by their owners annoyance. In order to punish a Bull Terrier, you would need to be so aggressive and potentially violent as to seriously risk endangering your dog. And certainly ruining your bond with him.
The only way to train your Bull Terrier is to praise and reward his good behaviour, and encourage him to behave in the way you want in a loving way.
If you are not prepared to learn about how to use rewards in dog training, then a Bull Terrier is probably not the best breed for you. You will find it very difficult to help him become a relaxing and happy member of your family without dedicating yourself to understanding these modern methods of training.
Should I get a Bull Terrier puppy if I Work Full Time?
There are two separate parts to the question of whether you should get a Bull Terrier puppy if you work full time.
The first is regarding puppies in general.
Puppies require constant supervision and very frequent attention for the first few months of their lives.
Although older dogs may be happy with visits from a dog walker or trips to doggy day care, puppies.
The second regards the adult Bull Terrier.
Bull Terriers are a part of the terrier group. This means that they are intelligent and active dogs. Left alone for any large length of time they will be very likely to display destructive behaviour. As a result having a dog waker pop in at lunch time is probably not going to cut it.
Most Bull Terriers are also fairly hostile towards other dogs, especially other Bull Terriers. This may result in your adult dog not being suited to full time doggy day care either, as most of these centres have the dogs in together in one room or paddock much of the time.
If you work full time away from your house and want to have a Bull Terrier puppy you will need to have a period of sabbatical from work at least for the first six weeks they are with you, and then find a family member who is prepared and committed to look after them every day that you are at work for the foreseeable future.
Remember, although it's horrible to be told something you want might not be practical right now, taking on a dream dog and realising you cannot meet his needs a few months down the line will be much worse.
Bull Terrier Health Problems
Allergies are a well document problem for Bull Terriers. They have a hypersensitivity to some protein particles, particularly pollen. So this issue is most likely to be seen in the summer months.
The allergies cause dogs to have very itchy skin, which is unpleasant for him and can result in him hurting himself through scratching. If your puppy seems to be itching a lot, seek advice from a vet promptly to prevent your dog suffering unduly.
Deafness is prevalent in Bull Terriers. This is due to their predominantly white coloration, which carries with it a marker for hearing problems. This is a common factor in other white dog breeds, and even in other animals like cats and mice.
According to the Bull Terrier Club although only 2% of coloured Bull Terriers have hearing problems, perhaps 18% of whites do.
BAER (brainstem auditory evoked response) hearing tests can be carried out on a puppy from five weeks old. This will enable the breeder to establish your puppies level of hearing, so that you will know before you take him home to what degree he may be affected.
Kidney disease is also a recognised problem for Bull Terriers, much like in their relative the Boxer. This fatal kidney failure results in a very unpleasant fatality.
At the time of writing their is no DNA test parents can have to predict the likelihood of the puppy getting it. However, one is in development now that should make a huge difference to the breeds health when it comes to fruition! You can find out more about this important health scheme here
For now, it is therefore vital to find out from the breeder whether the grandparents or great grandparents suffered from it, and if they did walk away. There is a urine test breeders may tell you that the parents have had show clear, but don't rely on this result as it often doesn't show signs until they are several years old.
Heart Disease is of concern to Bull Terrier breeds, as it is to many other breeds. Particularly mitral valve disease and aortic stenosis. Make sure your puppies parents have both had their hearts checked, as this condition can go undiagnosed and be passed on to the puppies in a more severe form.
Whilst more common in miniature Bull Terriers, their full sized counterparts can still suffer from Patella Luxation. Where the knee joint is malformed and prone to dislocation. If your puppy seems lame or to have an odd gait, this will be something to ask your vet to look into.
Other conditions less prevalent but that you still need to be aware of include dry eyes, partial seizures and bone abnormalities.
It has been hypothesised that the deliberate breeding of the Bull Terrier to have a domed head could lead to neurological issues and vision problems. To date I cannot find any studies conclusively backing up these hypothesis, however exaggeration of features to such a degree rarely comes without a price.
It is therefore strongly recommended that when you choose your puppy, pick one whose parents do not show the least pronounced forehead dome. Most like the ancestral dog cranium.
Bull Terrier Life Span
The life span of the Bull Terrier differs depending upon where you looking, with estimates ranging anywhere from 10 to 15 years.
The KC state that a lifespan of over 10 years can be expected, which starts at the lower end of the spectrum.
It is therefore possible that if he escapes kidney and heart problems, that your pup could live happily into his early teens.
How Much Is A Bull Terrier?
A pedigree Bull Terrier puppy will cost you anywhere between £700 and £1,000.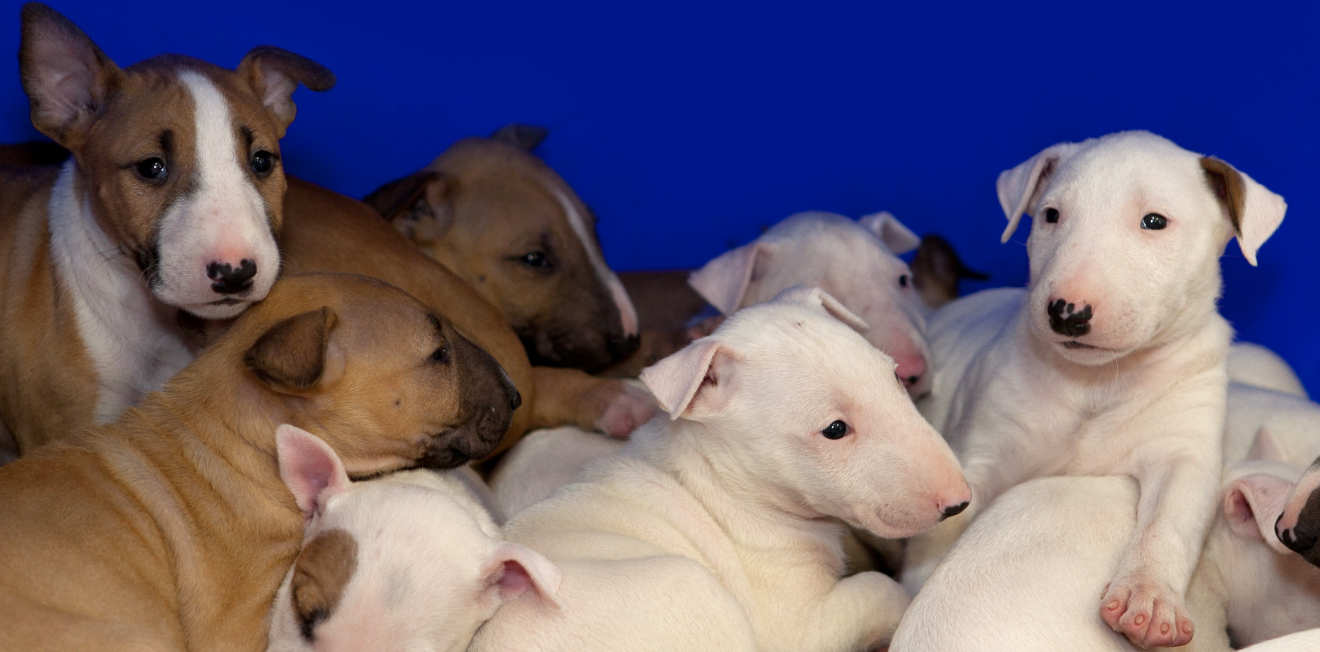 Don't ever be tempted to pick simply the cheapest Bull Terrier price, as this could be a reflection of a breeder who has not spent money on thorough health-checks, care or attention for the pup's parents or welfare.
Bull Terrier Breeders
Breeding is an expensive game, and the old adage about getting what you pay for still applies here. Make sure both of your pup's parents have heart, kidney and hearing tests as a minimum, and that your pup has had his own hearing test.
Common puppy advice dictates that you should only expect to see a puppy's dam. This makes sense, as most breeders do not keep a stud dog. In fact having a stud dog live on site is a bit of a warning sign that they may be bred for convenience rather than the improvement of the breed.
However, in the case of any breed with a history of potential aggression issues, it is vital that you see both parents in order to assess temperament.
You may be able to get the breeder to arrange for the stud dog to visit when you go to see the puppies and dam, but you may well need to make an extra trip.
This might seem like a hassle right now, but could save you years of stress and heartache. Even tempered parents are more likely to produce even tempered pups.
Your breeder should provide you with written proof of all health tests, as well as a puppy pack containing advice on rearing your puppy.
They should also openly offer to support you throughout the puppy's lifetime.
Do not accept any excuses, and walk away if needs be.
Bull Terrier Cost
It's important to remember that the cost of your puppy is not just his sale value. You need to add in the cost of insurance, food, vaccinations, check-ups, and all of the training equipment, bedding and toys he will need.
These things vary hugely depending upon where you are in the world and how much you want to spend on the pricer items, but estimates for keeping a dog based on a 2011 survey sits at just over £1,100 per year!
Make sure that you carefully review your finances before making a final decision on whether this is something you can afford to commit to annually.
Should I Buy A Bull Terrier Puppy?
Your choice of dog breed should be a considered decision, taking into account all of the information you can gather about them.
Although healthy examples have fairly long lives, I would be concerned as an owner about the high number of cases of kidney failure. The new DNA test when it is prepared will help tremendously on this count.
Your puppy decision should take into account your personal and work situations, your ability to dedicate time to training and socialisation, and the potential costs and lifestyle changes you will undergo. Just as importantly, you need to consider how your life may differ in the next ten years or more.
When you commit to a Bull Terrier puppy, make sure that you are prepared to throw yourself into helping him to achieve his potential to be a confident and sociable member of the canine community now and in the future.