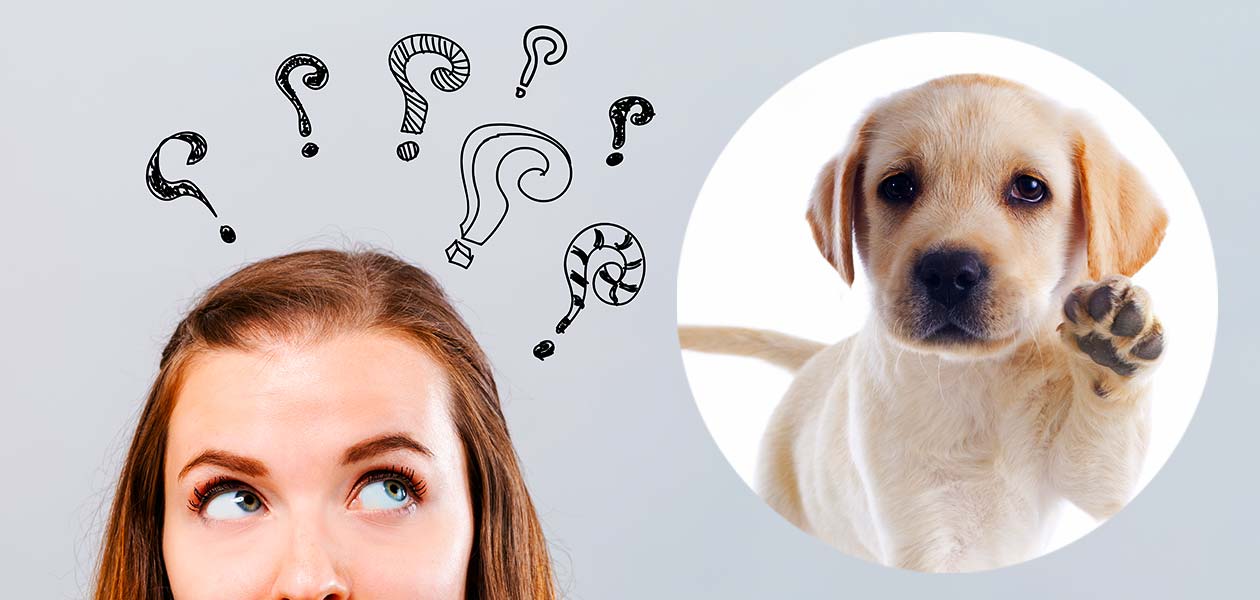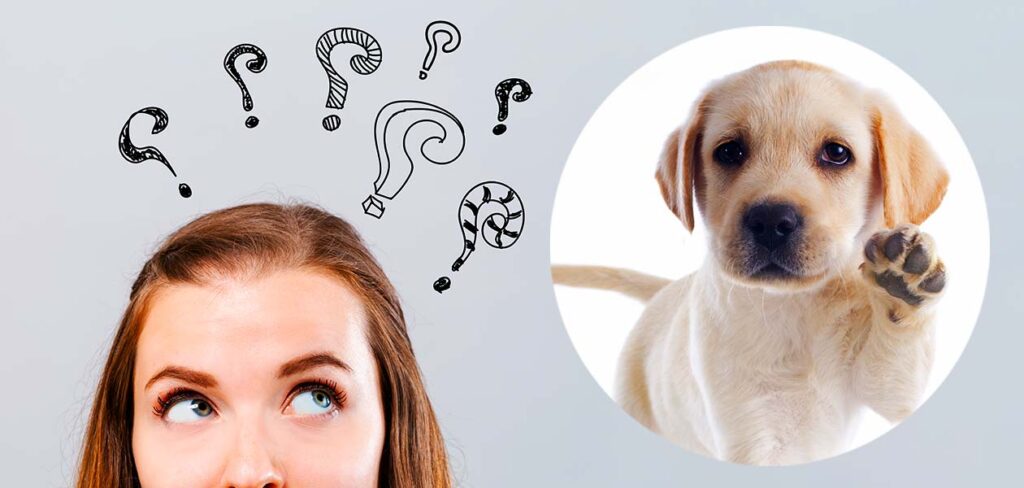 Knowing where to buy a dog is critical if you want your puppy to be happy and healthy. The way your puppy is bred and cared for as a baby will influence both their temperament and future health. The three main places you'll find when searching for where to buy puppies are commercial dog breeders, dog retailers or pet shops, and home dog breeders. It's very important to avoid buying a dog from a puppy mill, puppy farm, or any dog retailers that purchase puppies from these places. Today we'll share the where to buy a dog that is purebred, mix or even designer hybrid puppy that will be friendly, affectionate, loyal, healthy and above all, happy. We'll also give you top tips for places to avoid buying your new puppy, so that you don't risk problems down the line or aid a bad breeder in unethical practices.
Contents
Good breeders have dogs that they keep for more reasons than making money. They are therapy dogs, service dogs, pets, companions, hunting partners or bred for the show ring. Good breeders feed high quality food, give the mothers' amazing care, and do lots of health testing and socialization. Finding where to buy puppies can be an overwhelming process. So, it's important to know exactly what you're looking for in a good breeder.
Good vs Bad Places To Buy A Puppy
There are good places and bad places to buy dogs and puppies. Knowing how to find a reputable breeder selling healthy puppies is important for your puppy's quality of life, and for your own convenience and cost.
Looking after a sick puppy is expensive and distressing. Plus, it happens more often than you might think. So, once you have decided to purchase a puppy, you will need to know where to look in order to find a healthy and good tempered family pet.
Where to Buy a Dog – The 3 Main Options
Knowing where to buy puppies is important. So let's look at the different options available to you as a puppy buyer. There are three main sources of puppies.
Commercial dog breeders
Dog retailers
Home dog breeders
Bear in mind that anyone who owns a female dog and allows her to have a litter of puppies, is a dog breeder, even if only on a temporary basis. And that people in any of the above categories may advertise their puppies for sale online.
Some are more likely to do this than others, and knowing what to look for in an advert will help you choose between them. Let's look more closely at those categories and explain a bit more about them first.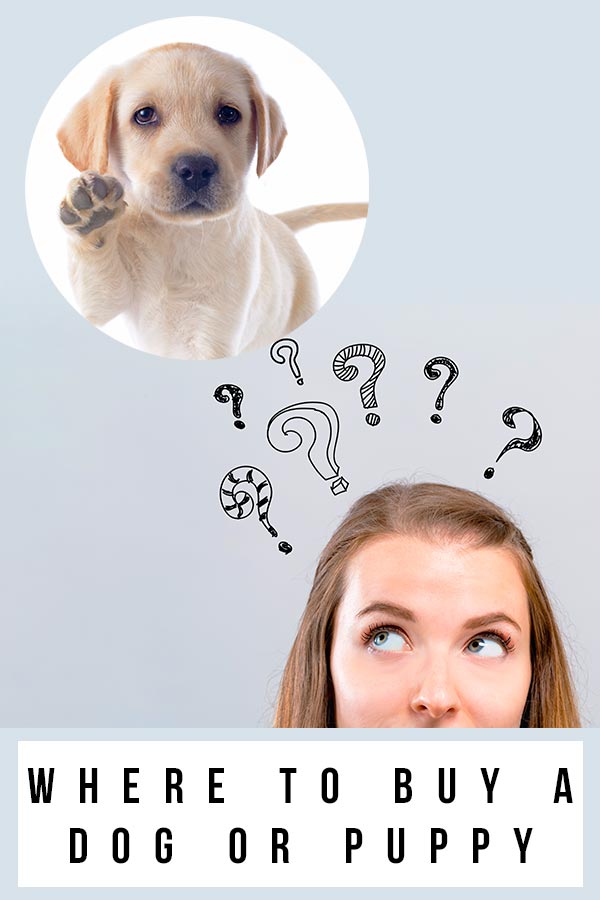 Where to Buy a Dog From Commercial Breeders
Commercial breeders are those that make their living from the sale of puppies that they have bred. This includes puppy mills or puppy farms, and a few of the more successful hobby or 'breed enthusiast' dog breeders.
A puppy mill is a place where the primary purpose of the adult dogs used for breeding, is to produce puppies. Puppies are bred solely to generate a profit.
A hobby dog breeder is someone that is enthusiastic about the breed that they are interested in, and who participates in some kind of scheme for assessing their breed with the purpose of raising breed standards. Many such breeders will be involved in exhibiting their dogs at dog shows.
Some will be involved in competing in dog related activities. Labrador breeders may be competing in Hunt Tests or Field Trials for example. Border Collies may be competing in Obedience Trials or Agility. German Shepherds may be competing in Schutzhund or Working Trials
Hobby Breeder Kennels
A hobby or enthusiast breeder's kennel is a place where the primary purpose of the adult dogs used for breeding, is to compete or win awards that recognize their talents or beauty.
Puppies in these establishments are bred mainly to further those aims and the surplus are sold as pets.
Obviously if a kennel is successful enough, and the dogs win high enough accolades, the breeder may be able to generate a significant income. Usually mainly from stud fees, rather than from sales of puppies. Though these too may be significant.
Puppy farms are very bad places to get a puppy – I'll explain why in a moment. Whereas a commercially successful breed enthusiast, may sometimes be a good choice.
Is It Okay To Buy A Pet Shop Puppy?
Dog retailers make their living from the sale of puppies that they have purchased from a puppy mill or farm. They then sell these puppies on at a profit and make a living by turning over high volumes of puppies in a short timeframe.
You'll find dog retailers in markets and malls, and some will have their own premises or sell puppies online through a website. These places are not a good place to buy a dog, as they are supporting the unethical puppy mills.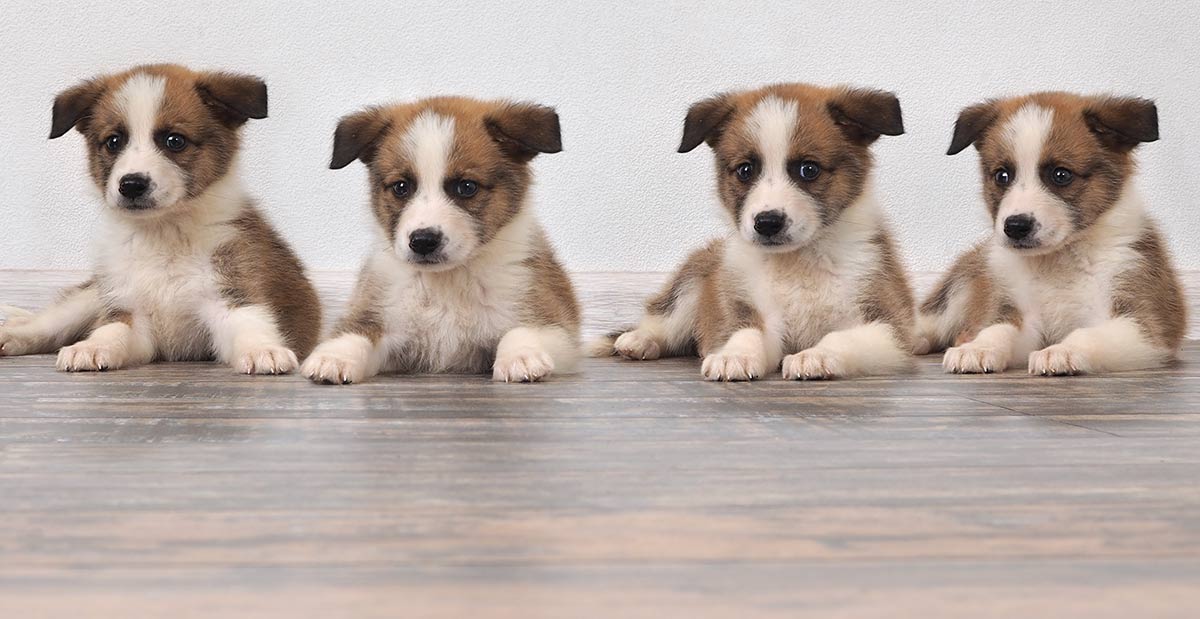 Where to Buy a Dog from Home Breeders
Home dog breeders don't usually make a profit on a regular basis. They include many hobby or breed enthusiasts who are competing with their dogs. They also include pet dog owners that have allowed their female dog to have a litter.
These pet dog owners are often looked down on by breed enthusiasts, and referred to as 'backyard breeders'. But they should not be discounted out of hand. In some cases a litter of puppies in a loving and caring family, can have a great start in life.
Okay, so now we have established the various sources of puppies, let's look at where to buy puppies for your family. We'll start with places to avoid.
Where To Buy a Dog – Places to Avoid
The following two commercial sources of puppies should always be avoided:
Puppy farms or mills
Puppy retailers
Some people have heard of puppy farms or puppy mills, and know that they are to be avoided. Others are not yet aware of the problems that can accompany a puppy born in a mill. And recognizing a puppy mill, or a farmed puppy, when you find one, is not always easy.
Such places are not always what you might imagine. And plenty of dog owners have purchased from a puppy farm inadvertently. Not all puppy farms keep dogs in squalor. So, how do you recognize a puppy farm when you meet one?
What is a Puppy Farm?
A puppy farm or mill is a place where female dogs are kept with the sole purpose of producing puppies for sale. These dogs are not pets, nor are they show dogs, nor are they working dogs.
A puppy farm girl will live in kennels, with several other females kennelled alongside her. In a small puppy mill she may be bought into the farmer's house for puppy buyer visits. But not all breeding kennels will be puppy farms. Which makes things rather confusing! Nor are puppy farms necessarily squalid, dirty places (though some are).
Puppy farm females are not necessarily ill-treated in any kind of obvious way. They may be in good health and well fed. What defines them is that their primary purpose is the production of puppies. And that they lack any meaningful relationship or bond with a human being.
Signs of a Puppy Farm
One indicator of a puppy farm is a variety or range of different dog breeds for no apparent reason. Puppy farms often keep females of three or more different breeds. Often from completely different groups of dog.
If the breeder you are visiting has puppies from the hound group and the toy group, or from the sporting or gun dog group and the herding group for example, be a little suspicious. It is normal for working gun dog breeders to have more than one breed of gundog on the premises. They may have Labradors, and Chessies, or Springers and Cockers, for example.
And their dogs will probably be living much of the time in kennels, but this does not make their owners puppy farmers. A gun dog breeder will have a strong bond with all his dogs, and they will be trained, worked and loved.
If this 'so-called' gun dog breeder is also breeding Pugs and Newfoundlands however, this should set puppy farm alarm bells ringing. Check out 'How to spot a puppy farm' for more information.
Why You Should Avoid Puppy Farms
Puppies that come from puppy farms often have problems. They are less likely to have been bred from health tested parents. Though the existence of health certificates, for hips and eyes for example, does not necessarily mean that the puppy is not a farmed puppy.
Puppy farmers will do whatever it takes to sell puppies, and if this means basic health tests, then they may well carry these out.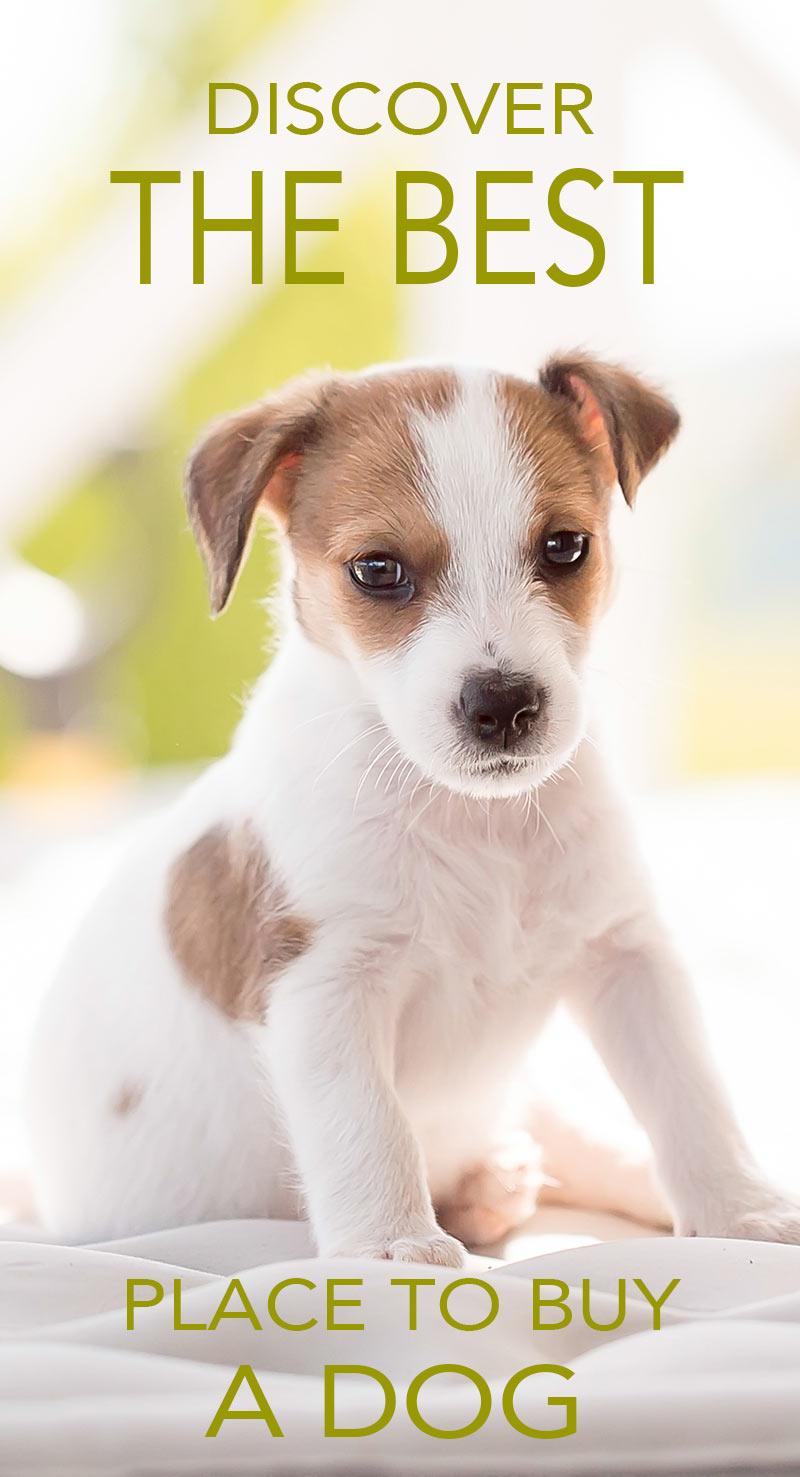 Puppies Bred For Profit
Bear in mind that the objective of the puppy farm is profit and both health tests and veterinary treatment are expensive. Good quality puppy care is time consuming and in any business, time is money. Puppy farmers will cut corners where possible.
As a result, puppy farmed pups are more likely to be sickly. They are less likely to have been socialized and more likely to suffer from behavioral problems. Because the puppy farmer's motives are primarily commercial, other aspects of the dogs' lives may be neglected.
Female dogs that are used for puppy farming lead rather sad lives. They are not given proper opportunity to form loving relationships with human beings and often suffer mentally through lack of stimulation and exercise.
By refusing to buy a puppy farmed dog you are helping to stamp out the practice of keeping dogs in this unhappy way.
Does AKC Registration Show You Where To Buy A Dog?
Pedigree registration with a national Kennel Club is not a protection against puppy farming. Just because a puppy is registered with a Kennel Club it does not mean that the puppy is not a puppy farm puppy.
Many puppy farms do register their pups with the Kennel Club. Especially if this increases their chances of a quick sale.
What About Pet Stores?
So the answer to 'where can I buy a dog' does not include puppy mills. But what about pet stores? You should never buy a puppy from a retailer. These puppies have their origins in puppy mills (breed enthusiasts will never sell to a retailer) and will not have had the right care and attention a small puppy needs in order to flourish.
There is no way of knowing their background or health. A recent study has shown that such puppies are more likely to be aggressive, and by purchasing them you are perpetuating the puppy mill system which causes great distress to animals.
Don't be tempted to buy a puppy from a pet supermarket or any other kind of store, or from a market or at a show or fair.
Most pet stores and venues of this nature are supplied by puppy farms, some will be stolen, and depending on your location, others may be illegally imported. Reputable breeders do not provide puppies in this way, and no reputable dog breeder would ever sell puppies through pet shops.
Stolen puppies are also often passed on at markets and shows. You wouldn't want to take a pup home only to find that it is already microchipped, and you need to return it to it's rightful owner.
Where To Buy A Dog Online?
Where can I buy a dog? What about online? You may see puppies advertised in your local newspaper or online. Proceed with some caution. Nice puppies can sometimes be found in advertisements, but there are risks.
Sometimes reputable breeders have to advertise their puppies. This may be because they have been let down by some buyers. Or because they are looking for specialized homes (eg working gun dogs) for their puppies. In which case their puppies will usually be advertised on specialist websites like 'The Gundog Club'.
Good breeders do not normally advertise puppies on big online puppy classifieds websites that cover all the different breeds of dog. Nor on big national listing sites where you can advertise everything from a second hand sweater to your pet elephant.
Adverts on these sites are much more likely to be from people that have just bred a litter from their pet, or from puppy farmers.
Where To Buy a Dog From A Reputable Breeder?
Many, if not most, well-bred puppies are booked in advance or sold by word of mouth. So, in order to get hold of one, you must first find a good breeder. Finding a reputable breeder is by far the best way to find the puppy of your dreams. For several reasons, the first and foremost of which is the health and temperament of your puppy.
A reputable breeder will be very knowledgeable about their breed. He or she will be aware of the diseases that are prevalent in the breed and will have tested their breeding stock where tests are available.
The reputable breeder will be focused on breeding puppies that will be healthy and make great companions. They are also likely to be a great support to their new puppy buyers and will take back the puppy if at any time disaster strikes your family and you can no longer keep him.
Reputable breeders have a massive amount at stake when they sell you a puppy. Their reputation is on the line with every puppy they sell.
We explain exactly how to find a reputable breeder in your area in this guide: How To Find A Breeder.
Where To Buy A Dog From A Healthy Litter?
Finding a good breeder does not necessarily mean that your search for a puppy is over. You still need to find a litter of puppies. Most good breeders will only have a few litters each year. However, many reputable breeders will also own at least one 'stud dog' who will be mated possibly many times a year, with good quality female dogs.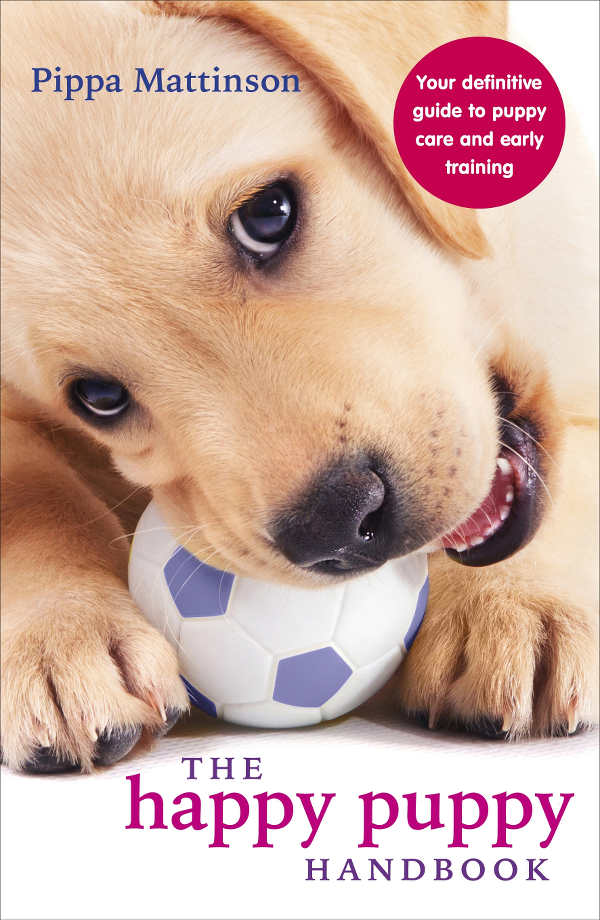 A good breeder will 'vet' the girls that their dog is mated too, often ensuring that they are health tested, and of good temperament. The breeder will be able to put you in contact with the owners of these females.
This gets you off to a great start with your search for a puppy.
Where To Buy a Dog From a Rescue Center
A final route to consider when bringing a new dog or puppy into your home is turning to a rescue center. This article is primarily about buying a puppy from a breeder. So, if you would like more information on rescue center dogs and the adoption process, take a look at this guide.
It can be harder to find puppies at rescue centers. But, if you are happy to bring home a slightly older dog, this can be a great way to offer one a new, loving home. Rescue dogs often cost less than puppies. But, it's important to make sure the dog's temperament and care needs match up closely with what you can offer.
Rescue dogs that haven't been treated well early on in life may take a lot more work and time until they trust you and feel at home in your family. But, it's very rewarding when you get there.
Where to Buy a Dog Matters A Lot
Hopefully this guide has helped you learn where to buy puppies. It is important that you do not take any chances when purchasing a puppy. If you have decided now is the perfect time to get a dog, then avoid puppy farms, pet shops, and markets. Be cautious about puppies that are advertised on 'puppies for sale' websites or in local newspapers.
You need to find yourself a reputable breeder. Finding a breeder may not lead straight to a litter. But from there you will find a female dog who is pregnant or about to be mated, and be able to book your puppy in advance.
Remember, it isn't the fact that the breeder makes a profit from their puppies that defines whether or not they are a good place to buy a puppy, but the purpose of the mother dog.
She should be loved as a pet, or busy working with her handler in competitions or fieldwork. Preferably both. But the key is that the mother dog has a good life and a significant relationship with a human being.
It's quite a long process but searching for your future friend should be a lot of fun!
Find Out More About Puppies
More Puppy Information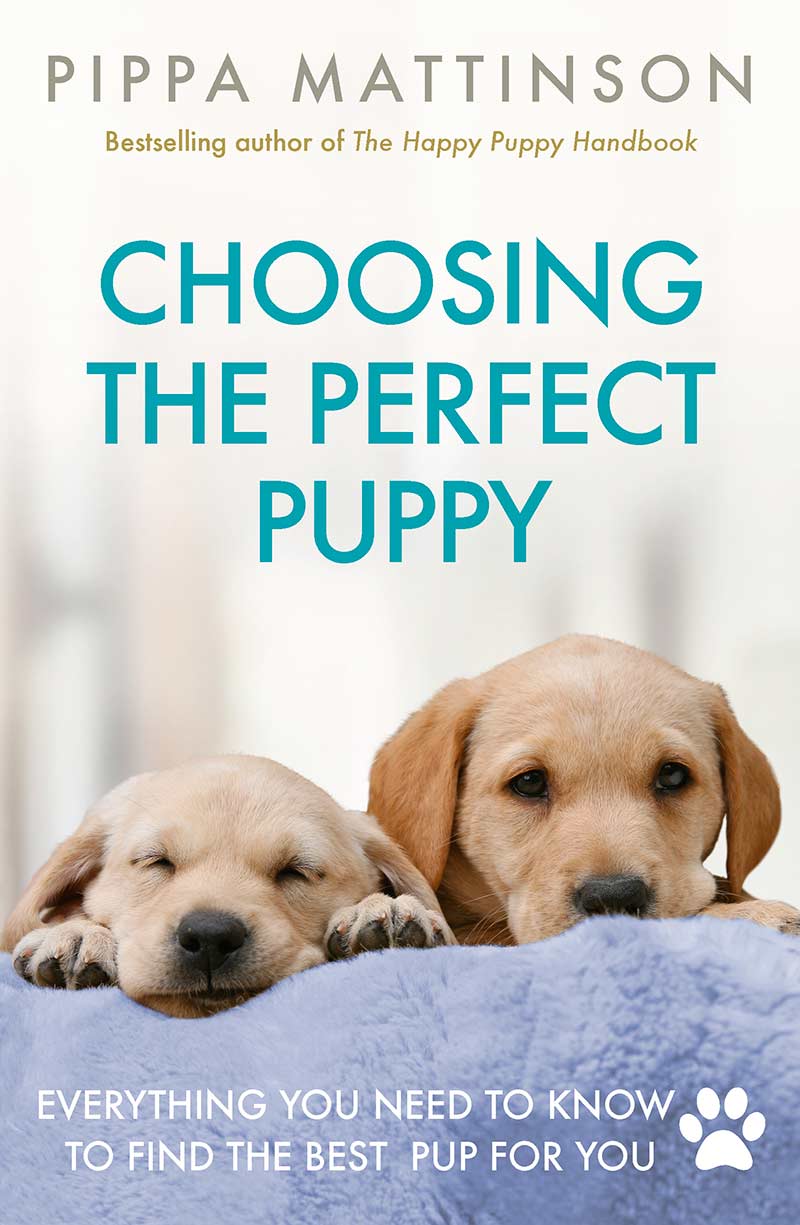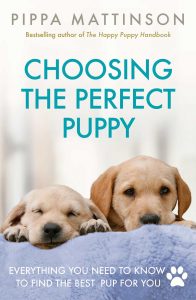 For more information check out the articles in our puppy search series
Or order a copy of Pippa's book – Choosing The Perfect Puppy.
It's packed with information on choosing the right puppy for your family, including reviews of the most popular dog breeds.
References and Resources