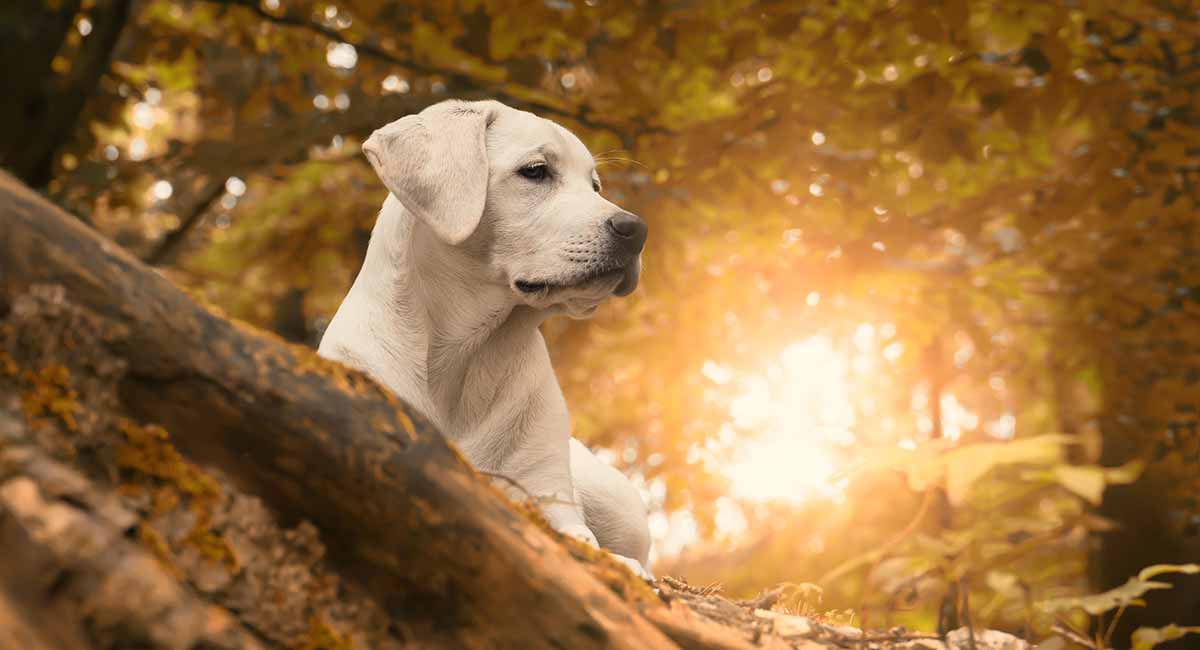 The Labrador Retriever is a popular gundog and companion.
These dogs generally weigh between 50 and 80 pounds, and come in three standard colors – black, yellow, and chocolate.
They are intelligent, co-operative, and friendly, known for making great family pets.
So, let's take a closer look at the pros and cons of the Labrador Retriever.
What's In This Guide
Labrador Retriever FAQs
Take a look at our readers' most popular and frequently asked questions about the Labrador Retriever.
If you are trying to decide whether to welcome a Labrador Retriever puppy into your home, then we will give you the advice you need to make the right decision for you and your family.
Breed At A Glance
Popularity: 1 out of 193 breeds on AKC
Purpose: Sporting
Weight: 50 – 80 pounds
Temperament: Friendly, energetic, confident
Here's what we will cover in this article.
Labrador Retriever Breed Review: Contents
To understand the modern Labrador, we need to take a little look at his history and previous roles in society.
History and Original Purpose
In common with our other most popular breeds, the Labrador Retriever belongs to the group of dogs known as 'gundogs'. In reference to their original role as hunting companions to their human owners.
Labradors have been selectively bred for a century now, as hunting companions. Their role is to retrieve shot game and return it to their handler in a fit state to eat.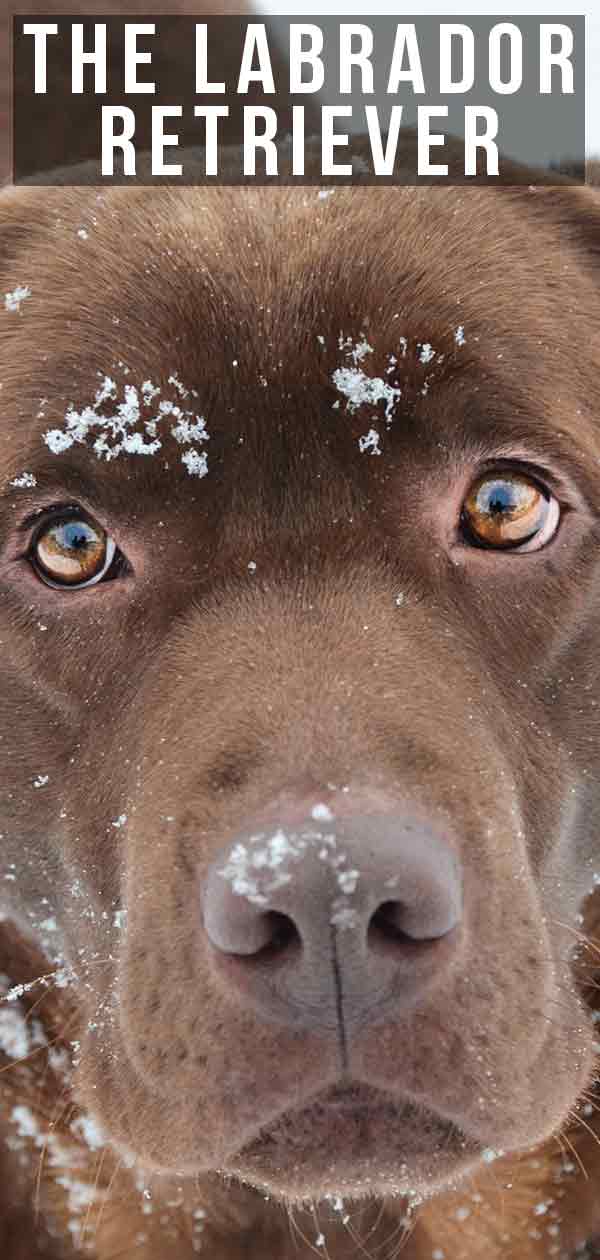 This is a job that requires not only natural retrieving instincts and a soft mouth, it also requires intelligence and co-operation.
The breed was established in England by a few enthusiastic aristocratic families during the early 1900s.
They used St John's water dogs, imported from the USA as the foundation for the breed.
Fun Facts about Labrador Retrievers
Not only is the Labrador Retriever our favorite pet dog, it is also the dog favoured in canine service industries the world over.
Guide dogs, military dogs, therapy dogs, sniffer dogs, search and rescue dogs, Labradors dominate in all these fields.
One of the most popular films featuring a Labrador is Marley & Me. And even Brian from Family Guy is a Labrador!
This breed have even been owned by some very well-known people. This includes: Bill Clinton and Prince William!
Labrador Retriever Appearance
Labradors have retained the general outline of their predecessors, although they have floppy ears, a short coat and a wide otter-like tail.
A physically robust dog that ranges from fifty to eighty pounds in weight, the Labrador is no small dog and can take up quite a lot of space.
Especially when happy, where their body can move along with their tails in what is fondly known as a 'full body wag'!
Coat Colors
They traditionally come in three colors, chocolate, black or yellow, although there are a range of shades within this. Most notably fox red and white hues, described by the Kennel Club as yellow.
There is no significant difference in type between the colors, but Black Labradors tend to be favored by the working gun dog community while Chocolate Labs and Yellow Labs have a stronger following in show and pet dog circles
Silver Labs
In recent years, a new color has appeared in the Labrador Retriever gene pool which has caused a bitter controversy.
The color is the silver Lab, which many Labrador enthusiasts see as an abomination, while others view it as a delightful addition to the Labrador Retriever family. You can find out more about this controversy on The Labrador Site
Working vs Show
Just like some of our other gundog breeds, the Labrador Retriever has however become divided into two quite different strains of dog.
In the UK we call these working and show. In the USA you are likely to hear them referred to as field and bench, or American and English (born of the misconception that we don't have the same breed division in the UK).
The two strains of Labrador have sadly become increasingly divided over the last two or three decades, and it is now many years since we had a true dual champion Labrador (a champion in the field and in the show ring.)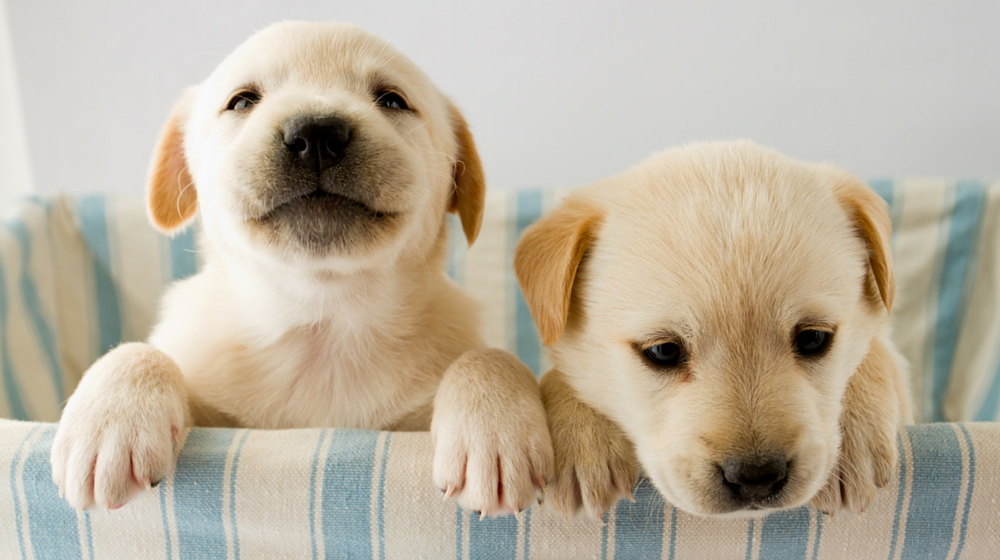 Welcome to your complete guide to the Labrador Retriever.
Working Lab Appearance
There have been some slight changes to the skeleton of the modern working strain Labrador Retriever.
He is less heavily built than his show ring cousins.
His skeleton is lighter and narrower, essentially he is built for speed.
This is largely because fast and stylish dogs are favoured in Field Trials – competitions which confer status to successful dogs and make them more likely to be selected for breeding.
Sadly, many working strain labs have lost the characteristic Labrador's Otter tail and some have a thinner coat than labs of the 1900's.
Show Lab Appearance
Comparisons with photographs of show winning Labrador Retrievers from fifty years ago, show that modern show labs are more heavily built than their ancestors.
This is especially noticeable in the head and chest area, and in many cases they are somewhat shorter in the leg than they used to be.
Why this has happened is not clear. What we do know is that with this division in appearance, has also come a difference in personality and temperament between the two strains.
Labrador Retriever Temperament
A typical Labrador temperament will differ between working and show bred dogs.
Over the last hundred or so years, the mental and physical abilities of our working Labradors have been enhanced and refined by selective breeding and we now have a breed with some extremely useful abilities and a very desirable temperament.
But this has fractured into two camps, the show bred and the working bred.
Working Lab Temperament
The working dog is often more sensitive and serious. He may be less playful too, and these attributes make it easier for him to focus on his training and on his handler.
Much of a Labrador Retriever's job is an intricate piece of teamwork between the dog and his handler. The handler will know or have been told approximately where the game bird or animal is located, but be unable to reach it himself.
The dog on the other hand, will have the ability to reach the bird, but no idea of approximately where it lies.
What This Means
Rather than have the dog hunt randomly all around him, the handler needs to be able to send the dog far away from him and give him directions at a distance.
It is the complex training needed to achieve this aim, that requires both an intelligent and a co-operative dog.
And of course, such a dog is ideally suited for training to carry out all kinds of other tasks too.
This intelligence and co-operative nature lies at the heart of the Labrador Retriever's success and popularity. It is present to a considerable extent in all our gundog breeds, and underpins the overwhelming popularity of this group.
Show Lab Temperament
Show bred Labrador Retrievers retain a lot of the traits of the working lines, brought forward from their routes as gundogs. But they have also developed some differences in their personality.
The show bred Labrador may be more outgoing and unreservedly friendly.
Whether you think this is a good thing or not depends entirely upon your personal preference.
Their outgoing natures can be a little tricky to manage when they are bouncy teenagers, and show bred dogs may take longer to mature than their working cousins.
What About Adult Labrador Retrievers?
They also remain very playful into adulthood, when working dogs will have often become more sensible in their outlooks.
A show bred dog may also lack the speed, drive and powerful retrieving instincts that occur in abundance in his working cousins.
Are Labrador Retrievers Friendly?
They in general get on well with other dogs, and although they have some prey drive they do not tend to become overly excited by other household pets.
You can happily find numerous Labradors making good friends with the family cat, and simply giving an interested sniff to the rabbit in the hutch outside.
They are kind and friendly dogs with humans, and often love children.
But Be Aware
The downside to this however is to do with their excitement and size. A Labrador is more likely to injure a child by knocking them over or upset them by licking them mercilessly than he is to behave aggressively towards them, but these behaviors can still be unwanted by the child in question!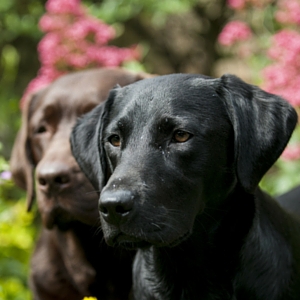 You will need to make older children aware when your puppy needs space, and to supervise interactions with younger children carefully.
Making sure they both have space to escape when they need a rest, and that they don't accidentally hurt one another!
Training your Labrador Retriever
In order to live happily with a Labrador Retriever, you will need to invest some time in training your puppy.
House manners such as not jumping up, and the basic commands like to sit and come when called will make your life much easier.
You will also benefit from teaching your Labrador heel from puppyhood using the clicker heel technique, as an adult Lab can pull very hard on the leash if untrained.
You might also enjoy bonding together through advanced training with your dog.
Labs Are A Great Choice!
Labradors, especially those from working lines, are great dogs for people interested in training. Their ability to work co-operatively with humans is well developed, as a result of the distance control required for the gundog work they were bred for.
Wherever teamwork and remote control is required of a dog, we tend to find an abundance of intelligence and a willingness to co-operate with a human partner.
Making use of this won't just give you a better behaved dog, it is a fun activity and one that will strengthen the bond between you.
Socialization
Labrador Retrievers are notoriously friendly dogs, but this does not mean that the breed is without exceptions to the rule. If you take a puppy into your home, taking responsibility to help him feel confident is an important part of your role as their owner.
Whilst the urgency to get them familiarised with different people to avoid potential aggression issues isn't as great as it is with some guarding breeds, it is still a good idea to help them to feel happy around a variety of different types of people.
You also want them to be comfortable in lots of different situations, for example in the park, the pub garden or walking down to the local shops.
What About Vaccinations?
You can take your pup out to meet people before his vaccinations have been given, as long as you don't put him down on the floor or let him greet strange dogs with unknown vaccination histories.
Carrying him on the bus or into pet shops is a great way to get him used to the idea of new places.
Once your vet has cleared him to go for walks, you can up your efforts for the next few weeks. Remember, the socialisation window closes sharply after around 14 weeks of age, so get visiting as many places and people as possible.
Exercising Your Labrador Retriever
Labradors are big dogs, with lots of energy. You will find that they are more likely to relax at home if you give them a couple of good half hour walks a day once they are fully grown.
However, exercise does not have to be in the form of a formal walk. You will find your Labrador Retriever may even prefer playing fetch in the garden to going out and about.
As born and bred retrievers, most Labs will happily race back and forth for a ball to tire themselves out.
Labrador Retriever Health and Care
Because Labradors were bred for so long (and still are to some extent) for a practical and demanding job of work, they do not suffer unduly from major health issues brought about by exaggerations in conformation.
The conformation of a dog is the way he appears due to his underlying structures.
And the Labrador Retriever is generally speaking a physically well-balanced dog. Like all floppy eared dogs however, he is more prone to ear troubles than his prick-eared cousins.
Fat Labrador Retrievers
Obesity is becoming a widespread problem in this breed. It is sadly increasingly common to see Labradors that are seriously overweight.
It's not a problem that is confined to Labradors. But because Labrador Retrievers are generally very greedy dogs, they are susceptible, and it is vital that they are not fed according to appetite but according to their appearance.
Inherited Diseases
There are a number of inherited diseases to which Labrador Retrievers are prone, and for which there are health tests available.
The most well known inherited diseases that Labs suffer from are to do with malformation of their joints. Hip and elbow dysplasia. Both of these are at a higher risk in Labradors than in other breeds.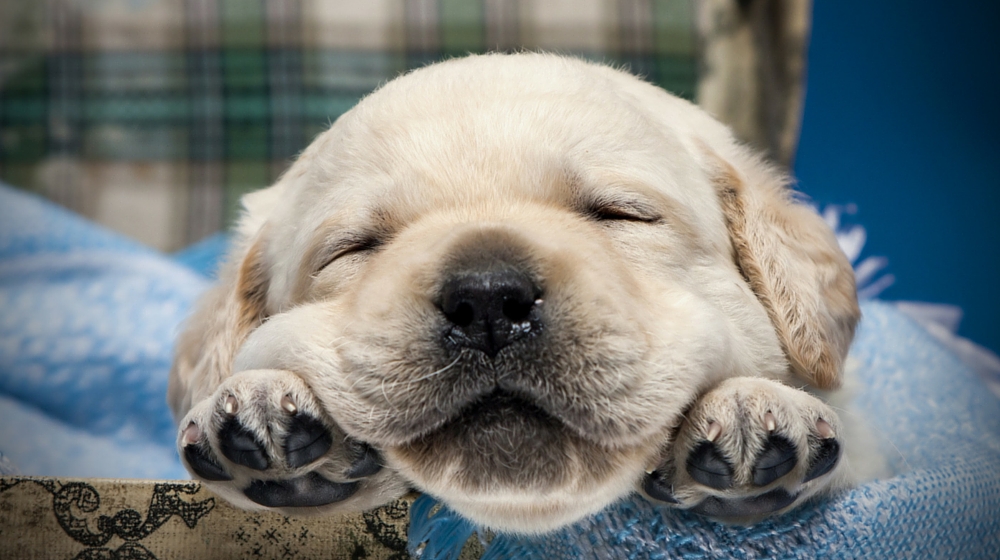 Fortunately, breeders can have x-rays carried out on potential puppy parents, to assess the quality of these joints. They are scored on a scale, and this gives you an idea of the likelihood of your puppy suffering from hip or elbow problems.
The closer to zero a dog's hip score is the better, and you preferably want it to be even. So a score of 7 in total is better than average, but if that is made up of 3:4 it is better than 0:7, which suggests one side is perfect and the other far poorer.
Eye Issues
Labrador Retrievers also suffer from vision problems. Progressive Retinal Atrophy (PRA) being the most common, but CNM and EIC also an issue.
Your pup's parents should have clear eye tests and a certificate showing they are clear from all of these. In general terms however, this is a robust and fairly healthy breed of dog.
Labrador Retriever Lifespan
Labradors generally have a lifespan of ten to twelve years. Although I have known some that lived a few years longer, this sadly relatively short period of time is the norm.
On the bright side, if they remain healthy into old age, there is no reason your puppy shouldn't stay active and healthy during his retirement years. Loving, loyal and fun until the end.
Do Labrador Retrievers make Good Family Pets?
Any Labrador can make a good pet in the right home. But they are not for everybody.
They are fairly large, shed a lot and can be smelly. They are often bouncy, and tend to nip a great deal as puppies and adolescents.
However, if you have the time to commit to training and ability to separate your growing pup from vulnerable members of the family and fragile ornaments, there are an awful lots of things that make Labrador Retrievers good pets.
What if I Work Full Time?
If you have a full time job, you will need to think long and hard about the logistics of welcoming a Labrador puppy into your home.
Puppies require a lot of attention, especially in the first few weeks. You will need to either take time off work or work from home during this period.
If you do choose to work from home, or are lucky enough to bring your pup to work with you, you will find that they are quite the distraction during this time as they will need frequent trips outside to the bathroom to pre-empt them emptying their bladders on your floor and getting into bad habits.
Separation Anxiety
As they grow, your Lab will be better able to hold his bladder, but you may still find working full time difficulty. Labrador Retrievers are social creatures, and can suffer from separation anxiety when left for protracted periods of time.
This can lead to destructive behavior in the house when you are out, or an awful lot of noise for your neighbours to listen to.
Other Options
One option for Labrador Retriever owners who work full time is to get a dog walker to come and pick them up a couple of times a day, or if they suffer from separation anxiety to look into options for full time doggy day care at a dog creche whilst they are at work.
You may not know whether this is something your dog will need until they are older, but the best way to set yourself up is to build up periods alone slowly, provide lots of fun toys and make sure they are never left for so long as to become distressed.
Rescuing a Labrador Retriever
Even though they're popular dogs, Labs can still end up in rescue centers.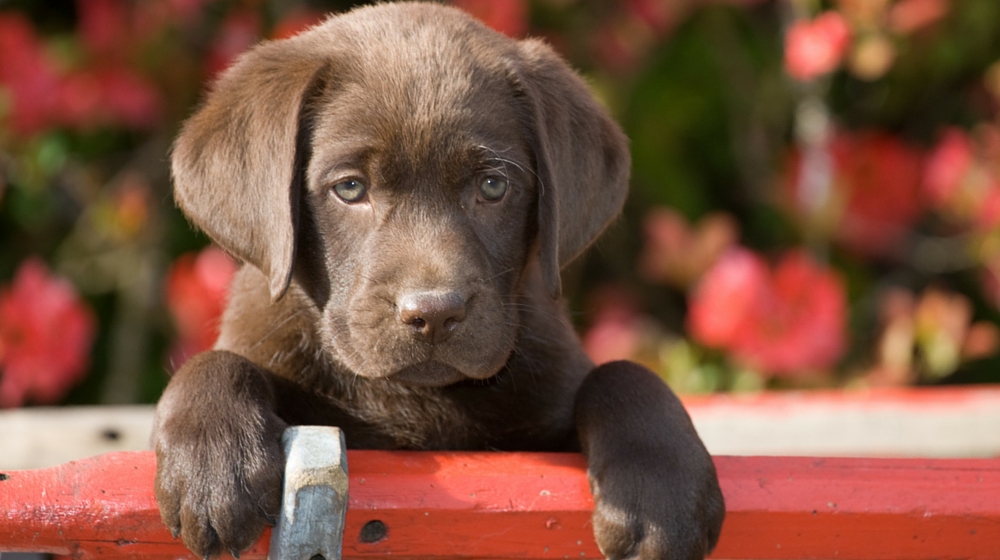 Choose a Labrador Retriever from a rescue center to give one of these dogs a second chance at a loving family and home.

Click here to jump to our list of rescue centers!
Finding a Labrador Retriever Puppy
Labradors are certainly very popular dogs. Just by looking at the number of registrations of pedigree dogs in the UK and USA, we can see that thousands are born and sold to new homes every single year.
But it's still really important to make sure you go to a reputable breeder.
Reputable breeders will be able to provide proof of health testing, and will let you meet both parents.
Make sure to ask lots of questions, and expect the breeder to do the same to you.
Most importantly, avoid buying a puppy from a puppy mill or pet store. These dogs are often mistreated and bred without care for their health, just to make a profit.
Labrador Puppy Price
Buying a Labrador Retriever puppy will cost you anywhere between £400 – £1,000 depending upon where in the country you are, what health tests the breeder has carried out and whether the pup is registered with the Kennel Club as a pedigree.
Do not be tempted to simply go for the cheapest Labrador Retriever puppy, remember that your dog should be with you for at least the next ten years.
Prioritise breeders who seem committed to the welfare of their dogs, who have clear health tests for every relevant disease and show that they will be available to you if you have any questions throughout the lifetime of your pup.
Remember as well that the cost of a dog is not primarily the price you pay for them. Each year you will rack up considerably more than their initial sale cost in food, insurance, worming, flea treating and general costs of toys, bedding and more!
Raising a Labrador Retriever Puppy
Labrador Retrievers are bouncy, especially when they are pups. They are also fairly large. If you live with someone frail or very young, they will inevitably get knocked over or hit by a wagging tail.
If you work full time you will need to factor in day care, and if you have children ways of keeping them separate when you are unable to supervise them.
However, if you are confident you are able to deal with training your dog and giving him the care and exercise he will need, you will be rewarded with the most loyal, loving and fun companion you could ask for.
We've got some great guides that can help you with all aspects of puppy care on our puppy page.
Popular Labrador Retriever Breed Mixes
The lovable personality of the Lab has made it a popular choice for mixed breeds.
We've got some great guides to tons of lovable Lab mixes.
Take a look at a few of them below.

Comparing the Labrador Retriever with Other Breeds
If you're still not sure about the Labrador Retriever, we've also compared him directly with other dogs.
These guides will help you decide whether he really is the right fit for your family!

Beagle Vs Labrador
Rottweiler Vs Labrador
Similar Breeds
You may be put off choosing this breed due to the fact that they are because of their popularity, considered to be very ordinary.
Some people are dissuaded from the Labrador Retriever breed because they want something different.
However, this is a two-sided coin.
The reasons this dog is so 'everyday' is because he is also so special. Unusual breeds are often unusual for a reason. Because they are not so well suited to such a large number of households.
Similar Breed Guides
But our guides can help you decide if they are right for you. Take a look at some similar breeds below.

Pros And Cons of Getting A Labrador Retriever
Let's recap the pros and cons of getting a Lab.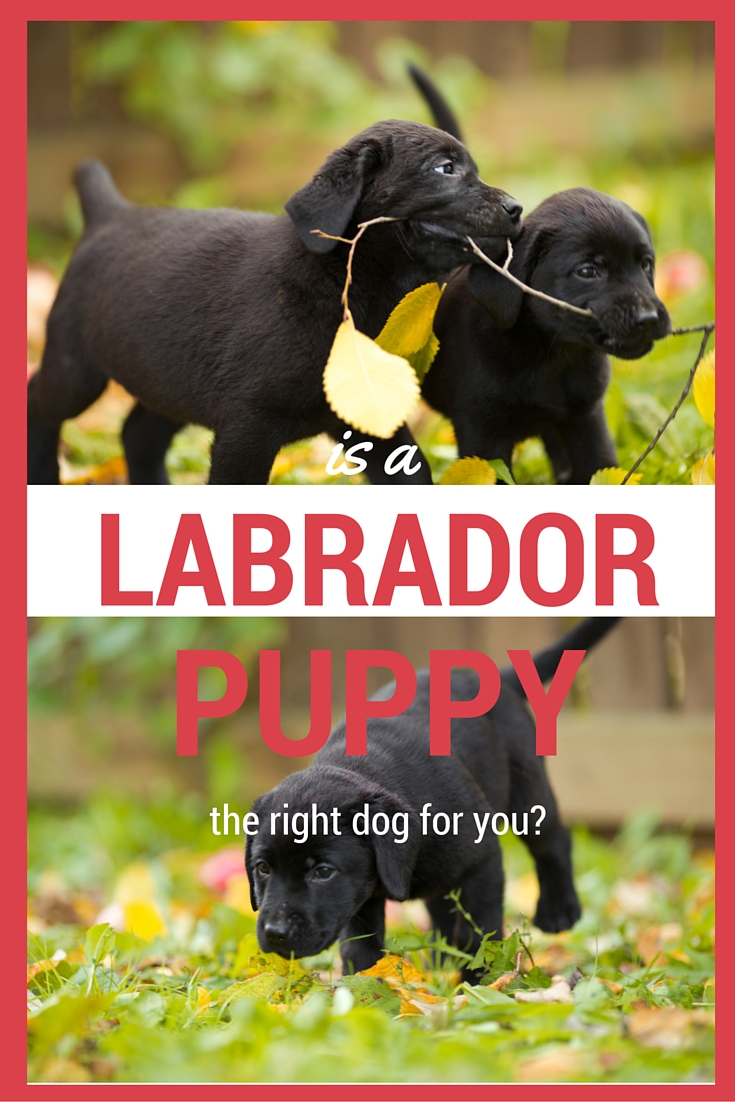 Cons
Labs grow to be big dogs that need quite a bit of space.
They don't cope well on their own and need families that can spend a lot of time with them.
Plus, they need a lot of exercise to keep healthy and happy.
Also, they will shed, so need regular grooming and maintenance!
Pros
Labs are super friendly dogs when socialised well.
They get on well with other animals, dogs, and people.
Plus, they don't suffer from conditions that result from targeted-appearance breeding.
Labrador Retriever Products and Accessories
There are plenty of things you'll need to prepare yourself for the arrival of a Lab puppy.
Fortunately, we've got some great guides to help you out. Check them out here:

Labrador Retriever Breed Rescues
Here are some Labrador Retriever rescue centers you'll definitely want to check out.
USA
UK
Canada
Australia
If you know of any other great Lab rescues near you, add them in the comments to help others!
And make sure you tell us about your experiences with the friendly Lab!
References And Resources
Gough A, Thomas A, O'Neill D. 2018 Breed Predispositions to Disease In Dogs and Cats. Wiley Blackwell
O'Neill et al. 2013. Longevity and Mortality of Dogs Owned In England. The Veterinary Journal
Schalamon et al. 2006. Analysis of Dog Bites In Children Who Are Younger Than 17 Years. Pediatrics
Duffy D et al. Breed differences in canine aggression. Applied Animal Behavior Science 2008
Strain G. Deafness prevalence and pigmentation and gender associations in dog breeds at risk. The Veterinary Journal 2004
Adams VJ, et al. 2010. Results of a Survey of UK Purebred Dogs. Journal of Small Animal Practice.