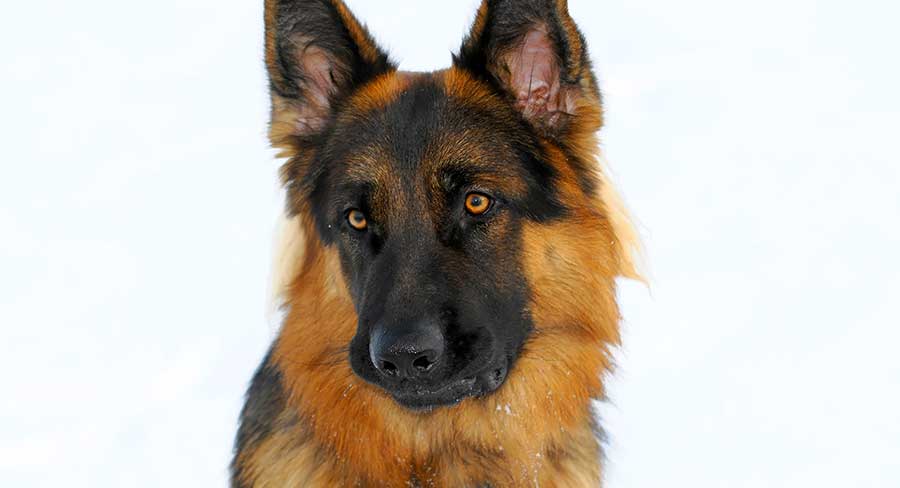 Your puppy's first birthday is an exciting milestone, and here's everything you need to know about what the future has in store with a 1 year old German Shepherd dog! Whether you've had your puppy since they were born, or you adopted them later, reaching their first birthday can feel like a step into the unknown. You're likely to have questions such as:
A one year old German Shepherd is nearly full-sized physically, but emotionally they still have a lot of maturing to do. They're hitting some important milestones, but at the same time it's important not to stop reinforcing the good habits you established in puppyhood too prematurely.
1 Year Old German Shepherd Size
German Shepherds, like all dog breeds, grow very rapidly during their first year. At a year old, they're barely recognizable as the fluffy puppy you bought home!
How much should a 1 year old German Shepherd weigh?
A male German Shepherd typically weighs between 60 and 84 pounds on his first birthday. And a one year old female German Shepherd usually weighs between 46 and 68 pounds. Since females mature faster than males, her weight on her first birthday is closer to her final adult weight than her brothers are.
When do German Shepherds stop growing?
If you've established a regular habit of weighing your GSD (which you should, it's a very good habit!) you'll notice that the rate they're gaining weight has started to slow right down now. In fact, females may only gain a couple more pounds after her first birthday – the ideal weight range for adult female GSDs is 50 to 70 pounds.
Male German Shepherds also stop gaining weight as rapidly after they turn one. But, in common with other large and giant dog breeds, this tends to be a pause, rather than an end to growing. Before they turn two, you'll notice that they start to 'fill out' with muscle, and gain another 5 or 6 pounds as they do. So it's still going to be several months before you'll know their true adult weight. Fully grown male GSDs weigh between 65 and 90 pounds.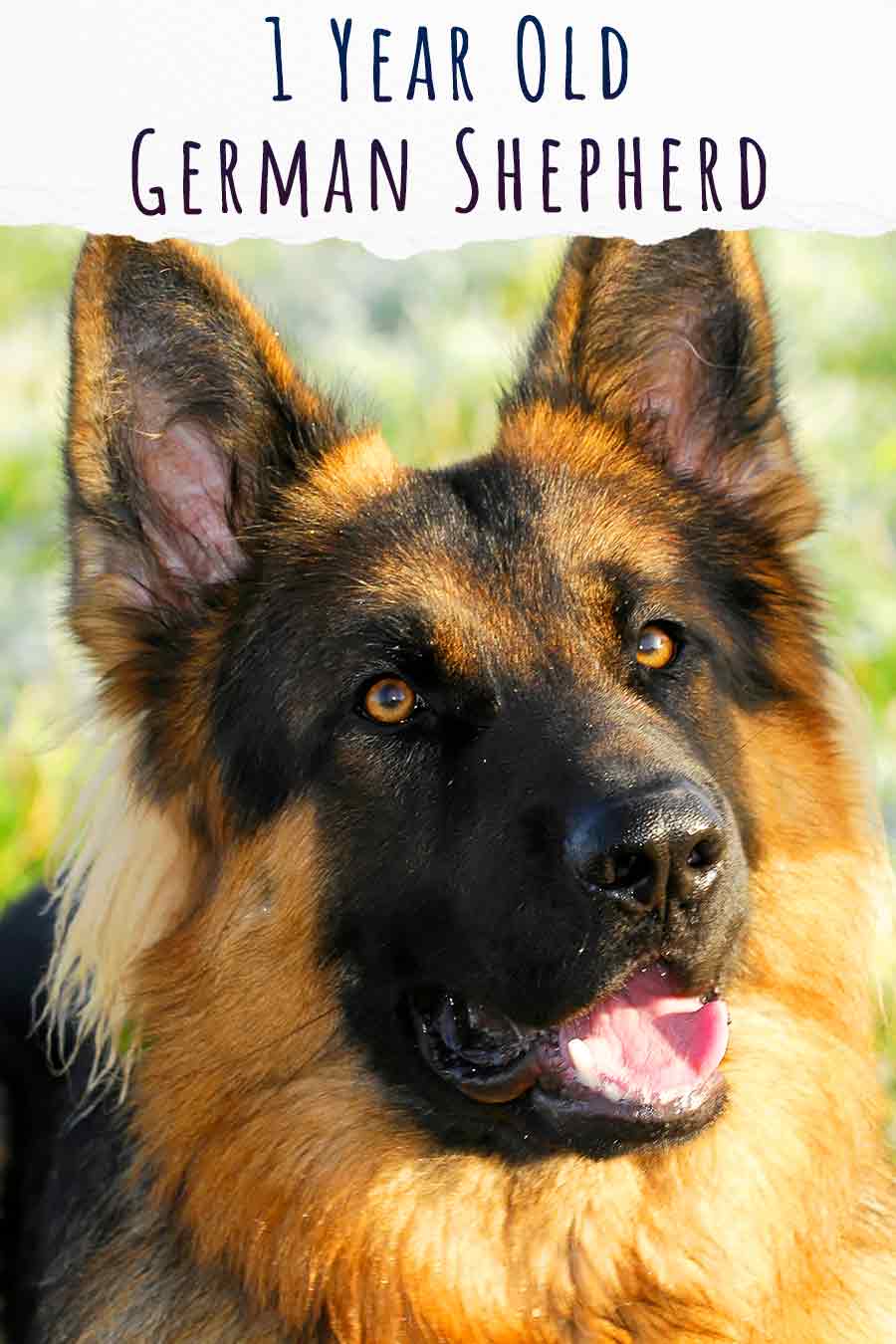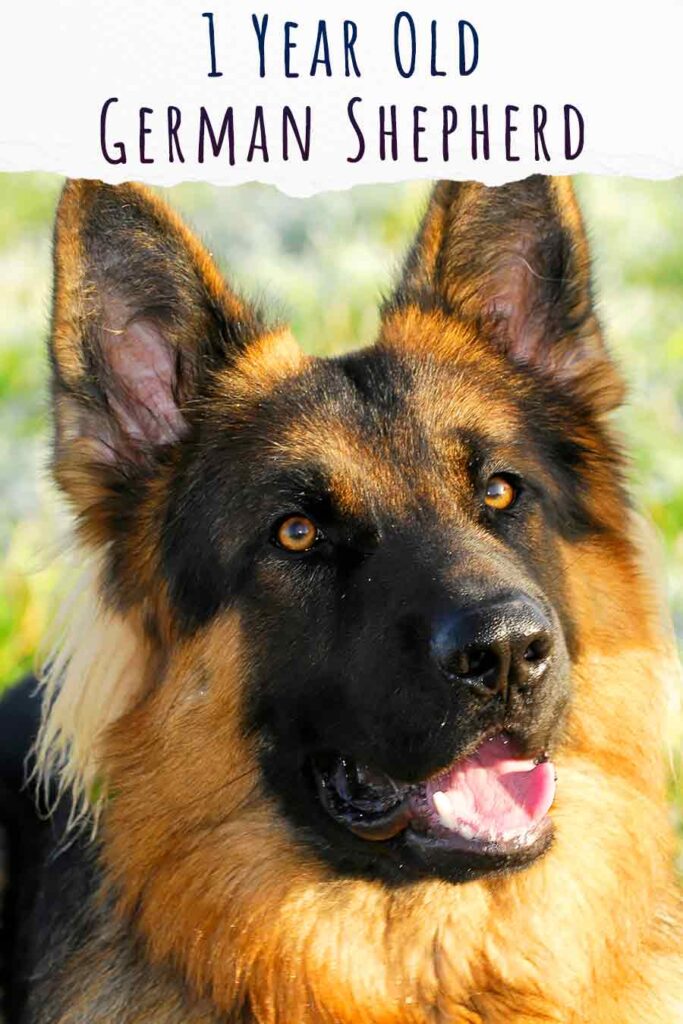 1 Year Old German Shepherd Diet
Around their first birthday is the milestone lots of GSD parents choose to transition their pup onto an adult diet. German Shepherd puppies need a diet which is specific to their age, and predicted adult weight. This serves to fuel the rapid period of growth before their first birthday, but also make sure they don't grow too quickly, which can increase the risk of orthopedic problems in later life.
Even the biggest male GSDs have achieved over 90% of their adult weight by their first birthday. And the smallest females are likely to be fully grown. So it's time to decide what you'd like them to eat going forwards, and transition them onto their new diet. Their adult food will be less calorie dense than their puppy food, so that they can still enjoy portion sizes that make them feel full, but they don't become overweight.
This article can help you choose an adult diet for your year-old German Shepherd. If possible, transition your dog onto their new diet gradually over a period of several days. Give them 3 parts old food to 1 part new food on days 1 and 2. Then equal parts old and new food on days 3 and 4. And finally, 1 part old food to 3 parts new food on days 5 and 6, before ditching the old food altogether. Your puppy is now eating like an adult!
1 Year Old German Shepherd Behavior
Around their first birthday is the time that a lot of puppy parents report that their puppy starts to calm down and behave more like a 'grown up'. But there are a few things to bear in mind:
All individuals are different – what's true of your friend's dog might not be the same of yours.
German Shepherds were originally developed as the ultimate herding and guardian breed, and guardian breeds tend to reach emotional maturity later than other dogs. As working dogs, this results in a longer window to form a close social bond with their flock – which gives them the emotional motivation to defend it against large predators.
Male dogs tend to mature more slowly than female dogs, so don't worry if your male GSD seems less settled than his sisters!
Their temperament is going to continue developing for many months yet. One study of German Shepherd behavioral development found that confidence continues to increase significantly between their 1st and 3rd birthdays. There is also a corresponding decline in nervousness and jumpy reactions.
There are some traits we think of as being innately German Shepherd, but nurture is just as important as nature in determining how friendly or reserved, cooperative or stubborn, bold or shy, your GSD is. Since their temperament will continue to evolve for another two years, don't assume that their personality at a year old is the finished product. Keep building up a pattern of positive experiences with places, people and other animals. And use training to build their confidence and make cooperation with you rewarding. If you stop these things now, you miss out of two years of opportunities to help them be the best, happiest dog they can be, and you even risk losing some of the progress you've made so far.
Training a 1 year old German Shepherd
Your year old German Shepherd Dog may look fully grown, but emotionally they are still immature, and their confidence is still under developed. So it's important to keep training them, in order to build up a habit of good behavio, and to boost their confidence and minimize nervousness.
There are two important kinds of training for a 1 year old German Shepherd:
1. Reinforcing obedience
You've probably worked on your GSD's general obedience a lot already. Don't stop now! Keep rewarding good behavior and good decisions, to get more of both in the future and turn them into established habits. These articles will help you train a 1 year old German Shepherd with confidence:
2. Giving them a job to do
The GSD's work ethic is legendary, and now they're nearly fully grown, you'll probably discover they get bored, restless, and even destructive if they aren't sufficiently occupied during the day. Training for activities like canicross, joring, agility, advanced obedience, scentwork and herding trials can all give your Shepherd an important sense of purpose.
Is It Time To Spay or Neuter Your Dog?
Deciding to spay or neuter your dog is a very personal choice. If your GSD wasn't spayed or neutered as a puppy (for example before being released by a rescue shelter) then it's likely you're starting to think about it now. For large breed dogs with a high frequency of joint disorders, including the German Shepherd, most vets recommend waiting until males are fully grown before neutering them. This is because removing the testicles also extends a dog's growing period, which can make future joint problems worse. If your male GSD is predicted to be very large, then it might still be too early to neuter them now. But your vet can give you personalized advice on this.
A 1 year old female German Shepherd is likely to have had her first heat already. Many vets prefer to arrange spay surgery promptly after a heat cycle, in order to avoid performing it just as a new heat cycle is beginning. If spay surgery isn't something you've considered yet, you can talk over the pros and cons at her next vet check, and when the optimal time for surgery would be.
Checklist of One Year Old German Shepherd Milestones
As your German Shepherd celebrates their first birthday, here's a checklist of other important events to make sure you don't miss:
Book their booster shots
Most dogs have annual booster shots to maintain their protection against rabies, distemper and parvovirus. Only the rabies vaccine is required by law – ask your vet what the specific regulations are in your area. Booster vaccination against distemper and parvovirus is optional – your vet can discuss the risks and benefits with you, and alternatives such as titer testing to measure how much immunity they have retained from their puppy vaccines.
Renew their insurance
Pet insurance provides peace of mind if your dog needs expensive veterinary treatment. For example, GSDs are one of the dog breeds most susceptible to gastric dilatation volvulus, or bloat. Bloat kills dogs very quickly unless they receive emergency surgery, and even surgery with no complications can cost $5,000. 1 in 5 GSDs will also develop hip dysplasia in adulthood, and medical management of their symptoms will only be covered by insurance if your policy predates their diagnosis. It's also worth looking for an insurance policy which covers public liability if your GSDs bites someone or damages their property. Awards made to victims of dog bites can run to hundreds of thousands of dollars, which is a lot of money to find without insurance.
Recreate a puppy photo
Ok this is a fun one. Dig out one of your favorite photos of your German Shepherd as a puppy, and recreate it now they're nearly full sized. It's a fun way to commemorate how much they've grown, and you're sure to love looking back it it in years to come.
Bake them a cake
Because why not? It's their birthday after all. We've got some recipes right here.
Pat yourself on the back
It's not easy getting a German Shepherd from 8 weeks to a year old. You've probably had some significant lows, as well as massive highs. So take some time to reflect on everything you've achieved together already so far. You're doing a great job!
Is Your German Shepherd About To Turn 1?
What advice would you like to go back and give yourself 10 months ago? And what are you hoping to achieve together by their second birthday? Let us know in the comments box down below!
For more information about German Shepherds, you'll also enjoy the following articles: