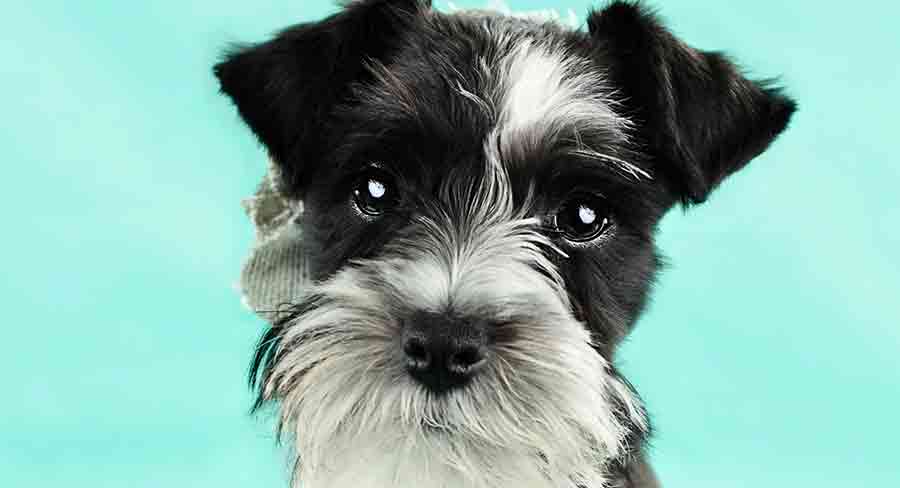 A parti Miniature Schnauzer has patches of white fur in their coat. Parti coloring is not recognized by the official breed standard for the Mini Schnauzer. So this coat pattern is somewhat rare for the breed. But a purebred parti Mini Schnauzer is likely to share all the same great attributes as their solid colored brethren!
In dog world parlance 'parti' or 'particolor' means "with white patches". The prefix 'parti' can be added before any other color. It means 'that color, with white'.
Contents
Official Miniature Schnauzer Colors
The three Miniature Schnauzer colors accepted by their AKC breed standard are:
salt and pepper
black and silver
and solid black.
So, any of these could become:
a parti salt and pepper Miniature Schnauzer
a parti black and silver Miniature Schnauzer
or a parti black Miniature Schnauzer.
The difference between a black and silver, and a black parti Miniature Schnauzer
The chances are, if you're a fan of Mini Schnauzers, that you've spotted a black Mini Schnauzer with white patches before.
Adult black and silver Mini Schnauzers are black, with white patches on their eyebrows, under their chin, on their chest and on their feet.
These markings are different from being a black parti Miniature Schnauzer.
Firstly, they always appear in the same uniform places, whilst the arrangement of particolor patches is very variable.
Secondly, parti patches are truly white – the hair follicle those areas can't make pigment at all. But silver markings start a coppery bronze color in puppies and fade to silver as they grow up. Some dog's silver markings turn very pale, whilst other retain a slightly perceptible tinge of color.
And finally, black and silver markings are accepted by the official breed standard. But particolor markings are not.
This is possible because the way particolor markings are inherited is completely distinct from the inheritance of black and silver markings.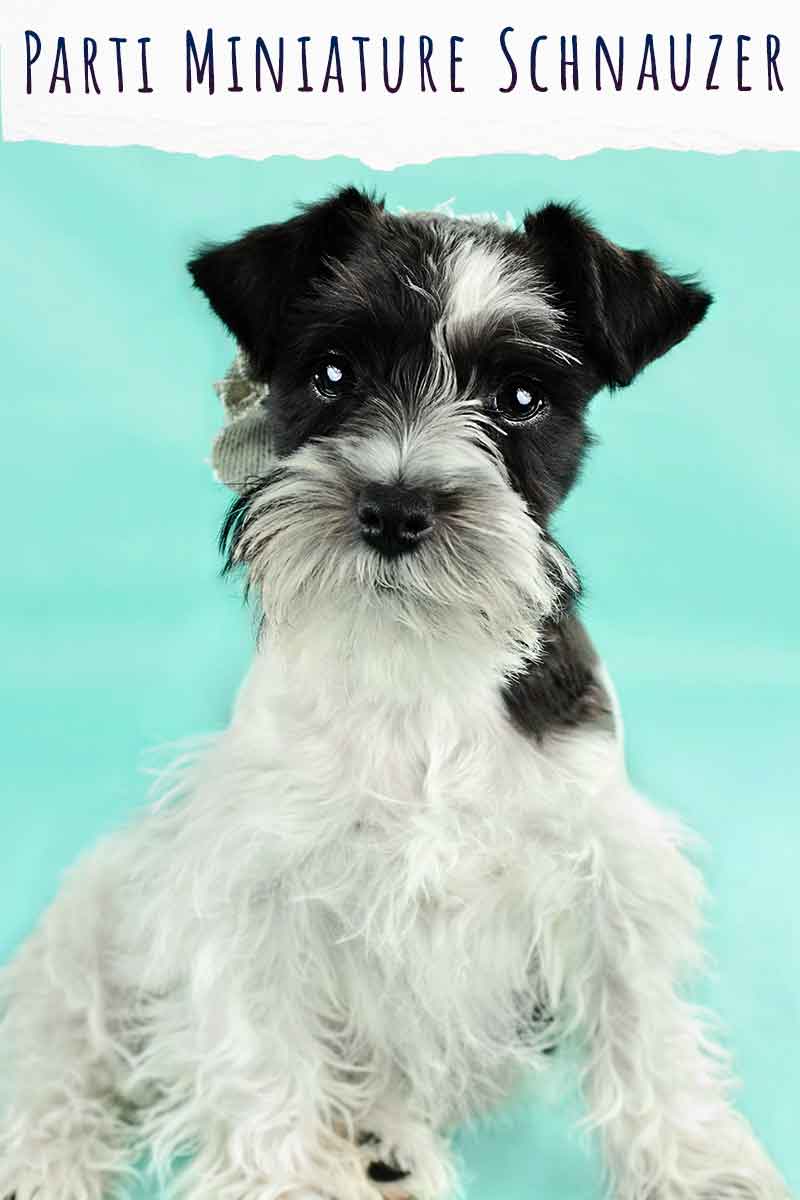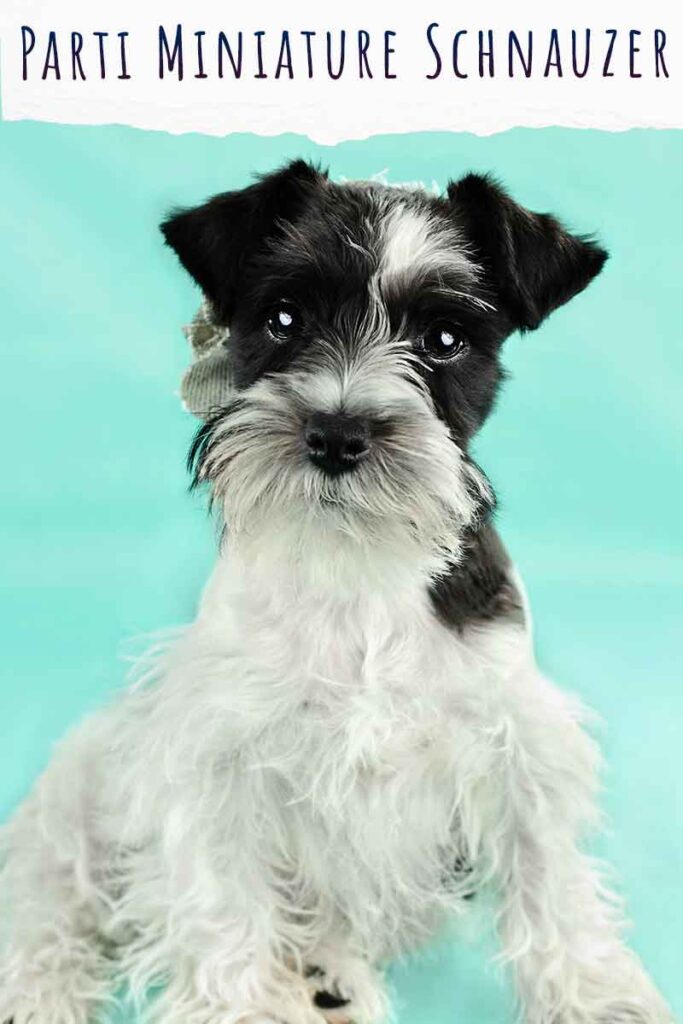 Parti Miniature Schnauzer Genetics
Particolor markings are caused by genes from the white spotting series.
Geneticists haven't established exactly how many types of white spotting gene there are. But their effect on coat color is generally understood.
Dogs who inherit one copy of a white spotting gene from one parent have little or moderate white spotting – usually on their muzzle, their chest and belly, their feet and the tip of their tail.
Dogs who inherit white spotting genes from both parents have much larger white patches. In fact, they can have so much white that they start to look like white dogs with colored patches!
White spotting genes are present in the Mini Schnauzer population because Miniature Schnauzers were originally created by crossing Standard Schnauzers with Pomeranians and Miniature Poodles (amongst other breeds).
Pomeranians and Miniature Poodles are both accepted on the show bench with parti color coats.
So, it was individuals from these breeds who contributed white spotting genes to the foundation of the Miniature Schnauzer breed.
Are parti Schnauzers rare?
Although particolor dogs were used in the creation of Miniature Schnauzers, Mini Schnauzers themselves were intended to be a perfect scaled-down replica of their standard-sized cousins.
So, particolor coats weren't considered desirable. Individuals known to carry white spotting genes were eliminated from many breeding programmes.
But, the genes continue to exist legitimately at a low frequency in the Miniature Schnauzer population.
So even though it's not an official pattern of the breed, parti Mini Schnauzer puppies can still hold impeccable pedigrees.
But they are less common than dogs in officially accepted colors.
Parti Miniature Schnauzer Temperament
A parti colored Schnauzer will have the same great temperament as the rest of the Miniature Schnauzer breed. They are friendly, playful and affectionate. They are also intelligent, and respond quickly to positive reinforcement training.
Modern Mini Schnauzers are best known as pets and companion dogs. But they were originally developed as versatile working dogs on farms.
Which means some of them still retain a high prey drive (ideal for catching and dispatching vermin like rats and mice).
And some of them are very vocal little watchdogs too.
Don't forget that a parti Mini Schnauzer's temperament is only partly a genetic product of belonging to the Miniature Schnauzer breed.
How they are raised is also important. So insist on meeting puppies with their mom, and ask the breeder what traits mom and dad have which made them special enough to breed from.
Also ask the breeder what steps they will take to start socialising puppies before they come home, and make a plan to finish the process once you have them with you.
Parti Miniature Schnauzer Health
A particolored Mini Schnauzer's health is likely to be inline with the rest of their breed.
Miniature Schnauzers are generally considered to be robust and healthy, and relatively free from hereditary disease.
But, they are somewhat at risk of developing the neurological condition degenerative myelopathy, and the joint disorder elbow dysplasia.
They live for 12-13 years on average, but with a bit of luck and good care, some individuals make it all the way to their late teens.
To keep the Mini Schnauzer breed in such good health, the Orthopedic Foundation for Animals recommends that breeding dogs are screened for the following threats:
Eye diseases
Heart disease
Myotonia congenita, a muscle disorder
Mycobacterium Avian Complex, a bacterial infection that affects the lungs
Progressive retinal atrophy
A good quality breeder will arrange tests for all these conditions, and have proof of the results on hand to share with prospective puppy parents.
Be wary of breeders who try to fob you off, or who keep giving excuses for delaying sharing the certificates with you.
The link between parti color coats and hearing loss
In some breeds, the white spotting gene is linked to an increased risk of deafness.
This is because the white spotting gene affects cells called melanocytes. Melanocytes are involved in both pigment production, and the function of the inner ear.
Parti colored dogs are more likely to have hearing loss if one or both of their ears is also white.
This is likely to be true of particolor Mini Schnauzers as well. But since they are quite unusual, we're not presently aware of any specific data relating to them.
Parti Miniature Schnauzer Grooming
Miniature Schnauzers have a very low shedding coat.
This makes them a popular choice for people who don't like the sight of shed fur on their floors and furniture.
However, it does not make them hypoallergenic.
Parti Miniature Schnauzers need brushing every day to prevent mats and tangles forming in their coat.
They also need clipping or stripping every 5 to 8 weeks, to keep them in a comfortable, tidy condition.
Your Parti Miniature Schnauzer
Miniature Schnauzers have enjoyed enduring popularity in all kinds of homes because they have the advantages of being quite small (they fit easily into most cars, their bed doesn't take up room on the floor, the food bills are moderate) but they are also stocky and robust.
Being friendly and affectionate, but less fragile than other breeds of a similar height, they are a popular choice with families.
Their size makes them well suited to apartments, but they can also keep up with owners who enjoy long walks and hikes.
They do have a lot of energy, so if you don't have a large back yard to play in, think about how you'll give them access to enough outdoor space. Miniature Schnauzers who don't get enough exercise are more likely to resort to destructive behaviors at home, out of boredom.