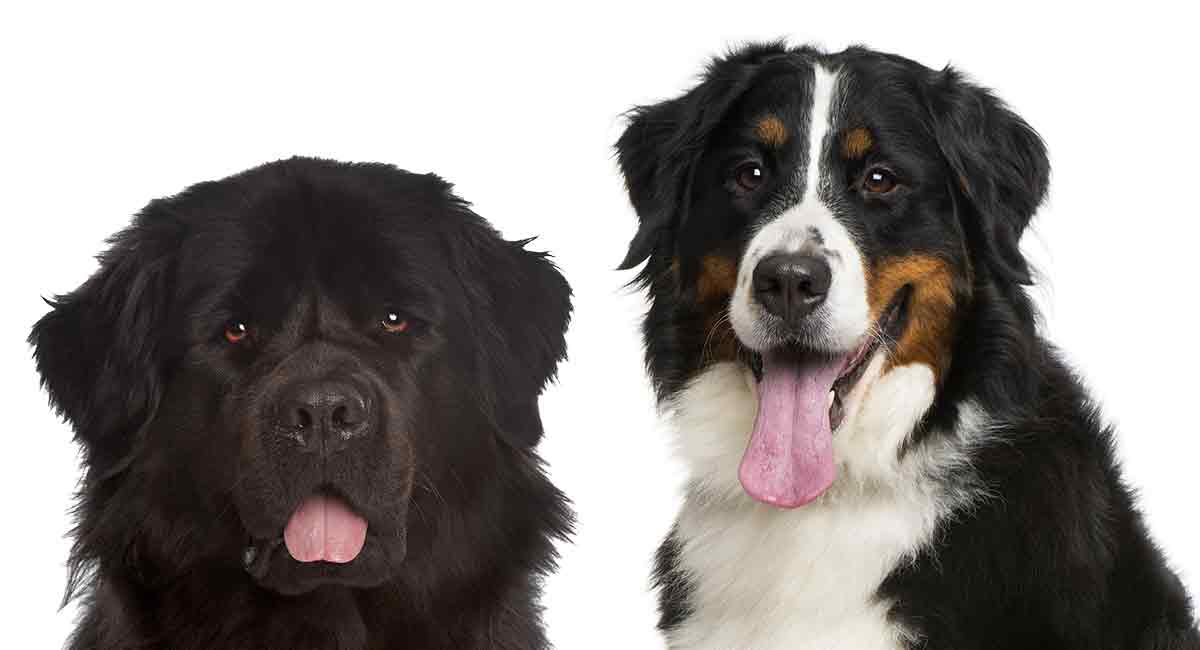 Are you deciding between a Bernese Mountain Dog vs Newfoundland as your next pet?
We can't think of a more enjoyable dilemma than choosing between these two big, furry, lovable breeds!
But while they may appear outwardly similar, there are significant differences between these two dog breeds.
In this article, we look at the similarities and differences of the Bernese Mountain Dog vs the Newfoundland.
We also answer some commonly asked questions about them.
Such as
How big do those cute puppies get when fully grown?
How much exercise and grooming do they require?
What kind of inherited health problems should new owners know about?
Let's start with an overview of both breeds!
Bernese Mountain Dog vs Newfoundland History
The Bernese Mountain Dog (also called the Berner for short) is a member of the working dog breed group.
The Berner was originally bred as a robust and hard-working Swiss farm dog. His duties included driving cattle, guarding property and livestock, and pulling heavy loads.
In more recent times, the number of Bernese Mountain Dogs began to decline, and an effort to revive the breed was launched in Switzerland.
Today's Berner is still a strong working dog, as well as a devoted family pet.
The Newfoundland (or Newfie for short) is also a member of the working breed group.
But he's much larger than the Bernese Mountain Dog.
Newfies were bred to work alongside Canadian fishermen on the rugged Atlantic coast. They have an affinity for water and helped fishermen haul nets and cartloads of fish.
Today's working Newfie is more likely to be a water rescue dog.
They are known for their excellent swimming ability and dedication to rescuing people in the harshest conditions.
The Newfoundland is also, of course, a beloved pet, famous for its devotion to children.
Bernese Mountain Dog vs Newfoundland Size
Size can play a large role in your decision of whether to acquire a Berner or Newfie.
While the Bernese Mountain Dog is large, the Newfoundland is classified as a giant dog breed.
So although both breeds are adorable bundles of fluff while they're puppies, there's a big difference in how large they'll be as full-grown adults.
The Bernese Mountain Dog is a sturdy and strongly built large dog.
Males weigh between 80 and 115 pounds and stand between 25 and 27.5 inches tall at the shoulder. Females are 70 to 95 pounds in weight and stand between 23 and 26 inches tall.
Newfoundlands are massive, powerful dogs. Males weigh between 130 and 150 pounds and stand 28 inches tall at the shoulder. Females are between 100 and 120 pounds and stand 26 inches tall.
That's an average difference of 40 pounds (equivalent to a four year old child!) between the Berner and the Newfie.
Bernese Mountain Dog vs Newfoundland Appearance
Both of these breeds are known for their beautiful coats.
The Berner has a thick, medium-long double coat which is famous for its handsome and distinctive tricolor markings of black, white, and rust.
The Newfoundland has a water-resistant double coat, consisting of a long, full outer coat and a dense undercoat. Many Newfoundlands are solid black, but they can also come in solid brown or grey.
A combination of black and white markings in a Newfoundland is known as Landseer coloring.
Color standards are less specific for Newfies, compared to Berners.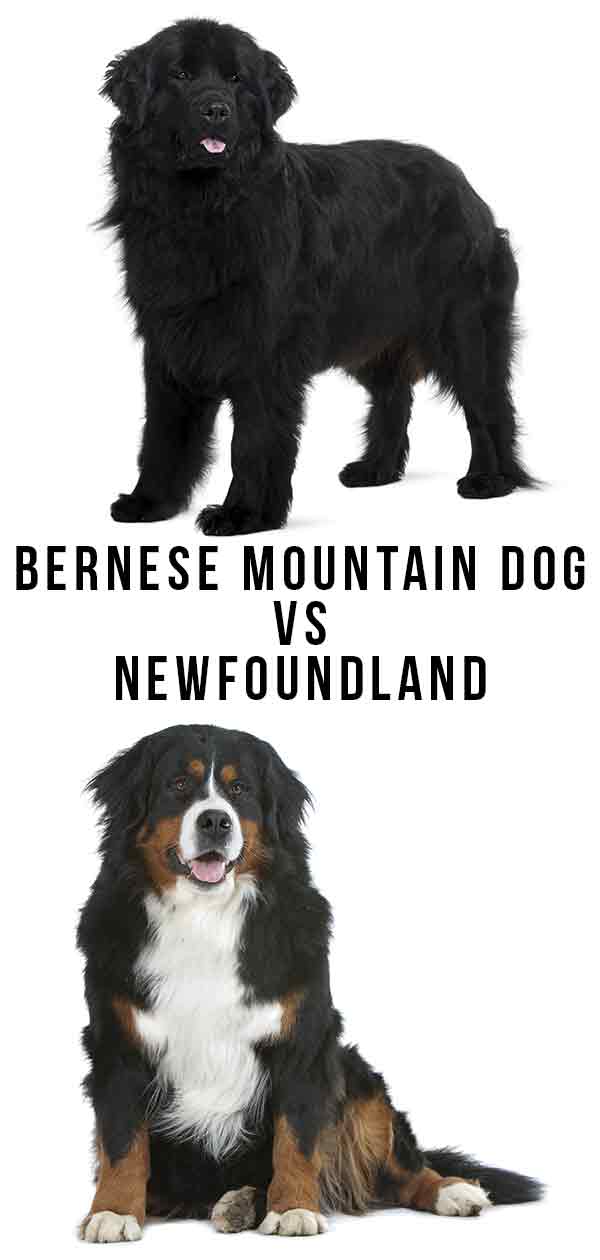 Bernese Mountain Dog vs Newfoundland Grooming
What kind of grooming is needed for these breeds?
As a double-coated dog that sheds its undercoat seasonally, regular brushing is a must for the Berner.
Grooming frequency ranges from 2 to 3 times per week to daily brushing during shedding season.
The Newfoundland also requires regular grooming.
They are known as heavy shedders and daily brushing is needed during shedding season.
Both breeds have coats that should be kept in their natural state, with minimal trimming.
Berners and Newfies should never be shaved.
Bernese Mountain Dog vs Newfoundland Temperament
Two big considerations for potential owners of large breed dogs are temperament and training needs.
Both the Bernese Mountain Dog and Newfoundland are known for their winning personalities, and the sweet natured Newfie definitely earns his reputation as a gentle giant.
The Berner is a loyal, calm, and affectionate breed. Like many working dog breeds, Berners are intelligent, eager to please, and trainable.
The Newfoundland is sweet, patient, and gentle. Those are great qualities for such a large dog!
Like the Berner and other working dog breeds, Newfies are generally very smart, trainable, and eager to please.
Their pleasant personalities make both breeds popular choices for families with children.
Bernese Mountain Dog vs Newfoundland Training
Good training and socialization from puppyhood are vital for large dogs, even the good natured Berner and Newfie.
Dogs this size can easily knock over a small or frail person by accident, so impeccable manners keep them out of trouble.
Bernese Mountain Dogs are sensitive to harsh training methods, so only use positive reinforcement training techniques.
The Newfoundland's very large size makes early training and socialization essential, especially since they are popular among families with small children.
As with the Bernese Mountain Dog, the gentle Newfoundland does best with positive reinforcement training methods.
Bernese Mountain Dog vs Newfoundland Exercise
Both the Bernese Mountain Dog and the Newfoundland are large, robust working dogs, bred to work outdoors in the toughest conditions.
Does their working background and large size mean that they will needs lots of time and space to exercise, run, and play?
Experts recommend at least a half hour of moderate daily exercise to keep your Berner healthy and happy.
They enjoy participating in outdoor adventures with their families and do well in organized canine activities like agility and obedience trials.
The Newfoundland also needs a minimum of half an hour of moderate daily exercise.
Newfoundlands enjoy spending time outdoors with their humans and have a special affinity for the water.
As with Berners, you can involve your Newfie in organized activities such as obedience and herding trials.
The energy level of the Bernese Mountain Dog is a bit higher than that of the Newfoundland, but both are relatively active dogs.
Bernese Mountain Dog vs Newfoundland Health
Large dog breeds like the Berner and Newfie are prone to certain health problems.
Let's look at each breed's most common health issues, and how you can ensure that your new puppy is as healthy as possible.
Bernese Mountain Dog Health
The Bernese Mountain Dog can suffer from both hip dysplasia and elbow dysplasia.
These are inherited joint conditions that can cause your dog chronic pain.
Berners can also suffer from hypothyroidism, which is an underproduction of thyroid hormones leading to problems with the skin, coat, weight, and energy level.
The Bernese Mountain Dog Club of America maintains a comprehensive list of diseases and conditions known to affect the breed.
Breeding dogs can be screened for both joint dysplasia and hypothyroidism to make sure they don't pass a risk of these conditions on to the next generation.
Newfoundland Health
What about the Newfoundland?
Like the Berner and other large dog breeds, the Newfie can be prone to hip and elbow dysplasia.
Newfies can also suffer from inherited heart defects (patent ductus arteriosus, subaortic stenosis, and dilated cardiomyopathy).
Good breeders have their dogs' joints assessed, and heart checked before they parent a new litter.
Another genetic disease that can impact Newfoundlands is canine cystinuria, which is a urinary disorder that can lead to the formation of crystals and urinary blockages.
The Newfoundland Club of America's website has a comprehensive list of disorders known to impact the Newfie.
Ensuring Your Pup Is As Healthy As Possible
Whether you choose a Bernese Mountain Dog or a Newfoundland, with a reputable breeder who health tests their breeding dogs for inherited health conditions.
Avoid buying your puppy from an ad on the Internet or a retail pet store, to make sure that you are not getting a dog from a puppy mill.
Health tests can come in the form of certified veterinary examinations or laboratory testing like blood and DNA tests.
Your breeder should share all test result documentation with you. Most responsible breeders also provide clients with written sales contracts and health guarantees.
Is one breed healthier than the other? Like most purebred dogs, both can suffer from inherited health conditions.
New owners should know that the Berner has a relatively short average lifespan (7-10 years) compared to other large dog breeds.
The Newfoundland, despite being a giant breed, tends live longer.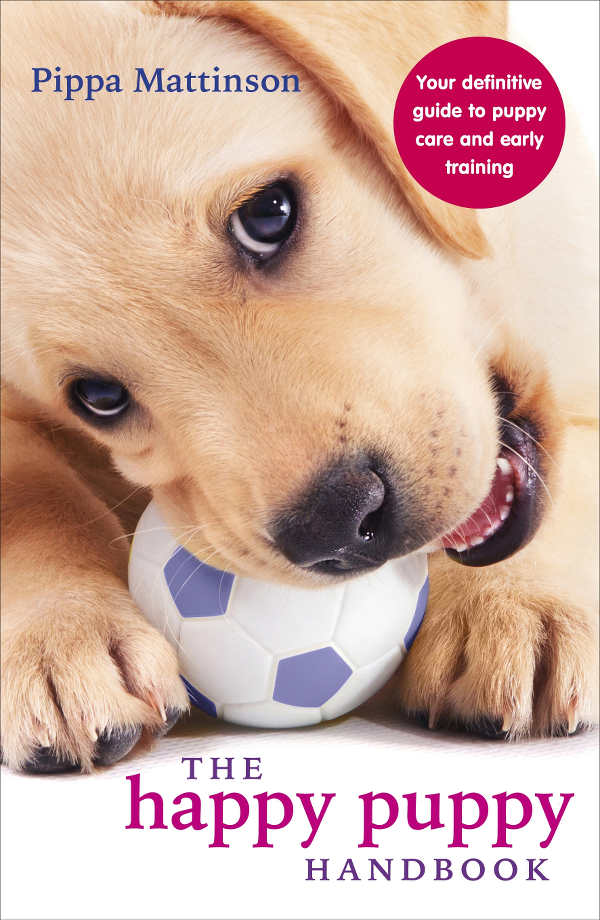 The reason for this is likely to be that because Bernese Mountain Dog numbers have declined significantly in the past, the current population has a limited gene pool.
When this happens, individuals are at risk of a greater number of inherited health problems.
Which Breed Makes a Better Pet?
Both the Bernese Mountain Dog and the Newfoundland are much-loved breeds, valued for their appealing temperaments and appearances.
Both do well in families with children, with the Newfie especially known for its loving, protective, and gentle nature.
Your decision may well come down to size. While the Berner is a large dog, the Newfie is one of the giants of the dog world.
Owners of very large dogs like Newfies should be prepared for a good amount of shedding and drooling.
If your choice is a Bernese Mountain Dog, do your homework carefully to ensure that you choose a breeder who is committed to promoting the health of the breed.
Are you the proud parent of a big and lovable Berner or Newfie? Tell us about your dog in the comments!
More Breed Comparisons
Don't worry, we've got plenty more for you to read! If you've loved this article, check out some of our other great breed comparisons!
References and Resources
Bernese Mountain Dog. American Kennel Club.
Newfoundland. American Kennel Club.
Fries, C.L., Remedios, A.M. The Pathogenesis and Diagnosis of Canine Hip Dysplasia: A Review. The Canadian Veterinary Journal, 1995.
Clayton Jones, G. Elbow Dysplasia in Dogs. The British Veterinary Association and The Kennel Club, 2017.
Hypothyroidism in Dogs. Washington State University College of Veterinary Medicine.
Health Conditions and Diseases Known to Affect Bernese Mountain Dogs. The Bernese Mountain Dog Club of America, 2011.
Meurs, K.M. Inherited Heart Disease in the Dog. Tufts' Canine and Feline Breeding and Genetics Conference, 2003.
Newfoundland: Cystinuria and Urolithiasis. Universities Federation for Animal Welfare, 2016.
Canine Disorders Known to Affect Newfoundlands. Newfoundland Club of America, 2016.