In this article Pippa answers the question "how does clicker training work" and shows you what to do when clicker training doesn't work for your dog.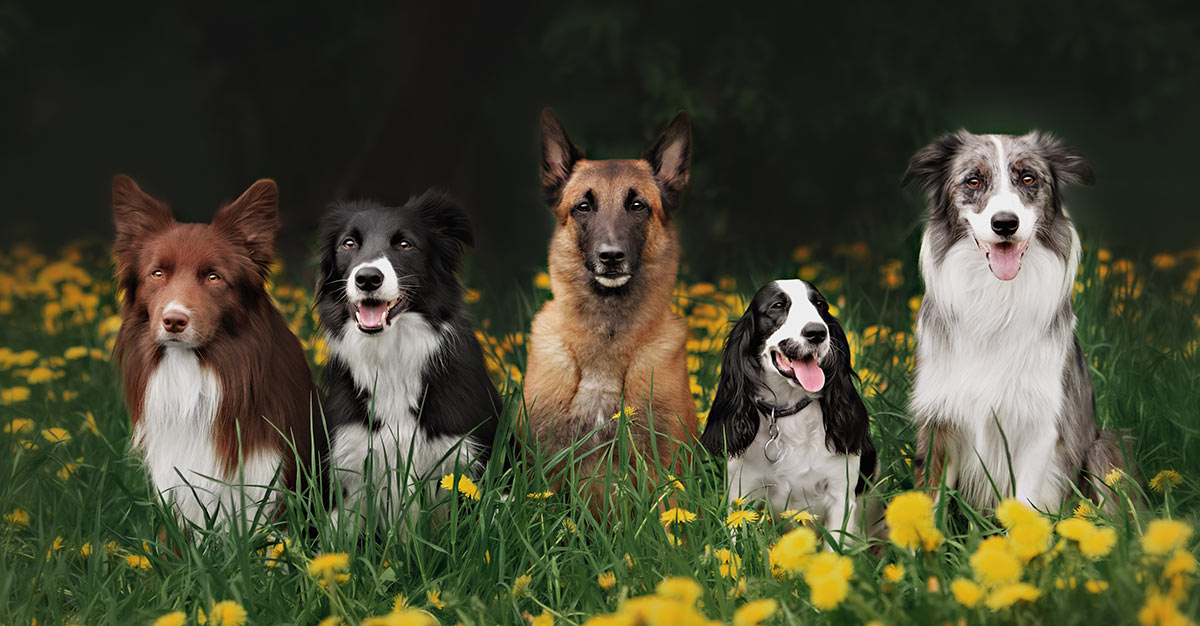 There is quite a bit of confusion over clicker training.  How clicker training works, where it comes from, when to use it and how.  I hope to clear that up today!
Let's take a quick look at the background to clicker training before we dive in to the practical tips and advice
What is clicker training?
The principle of clicker training was developed to help people train marine mammals that could not be coerced or forced.
It was also an important new tool for training animals that could not be easily rewarded at the exact point at which they were successful at a task
Animals such as dolphins, for example, can't easily be forced to jump through hoops.
And it's quite difficult to accurately reward an animal for an achievement such as a higher jump, rather than a lower one.
Or where there are practical obstacles between you (a large pool of water for example)
What are clickers for?
An animal trainer called Karen Pryor came up with the idea of using a signal to tell the animal when it had done a great job.
The signal's role is to identify accurately, for that animal, the specific achievement for which it would now get a great reward.
We call this signal an event marker.
It was a great way to advance the training of marine mammals, creatures that are difficult to 'correct' and always remote from the trainer.
Though whistles were used as the event marker in these early experiments with marine mammals, Pryor developed the clicker as an event marker for dogs.
This was important as the whistle was already in use in dog training as a cue (a signal that tells a dog what to do). And these roles – event marker versus cue – are very different ones.
How does clicker training work?
Studies have shown the sufficiently powerful rewards (a tasty treat for example) given immediately after a behavior (the dog looking at the trainer's face for example) reinforce that behavior.
In other words, they make the dog more likely to repeat that behavior in the future.
Timing is everything. This only works if the reward is closely associated with the behavior.
For example, suppose you want to teach your dog to make eye contact with you.  If the dog looks at your face, then looks away as you give a reward – he may associate looking away with the treat and start looking away more often.
Not what you want when you are training any animal
The clicker works to overcome this problem, by identifying – for the dog – the exact behavior you are rewarding.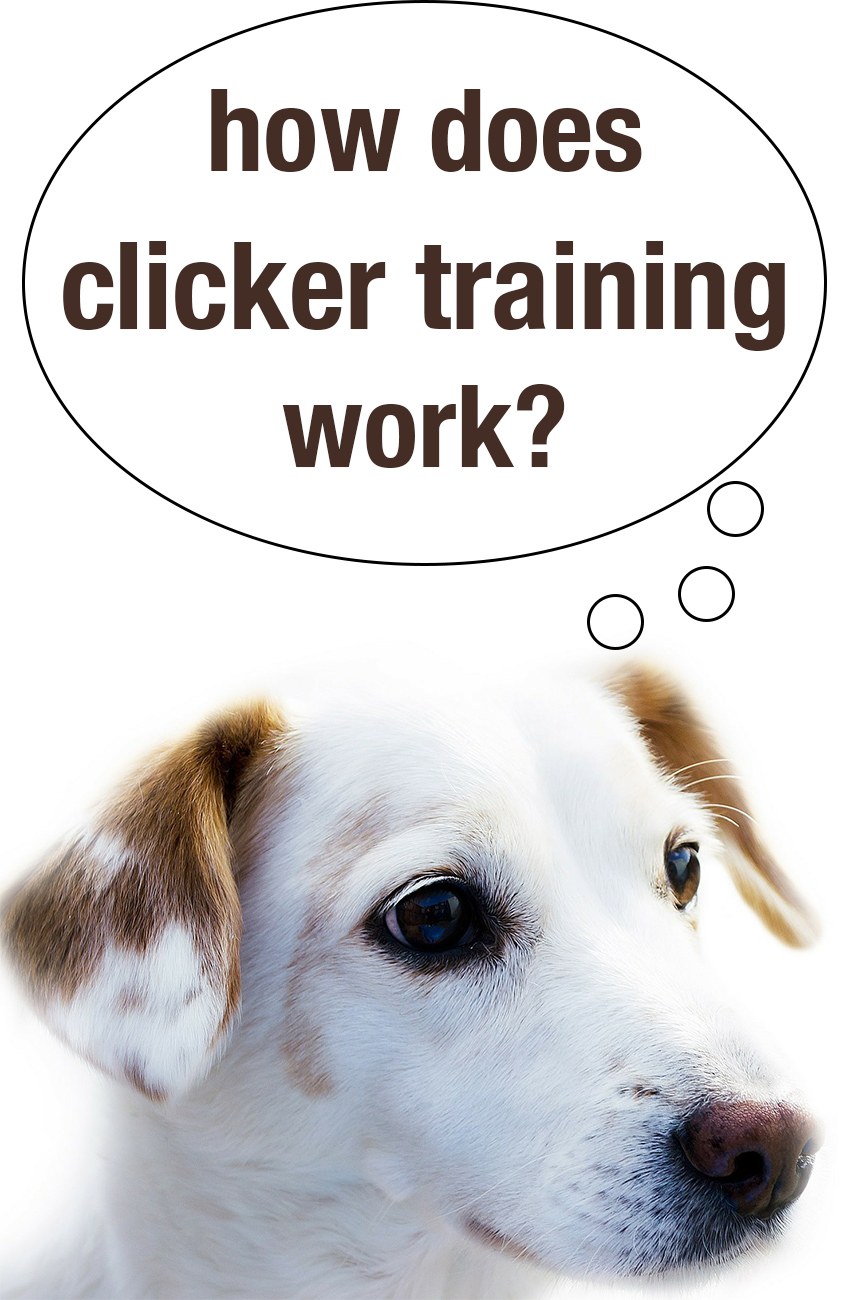 So you click at the very moment the dogs looks into your eyes. It doesn't matter if he looks away again as you feed him – the eye contact is what is being reinforced.
The clicker gets it's power because when a dog hears (or sees) a signal that is regularly associated with a reward, that signal takes on the power of the reward to reinforce behavior.
This ability to create a signal which reinforces behavior has been widely studied and proven. This association  between click and treat, is what gives the click its power.
To maintain the power of the click, it must be consistently followed by a reward, usually a food treat, but it can be any type of reward.
The power of the clicker in dog training
The clicker is a powerful and valuable tool for any dog trainer or pet owner because of the accuracy with which it enables us to pick out and reward, even the most fleeting of behaviors.
And to build on those.
It can be used not only to teach dogs to respond to cues with basic behaviors like 'sit' or 'down' but also to teach dogs to carry out behaviors that they would never do naturally.
Behaviors like switching on a light, or unloading a washing machine.
Clicker training speeds up the learning process in all dogs because it removes stress and fear of 'making a mistake'.
It has also been shown to reduce aggression in ordinary pet dogs, compared with traditional methods of training
The rise in popularity of clicker training
For a tiny box that makes a simple 'click' when pressed, the clicker has been quite a controversial tool.
For a long time clicker training was associated mainly with teaching tricks, and considered unsuitable for 'proper' dogs.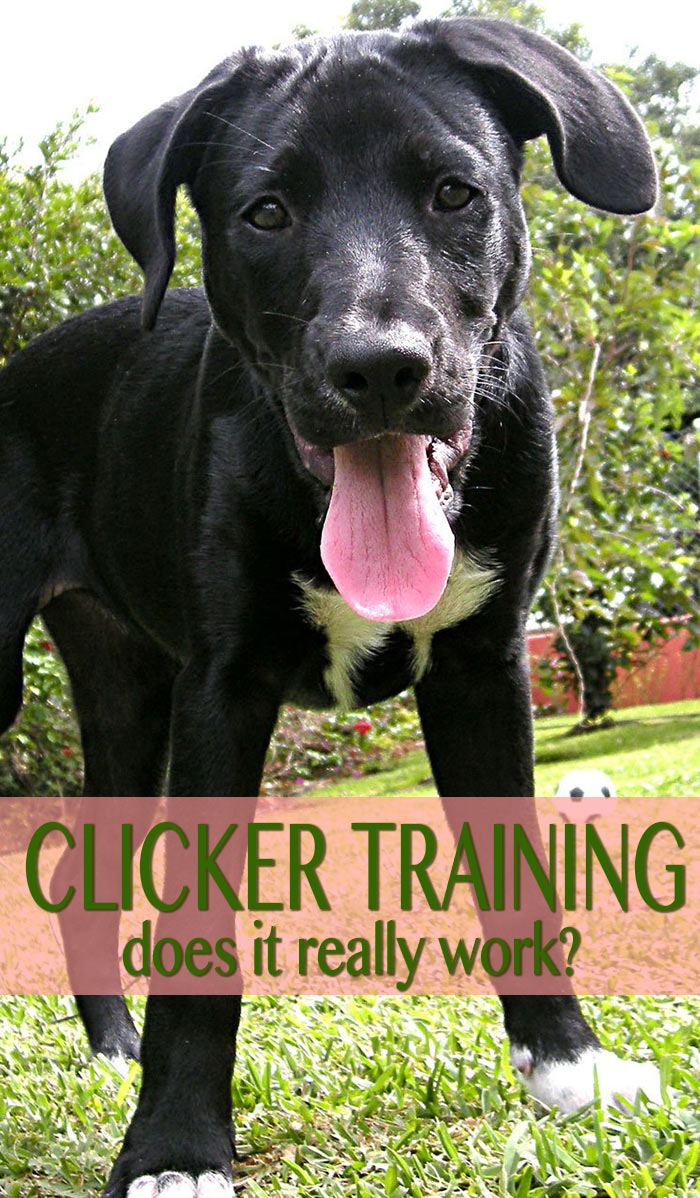 Gradually, the use of the clicker became established for pet dog training, but it took time for those competing in dog sports and activities to risk testing out this new method against their already successful existing techniques.
Once they dipped a toe in the water, trainers were swept away by the power and the potential of this simple tool
Now of course the clicker is widely used by serious dog trainers all around the world. Including those involved in training dogs for important roles within the police and military system or as service dogs
But how does clicker training work? And can we be certain that it really does work for all dogs?
Does clicker training for dogs really work?
The short answer is 'yes' clicker training does work. That's why it is now used in training police dogs and guide dogs for the blind as well as competition dogs in many sports.
These are services, industries and hobbies where huge investments of time and money are being made. The adoption of modern methods and tools like the clicker was not undertaken lightly and was extensively tested.
You can read about the evidence for positive reinforcement training generally in this article.
But there are still a lot of misconceptions about clicker training and what it can actually do.
People sometimes say to me:
"Oh, I have tried using a clicker, and it does not work."
So I think it is important to address this topic and not just sweep it aside because others have succeeded where you might be struggling
What to do when clicker training does not work
It is very frustrating to persist with a method and not see results.
If you are struggling with this method, it is worth taking a few minutes to look at what you are doing.
Before abandoning it altogether.
Is the device working?
The first thing to determine is whether or not your dog can hear the clicker. Check that your clicker is making a distinctive snappy click when you press it. Check too, that your dog is not scared of the noise.
If he finds the click too loud you can muffle it with some tape,  or purchase an adjustable clicker that can be set to make a softer click.
Deaf dogs can still be 'clicker trained' in principle, but you will need to replace the click with a flash of light, or, a 'buzz' from a vibrating collar.
Understanding the purpose of the clicker
Are you clear on the differing roles of whistles and clickers in dog training?
I have met many people that have tried to use a clicker as a recall signal in the same way that we use whistles.   This is not what clickers are for.
A clicker is not a cue or signal that tells the dog to 'do' something.
The clicker is an event marker and the use of event markers is an alien concept to some of us at first.  It is worth reading this short article on event markers before you start training
Does your dog understand what the click predicts?
If you press the clicker several times in your kitchen,  when there are no distractions, no other people around and nothing interesting going on.
And if you follow each click with a piece of juicy roast chicken.   Does your dog soon begin looking towards you, and paying you attention, each time he hears the click?
Keep practicing this until your dog rushes towards you for his treat each time you click.  This is called 'charging the clicker'  –  though it is actually more a question of 'charging the dog'!
Have you practiced clicking?
Clicking may seem very simple,  but clicking at the right time is a skill that you need to learn, and one which improves with practice.
This is why I often recommend that those new to clicker training begin by teaching a 'trick' (like 4 paws in a box)  rather than something that really matters to them like 'sit'  or 'down'.
You can and should practice first without your dog.
Practice by watching the TV and clicking each time a particular word is mentioned, or each time the camera angle changes.
Get used to the feel of the clicker and the degree of concentration required to observe and mark tiny changes in behavior.
If nothing else, it will amuse the rest of your family!   You can even engage the kids in a game where you hide an object and 'click' them each time they are 'warm' when they search for it.
Are you making it easy enough?
Like us,  dogs need to learn easy skills before making them more challenging.
Dogs find it very easy to respond to a cue when there is nothing else worth doing.  This is your starting point.  The place to begin.
Dogs find it very hard to respond to a cue when they are playing with other dogs, or chasing a ball.   These are strong distractions.
Your job is to plan a path that takes you from 'easy to hard', in simple stages.
You can do this by introducing distractions one at a time, and by diluting each distraction to begin with
What does 'diluting' mean?
In this context, diluting a distraction means making it weaker.
The easiest way to do this is often by putting more distance between your dog and the distraction,  and by minimising the distance between you and your dog.
You then move the distraction closer in easy stages as the dog becomes better at concentrating on you.
This process is called proofing or distraction training.
It's a good idea to read up on distraction training, especially if you are teaching responses to cues that you would like your dog to be able to obey in public place or under challenging conditions .
Are you using the right rewards?
Many times, when people struggle with clicker training, it is due to unsuitable choice of rewards.
Initially, when you first begin training,  you need a reward that is more valuable to the dog than any other options available to the dog at that time.
Alone, in your kitchen, a piece of kibble may be sufficient to get your dog 'in the game'.
Outdoors where there are interesting smells to sniff and butterflies to chase, you will need to control your dog's options,  and raise the stakes.
As far as 'raising the stakes' is concerned, this means using high value food, like roast meat, or hot dogs.
You will not be tied to this forever,  luxury food rewards can be faded over time, but they are essential at the beginning of the training process.
Check out this article for more information on using and choosing rewards in dog training.
Are you controlling the dog's options?
This simply means that you must prevent the dog from helping himself to rewards that he has not earned.
In particular, you must prevent the dog rewarding himself for bad behavior.
This may mean working in an enclosure to begin with,  or , in a public place, using a training line so that your dog cannot chase rabbits or  go rushing up to every dog he spots on the horizon.
Summary – how does clicker training work
Clicker training works by telling the dog he just got something right. And by identifying, for the dog, exactly what he did that you appreciate so much.
It works for all breeds of dog, for pet dogs, and for all sports and activities, from obedience training to dogs for the disabled, from agility to military bomb disposal.
A clicker is just a tool.
Like a hammer, it cannot fail.
Blaming the clicker if your training isn't going well, is a bit like blaming your hammer if you can't hit the nail.
If you can operate a clicker and see what your dog is doing, you can clicker train your dog.
So take a deep breath,  read the information in the links above, and have another go.
Clicking at the right time,  is a skill that can be learned.  Using the right rewards is a question of arming yourself with information.  And introducing distractions slowly, is a question of patience and planning.
Your clicker will not fail you, so if you want to train your dog using rewards rather than corrections, all you need to do, is pick yourself up and start again.
For help and support,  join my forum!   It's free, friendly, and fun.