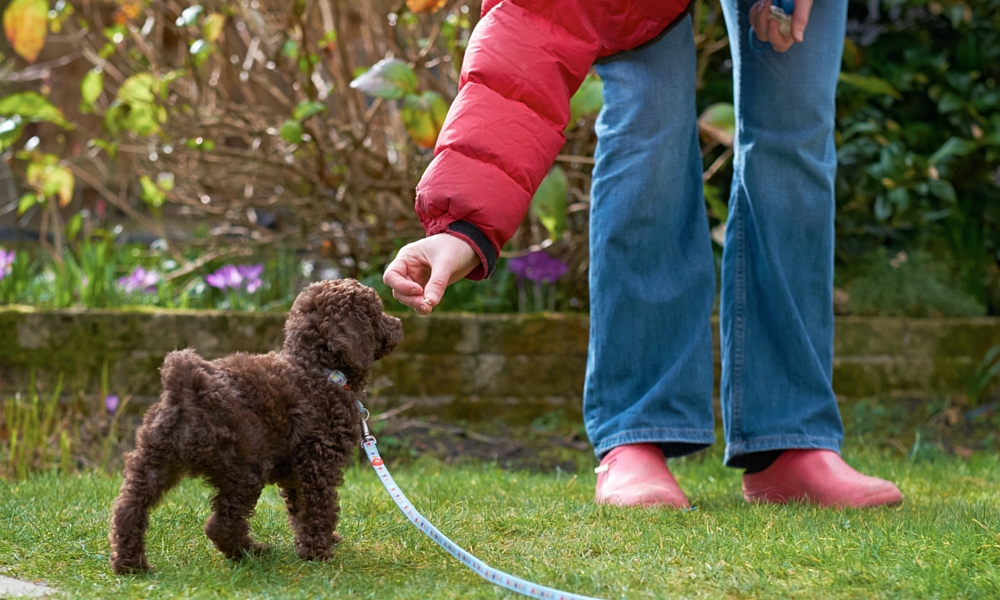 We communicate with dogs using signals. Sometimes we make these signals with our body or voice, a gesture or a word.
But sometimes we use a mechanical device like a whistle, or a clicker, to send a signal to our puppy or dog.
We chat to our dogs too of course, in an informal way.
But much of the really valuable information that passes between us, the way you give your dog instructions and the way in which he knows what you expect from him, is all down to signals.
Which is best? Clicker or Whistle
New puppy parents are often confused about what kinds of signals are best for training their puppies, and that is what we are going to look at today.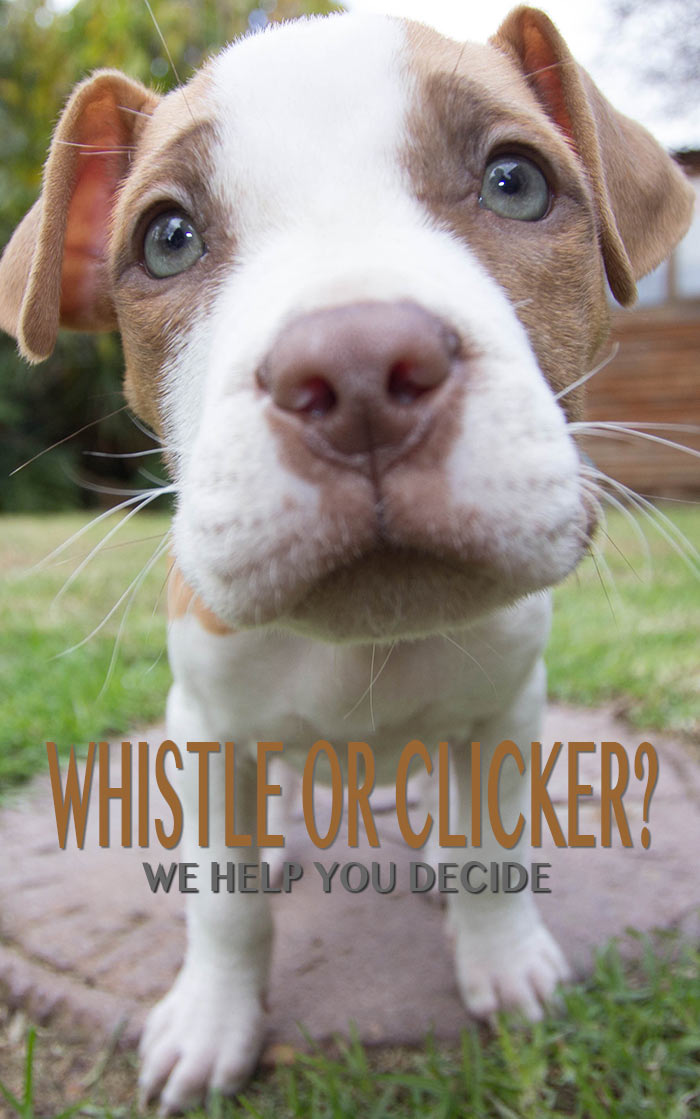 When you get to the end of this article you should be clear on whether or not you want to use a dog whistle or a clicker, which is the best kind to buy, and where to find it.
People sometimes say to me "I can't decide whether to whistle train or clicker train my dog – which do you think is best?"
In asking this question, it is clear that they think whistles and clickers serve the same purpose, or are used for the same tasks.
Whereas in fact, whistles and clickers in dog training are used for two completely different purposes.
Let's have a closer look at what whistles and clickers are for
What are whistles used for in dog training
Whistles are a great way to communicate with a dog. We use whistles to provide a signal, or cue that tells a dog or puppy what to do.
In other words, a whistle is just another way of giving your dog instructions.
Are whistles good signals?
There are lots of ways to signal to a dog.
We can talk to him, shout at him, make hand signals to him, even flash lights at him.
All of these signals or cues may work.
But whistles have several advantages over other signals.
The beauty of the whistle lies in its power and consistency.
A calm and consistent signal for your dog
Dog training can be quite 'emotional' for you as an owner.
You care what your dog does. That's only natural. And your tone of voice will reflect this emotion, and be influenced by any number of other factors that have influenced your day.
A dog whistle doesn't sound grumpy, or tired. It never sounds judgemental, or irritable. A whistle has no 'emotions'
And this is important, if your dog is to grow in confidence and trust.
A powerful signal for dogs and puppies
A whistle will carry far better than the average human voice, especially in windy weather or where there is background noise.
It gives your dog a much better chance of hearing and reading your cues successfully. This is especially important if you don't have a voice that carries well, or if you find it embarrassing or uncomfortable shouting in public.
Whistle training
Of course the way that the dog responds to the whistle must be trained. In just the same way that he must be trained to obey your voice. We'll be looking at whistle training in more detail in another article.
The time it takes to learn will depend on whether the whistle is replacing a command your dog already knows well, such as 'come' or 'sit'.
Or whether you are teaching a dog a new skill from the start. Simply switching a whistle cue for a known verbal cue such as 'come' is very simple and will only take you a few days
If you have never used a dog whistle, it is not too late to start. Your dog will love it. And I suspect you will too.
Best dog training whistle
There are a lot of different dog whistles available, both online and through pet shops.
The noise that they make will not be consistant between brands, so you will need to pick one and stick to it so as not to confuse your dog and dilute the signal.
Whilst silent dog whistles are available, I don't recommend using them in training as you are unable to hear what your dog is hearing and therefore can't judge whether your signal is consistant or in fact working at all.
By a long margin my favorite dog whistles are the Acme whistles.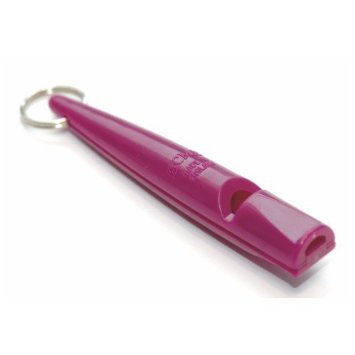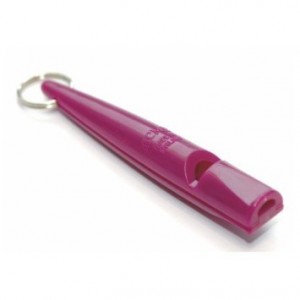 Popular in the UK for years, they are also now available in the USA too, and are frequently used by professional dog trainers with good reason.
Firstly, they are made in set pitches.
This means that you can make sure that if you need a replacement you can keep the same sound your dog is familiar with responding too.
They don't have a pea, which makes them easy to blow, and make a high and clear signal every time you use them.
They also come in a range of fun and bright colors.
You can find out more about the Acme whistles on Amazon here.
What are clickers used for in dog training?
While the purpose of the dog whistle is quite well known, there is a lot of confusion about the purpose of the humble clicker in dog training.
People often say to me "but how can you clicker train at a distance?"
And
"I don't want to rely on food"
Clickers actually need have nothing to do with food. Unless you decide to use them this way. Clickers are a very simple device for making a distinctive sound to 'mark' an event.
The food that follows the click is simply a 'reinforcer' and reinforcers can be all kinds of rewards. Let's look a little more closely at the clicker as an event marker
What is an event marker?
An event marker is not used for calling, or instructing dogs to do anything. Event markers are not used instead of rewards.
They are simply used to capture a moment in time, and to provide dogs with information.
They tell the dog exactly which behavior you are rewarding. They say "Yes! I like what you just did". And this encourages the dog to do it again.
We empower our event markers by pairing them with rewards.
These rewards can be food. But they can be other things too. For example, you can train a puppy to be quiet in a crate by using the clicker as an event marker, and release from the crate as the reward.
Finding your clicker
As clickers and clicker training increase in popularity, ever more brands are producing them.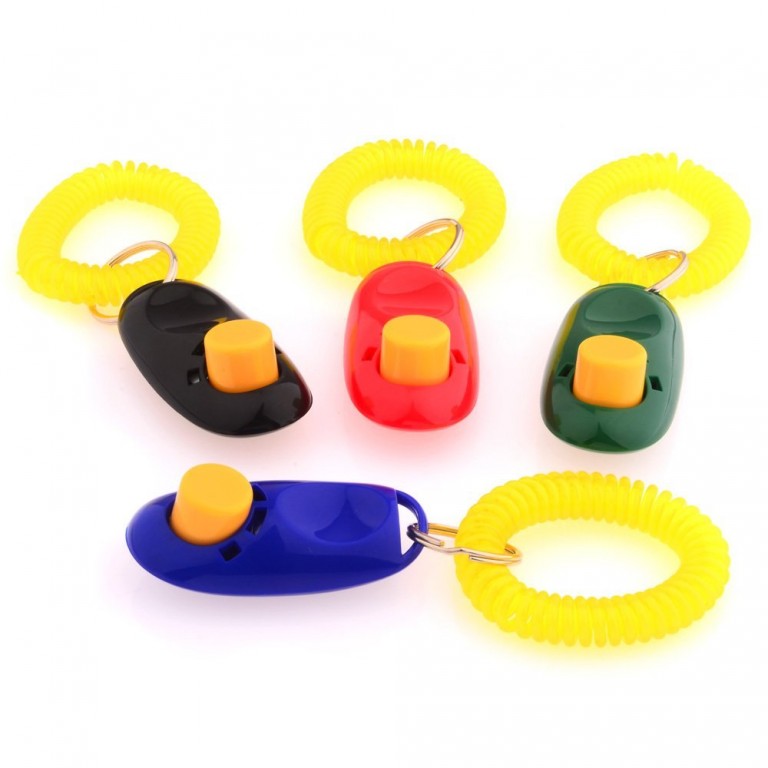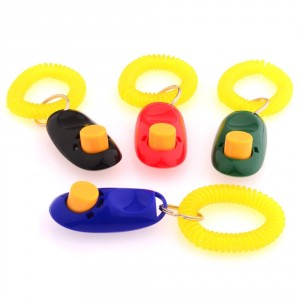 There are a surprising range of types of clicker available now.
From the basic simple press and click variety, to those which have volume controls or fancy ways of attaching themselves to you!
My preferred clicker is the big button variety that come with a wrist strap.
The large button means that it is easy to click whilst concentrating on your dog training, and the wrist strap keeps it close by for convenience.
This clicker has a loud click which is easy for you and the dog to hear. It's ideal for training most dogs, however if your dog is sensitive to noises or nervous you may wish to start your clicker training by getting him used to a clicker which can dampen it's sound.
For nervous dogs I would recommend this Multi-Clicker, which has an adjustable volume control.
As his confidence grows and he realises that the click is a good and rewarding sound, you will be able to gradually increase the volume and potentially switch to a louder clicker in the future if you would like.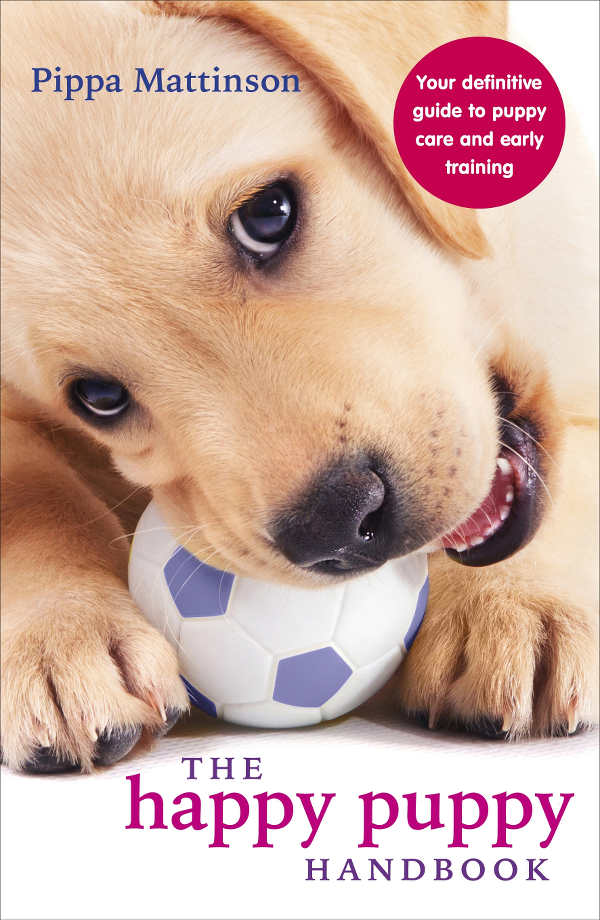 Clickers are not the only event markers
Clickers are not the only event markers! You can use anything that the dog can hear or see, as an event marker. A word, a click of your fingers, and for deaf dogs, a flashing light or hand signal.
You can even use a whistle (dolphin trainers do this)
Whilst all these can be used as event markers there is little doubt that a clicker is superior in speed, clarity, and consistency.
Whistles come close, but we use dog whistles as 'cues' and it is not a good idea to use the same device as an event markers for training the same animal.
Event markers are a simple, and elegant tool that all dog trainers should understand and be aware of.
Clickers make great event markers. Why not give it a go when you are dog training?
Summary
There are two key types of signal used in dog training
Cues or commands
Event markers
We have evolved lots of different ways of giving dogs commands. From simple voice commands, through a range of hand signals and gestures, to different types of whistle.
Whistles have become very popular as command signals – they tell a dog what you want him to do next.
Clickers have become popular as event markers, they tell a dog you liked what he just did.
Clickers do not tell a dog what to do, and are not intended to trigger any kind of response from your dog.
They do however help dog trainers to teach their pups a huge range of techniques. And are the basis for the very successful online dog training courses over at Dogsnet.
You may find you enjoy using a dog whistle for getting your dog to come when he is called.
You'll need to train him to do this, but if he already comes when you call him verbally, this won't take very long at all.
If you want to train your dog to an advanced level, or to train without using force of any kind, you'll find an event marker, such as a clicker, very helpful.