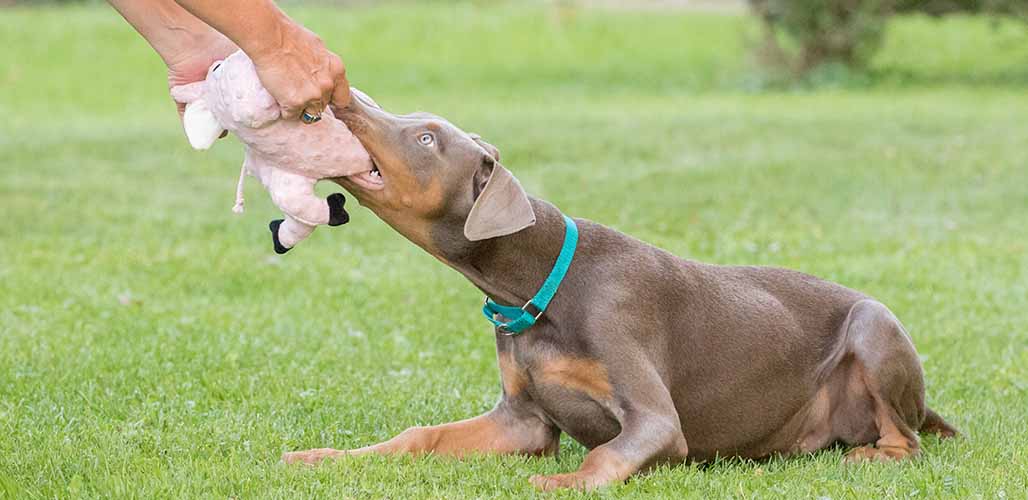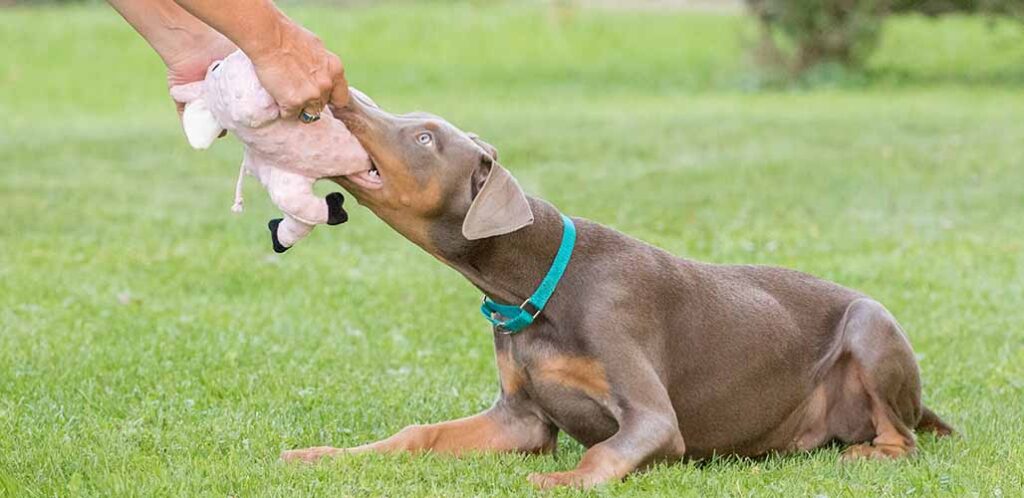 The fawn Doberman Pinscher has a pale coat caused by the dilute gene. In our complete guide, we examine what you can expect from this shade, including plenty of fawn Doberman photos and pictures!
The fawn Doberman Pinscher is an affectionate, loyal, intelligent dog. But, this color is caused by recessive genes, which makes it pretty hard to find. We're going to take a closer look at this coloring, including health, temperament, and lots of fawn Doberman pictures and photos to help you decide if this is the best choice for your next companion. Let's dive straight in!
What is a Fawn Doberman?
The Doberman Pinscher is a loyal, active, intelligent breed. Fawn is one of the many colors that this breed comes in! Fawn Dobermans are also sometimes called Isabella, or fawn Isabella. This coloring is combined with rust coloring to express the Doberman's typical markings.
A fawn Doberman will have the same general temperament as any other Doberman. But, the genes that cause this coloring have been linked to certain health problems, which we will take a closer look at further on in this article. Fawn Dobermans are usually hard to find because the genes that cause this coloring are recessive, and since they're unusual to look at, many breeders sell these puppies quite quickly!
Fawn Doberman Appearance
In terms of their general appearance, a fawn Doberman will look like any other Dobie. They are large dogs that stand between 24 and 28 inches tall at the withers. They tend to weigh between 60 and 100 lbs, but some will fall outside of these height and weight standards. As a general rule, females are smaller and lighter than males, but each individual dog will vary.
Dobermans have a short, smooth coat. Their physique is slender and athletic. The traditional image of a Doberman usually involves cropped ears and a docked tail – both traits that are still part of the AKC breed standard. But, across the world, as these practices are banned, Dobermans with floppy ears and a longer tail are becoming a more common sight.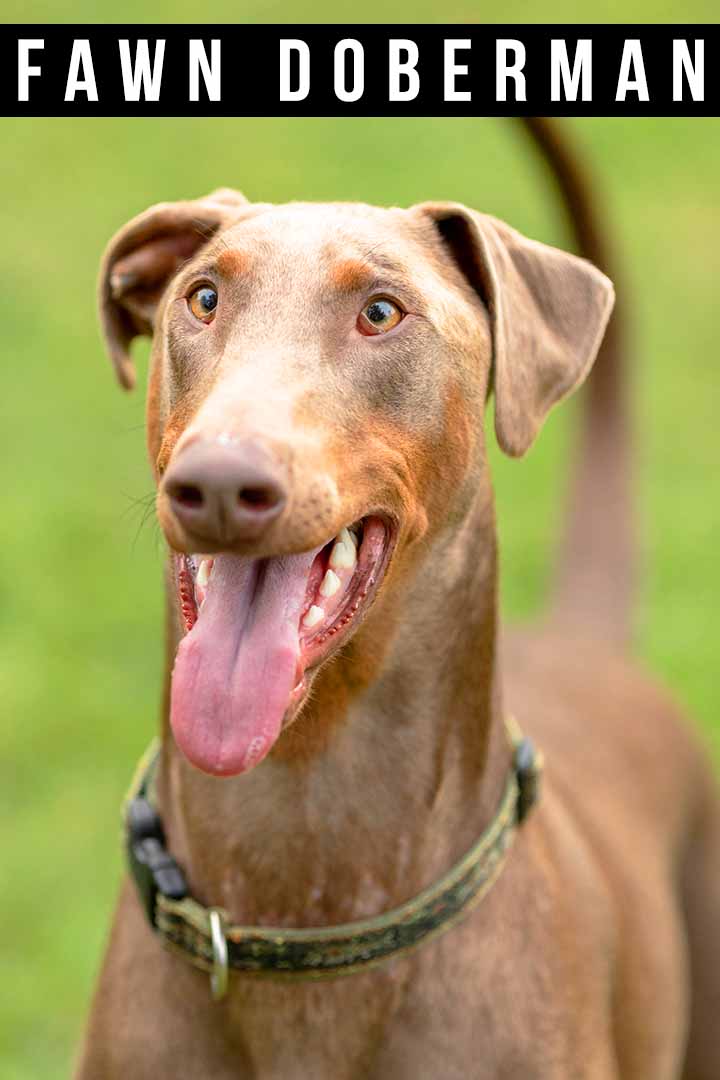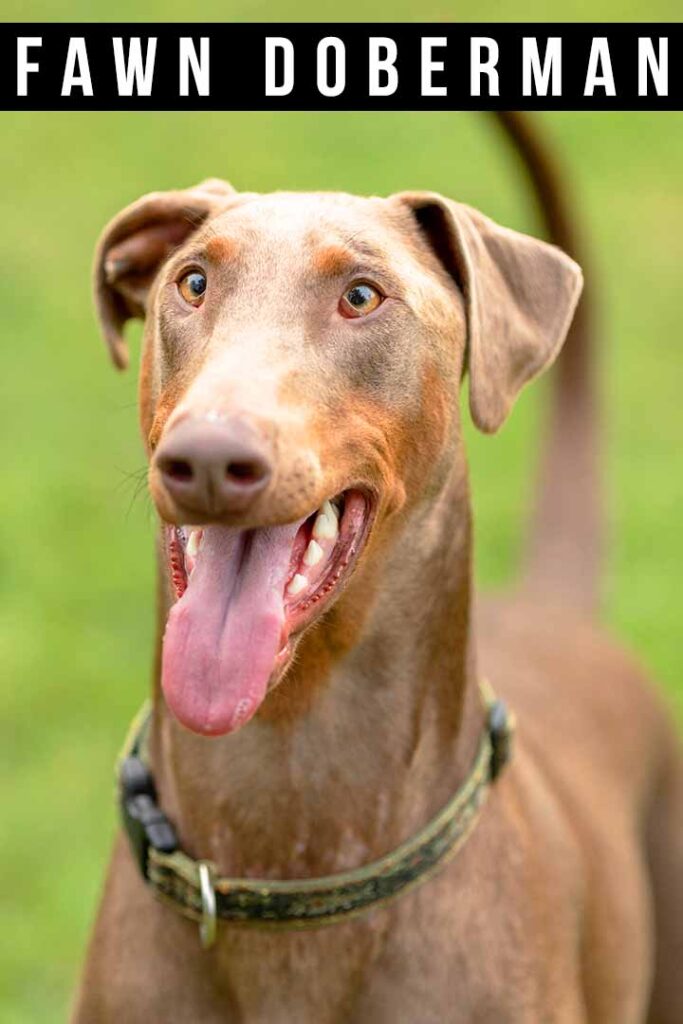 Fawn Coloring and Markings
The fawn or Isabella Doberman are very pale brown over the majority of their bodies. But, they will have reddish, rust colored markings above each eye, on their muzzle, throat, chest, legs, feet, and below the tail. If you're still struggling to imagine what this coloring is like, we've added plenty of fawn Doberman pictures and photos throughout this article for you to take a closer look!
The exact pigmentation of their fawn colored fur can vary from one Isabella Doberman to the next. Some may have even pigmentation all over, but others might have areas of more intense pigmentation throughout their coat.
How Fawn Dobermans Get Their Color
Fawn or Isabella Dobermans are actually brown Dobermans whose color pigmentation has been diluted. So, without two copies of the dilute gene, these Dobermans would be brown. The D locus (dilute) is where these genes can make a difference.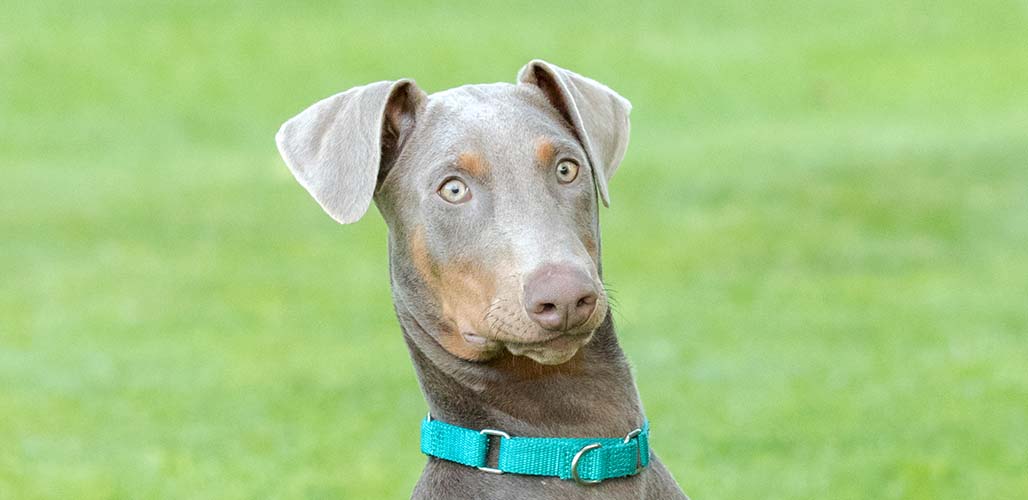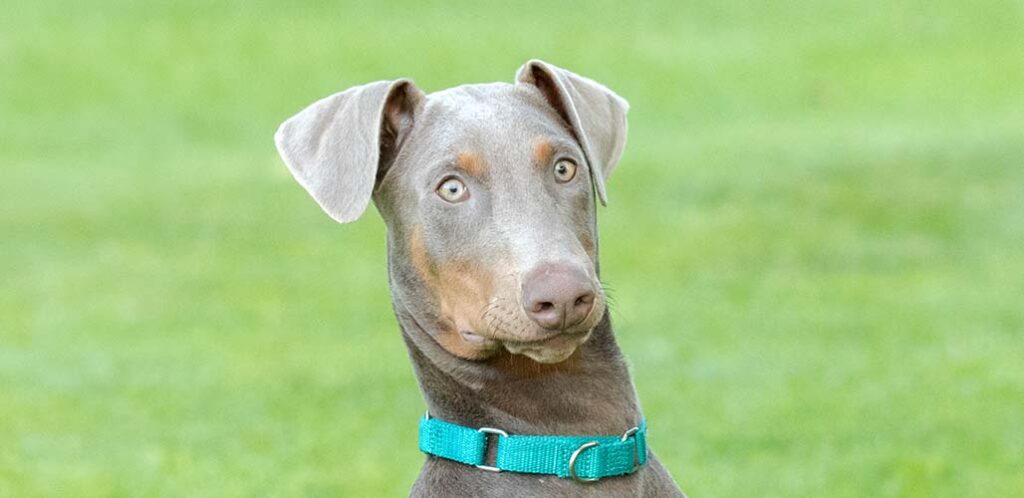 A Doberman puppy will need to inherit two copies of the dilute gene (dd) to have a fawn colored coat, because this gene is recessive. This contributes to the rarity of this color. Some breeders will aim to breed dilute shades. But, since the dilute gene is recessive and can go generations undetected, sometimes dilute Doberman puppies are a complete surprise!
Are Fawn Dobermans Rare?
Fawn Dobermans are relatively uncommon, but new owners should be wary of people emphasizing rarity when marketing their puppies. Since puppies need two copies of the recessive dilute gene to express Isabella coloring, they are much less common than Dobermans with dominant shades, like black.
However, some disreputable breeders will use this as an excuse to drive up the prices of their puppies. They may even go to extreme lengths to breed fawn Doberman puppies regardless of their associated health concerns. So, do plenty of research no matter what color puppies your breeder is selling. We'll discuss some tips for finding the best breeder at the end of this guide.
Are Fawn Dobermans Friendly?
Though the dilute gene can impact your Doberman's health, it isn't known to alter their temperament. So, you can expect a fawn Doberman to be the same as any other shade. Dobermans are known for their loyal, family oriented nature. They are confident and alert dogs, but can have a tendency toward protectiveness. So, it's important to socialize your Doberman well as a puppy to reduce the risk of aggression.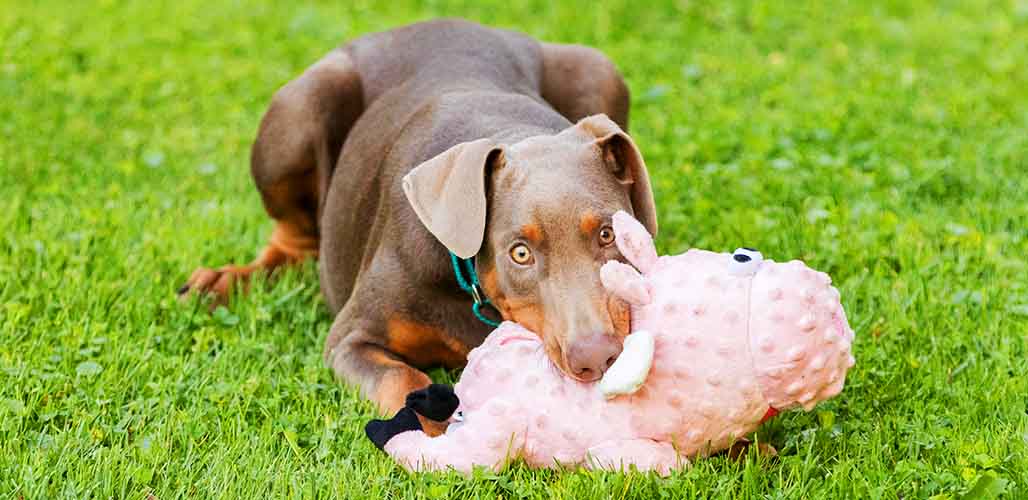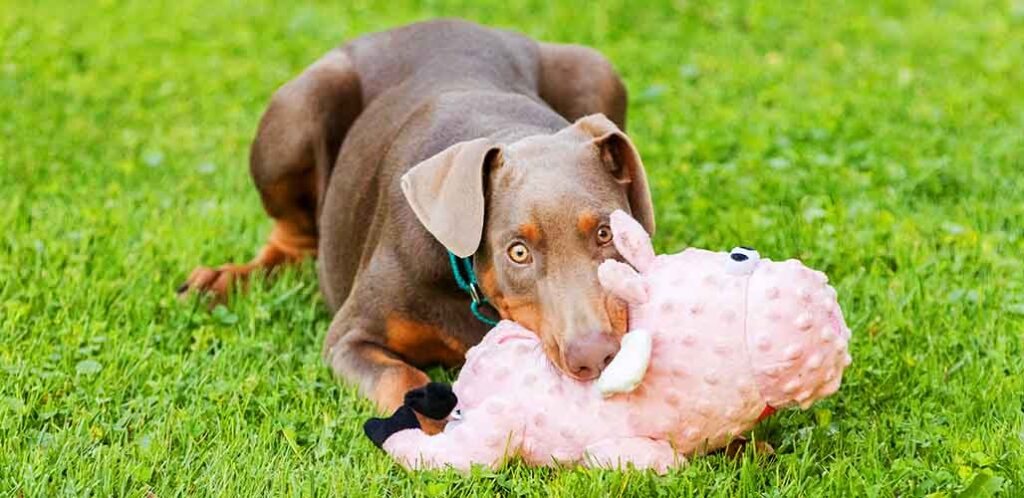 As intelligent and energetic dogs, Dobermans of all colors will need daily exercise, mental stimulation, and training. This can be quite time consuming! So, it's important to be honest about whether you can provide this before bringing a fawn Doberman home.
Fawn Doberman Health and Care
One of the major health issues that dilute Dobermans are prone to is color dilution alopecia. It is most common in blue (grey) Dobermans, but fawn Dobermans may also experience this problem. Color dilution alopecia in dogs is characterised by a number of symptoms, including:
Dry, flaky skin
Poor coat quality, including dull, dry fur
Poor hair regrowth
Hair loss
Recurrent bacterial infections around hair follicles
Sensitivity to sunlight and cold weather
Affected dogs will usually start displaying symptoms of color dilution alopecia between the ages of 6 and 12 months. But, in some cases the first symptoms can occur later than this. On top of this, fawn Dobermans will still be prone to the same hereditary health issues as any other Doberman.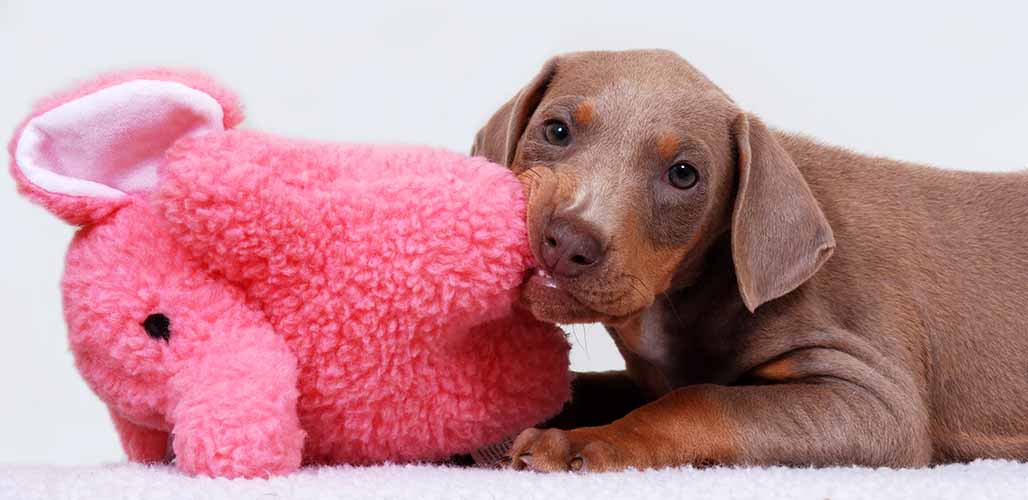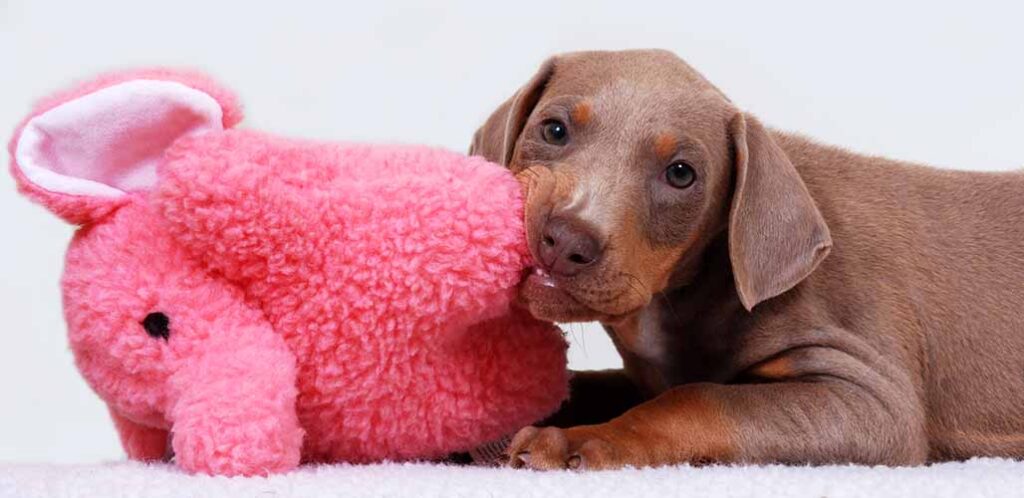 Looking After a Fawn Doberman
Fawn or Isabella Dobermans will need to attend regular veterinary checks. Make sure you keep an eye on their fur quality to notice any early signs of coat dilution alopecia. There's no guarantee that your dilute Dobie will get it, but they are likely to be predisposed to the problem. If you notice any infections or irritation, take your dog to the vet for further help.
Since fawn Dobermans can be sensitive to sunlight and cold weather, you should also take care when letting your Doberman into the yard, or when exercising them. Make sure they have sun protection and constant access to shade during the summer. Dog sun screens are readily available in most pet stores! And, you can also purchase extra layers for any fawn Dobermans that struggle in cold weather.
On top of these extra precautions, your Doberman will need the same level of care as any other shade. So, ensure they are getting a healthy, balanced diet, plenty of exercise, training, and mental stimulation.
Finding Fawn Doberman Puppies
When searching for fawn Doberman puppies, you may also want to include the term 'Isabella' to widen results. Bear in mind that this is one of the least common Doberman shades, since puppies need to receive two copies of the dilute gene. Some breeders may specialize in dilute shades, but for many, dilute puppies will come as a welcome surprise.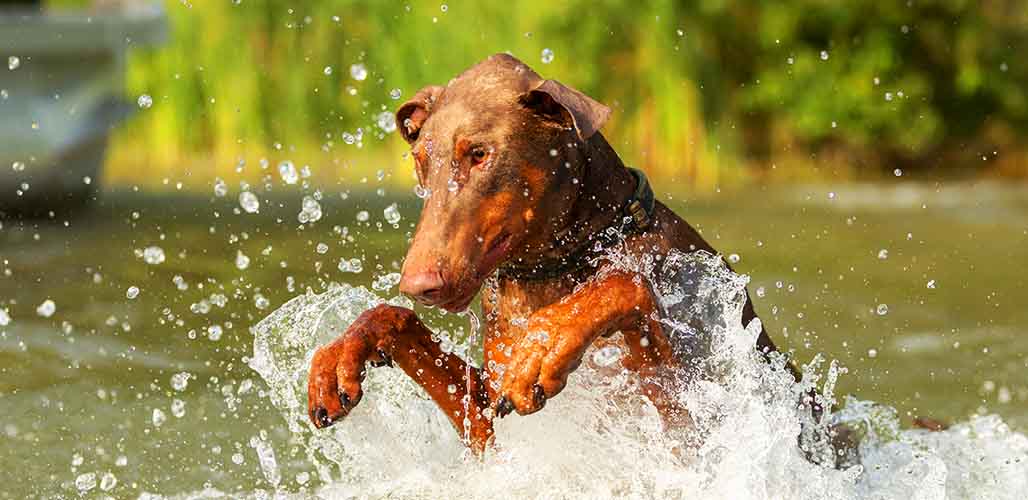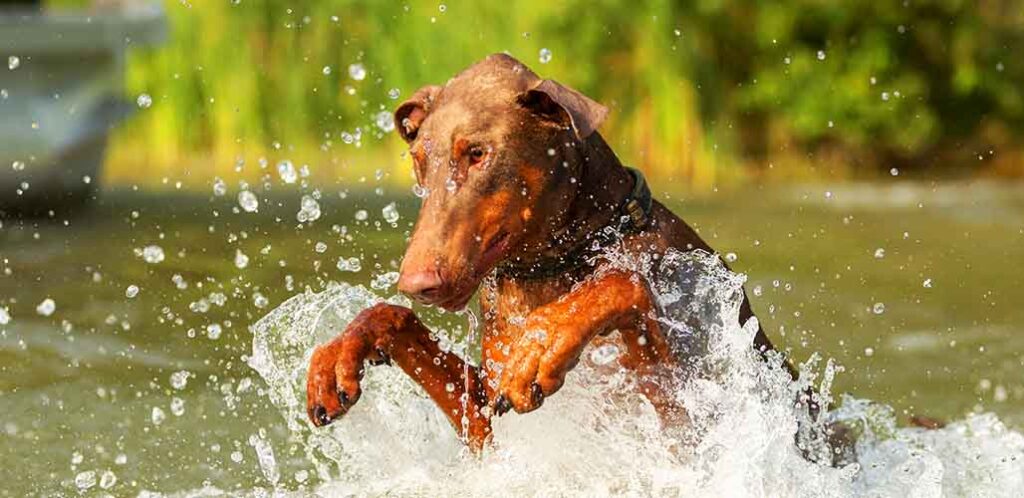 Above all else in your search, you should prioritise the need to find a reputable breeder. Look for one that keeps their dogs and puppies as part of the family, and doesn't force the mom to have too many litters. Visit the puppies in person to get an idea of their health, temperament, and of course the level of their care.
The best breeders will be able to provide evidence of health testing, and will be happy to answer all of your questions. They will likely ask you just as many in return. If a breeder refuses to show you health certificates, or if the puppies and older dogs appear scared, malnourished, or poorly treated, it's best to look elsewhere.
How Much Does a Fawn Doberman Cost?
Fawn coloring on a Doberman is accepted as a standard shade on the official AKC breed standard. And, this coloring is quite uncommon since the genes that cause it are recessive. So, the prices of these puppies can be quite unpredictable. Some breeders may raise the prices, particularly if fawn Doberman puppies have a very high demand. But, others might sell all at a flat price.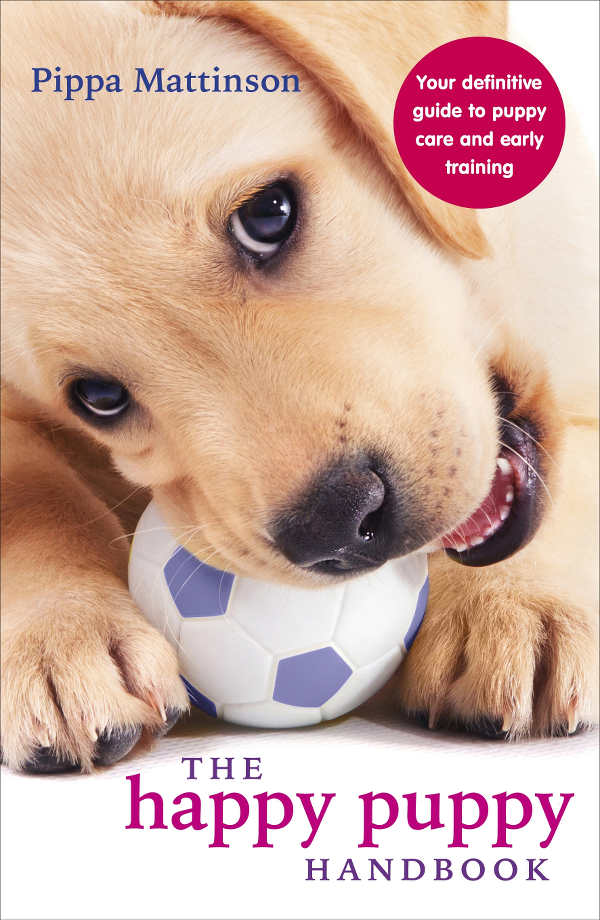 Some breeders may also actually decrease the price of puppies with fawn coloring, since the dilute gene is predisposed to certain health issues that can be costly throughout your pup's life. But, as a general idea, reputable breeders will often charge somewhere between $1200 and $2000 for a fawn Doberman.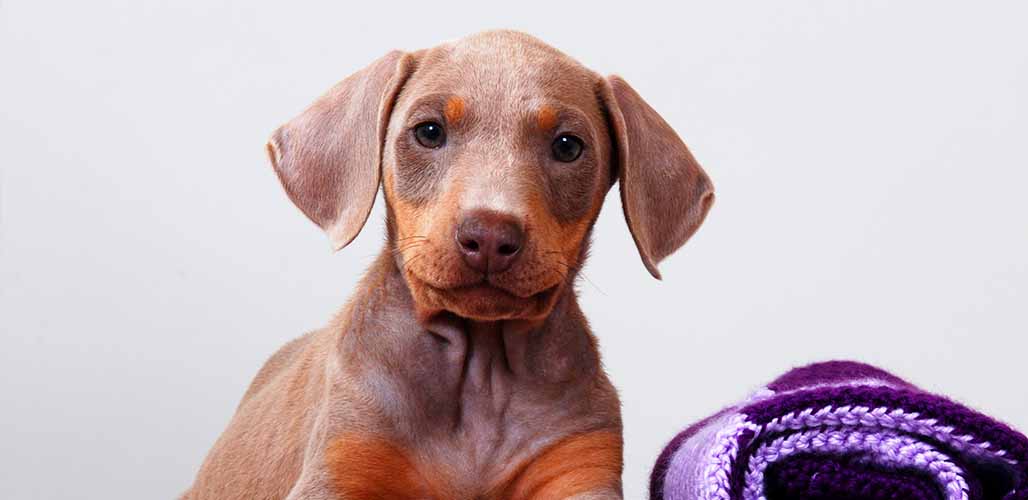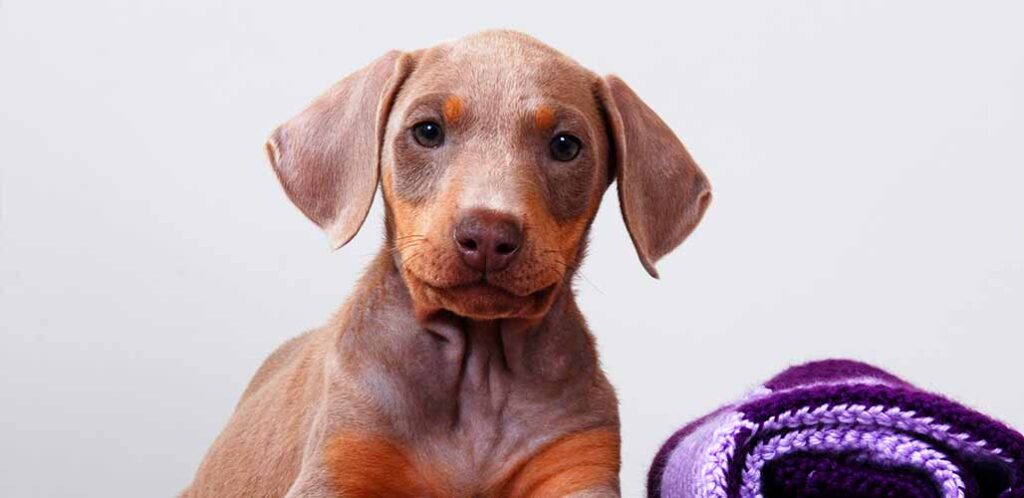 Bear in mind that price isn't necessarily an indicator of quality. And, at times a massively inflated price for "rare" colors can be a sign of a bad breeder. So, do plenty of research into the breeder you choose, and make sure you see evidence of health tests and good care.
Other Doberman Colors
Fawn or Isabella and rust is just one of the Doberman Pinscher's potential coat colors. Here are some of the others that you might come across in your search for a puppy:
Black and rust
Blue and rust
Red and rust
Like fawn, blue coloring is recessive and is linked to color dilution alopecia. You may also come across solid colored Dobermans, with fully black or fully white fur. However, white Dobermans are extremely uncommon, as this coloring in modern Dobies is linked to albinism and a number of health defects.
Are You Interested in the Fawn Doberman?
Despite their predisposition to certain health issues, the fawn Doberman Pinscher is still a popular variety of the breed. Do you already have an Isabelle Doberman at home? Or are you still searching for a fawn Doberman puppy to bring home? Let us know your thoughts on this uncommon color in the comments!
Readers Also Liked
References and Resources