German Shepherds are not always good with other dogs. In fact, many studies into canine aggression have stated that German Shepherds score higher than average for hostility towards other dogs. However, dogs that grow up together are more likely to get along than those that are introduced at a later stage. And socialization as a puppy is the best way to ensure an adult German Shepherd is good with other dogs.
Contents
German Shepherds are intelligent, trainable, alert and loyal. But this breed can also display territorial, guarding tendencies. They can be wary of strangers and unfamiliar animals, or anyone outside of their immediate family at home.
This doesn't mean German Shepherd's cannot get along with other dogs. In fact, a well socialized GSD can be very friendly and sociable. But, socialization and good training from the moment you bring your puppy home is vital. If you're bringing home a new puppy to meet your German Shepherd at home, it's important to introduce the two dogs slowly.
Evidence in Studies
There have been plenty of studies on dog aggression as people have tried to find out which dogs are the most aggressive and whether this trait is hereditary.
The German Shepherd breed has been included in many of these. For instance, a 1996 study on veterinarian opinions on aggression in dogs found that the GSD was categorized as "extremely aggressive" along with the Rottweiler breed.
A 2003 study looking at inter-dog dominance aggression categorized the German Shepherd as more aggressive than the Labrador Retriever. And, a 2008 study in the U.S. found that the German Shepherd breed scored higher than average for dog-directed aggression and dog rivalry.
How Accurate are these Findings?
When looking at studies and statistics on dog aggression, it's important to remember that results can be misleading. In fact, the third study mentioned above points this out. It states that there was a lot of variation in aggressive behaviors even within each breed.
So, people should be wary of making judgements about aggression based on breed alone. Other factors should be taken into account.
A review paper looking into breed-specific legislation argues that people who are interested in owning aggressive dogs will usually expose dogs to an environment that shapes them to be aggressive. So, it is hard to know if aggression is a hereditary trait, or something shaped by upbringing and environment.
Many people also argue that bite statistics are warped, as small dogs generally do not cause as much damage as larger dogs. Therefore, people may not report aggression and bites in smaller breeds, unlike large dogs such as the German Shepherd.
What All This Means
All this conflicting information can make the answer to "are German Shepherds good with other dogs" seem confusing. Studies have found that German Shepherd dogs have scored higher than average for aggression directed towards other dogs. And, that many people view the GSD as an aggressive breed.
But, it's important to gather all the information possible when looking at these studies. Remember that other factors can influence aggression, such as training and socialization as a puppy.
It doesn't mean that German Shepherds will never get along with other dogs. In fact, some may love playing and even living with other dogs. As long as you go about socializing them and introducing them the right way.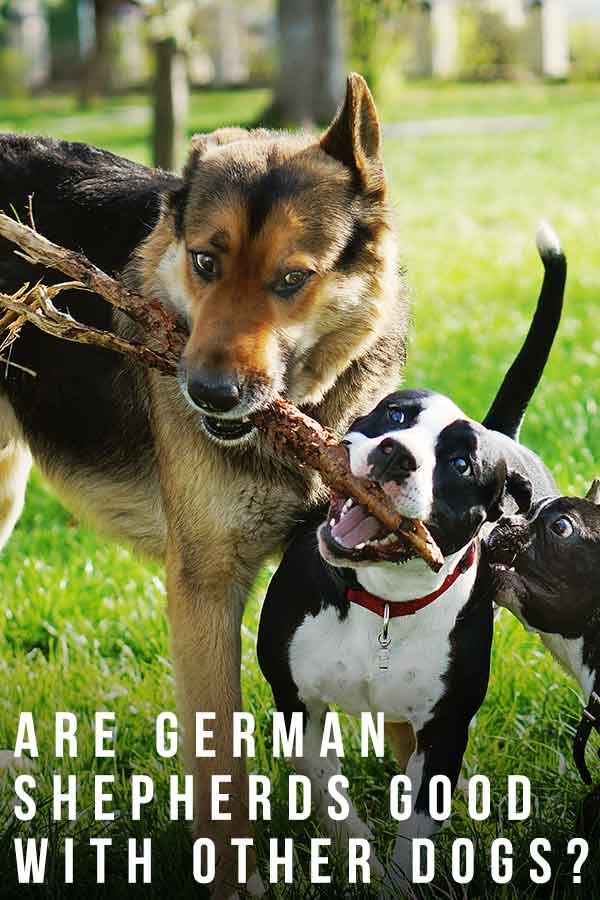 German Shepherd History with Other Dogs
This breed has a rich history starting out in Germany. Here, their creator, Max von Stephanitz bred them in an attempt to create the ultimate herding dog. Their initial purpose of herding and guarding livestock slowly changed to a working role as a police and military dog. To do well here, the GSD needed to be a brave, alert, and intelligent breed.
This is one reason that many people may see the German Shepherd as an aggressive dog. But, today, alongside these roles, the GSD is also found as a guide dog, a loving family companion, a protection dog, and even a working dog in roles like search and rescue.
Solitary Roles
In the majority of the roles that German Shepherds are used for, they work alone. For instance, guide dogs work alone alongside a single person needing their help. And k9 dogs working with the military or police will form very strong bonds with a single handler.
They usually work alongside people, but not often together with other dogs, unlike breeds like the Husky, who has a history of working in a pack. So, German Shepherds will require plenty of socialization with other dogs as puppies to get the best attitude towards other dogs as an adult.
Natural Instincts
These roles throughout the history of the German Shepherd breed have required a brave, loyal, and intelligent dog. GSD's must be very loyal in most of their working roles. But, even when being kept as a family pet, the GSD will be loyal.
If owners do not socialize and train their German Shepherds properly, this loyalty can turn into territorial guarding behaviors. This can lead to aggression against other people and animals.
Are German Shepherds Good with Other Dogs at Home?
If you're bringing home a new German Shepherd puppy, or introducing a puppy to your older GSD, you should introduce the two dogs slowly. Make sure you are supervising the two dogs every time they meet. First, they should meet in a neutral area outside of the home.
If things go well at the first meeting, you can go ahead with a shared activity, like a walk together. But, if either dog seems stressed or unhappy during any meetings, you should stop the session. Try to avoid including toys or food – anything that could be a source of conflict.
For more tips and advice, take a look at this complete guide to introducing a puppy to an older dog.
Are German Shepherds Good with Unfamiliar Dogs?
Are German Shepherds good with other dogs that they don't already know or live with? This can depend a lot on how well socialized they are.
Generally, as such a loyal breed, GSDs can be wary of new people and animals. But, studies have shown that dogs who were socialized well as puppies are less likely to display aggressive behaviors as adults.
So, to get a German Shepherd that gets along well with other dogs, socialize them well to as many unfamiliar dogs as possible when they are under 16 weeks of age.
How to Socialize a German Shepherd Puppy
Puppies should be well socialized to as many people, things, and experiences as possible by the time they're 16 weeks old, ideally under 12 weeks. But, this can be difficult, as puppies should not go on the ground outside until they have completed all of their vaccinations.
Luckily, you can introduce your puppy to other dogs indoors if you know the dogs have been fully vaccinated.
And, you can still socialize a puppy to other dogs outside as long as you are holding him.
For more information, take a look at this guide of 12 great places to socialize your puppy.
Finding other dogs to meet
During the socialization period, it's especially valuable to try and engineer lots of rewarding contact with other dogs. The more happy experiences your puppy has with other dogs now, the more receptive they will be to meeting other dogs in the future.
So you may want to take your puppy to the dog park and sit on a bench with him on your lap so the pup can watch other dogs. Enrolling in puppy training classes is another great way for them to meet other dogs and socialize.
Bear in mind that adult dogs have varying degrees of tolerance for bouncy young puppies. So don't let your German Shepherd puppy approach them indiscriminately. Arrange encounters with dogs you know to be patient, check with their owner before your puppy says hello.
What about Older Dogs?
If you adopt an older German Shepherd, there's a risk they won't have been socialized very well as a puppy. Luckily, this doesn't mean they won't get along with other dogs.
Socializing an older dog is possible, it just takes a bit longer than it does with a puppy. Small steps is key when socializing an older dog. First you might want to let him watch other dogs from a long distance away.
You can slowly reduce this distance, as long as your dog continues to be comfortable.
Take a look at this guide for more tips on socializing an older German Shepherd.