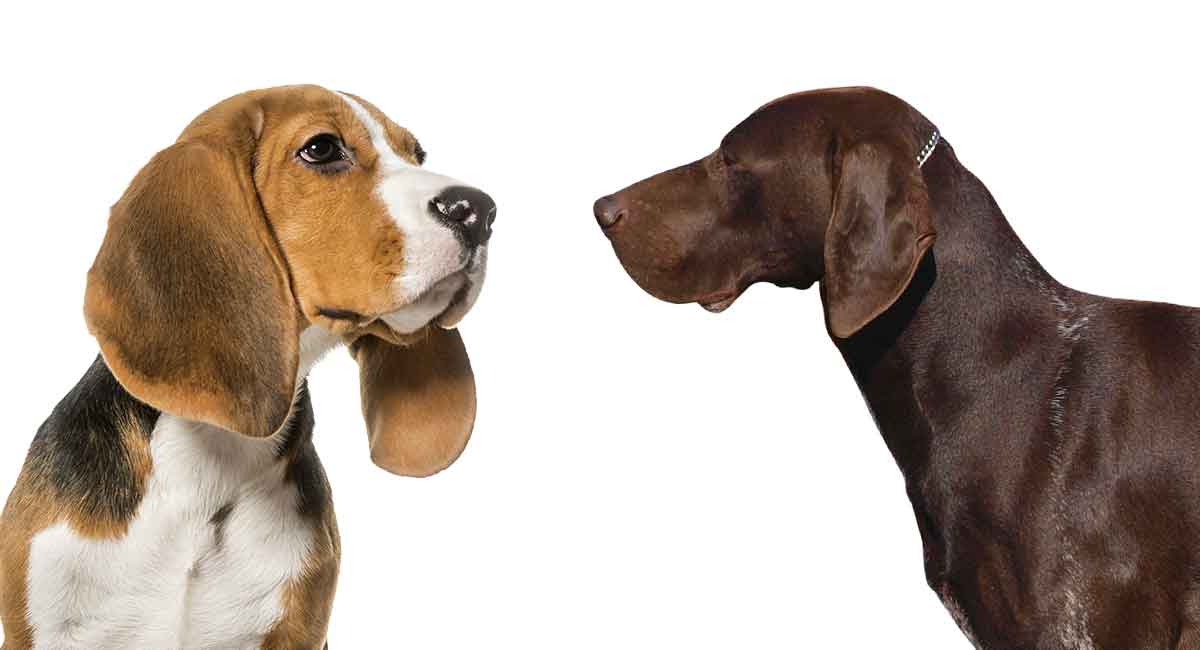 The Beagle Pointer mix is part of the rise in popularity of mixed breed dogs.
However, this mix is lesser known than other mixed breeds.
This article will answer questions you might have about this mix, such as:
Is the Beagle Pointer Mix right for me?
What health issues might this mixed breed face?
Where can I adopt a Beagle Pointer Mix?
Where is the mixed breed from?
How can I train this mixed breed dog?
Read on to find out more about this dog, which combines one well-known breed with one rarer breed.
Where Does the Beagle Pointer Mix Come From?
According to the American Kennel Club (AKC), the Pointer is originally from the United Kingdom. It first appeared around 1650.
The origins of the Beagle are murkier. AKC claims that the Beagle's ancestors appeared in England before 55 B.C.
Beagles, as we know them, may have developed during the 1300s.
Dr. Bruce Fogle (a well-known vet and author) says that Beagles used to be carried in saddlebags during hunts.
Both breeds were first bred as hunting dogs, with Beagles traditionally hunting in packs.
Pointers were bred to be gundogs, and both are still used for their original purpose.
Pointers were one of the first breeds registered with AKC in 1878.
However, the breed's popularity remains low, according to AKC: It ranks 113 out of 193 breeds.
The Beagle is far more popular than the Pointer, ranking in sixth place.
Mixed breeds have become more popular in recent years.
This has caused some controversy, with some puppy mills starting to breed mixes. Mixes are generally considered to be healthier than purebred dogs.
Fun Facts About the Beagle Pointer Mix
Snoopy from the Peanuts comic strip series is a popular Beagle.
When out hunting, Pointers indicate where prey is through body language, with one paw raised and their noses pointed toward prey.
They remain motionless at this time.
The Beagle Pointer Mix is called Boingle.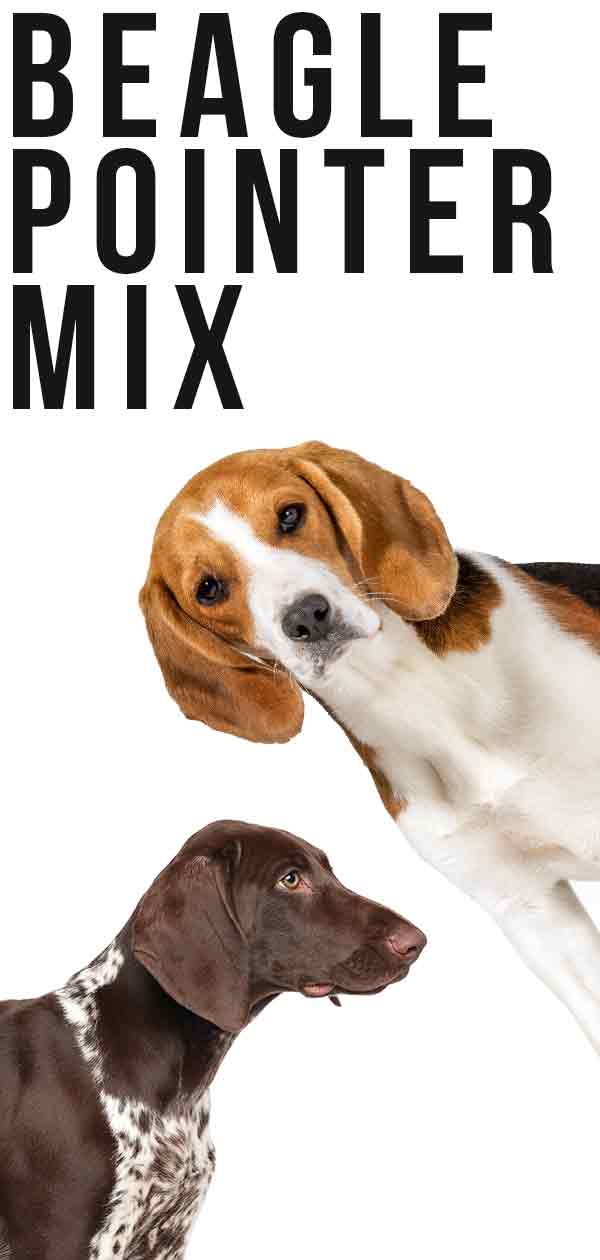 Beagle Pointer Mix Appearance
Both parent breeds have a variety of coat colors. A Beagle can have any hound coat color and may have ticked markings.
A Pointer can have a coat that is liver, black lemon or orange. The pointer may also have black points, liver points and tick markings.
Consequently we can expect the Beagle Pointer Mix to show a variety of coat colors.
Pointer males are between 25 and 28 inches tall, whereas females are 23 to 26 inches tall.
Under AKC rules, there are two height standards for the Beagle: 13 inches and 15 inches.
Thirteen-inch Beagles are under 13 inches tall, whilst 15-inch Beagles are 13 to 15 inches tall.
AKC confirms that standard, male Pointers weigh 55 to 75 pounds and females between 44 and 65 pounds.
In his book "Dogalog(paid link)," Dr. Bruce Fogle states that Beagles weigh 18 to 30 pounds. Both the Beagle's height and weight vary between countries.
Therefore the Beagle Pointer Mix is likely to be a medium-size dog.
Beagle Pointer Mix Temperament
Both Beagles and Pointers have good temperaments.
With the correct socializing and training, expect the mixed breed to have an even disposition.
Training Your Beagle Pointer Mix
Alongside our potty training guide, we also have tips on how to train Beagles and Pointers. Both breeds respond well to positive reinforcement.
It is important to socialize a puppy well because it will need to behave well around people and other dogs in the future.
In addition to being well-behaved, dogs also need to be able to walk off their restlessness.
We have written a guide on exercising a puppy. This includes how often to walk a puppy and the types of exercise needed.
Beagle Pointer Mix Health
The life expectancy of both the Pointer and Beagle is approximately 13 years.
Pointers are generally healthy dogs. However, they may get health problems, including:
Hip dysplasia
Bloat
Eye disorders
Like Pointers, Beagles can suffer from hip dysplasia and eye disorders, as well as other conditions. The other health issues that this breed faces include:
Low thyroid activity
Epilepsy
Dislocated kneecap
The grooming needs of Beagles and Pointers are similar.
Both are short-haired dogs and should be brushed weekly with a rubber grooming mitt or a hound glove. Their coats are easy to maintain.
This mixed breed will thrive on high-quality food, which can be either bought or homemade.
A guide to feeding Beagle puppies can be found here. This is a useful guide about feeding your Mix when you bring this dog home from a breeder.
Any dog should be fed a balanced diet. Because this mixed breed is part Beagle, it is important to watch the dog's weight.
Our guide on avoiding weight problems in older Beagles can be found here.
The following health tests are suggested for Pointers:
Hip evaluation
Eye evaluation
Thyroid evaluation
Beagles should get a Musladin-Leuke Syndrome DNA test, alongside hip and eye evaluations.
Dogs with the syndrome have a "ballerina-like" stance, with a stiff gait and limited range of movement.
Parts of their head, including ears and eyes, may also be affected.
Does a Beagle Pointer Mix Make a Good Family Dog?
Dr. Bruce Fogle states that both the Beagle and the Pointer tend to be good with children.
Therefore, we can expect the Mix to make a good family dog if the dog's high-exercise requirements can be balanced with family life.
Due to the hunting background of the parent breeds, families with small furry pets might want to avoid this mixed breed.
Both breeds have been developed as working and companion dogs and enjoy human company.
Therefore, they may enjoy being around children. However, as with all dogs, they should not be left alone for long periods of time.
Rescuing a Beagle Pointer Mix
You should always meet the dog before adoption. Be prepared for the rescue organization to arrange a home visit to see if the dog is suitable for you.
Before finalizing the adoption, ask your vet to examine your dog. The vet will be able to spot any health issues the dog may have.
Be prepared to look at rescues that aren't local to you, as the Beagle Pointer Mix is still gaining in popularity.
Finding a Beagle Pointer Mix Puppy
When looking for a puppy, it is important to avoid pet stores. These are often linked to puppy mills, which have very low standards of animal care.
You should insist on seeing the puppy around the mother.
Good breeders will allow you to see the puppy with the mom and littermates. They will also show you where the puppies are housed.
As the popularity of mixes grows, it may be easier to find Beagle Pointer Mix puppies now than in the past.
Raising A Beagle Pointer Mix Puppy
If you decide to buy a Beagle Pointer Mix puppy, we have guides to help you raise it.
These guides include puppy care and puppy training.
Beagle Pointer Mix Products and Accessories
Although we do not have products and accessories specific to this mixed breed, we do have ones for both the Beagle and the Pointer, including:
Beagle toys
Beagle harnesses
Pros and Cons of Getting a Beagle Pointer Mix
A drawback of this mixed breed is that due to the parents' high energy levels, the offspring could need more exercise than some other breeds.
Both the Beagle and the Pointer have been described as "escape artists," so you may need high fences.
Both the Beagle and Pointer have a high prey drive.
A large positive of this mixed breed is the good nature of both the Beagle and Pointer, which could combine to make the offspring an excellent pet.
Similar Beagle Pointer Mixes and Breeds
The Beagle has also been crossed with whippets.
Beagle Pointer Mix Rescues
AKC has created a list of Beagle rescues in the USA.
The United Kingdom's Kennel Club (UKKC) has a list of Beagle rescues.
There are several Beagle rescues in Australia, including:
Big on Beagles is a Canadian Beagle rescue.
PointerRescue.Org rescues Pointers from around the USA.
UKKC has a list of Pointer rescues.
Pointer rescues are rarer in Australia than they are in other countries. However, some available Pointers can be found here.
Pointing Dog Rescue Canada coordinates Pointer rescues in Canada, as well as rescues for other breeds.
Is a Beagle Pointer Mix Right For Me?
If you have the time to provide the exercise this mix needs, it could be perfect for you.
A big yard with high fences are highly recommended.
Therefore, if you live in a city or somewhere without access to an enclosed outdoor area, this mixed breed may not be for you.
References and Further Reading:
Fogle, B., 2002, "Dogalog(paid link)"
Siracusa, A., et al., 2017, "Musladin-Leuke Syndrome's Beagle: First Italian Report," Veterinaria (Cremona), Vol. 31, Issue 1, pgs. 51-55
Diez, M., et al., 2004 "Evolution of blood parameters during weight loss in experimental obese Beagle dogs,"
Brass, W. "Hip dysplasia in dogs,"