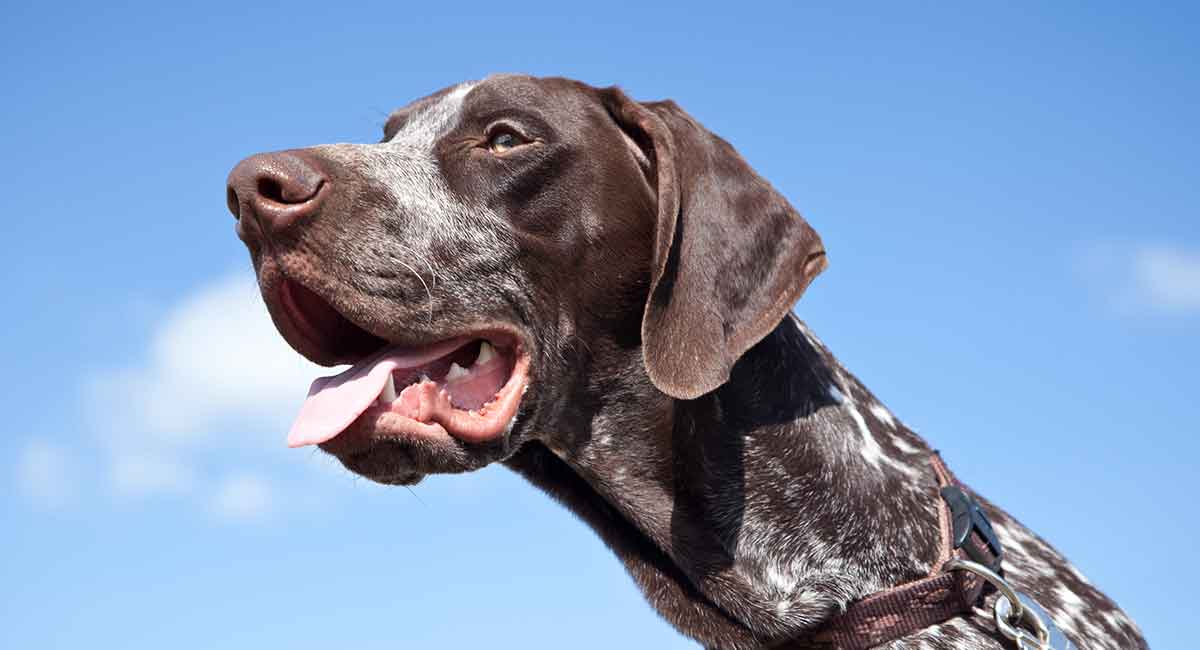 German Shorthaired Pointer dogs are a gun dog breed that weigh between 45 and 70 pounds, growing up to 25 inches tall.
They are active, eager to please, and intelligent dogs that love spending time with their people.
Although they have a short, firm coat, they are a very high shedding breed that need regular grooming.
Will the energetic GSP dog suit your home?
What's In This Guide
Read on for our complete guide to the fascinating German Shorthaired Pointer breed.
German Shorthaired Pointer FAQs
Here are our readers' most popular and frequently asked questions about the German Shorthaired Pointer.
In this article we will be taking a look at the German Shorthaired Pointer.

Allowing prospective owners to get to know this fascinating breed, and to decide whether a GSP is the right dog for them.
Breed At A Glance
Popularity: 9 out of 193 breeds on AKC
Purpose: Sporting
Weight: 45 – 70 pounds
Temperament: Active, intelligent, eager to please

If you are thinking of bringing a German Shorthaired Pointer puppy into your family, this information will help you to make the best choice for you and your family.
German Shorthaired Pointer Breed Review: Contents

Let's start off by getting to know the history of this energetic breed!
History and Original Purpose of the GSP Dog
GSPs comes under the category known in gundog work as HPR, or Hunt Point Retriever.
An all purpose group, who are skilled at flushing and locating game for their handlers, as well as fetching it back them.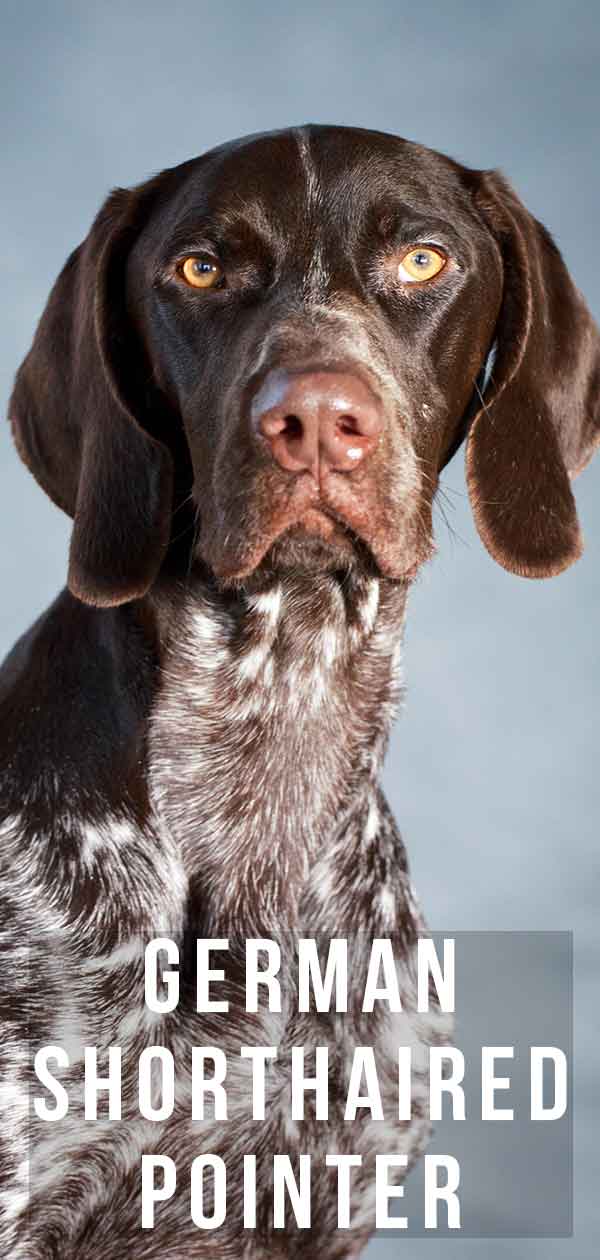 The German Shorthaired Pointer as we know him today actually has a relatively recent place in history.
They were first imported to the UK in the early 1920's and the United States in the mid 1920's. They were recognised by the AKC in March of 1930.
Lineage of GSP
The GSP's lineage originates from the Spanish Pointer and Hannover Hound, who were cross bred in the 1600's. Later adding the English Pointer in to the mix to produce an all purpose hunting, pointing, retrieving breed.
It is thought that this was at the direction of Prince Albrecht zu Solms-Braunfeld of the Royal House of Hanover, who was a fan of Schweisshunds and wanted something similar but with a faster working pace.
Working GSPs
The first AKC German Shorthaired Pointer Show was held in 1941, and the first GSP Field Trial was held just three years later in 1944. For many years these dogs were seen as dual purpose – being both worked in the field and shown in the ring.

Sadly, this is no longer possible as working GSPs require docked tails to protect them from harm in the undergrowth, and show dogs are no longer allowed to be docked.
Fun Facts about German Shorthaired Pointers
GSPs are popular working gundogs, but they're also popular elsewhere.
A German Shorthaired Pointer called Haus was donated to the Air Force Academy. He was trained and used as an explosives search dog!
This purpose is quite popular in GSP dogs! Another Pointer called Pina is used in the Transportation Security Administration to detect explosives!
She has to investigate warehouses, ferry terminals, and cargo planes!

So these dogs are pretty clever!
German Shepherd Pointer Appearance
German Shorthaired Pointers have an athletic build. Lean in appearance but strong and tough, they are built for stamina and duration of exercise.
They have an alert natural body position, and their heads have a long muzzle and delicate profile.
These athletic bodies and proud heads give a calm and regal appearance to this very active and loyal dog.
With adorable large flopping ears and soulful eyes, it is no surprise that this intelligent and hard working gundog is becoming increasingly popular as a pet too.
Coat Colors
German Shorthaired Pointers have short, tough coats of hair.
Although GSPs are most commonly seen as liver and white dogs, they can come in a range of color combinations. These include the following:
Black German Shorthaired Pointer
White and Black German Shorthaired Pointer
Black Roan GSP
Liver GSP
White and Liver German Shorthaired Pointer
Liver Roan German Shorthaired Pointer
White GSP
Their markings will be patched, ticked or a combination of both. Which color do you think if your favorite? Do you prefer the black German Shorthaired Pointer?
GSP Size
German Shorthaired Pointers as adults will grow up to around 25 inches tall to the shoulder, and will weigh around 60 pounds.

They are a medium to large sized breed of dog, with females tending to be a little shorter and lighter than males.
German Shorthaired Pointer Temperament
German Shorthaired Pointer temperament is a product of their breeding. As working gundogs they tend to be intelligent, biddable and loyal to their owners.
They do not tend to have the over enthusiasm for strangers that Labradors or Golden Retrievers show, instead coming across as more relaxed and sometimes giving the impression of being aloof.
In fact they are fun loving and enthusiastic dogs when in the company of their families, and love taking part in exercise related activities.
They are very committed to their family, especially their primary carer. This means that they are one of the easier breeds to train, but also that they prefer human companionship to time alone.
They are therefore best suited to a home where they will have company for most of the day.
Undesirable Behaviors
German Shorthaired Pointers are not the quietest of breeds. They have been known to rather like the sound of their own voices, and will need to be encouraged from an early age to avoid barking. Praising your puppy for quiet behavior, and ignoring any vocalisations will help to reduce the amount of chatter you will hear from them as they grow.
He will probably always provide a watchdog voice when guests come to the house, but it is something that you can help to keep to a minimum.
Due to their need for companionship, GSP dogs may become destructive if left for long periods of time unattended.

They are also very agile and as such you will need to ensure that your garden is secure if they are to be left unsupervised outdoors.
Training and Exercising your German Shorthaired Pointer
German Shorthaired Pointer training is an essential part of their ownership. Although they are naturally biddable dogs, they also have a strong drive to seek prey and run.
German Shorthaired Pointer hunting traits make them fantastic in the field, but can be a problem in a family home if they are not managed.
Getting a good recall, and some basic obedience commands such as sit and stay will help you to keep control of your dog. Meaning that you are both able to enjoy outings together without worrying about them disappearing into the undergrowth.
Modern positive training techniques are highly recommended for GSP dogs. They are independent and intelligent dogs, but they are also stubborn in the face of unpleasantness.
Training them using motivation and enjoyable experiences will pay dividends.
Exercise Requirements
German Shorthaired Pointers need a lot of exercise. Combining this need with their natural instincts to run, hunt, point and retrieve will give you both a huge amount of enjoyment. Gundog style training is a great way to get the best out of a GSP, even if you have no interest in actual field work.
Helping them to burn off their energy with long retrieves, or running in hunting patterns across the fields, will increase your bond together and help your dog to feel more relaxed and satisfied when he is at home.

They also do very well at activities such as obedience, agility and flyball, and are often excellent swimmers as well as runners.
German Shorthaired Pointer Health and Care
German Shorthaired Pointers are generally healthy dogs, with a good body structure and well proportioned head.
However, there are some GSP health problems you need to be aware of.
GSPs have floppy ears, so it's important to remember to regularly check and carefully clean these when your puppy comes to live with you.
They are also prone to some diseases and illnesses that come from closed registry breeding.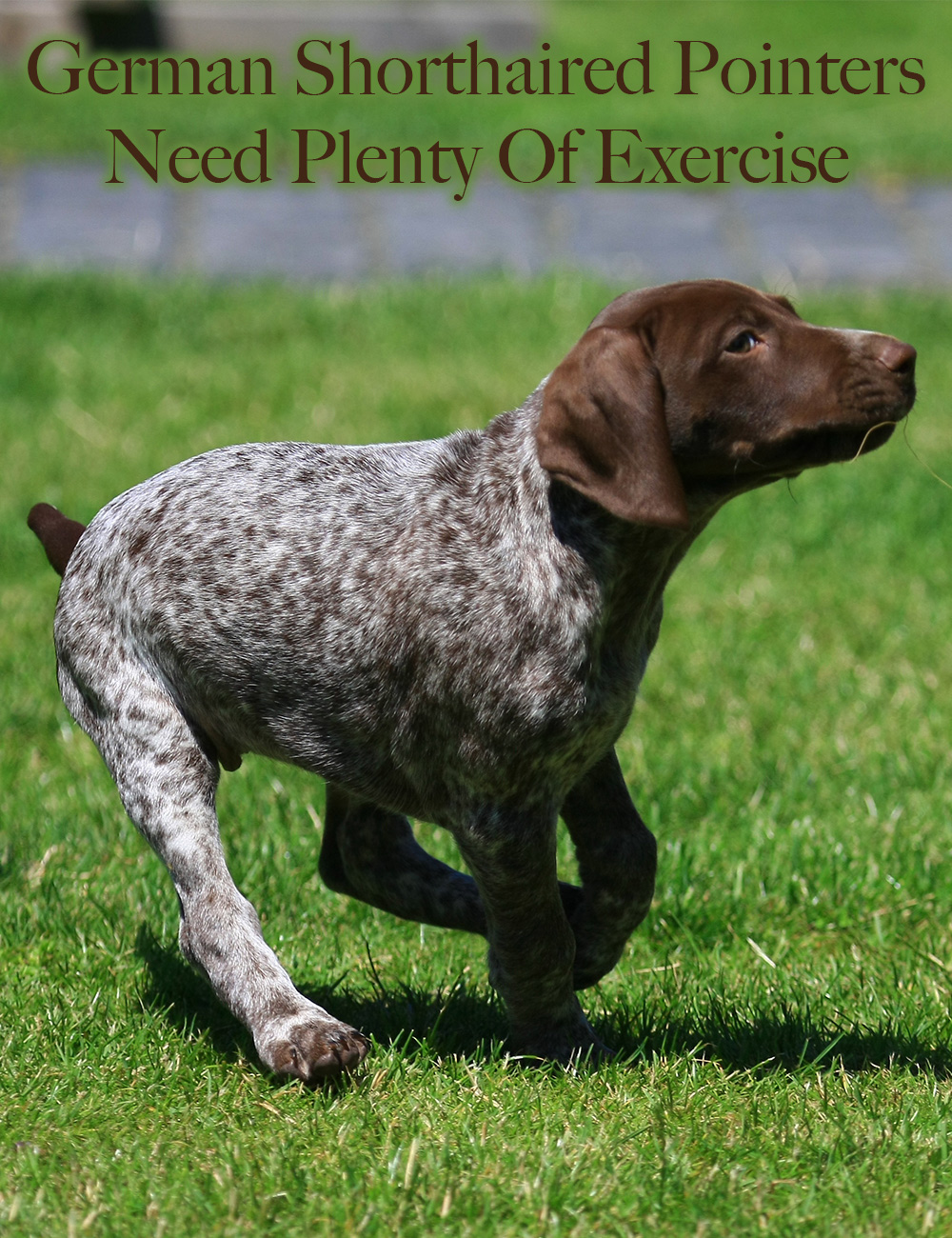 As a prospective puppy buyer, it's important to be familiar with these so that you can avoid them where possible.
Bloat
Bloat or Gastric Torsion is something that many larger breeds of dog are prone to.
If you own a puppy who is a member of one of these high risk breeds you can reduce the chances of him getting it by encouraging slow eating. Use a slow feeder or smaller more frequent portions, and ensure that he doesn't eat from a raised bowl.
Hip Dysplasia
GSPs can be prone to hip dysplasia, where the joint is malformed causing pain and lameness as the puppy grows.
To have the best chance of avoiding this, ensure that both of your puppy's parents have been hip scored. They should have results better than the breed mean of 10.
Elbow Dysplasia
German Shorthaired Pointers can also suffer from elbow dysplasia, a similar condition to hip dysplasia, but where the elbow joints instead are affected.
Both of your puppy's parents should have elbow scores of 0 – this attribute being measured on a different scale to the hips.
Osteochondrosis Dissecans (OCD)
GSPs have been known to suffer from Osteochondrosis Dissecans (OCD). This is a condition which causes lameness and mobility problems, due to problems with the formation of the puppies bones.
The process where cartilage is replaced by bone in the womb is disturbed, resulting in thickening of the cartilage.
This means that the dog's legs are less resistant to stress, and more prone to injury. A dog known to suffer from OCD should never be bred from.
von Willebrand's Disease
The blood disorder known as von Willebrand's Disease causes problems with clotting. Bleeding noses, gums, or prolonged bleeding after injury or birth are signs of von Willebrand's.
Although it can be managed it is incurable, and does not usually become apparent until 3 years of age.
Ensure that your puppy's parents have both been tested. If they are both clear, your puppy will be hereditary clear.
If one is clear and the other is a carrier, your puppy will not be able to develop the disease but may be a carrier himself. This is only a concern if you would like to then breed from himself yourself later on.
Entropion
Entropion is a nasty condition, in which the dogs' eyelid rolls inwards. It causes irrigation, injury and in severe cases can result in blindness if untreated.
Entropion is treatable through surgery, but you should not buy a puppy if either of his parents have had this as it would increase the likelihood of your dog requiring the same intervention as he grows up. Watch out for signs in the litter, such as red eyes or persistent rubbing.
Lymphedema
Lymphedema occurs when there is a blockage or twist in the lymph ducts, causing tissues to swell from an accumulation of fluids.
There is no test for this at present, but you should ask your breeder if they know of any history of it in your puppy's pedigree.
Progressive Retinal Atrophy
PRA is a fairly common cause of blindness in a range of pedigree dog breeds.
It is a disease of the retina which causes a gradual and permanent loss of sight. Fortunately, there is a DNA test for this disease. Ask for evidence that your puppy's parents are both clear, or one clear and one carrier, to ensure that she will not suffer from PRA herself.
Your puppy's parents should also have clear eye tests from a veterinarian. These should not be any more than a year old at the time you pick up your puppy.
German Shorthaired Pointer Lifespan
German Shorthaired Pointer lifespan is thought to average at 12 to 14 years of age.
The UK Kennel Club list them as living over 10 years, the AKC state 12 to 14, and most sources seem to agree that 15 years old is generally the maximum age for the breed.
This is a fairly good innings for a dog breed, and a testament to their general good health and canine body structure.
GSP Shedding
German Shorthaired Pointer shedding can come as a surprise to some new owners. They are a very high moulting breed. Be prepared for that short tough coat to leave a fine layer of hairs all over your floors, most of the year around.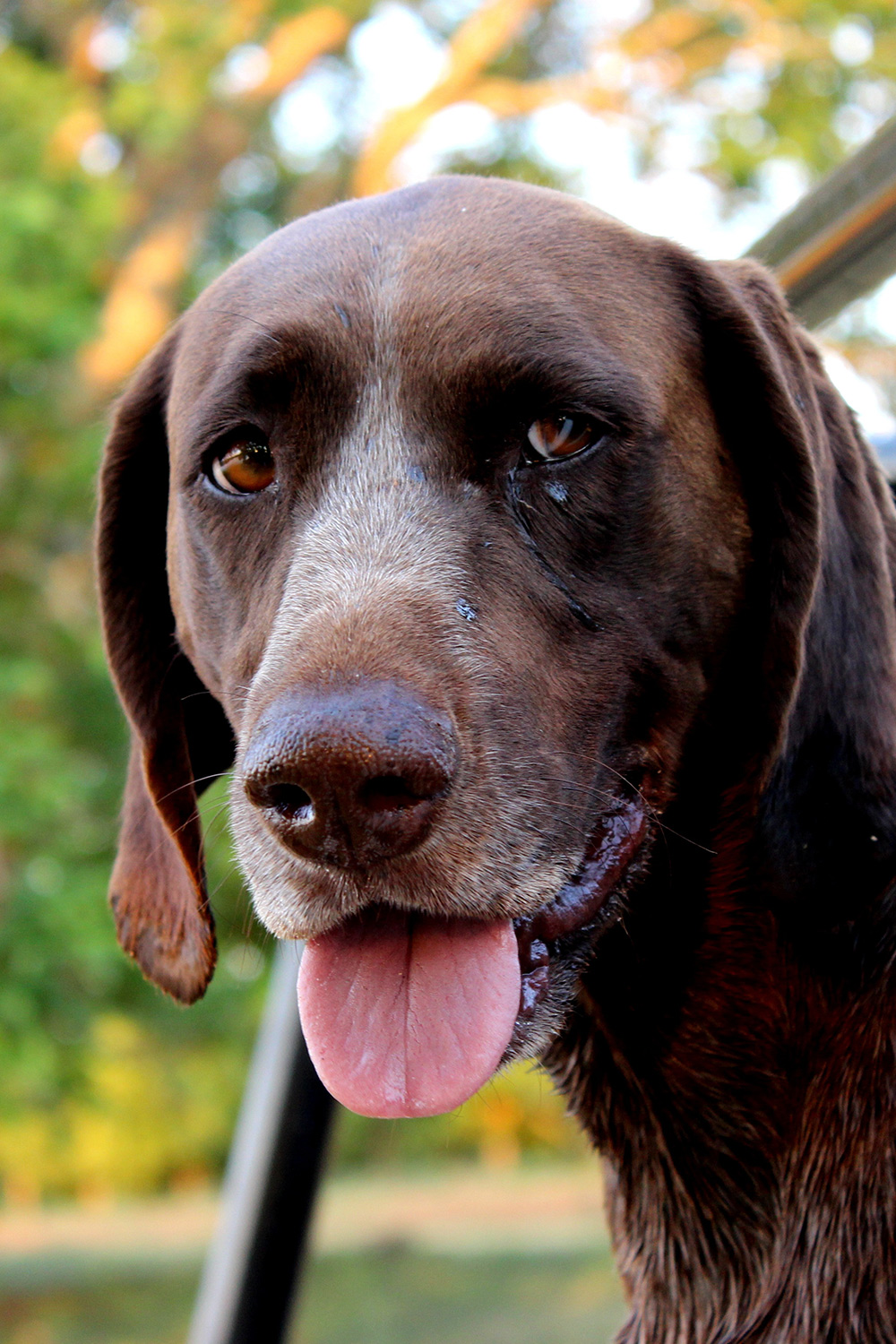 A good brush such as a short haired Furminator, regular grooming and a great vacuuming routine will be essential for helping you to keep on top of this.
Do GSPs make good family pets?
If you are looking for a family dog, then you will need to take into account some of the traits of a GSP. Although they are usually placid and biddable by nature, they can also show some nervousness around small children if not properly socialised.
When you bring your German Shorthaired Pointer pet puppy home you will need to be very careful about socialising them to people of all ages.
If you do not yet have kids of your own, then taking them for walks near school yards around opening and closing time will help to familiarise them with the movements and noises that children make.
If you have friends with young children and babies, make sure that they come over for lots of little playdates when the puppy is between 8 and 16 weeks old.
Make Sure to Supervise
As with any dog, supervision is key. Do not leave any children unattended with a dog, even your own. Make sure that they learn to respect his boundaries, and teach them the signs he will display if he is feeling unhappy.
Simple rules like 'do not touch the dog in his bed' and 'if he walks away, don't follow him', will help you to keep a harmonious household.

Provided that you have time for lots of exercise, positive training and socialisation, then a GSP can make a wonderful family dog.
Rescuing a German Shorthaired Pointer
If you are looking for a German Shorthaired Pointer, but aren't really interested in bringing up a puppy, then a rescue GSP might be what you are looking for.
Although rescue dogs may come with behavioral or training issues from their pasts, you may find that you are happy to tackle these in exchange for helping a dog in need and perhaps getting a more known quantity.
When you bring home a puppy you can get an idea of the temperament that they will have based upon their parents' natures and the general breed standards. If you want to have a better idea of the dog you will bring home, rescuing a GSP could prove more informative.
If he has been previously fostered in a home or assessed by the rescue society, you could find out more about the personality you could expect.

Click here to jump to our GSP rescue centers
Finding a German Shorthaired Pointer Puppy
If you are looking for a German Shorthaired Pointer puppy, then the first thing you need to do is contact a lot of breeders.
If you want to work or show your GSP when she is older, then you will need to ask the breeder whether this is something they are experienced in.
A show breeder will know which puppies are most likely to do well in the ring. A working GSP breeder will work at least one of the parents, and be looking to produce a litter of puppies with legally docked tails.
Finding a Family Pet
If you are simply looking for a family pet, then find a breeder who's female dog lives in the house or has a particularly kind and mellow temperament. If possible go to view both parents before making your decision.
German Shorthaired Pointers are not overly pushy or attentive to strangers, but they should be calm and relaxed in your company. Watch how they interact with their owner, and if you have children bring them along to gage the dogs' reaction.
Spotting a Good Breeder
Your chosen breeder should be well versed in the breed. Their dogs should have a purpose in their lives, and be valued as a member of the family or working team of gundogs.
Be suspicious of anyone who has a lot of different breeds of dog, that don't appear to play a role in their families other than producing puppies.
You should also ask to see health clearances for both parents. For GSPs at the minimum these should include clear eye tests, DNA tests for PRA and von Willebrand's Disease, and certificates showing low hip and elbow scores.
Avoid puppy mills and pet stores to ensure your pup is as healthy and happy as possible.
Choosing a Puppy
Once you have found a German Shorthaired Pointer breeder than you are happy with, you might have to wait for them to have a litter with a puppy available.
Good breeders often reserve all the pups in the litter before they are even born. However, most will not require a deposit until they are at least three weeks old and you have had the opportunity to visit them.
If you are lucky enough to have the pick of your litter, then you will need to decide whether you want a male or female puppy.
Make sure that all the pups are healthy and active, and don't be afraid to let the breeder lead your choice. They will be the most familiar with the puppies' temperaments.
GSP Puppy Price
German Shorthaired Pointer puppy costs range from around £650 to £850 in the UK, or $600 – $800 US.
However, the cost of buying your GSP will not be the major monetary consideration when you bring home your new puppy.

Ensure that you are able to budget for weekly food costs, veterinary insurance, annual vaccinations and any one off costs including beds, toys and training equipment.
Raising a German Shorthaired Pointer Puppy
If you have a large home, large garden and love spending time outdoors, then a GSP puppy could be a great choice.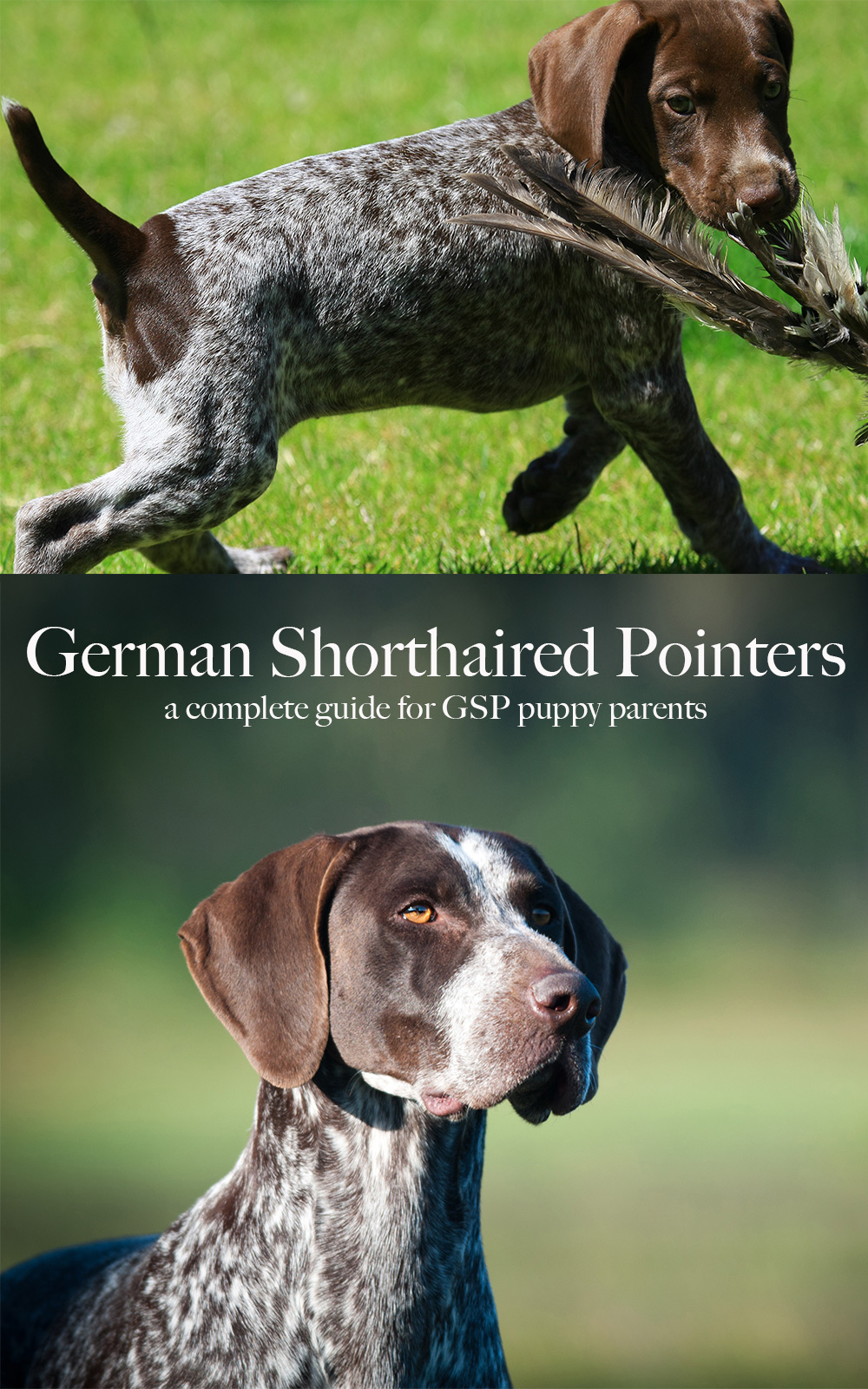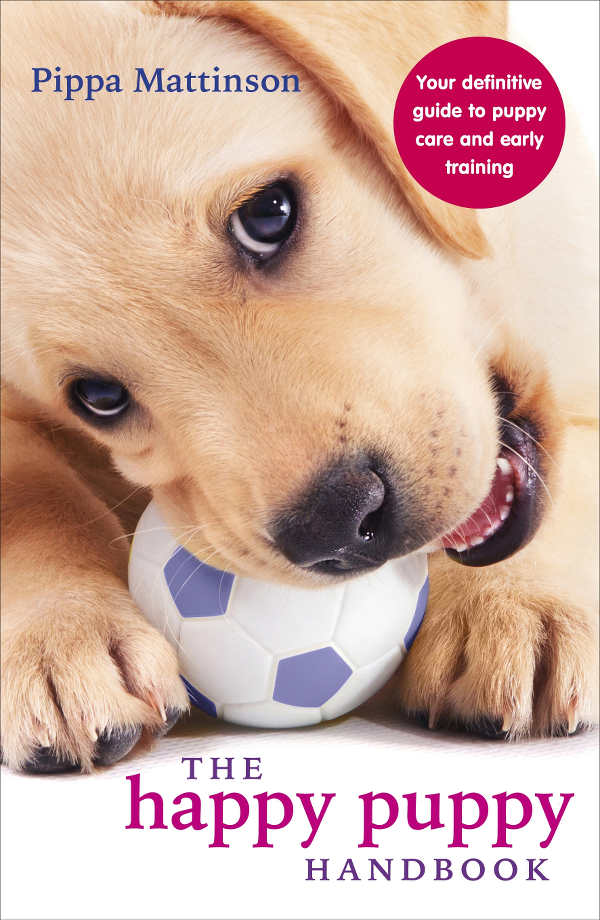 Make sure to commit yourself to regular cleaning of all that shed fur, a good programme of socialisation and training, and a continuing dedication to lots of exercise and time together.
Ensure that you are confident you can spend the time with your pup that he needs, and you will have a wonderful companion to share your life with.

Caring for a vulnerable GSP puppy is a big responsibility. There are some great guides to help you with all aspects of puppy care and training. You'll find them listed on our puppy care page.
Popular German Shorthaired Pointer Breed Mixes
A German Shorthaired Pointer mix will probably be cheaper to buy than a pedigree puppy, but will incur the same lifetime costs.
If you are buying a cross bred GSP, then make sure that the breeder has relevant health tests carried out not just for the German Shorthaired Pointer parent but for the other parents' breed as well.
Ask why they have decided to cross these two breeds together, and decide whether this mix will be best suited to you.
Check out our guides to some popular German Shorthaired Pointer mixes below.
Comparing the German Shorthaired Pointer with Other Breeds
When choosing a new dog, you'll want to compare your choices.
We've put together some handy guides that compare the GSP to other breeds, so you can find out exactly how its qualities stand up to another breed.
This article compares a huge variety of GSP mixes for you to choose from!
Similar Breeds
If there are some characteristics that are putting you off the GSP, you might be better suited to a different breed.
Check out the similar breeds below to see if one of those would be better suited to you.

Irish Setter
American German Shepherd Dog
Wirehaired Pointing Griffon
Pros And Cons of Getting A German Shorthaired Pointer
If you're still not sure whether this breed is right for you, let's recap the main pros and cons.
Cons
This is a really energetic breed that need an active lifestyle.
GSPs have quite a long list of daunting health issues, so choosing the healthiest puppy is vital.
They are a very high shedding breed.
They can also be quite aloof with strangers, even with proper socialization.
Plus, they can be prone to barking.
Pros
GSPs are really eager to please their owners.
They take well to consistent, positive training.
This breed are very committed to spending time with their family members.

They are also great sporting dogs if you're looking for a working breed.
German Shorthaired Pointer Products and Accessories
Whether you're preparing for a GSP puppy, or bringing an older dog into your home, you'll need to find the best products and accessories.
We have guides on the best quality products for your new pup, from brushes to beds. Take a look at some of our guides below.

German Shorthaired Pointer Breed Rescues
If you've decided a German Shorthair Pointer rescue dog is the way to go, check out some breed specific rescues below.
USA
UK
Canada
Australia
If you know any other great GSP rescue centers, let us know their names in the comments so we can add them to this list!
What's your favorite thing about the German Shorthaired Pointer?
Related Articles
References And Resources
Gough A, Thomas A, O'Neill D. 2018 Breed Predispositions to Disease In Dogs and Cats. Wiley Blackwell
O'Neill et al. 2013. Longevity and Mortality of Dogs Owned In England. The Veterinary Journal
Schalamon et al. 2006. Analysis of Dog Bites In Children Who Are Younger Than 17 Years. Pediatrics
Duffy D et al. Breed differences in canine aggression. Applied Animal Behavior Science 2008
Strain G. Deafness prevalence and pigmentation and gender associations in dog breeds at risk. The Veterinary Journal 2004
Adams VJ, et al. 2010. Results of a Survey of UK Purebred Dogs. Journal of Small Animal Practice.