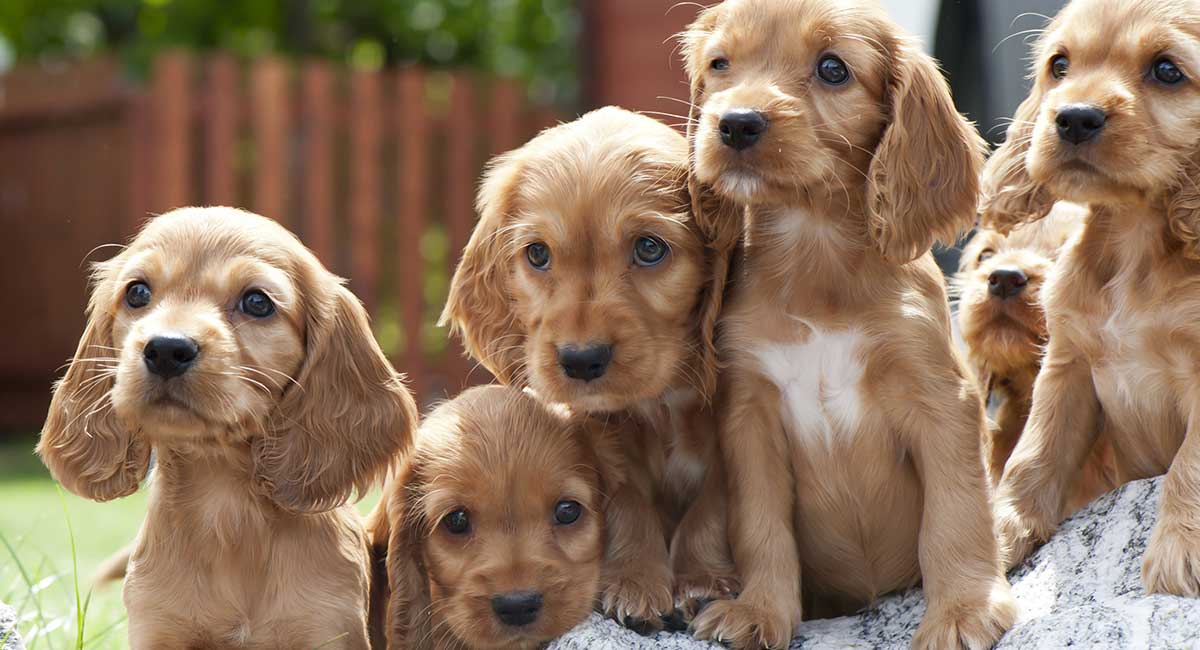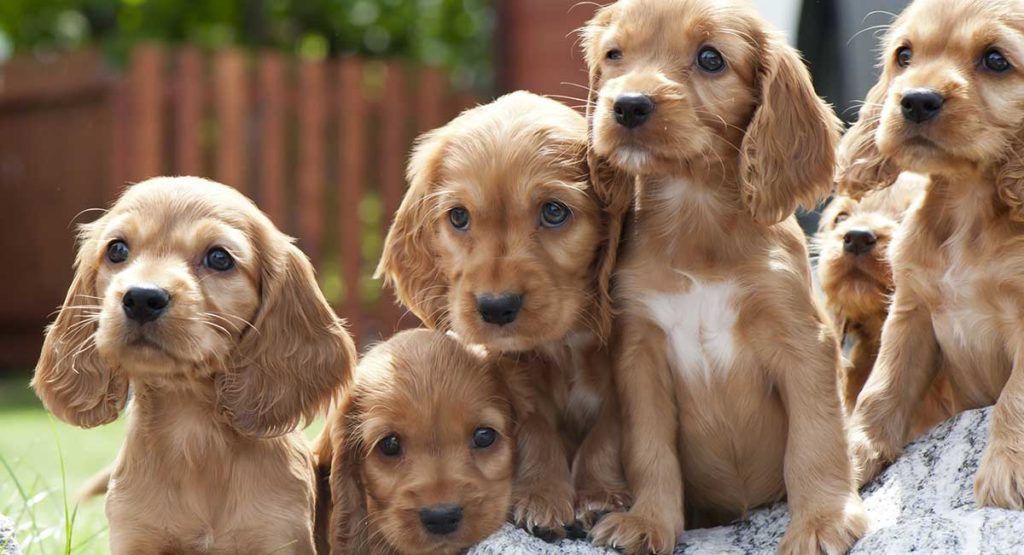 The Cocker Spaniel has a loving, loyal personality and a gorgeous silky coat. It's not hard to see why it's one of the most popular pet dogs in the world! And your cute Cocker dog deserves to get the very best Cocker Spaniel name ideas.
Today we are going to share our collection of hundreds of Cocker Spaniel names. We'll also help you to get inspired and think up some unusual ideas of your own. Helping you to find a great shortlist of names for your baby Cocker Spaniel. One which every member of the family can get on board with!
Popular Cocker Spaniel Names
The best Cocker Spaniel names show off their gorgeous good looks and loyal, energetic personalities. But they can also say something about your likes, style and taste too! In many ways, Cocker Spaniels really are the perfect pet. They're not too small, but not too big. They are friendly, yet not overly pushy. And they are always up for fun. It's not hard to pick good names for Cocker Spaniels as there is inspiration everywhere. But narrowing them down can be harder! Let's begin with traditional, human style options.
Girl Cocker Spaniel Puppy Names
Finding Cocker Spaniel names for female puppies can be as simple of thinking of your favorite people. It's lovely to give your female Cocker Spaniel a human style name. After all, a girl Cocker Spaniel is as much a part of the family as any other girl! We picked these because they're full of sugar and spice and everything nice, just like your Cocker Spaniel lady.
Allie
Amy
Annie
Ari
Bella
Betty
Brandy
Callie
Camilla
Cassie
Flora
Ginny
Hope
Isla
Ivy
Jemma
Jessy
Joy
Kallie
Kiki
Leah
Lettie
Lexi
Lilly
Lorelei
Lotta
Lucy
Luna
Mandy
Mellie
Mercedes
Mila
Minnie
Missy
Misty
Molly
Nina
Opal
Penny
Phoebe
Roxy
Sally
Sasha
Sheba
Shelby
Stella
Tammy
Tiara
Trixie
Winnie
Your Cocker Spaniel names for a female puppy should be cute, but not too cloying for an adult dog. And remember, shorter is better for puppies! These names are more traditionally feminine.
Beauty
Buttercup
Clem
Cloud
Daphne
Dew
India
Kayla
Lola
Love
Minnie
Mercedes
Munchkin
Noelle
River
Sara
Shelby
Sindy
Snowdrop
Sweetie
Sunshine
Valley
The great thing about human style names is that they can still make a statement. Choosing something modern or that would on a person be considered old fashioned, can really say something. Need some more Cocker Spaniel girl names? Write down a name that you quite like but don't love, and use it to brainstorm more similar ideas!
Boy Cocker Spaniel Names
How about names for that male Cocker Spaniel you just brought home? Your little boy doesn't just need traditionally masculine human names, he can also have something with a softer edge. Because, let's face it, he's a serious cutie!
Not quite sure about one of these? Then use your brainstorming skills to work out some new Cocker Spaniel names boys might suit. Pick a topic area, like a brand or location you love, and go wild on a piece of paper jotting down words that you associate with it.
Archie
Arthur
Bailey
Billy
Blaise
Boomer
Brody
Buddy
Chase
Chester
Cody
Danny
Dexter
Frankie
Henry
Jasper
Jax
Jesse
Kell
Leo
Lester
Lexis
Max
Milo
Murphy
Nigel
Oscar
Ollie
Quincy
Petie
Raphael
Remy
Robby
Rory
Sammy
Taj
Theo
Toby
Tristan
Walker
Xander
Here are some super-cute yet masculine names for your Cocker Spaniel. Ideas that hint towards his adorable little boy-ness, but aren't too one the nose for a male dog.
Ace
Bean
Ben
Boots
Buddy
Chase
Chip
Finn
Gus
Kai
Lucas
Murphy
Marley
Nico
Percy
Pip
Puppaccino
Quinn
Webster
Whiz
Zedd
Cute Cocker Spaniel Names
Cocker Spaniels, with their curly fur and long ears, definitely meet the definition of cute! Cute Cocker Spaniel puppies need equally adorable names. If you're looking for a name to go with all that built-in sugar, may we suggest one of these. And yes, we have included some food-based names, because — cute!
Almond
Baby
Banjo
Barkley
Bitsy
Cleo
Chewy
Cookie
Jasmine
Java
Jingles
Juniper
Jonquil
Lucky
Mopsy
Moxie
Nova
Nibbles
Nugget
Pancakes
Peanut
Pebbles
Pip
Poppy
Pup Tart
Prince
Princess
Scampers
Sugar
Sweetpea
Swizzle
TaterTot
Tinks
Twix
Tofu
Waffles
Widget
Wiggles
Whiskers
Waddles
Zippy
Awesome Cocker Spaniel Names
Want your Cocker Spaniel to have a name that's more edgy and hip than cute and sweet? Here are some options for you! These are spaniel names male or female puppies will sound awesome with.
Angel
Bandit
Baxter
Chianti
Genie
Gypsy
Haddie
Havana
Harley
Iggy
Izzy
Jade
Jezebel
Liberty
Lotus
Odessa
Ozzy
Phoebe
Porsche
Selkie
Sphinx
Stella
Tiger
Trinity
Xavier
Unusual Cocker Spaniel Names
Want a more uncommon name for your unique pup? Here are some you might like. Some are ironic, some are cool, some are just fun!
Apollo
Addison
Aria
Bacon
Bear
Beau
Binx
Calvin
Chewy
Chico
Cormoran
Eggroll
Egbert
Gizmo
Hobbes
India
Jarvis
Jinx
Kahlua
Mister Fluffers
Pixel
Pixie
Rocky
Rio
Wolfgang
Cocker Spaniel Names By Color
Do you need a name for a Cocker Spaniel based on color, pattern, or some other unusual or interesting characteristic? Whether you want black Cocker Spaniel names, golden Cocker Spaniel names, or something to reflect your pup's shining personality, here's where to look.
Ash
Blue
Brandy
Chantilly
Cinders
Cinnamon
Coco
Diamond
Ginger
Hazel
Honey
Indigo
Isis
Ivory
Java
Jett
Kona
Mango
Merle
Muffin
Mocha
Olive
Oreo
Patches
Peaches
Pearl
Pepper
Periwinkle
Raisin
Sage
Sienna
Shadow
Smoky
Snickers
Sparkle
Sunny
Taffy
Twinkie
Willow
Velvet
Black Spaniel Names
Fortunately, black Cocker Spaniel names male puppies suit are very similar to traditional black female Cocker Spaniel names. We think any of the names here would be perfect for boys or girls!
Jet
Raven
Midnight
Twilight
Luna
Nova
Star
Moon
Dawn
Dusk
Dusty
Coal
Tar
Treacle
Crow
Ninja
Brown Cocker Spaniel Names
A brown Cocker Spaniel puppy is also known as liver or chocolate. And we can use that tasty alternative name to inspire us to find suitable names for cute chocolate Cocker Spaniel puppies! Some of these chocolate Cocker Spaniel names are truly chocolatey…
Snickers
Oreo
Mars
Hershey
Twirl
Twix
Boost
Bounty
Galaxy
Cocoa
Pudding
Carob
Mocca
Umber
Cedar
Mousse
Coffee
Golden Cocker Names
From the palest buff American Cocker Cpaniel to the darkest red Cocker, these golden Spaniel names pass through every shade that comes close to gold. So if you're bringing home a beautiful blonde working Cocker Spaniel or even the lightest white Cocker Spaniel, you'll find something that suits your new puppy here. These ideas are color based and therefore most of them make great golden Cocker Spaniel names for male or female puppies.
Honey
Oats
Barley
Cobb
Maize
Sunset
Sunny
Rusty
Ruby
Scarlett
Rufus
Amber
Sorbe
Carmel
Ginger
Russet
Tawny
Cookie
Latte
Blue Roan Cocker Spaniel Names
Blue roan Spaniel puppies really do look blue, with their flecked fur and gorgeous faces, they are one of my personal favorites. These blue inspired names are designed to highlight that gorgeous feature of your pup.
Checkers
Chess
Domino
Navy
Azure
Cobalt
Cyan
Baby
Marine
Sapphire
Berry
Ocean
Sky
Bubbles
Flicker
Lapis
Tri Color Cocker Spaniel Names
Tri colored Cockers have three separate colors to their coats, in a beautiful mismatch.
Trio
Speckles
Freckles
Spotty
Dotty
Muddles
Pickle
Dart
Arrow
Trey
Trinity
Pepper
Mottle
Sprinkles
Dapple
Dabble
Dibble
Sprocker Spaniel Names
The affectionately named Sprocker is a mix between a Cocker Spaniel and a Springer Spaniel. These little cuties are great pets and hard workers too. Here are our favorite names for super Sprocker Spaniels.
Puzzles
Criss Cross
Jigsaw
Matches
Patches
Splice
Jumble
Rumples
Dimples
Splodge
Splatter
Skipper
Twist
Helix
Comb
Dodge
Working Cocker Spaniel Names
Cocker Spaniels are hunters at heart, although their love for human companionship makes them great lap dogs and therapy dogs. But when naming a dog that will be working with you, you'll want a name that's slightly more dignified, and reflective of her abilities. Here are some great options for working cocker spaniel puppy names that will fit both male and female pups beautifully.
Bandit
Biscuit
Bramble
Brewster
Buddy
Chip
Clyde
Cody
Dash
Duke
Elle
Faith
Flash
Grace
Harley
Hunter
McKenzie
Mia
Nike
Nipper
Piccolo
Rocket
Riley
Sally
Serena
Spirit
Skye
Willow
Winston
Zippy
Famous Cocker Spaniel Names
We've taken these names from real famous Cocker Spaniels you may have heard of, so you can see what some people have named their famous dogs! You could also use the name of one of these famous Cocker Spaniel owners as inspiration for naming your Cocker puppy!
Arthur (Elton John's dog)
Butch (Saturday Evening Post dog)
Checkers (Richard Nixon's dog)
Einstein (George Clooney's dog)
Sadie (Oprah's dog)
Sophie (Oprah's dog)
Solomon (Oprah's dog)
Or consider the names celebrities have given to other breeds of dog.
Asia (Lady Gaga's dog)
Finn (Amanda Seyfried's dog)
Penny (Blake Lively's dog)
Vida (Demi Moore's dog)
Flossie (Drew Barrymore's dog)
Noodles (Kelly Osbourne's dog)
Sid (Jessia Biel's dog)
Famous Fictional Character Names for Cocker Spaniels
Get inspired with the names of people you admire! Or you might consider some famous animal characters from movies and TV shows. For example, one of the world's most famous Spaniels is Lady, from Disney's Lady and the Tramp. Sounds like a good name, right?
Arya
Blanche
Chance
Copper
Lady
Loki
Merlin
Millhouse
Nala
Otis
Quark
Sherlock
Simba
Tinkerbell
Tramp
Pippin
Puddles
Shasta
Snorlax
Zelda
Famous People Names for Cocker Spaniels
Maybe you take your inspiration from the names of real people? If so, try this little list. Remember, you can choose names from your favorite musicians, artists, writers, celebrities, politicians, and more. You can even name your dog after a family member. Just check with them first!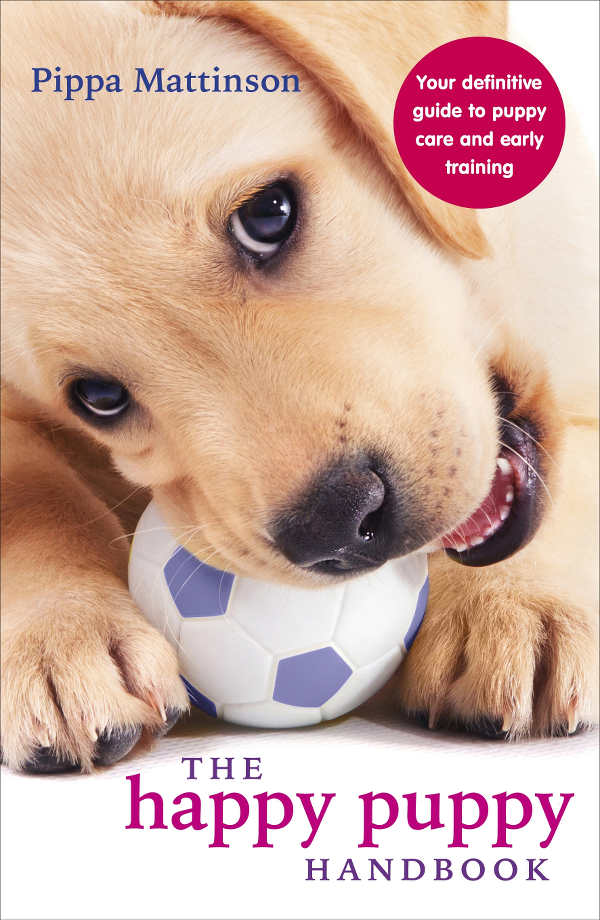 Amadeus
Amelia
Blanche
Beckett
Bogart
Elvis
Errol
Fergie
Guinevere
Gracie
Jacqueline
Harper
Hamilton
Maya
Langston
Mahala
Poe
Rumi
Selena
Wagner
Best Cocker Spaniel Names
The best Spaniel names celebrate their breed as well as your own personal style. Additionally, the right name can assist with your dog's training. The wrong one might cause problems. For example, naming your dog something like "Nolan," with the "no" sound, might give your pup bad associations with the name. If you use "Kit," it might sound too much like "sit." Also, it can cause confusion if you choose a name too similar to that of another pet.
Alternatively, picking a silly name might make you embarrassed if you're calling out for your dog. It pays to think ahead, but not overthink it. Whatever you decide will be okay, and wonderful to you because it represents your furry bestie.
Still not sure?
Here are some more ideas!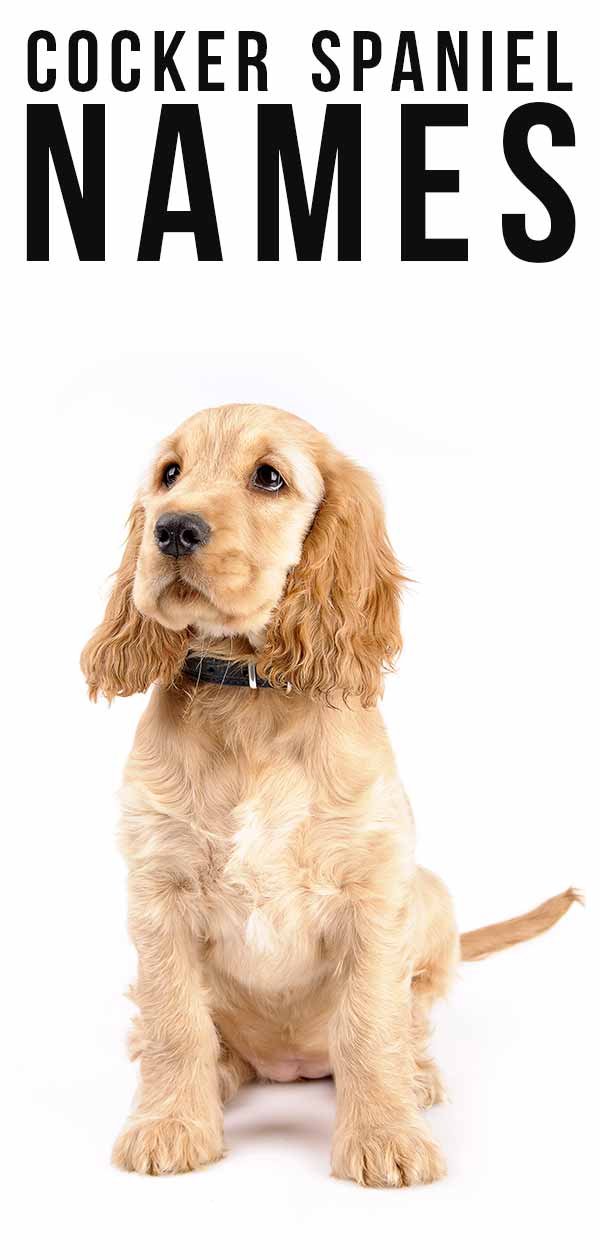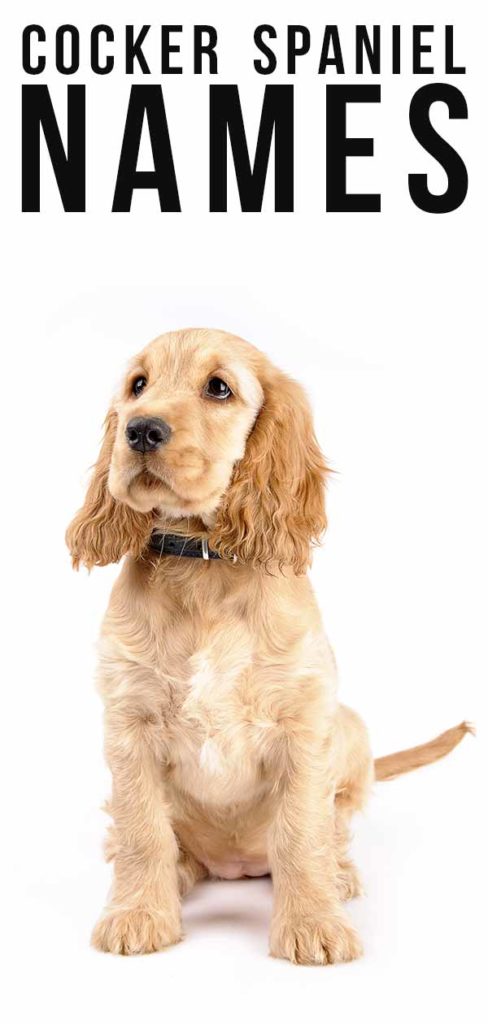 Related Articles
Take Your Time
Don't forget, you don't need to name your puppy immediately. If you like you can take a few days to figure out your puppy's personality. Then you can pick the name that's the most suited to you and your dog. Ultimately, it's your decision. The best Cocker Spaniel dog names are up to you!
What's your dog's name? Let us know in the comments below.