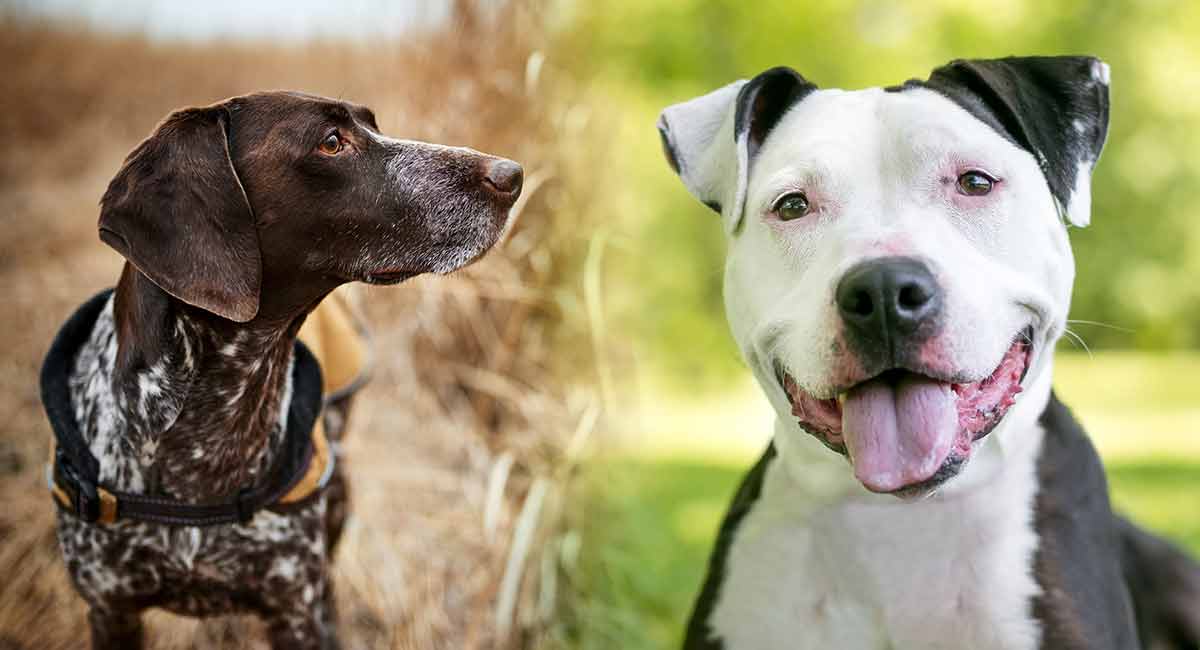 Welcome to our guide to the Pointer Pit Bull mix!
Are you thinking of choosing a Pointer Pit Bull mix? Like many mixed-breed dogs, this energetic pooch is certainly popular.
But is the Pointer Pit Bull mix be a good fit for your family?
You'll learn about the origins of this mix, and how the parent breeds might combine in terms of appearance, temperament, and health. We'll consider the pros and cons of the Pointer Pit Bull mix, and help you come to a decision about whether this pup is right for you.
Before we delve into the origins of the Pointer Pit Bull mix, let's take a look at the controversy surrounding mixed-breed, or 'designer' dogs.
The 'Designer Dog' Controversy
Pure breed proponents argue these animals are more predictable in terms of physical appearance, temperament, and general health. They claim that responsible breeding can reduce breed-specific genetic problems.
However, research suggests purebred dogs still face a greater risk of hereditary conditions than mixed breeds. Limited gene-pools and inbreeding leads to a prevalence of similar genetic material, resulting in health problems and 'loss of vigor.'
'Designer' dogs certainly have more varied genetic material. Mixed-breed advocates suggest that these pups actually have a reduced risk of developing breed-specific inherited disorders. There is some evidence to support this claim.
Therefore, it's important to look for reputable and trustworthy breeders, whether you're seeking a 'designer' dog or a purebred.
Where Does the Pointer Pit Bull Mix Come From?
Pointers first appeared in England in around 1650, and were used as hunting dogs alongside greyhounds throughout the 17th century. After the invention of rifles, Pointers became popular gun dogs.
However, the term 'Pit Bull' is actually a classification referring to a group of breeds.
In 19th century Britain, now-extinct breeds were crossed to create the ancestor of the modern breeds classed as Pit Bulls. These include the American Pit Bull Terrier, American Staffordshire Terrier, Bull Terrier, Miniature Bull Terrier and Staffordshire Bull Terrier.
Pit Bulls were originally bred for blood sports. After this was outlawed in 1835, Pit Bulls began to be used in illegal dogfighting.
However, Pit Bulls are useful to catch dogs, family companions, therapy animals and police dogs.
Unfortunately, they still make up a large proportion of dogs used in illegal fights.
Fun Facts About the Pointer Pit Bull Mix
A Pointer Pit Bull mix's hunting instincts first become apparent as young as two months old!
During World War 1, a Pit Bull representing the U.S. appeared on American propaganda posters.
Pointer Pit Bull Mix Appearance
A Pointer Pit Bull mix may resemble one parent more closely, or have a mix of both parents' features.
The Pointer Pit Bull mix has an athletic, graceful appearance. His coat can be various colors, with or without markings, and he has floppy ears. Pointers vary between 23 and 28 inches in height, and weigh around 45 to 75 lbs.
Pit Bulls stand anywhere between 17 and 21 inches tall, and weigh around 30-60 lbs. They are solidly built, muscular dogs, with a wedge-shaped head, wide-set eyes, and half-pricked ears.
Like Pointers, their coats can be various colors, with or without markings.
Hence, the Pointer Pit Bull mix is likely to be a medium-sized, muscular dog. Like their parent breeds, the Pointer Pit Bull mix will have short, low-maintenance coats, in various colors.
Pointer Pit Bull Mix Temperament
Pit Bulls are labeled an aggressive breed, but is there any truth in this reputation?
Pit Bulls were originally bred to track, catch and hold down smaller animals. They have powerful jaws and a tendency to 'hang on' once they've bitten down.
The CDC reports that between 1979 and 1998, Pit Bulls were responsible for more human deaths than any other breed. Pit Bull bites are likely to be more severe, and put victims at higher risk of infection, disability or disfigurement.
Children and the elderly are more at risk of attack than adults. For that reason, more than twelve countries have implemented restrictions or outright bans on Pit Bulls.
Pit Bull owners, however, are quick to state the loyal, loving and affectionate nature of their pets. In 2011, the American Temperament Test Society reported a passing rate of 82.3% for the American Bull Terrier, making him one of the country's five most stable breeds.
Studies show that Pit Bulls are more likely to show aggression towards dogs, rather than humans. In addition, research suggests that canine aggression is a complex, multivariate issue which is influenced not only by breed, but by age, sex, reproductive status, general health and size, as well as by social factors, such as relationship to the victim, previous neglect or mistreatment, and socialization.
Aggression towards humans, insecurity and/or severe shyness are not breed-typical traits. Pit Bulls displaying such characteristics should not be adopted into homes or used in breeding pairs.
Pointers, by contrast, are typically friendly and mild-mannered, and are generally good with all but very young children. A Pointer Pit Bull mix is likely to inherit an energetic, affectionate nature from his parents; however, it's important to keep in mind that Pit Bull temperament can vary.
Training Your Pointer Pit Bull Mix
Pointers can stubborn, but are highly intelligent and learn quickly when given firm, consistent commands and rewards. Training should start early, and they'll need ample opportunities for socialization.
Pit Bulls are also strong-willed and will push boundaries. Pit Bulls are late-maturing and can be very different at age three than they were as a puppy. Left alone, they can experience boredom and separation anxiety, which can lead to undesirable behaviors such as chewing.
A Pointer Pit Bull mix will inherit characteristics from both parents.
As both parent breeds can be stubborn, a Pointer Pit Bull mix will need firm and thorough training from a confident handler, starting early. They'll also require extensive socialization.
It is very important to avoid punishment-based training, as this tactic can backfire. In contrast, rewards-based training is known to be highly effective.
Check out our training guides for more tips and information:

Pointer Pit Bull Mix Health
To assess the potential for health issues, let's look at the parent breeds.
Remember: if one of the parent breeds is prone to a particular health condition, it may also be present in their mixed-breed offspring.
Pointer Health
Pointers are known to be fairly healthy dogs, although there are some conditions the breed are prone to.
However, Pointers may experience eye problems such as progressive retinal atrophy, a condition causing gradual loss of vision and blindness. Most cases are hereditary.
Pointers also may have congenital deafness or experience epilepsy.
Pit Bull Health
Like Pointers, Pit Bulls are generally healthy dogs. However, they may experience the following health conditions.
Pit Bulls can be prone to skin infections, mange, and ichthyosis, a condition leading to dry, scaly skin.
Pit Bulls can also develop cataracts in older age. Cataracts affect vision, and may require surgery to correct.
Conditions Common to Both Breeds
Pointers and Pit Bulls may develop Canine Hip Dysplasia (CHD). This condition can result in lameness and severe arthritis.
Pointers and Pit Bulls may also develop hypothyroidism, an endocrine condition where the body doesn't produce enough thyroid hormone. This develops in middle age, so it is important to track changes in your dog's condition.
Pointers may experience cardiac issues such as aortic stenosis, usually identified by heart murmurs. Similarly, Pit Bulls can have congenital heart defects, such as malformation of the valves or irregular heart rhythms.
Both breeds may be prone to allergies. Antihistamines or special shampoos can help to manage these.
Research suggests that consulting pedigree health databases can reduce the risk of inherited disorders in dogs. Responsible breeders do this when selecting breeding pairs.
Both the Pointer and Pit Bull parents should have good hip scores, a clear eye test, a recent heart check and a thyroid evaluation. It is important to learn about the Pit Bull parent's behavior and temperament.
Healthy Pointers live around 12 to 14 years and Pit Bulls can live anywhere between 8 and 16 years. A healthy Pointer Pit Bull mix is likely to share a similar lifespan.
Do Pointer Pit Bull Mixes Make Good Family Dogs?
With consistent training and socialization, the Pointer Pit Bull mix has the potential to be an affectionate, loving dog.
They are strong and energetic, and likely to have a stubborn streak. As such, they require thorough training from an early age plus a firm, confident handler.
Inexperienced or less confident owners should consider a different breed or mix. Also, Pointer Pit Bull mixes are more suitable for child-free households.
Pointers are expected to track and retrieve birds. This innate tendency may cause them to chase other animals.
Pit Bulls can act aggressively towards other animals, particularly 'stranger' dogs. Consequently, it is not advisable to bring a Pointer Pit Bull mix into a home with other pets.
A Pointer Pit Bull mix will be an active, energetic dog. Hence, it's essential you can provide frequent exercise to prevent him becoming bored or engaging in destructive behaviors.
Rescuing a Pointer Pit Bull Mix
If you are interested in adopting a Pointer Pit Bull mix, there are organizations that specialize in rehoming Pit mixes.
However, it can be difficult for rescue organizations to have extensive background information on all of their dogs. In addition, Pit Bull temperament can vary so you may wish to consider acquiring a Pointer Pit Bull mix from a breeder.
Therefore, if you are unsure, don't hesitate to ask your veterinarian for further advice.
Finding a Pointer Pit Bull Mix puppy
Before investing in a Pointer Pit Bull mix puppy, it's vital to do some homework and find a trustworthy breeder.
Reputable breeders will provide evidence of the health records of parent dogs.
They should also be able to give a behavioral history, which is particularly important for the Pit Bull parent.
Breeders should be happy to answer your questions, and to present the parent animals, as well as the puppies with their mother, for your inspection.
Raising A Pointer Pit Bull Mix Puppy
A Pointer Pit Bull mix is pretty low-maintenance when it comes to grooming. Their short coats require only weekly brushing to stay in great condition.
Make sure to check your dog's eyes and ears weekly. The Pointer Pit Bull mix can inherit the hanging ears of the Pointer and may be prone to infection and regular cleaning will prevent this. Your veterinarian can show you how.
Your Pointer Pit Bull mix will benefit from daily teeth-cleaning to maintain oral health. You'll also need to trim their nails every few weeks.
It's important to choose high-quality dog food appropriate for your dog's age and activity level. Be aware overfeeding or too many treats can lead to your pooch becoming overweight.
Read more about raising a Pointer Pit Bull mix puppy here.
Pros and Cons of Getting A Pointer Pit Bull Mix
Cons
Pointer Pit Bull mixes are likely to be strong, powerful dogs with a stubborn streak. They require significant levels of training.
They are not a good choice for inexperienced dog owners or those who lack confidence.
A Pointer Pit Bull mix requires a great deal of quality exercise. If left alone too long, they may display separation anxiety, and engage in destructive behaviors.
Your Pointer Pit Bull mix may experience some health issues requiring ongoing treatment or even surgery. Therefore, it's important to consider whether you can invest in comprehensive pet insurance.
Pros
A Pointer Pit Bull mix can be a loving and loyal dog who responds well to firm training and consistent use of rewards.
They are low maintenance in terms of grooming, requiring little more than a weekly once-over with a brush to remain in good condition.
Similar Pointer Pit Bull Mixes and Breeds
If you're an experienced dog owner up to the challenge of a Pit Bull mix, you may also want to consider:
Alternatively, you could check out this Pointer cross:
Pointer Pit Bull Mix Rescues
The following organizations are great places to start your research:
Is A Pointer Pit Bull Mix Right For Me?
Are you an experienced, confident dog owner who can take on a powerful, energetic pet?
Do you have time to devote to frequent exercise, training, socialization, and play?
Do you have a child-free home?
Will your Pointer Pit Bull mix be the only pet?
If yes, then a Pointer Pit Bull could be the dog for you.
Are you the proud owner of a Pointer Pit Bull mix? If so, we'd love to hear from you!
Join the conversation by commenting below.
References and Resources
Beuchat, C. Health of purebred vs mixed breed dogs: the actual data, Institute of Canine Biology, 2015
Beuchat, C. The myth of hybrid vigor is… a myth, Institute of Canine Biology, 2014
Bini, J. et. al. Mortality, Mauling, and Maiming by Vicious Dogs, Annals of Surgery, 2011
Houpt, K.A. Genetics of Canine Behavior, Acta Veterinaria, 2007
Wright, J.C. Canine Aggression: Dog Bites to People, Readings in Companion Animal Behavior, 1996
Duffy, D. et.al. Breed Differences in Canine Aggression Journal of Applied Animal Behavior Science, 2008
Sacks, J.J. et.al. Breeds of dogs involved in fatal human attacks in the United States between 1979 and 1998 Journal of American Veterinary Medical Association, 2000
Sampson, J. How the Kennel Club is tackling inherited disorders in the United Kingdom, The Veterinary Journal, 2011
Seksel, K. Report to the NSW Department of Local Government on Breed Specific Legislation Issues Relating to Control of Dangerous Dogs, 2002