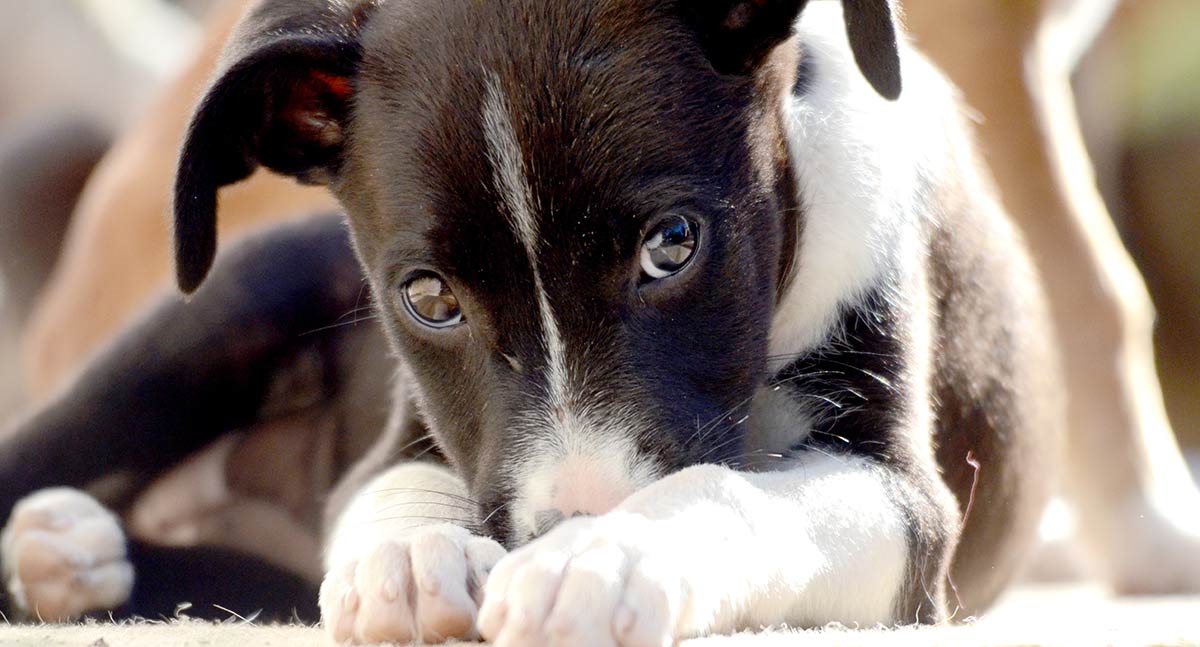 Today we are going to look at progressive retinal atrophy (PRA) in dogs, find out what PRA clear means and look at how PRA testing might affect your puppy.
There are a number of different eye diseases in dogs.
And PRA is just one of them.
It is however a relatively common cause of blindness and a wide number of breeds are susceptible.
So it is important when looking for a puppy that you check out the eye health of his parents.
I'll explain how you can do this as we go. Let's look first at what PRA is and what it does to dogs.
What is PRA
PRA is a disease of the retina, the membrane that lines the back of the eye, and which contains the tiny receptors that record what we see, and send that information to the brain.
A dog's eye is constructed in a very similar way to your own eye. Without a retina, or with a retina that is damaged or not functioning effectively, we cannot see. And neither can our dogs.
PRA causes a gradual and incurable degeneration of the retina in both eyes, the affected dog's sight will diminish and he will eventually become completely blind.
What does PRA stand for
PRA stands for Progressive Retinal Atrophy. Progressive because the disease causes the dog to become progressively more blind as time goes on.
Retinal because the damage is to the retina itself
Atrophy because that's the word scientists like to use for something that is degenerating or being destroyed.
Progressive retinal atrophy symptoms
There are several different types of PRA, and therefore symptoms may vary from one breed or one dog, to another.
Loss of vision in low light may be the first symptom, so that the dog seems to see okay during the day, but struggles in the evening or after dark
Sometimes the loss of vision will progress rapidly, in other cases more slowly.
In some types of PRA the dog will retain some peripheral vision for a long time.
PRA diagnosis
If your dog is showing any signs of poor eyesight, or if his pupils don't seem to react normally to changes in light, these are good reasons to have him checked over by a vet.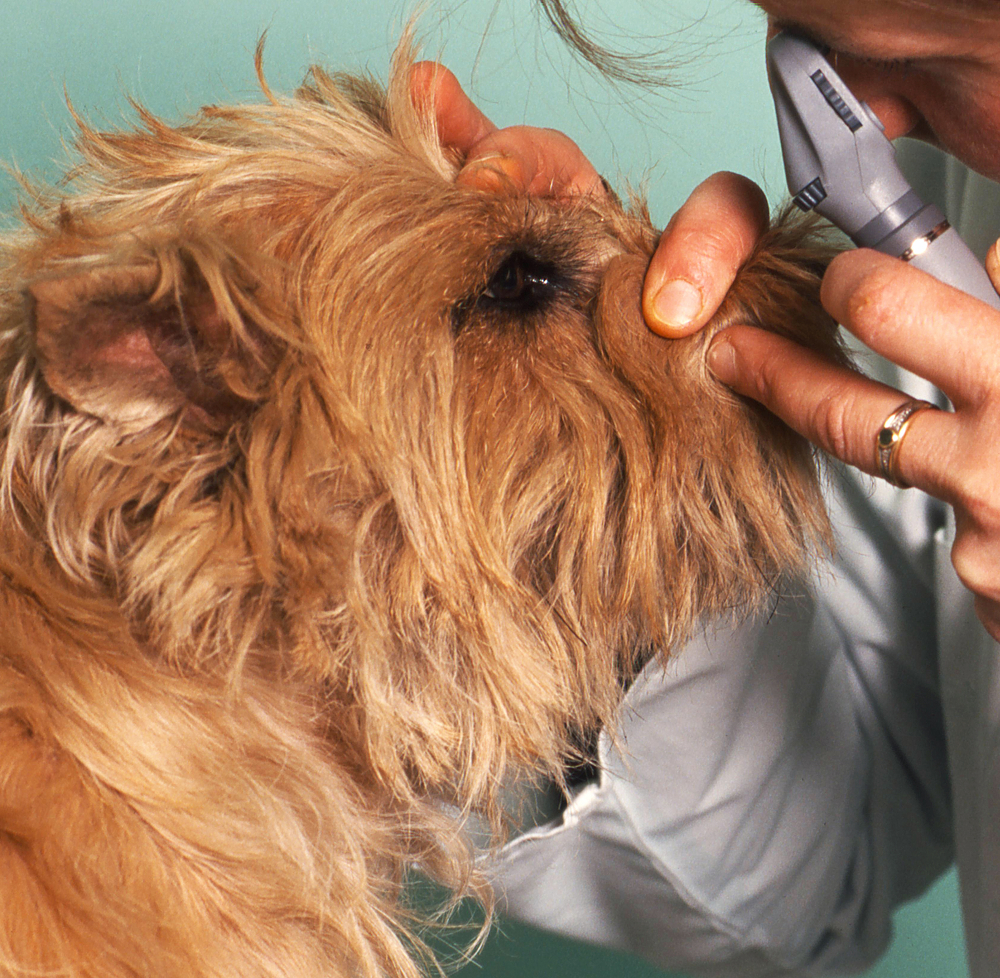 A physical exam of your dog's eye using a special tool that shines a light through his pupil, will reveal signs of the disease once it is established. A blood test is also available which shows whether or not a dog carries the gene which causes the disease
Symptoms can first occur at any age, from a few months old to late middle age. In elderly dogs, age related causes of blindness will need to be considered too.
Can PRA be cured
There is no cure for PRA. Although we cannot cure PRA, we can test for it. And this is an important part of your 'Puppy Search' journey.
People sometimes ask "should a dog with retinal atrophy be put down". Rest assured it is most unlikely that your dog will need to be euthanased due to PRA.
It is a tragic thing for a young dog to lose his eyesight, but with good care and support, most blind dogs can live happy and fulfilling lives.
How do we test for PRA?
PRA is an inherited disease, so if we can ensure that our puppy's parents are free from it, we can ensure that our puppies will be free from it too.
The only way to be sure your puppy won't get PRA is to ensure that his parents are both tested with good results.
There are two different ways of testing for PRA.
We can examine the eye of a dog to see if he shows signs of the disease
We can test the dog's DNA to see if he carries the genes that cause it.
Eye exams
Until quite recently, the eye exam was our only test.
This was problematic as many affected dogs do not actually develop signs of the disease until they are getting on in years, and have already produced puppies.
It did give an indication to breeders as to which of their younger dogs might then be likely to be affected, but fortunately we now have a much more definitive test.
DNA tests
There are many different types of retinal atrophy and a company called Optigen has developed a range of tests to help breeders chose healthy dogs to breed from.
The DNA tests available for PRA are each very specific. They test for a particular variety of the disease and which test or tests are appropriate will depend on the breed.
DNA tests are particularly helpful because they identify three categories of dog
Affected dogs
Carriers
Clear dogs
Every dog has two copies of the gene which is responsible for the health of the rod cells in his eyes. He inherited one of these copies from each of his parents. If only one of the pair of genes is faulty, the healthy gene will over-ride it, and the disease will not develop
PRA Affected dogs
Affected dogs have two faulty genes and will all go on to get PRA at some point.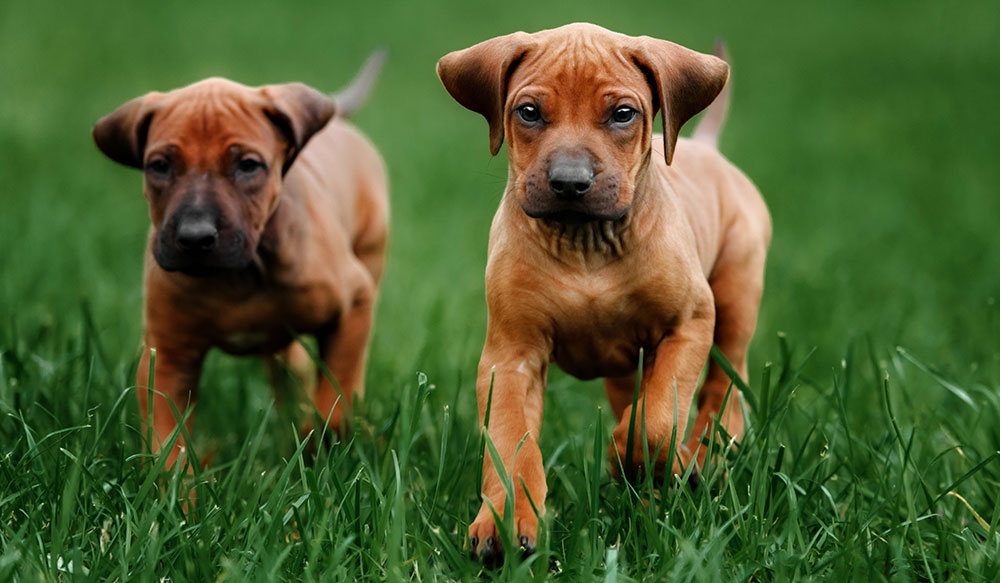 They will eventually lose their eyesight, sometimes at a very young age. If they are allowed to mate, they will pass their faulty gene on to all their puppies.
PRA Carriers
Carriers have one faulty gene and one healthy gene. The healthy gene will switch off the faulty gene and a carrier will never develop retinal atrophy.
He will however, be able to pass the faulty gene on to about half of all his puppies.
PRA Clear dogs
Clear dogs have two healthy genes. What PRA clear means, is that the puppy or dog can never develop retinal atrophy.
The PRA clear dog can also never pass the gene for PRA on to their puppies.
This makes them ideal candidates for breeding. But the blood test has an added bonus
If we were relying on the the eye exam alone, we would have to exclude dogs from breeding if one of their parents developed PRA. Just in case that individual was affected and would go on to develop the disease in later life.
Breeding from carriers
The optigen test enables us to breed from carriers, provided that the carrier is mated to a clear dog, in the knowledge that none of the puppies will be affected. Some of course will be carriers themselves, and therefore must be tested before mating.
The ability to breed from carriers is a good thing, especially in breeds with a very small gene pool, as it gives us the widest possible choice of genetic material to work with. This helps to slow the inevitable loss of genetic material from our pedigree breeds.
Checking certificates
Because the DNA test is so specific and only tests for one type of the disease, breeding animals still need an annual eye exam, even if they are DNA tested clear
So when you are choosing a puppy whose parents have been Optigen tested, you need to see not only the Optigen certificate, but also the annual eye exam certificate too.
The future for dogs with PRA
Although we cannot cure PRA, there is some hope for treatment, in terms of prolonging the daylight vision of affected dogs
Vision in low light is dependent on retinal cells called rods. It is these cells that are destroyed by PRA. This is why dogs with PRA lose their night or evening vision first.
The retinal cells that help us see in bright light are called cones, and these are not destroyed by the disease itself, but by the toxic by-products released by the rod cells as they die.
Treatment for the future may be focused on clearing these toxic by products (which also cause cataracts) so that the dog can retain his daylight vision for much longer.
If you are worried about your puppy's eyesight, do take him along to your vet for a check up. He'll be able to give you a diagnosis and the latest information on treatment and care.
And don't forget to insist on seeing those certificates before agreeing to purchase a puppy.

Further information
What is PRA has been extensively revised and updated for 2017