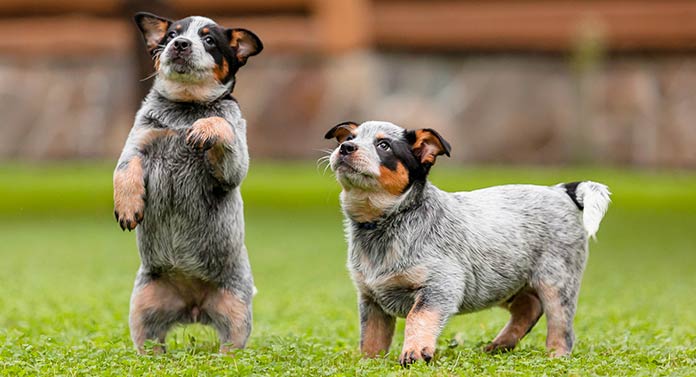 A Blue Heeler can be a wonderful companion and family dog if your circumstances are right. You need to make sure you're prepared to give your dog the attention it will need. You will need to socialize your puppy well, and keep your pet healthy and fit both mentally and physically. It's also vital to keep up with recommended medical checks. Make sure you have the time to dedicate to your dog's training. Blue Heelers do best when they have a job to do, whether that job is herding cattle, fetching frisbees, keeping you company on your morning run, or competing in agility contests. This is a dog that needs to be busy!
Contents
The Blue Heeler is a name for the Australian Cattle Dog breed. These short coated, blue patterned dogs have upright ears and deep eyes. They are intelligent, active and loyal. This traditional Australian herding breed was used for driving cattle along by nipping at their heels.
This is never going to be a lap dog or ideal apartment pet, but they can fit very well with active working lifestyles. Not suited to first time owners, they are wonderful companions for experienced dog trainers and handlers. They are easy to train if you know how to motivate them, but need a huge amount of exercise for their bodies and brains!
What Was Their Original Purpose?
Blue Heelers were originally bred by settlers in Australia, who crossed their dogs with dingos and created a unique, tough, hard working cattle dog, suited to the outback. These days they are an increasingly popular pet, too!
Although the Blue Heeler might look like a hunting dog, Australian Cattle Dogs were actually bred to create a herding dog. This was especially for the Australian environment after British settlers emigrated there in the 19th century. Their unique appearance is partly down to the wild dingo blood running through their veins.
Wherever Dingos and domestic dogs have existed in close proximity, a certain amount of cross breeding has occurred. However, it's no coincidence that Blue Heelers are somewhat dingo-like in appearance—the dingo blood in these cute cow dogs is no accident. Dingos were deliberately bred with the Blue Heeler dog to create a specific result. That is, the kind of tough dog that Australian cattlemen needed.
In addition to Dingos, you'll find traces of other breeds in a Blue Heeler's genetic makeup. These include the Blue Smooth Highland Collie, Bull Terrier, Dalmatian, and black and tan Kelpie. The breed received official recognition from the American Kennel Club in 1980.
What does a Blue Heeler look like?
Healthy adult Blue Heelers can weigh between 30 and 50 pounds. They can be up to 20 inches tall, but females are smaller than males.
It's unusual to see a fat Blue Heeler, because they are such active dogs and don't tend to be over eaters. If your Blue Heeler is always hungry then try spreading out their meals more, into smaller portions with the same daily total. And don't forget to use lots of their kibble as as training treats.
With upright ears, short fur, and a balanced, athletic body, the baby Blue Heeler resembles the Australian Dingo. However, their bodies tend to be more muscular. Their ears may be initially floppy as puppies, but often become perky before 24 months.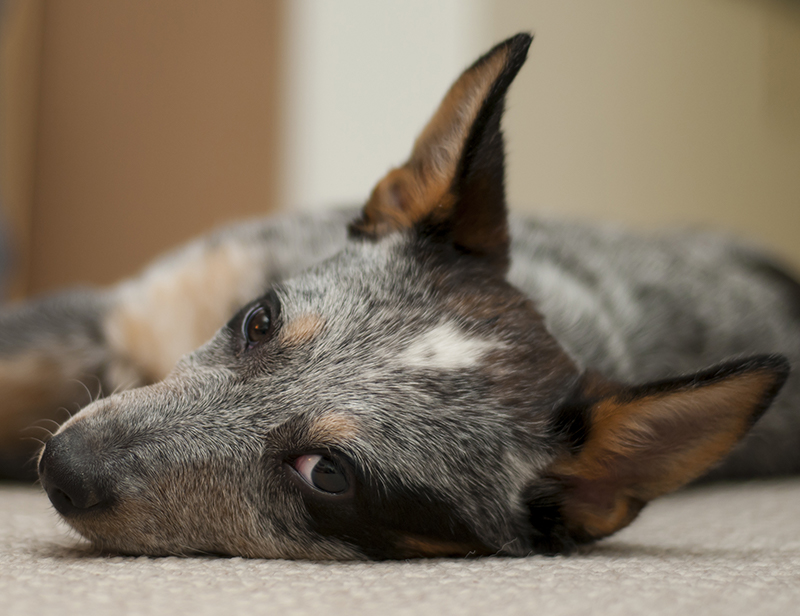 Colors and Coat Type
The Australian Cattle Dog has a short, straight coat with many different shades. They also have an even shorter undercoat. Their fur is relatively rough to the touch. This is useful as it protects them from harsh weather conditions like rain or extreme heat. And in good news, your Blue Heeler is never going to need a haircut!
This breed comes in two main colors—red or blue. Some people refer to all Australian Cattle Dogs as Blue Heelers, regardless of their coat color. But some prefer to call the redder looking dogs Red Heelers or even Golden Heelers when it has a more ginger tone.
Blue Heeler colors, coat markings and patterns vary depending between dogs. They can often leave the dog looking like a mixture of the two colors. It is also common (and very cute!) for Australian Cattle Dogs to have a mask of darker fur over one or both eyes.
Do Blue Heelers Shed?
Australian Cattle Dogs shed a lot of fur, but their short coat is relatively easy to maintain. You should groom your Blue Heeler regularly to remove old hair and encourage new growth. This will help to reduce the amount of hair shed onto your carpets, but it won't prevent your Blue Heeler shedding altogether.
Hypoallergenic dogs are sadly a bit of a myth. The thing that makes you sneeze is actually their dander, and comes from drool and skin flakes, not just the fur. However, some dogs are easier on allergy sufferers than others. Sadly, this cow dog isn't one of them.
Blue Heeler Temperament
Blue Heelers are packed with personality, but they need a lot of space and time focussed on them. This is not an apartment dog for a person that goes out to work.
The Australian Cattle Dog is a tough breed both mentally and physically. A 2007 study tracked Blue Heelers and other cattle dogs engaged in mustering sessions lasting four hours or more in temperatures of up to 38 degrees celsius. During the sessions, these dogs covered average distances of up to 20 miles.
Are They Ever Aggressive?
Like many herding breeds, the Blue Heeler has a very loyal personality. They can be quite protective of their family and toys, and wary towards strangers. Plenty of early socialization helps to reduce the "wariness" but won't dispel it altogether. So the chances are your Blue Heeler dog will always be somewhat cautious around strangers and prefer familiar faces. This wary temperament makes socialization extra important when raising a Blue Heeler puppy.
Do Blue Heelers Make Good Family Pets?
Australian Cattle Dogs make great pets if you can to give them the exercise and mental stimulation they require to stay healthy and happy. But they are best suited to homes without very small children. Raising a Blue Heeler with kids is tough as you need to separate them a lot.
They are loyal to their owners and are full of personality and love. However, you must be wary of their inherent desire to herd—they often try to herd running children and can be prone to nip at passing legs. So whilst they can make great pets if you have the time and energy to dedicate to their healthy lives, you will need to always supervise these dogs around smaller children. It's vital to properly socialize your Blue Heeler to children of a wide variety of ages, before their socialization window closes at 14 weeks old.
How Well Do They Mix With Families?
No dog should be trusted around babies. Although Instragram might be full of seemingly cute images of them curled up together, this actually isn't fair on the dog. Babies make sudden gestures, grab and don't let go, and emit weird high pitched noises. Don't put your dog in the position of having to understand what's going on and act accordingly. Just keep them apart or fully supervised until the baby is bigger.
Blue Heelers and cats are not natural friends, due to the high prey drive of the cattle dog. Although they can learn to live together if they grow up together, don't rely on your Heeler accepting other cats as happily.
Bearing in mind the herding instincts of Australian Cattle Dogs, it is wise to exercise care when introducing new animals. Dog training experts recommend introducing cats or other animals in puppyhood. And new animals may need to be introduced cautiously—perhaps using a protective fence at first.
Extra Exercise
Although active dogs, it's important not to over exercise them at a young age. This has the potential to damage their joints and isn't good for their growing bodies. No more than five minutes per day of formal exercise per month old your puppy is, twice a day. That means a 6 month old Blue Heeler should have at most 30 minutes of exercise morning and evening.
Because Australian Cattle Dogs are so intelligent, they require activities that stimulate them physically and mentally to take up their spare time. Activities and games such as retrieving and tracking will maintain the focus and quick responses of your dog. Without things to do, your pup may get bored and could start misbehaving to occupy itself.
Australian Cattle Dogs require lots of exercise to keep them happy and healthy. For this reason, Blue Heelers are not usually suited to living in small apartments. And if your dog is to have free run of your yard you'll need a secure dog proof fence to prevent them from wandering. These dogs are agile and do not tire easily—all qualities that make them such great herders.
Do They Like Water?
All dogs can swim, and Blue Heelers are no exception. Although they weren't raised or bred as water dogs, being from quite dry areas, they are still able to swim. And if introduced at an early age can learn to love it, and burn off a lot of their energy doing so.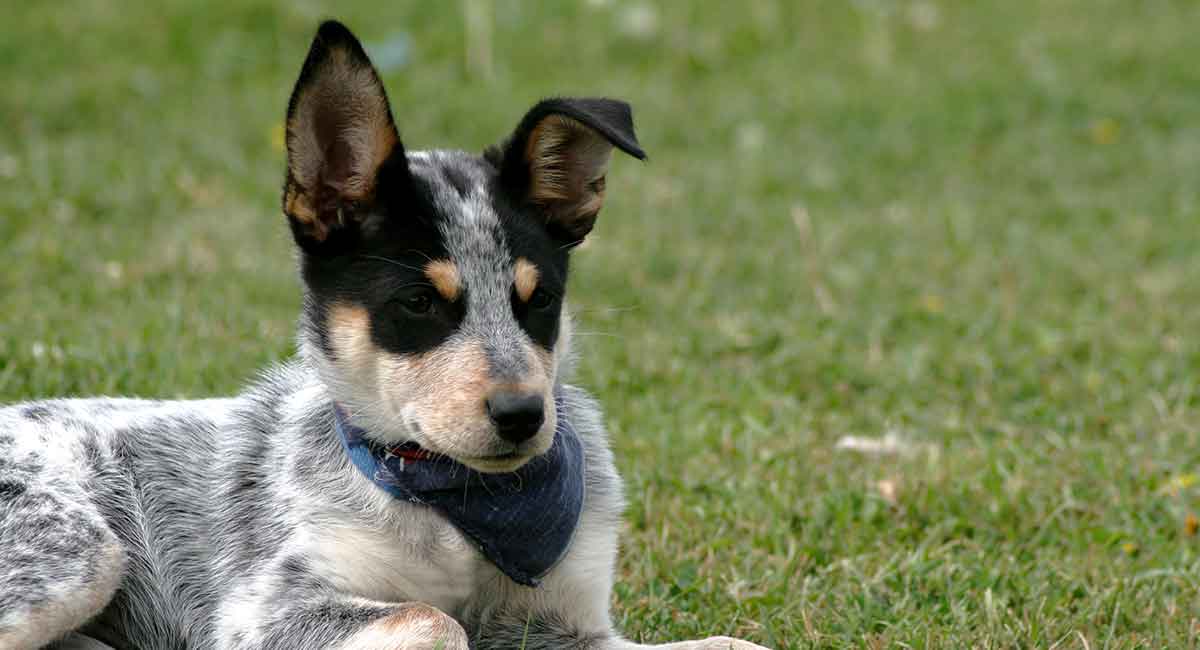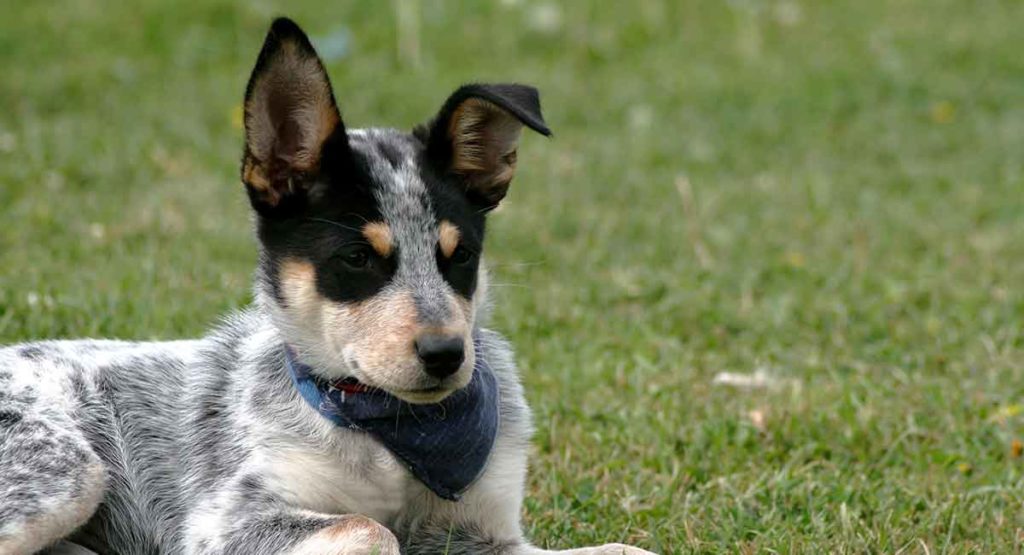 How to Train an Australian Cattle Dog
Australian Cattle Dogs are an extremely intelligent breed, that take quickly to training. Positive reinforcement training is a must for this clever and enthusiastic breed. Clicker and reward-based training is a great way to train dogs like these, and goes hand in hand with proper socialization in the first few years of your dog's life to ensure an obedient, friendly dog later in life.
Although loyal and not particularly flighty dogs, you still need to teach them a good recall. An intact male Blue Heeler is likely to stray if they smell a female Blue Heeler in season. And any herding dog worth their salt has a high prey drive and needs to be taught a very solid come.
Blue Heeler Health and Care
It's important to be aware of health issues that may affect your favorite breeds. Because in some cases, these can be entirely avoided by proper health testing. And in others, early diagnosis offers a better outlook for the dog.
| | |
| --- | --- |
| Ears: | Inherited deafness |
| Liver: | Portosystemic shunt |
| Eyes: | PRA, lens luxation |
| Joints: | Hip and elbow dysplasia, Osteochondritis Dissecans |
Blue Heeler Deafness
Australian Cattle Dogs can suffer from congenital hereditary sensorineural deafness (CHSD). In a study of just under 900 Australian Cattle Dogs, published in 2012, over 10% of Blue Heelers had some degree of deafness. 3% of all the dogs were deaf in both ears.
An association between coat color and deafness has been noted in several breeds but the pattern and mechanism of inheritance is not always the same. In Blue Heelers, dogs with masks and females were at higher risk than dogs without facial masks or male dogs. In Australian Stumpy Tailed Cattle Dogs, which are related to Blue Heelers, some association has been found between speckled markings in the coat and deafness. However, a link between coat markings/color and hearing has not yet been proven in Blue Heelers.
Many owners of deaf Blue Heelers have learned to use signs to communicate. But if you'd prefer to avoid purchasing deaf Blue Heeler puppies, visit a knowledgeable breeder. Bilateral deafness can be identified by an experienced breeder by about six weeks of age. Blue Heeler puppies with deafness in only one ear are harder to detect, but also less of a challenge to train and care for.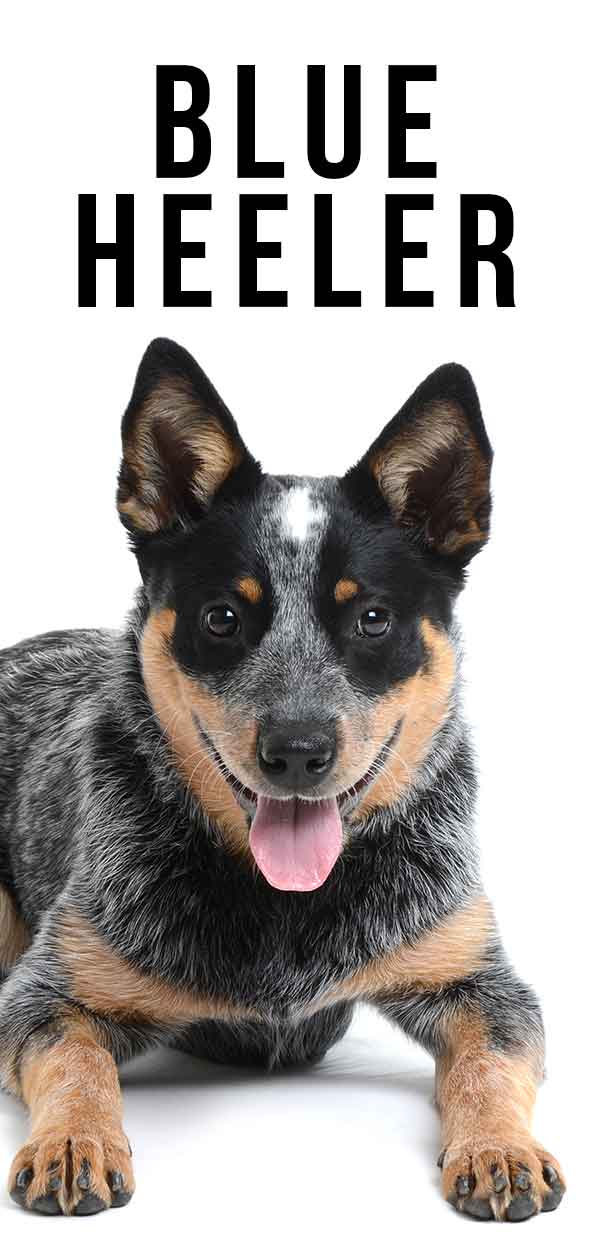 Blue Heeler Lifespan
The Blue Heeler dog has a reasonable lifespan for a purebred pup. They are often quoted as living 12-16 years. This is likely to be based on a study published in 2004, that included 22 blue Heelers. The dogs that had died (eleven of them) reached a mean age of twelve years. The oldest of those eleven dogs lived to be sixteen years of age. With such a small sample we can't draw any firm conclusions, but this is a breed with a sound conformation. So, hopefully, your Blue Heeler will be with you for a decade or more.
Australian Cattle Dog Breeders
Finding a good breeder of Blue Heeler puppies is one of the most important steps you can take in your search for a puppy. This is because, as mentioned before, many health problems with these dogs are genetic.
There are over 80 different diseases in dogs for which we have DNA tests available. And that number continues to climb. Your best protection, therefore, is to know what tests apply and to find a responsible breeder who has selected their breeding stock with care.
Always visit your breeder and their puppies before deciding. Moreso, always go to a breeder prepared to ask questions. Make sure you're satisfied that they've given you enough information before proceeding. A reputable breeder will be happy to share all of the parents' test results with you, as well as letting you meet both parents, and see the puppies in their home.
Good breeders will also usually question you, to make sure their puppy is going to a good home. They'll want to know that it's with someone who knows how to take care of it.