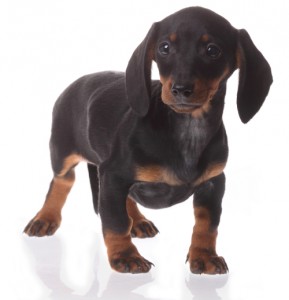 Few dogs are as recognisable as the adorable Dachshund.
From cartoons and caricatures, to old oil paintings and hunting prints, this feisty little fellow is well known and well liked around the UK.
But the Dachshund's characterful body shape comes with a serious problem.
In this article, we'll not only be looking at the history and original purpose of these charming and popular little dogs, we'll be looking at exactly what you are taking on when you decide to bring a dachshund into your life.
History
Originally from Germany, the small but distinctive Dachshund was bred with a very specific purpose in mind. Their job was to hunt and kill animals underground.
The main aim of the Dachshunds' work was to cull badgers in their tunnels. "Dachshund" in fact literally translates as "badger hound".  Badgers are a fearsome adversary and the working Dachshund needed to be a brave and feisty little dog.
They have also over the years been used to hunt from rabbits and foxes underground, and to track injured deer over land.
As such they have excellent scenting abilities, and a keen need to stay active and alert.
For this purpose they needed to have short legs and a strong body. Unfortunately, in recent years this shape has been extended way beyond its intended purpose.
Characteristics
Although Dachshunds are predominantly pets these days, many retain the drives of their scent hound ancestors.
They may have a strong instinct to chase small animals and birds, and so need to have a good recall taught from a young age, or to be exercised on a long line when in areas that wildlife may be lurking.
Dachshunds are often also rather loud. When hunting underground they would need to alert their handler to their location, and so have been bred to be naturally noisy. Without careful training they may prove a rather vocal member of your household.
Although the Dachshund has some characteristics related to it's hound breed that can be challenging, they can also make very good pets for the right owner.
They are reknowned for being very faithful companion dogs. They tend to be focussed on one owner, and prove a loyal and attentive companion to them.
Thorough socialisation from a very young age will help your Dachshund to accept your friends into your home happily. Some enthusiasts claim that the breed can be naturally wary around children, so particular effort should be taken to socialise every Dachshund puppy thoroughly with kids.
Appearance
There are several different types of Dachshund recognised by the Kennel Club. They are most commonly found with smooth short coats, but they do also come in wire and long haired varieties.
They are all small dogs, but can be categorised in two sizes – Dachshunds and Miniature Dachshunds.
We are perhaps most familiar with the Dachshund as a dark smooth dog, with a lighter brown chest.
When I was a child Dachshunds were almost always referred to as 'sausage dogs' and it doesn't take a detective to work out why. With their long thin bodies and short legs, they really do have a unique appearance. But it is not one without it's drawbacks.
Health
Unfortunately, as is often the case with dogs who are bred for a distinctive look, the Dachshund has suffered some sad and sorry health repercussions.
In a recent health report, http://www.uk-dachshund-health-report.org.uk, the main areas for concern were Back Disease, Lafora Disease and PRA blindness.
Back problems are a major concern in these cute little dogs. This is often simply a question of mechanics
The long and the short of it
Intervertebral Disc Disease can be brought on through accidents or simply bad genetics. Dogs are not designed to have such a great length of spine in comparison to very short leg length, and sadly they can suffer from paralysis as a result.
In most dogs the cartilage in their backs begins to slowly degenerate from around 6-8 years of age, in suffering Dachshunds this can occur from 12-18months old.  And these problems are not restricted to a few unlucky sufferers
Over 25% of Dachshunds between the ages of 5-9 years old are thought to suffer from back disease. Occurrences seem to be a lot lower in wire or long haired varieties.
Treating back problems
Medication such as anti-inflamatories can be used in mild cases, along with crate rest. For more severe cases surgery can help a dog's suffering, but euthanasia is often the sad final result.
Although there is not currently a screening process for this condition, evidence suggests that back trouble does run in families so ask your breeder about the known cases in any potential pup's family tree.
Avoiding trouble
If you do bring home a Dachshund you will need to handle him with care. Only ever lift him at the chest and back end simultaneously.
Never let your Dachshund jump if it can possibly be avoided, as this increases the risk of injury. It is also important to keep these little dogs slim, as extra weight can lead to more issues.
But by far the main problem is the obvious one of bodily proportions. What looks adorable, is not necessarily in the dog's best interests. And the only sure way to avoid these painful spinal problems at the moment, is to avoid the breed.
Testing for health
Other health concerns for Dachshunds are Lafora's Disease, a form of late onset epilepsy, and PRA blindness.
Lafora's affects approximately 10% of mini wire haired Dachshunds and only becomes apparent after around 5 years of age.
Both of these conditions have health tests available, which you must ensure any pup's parents have had before you bring him home.
Care
Grooming a short haired Dachshund is nice and simple, they won't shed too much and provided they are used to a quick brush once a week their coat will stay nice and manageable.
In very cold weather though they might benefit from wearing a coat when out walking, to keep them warm where their short coat does not.
Dachshunds really do need to be kept slim, so you will need to carefully monitor their food.
The main issue in care for a Dachshund is in exercise. When out on walks they will need to be lifted over obstacles, and you will need to make sure they do not play exuberantly with larger dogs who may accidentally injure them.
You should avoid leaving a Dachshund unsupervised with young children, as they may not remember to lift them as required to keep their backs protected.
Summary
If you have your heart set on a Dachshund, the best avenue to go down is to rescue an older dog, purchase a smooth haired puppy who is cross bred with another breed with good conformation or to invest in a wire or long haired Dachshund where the prevalence of back issues is much lower.
But remember, if you decide to purchase a wire haired Dachshund, make sure his parents were tested clear for Lafora's Disease!
You should therefore only take a home a smooth haired Dachshund if you are fully committed to insuring him to cover any potential back issues that will arise in the future. This policy will probably be very costly, given the high likelihood of slipped disks and other back injuries.
Whether or not we should be breeding dogs with such long backs is of course a matter of opinion, and a matter for your own personal conscience. But provided you are prepared to handle them with care and are prepared for possible health issues, a Dachshund can provide a very loving and loyal companion, packed with character and charm.