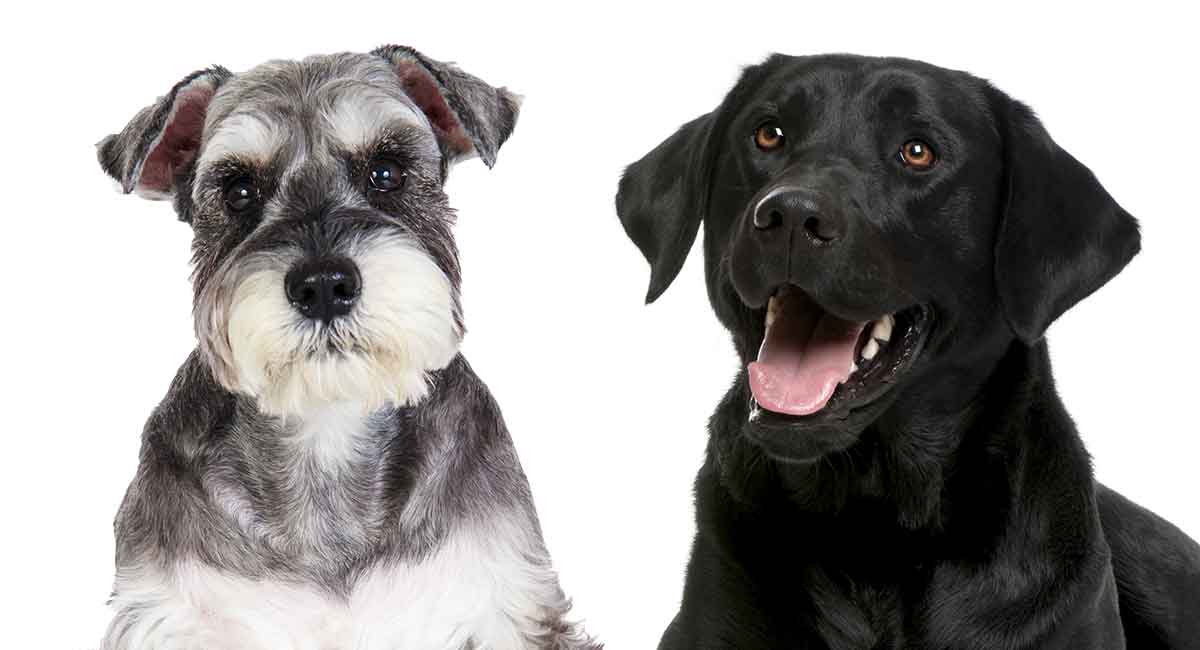 The Schnauzer Lab mix is a genuinely unique crossbreed.
Their looks and temperament make them quite distinct.
Unlike some other crossbreeds, this one is somewhat rare. There are not many breeders specializing in this particular hybrid.
But that doesn't stop many dog-lovers from seeking to adopt one of these unique puppies.
Before you jump on the Schnauzer Lab mix train, though, it is essential to figure out if this dog is an excellent choice for your family.
We've included all the information you might need to know in this article – from temperament to health to appearance.
Where Does the Schnauzer Lab Mix Come From?
We may not know a great deal about the Schnauzer Lab mix itself.
But we can definitely learn from looking at the histories of the parent breeds!
Schnauzer History
The Schnauzer, hailing from Germany, is an intelligent watch and guard dog.
This dog was originally bred for ratting, herding, and guarding purposes.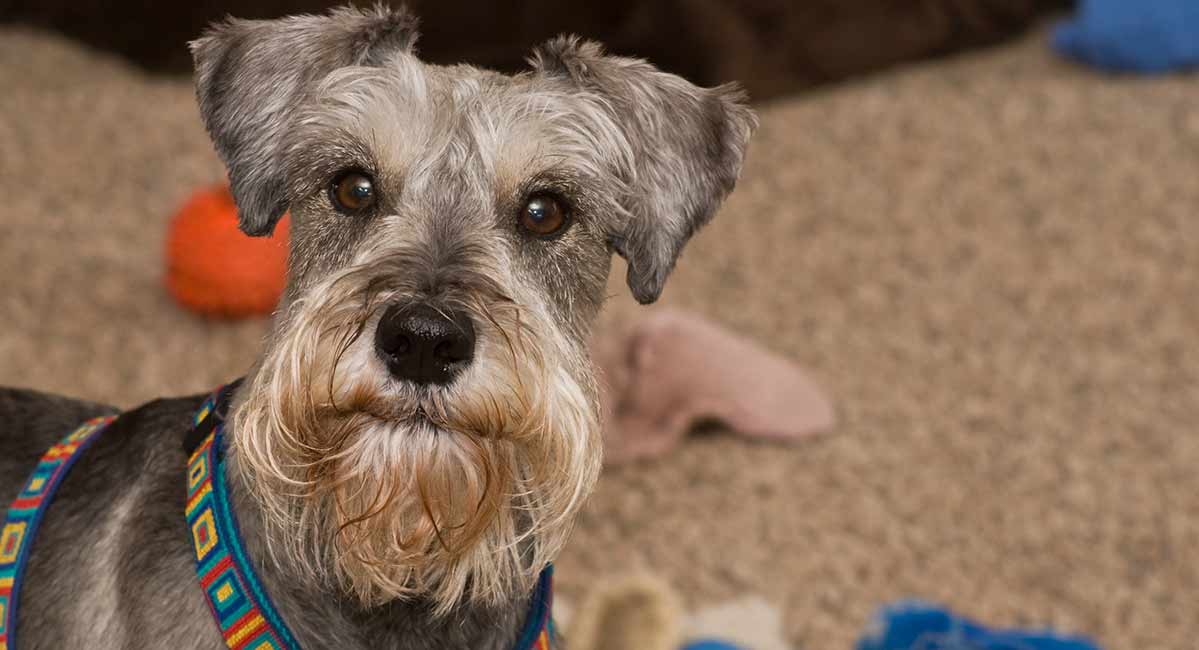 Eventually, three breeds of Schnauzer developed: Miniature, Standard, and Giant. These separate breeds originated in an attempt to specialize the breed.
The Miniature Schnauzer, for example, was bred for ratting.
The Standard Schnauzer, though, was created for herding and vermin hunting roles.
The Giant Schnauzer was utilized to guard and herd livestock.
Lab History
The Labrador Retriever, or "Lab" for short, is one of the most popular dogs in the world.
They are used in therapy, law enforcement, sports and hunting, and as guides for the blind.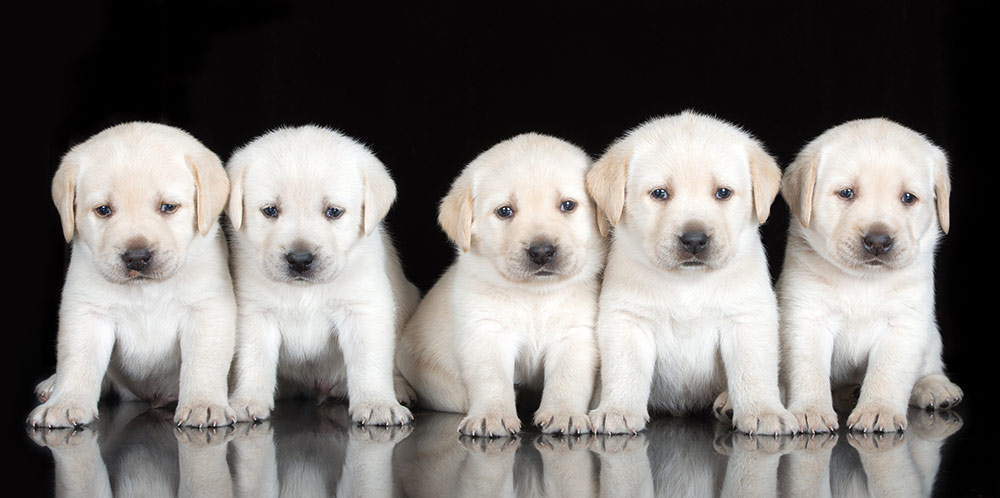 They originate from Newfoundland. Originally, they were bred to retrieve fishnets out of the water.
They are known to be playful, energetic, and friendly. Because of this, Labs are incredibly popular pets as both purebreds and crossbreeds.
The Schnauzer Lab mix is a crossbreed between these two animals, meaning any or all of these traits may be passed on.
Hybrid Dog Controversy
There is some controversy surrounding the breeding of hybrid dogs.
Some people claim that crossbred dogs do not make good pets due to their unpredictability.
However, crossbreeding also does a number of good things for dogs.
One of the most significant problems with purebred dogs is that they have a tiny gene pool. This small pool makes them more prone to genetic disorders.
But crossbreeds have a much larger gene pool. This makes them less likely to develop genetic disorders.
Fun Facts About the Schnauzer Lab Mix
The Schnauzer is a breed that has been around since the medieval era. They earned their keep as rat hunters, herders, and guard dogs.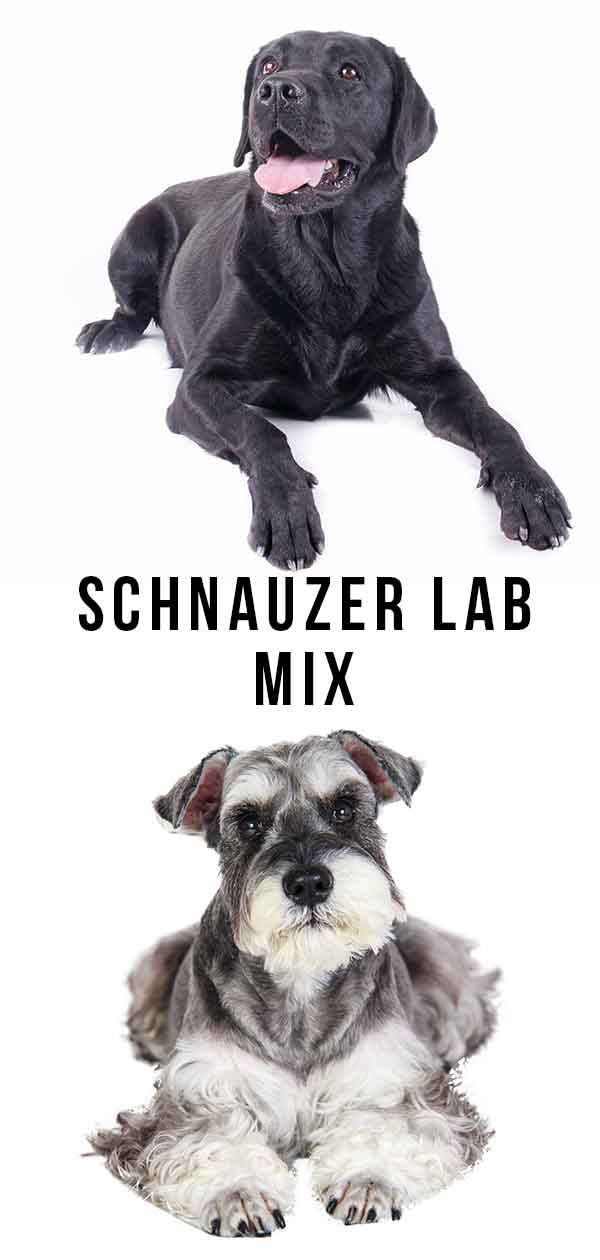 A Schnauzer's "mustache" was intended to protect the dog from rat bites and scratches.
Schnauzers pair well with German Shepherds as guard dogs.
Labrador Retrievers have two genes that affect the pigment of their coat color, so the puppies can have any coat color regardless of what the parents display.
Labs are commonly used to hunt waterfowl.
They have been the most popular dog in America for the last 24 years, according to the American Kennel Club.
Schnauzer Lab Mix Appearance
Because this mix is a hybrid, you never really know what you're going to get.
A particular puppy might look more like the Schnauzer parents or more like the Labrador parent. Or they could look like an even mix of both.
It is just a coin toss.
Generally, though, this dog will weigh between 35 – 70 pounds. They can stand anywhere between 17 – 23 inches at the shoulder.
Their size depends on the size of the Schnauzer parent. Labs can only safely breed with Standard and Giant Schnauzers.
But these two types differ a lot in size.
This mixed breed is very sturdy and robust, with an athletic build.
The cross has one layer or two of medium-length hair.
Schnauzers only come in black. But Labs can come in quite a few colors. The color of this mixed breed will depend mostly on the colors of the parent.
Like we mentioned earlier, the exact type of Schnauzer has a significant effect on size and build.
Giant Schnauzers will produce larger puppies.
Schnauzer Lab Mix Temperament
Since the Schnauzer Lab mix is a crossbreed, the puppies can inherit any behavioral traits from their parents.
The Labrador Retriever is an amiable dog. But the Schnauzer has guard dog roots and can be wary of strangers.
While the Labrador doesn't typically vocalize, the Schnauzer can be quite vocal.
These dogs are usually tolerant of children. But it is essential to teach the children not to play roughly. The Schnauzer is very sensitive to roughness during play.
This dog is not particularly aggressive, however.
Training Your Schnauzer Lab Mix
Training should begin early for these canines. They are intelligent and usually take to training quite quickly.
Labrador Retrievers are very prone to chewing anything they can get their mouth on.
Fortunately, this behavior can be trained out to avoid or stop chewing tendencies.
Potty and crate training should begin early. This dog should catch on quickly.
Early socialization is crucial. They can be unsure of strangers, so it is important to be around lots of people early on.
As a highly intelligent dog with an unparalleled sense of smell, Labrador Retrievers can be trained to hunt and track.
They can also be used to detect explosive compounds, drugs, and even the early stages of cancer.
Schnauzers are also an intelligent breed.
Schnauzers are aware of their surroundings and will attempt to protect their owners through alerting.
This leads to excessive barking to bring attention to a possible intruder.
Fortunately, this behavior can be trained down as a Schnauzer's bark is very loud.
These dogs have moderate to high exercise requirements.
Plan on spending at least an hour exercising them per day.
Schnauzer Lab Mix Health
Standard Schnauzers and Labrador Retrievers are prone to hip and elbow dysplasia.
They are also prone to a knee problem known as luxating patella.
Luxating patella is a condition where the knee will dislocate and fall back into place.
Labrador Retrievers are the most prone to obesity of all dogs, due to excessive eating habits.
Schnauzers are most likely to suffer from urinary stones.
These stones can lead to urinary infections.
Miniature Schnauzers are prone to portosystemic liver shunts.
A defect where blood vessels branch and connect around the liver, causing blood to bypass the liver entirely.
Miniature Schnauzers also suffer from a genetic disease that causes muscles to contract quickly.
Over time, the dog's muscles and tongue will enlarge and bulge, and the jaws' shape will change, leading to difficulties standing, walking, and eating.
This can easily be tested for and treated with medication.
This mixed breed can inherit any of these genetic predispositions from their parents.
Luckily, there are tests for many of these conditions. An ethical breeder will not breed dogs that are particularly prone to these problems.
These dogs will likely have moderate grooming requirements. They may or may not shed, depending on what traits they inherit.
Do Schnauzer Lab Mixes Make Good Family Dogs?
These dogs can make good family dogs if you have the time to dedicate to their training.
They are generally pretty healthy and are good with children.
The only thing you need to worry about is the possibility of guarding instincts.
If they inherit guarding instincts, they can be somewhat vocal and unsure of strangers.
Luckily, early socialization and training can prevent many of these problems.
Rescuing a Schnauzer Lab Mix
This mixed breed is somewhat rare. So, you may spend quite a bit of time looking for a dog of this breed.
We recommend calling shelters and rescues.
Because these dogs can be somewhat unsure of strangers, it is essential to give them plenty of time to warm up to you and your family.
Exercise and training, however, should begin as quickly as possible.
These dogs require both mental and physical stimulation to be happy and healthy.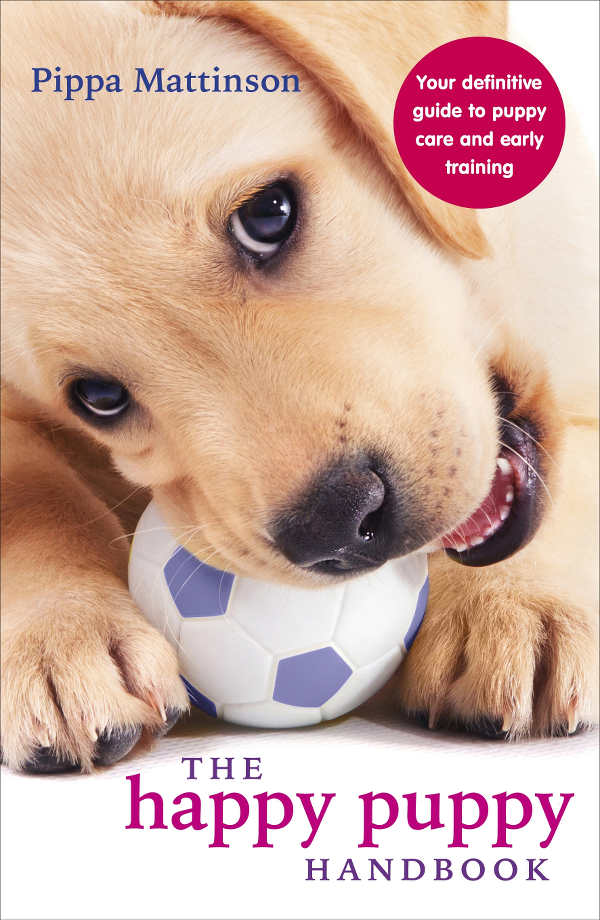 Finding a Schnauzer Lab Mix Puppy
As with all mix breeds, finding a breeder explicitly dedicated to this particular breed will be difficult, and may require extensive networking.
If you do happen to find one, however, it is essential to ensure that the puppy is not coming from a puppy mill.
Puppy mills are commonly under scrutiny due to their unethical breeding standards.
Also, try to avoid buying from a pet store, as the puppy was most likely sourced from a puppy mill.
You should ask the breeder about health testing and ensure that neither parent suffers from a severe health disorder.
If possible, we recommend meeting the Schnauzer parent at the very least. The strength of guarding instincts is genetic.
So meeting with the Schnauzer parent gives you an idea of how the mixed breed puppies will act.
Raising A Schnauzer Lab Mix Puppy
There are a couple of things you should keep in mind when raising this puppy.
Firstly, they do need quite a bit of socialization.
Because they are prone to obesity, you must feed this dog very carefully. Be sure to check out our few simple rules on feeding a puppy.
Schnauzer Lab Mix Products and Accessories
These dogs love to chew. Luckily, there are quite a few chew toys you can purchase for your canine to prevent them from chewing on things they shouldn't.
You might also be interested in checking out our indestructible dog toys list, especially if your pooch is a heavy chewer!
You should also invest in a nice leash. These dogs love to take walks. A quality leash is essential to keep everyone safe and frustration-free.
Pros and Cons of Getting A Schnauzer Lab Mix
Schnauzers are alert watchdogs with a loud bark and excellent hearing. They are likely to annoy anyone who doesn't like a vocal dog.
The Labrador Retriever is an intelligent dog, thus requiring stimulation to prevent destructive behavior.
However, both dogs are very friendly and energetic, making them fantastic family dogs.
As a mix breed, a Schnauzer Lab can inherit a random assortment of these traits from its parents.
Similar Breed Mixes and Breeds
Other types of dogs you may be interested in include:
Kerry Blue Terrier
Curly-Coated Retriever
Chesapeake Bay Retriever
Schnauzer Lab Mix Rescues
There are a few rescues dedicated to the Schnauzer and Lab. If you want to be added to the list, just comment below:
Is A Schnauzer Lab Mix Right For Me?
These dogs can be very loving family dogs.
But they also require quite a bit of training and socialization.
If you have the time to train one of these dogs though, then they can make a great family pet.
References and Resources
Stevenson, Abigail. "Comparison of urine composition of healthy Labrador Retrievers and Miniature Schnauzers." American Journal of Veterinary Research. 2001.
Raffan, Eleanor. "A Deletion in the Canine POMC Gene Is Associated with Weight and Appetite in Obesity-Prone Labrador Retriever Dogs." Cell Metabolism. 2016.
Remedios, Audrey. "Medial Patellar Luxation in 16 Large Dogs A Retrospective Study." Veterinary Surgery. 1992.
Smith, Gail. "Evaluation of risk factors for degenerative joint disease associated with hip dysplasia in German Shepherd Dogs, Golden Retrievers, Labrador Retrievers, and Rottweilers." Journal of the American Veterinary Medical Association. 2001.
Blackshaw, Judith. "An overview of types of aggressive behavior in dogs and methods of treatment." Applied Animal Behavior Science. 1991.