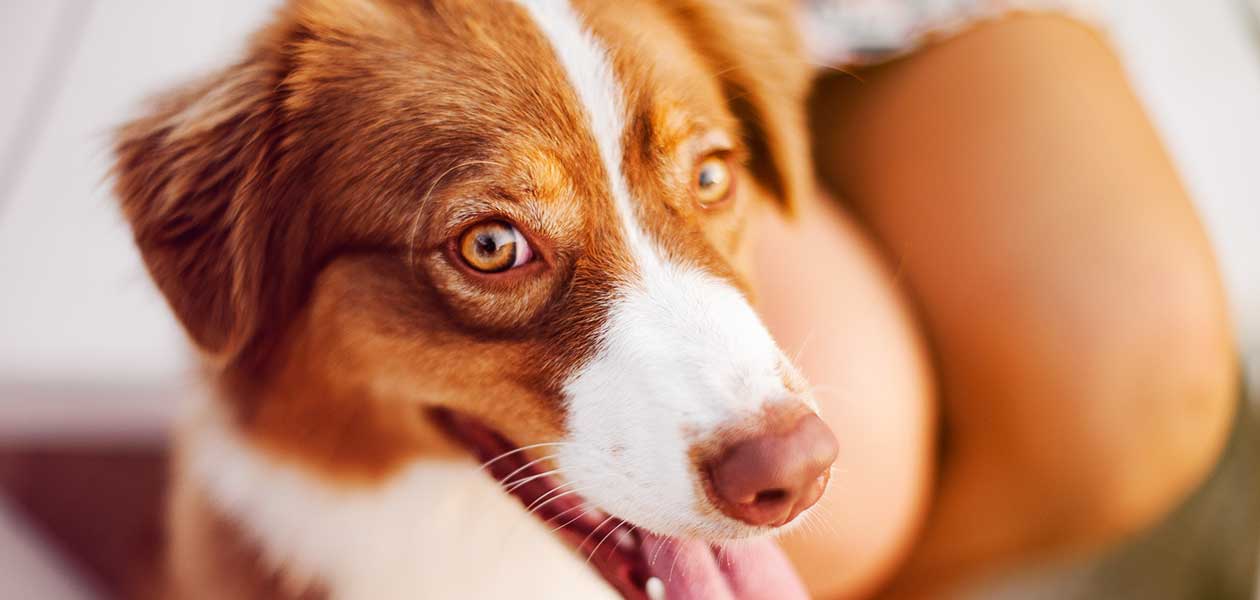 Red dog breeds make up some of the most distinctive and beautiful pups on the planet. And they include a lot of the cleverest breeds too. Red haired dogs were often bred as working companions, but many also make great pets. Today we are going to take a look at the most popular red dogs, and help you to find the perfect red puppy to fit in with your family.
Contents
Red dog breeds come in all shapes, sizes and temperaments. And from different parts of the world. The Red Heeler for example is an Australian red dog breed, but we also have the Viszla from Hungary, the Irish Setter, and the American Redbone Coonhound. There are a lot of different shades of red too, even within the same breed
Types of Dogs with Red Fur
There's no single red dog breed. Some breeds are classically associated with red coats. But whatever kind of dog you're looking for, you can probably find one available in red which fits the bill. Of course, they all have something in common. And that's the special pigment, pheomelanin, which makes them red.
Red dog hair can vary widely. And not just in shade. In some red dogs, the hair color is solid and consistent right along the hair shaft. In others, each hair is banded to give a more mottled or varied appearance. The length of coat can vary too, from the silky feathers of the spaniels and setters, to the short easy-care coats of the fox red Lab and the Rhodesian Ridgeback.
The texture of red dog hair varies from breed to breed. Some red dogs, like the Australian Cattle Dog or Heeler, have smooth straight hair, whereas the Irish and Norfolk terriers have a coarser, more wiry coat. And then of course there is the stunning red poodle with their luxurious curls.
Top Red Dog Breeds
These breeds are the dogs most renowned for their striking red coats. They are all household names. Some of them are easy to imagine in red. But some might surprise you. There are a lot of red dogs out there. In fact, there are red hair dog breeds representing all the different dog types, in every possible size. Here are 20 of our favorite red coated dogs:
Irish Setter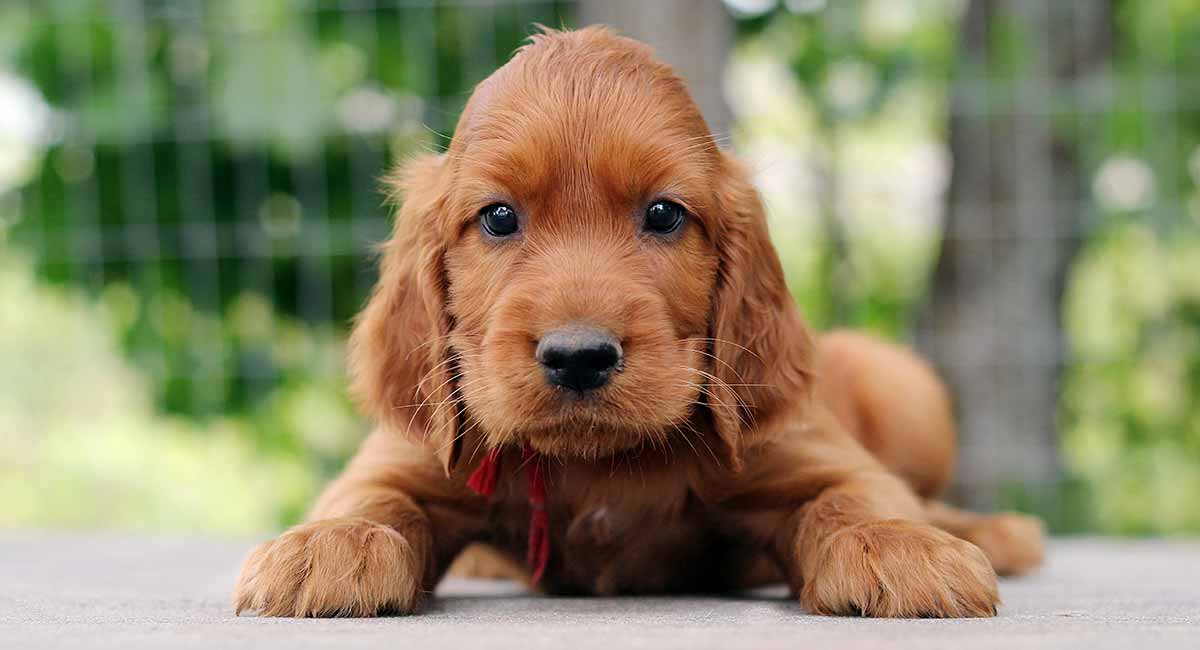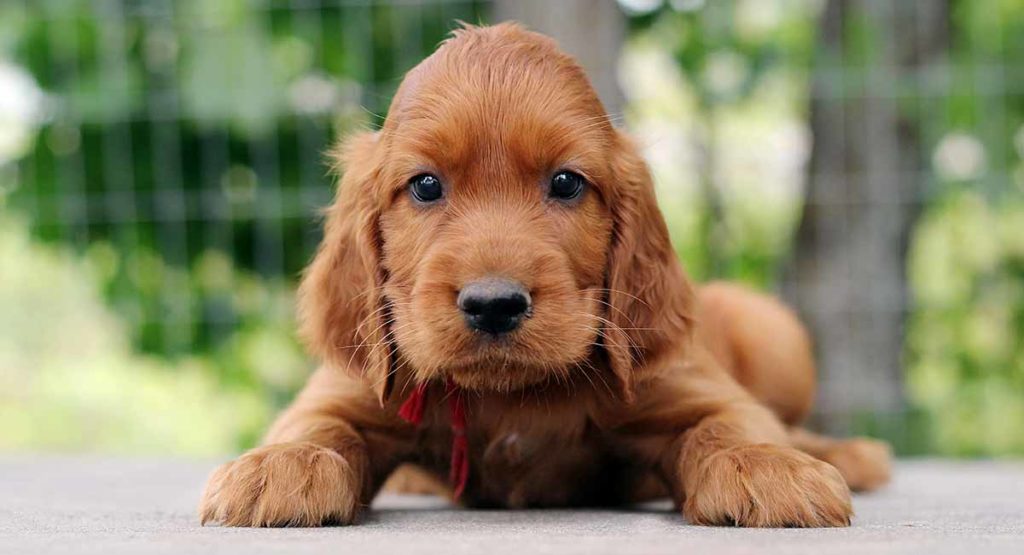 When it comes to dogs with red fur, you can't go wrong with an Irish Setter puppy. Gorgeous Irish Setters come in any color you like, as long as it's red! Whether rich chestnut or deep mahogany, these pups are so famous for their color that many people know them better as Red Setters.
Originally used as sporting dogs, the most prized Irish Setters were those who could work efficiently alongside their handler during a hunt, then fill the role of sweet family companion at the end of the working day. Their modern day descendents are just as versatile.
Red And White Setter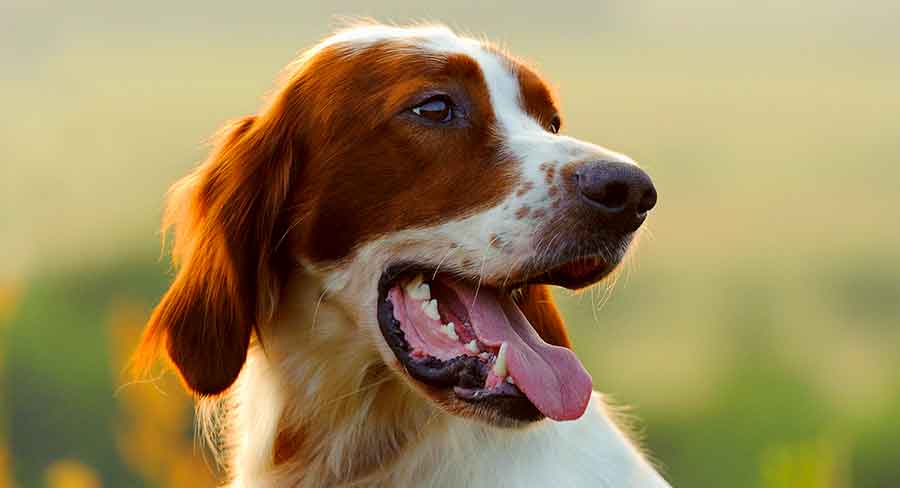 Properly known as the Irish Red and White Setter, or IRWS, this red and white dog is shorter and stockier than the Irish Setter. It's also much less common, so if you've met one, you're very lucky! Irish Red and White Setters are actually mostly white, with large patches of glossy chestnut color, and small freckles around their feet.
They're exuberant and energetic dogs, perhaps better suited to a working lifestyle than one of full time family pet. Since their ability to work has always been paramount, they are generally a healthy breed. But since they're unusual, ask for the inbreeding coefficient of any litters you meet, as well proof of the parents' hip and eye health.
Redbone Coonhound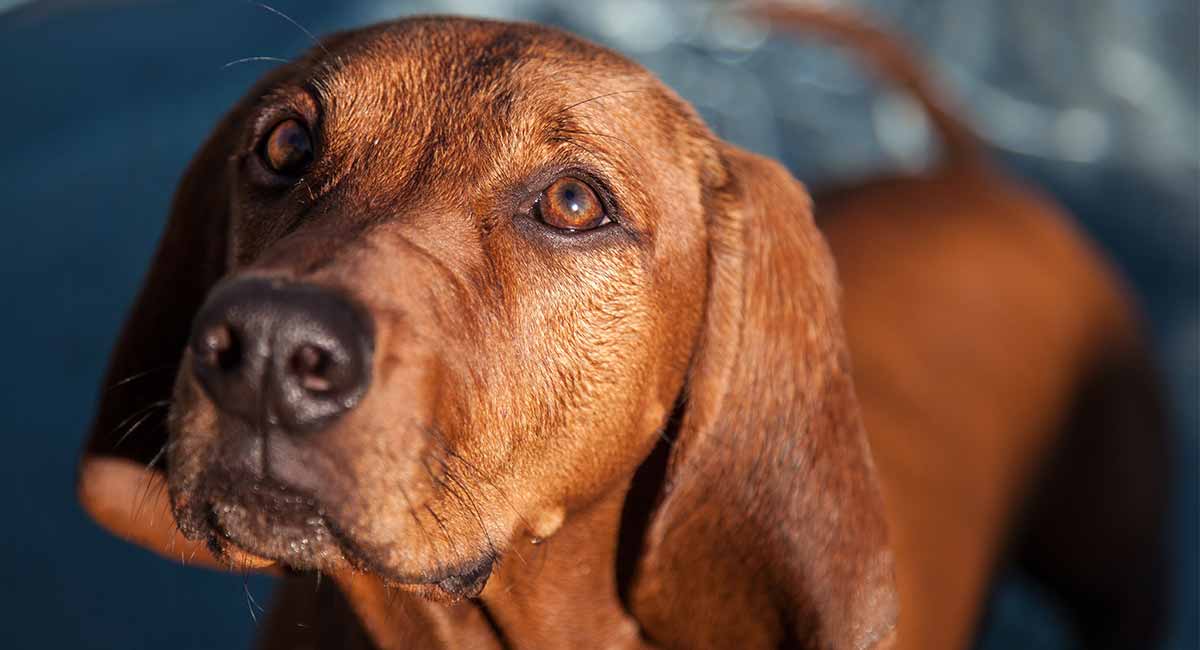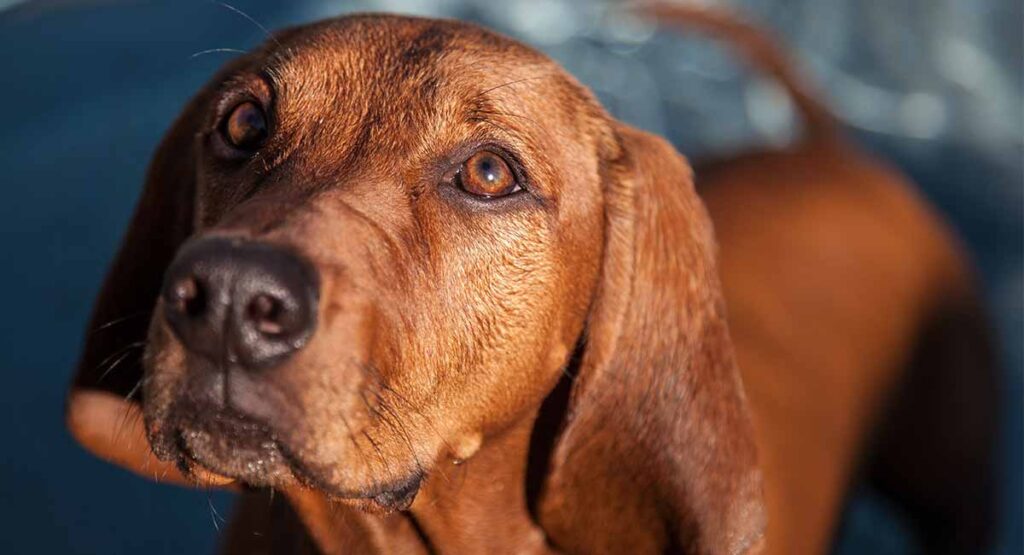 These all-American hunting dogs are always red, but their name is actually a tribute to one of their earliest breeders, Peter Redbone of Tennessee. Coonhounds are big dogs who crave activity, and it takes a lot of work to wear one out. Since their forefathers were used for hunting over wide areas, modern Coonhounds still tend to be confident wandering great distances from their owners on walks. Which can be stressful for the modern-day dog owner!
This red short haired dog is also famously vocal. But if you can provide plenty of space, exercise, and training, these dogs are also placid and steady around children.
Labrador Retriever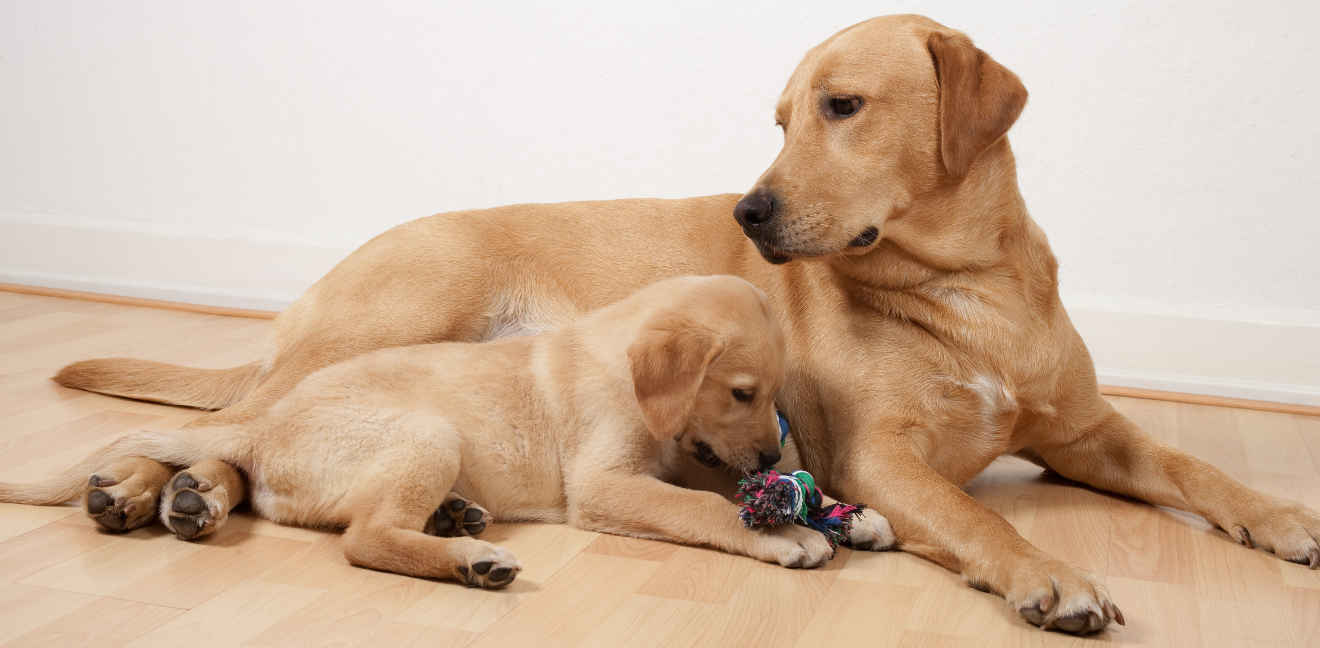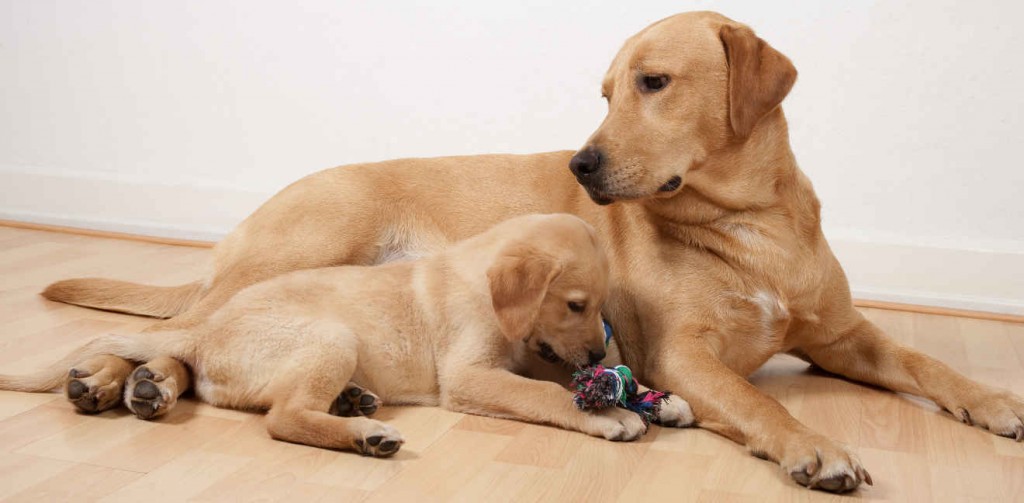 The Labrador Retriever is America's most popular dog. Labs are well known in black, chocolate and yellow. But a lesser known Labrador color is the fox red. Technically a shade of yellow, fox red Labs are maintained by careful breeding choices, and it's easy to see why their breeders are happy to make the effort.
Fox red Labs have the same amiable and easy going nature as their black, chocolate and yellow cousins. Often used as a red hunting dog, they're receptive to training, but also slot well into family life. But they're also prone to the same health problems as other Labs, including hip and elbow dysplasia.
Golden Retriever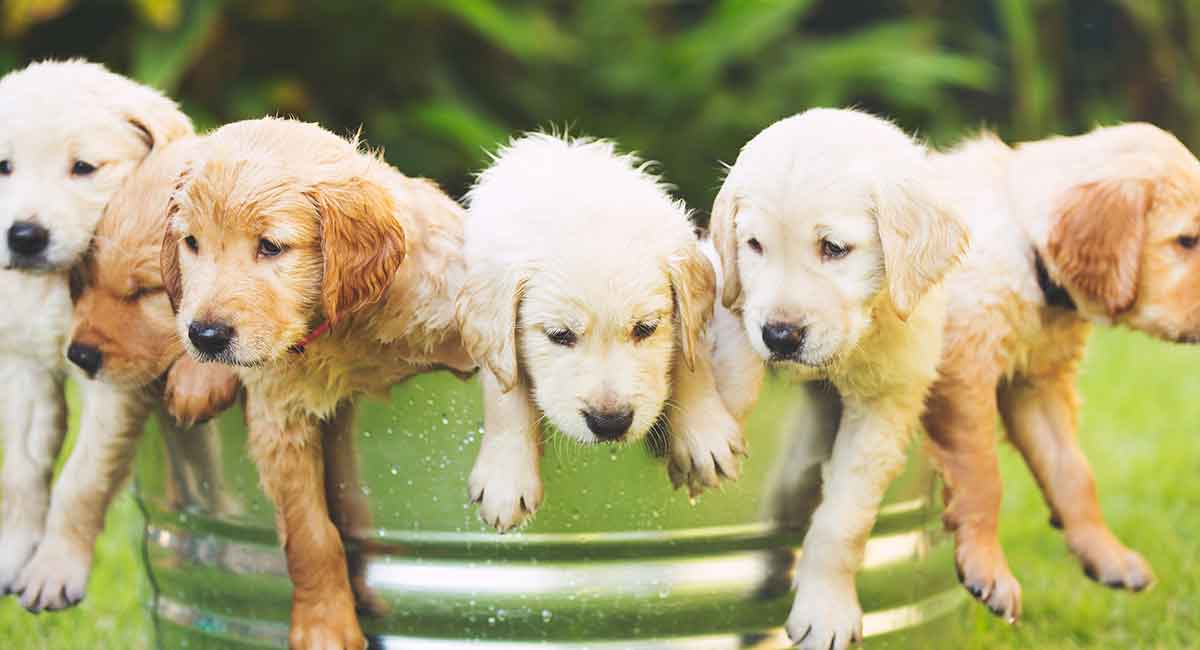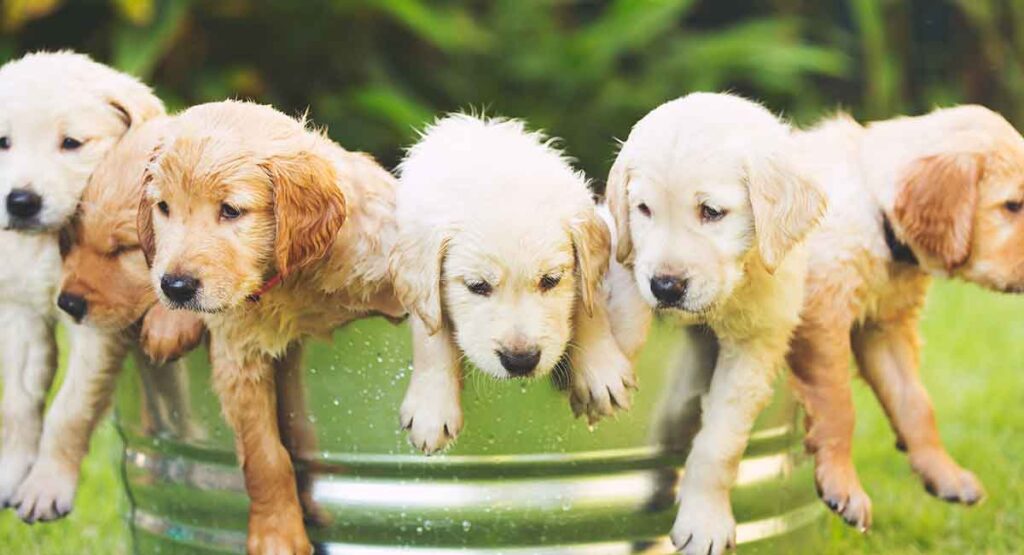 The lovable Golden Retriever can be brassy yellow, or palest champagne color. But a lot of purists believe the proper, original, color for them is a lustrous, coppery red. Traditionally they were simply a long haired red dog. Mild mannered and biddable, Goldens are the archetypal childhood dog, and the canine center of hundreds of thousands of families.
Besides their coat, which requires an undeniable amount of maintenance, these dogs are gentle and straightforward first time dogs. But they are sadly prone to cancer, which means their average lifespan can feel all-too-short.
Hungarian Vizsla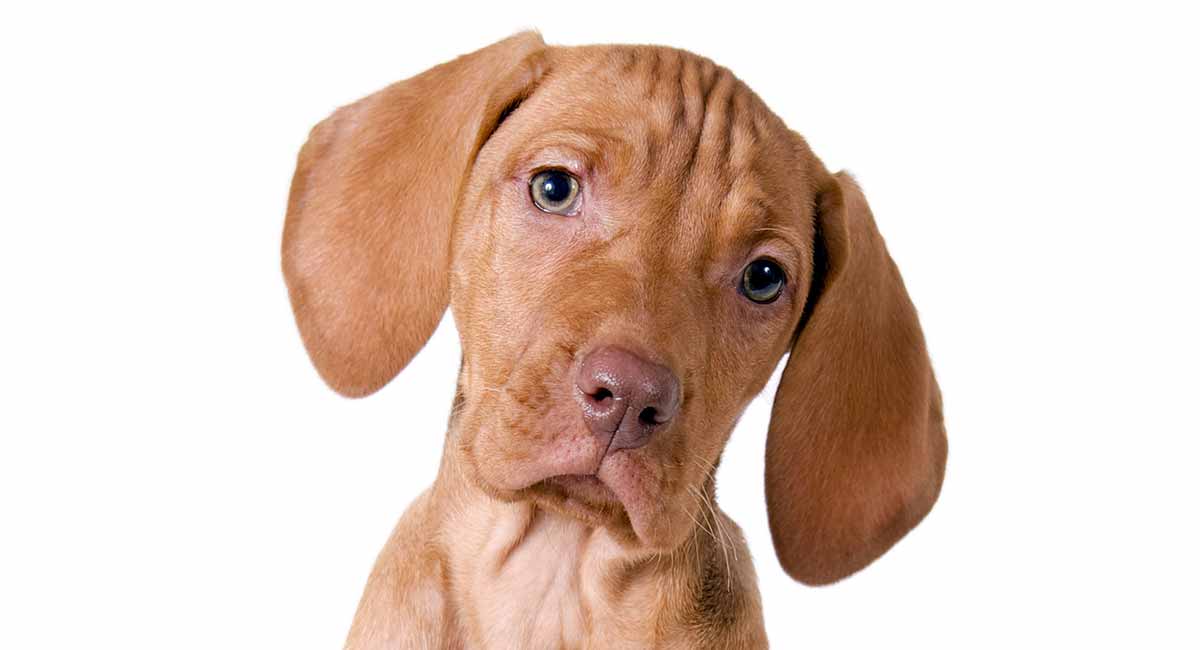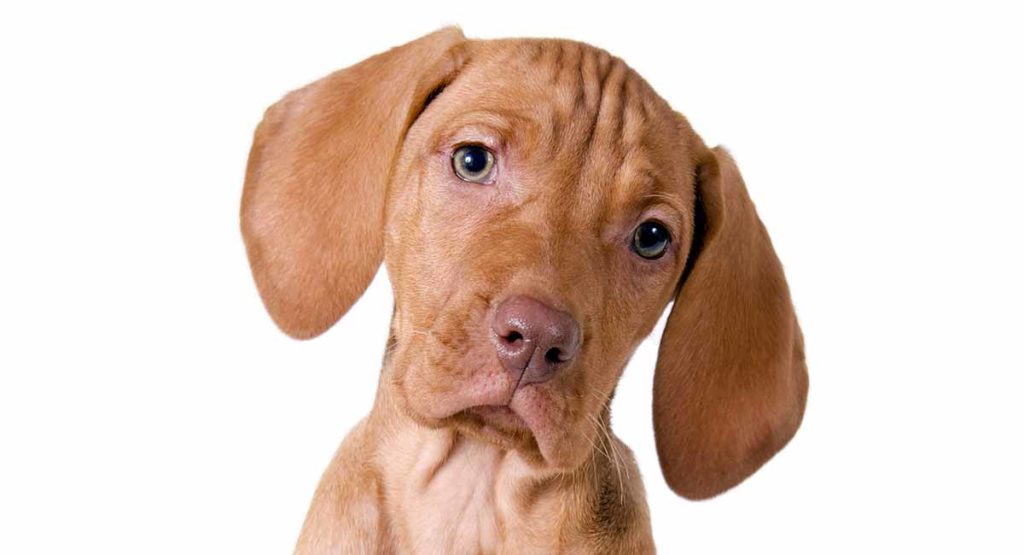 The perfect Hungarian Vizsla is a "golden rust" color,neither too light nor too dark. But the easiest way to recognize them is by their short, neat coat, and their long, soft ears which hang down past their cheeks. These athletic dogs are excellent running and hiking companions, since there's little they're suited to better than a long day outdoors. But back home, they are also sweet and affectionate family dogs, which no doubt accounts for their growing popularity.
Vizslas are prone to an uncomfortable skin condition called sebaceous adenitis, and around 1 in 5 are currently affected. Good breeders don't make a secret of this, but keep detailed medical records for their breeding lines, to show how they've attempted to minimize the risk of passing it onto each litter.
Cocker Spaniel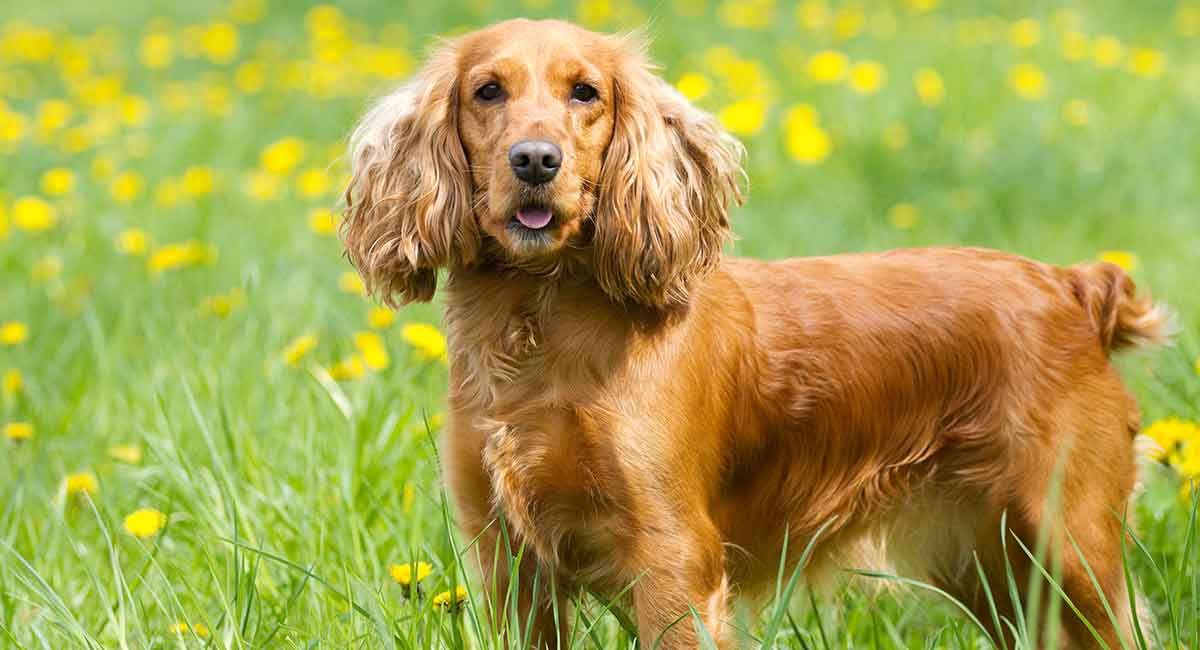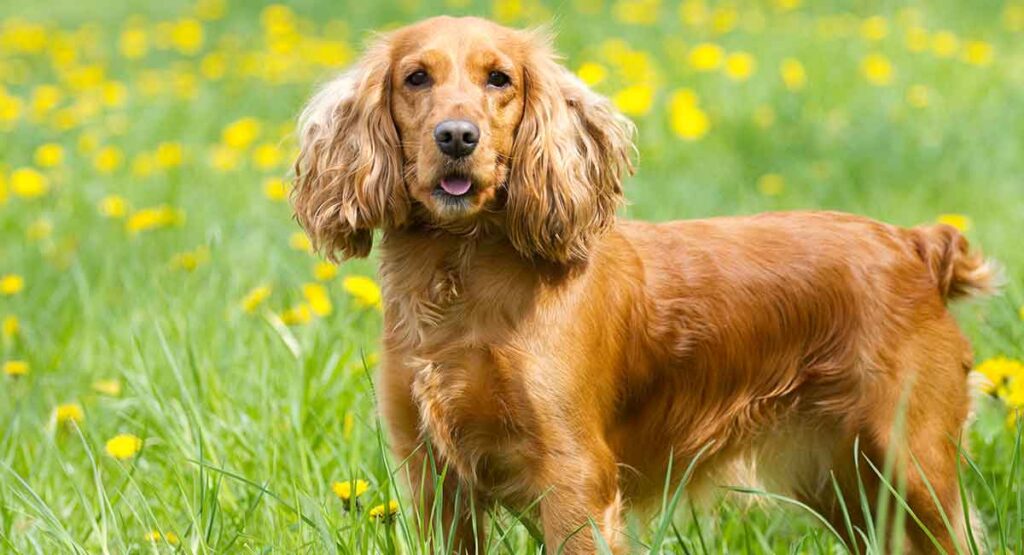 Cocker Spaniels are born in lots of beautiful colors, including pale coppers and intense reds. English Cocker Spaniels are ultra-smart, and highly respected as working dogs. American Cocker Spaniels, meanwhile, have learned to appreciate a more chilled out way of life, and suit the pet life best.
Interestingly, red English Cocker Spaniels are one of the few dogs with a recorded link between coat color and aggression. We can't explain the link between coat color and aggression yet, but researchers are exploring several possible hypotheses.
Shiba Inu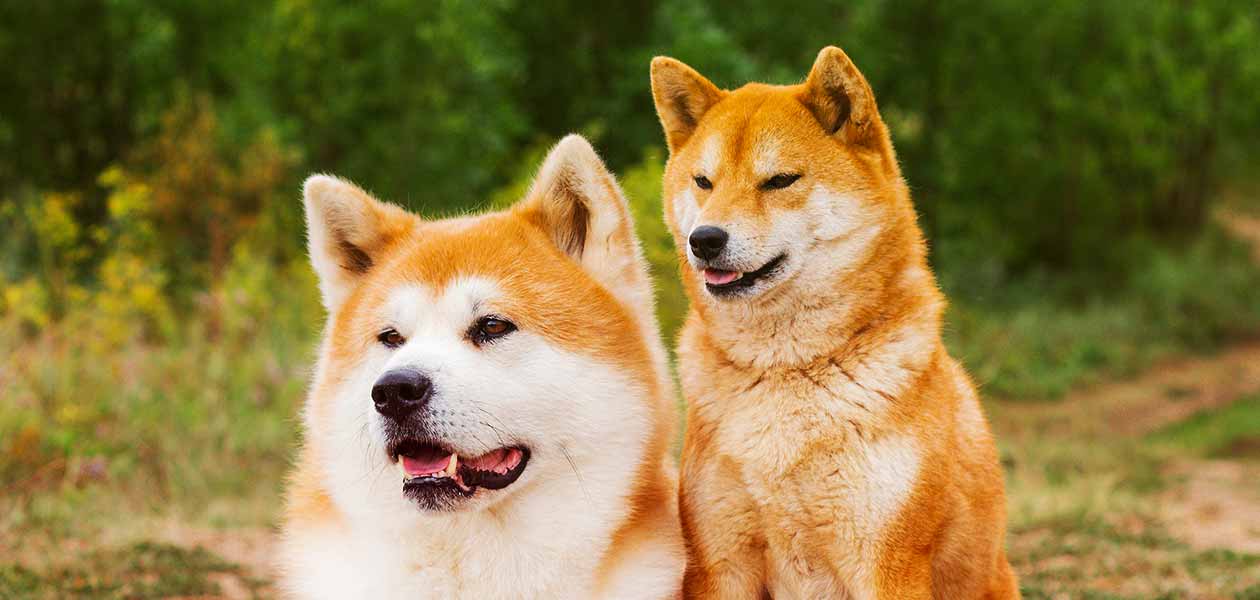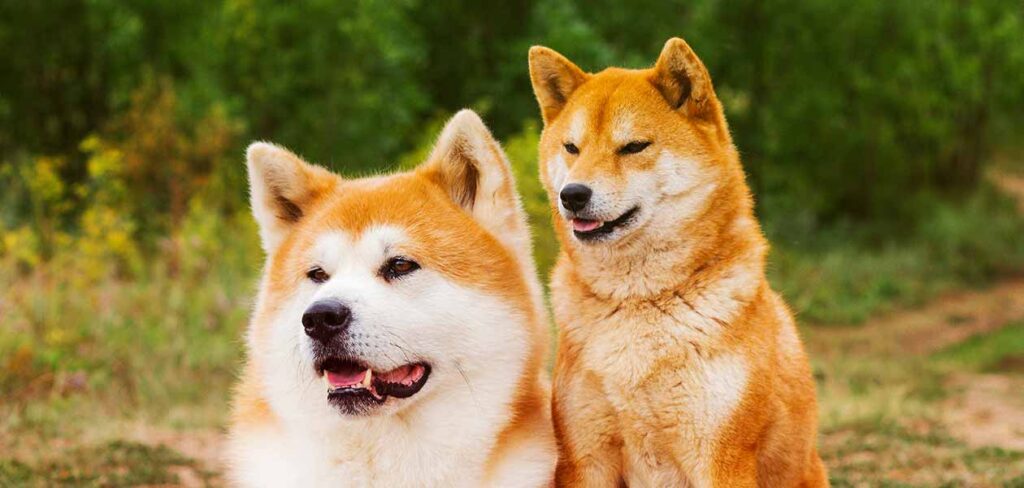 Shiba Inus are ancient Japanese dogs at heart, but a slump in numbers during World War II meant their future could only be secured by outcrossing with other breeds for a period. Of the several Shiba Inu colors, red is the most popular. Since all colors of Shiba Inu have a cream colored undercoat, red Shiba Inus appear almost iridescent orange.
Small and robust, Shiba Inus are dignified little dogs who need surprisingly little grooming, despite their dense fluffy coats. If you think a Shiba Inu might be the red dog for you, look for a breeder who can provide clear hip, knee and eye evaluations for both sire and dam.
Large Red Dog Breeds
For many dog lovers, bigger is always better. These big red dog breeds are eye catching for their size as well as their color.
Rhodesian Ridgeback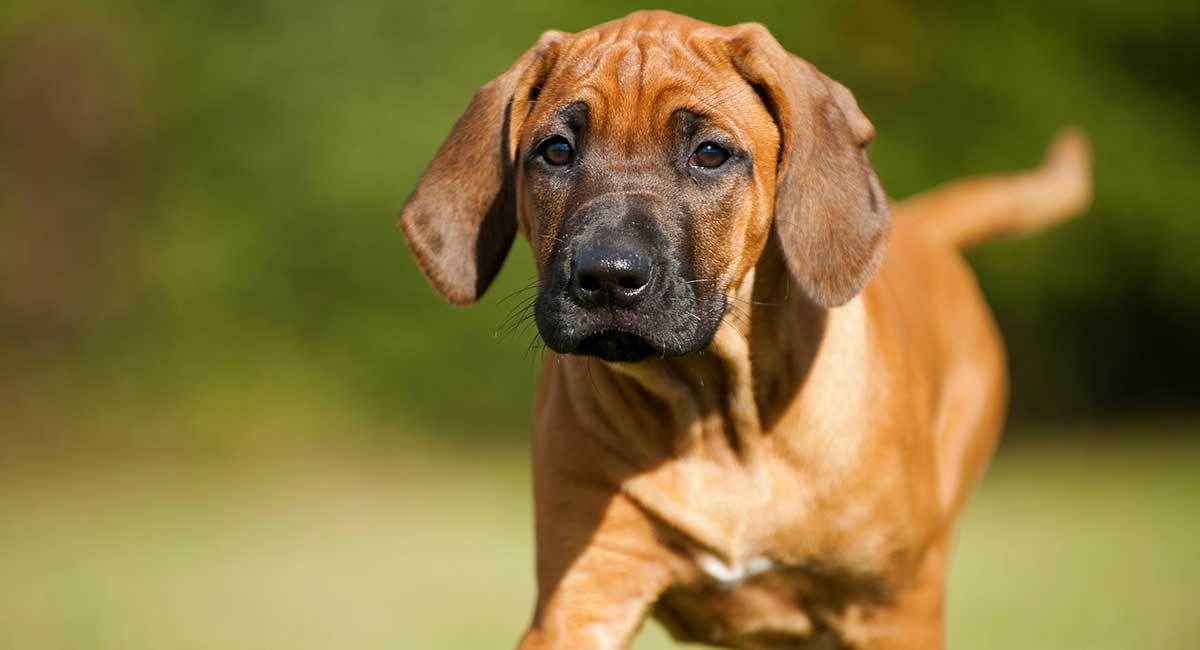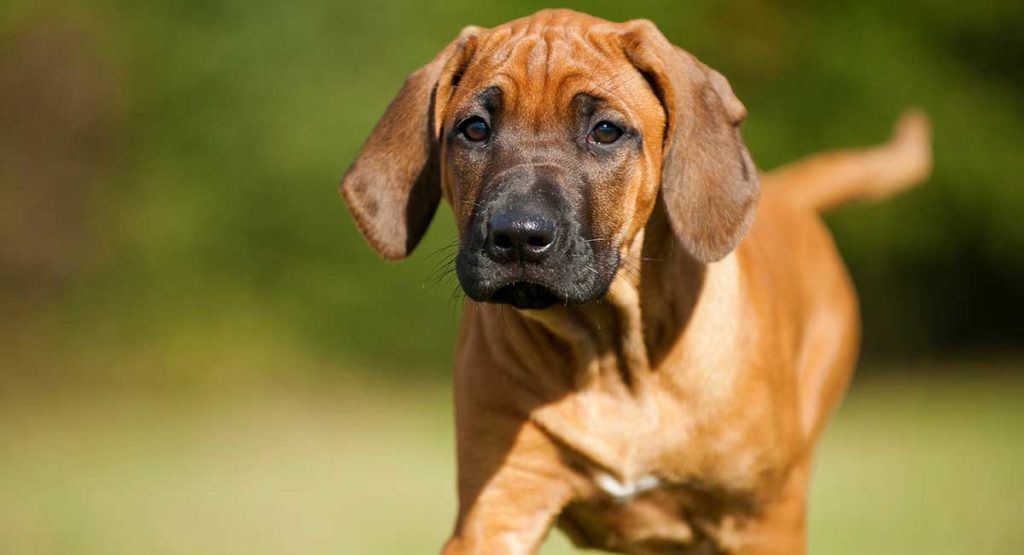 The imposing Rhodesian Ridgeback canweigh up to 90lbs! The proper name for their coat color is "wheaten". But it can range in hue from light to dark, with many of the tones in between looking like fiery shades of red.
Rhodesian Ridgebacks were original African tracking dogs. They still have a strong chase instinct, and can be very vocal. Like all big dog breeds, Rhodesians are prone to joint problems, so breeding dogs should be screened for hip and elbow dysplasia.
Akita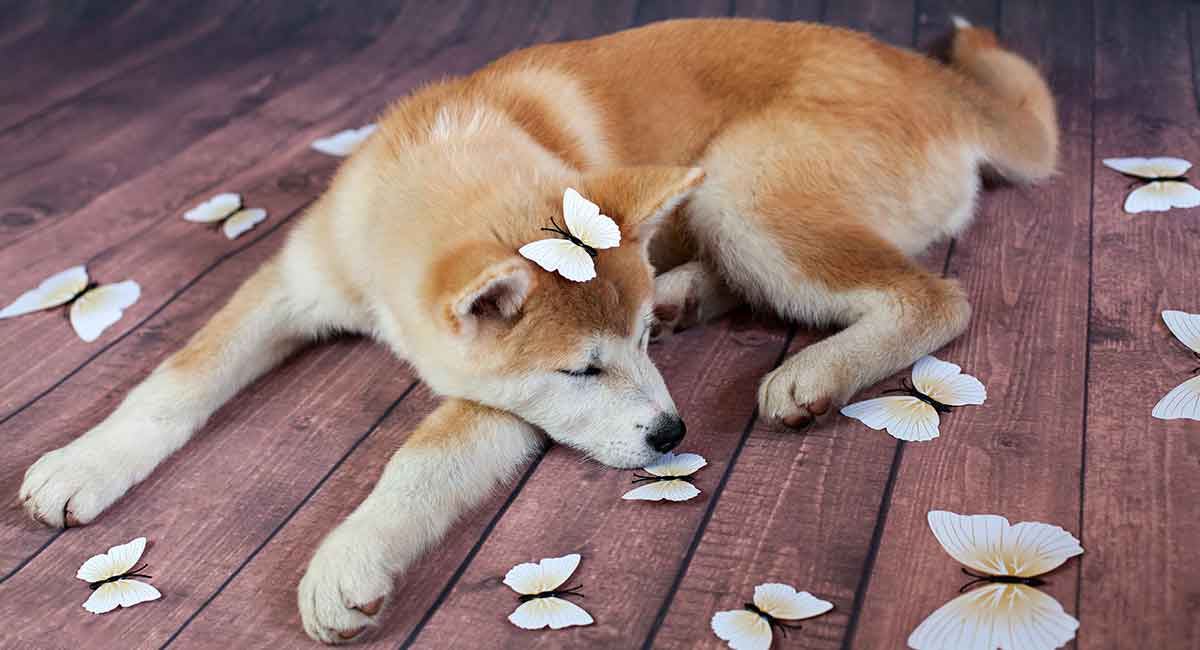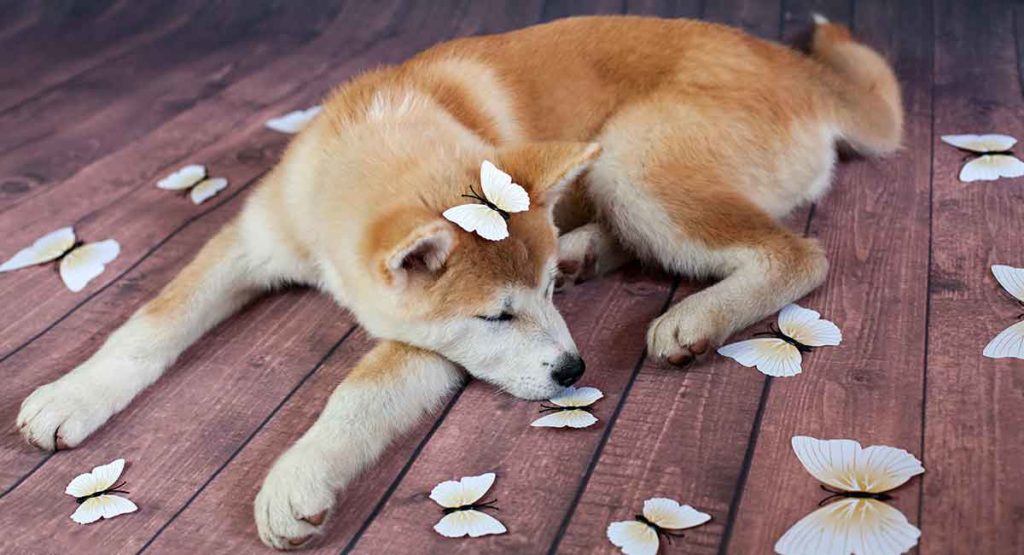 Akitas are the Shiba Inus' bigger brothers. So much bigger that males can reach a whopping 130lbs! Akitas are one of the 16 most ancient and genetically distinct domestic dog breeds, known as basal breeds. They were made popular in the U.S. by the writer Helen Keller, but Akita ownership shouldn't be entered into lightly.
These are huge dogs not suited to apartments. They can be difficult to train, and are best left to owners with prior experience of dog training. And they tend to be stand-offish towards other dogs, sometimes reacting loudly or aggressively towards them.
Small Red Dogs
Next to the other end of the scale. All of these little red dog breeds belong to the the toy dog category.
Pomeranian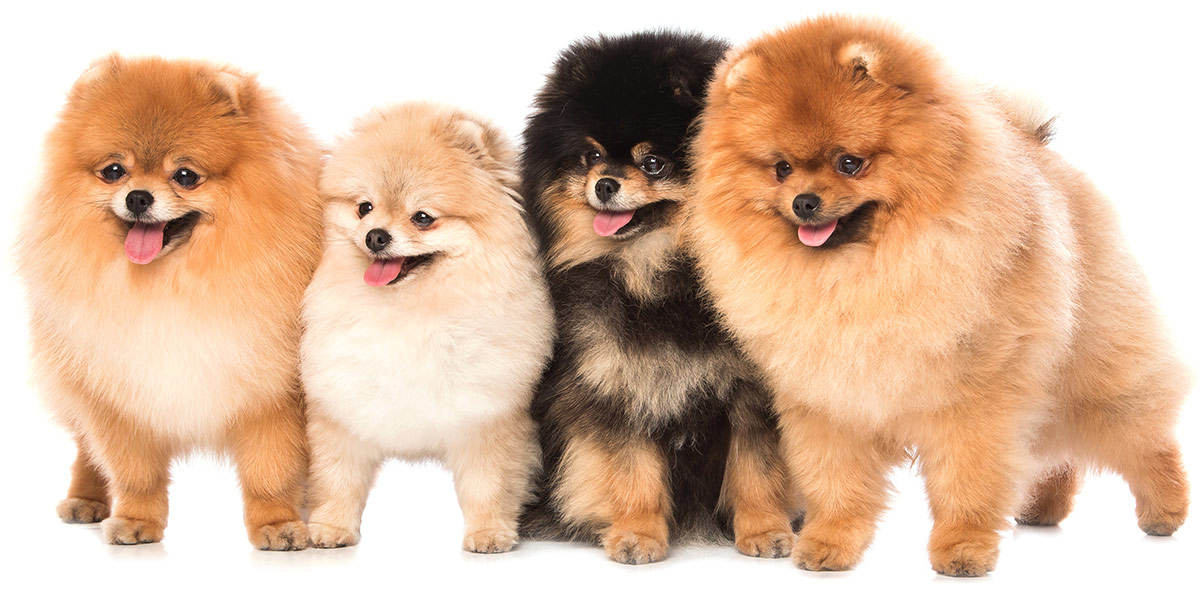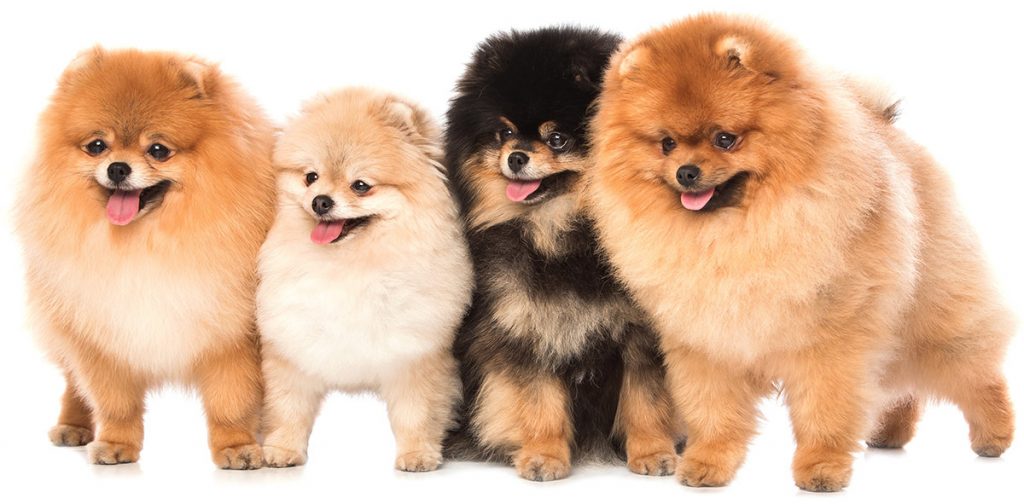 Pomeranians are pint-sized, popular, little teddy bears of dogs. Red Pomeranians range from honeyed blonde to vibrant marmalade tones. Don't underestimate how much grooming they need just because they're small – it takes plenty of brushing to keep that coat in tip top condition.
Nearly one third of Pomeranians will experience slipping kneecaps in their lifetime, so look for puppies whose parents have clear knee evaluations, as well as healthy hips, elbows, and teeth. In return you'll get a plucky little red dog with a big attitude, whose guaranteed to garner compliments everywhere he goes.
Miniature Pinscher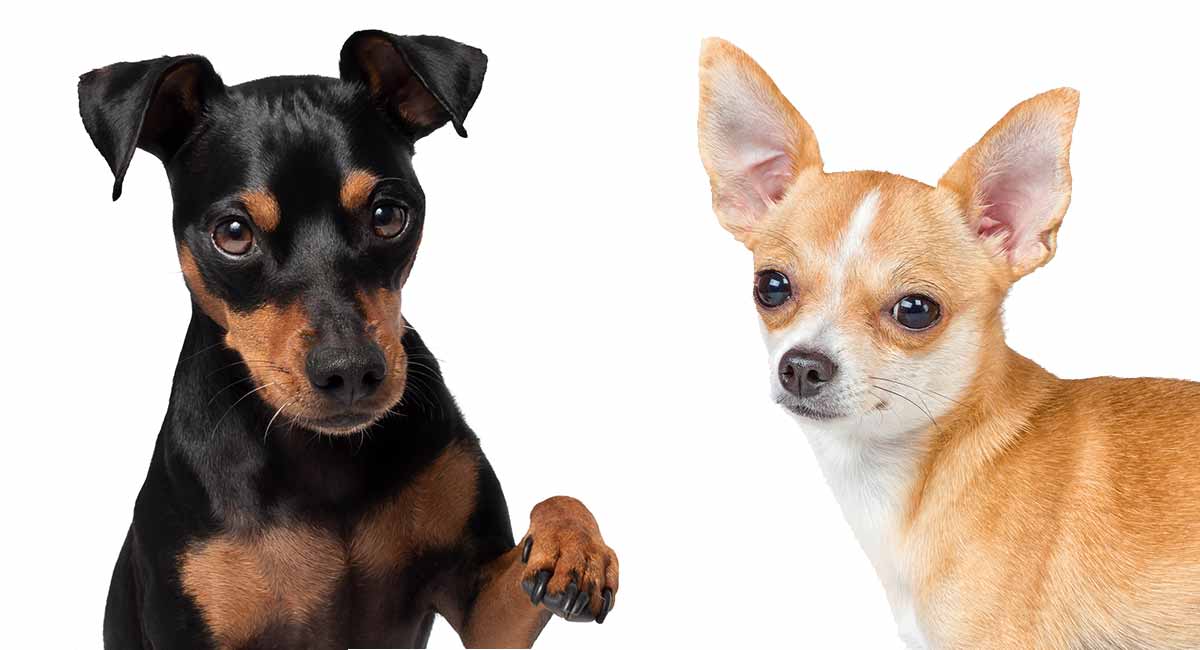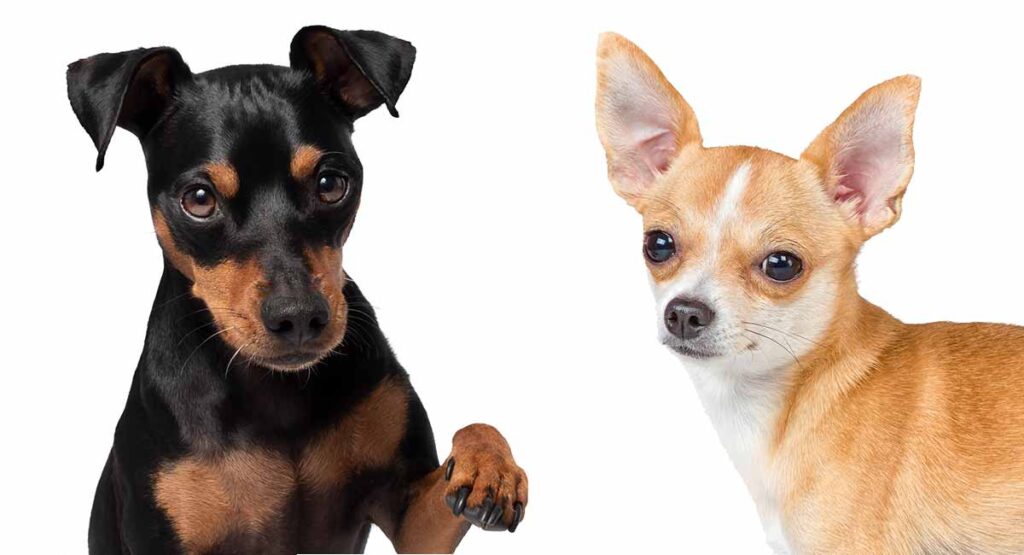 Min Pins are neat, sleek and compact. And they come in not one, but two distinct shades of red. The first is a solid, clear red. The second is 'stag red' – red with an intermingling of black hairs. Despite their looks and name calling Doberman Pinschers to mind, Min Pins were actually originally created by crossing Italian Greyhounds and Dachshunds.
Min Pin temperament is not unlike that of a terrier – they need lots of exercise, interaction and activities to channel their energy in appropriate ways. They're confident and outgoing, but they can be challenging for novice dog trainers to keep engaged.
For people ready to take the plunge, these little dogs are among the healthiest breeds out there, and regularly keep on going into their mid-teens.
Poodle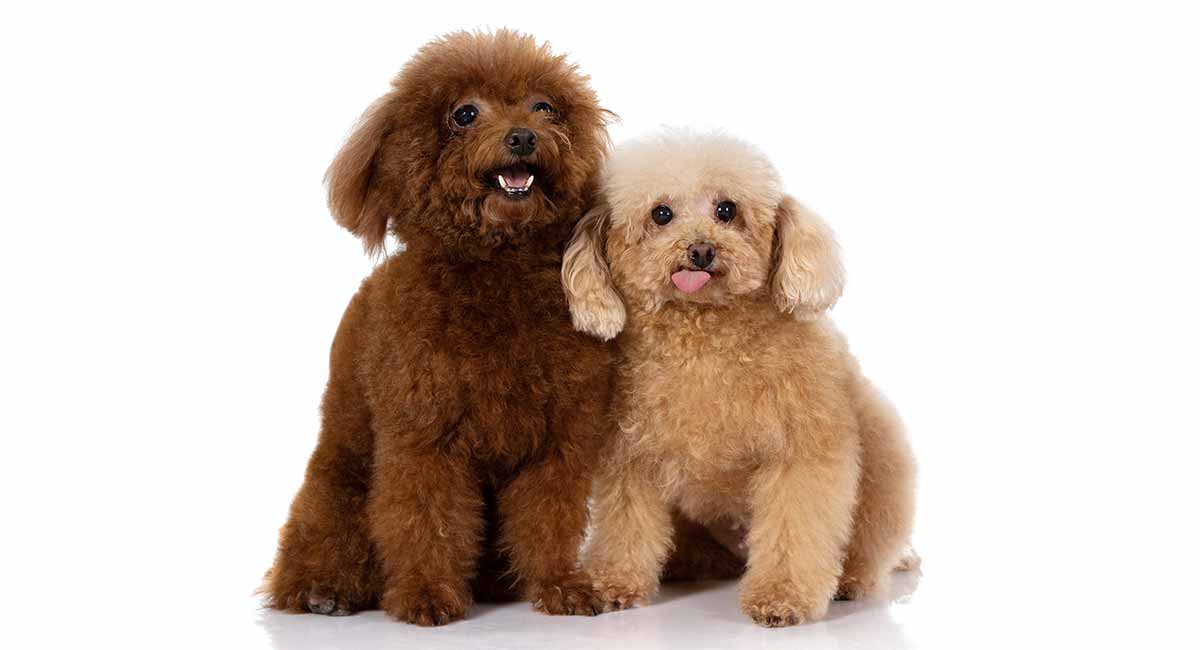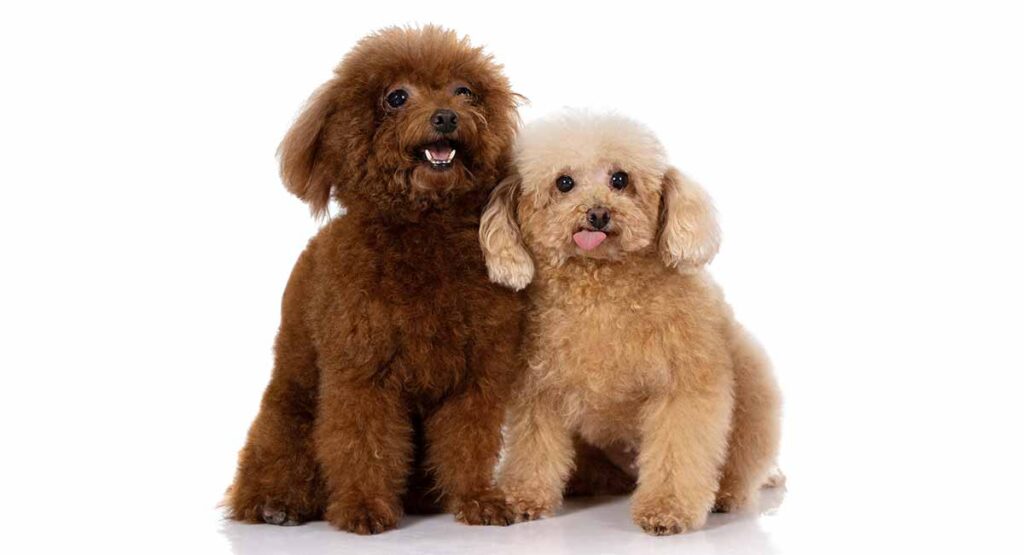 The curly Poodle is three sizes of dog in one, but for the purpose of this category, let's celebrate toy Poodles especially! Although in fact all Poodles can come in deep rusty red, or soft warm apricot.
Toy Poodles are usually less than a foot tall, and weigh 45 – 70lbs. But smaller size doesn't mean less energy. In fact toy Poodles are incredibly lively little dogs. They can be nervous around strangers though, so they need careful socialising as puppies to help them gain confidence.
Dachshund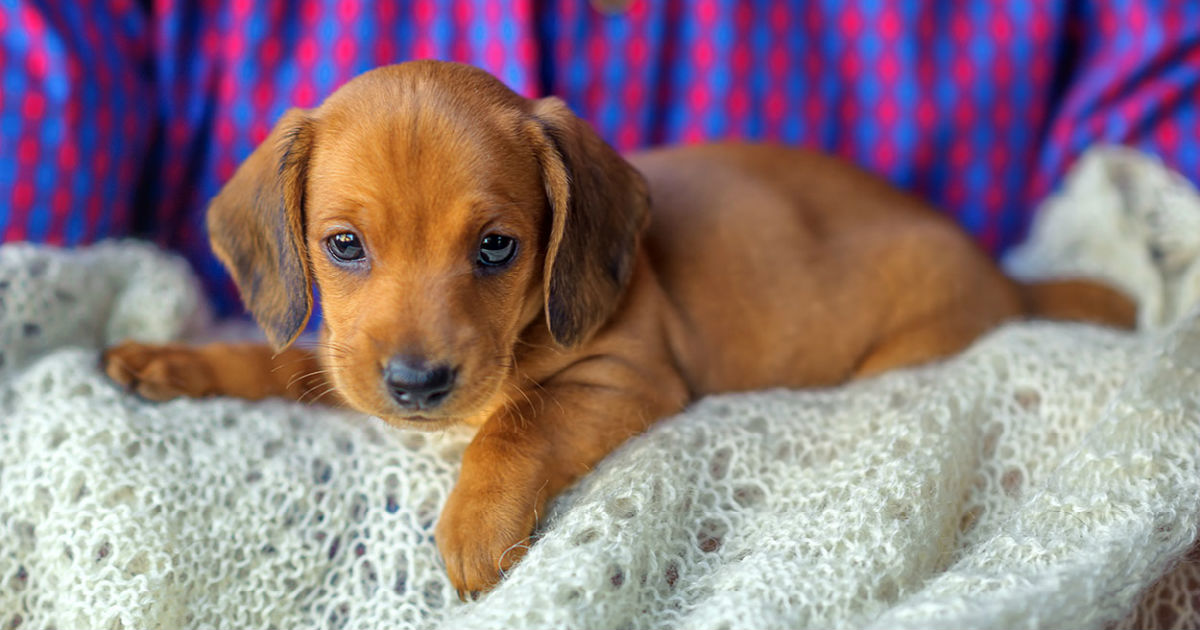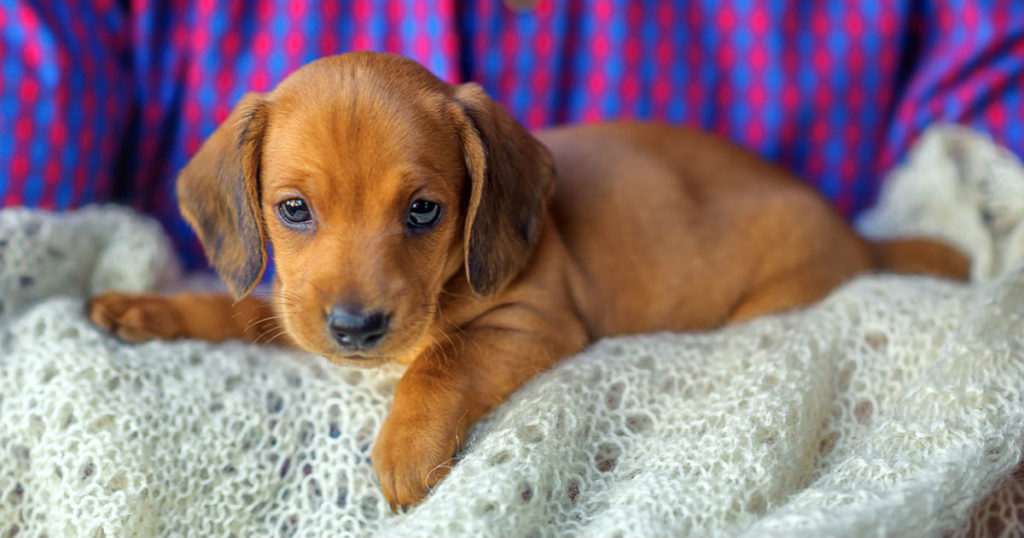 Whether you prefer your Dachshunds smooth, wire-coated or long haired, standard-sized or miniature, their color palette is always the same. And red is one of only two solid colors accepted by the AKC for show quality Doxies (the other being cream).
Dachshunds' charisma and fearlessness are a throwback to their working roots, when they were expected to pursue badgers into their dens and drive them back out. They have legions of fans, but anyone considering getting one should take time to appreciate the health implications of having such an extreme body shape.
They are also one of the breeds most likely to display aggression towards strangers, other dogs, and their owners.
Red Terrier Dogs
Terriers on the whole aren't known for being red dog breeds.
But since terriers on the whole are such sturdy, scrappy little dogs, blessed with good health, long lives and great personalities, here are two red ones we think deserve a higher profile.
Irish Terrier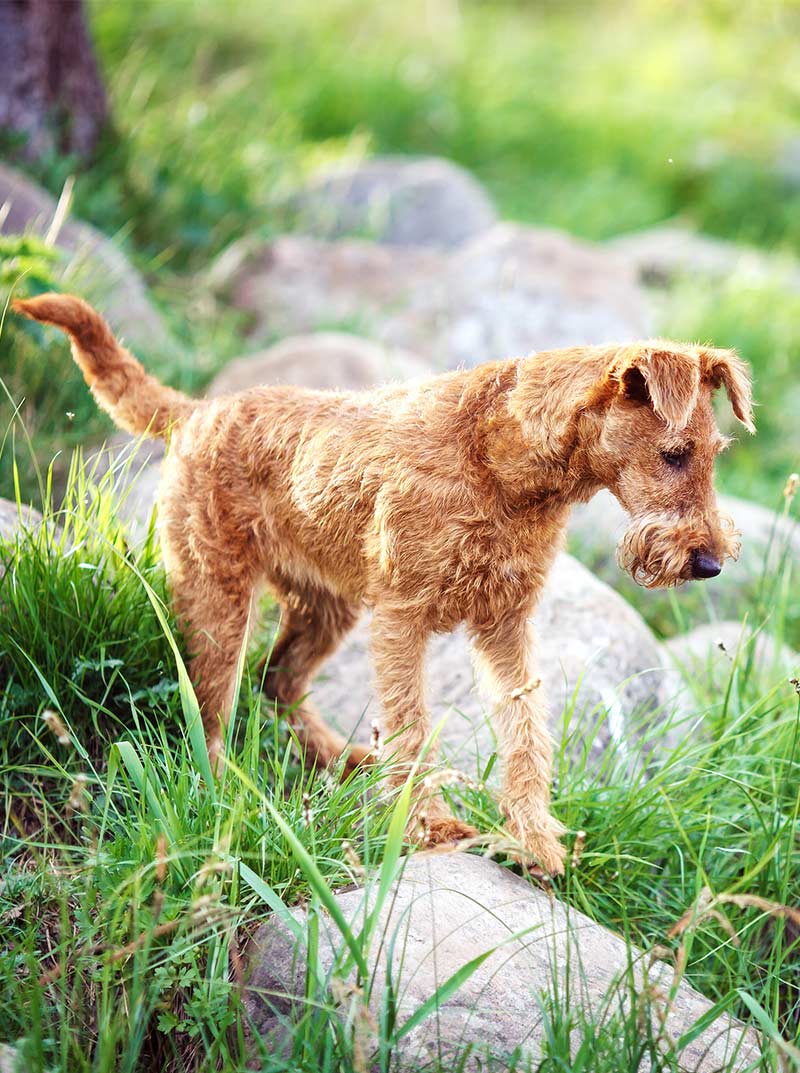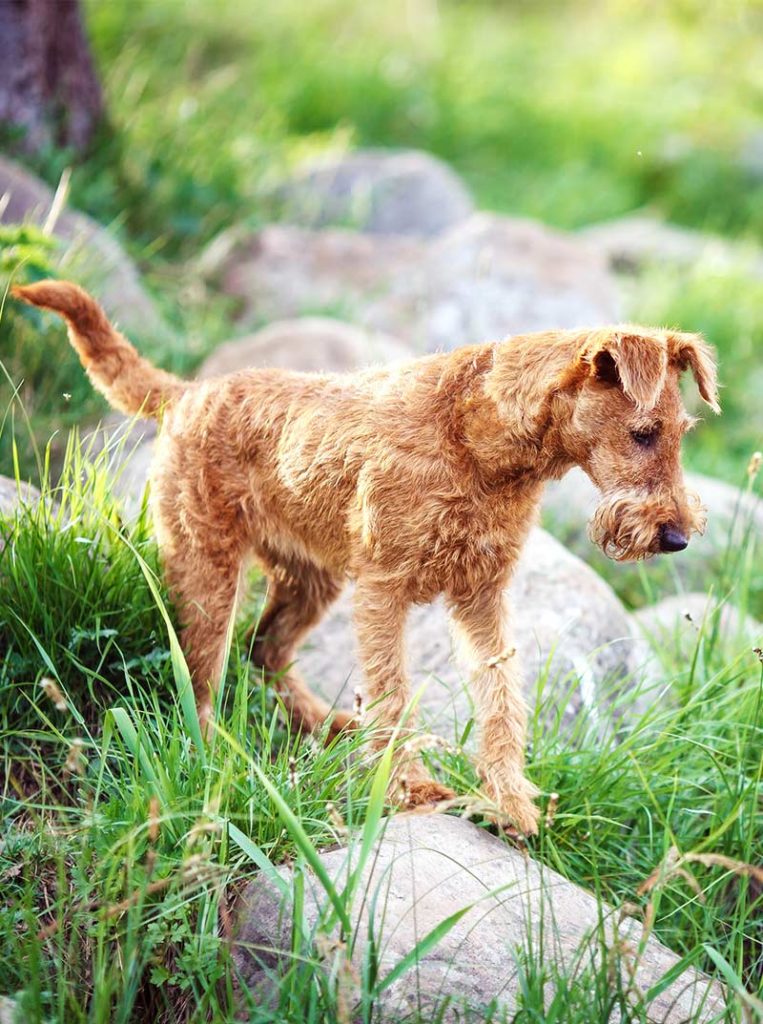 The distinctive, bearded Irish Terrier comes in no less than three shades of red: bright red, golden red, and red wheaten. They're affectionate and sociable family members, but like most terriers they can be boisterous and mischievous.
They fit best with people who can provide lots of games and exercises. In exchange you'll get a dog mostly free from hereditary diseases, who'll keep you company and keep you amused for around 15 years.
Norfolk Terrier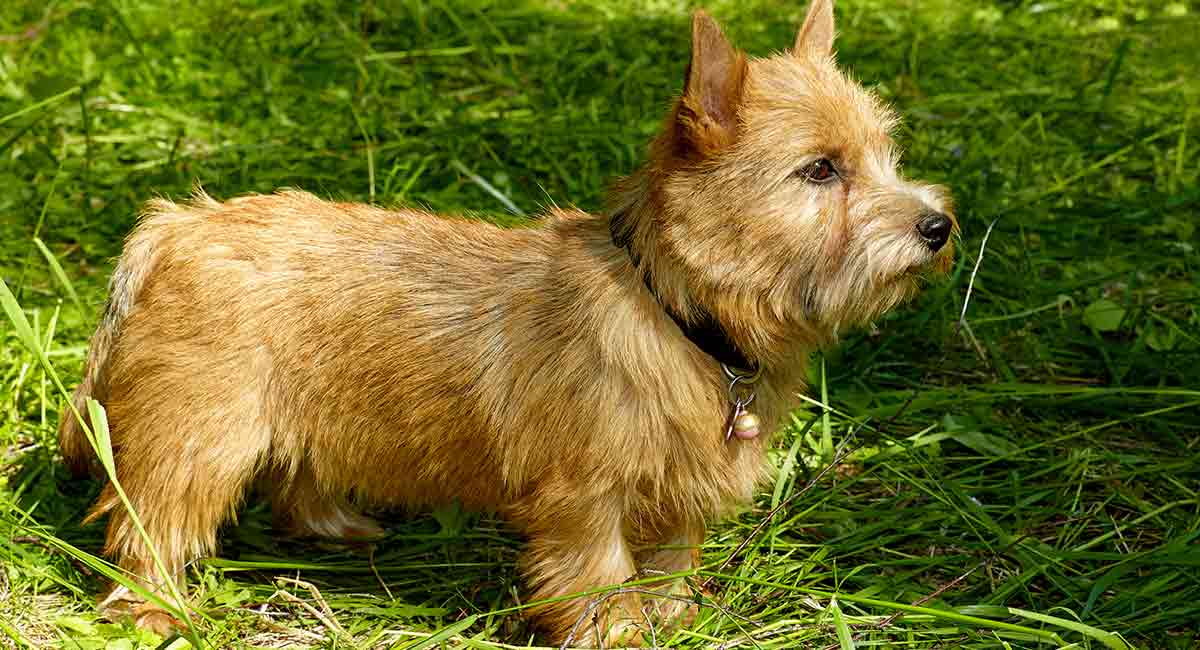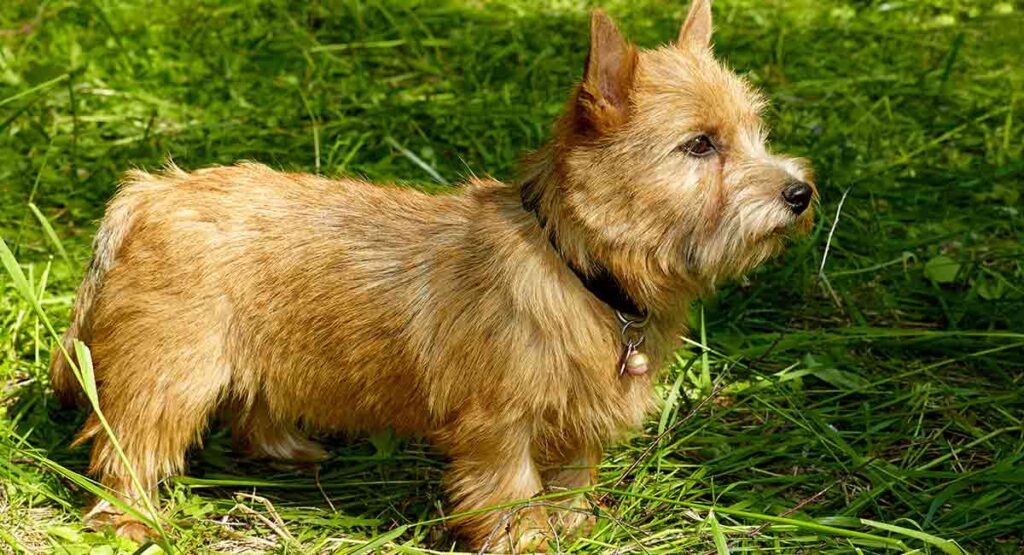 Norfolk Terriers have an off the scale cute factor akin to Yorkshire Terriers, but they're just a little bit bigger, more cuddly looking, and less fragile. They come in all shades of red, including gorgeous strawberry blondes. Despite their small stature, they're rugged little dogs, well suited to people with an active lifestyle, but not so much space back at home.
As a breed they suffer from a high frequency of hip dysplasia, as well as slipping kneecaps, dental problems, and heart disease, so look for puppies from parents with thorough health checks.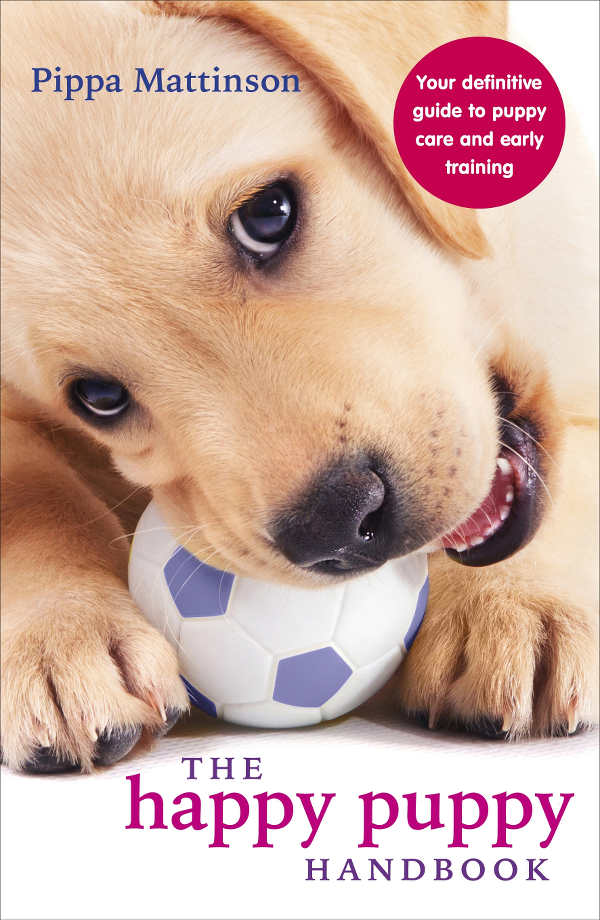 Red Dogs For Active Households
Our last category of impressive flame coated dogs are the ones with boundless energy. These guys can keep up with a run, hike, bike ride, or long day outdoors or on the beach, whilst barely breaking into a pant.
Australian Shepherd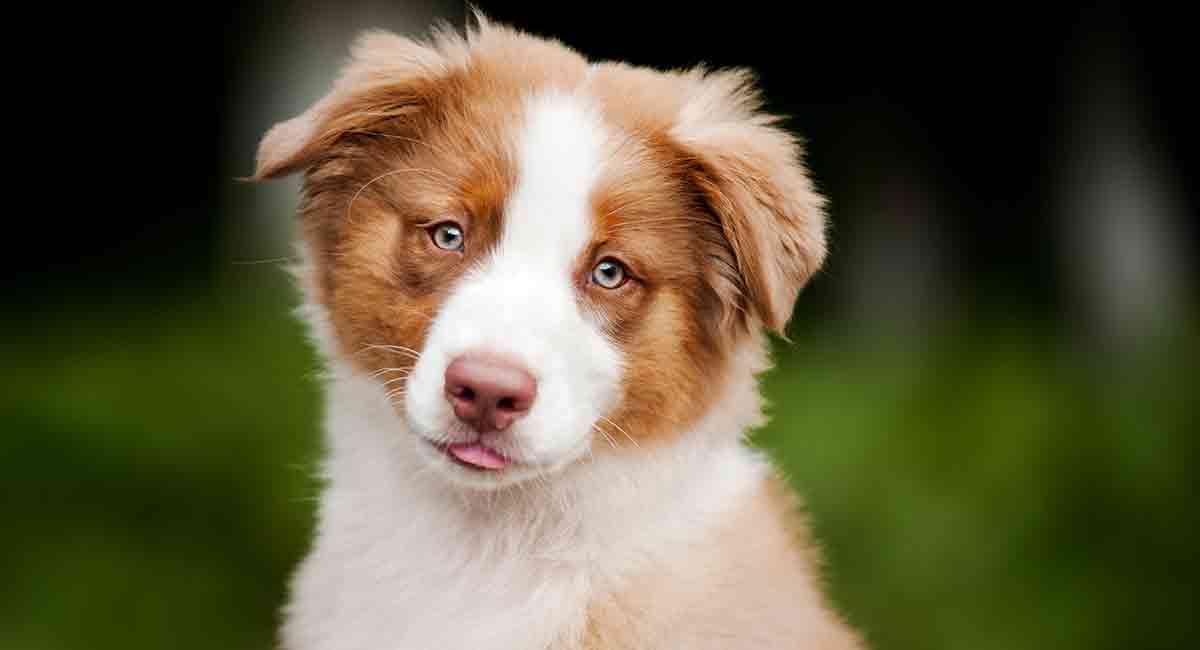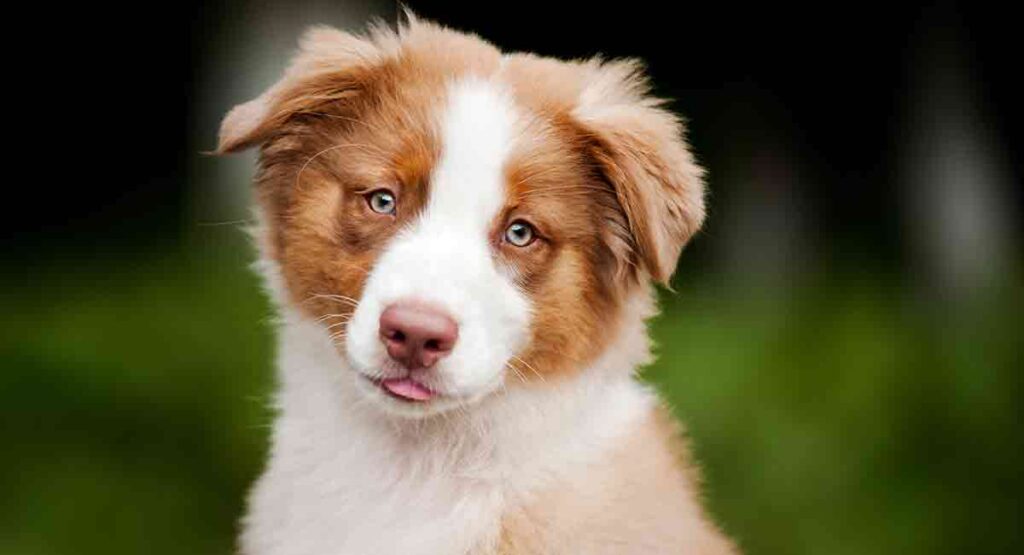 The gorgeous Aussie has a famously thick, flowing coat, which can come in red, or red merle. Not Australian at all, but originally founded in Europe and made popular in the U.S. by Californian ranchers, Aussies are the consummate herding breed.
They're smart and easily task-focussed, so they usually enjoy training. But owners need to be on hand with plenty of other daily diversions as well, to stop them getting bored. Look for breeders who carry out health tests for hip dysplasia, elbow dysplasia and eye diseases.
Australian Cattle Dog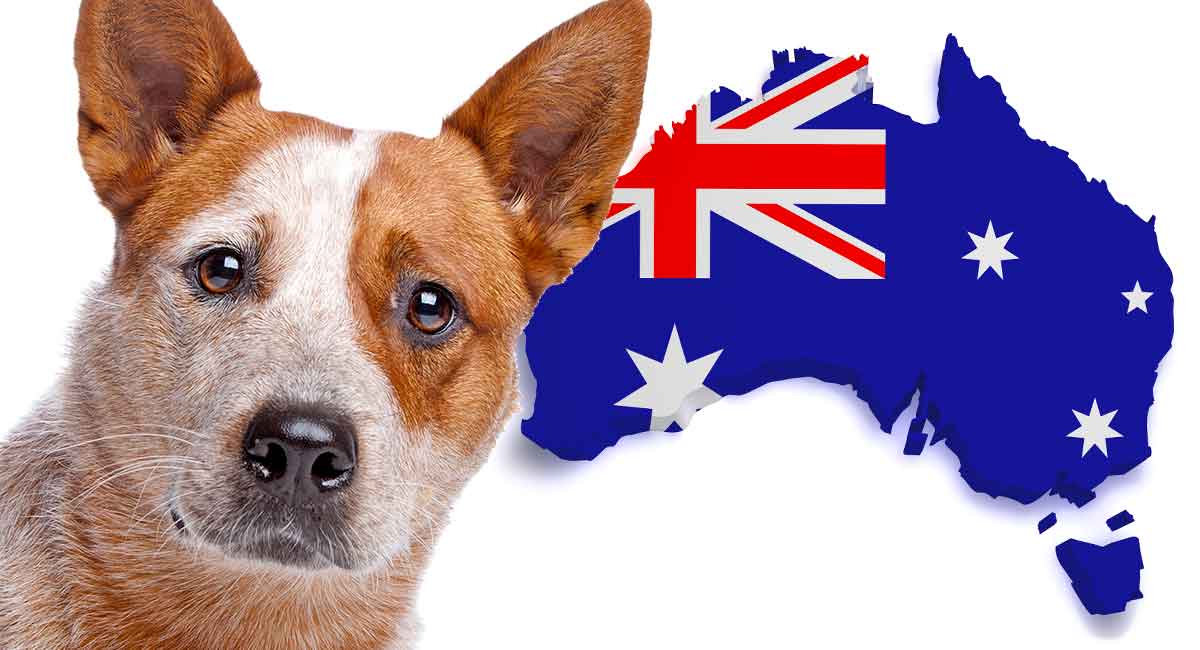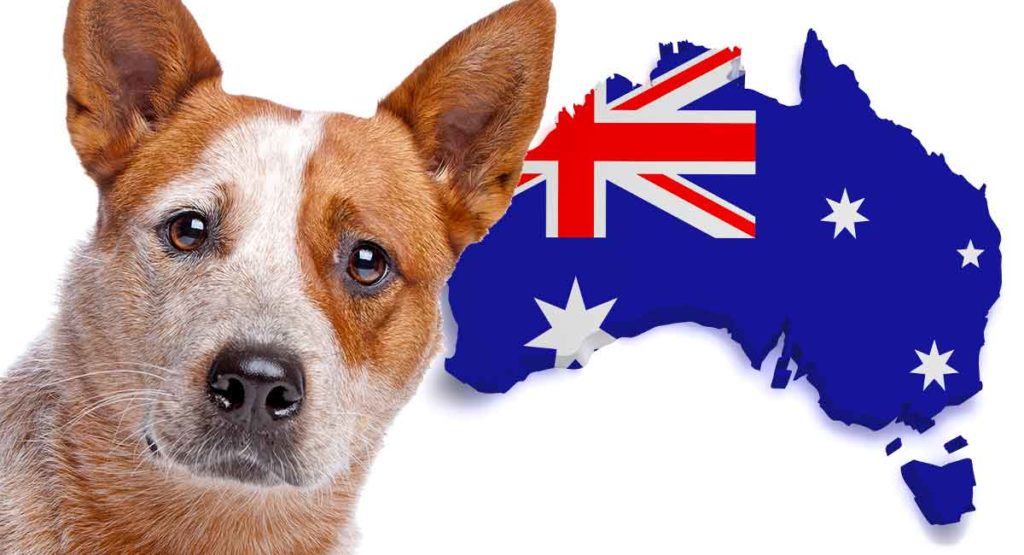 Rugged and hard working, the red Australian Cattle Dog is better known as the Red Heeler. Red Heeler dogs can be solid red, or have a merle coat pattern. They have an incredible work ethic, so Red Heelers destined for the pet life need lots of opportunities for exercise, and also access to activities like dog sports.
Red Heelers without physical and mental outlets for their energy and stamina are prone to becoming destructive around the home. As well as being tested for hip dysplasia, elbow dysplasia and eye disease, breeding Red Heelers should also be checked for congenital deafness, which is closely linked to the merle pattern gene.
Nova Scotia Duck Tolling Retriever
The Nova Scotia Duck Tolling Retriever, or Toller dog, has the same wonderful temperament as dogdom's better known retriever breeds (Labrador and Golden), but with the endless energy of a Border Collie or Springer Spaniel. And of course, they are red. In fact they are always red, although the shade can vary from light and coppery to deepest amber.
These dogs are best suited to owners who work outdoors, and who can take their Toller out with them. They have a lower risk of hip dysplasia than other retrieving breeds, but a slightly higher prevalence of thyroid disease.
Australian Kelpie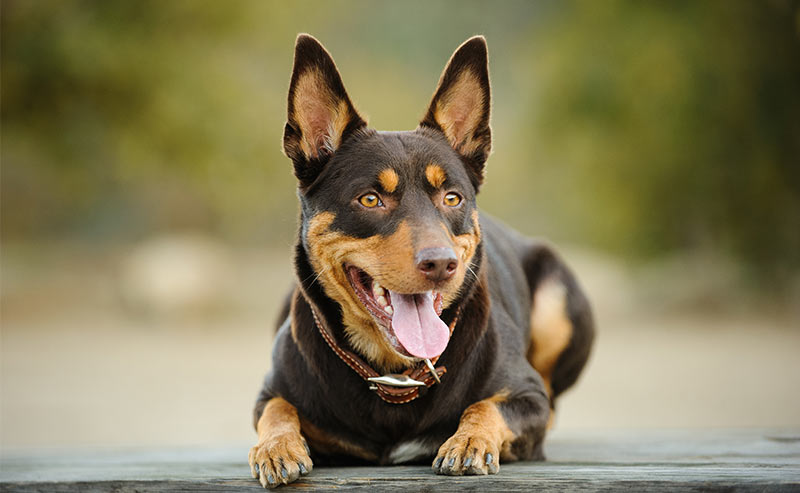 Last but not least, the Australian Kelpie, another cattle dog from the herding group. Red Australian Kelpies are a deep bronze color that looks best when it catches the sun. Which is no problem, because Kelpies and their owners go out for walks a LOT.
It takes several hours of exercise a day to wear out a Kelpie, and like other herding breeds, you might find they spend a good part of that trying to round up other dogs, animals, and small children. Definitely not for the faint hearted!
Where Does Red Fur Come From?
Dogs – all dogs – only make two types of pigment in their fur. Eumelanin, which is black, and pheomelanin, which is red. That means all the beautiful red dogs in our list owe their coats to the pheomelanin pigment But the strawberry blond of an apricot Poodle hardly looks the same as the vibrant russet of an Irish Setter. And that's because there are lots of genetic pathways which lead to red coats.
Each one causes pheomelanin to be made in different concentrations, or distributed differently over the body, or even arranged in bands on each strand of hair. Which is why the dogs in this article aren't all the same shade of red in 20 different shapes. They all have their own unique color too.