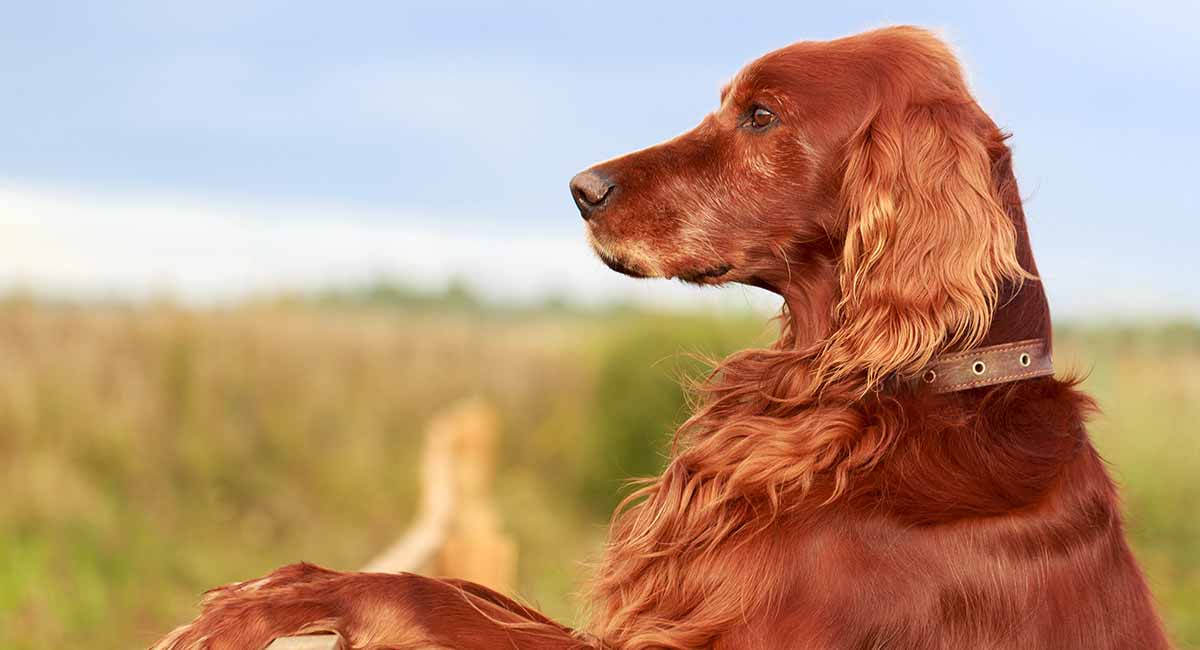 Welcome to your complete guide to the stunning Irish Setter dog. With their elegant looks and distinctive red-feather-like coat, these fun-loving dogs are hard to resist.
The Irish Setter, also known as the Irish Red Setter, belongs to the "gundog group" and not only excels in the hunting field but also in an array of other activities as well. Their silky mahogany coat and slender form have made them a popular show dog.
While it is easy to fall in love with this breed, it is not a dog that is suited to every home and lifestyle. In this guide, you find out where the Irish Setter originated from and what it's like to live with this charming redhead.
You will discover the care and health issues associated with the breed along with their training and exercise requirements.
So, before you start looking for puppies, we'll give you all the facts, helping you to decide if the Irish Setter dog is the right breed for you.
What's In This Guide
Irish Setter FAQs
Our readers' most popular and frequently asked questions about the Irish Setter.
Irish Setter At A Glance
Irish Setter Breed Review: Contents
History And Original Purpose
Where Do Irish Setter Dogs Come From?
The Irish Setter originated in Ireland during the 1700s.
There is little information about their exact heritage, but it is believed that the breed developed by combining English Setters, Gordon Setters, Spaniels, and Pointers.
It was bred to track, point, and retrieve gaming birds and is considered one of the most beautiful gundogs in the world. Irish Setters once worked with hunter and falconers that employed nets, before the commonplace use of guns.
The term "setter" comes from the way the dog sets down on his belly, in the direction of the bird, to signal that he has located the prey.
Although famous for its red coat, early Irish Red Setter hunting dogs were bicolored (red and white) allowing them to be seen easily in the field. The first entirely red Irish Setter dog emerged in Ireland during the 19th century.
Show Dogs
As dog conformation (for dog shows) became popular in the 1870s, the deep-red colored coat was the favored choice in the show ring, which almost saw the extinction of red and white Irish Setters.
Between the years 1875 to 1948, 760 Red Setters were to become conformation champions but only five became field champions.
Arrival To The USA
The first Irish Red Setter dog was imported to the USA in 1875, and three years later in 1878, the American Kennel Club accepted their first registration of the breed.
The Irish Setter quickly became one of the most popular breeds in the USA.
Possibly the most influential dog in the breed's history was a dog named Champion Palmerston. Born in 1862, his features were more distinctive than any other dog during that time and he sired so many puppies that most Irish Setters today can trace their lineage back to him.
The Working Irish Setter
A call for a revival of the working Irish Red Setter began in the 1970s.
Bred for stamina, agility, and with a powerful sense of smell, the working Setter could move all day over a variety of terrain.
But unlike other hunting dogs, a setter does not chase or kill its intended victim.
Instead, he assists the hunter by smelling for the prey with his head held high to analyze scent particles drifting in the air.
When a dog catches the scent they wag their tails rhythmically, indicating to the hunter they have tracked down their quarry.

Today, you often see two types of the dog, bred for either conformation or as a working dog.
Fun Facts About Irish Setters
The breed's popularity increased during the 1960s and 1970s mainly due to the books and Disney movie which featured one of these dogs called Big Red.
They were also seen in the White House as pets for Presidents Richard Nixon, Ronald Reagan, and Harry Truman.

In addition to being a popular companion for past presidents, Richard Cummings and Spencer Tracy, two of old Hollywood's leading men, were photographed with their beloved Irish Setters.
Irish Setter Appearance
What Does The Irish Setter Look Like?
Without a doubt, this dog is a head turner with a distinctive red, feather-like coat and a regal air.
The head is long and refined and features a straight muzzle, a noticeably long muscular neck, brown almond-shaped eyes, and large floppy ears set low.
Their body is solid yet athletically built, and they are somewhat longer than they are tall.
Their legs are strong and muscular with powerful hindquarters ending with small feet which allow for agility and speed.

And their straight medium-length tail starts off thick at the base and then narrows to a fine point.
Irish Setter Coat
The Irish Setter coat is their defining glory.
On the head and forelegs, the hair is short and silky withlong feathering featured on the ears, hind legs, and tail. There are fringes of hair on the belly and chest.
In the show ring, the conformation dog has a heavier, longer coat. A small splash of white is allowed on the head, chest, throat, or paws but no black markings are permitted.
A short-haired Irish Setter is common in the hunting field. The coat is shorter but with the same feather-like features.
The Irish Red Setter colors are either deep red or vibrant shades of chestnut or mahogany.
What Size Is An Irish Setter?
There are two types of Irish Setter: show and working, with both meeting the breed standard requirements.
The working dog is medium-sized with a lean and athletic frame.
The show dog is larger and heavier.
Irish Setter Weight and Height
Male show dogs stand between 26 to 28 inches at the shoulder and weigh between 65 and 75 pounds.
Female show dogs stand between 24 and 26 inches tall at the shoulder and weigh between 55 and 65 pounds.
Male working dogs stand between 23 to 26.5 inches at the shoulder.
Female working dogs stand between 21.5 to 24.5 inches.

The weight varies for both sexes of the woring breed but is, on average, between 45 and 55 pounds.

Irish Setter Temperament
This breed's temperament is as flamboyant as their coat. They live life to the fullest and enjoy nothing more than being the center of attention.
Irish Red Setters dogs are excitable and have boundless energy.
This dog is also exceptionally genuine, possessing a loving, friendly, and affectionate nature. And they are loyal to their family.
While they do have a mischievous side that often gets the better of them, along with a reputation for being stubborn and always wanting their way, they are eager to please.
They also enjoy having a task to do, which, much like children, helps to keep them from getting bored and into trouble.
As the Irish Setter is a highly social dog, they love to be around people and do not like to be left alone for extended periods. They can suffer from separation anxiety if left alone for too long.
This could lead to destructive behaviors, such as chewing and constant barking.

These dogs are fun to be around but they take a long time to mature and often maintain a puppy mentality for much of their adult life!
Training And Exercising Your Irish Setter
Training
This breed's training and socialization must start while they are still young.
Although they are an intelligent breed, their mischievous nature, stubbornness, and inquisitive mind make them challenging to train, along with the fact that they are slow to mature.
The Irish Red Setter has a sensitive nature, so they require lots of patience and gentle persuasion, using positive reinforcement techniques. They respond well to consistency and reward based training methods.
The more fun you make the training for your Red Setter the easier it will be for you. Because these dogs are so intelligent and rambunctious, they can get bored easily.
How Much Exercise Does My Irish Setter Need?
This dog was bred to hunt all day so he has high energy levels and requires lots of exercise.
He should be exercised for at least 2 hours a day, combining physical activity with mental stimulation to stop him from becoming bored.
They excel at canine sports, such as rally, agility, and obedience trials. This can be a great way to exercise both their minds and bodies.
This breed is ideal for active owners and is an excellent partner for jogging, cycling, or hiking.

They are not ideal for apartment living but do best in a home that has a large backyard with secure fencing to run around in.
Irish Setter Lifespan and Health
The average lifespan for this breed is between 12 to 15 years when cared for properly, so they are a long-term commitment.
The Irish Red Setter is a healthy dog, but some specific hereditary issues and disorders affect this breed.
Not all Setters will have these health issues, but it is essential to be aware of them.
If you are considering a Red Setter puppy, make sure you go to a responsible breeder who can provide health clearances for both the puppy's parents.
Here are some of the possible health issues of this breed:
Progressive Retinal Atrophy (PRA)
PRA is a degenerative disorder that causes eventual blindness, and which nearly destroyed the breed during the 1940s. Dogs with PRA are often completely blind by the time they reach 2 years of age and can show signs as early as 6 weeks old.
It is now possible to detect PRA by DNA testing.
A good breeder has their dog's eyes certified annually and does not breed any dogs with this disease.
Hip Dysplasia
This inherited condition results in an abnormal joint structure and a lack of stability in the hip joint due to laxity in the soft tissue.
Dogs display lameness and pain in one or both hind legs. Arthritis can eventually develop.
A breeder should provide a clearance certificate for both parents and not breed any dogs with this issue.
Epilepsy
Epilepsy is a neurological disorder that causes seizures and is a concern for a number of breeds, including the Irish Setter.
The condition is currently being researched to see if it is hereditary in this breed.
Epilepsy in dogs cannot be cured but can be controlled with medication.
Gastric Torsion (Bloat)
This life-threatening condition generally affects large dogs. You can read about it in more detail here.
It occurs when the stomach is inflated with gas or air and then twists. The dog is unable to belch or vomit to expel his stomach of the excess air and this causes the hindrance of blood flow to his heart.
Factors that can increase the potential for bloat, are a routine of once-daily feeding and an unchanging diet.
It was once believed that the speed at which a dog consumed his food could contribute to this condition but a current, 2019 study found no correlation.
Current research shows that variation in diet and smaller, more frequent feeding can decrease, although not eliminate, the risk of developing bloat.
A dog with bloat requires immediate veterinary treatment.
Hypertrophic Osteodystrophy (HOD)
HOD causes lameness, and is found more often in males than females.
The condition is linked to excessive amounts of protein and calcium in the diet and often affects puppies between 2 and 8 months old.
Other symptoms include fever, loss of appetite, and swollen joints. It is difficult to diagnose and is sometimes fatal.
Treatment is carried out with steroids, pain relievers, and antibiotics.
Hypothyroidism
Common in this breed, hypothyroidism is when there is an unusually low level of hormone produced by the thyroid gland.
Symptoms include lethargy, poor coat quality, and weight gain. The condition responds well to treatment.
Breeders should provide a certificate for both parents and not breed dogs with this condition.

Testing
DNA testing for many of the hereditary abnormalities common to Irish Setters is available. A responsible breeder should be knowledgeable about these health risks and able to show you proof that the tests were carried out on both parents. Recommended DNA testing includes:
CLAD- Canine Leukocyte Adhesion Deficiency
DM- Degenerative Myelopathy
PRA Optigen- Progressive Retinal Atrophy
WD- Von Willebrand Disease
It is recommended by The Kennel Club that you have the BVA/KC/ISDS Eye Scheme and the ECVO Eye scheme performed on your dog when they are 1 year old and annually thereafter. These optical screenings cover 14 hereditary eye conditions common to dogs as well as some of those not inherited.
Do Irish Setters Shed?
These dogs have fine hair so they are moderate shedders, especially if you brush them regularly.
Irish Setter Grooming
Groom your pup at least every other day, using a pin or soft bristle brush, as the featherings can become tangled. Always check for debris in his coat when you return from walking.
Taking your Irish Setter to a professional groomer is a good idea as they can thin out his feathers to make them more manageable.
As part of your grooming routine, check his ears weekly, wiping them out with a moistened cotton ball, and using a cleanser suggested by your vet.

Trim his claws once a month and brush his teeth at least twice a week to prevent tartar build up.
Do Irish Setters Make Good Family Pets?
Is the Irish Setter good with children and other pets?
This dog is certainly sweet-natured and has an outgoing personality He loves people and gets on well with children.
However, due to their boundless energy, they are arguably too lively to have around small children as he may accidentally knock them over.
We recommend this breed for families with older children.
Irish Setters loyalty and affection can also make them excellent therapy and assistance dogs.

These dogs get along with other pets so long as they are brought up with them.
Rescuing An Irish Setter
Welcoming a rescue dog into your family can be a rewarding experience that enriches both your life and that of your new adopted family member. Being highly social and loyal dogs, Irish Setters develop strong attachments to their caregivers. Finding a new forever home is so beneficial for these dogs.

Finding An Irish Setter Puppy
When looking for a puppy, always go to a reputable breeder. It is best to avoid getting a puppy from places like malls and online ads. These dogs are much more likely to have health issues and challenging temperaments.
You can find breeders on the website of the Irish Setter Club of America, who have agreed to abide by the club's principles of integrity. Your country's Kennel Club's websites can also provide information on reputable breeders.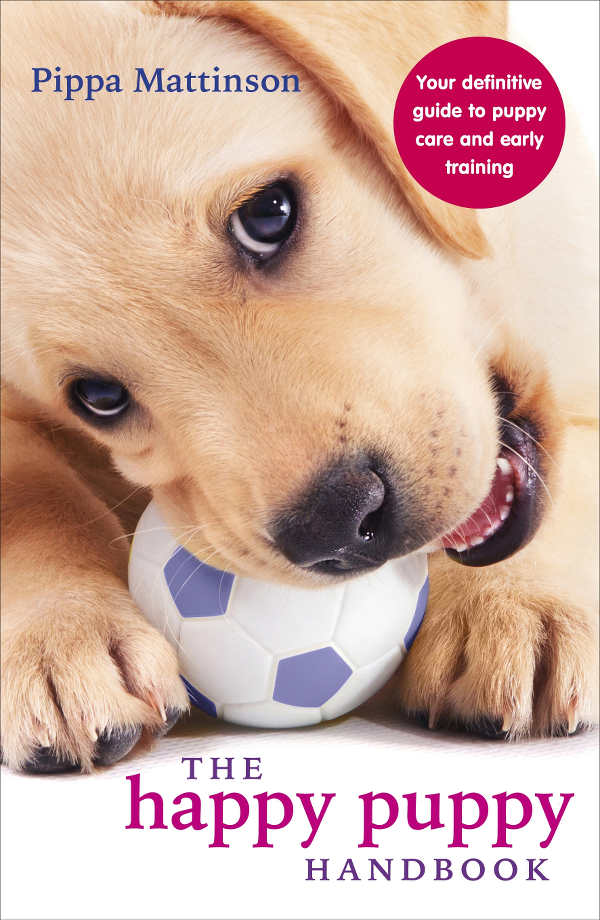 A good breeder will happily answer your questions and provide health clearances and breed papers.
Expect them to ask you questions, too, so they can see if the Irish Setter is the right dog for you and that the puppy they are selling will have a caring home.
Look at the living conditions of the puppy. It should be a clean environment, and all the puppies must look healthy.
Ask to see the mother and if possible the father, too.
In your search for the perfect puppy, consider mix breeds in addition to purebreds. Mix breeds are becoming increasingly popular, as they may have less hereditary abnormalities than purebreds, and are often much cheaper.

For more tips to help you along on your puppy quest check out our puppy and search guide
Raising An Irish Setter Puppy
Caring for a vulnerable Irish Setter puppy is a big responsibility.
There are some great guides to help you with all aspects of puppy care and training. Check out our puppy care and training tips here.
Popular Irish Setter Breed Mixes
These are two popular Irish Setter mix breeds:
The Irish Doodle, also known as the Setter Doodle, blends the attributes of both purebreds (Irish Setter and Poodle) into a new breed that is attractive, proud, and athletic. This popular new mixed breed can come in three different sizes, depending on the size of the poodle parent: toy, miniature, or standard.

The Golden Irish is a mix of Golden Retriever and Irish Setter. The Golden Irish is an affectionate, playful, and intelligent dog with a long, silky, red-hued coat.
Comparing The Irish Setter With Other Breeds
The Irish Setter is, by far, the most popular of all the breeds in the Setter family.
The English Setter has a speckled coat and is considered easy to train. While energetic, English Setters require less exercise than their Irish counterparts.
The Red and White Setter is also considered an easy to train breed, that doesn't shed or require as much brushing as the Irish Setter. They are just as rambunctious though.

The Gordon Setter is a vocal, more independent dog, with lower maintenance and a silky black coat.
Similar Breeds
Here are some similar dog breeds that you may want to consider:
Pros And Cons Of Getting An Irish Setter
There is a lot to consider when deciding if this breed is the best fit for you and your home. It is important to ensure that this dog is a good match for you so that you'll both be happy.
Pros:
Loyal, affectionate, good family pet
Intelligent
Generally a healthy dog
Great show dogs
Good life expectancy
An excellent companion for active individuals
Cons:
Requires a lot of exercise
Needs a house and large yard
High maintenance grooming
Best if fed multiple times a day
Not ideal for a family with very young children
Doesn't like to be left alone for too long
Irish Setter Products And Accessories
Here are some products designed to keep your dog active and entertained. Since Irish Setters need to stimulate their minds as much as their bodies, interactive toys are a great way to accomplish both.
Irish Setter Breed Rescues
USA Rescues
UK Rescues
Australia Rescues
Canada Rescues
If you want to join one of these lists of rescues, please comment below!
Is An Irish Setter The Right Dog For You?
An Irish Setter is most suited to an active family with older children who have the time to dedicate to the high exercise requirements and grooming needs of this breed.
He needs to be kept in a house, living indoors with his owners but with access to a large yard to run around.
Time must be put aside for regular coat grooming and training to keep his mind stimulated.
If you can meet this breed's needs, you will have a loyal, loving, and affectionate companion who can join you in various outdoor activities.
References And Resources
Adams, V.J. et al. 2010. "Methods and mortality results of a health survey of purebred dogs in the UK.." Journal of Small Animal Practice.
Beynen, A. 2019. "Diet and canine gastric dilatation." Dier-en-Arts.
Duffy, D. et al. 2008. "Breed differences in canine aggression." Applied Animal Behavior Science.
Gough A, Thomas A, O'Neill D. "2018 Breed Predispositions to Disease In Dogs and Cats." Wiley Blackwell.
Koskinen, L. L. et al. 2017. "ADAM23 is a common risk gene for canine idiopathic epilepsy." BMC Genetics.
O'Neill D.G. et al. 2013. "Longevity and Mortality of Dogs Owned In England." The Veterinary Journal.
Packer, R. M. A. et al. 2015. "Impact of Facial Conformation On Canine Health." PlosOne.
Schalamon J., et al. 2006. "Analysis of Dog Bites In Children Who Are Younger Than 17 Years." Pediatrics.
Strain, G. M. 2004. "Deafness prevalence and pigmentation and gender associations in dog breeds at risk." The Veterinary Journal.
UC Davis Veterinary Medicine. 2019."Irish Setter, Irish Red & White Setter Health Panel."
This article has been extensively revised and updated for 2019.