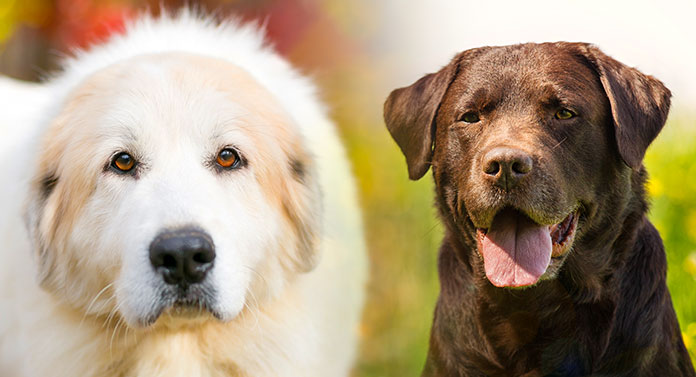 The Pyrador is a hybrid designer breed. A Great Pyrenees Lab mix, they are typically big, bold, confident, affectionate, loyal and athletic. Their stunning looks are only matched by their incredible range of designer hybrid dog names that extend to include Lapyrenees, Pyrelab, or Labrenees! An adult Pyrador could be 32 inches tall and weigh 100lbs and live around 12 years. They will need lots of space, attention, exercise and training to avoid potential problem behaviors.
Contents
You can expect a Great Pyrenees and Lab mix to be friendly and energetic, but they may have strong hunting instincts. Are you ready to find out if the Pyrador is right for you?
Hard Working Histories
The mix has been bred as a family companion, but its parent breeds once had quite different purposes. Let's take a closer look at each parent breed to find out a little more about where our new mix comes from.
The Great Pyrenees dog was bred in the Pyrenees Mountains between France and Spain. Evidence shows that these dogs may have been bred as early as 3,000 B.C.
Pyrenees dogs would guard their master's sheep from wolves, bears, and other predators found in the mountains. Sometimes, they would have to stay high in the cold mountains for days on end, but luckily, they had their signature white coats to keep them warm!
The Labrador Retriever comes from Newfoundland, Canada, where small dogs were trained to retrieve waterfowl. Their ancestors were brought across to the UK, where the Labrador breed was eventually standardised. Today, Labradors still make excellent hunting dogs as well as service dogs, but they're most popular as pets.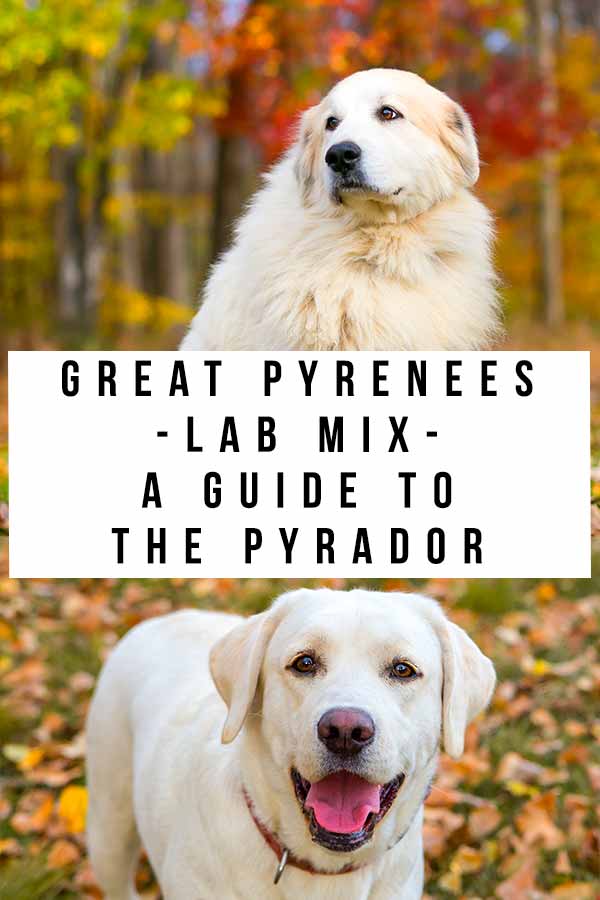 Pyrador Appearance
As we know, this mix can inherit any traits from either parent breed. So, puppies can look like Labs, Great Pyrenees, or anything inbetween. A Great Pyrenees and Lab mix will have a double-coat, which may be short like the Lab's coat or long and thick like a Pyrenees' coat. A popular variety is the Great Pyrenees black Lab mix, to achieve that black coat. But, a Great Pyrenees black Lab mix will still have unpredictable fur lengths.
Depending on which parent a Lab and Pyrenees mix resembles, her coat may be solid yellow, black, or chocolate like a Labrador. Or her coat may be white or off-white with badger, gray, tan, or reddish brown markings like a Great Pyrenees.
Grooming
The Pyrenees sheds its entire undercoat seasonally, and the Lab also sheds pretty heavily seasonally. So, a half Lab half Great Pyrenees will definitely be a heavy shedder.
To combat all of the hair, especially if a Pyrador has a long outer coat, you'll want to run a brush over their coat at least weekly. The good news is, a Pyrador with a typical Great Pyrenees coat will not need much other grooming, as its coat will be tangle- and dirt-resistant.
Are Pyradors Hypoallergenic?
Unfortunately the Great Pyrenees and the Lab are both high shedding breeds. Your puppy will be a shedder, and not an allergy friendly pet.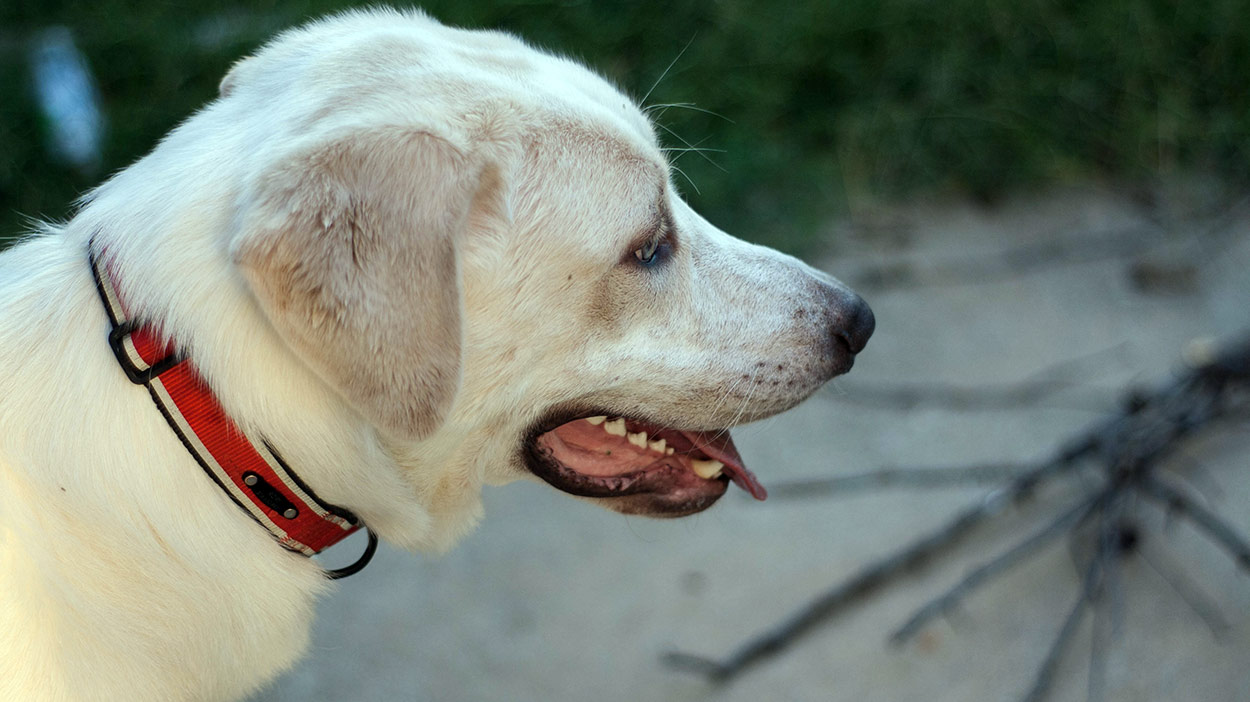 Pyrador Height and Weight
With both parents being larger dogs, a Great Pyrenees and Lab mix definitely has some big shoes to fill. According to Labrador and Pyrenees' standard sizes, a Pyrador may reach anywhere from 21.5 to 32 inches tall at the shoulder.
Pyradors that take after the Lab parent's size will be a bit smaller, while those which take after their Great Pyrenees parent will be the largest. Generally speaking, females will be shorter and lighter than males.
Pyradors may weigh anywhere from 55 to 100+ pounds, but many do not reach full Pyrenees height and weight.
Great Pyrenees Lab Mix Temperament
Both parent breeds of this mix were once working dogs. Labradors are categorized now as sporting dogs, whereas the Great Pyrenees is categorized in the working group. The mix can inherit the patience of the Pyrenees with just a little bit of playfulness from the Labrador. But, not all Pyradors have the temperament that we described above.
Mixed breeds can be an equal mix of both parents, or they make take after one parent more than the other. So a Pyrador might be a mostly quiet and patient dog with a little bit of protective instinct, like his Great Pyrenees parent, or he might be a little more rambunctious with retrieving instincts, like his Labrador parent.
Pyrador Personality
A dog with strong Great Pyrenees genes may have a tendency to herd or chase after other dogs, cats, or other small animals. This could make them hard to keep in a multi-pet household. Plus, they may exhibit guarding tendencies and be extremely loyal to their owners and property. They may bark and growl at someone or something that they perceive to be a threat to their home.
Pyradors with stronger Labrador tendencies may be highly energetic and prone to mischief. If a Pyrador acts more like a Lab, then they may have an issue with being left alone for extended periods of time. Labs do not take kindly to solitude and need a friend. Have them let out by a dog walker a couple of times if you're not able to be home.
They can also be quite destructive when they are upset or bored. With their powerful jaws, they can chew through just about anything that's not an indestructible dog toy.
Are They Good With Kids?
Most Pyradors are great with children. But we do recommend that you supervise play between children and Pyradors, as the Pyrador's large size may make play a little too rough with small children.
Training
Crate training is often useful for many owners of this mix. As Pyradors will often be very large, puppies must undergo obedience training from a very young age.
They may not know their own strength when they are fully grown, and the friendliest pup can easily hurt someone without meaning to. Training will help you avoid this scenario. It can also help to reduce hunting instincts. Although, it may be best to avoid the risk, and choose a different breed if you have other small pets at home.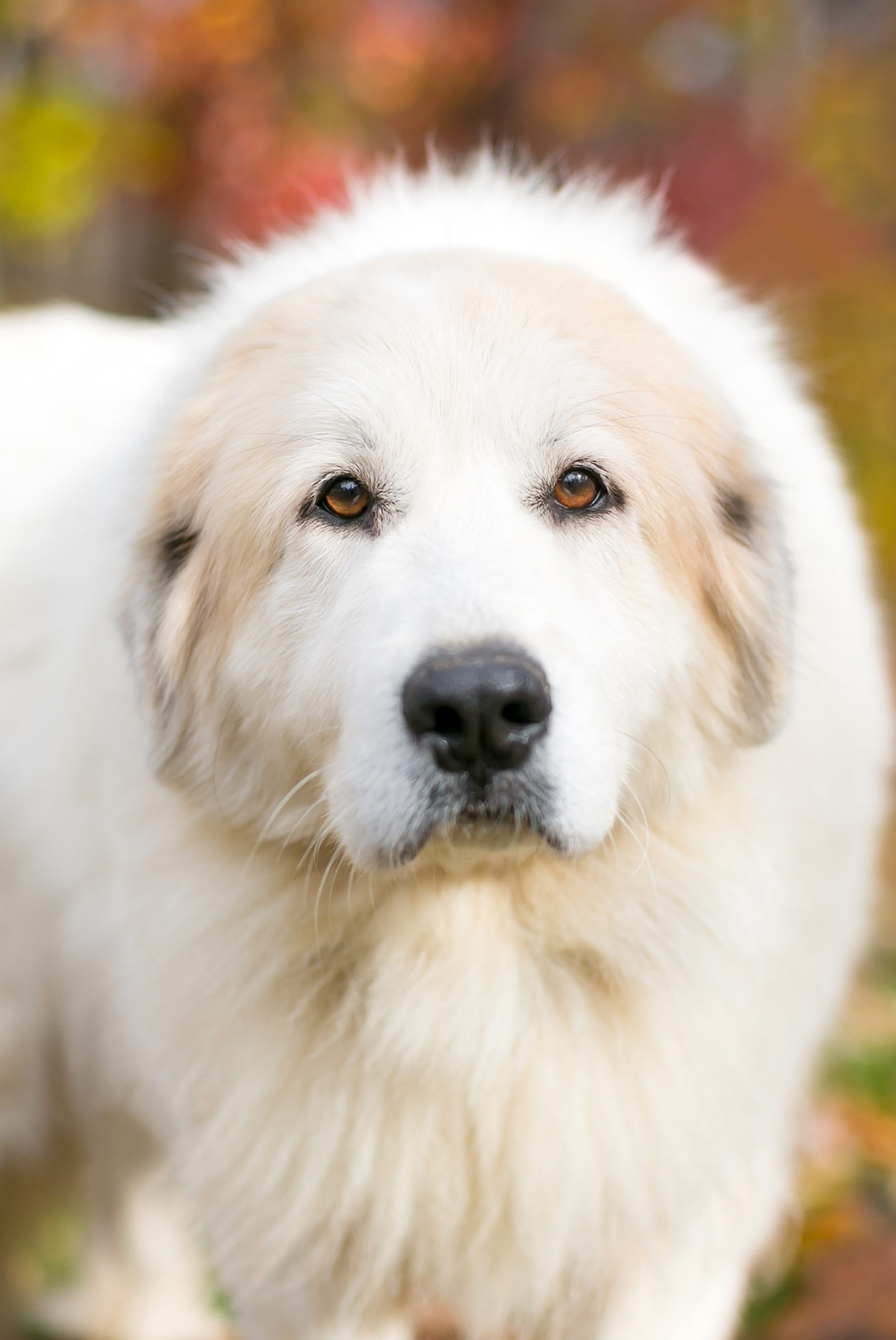 Exercising Your Pyrador
While both parent breeds were working dogs, Pyrenees mixes do not necessarily require a large yard to roam in. They are usually fine if they get at least one long walk in each day.
If they have a little more of the Lab's energy, then they could use some extra play time. You'll need to keep a close eye on a Great Pyrenees Lab mix that's off leash in an open area. His old hunting instincts may lead him to follow his nose or a tasty-looking bunny!
If a Pyrador has English Lab in him, he may not inherit as strong of a hunting instinct. Any Pyrador would do better with a fenced-in yard to keep them from wandering after a scent or running an "intruder" off.
Pyrador Socialization
As well as training from a young age, this mixed breed will need to be well socialized as early as possible. This means introducing your puppy to as many new environments, people, things, and animals as possible.
Socialization can help to reduce fear based aggression in puppies, and will help your dog grow up to be happy and confident in all situations.
Dogs with potential guarding tendencies should be socialized well to combat the risk of aggression as adults. Given the protective instincts of the Great Pyrenees parent, and the sheer size of this mix, socialization is important for all new owners.
Hybrid Dog Health
Some people mistakenly believe that hybrids are achieved through inbreeding and/or are riddled with health issues due to them being a combination of breeds. However, as long as breeders health test dogs they intend to breed from, and avoid inbreeding of any kind, their mixed breed puppies are just as healthy as purebred dogs.
Purebred dogs are just as likely to have health problems as mutts. It all comes down to the following:
the health of the breeding stock that start and maintain the line
the conditions in which the parents and offspring are kept
whether or not inbreeding is used to produce second and older generations.
Continuing to breed dogs with known health issues always results in more dogs with health issues. It doesn't matter if they are a purebred or a mutt.
Great Pyrenees and Labrador Health
Pyradors may get any common canine ailments like hip dysplasia, eye diseases, allergies, and skin irritations. As a hybrid, Pyradors are subject to genetic conditions which are passed from their parents.
Generally, Labrador Retrievers and Great Pyrenees are both prone to obesity, hip and elbow dysplasia, and progressive retinal atrophy (PRA).
We cannot emphasize enough that you should purchase a Pyrador from a breeder that utilizes genetic testing. Knowing the genes that breeding stock will pass to their offspring can prevent the passage of unwanted health conditions. But, a healthy Pyrador can be expected to live for 10-12 years.
Do Great Pyrenees Lab Mixes Make Good Family Pets?
For the right family, the Pyrador mix can be a great choice. Their exercise needs, temperament, and appearance will vary depending on the traits they inherit from each parent breed. If they take after the Lab, they will be friendly, energetic, and playful. Those that take after the Great Pyrenees will be loyal, have guarding tendencies, and will need less exercise.
That doesn't mean that a Pyrador will be happy in a small home or apartment, though. A large dog does need some room to move around while they're inside, after all! An enclosed area for a Pyrador to roam outside in is a good idea.
They may inherit the Lab's love of sniffing out game. Or they might get the Pyrenees' tendency to go after people, animals, or things which they perceive to be a threat to their home. So, train and socialize this mix well from the time they come home as a puppy.
Although the Labrador is a fairly healthy dog, the Great Pyrenees may pass on one or more of the several health conditions common in their breed. So, choose the healthiest puppy possible. Or, consider rescuing an adult.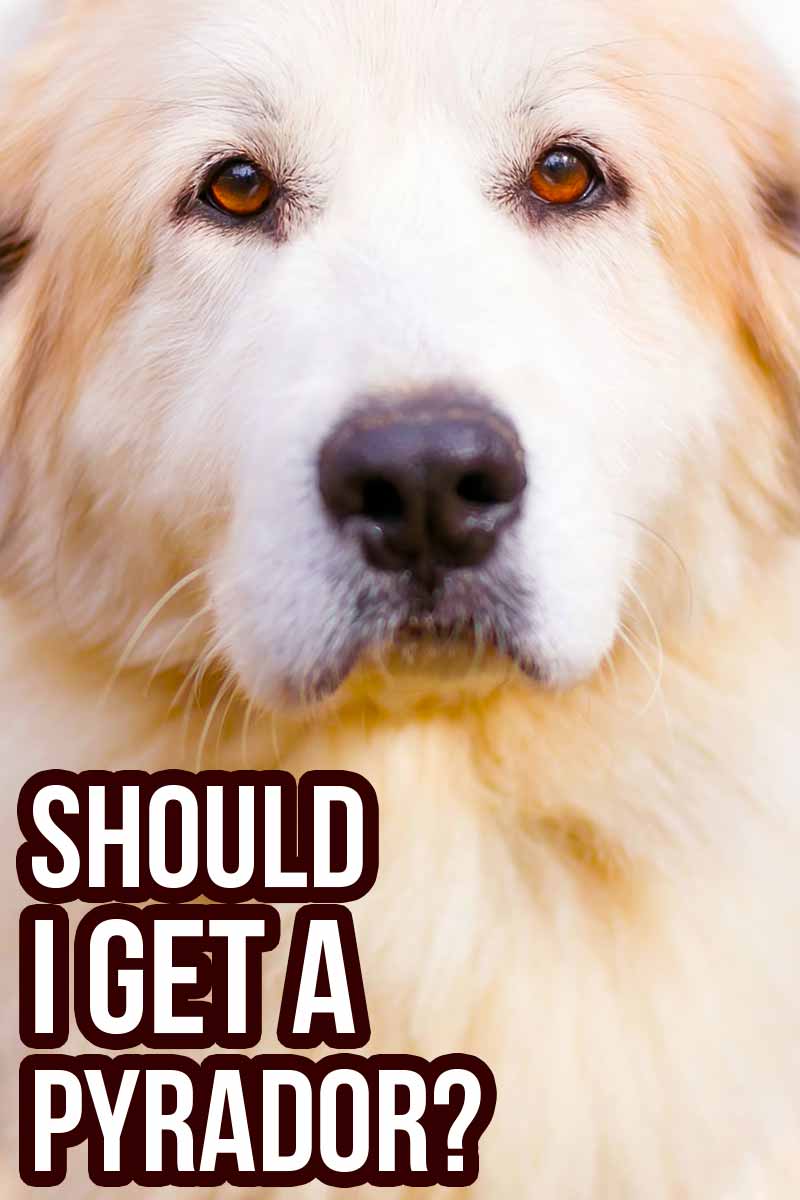 Rescuing a Great Pyrenees Lab Mix
You don't have to buy a puppy from a breeder to get your very own Pyrador! All too often, adult dogs from all walks of life end up in shelters or animal rescues. This can be because their owners could not keep them for one reason or another.
Due to the number of health issues this mix can inherit from the Great Pyrenees parent, adopting an older dog can be a good way to give an abandoned adult a second chance at life. Some owners may give up their dogs as soon as they encounter costly health bills. So, you may find these mixes in rescues looking for loving homes.
Pyrador Breeders
Before buying a Pyrador, we recommend that you carefully research Pyrador breeders so that you only purchase from a responsible breeder. Responsible breeders use genetic testing to prevent the passage of undesired traits or health conditions.
They also keep their breeding stock (and puppies) at a good weight and in clean conditions—always. If a breeder does any of the following, then you might want to look for a puppy elsewhere:
is unwilling to show you their entire facility
has breeding stock or puppies that look ill
does not use genetic testing
The price that you'll pay for Great Pyrenees Lab mix puppies will vary based on how valuable the parents are to the breeder, the availability of puppies, and whether or not they've received various veterinary services (such as spaying, neutering, vaccines, etc.).
A Pyrenees Lab mix puppy may cost you anywhere from $500 depending on your location and the above factors.