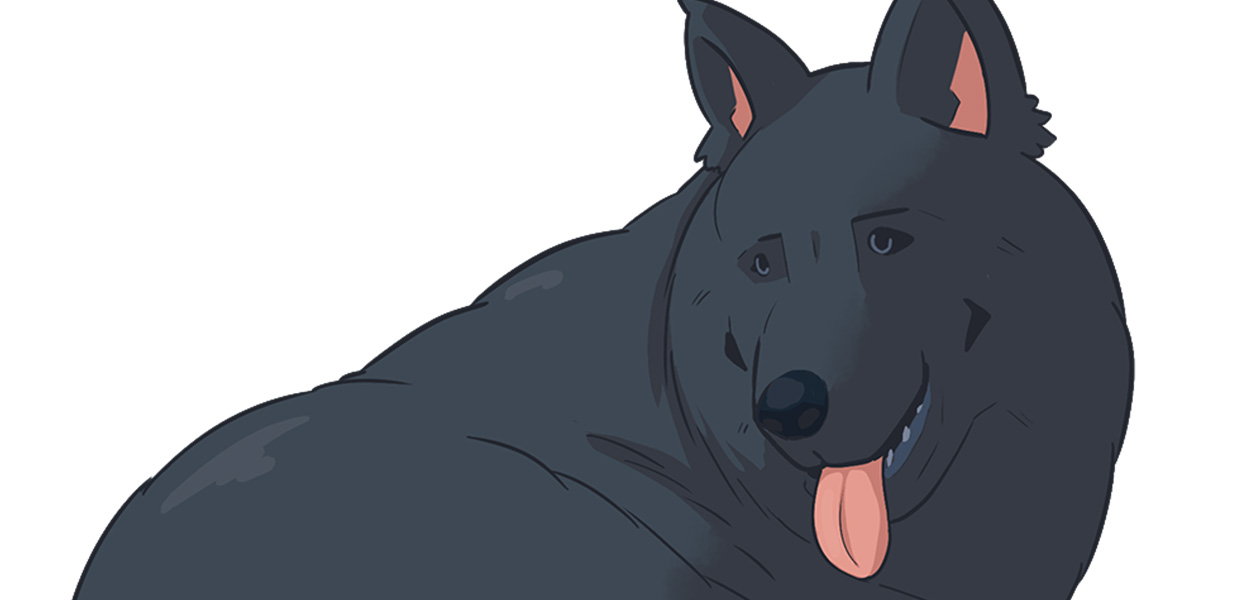 Blue Bay Shepherd dogs combine traditional European German Shepherd traits with wolfdog qualities, in a huge 70-130lb package. A recent breed established in 2011, they cross lines of French, Dutch and German German Shepherd dogs with fifth generation wolf dogs. Their dramatic looks and confident temperament have attracted widespread interest. They are affectionate, loyal and easy to train, with the breeder Vicki Spencer selecting for dogs that don't guard and are not aggressive. Today we'll share the breed traits and characteristics of the new dog breed, the Blue Bay Shepherd. A Florida dog breeder's attempt to create the ideal pet dog, we'll see how well they might fit with the average family and lifestyle.
Contents
New breeds like the Blue Bay Shepherd always come with some risks and challenges. Today we'll get to know the idea behind creating a new dog with such a distinctive look and character. Getting to know their benefits, and the potential pitfalls to look out for. Then you can decide whether this is the best dog for you, or to stick with something more mainstream like the German Shepherd or Belgian Malinois.
What is a Blue Bay Shepherd?
Blue Bay Shepherds are intended to capture some of her favorite physical features of wolves, in a breed which doesn't have the stigma of being a wolfdog. Several working dogs have contributed to their make up, but Blue Bays themselves are designed to be pets and live happily in people's homes as companion animals.
Blue Bays should capture the appeal of a wolfdog, but with a temperament which means they're less likely to be relinquished at a shelter because their owner can't cope. Less than 10 years ago no one had heard of these dogs at all. But today, increasing numbers of hopeful puppy-seekers are looking for information about Blue Bay Shepherds.
Popularity: Not very well known – yet
Purpose: Companion dog
Weight: Females 70-100lb, males 85-130lb
Temperament: Affectionate, active, high maintenance
Blue Bay Shepherd FAQs
Blue Bay Shepherd owners can't walk their dogs far without stopping to answer questions about them! Some of the things people most often want to know are:
History Of The Blue Bay Shepherd
The Blue Bay Shepherd is the life's work of one woman, called Vicki Spencer. Unlike many established dog breeds, which were founded decades, centuries, or even millenia ago, the Blue Bay Shepherd is a thoroughly modern breeding project.
Which means we have unprecedented access to information about how they started out and what Spencer is trying to achieve, via her writing and interviews.
The first litters of foundation Blue Bays were born in March 2011 by crossing blue-coated wolf dogs with traditional European German Shepherds. Since then, Spencer says five more breeds have contributed to the Blue Bay Shepherd gene pool, and she plans to outcross with one more breed before closing the studbook.
She's kept the exact genetic recipe of Blue Bay Shepherds closely under wraps, but anecdotal reports from people who have bought her dogs then paid for genetic testing suggest that Alaskan Malamutes and Siberian Huskies have contributed.
Are Blue Bay Shepherds Wolfdogs?
Blue Bay Shepherds have been created by crossing Spencer's own stock of wolfdogs with other domestic breeds. The first litters of Blue Bays were six generations removed from their nearest wolf ancestor, and Spencer says the ideal proportion of wolf heritage in a Blue Bay is about 6%.
However, since the breed is still being established by outcrossing (mating with other breeds) and linebreeding (mating related individuals) the amount of wolf heritage in each litter is still highly variable. And Spencer concedes some Blue Bays are still more wolf-like than she intends the finished breed to be.
Fun Facts About Blue Bay Shepherds
Blue Bay Shepherds get their name from their color, and the location where Spencer breeds them: Palm Bay, Florida.
What Do Blue Bay Shepherds Look Like?
Blue Bay Shepherd are being bred to have some very specific features:
their blue coat
upright triangular ears, which aren't too large or tall
light colored eyes
and a straight back.
So Blue Bays have all of these. Their coat can be long, or a medium-short length known as 'plush'. Obviously it is not literally blue – it's a slate grey color, which often fades gradually as they mature.
How Big Are Blue Bay Shepherds?
Blue Bay Shepherds are HUGE dogs. Females typically weigh 70-85lbs, and up to 100lbs. Males usually weigh between 85-105lbs, but have reached 130lbs.
Stood on their hindlegs, they are easily tall enough to give you a big friendly lick around the chops. Something they seem quite fond of doing!
Blue Bay Shepherd Temperament
A Blue Bay Shepherd should be affectionate, gentle, and trainable. In fact early Blue Bay Shepherds have been notable for just how much they love people.
They are not shy or timid, and Spencer has specifically avoided breeding from individuals with guarding tendencies, which also means they don't tend to bark very much either. And whilst Blue Bays have a couch potato side, they also have rampant energy.
Owners report that they need several hours of exercise a day, and quickly resort to destructive behavior and escape artistry if they don't get it.
They're also power-chewers, and clever enough to open doors and latches.
So how do you harness all that energy and ingenuity for good?
Training A Blue Bay Shepherd
Since Blue Bays are so big, it's especially important to teach them good manners. Their size is going to intimidate people on walks, knock people to the ground if they jump up, and make them difficult to control if they pull on a leash.
Good training begins with socializing them as a puppy, so that they respond calmly and confidently to new people and environments when they're grown up.
Like all breeds the best way to teach them good manners is by using positive reinforcement to reward the right behavior. Using punishment will only reduce how much control you have over them, and potentially make them resort to aggression.
Blue Bay Shepherd Exercise
It will be important not to over exercise a Blue Bay as a puppy. It takes longer for the joints of large breed dogs to fully mature, and too much impact on them in the meantime can cause permanent damage. But once they're fully grown, Blue Bays will need several hours of outdoor exercise every day.
This makes them ideal for people who love hiking or running, or who have a serious commitment to participating in dog sports.
Health And Care
Being part of the origin story of a new breed is an exciting prospect. But it comes with lots of unknowns, and one of those is how the overall health of the breed is going to turn out, or what their average life expectancy will be.
Spencer has said that she is trying her best to avoid hip problems in Blue Bay Shepherds. However, hip dysplasia is a widespread hereditary hip disease among large dog breeds, and especially German Shepherds, which have contributed so much to the Blue Bay breed.
The Shiloh Shepherds and King Shepherd are both examples of new dog breeds created from GSDs, which were meant to turn out bigger and yet have healthier hips. But data from individuals screened by the Orthopedic Foundation for Animals so far suggests that they haven't worked.
It will be a while yet before we have sufficient volume of data about Blue Bay Shepherds to say whether they are a healthy breed or not.
Joint disorders
Joint disorders such as hip, elbow and shoulder dysplasia are common among large dogs. They are partly hereditary, and partly more likely because large dogs' joints take longer to mature, which means a longer period of growth during which they are still 'soft' and vulnerable to damage.
The risk of passing joint disorders from one generation to the next can be minimized by screening breeding dogs before mating takes place.
Bloat
Bloat is a sudden-onset condition which affects large and deep-chested breeds. It occurs when the stomach twists back on itself and becomes a sealed chamber.
Bloat can be prevented by not exercising a dog too soon after eating. When it happens it is fatal without surgical intervention, so owners of at-risk dogs should make sure they are familiar with the symptoms.
Are Blue Bay Shepherds Inbred?
Inbreeding depression is a reduction in biological fitness caused by mating related individuals. Spencer has written about using line breeding (breeding related dogs) to fix desirable traits in the Blue Bay Shepherd.
Line breeding is not unusual, or even very controversial, in order to establish a new breed, or even maintain a popular line of a well-established breed. However, it's not risk-free. Signs of inbreeding depression caused by line breeding include reduced fertility and smaller litter size. In German Shepherds, it has been linked to an increase in hip dysplasia too.
Blue Bay Shepherd Grooming And Feeding
Typical. Blue Bays look wild and rugged, but they're not above needing some pet-like pampering! Their coats need regular brushing to sweep out dirt and debris.
Blue Bay Shepherds with long coats also need extra attention to remove matts and tangles. And these big, energetic dogs have big appetites!
Dog over 100lbs can eat around 5 cups of food a day, and some owners report that these particular dogs have sensitive tummies too. Which can mean paying a premium for grain-free or limited-ingredient diets.
Do Blue Bay Shepherds Make Good Family Pets?
Blue Bay Shepherds are a blend of clever-but-intense working breeds, and wolfdog hybrids. They are widely praised for being friendly and affectionate, but most people who already own one seem to agree that they're not for the faint of heart!
These energetic dogs are best suited to experienced dog owners with outdoor lifestyle and lots of time to dedicate to training and exercise. Due to their size and how much attention they need, we wouldn't recommend them to families with young children.
They seem to get on well with other dogs, and some owners report them getting on well with cats too. But their prey drive isn't widely documented yet, so it's probably something of a gamble to introduce them to a household with anything smaller than a cat already in residence.
Pros And Cons of Getting A Blue Bay Shepherd
Here are the most significant joys and drawbacks of life with a Blue Bay Shepherd.
Cons
Expensive to buy and keep
Needs a lot of exercise
Easily bored – prone to destroying things and trying to escape
Very limited information available about overall breed health
Pros
Very affectionate
Striking to look at
Great companions for people who spend a lot of time outdoors
Easier alternative to a wolfdog
Finding a Blue Bay Shepherd Puppy
If you would still like to pursue life with a Blue Bay Shepherd, there are two things you need to know.
Firstly, your local laws about owning wolf hybrids.
Because some states outlaw them altogether, in which case the Blue Bay is a no-go from the outset. Others require a license, or place a limit on how much wolf ancestry a dog can have.
And secondly, that there is only one breeder of Blue Bay Shepherds
At the time of publication, Blue Bay Shepherds are still a work in progress. While a breed is being founded, it isn't as straightforward as saying that when two of them mate, all their puppies automatically belong to the same breed.
There is still a lot of variation among the offspring, and the founding breeder gets to decide which ones represent the standard they're working towards.
It's only when the studbook closes that puppies of two Blue Bay Shepherds will automatically also be Blue Bay Shepherds.
So for now, the only way to get a Blue Bay Shepherd puppy is from Vicky Spencer herself.
How Much Is A Blue Bay Shepherd?
Spencer hasn't publicly disclosed how much she charges for Blue Bay Shepherd puppies, but people who have bought one so far report paying between $3,000 and $3,200.
It's a steep sum, but bear in mind that you'll also need to pay for collection (or shipping) from Florida, not to mention all the things puppies need in their first year of life, including:
Vaccination fees
Food
A very secure crate or playpen
Raising A Blue Bay Shepherd Puppy
Caring for a Blue Bay Shepherd puppy is a big undertaking. There's lots you won't know at the outset about how your new friend will turn out. Including details of their temperament, how much attention and training they need, and what their long term health is likely to be like.
All puppies need potty training. And a breed like the Blue Bay who might damage your house while they're unattended will benefit from crate training too.
As they grow up, Blue Bays will enjoy these training games designed for German Shepherds. For maximum support, online courses like our Dogsnet Training Program will hold your hand every step of the way.
Similar Breeds
Blue Bay Shepherds are rare, expensive, and in many respects, a bit of a gamble.
They're not for everyone, so in one or more respects, these breeds are all great alternatives to consider:
Alaskan Malamute
Irish Wolfhound
Great Pyrenees German Shepherd Mix
Mini American Shepherd
Do You Have A Blue Bay Shepherd?
Are you one of the few who already own a Blue Bay Shepherd?
Would you recommend them to more people in future?
Let us know in the comments box!
References And Resources
Southern Breeze Ranch Blue Bay Shepherds, accessed June 2020.
Leroy, Genetic diversity, inbreeding and breeding practices in dogs: Results from pedigree analyses, The Veterinary Journal, 2011.
Cavanagh & Bell, Veterinary Medical Guide to Cat And Dog Breeds, CRC Press, 2012.