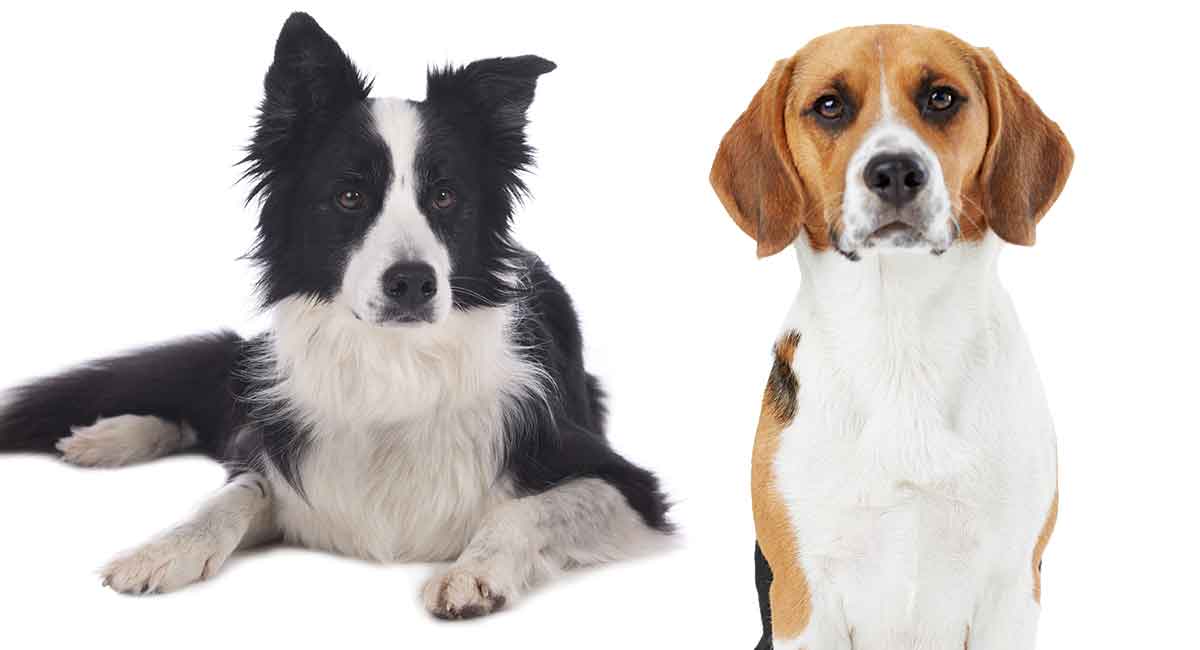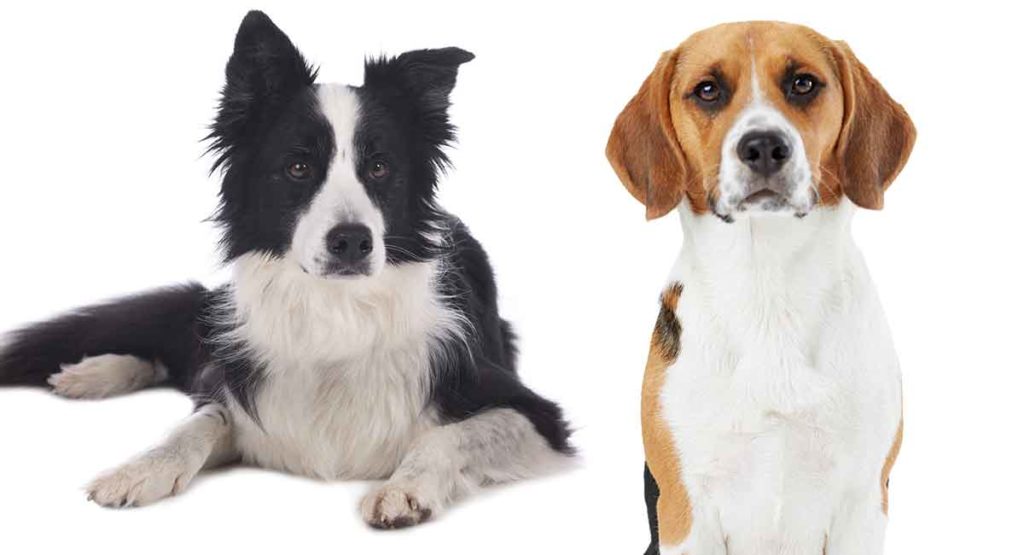 The Border Collie Beagle mix is a hybrid between a Border Collie and a Beagle.
Many of these crossbreeds have the nose of the Beagle and the herding instincts of the Border Collie.
This makes them unique, but also a little bit unpredictable.
To the right family, though, these dogs can make great pets.
To figure out whether or not this breed is right for you, we wrote this complete guide with everything you might need to know about this unique dog.
Where Do Border Collie Beagle Mix Come From?
The beagle can be traced back to Ancient Greece, where they were bred to hunt hares. The breed later showed up in Britain during the Norman Conquest.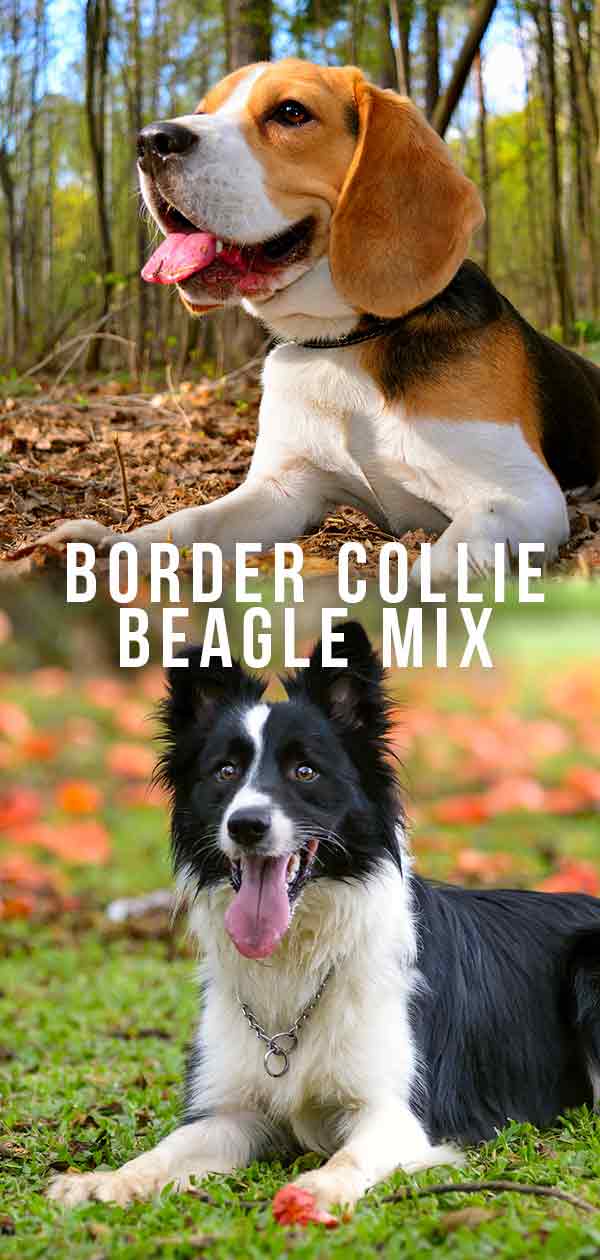 Throughout the years, the Beagle has changed very minimally. It is still doing what it did in antiquity – tracking rabbits.
The breed did not become fully "modernized" until the 1830s, however, when Reverend Honeywood began breeding the canines.
It was during this time that the rough- and smooth-coated varieties of the beagle emerged. Sadly, today the rough-coated variety is extinct.
While the beagle was made for tracking, the border collie was bred for herding.
The Border Collie was originally bred in Scotland, where it was used to herd sheep.
The Border Collie we know today did likely not exist until the 1890s.
At this time, a dog named Old Hemp was born.
This dog had a unique herding style that sheep responded to quickly.
Recognizing his natural ability, he was bred to create the breed we know today.
This dog became the ancestor of every modern Border Collie and sired nearly 200 puppies in his lifetime.
The traditional Border Collie herding style is the same one that was recognized in Old Hemp.
The Border Collie Beagle mix is a crossbreed between these two dogs.
Mixing Breeds
Many people claim that crossbreeds are unhealthier than purebred dogs.
Or claim that they should be avoided because they are "only mutts."
However, many crossbreeds are free from the inherited disorders that many purebred dogs face.
Animals with more genetic diversity are healthier than those from smaller breeding pools.
Mixed breed dogs have a higher genetic diversity than purebreds, making them healthier overall.
This is called hybrid vigor and is recognized in many species.
In other words, just because the Border Collie Beagle mix is a hybrid does not mean that they are dangerous dogs or unhealthy.
They can be healthier than either of their parents.
Fun Facts About Border Collie Beagle Mix
The word "beagle" literally means "loud-mouth," which is quite fitting!
The first beagles were miniature, standing at only eight to nine inches tall.
It wasn't until later that they were bred into the medium-sized hounds we have today.
Queen Elizabeth was a considerable Beagle fan and owned many pocket Beagles.
President Lyndon Johnson also owned two beagles, named Him and Her.
The name Border Collie comes from the region the dog was bred in.
They thrived mostly in the border between Scotland and England. And, the word "collie" is Scottish for sheepdog.
Queen Victoria loved Border Collies.
Border Collies are also the holders of many records.
One Border Collie named Chaser is recognized as the world's smartest dog.
Another one named Jumpy holds the Guinness World Record for dog skateboarding.
Border Collie Beagle Mix Appearance
Because this dog is a mixed breed, you never really know what you're going to get.
They could look just like a Border Collie, just like a Beagle, or as an even mixture of both.
They will likely be tri-colored, though they come in black-and-white as well.
Their fur can either be longer like a Border Collie's, or short and rough like a Beagle's.
Either way, their coat will likely be water-repellant.
As a medium-sized dog, they usually weight somewhere between 20 and 40 pounds and stand between 15 and 23 inches.
They have a stout body and sturdy legs. Because both of their parents were bred to work, these dogs are very sturdy.
Border Collie Beagle Mix Temperament
Because of the Border Collie's herding instinct, this mixed breed can also have strong herding instincts.
This makes them generally unsuitable for homes with small children.
They may attempt to "herd" the children, which can result in biting.
This instinct cannot be "trained out."
The Beagle also has a strong prey drive and trail instinct.
Once they catch the smell of a prey animal, it is nearly impossible to shift their attention back to you.
Because of this, fences and leashes are a must have for this mixed breed.
Without the proper preparations, they can quickly become lost after following a trail.
Luckily, this mixed breed will likely be very cooperative.
Both the Beagle and Border Collie are willing to follow their owner's commands readily, as long as their instincts aren't involved.
This breed will likely not make a good guard dog.
The Beagle is an amiable dog, even with strangers. This trait can be passed down to the mixed breed.
Neither the Border Collie or Beagle are particularly aggressive towards people or other animals.
This breed will probably thrive off of interactions with other dogs due to the Beagle's pack instincts.
Training Your Border Collie Beagle Mix
The trainability of this mixed breed can vary quite a bit. The Border Collie is a brilliant dog who can pick up on commands very quickly.
But the Beagle… not so much.
Depending on what traits this hybrid inherits, they can either be very trainable or not.
We recommend getting started on crate training and potty training early.
You should also begin leash training as soon as possible.
The Beagle is known to run after animals and scent trails. So, a leash is always necessary when you are outside.
While the Beagle is a friendly dog, the Border Collie is more reserved.
We recommend socializing this mixed breed early and often.
You don't know what side this mixed breed is going to end up on.
This mixed breed will need high to moderate amounts of exercise.
The Border Collie is very active and has a tremendous amount of stamina.
But the beagle is a more laid-back dog.
This mixed breed could fall in either category depending on what traits they inherit.
Border Collie Beagle Mix Health
This mixed breed is exceptionally healthy.
Because both of their parents are designed for work as opposed to looks, they do not suffer from conformational disabilities like many other canines.
The only major health problem you have to be concerned with is Hip Dysplasia.
This is common amongst nearly every dog breed. Though it has improved in recent years with careful breeding practices, it is still essential to keep an eye out for it.
Epilepsy is also somewhat common among Beagles.
However, the diagnosis is still very rare. And, since the Border Collie Beagle mix is not a full-blooded Beagle, it is only a minor concern.
Despite this breed's healthiness, you should still check on the health of the particular puppy's parents before committing to adopting him.
The hips of the Border Collie parent should be paid particular attention to. And you should ask about whether or not hip dysplasia appears in any near relatives.
With proper care, this breed can enjoy a long lifespan of up to 15 years.
Grooming requirements will depend on the coat type.
But we recommend at least brushing your canine once a day. Both parent breeds can shed quite a bit.
You should also be prepared to trim their nails. Border Collie's nails grow very fast.
So, it is likely this mixed breed's nails will grow fast as well.
Do Border Collie Beagle Mix Make Good Family Dogs?
These healthy dogs can make great pets to the right family.
We do not recommend them for families with small children.
The Border Collie's herding instinct can be passed onto this hybrid, which can result in biting as the dog tries to "herd" the child.
We also highly recommend a fenced in yard or a family with plenty of time for walks.
These dogs do require moderate to high amounts of exercise.
And, with the Beagle's tracking instinct, it can become effortless for them to get lost without close outdoor supervision.
Rescuing a Border Collie Beagle Mix
If you decide to rescue a border collie beagle mix, there are a few things you should keep in mind.
It can be challenging to locate a particular mixed breed at a rescue center or shelter.
We recommend contacting local or specialized shelters and letting them know what you're looking for.
Many will not mind calling you if a dog that fits your needs happens to walk through their door.
Once you adopt the dog, prepare to provide plenty of time for them to adjust to the new space.
These dogs are usually very friendly and will settle in quickly.
But it is essential to give them the necessary downtime.
Exercise can help with this settling in process.
We recommend beginning an exercise routine as soon as you bring your canine home.
Introduce this breed very carefully to cats and small children.
The Border Collie's herding instinct combined with the Beagle's prey instinct can make these interactions tricky.
Finding a Border Collie Beagle Mix Puppy
If you want a Border Collie Beagle Mix puppy, your first stop should be at a qualified and ethical breeder.
You should avoid pet stores and puppy mills.
These places generally do not follow ethical breeding practices and can have unhealthy dogs.
Your best bet is going to be contacting a breeder.
Even if they don't have the specific dog you're looking for; they might be able to point you in the direction of someone who does.
For a complete step-by-step guide of finding a puppy, you should check out this article here.
It breaks down the key concepts you should have in mind while searching for the perfect puppy.
Raising a Border Collie Beagle Mix Puppy
Everyone wants their puppy to be happy and healthy.
For this to happen, we have put together a whole section of articles dedicating to helping you properly care for your puppy.
We particularly recommend learning how to properly clean a puppy's ears, since these floppy-eared dogs often have problems with built-up ear wax.
Border Collie Beagle Mix Products and Accessories
Due to this breed's possible high intelligence, finding toys can be somewhat hard.
We recommend browsing through our article on Border Collie toys and picking up a few.
These toys will prevent your canine from becoming bored and help them get the exercise they need.
You should also purchase a leash and harness for your canine.
It is imperative that this breed is walked on a suitable leash to prevent them from getting lost.
Pros and Cons of Getting a Border Collie Beagle Mix
This dog's herding and tracking instincts make them unique.
But this can also get them into a lot of trouble.
They are not particularly good with children and can get lost quite easily.
However, they can make great pets for the right family.
Similar Border Collie Beagle Mixes and Breeds
Any mixed breed that shares one of this breed's parents is going to be somewhat similar.
To a lesser extent, herding and hunting dogs will be similar as well. But it is important to remember that this unique dog is just that – unique.
Check out some of the breeds below:
Border Collie Beagle Rescues
Here is a list of rescues where this dog breed might be available:
Is a Border Collie Beagle Mix Right For Me?
If you're looking for an active dog with unique instincts, this one is for you.
They make excellent dogs for older families and those that live an active lifestyle.
Resources and References
Johnson. "A note on the supposed olfactory hunting-responses of the dog." Journal of Animal Behavior. 1914.
Koestner. "Idiopathic epilepsy in a beagle colony." Europe PMC. 1968.
Arden, Rosalind. "A general intelligence factor in dogs." Intelligence. 2016.
Blackshaw, Judith. "An overview of types of aggressive behavior in dogs and methods of treatment." Applied Animal Behavior Science. 1991.
Lewis, Thomas. "Comparative analyses of genetic trends and prospects for selection against hip and elbow dysplasia in 15 UK dog breeds." BMC Genetics. 2013.