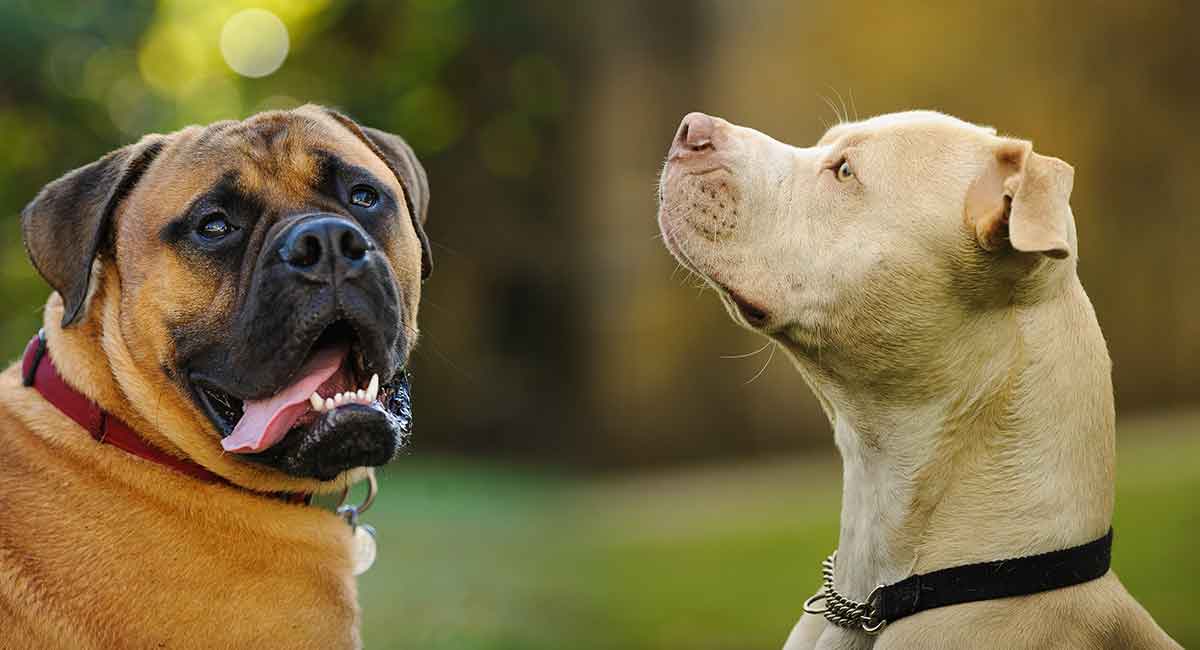 Pitbull Mastiff mix: Owning one of these dogs is a lot of responsibility. Here's what to expect.
This is a truly powerful crossbreed that can easily outweigh a grown man. Further, most adult humans are not capable of containing a Pitbull Mastiff's considerable strength.
However, if properly bred, trained and socialized, both of these parent breeds are naturally good-natured. English Mastiffs, for instance, are statistically far less likely to bite than Labrador Retrievers.
These breeds seem to compliment each other extremely well. For instance, while Mastiffs can be a bit standoffish with new people, Pitbulls usually have quite an affinity for strangers.
In addition, both breeds display admirable patience with children.
This compatibility seems to be a common theme across the board with this mix breed (see Pitbull Mastiff Mix Temperament).
More about Pitbulls:
As long as you are careful in selecting your breeder or adoptee, and properly socialize and train your dog, your Pitbull Mastiff should embody the spirit of a gentle giant.
Where Does the Pitbull Mastiff Mix Come From?
Mastiffs are an old, old breed. They have roots in ancient Gallic warfare. Julius Caesar noted his admiration for Mastiff-type breeds in his journal when he invaded Britain in 55 BCE.
When Caesar and his armies returned to Rome, they brought back the Mastiff-like dogs which were used in gladiator battles.
These Mastiff precursors spread across Europe, continuing to interbreed until the modern English Mastiff was popularized in medieval England as hunters, guardians and warriors.
Mastiffs continued this tradition up until World War II. Only 14 English Mastiffs in the United Kingdom survived the war. With the help of breeders in the United States and Canada, these numbers were later restored.
Cultural Significance
Throughout their history the cultural significance of the Mastiffs in England, America and the West in general is undeniable.
The American Pitbull Terrier also has origins in England, despite the breed's name. In England during the 1800s dog breeders started crossing various terrier breeds with bull-baiting dogs.
Immigrants brought many of these mixed breeds to the United States, isolating a population which grew into what we now know as the American Pitbull Terrier.
While the United Kennel Club recognized the American Pitbull Terrier in 1898, the American Kennel Club never did follow suit.
There is some recent history of breed based legislation surrounding the American Pitbull Terrier and the breeds, mixes and mutts often mistaken for them. Some cities have placed restrictions on American Pitbulls and breeds like them. Kearney, Missouri, for instance, bans any dog that bears five of eight 'Pitbull' characteristic.
Mixed Breed Controversy
Mixes and crossbreeds in general also have a contentious history. On one hand, skilled breeders are able to root out undesirable characteristics and diseases common in some breeds. Licensed, ethical breeders produce the most predictable animals.
On the other hand, mixing breeds also reduces the likeliness of disease. Mixed breeds are also more likely to come from a shelter.
Adopting a shelter dog that you are able to care for is always a worthy cause.
Fun Facts About the Pitbull Mastiff Mix
Chaucer wrote about the English Mastiff in The Canterbury Tales. According to the great poet and author, they are "as great as any steer" and capable of hunting lions.
Two English Mastiffs, as well as several oversized puppets, played Hercules in the 1993 movie The Sandlot according to David Mickey Evans.
Pitbulls are subject to bans in some American cities. However, breed-based legislation, in general, can be quite subjective. Labrador Retrievers, for instance, are banned in Ukraine.
Most research suggests that laws regulating responsible, caring canine treatment outperform regulations on specific breeds. You can read more here and here.

Pitbull Mastiff Mix Appearance
Predictability is always a good thing in a pet, and predictability is exactly what you'll get from a Pitbull Mastiff mix's appearance.
You can expect for a Pitbull Mastiff to be quite large, likely over 100 pounds. Some Mastiffs can be up to 230 pounds.
It will stand between twenty and thirty inches–over thirty inches may also be possible.
You should also expect to see a thick layer of muscle and skin coating your Pitbull Mastiff mix.
A Pitbull Mastiff's snout will be short but not flat.
Their coats will also be short and may be any color and pattern other than merle, which is not found in either parent breed.
Pitbull Mastiff Mix Temperament
Although both of these parent breeds sometimes find their way onto lists of breeds with high bite rates, it is very difficult to accurately report bite statistics.
In reports I have seen that suggesting Pitbulls and Mastiffs are prone to biting, all Mastiff-type breeds and Pitbull-type breeds are grouped.
This means that the one "breed" statistic reported accounts for several breeds. The American Kennel Club recognizes four mastiff breeds. The United Kennel Club recognizes eight and several others that are "mastiff-like in appearance."
However, the capital Mastiff refers to what is often called the English Mastiff or Old English Mastiff.
This article, for instance, reports the number of "Bull Mastiff/Mastiff" (already two separate breeds) bites, which apparently accounts for five separate breeds that bit 14 people. So on average 2.8 bites per breed, .2 bites less than the notoriously vicious Golden Retriever!
According to one study, even when journals do their best to properly categorize statistics, the initial reports from which these statistics are taken are more likely to be mistaken in overgeneralized, imposing breeds.
When I was a kid, my grandmother owned two Mastiffs simultaneously. Although you should never allow a child to prod at a dog, especially one with such powerful jaws, I myself can certainly attest to the patience of the English Mastiff.
Patient and Restrained
Mastiffs have long been admired for this temperament. Sydenham Edwards wrote the following of Mastiffs in the 1800 Cynographia Britannica (Cynographia meaning dog guide) even before their post-world-war demilitarization and pacification:
"His courage does not exceed his temper and generosity, and in attachment, he equals the kindest of his race. His docility is perfect; the teasing of the smaller kinds will hardly provoke. In a family, he will permit the children to play with him and suffer all their little pranks without offense."
Edwards also notes the restraint of English Mastiffs. When attacked, he writes, they often forgo biting completely, instead choosing to use their impressive size to placate other animals.
Similarly, well-socialized American Pitbull Terriers are known for their fondness of children and strangers.
I myself worked with a Pitbull mix named Whisky at my local animal shelter this past weekend that couldn't have been friendlier. But this, of course, is anecdotal. Readers should always be aware of the genetic predispositions of their pets.
The English baiting dog is a parent breed of the American Pitbull Terrier. They were bred to bite and hold "bulls, bears and other large animals." This breed was also later used for dog fighting.
It is highly recommended that owners carefully train and socialize American Pitbull Terriers and their mixes. Doing so should prevent any sort of aggression in your pet, which is hugely important with such a large, powerful mix of breeds.
Overall, this mix should be highly cooperative, loyal and restrained. Both breeds possess plenty of quiet confidence when properly trained and socialized.
Training Your Pitbull Mastiff Mix
All dogs, and particularly Mastiffs and Pitbulls, are happier, healthier and more pleasant when properly trained and socialized. Additionally, training large, powerful breeds is vital to the quality of life and safety of owners and those around them.
Similarly, all dogs, and particularly Mastiffs and Pitbulls, take best to gentle training. You may consider an extra tender training style with a Pitbull Mastiff in order to bring out the trust, bonding, loyalty and kindness that comes naturally to this cross-breed.
Praise based training is often possible with Mastiffs and their mixes, as they are extremely eager to please their humans. Some studies note benefits to praise based training that is backed by neural-imaging of dog-brains.
Predicting the amount of exercise a Pitbull Mastiff mix might need for health and temperament reasons is difficult.
Mastiffs require minimal exercise and are prone to joint troubles if over-exercised.
Pitbulls, however, require a quite a lot of exercise. You'll need to observe any particular Pitbull Mastiff mix to know what it really needs–but don't worry, they won't be shy about any pent-up energy.
Pitbull Mastiff Mix Health
Pitbulls and Mastiffs both require extreme attention to diet in their puppy phases to ensure proper health. I highly recommend consulting with a veterinarian to build a feeding plan that is specific to these two breeds as there is a lot of information to account for. You can find out more here and here .
All large breeds, especially Mastiffs, are predisposed to skeletal growth deformities related to overeating. This is because large breeds grow in proportion to their diet.
Although you certainly shouldn't underfeed your Pitbull Mastiff mix, overfeeding them will cause them to grow too fast and develop weak bones and joint.
You'll even need to carefully consider the nutritional makeup of your dog's diet to prevent disease. An overabundance of calcium, phosphorus and potassium can also lead to bone and joint deformities.
Potential Predispositions for Pitbull Mastiff mixes
hip dysplasia
joint issues
thyroid disease
allergies
skin infections
nerve disease
ichthyosis
cerebellar ataxia
bladder stones
blindness and other eye diseases
babesiosis
cleft lip or cleft palate
and heart conditions
It is crucial that you have all your current dogs and any potential adoptees health screened. A Pitbull and Mastiff mix would need screening that included:
Hip evaluation
Elbow evaluation
Ophthalmologist exam
Cardiac exam
Thyroid evaluation
L2HGA DNA test
NCL DNA test.
Do Pitbull Mastiff Mixes Make Good Family Dogs?
In short, yes, Pitbull Mastiffs make excellent family dogs. Both breeds are noted for their patience with and affinity for children.
Both breeds are also extremely loyal to their humans.
Although Pitbulls have been selectively bred for aggression in the past, updated breeding specifications, proper socialization and Mastiff temperaments should virtually eliminate this risk in your mix.
Rescuing a Pitbull Mastiff Mix
Perhaps you already know of a Pitbull Mastiff mix at your local animal shelter, or maybe you are just keeping an eye out.
Rescuing this mix may be a good idea for experienced dog owners since rescues are inherently less predictable, and Pitbull Mastiff mixes are particularly imposing.
Finding a Pitbull Mastiff Mix puppy
It is extremely important that you do not acquire any puppies from puppy mills or pet shops. These puppies are not sourced from ethical breeders and are unpredictable as pets.
Unpredictable pets, especially powerful ones, are very dangerous.
Further, buying puppies from these sources supports their markets which are detrimental to animal rights.
This guide can help you find ethically sourced puppies.
Raising A Pitbull Mastiff Mix Puppy
Here you can find information in our potty, crate and behavior training guides . Training giant breeds like the Pitbull Mastiff mix is absolutely essential.
You should know that raising this mix-breed, in particular, is going to be expensive. They require a lot of food and skilled veterinary attention.
Pitbull Mastiff Mix Products and Accessories
You can find some of the best toys for Pitbulls here.
Pros and Cons of Getting A Pitbull Mastiff Mix
These are some pros and cons worth considering before getting a Pitbull Mastiff Mix.
Pros
Loyal
Patient
Gentle
Co-operative
Cons
Complex care required
Large breeds up a lot of space
Expensive pet
Similar Pitbull Mastiff Mixes and Breeds
Maybe this mix breed is the one for you. However, if you are looking for something easier to manage, consider the Pitbull Chihuahua mix.
Chihuahuas have all the confidence and kindness of Mastiffs with none of the size.
You might also want to consider the Pitbull Boxer Mix. Or even the Pitbull Lab Mix
Pitbull Mastiff Mix Rescues
Large Breed Mix and Mastiff Rescue:
Mastiff to Mutts Rescue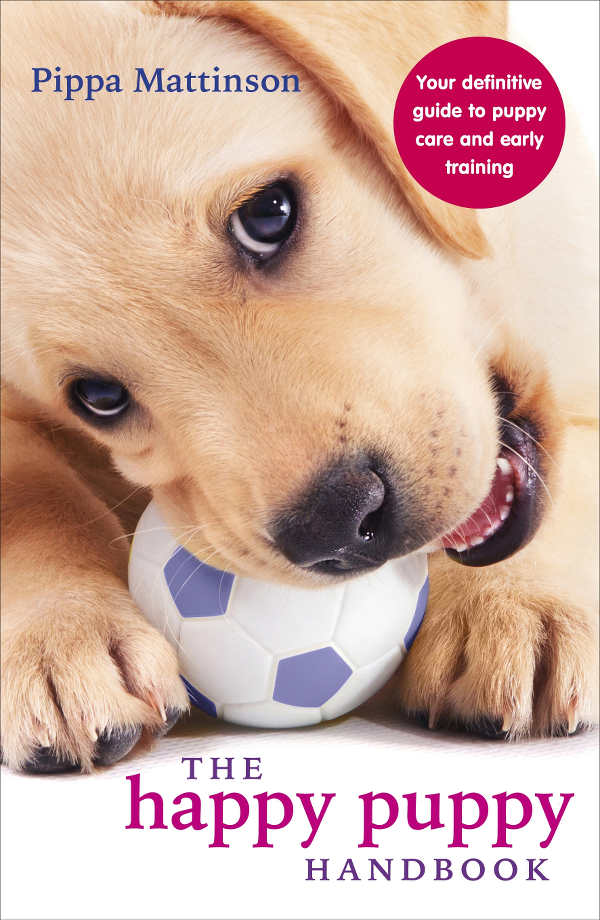 Mastiff Rescues:
Oregon Mastiff Rescue
Great Plains Mastiff Rescue
Pitbull rescue:
Bobby's Pitbull Rescue and Sanctuary
American Pitbull Foundation
Boise Bully Breed Rescue
Is A Pitbull Mastiff Mix Right For Me?
If you are prepared to properly source, train, socialize and care for a Pitbull Mastiff, it may be a perfect mix for you.
You'll also need to be prepared to send a lot of time, effort and money on this mix's diet.
Do you have experience with Pitbull Mastiff mixes? Comment and share below!
References and Resources
Journals and Scholars:
Mellersh, CS. The genetics of eye disorders in the dog. Canine Genetics and Epidemiology, 2014.
Medlin, James. "Pitbull Bans and the Human Factors Affecting Canine Behavior." 2007.
Cohen, Judy, and John Richardson. "Pit Bull Panic." The Journal of Popular Culture. 2002.
Sacks, Jeffrey J., et al. "Breeds of Dogs Involved in Fatal Human Attacks in the United States between 1979 and 1998." Journal of the American Veterinary Medical Association. 2000.
Lockwood, Randall, and Kate Rindy. "Are 'Pit Bulls' Different? An Analysis of the Pit Bull Terrier Controversy." Anthrozoös. 1987.
Peter Cook, Ashley Prichard, Mark Spivak, Gregory S Berns. "Awake Canine fMRI Predicts Dogs' Preference for Praise Versus Food." 2016.
Larsen, J. "Feeding Large-Breed Puppies." University of California Davis. 2010.
Sanderson, S. L. "Nutrition Requirements and Related Diseases of Small Animals." Merck Veterinary Manual.
Lepine, A. Reinhart, G. "Pet food composition for large breed puppies and method for promoting proper skeletal growth." 1997.
Caesar, Julius, and Arthur Tappan Walker. Caesar's Gallic War. Scott, Foresman and Co., 1926.
Edwards, Sydenham Teak. Cynographia Britannica. 1800.
Macinnes, Ian. "Mastiffs and Spaniels: Gender and Nation in the English Dog." Textual Practice. 2003.
Mastromarino, Mark A. "Teaching Old Dogs New Tricks: The English Mastiff and the Anglo-American Experience." Historian. 1986
Zedda, M., et al. "Ancient Pompeian Dogs? Morphological and Morphometric Evidence for Different Canine Populations." Anatomia, Histologia, Embryologia: Journal of Veterinary Medicine Series. 2006.