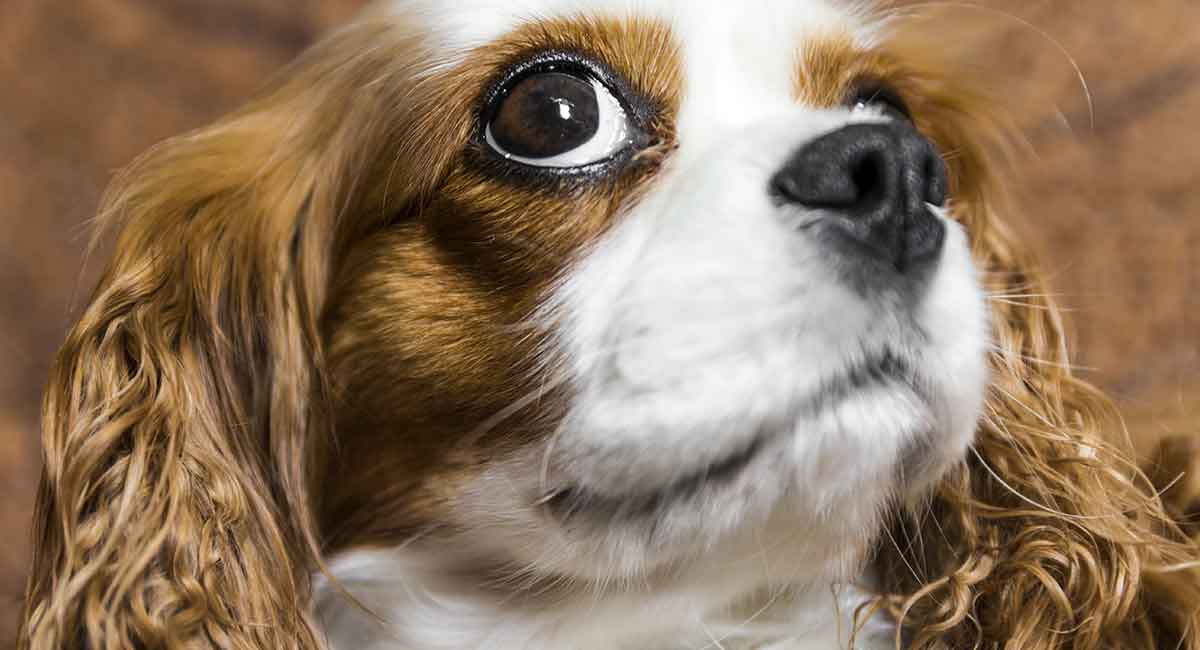 The Cavalier King Charles Spaniel dog breed is small, lively, active and friendly. This apartment pet could be the ideal lapdog and companion for families and first time down owners. Their long silky hair comes in lots of different colors and patterns. They are a high shedding toy dog that loves to bond over a grooming session. Today we'll share facts and learn all about the characteristics and breed traits of the Cavalier King Charles Spaniel. From finding a healthy Cavalier King Charles Spaniel puppy, to caring for and raising an adult dog.
A member of the toy dog group and a great first time pet for dog parents, Cavalier King Charles puppies are easy to love. And if you take good care of them can have a decent lifespan too. Today we'll also take a look at how clever the breed is compared with other dogs, and how easy to train they are. And what this purebred show dog needs in terms of exercise. The history of the Cavalier King Charles Spaniel is surprisingly varied, from routes as a hunting dog to the modern day apartment pet we know.
What is a Cavalier King Charles Spaniel?
The Cavalier King Charles Spaniel is a little dog with a big personality. They have long, soft, silky coats and a very gentle nature.
Modern Cavaliers are one of the largest toy dog breeds, but still small enough to take around. Bred and adored in their homes as pretty companion dogs, they are packed full of personality. This beautiful dog can suffer from some really dreadful health problems, but they are fortunately avoidable if you get a puppy with fully health tested parents.
Popularity: 19th most popular breed in the US today
Purpose: Companionship
Weight: 13-18 pounds
Temperament: Gentle, loving, non-aggressive
Common Cavalier King Charles Spaniel Questions
Here are some of our readers' most popular and frequently asked questions about this breed.

History and Original Purpose of the Cavalier King Charles Spaniel
This toy breed of Spaniel can be traced back for generations; in fact, we can follow its lineage back as far as the 16th century.
During this time, they were often painted in portraits as ladies' companions.
Back then, they came in a much wider variety of shapes and sizes; in the meantime, they have dipped in and out of fashion with the changing trends and times.
Furthermore, this delightful little spaniel earned its own breed club and official name came in the late 1920s. But it wasn't recognized by the American Kennel Club until the 40s.
Since then, the breed has become increasingly more uniform in type. However, it has also become much more different to the traditional shape of a Spaniel, especially in terms of their faces and heads.
Fun Facts about Cavalier King Charles Spaniel
This breed has a royal history! King Charles II, also known as the "Cavalier King", was a huge fan of the breed and gave them their name.
Actually, it is said that he never went anywhere without his beloved Cavalier pups.
So, what is it about this teddy bear dog that owners find so enticing? It might have something to do with their sweet appearance.
Cavalier King Charles Spaniel Appearance
As a small breed, Cavalier Spaniels are quite convenient for most homes. On average, they weigh 13-18 pounds and measure between 12 and 13 inches. Learning about puppy development stages can show you how long it will take for your pup to be fully grown!
In addition, they can come in black and tan, ruby, chestnut and white or a combination. This breed is well known for its beautiful coat and the vibrant colors. Their beautiful coats make them a contender for one of the cutest breeds ever!
They also have wide honest eyes. Unfortunately, this adorable and unique face comes at a pretty high price. But before we get into the nitty gritty of finding and caring for Cavalier King Charles Spaniel puppies, let's find out more about this breed's personality.
Cavalier King Charles Spaniel Temperament
Cavalier King Charles dogs have a great reputation as pets. Since they were initially introduced as lap dogs, they have been bred to be wonderful companions. In fact, they have almost no history of aggression at all, and are well known for their fantastic interactions with children and adults alike.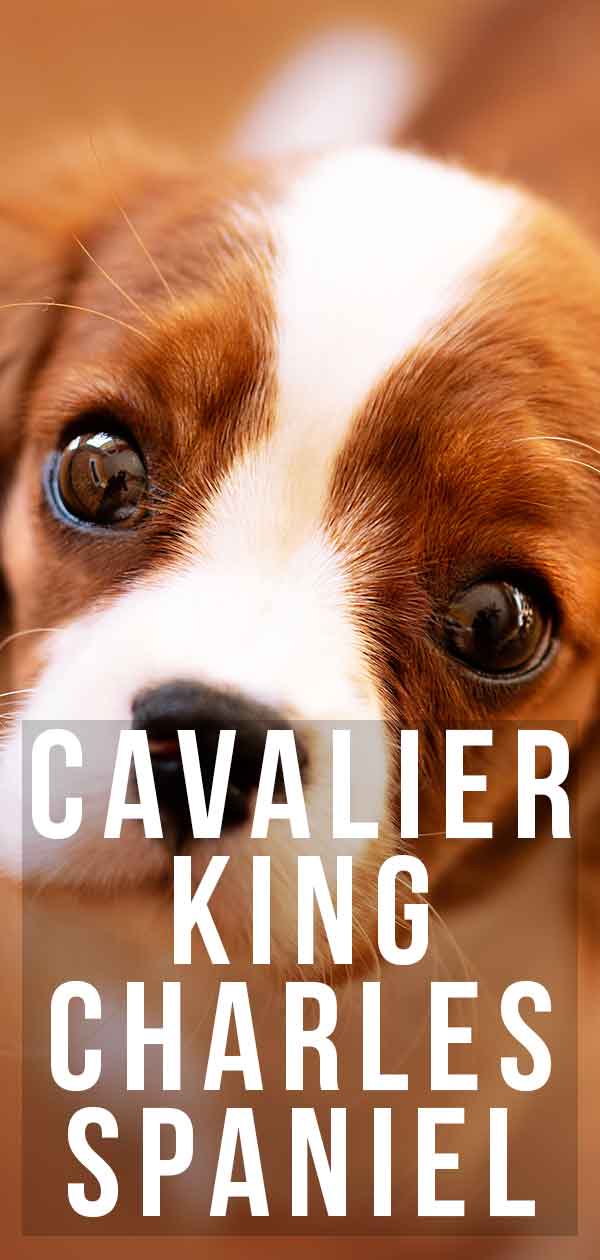 They are also a confident bunch, and do not show signs of nervousness or fear of strangers. In particular, a shy Cavalier Spaniel is a rare thing, and they are naturally jolly.
An easy-going breed, they will be happy to curl up by your feet whilst you work. On the other hand, they are just as content to go for a walk together in the woods. As with any breed, early socialization is key to raising a happy, well-adjusted dog.
Training your Cavalier King Charles Spaniel
The Cavalier Spaniel is known to be easily distracted. Therefore, it's important to be consistent with your training plan. For example, they respond well to positive reinforcement. So, consider giving your new pup a treat after they successfully carry out a task or follow an order.
You might also consider incorporating training techniques into their exercise.
Exercise
Because Cavaliers can be energetic, adequate exercise is very important. For example, running, chasing, swimming and catch are all great options for exercise. They also make great car companions as long as they get used to travelling from a young age. So, don't be afraid to head out to the beach or countryside for a long walk with your Cavalier Spaniel.
However, even the most vigorous exercise and training plans won't protect this beautiful dog from some very serious health issues.
Cavalier King Charles Spaniel Health and Care
This breed is prone to some of the more common ailments that many pedigree dogs suffer from. This includes eye and ear disease. However, these afflictions are minor in comparison to two serious and scary conditions that commonly affect the breed.
Syringomyelia
The Cavalier King Charles Spaniel has been bred to have a distinctive and appealing head and face. Their doting expression is a large part of the breed's appeal.
Unfortunately, the shape and size of the back of their skull has caused a serious problem to develop.
Syringomyelia is a complicated condition; it means there is a mismatch between the size of the skull and the size of the brain.
As a result, there are problems with cerebrospinal fluid that is meant to pass through to their spinal column.
This is a horrendous and serious condition.
Therefore, it is important to be aware that this is very common in this breed. This means that the chances of your Cavalier Spaniel developing this condition are extremely high.
So, if you are thinking of investing money and love in one of these dogs, read this article before making your decision. We discuss the potential implications of this condition on your puppy and the breed as a whole.
Mitral Valve Disease
Sadly, syringomyelia isn't the only serious condition that affects the Cavalier. They also suffer from high rates of Mitral Valve Disease (MVD). In fact, they are more likely to develop this than most other dogs.
This disease causes the dog's heart valve to deteriorate. This begins as a heart murmur but results in breathlessness and symptoms.
As a result, Mitral Valve Disease can become fatal very quickly, often within 1–3 years.
For more information about this breed's health, read this.
On the other hand, one upside of caring for your Cavalier Spaniel is that their coats are fairly low maintenance.
Cavalier King Charles Spaniel Grooming and Feeding
This breed's coat is fairly long and silky. However, Cavalier King Charles Spaniel shedding is easily managed with weekly brushing and the occasional bath.
Importantly, this breed is prone to becoming overweight. Therefore, it's important to feed them high quality pet food and not to overfeed.
Also, regular good quality exercise is key to keeping this breed at a healthy weight.
So, considering the many serious health issues that plague this poor breed, how long can we expect them to live?
How Long Do Cavalier King Charles Spaniels Live?
You can expect your Cavalier Spaniel to live between 8 and 12 years.
But remember, just because your dog can live up to 12 years, doesn't mean he will be healthy.
Specifically, this breed can suffer unnecessarily with serious ailments. This is true regardless of how well you care for them.
Because of this, it's important to really think long and hard about whether it is worth introducing this dog to your family.
Do Cavalier King Charles Spaniels Make Good Family Pets?
There is no doubt that the Cavalier King Charles has a winning personality.
Therefore, they make excellent house pets due to their gentle nature and loving devotion to their owners.
All in all, this breed's sweet and gentle temperament mean they do make great family pets.
They are also very active dogs and will love playing in the garden or going for long walks. At the same time, they'll be happy to chill out at home and need very little care apart from regular grooming and playtime.
However, without fully knowing what issues they will develop, it is a good idea to consider adopting a rescue dog instead of buying a new puppy.
Pros And Cons of Getting A Cavalier King Charles Spaniel
Unfortunately, the cons with this breed are pretty serious.
Therefore, it is up to you to weigh up the advantages and disadvantages to decide if you are willing to look after this breed.
Cons
Highly likely to develop serious and painful conditions
Very expensive to purchase
Prone to becoming overweight
Pros
Great with children and adults
Easy-going and relaxed
Low maintenance in terms of grooming and feeding
Of course, getting the right products and accessories will help along the way and get you prepared for your new pup.
Rescuing a Cavalier King Charles Spaniel
Rescuing a dog from a shelter has many rewards; namely, the joy of giving a loving home to an animal who needs one.
However, the other important benefit of a Cavalier King Charles Spaniel rescue is related to their health.
That's because rescuing an adult Cavalier Spaniel will give you the advantage of time — you will know if the dog is healthy and if it has any serious conditions.
For instance, adopting a dog older than 2.5 years old means you should have a good idea if the dog suffers from syringomyelia.
For more information, you can find a list of rescue societies and shelters here.
However, if you have your heart set on bringing home a puppy, you should do everything you can to ensure that the Cavalier King Charles Spaniel puppies are bred responsibly.
Finding Cavalier King Charles Spaniel Puppies
A Cavalier King Charles Spaniel price can range anywhere from $1,800 to $3,500 — that's a lot of money for a pet that is almost certain to develop serious ailments.
Remember that on top of this initial cost, you will most certainly need to invest in some pet insurance or high veterinary costs.
Additionally, you'll find more advice on buying a Cavalier King Charles puppy here.
Cavalier King Charles Breeders
Needless to say, these wonderful dogs deserve nice lives.
For that reason, you should ask the breeder for proof that both parents have clear MRIs. Ideally, the MRIs should be taken after they were 2.5 years old. This will help to ensure you don't have a puppy who suffers from syringomyelia.
Another way to get the benefits of the Cavalier's personality without the high risk of health issues is to consider getting a Cavalier cross breed.
If you do, make sure that the Cavalier parent has a clear MRI. Also, ask to see confirmation from the vet that they are healthy. In addition, make sure that the other parent is a breed that has a full muzzle and is in excellent health.
If you do this, you'll stand the best chance of getting a dog who has a healthy, happy future ahead.
Additionally, make sure the breeder you buy from is licensed and reliable.
You should never purchase a puppy from a puppy farm.
You'll also need to take into consideration the time and energy that it takes to raise a new puppy.
Raising a Cavalier King Charles Spaniel Puppy
Raising a new puppy is no easy feat; but we have plenty of guides and products to get you off to the best start.
Take a look at our puppy care guides to find useful tips and tricks for raising a healthy, happy dog.
Remember, you can offset this breed's health risks by buying a cross breed instead.
Popular Cavalier King Charles Spaniel Breed Mixes
With so many cross-breed alternatives, there really is no need to adopt a pup with so many health concerns.
To get started, take a look at our guide to Cavalier Spaniel cross breeds or click on the specific links below.
Of course, comparing this adorable breed with other small breeds can help you make up your mind.
Comparing the Cavalier King Charles Spaniel with Other Breeds
Read our guide to small breeds and small breed health to determine if there is another small dog that would be better suited to your family.
Fortunately, there are plenty of similar breeds without the difficulties associated with the Cavalier's poor health.
Similar Breeds
As with every purebred dog, there are pros and cons to taking home this breed.
Cavalier King Charles Spaniel Rescues
USA
UK
Australia
Canada
Do you own one of these special dogs? If you do, let us know below if you've had any issues with your pup's health and how you went about finding your dog.
References And Resources