Curious about the Australian Shepherd Dalmatian mix?
Wondering whether or not this could be the right dog for your household?
If spots and speckles are your thing, then you've come to the right place!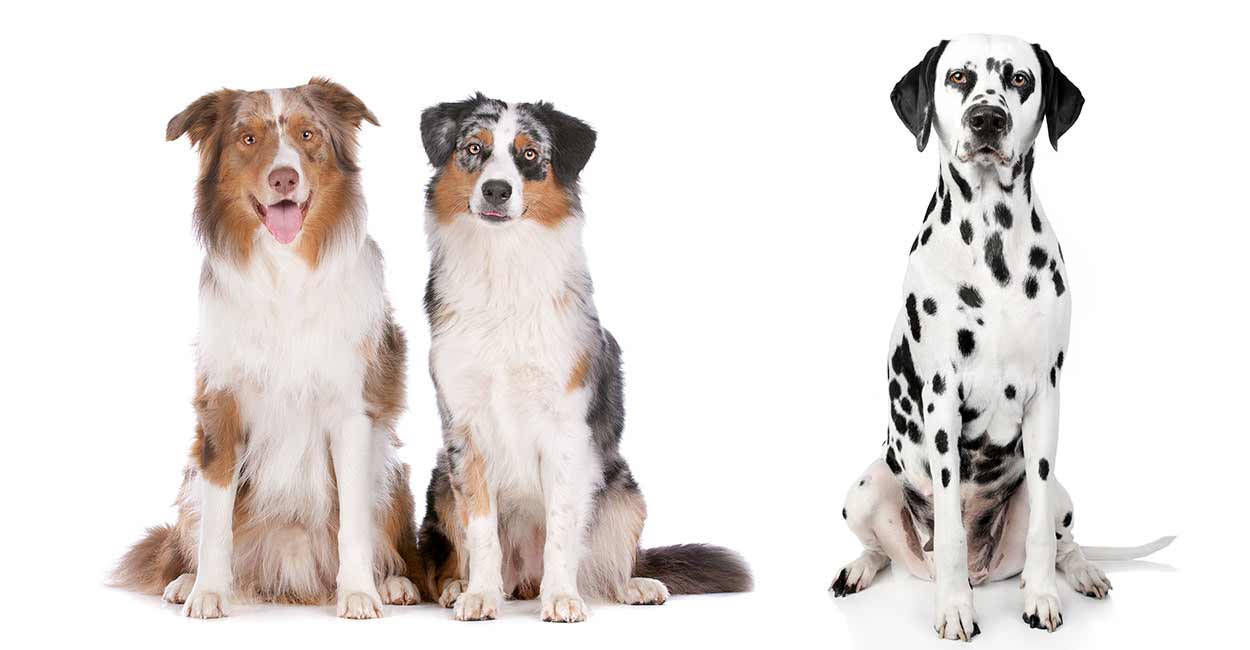 In this article, we're going to cover all the ins and outs of the Australian Shepherd and Dalmatian Mix, from his heritage to his temperament, and everything in between.
The Australian Shepherd Dalmatian Mix is a crossbreed, and like anything else still relatively new to the scene there is some controversy on the subject.
What is a Crossbreed?
A crossbreed, sometimes referred to as a 'hybrid' or 'designer dog,' is the offspring of two purebred parents.
Some experts see crossbreeding as a solution to genetic health problems that have plagued purebred dogs for generations, while others argue that genetic defects can be just as prevalent in crossbreeds.
If you want to learn more about some common objections to crossbreeding, click here.
Although it may be difficult to pinpoint who is right and who is wrong on the issue, one thing is for sure; whenever considering adding a new dog to your household, it is always wise to research as much as possible about your desired breed (or crossbreed)!
Introducing the Australian Shepherd Dalmatian Mix
An Australian Shepherd Dalmatian mix is the offspring of the purebred Australian Shepherd and the purebred Dalmatian.
You may come across such a dog in rescue center or animal shelter.
Or you might find a litter of Aussie Dalmatian puppies that have been deliberately bred for sale
Mixed breed puppies bred for pet homes are often given inventive new names so you might find a litter listed as Dalmatian Shepherds or Aussiedals. Or any other combination.
The Australian Shepherd is a working dog, intelligent and active, while the Dalmatian originally bred for trotting decoratively alongside horse drawn carriages, is best known for his handsome spotted coat.
So, what exactly do you get when you put these two breeds together? Let's find out!
Origin of the Australian Shepherd and Dalmatian Mix
Because the Australian Shepherd Dalmatian Mix is a relatively new crossbreed, there is still very little known about his history and where he originated from.
Still, there is some information on his purebred parents, the Australian Shepherd and the Dalmatian.
Exploring the past of these two breeds may give us some clues as to what type of dog their offspring will become.
Origin of the Australian Shepherd
The Australian Shepherd has been called by many different names, like Pastor Dog, New Mexican Shepherd, Austrian Shepherd, and Spanish Shepherd.
True to his 'Shepherd' title, the Australian Shepherd was originally bred as a herding dog, used by shepherds to herd sheep in the Rocky Mountains around the 19th and early 20th centuries.
The Australian Shepherd was bred to be a diligent working dog who to this date still enjoys job-like activities that challenge his intellect and keep him moving.
The American Kennel Club (AKC) first recognized the Australian Shepherd in 1991 and ranked him as the 16th most popular dog in the United States.
Origin of the Dalmatian
The Dalmatian, famous for his black and white coat and athletic charisma, has been traced all the way back to the 18th century.
It is believed the Dalmatian originated in Croatia, but he became a symbol of status during the Regency Period in Great Britain, where especially spotted Dalmatians were coveted by royalty and those who held a very high status in the community.
During this period, the Dalmatian was used to trot alongside coaches of those in high status, and eventually became known as 'The Spotted Coach Dog.'
The Dalmatian was once used in war to guard the borders of Dalmatia, a region in Croatia, hence his name.
Dalmatians have also been used throughout history as hunting dogs, circus dogs, and guard dogs.
The Dalmatian was first recognized by the AKC in 1888 and currently sits at number 62 on the list of America's most popular dog breeds.
Characteristics of the Australian Shepherd and Dalmatian Mix
It's always hard with any crossbreed to determine its exact physical characteristics as far as coat coloring, size, height, and weight.
However, if we look at the Australian Shepherd Dalmatian mix's parents, we can estimate where he'll wind up.
Australian Shepherd Characteristics
The Australian Shepherd is a medium-sized with a beautiful coat that comes in four colors with three markings. The four colors include:
Blue Merle
Red Merle
Black
Red
A male Australian Shepherd will grow to be around 20-23 inches tall and weigh about 55-70 pounds.
A female Australian Shepherd will be around 18-21 inches tall and weigh 35-55 pounds.
Dalmatian Characteristics
The Dalmatian is also a medium-sized dog who has an athletic build. His famously spotted coat comes in two standard color types, including:
White and Black
White and Liver Brown
The full-grown Dalmatian will be 19-24 inches tall and weigh around 45-70 pounds.
Australian Shepherd Dalmatian Mix Appearance
Because all Dalmatians have short fur, the Australian Shepherd Dalmatian mix will have short fur too.
That's because long fur is a recessive characteristic and a puppy must inherit the long fur gene from both parents in order to have a shaggy coat.
All Dalmatians are short coated and so a first cross Dalmatian will be short coated too.
The color of the mix breed puppies from these two parents can vary widely. But there will almost certainly be some spots, speckles or patches of color on a white background
The Australian Shepherd Dalmatian Mix puppy can a range of other physical traits listed above from his purebred parents, varying in size, weight, and coat color.
Aussie Dalmatian size
Both Australian Shepherds and Dalmatians are medium sized dogs and your Aussie Dalmatian mix is likely to stand at a little over 20 inches at the shoulder once full grown.
And to weigh anywhere between 50-60lbs – a little more for males and little less for females
Keep in mind that with all crossbreeds it is impossible to guarantee physical appearance.
Grooming Your Australian Shepherd Dalmatian Mix
There are a few traits you can expect, such as shedding, as both his purebred parents are shedders.
Even though his coat will be short your Australian Shepherd mix will need regular grooming. This will help to keep his fur free from dust and your carpets free from excessive amounts of hair.
His ears should be cleaned regularly to keep build-up of wax at bay, and regular nail trimming is required to reduce chances of cracking and splitting.
Temperament
We can't predict exactly what temperamental traits your Australian Shepherd Dalmatian Mix is going to inherit from his purebred parents.
His two parents have somewhat different personalities and he may take after either one, or be a combination of the two.
Australian Shepherd Temperament
The Australian Shepherd is a very intelligent dog who is highly active and enjoys job-related activities. Originally bred for herding, the Australian Shepard still enjoys a good day's work.
He can make a good family pet and does well in homes with children, however, his intelligence and enthusiastic personality require an equally patient and diligent owner.
The Australian Shepherd does have strong herding instincts, so it is best to supervise him around other dogs and family pets.
Dalmatian Temperament
The Dalmatian makes an excellent show dog, with his athletic physique and active nature.
He is outgoing and energetic, built for long excursions, and enjoys lots of exercise!
Although the Dalmatian can make a good family pet, he does have some guarding instincts, meaning he can become protective and territorial.
Australian Dalmatian Temperament
With potential for strong herding or guarding instincts, together with the likely size and energy levels of your pet, it is best that the Dalmatian Aussie mix be supervised around small children and other household pets.
As with all dogs, we recommend implementing early socialization and training methods.
This can help reduce behavioral and temperament issues, ensuring the health and happiness of everyone involved!
As some experts have argued, crossbreeds may be less prone to the same generational health issues that plague their purebred parents.
Still, there is no guarantee that some health issues won't affect the Australian Shepherd Dalmatian Mix.
Australian Shepherd Health Issues
The purebred Australian Shepherd can be known to suffer:
Hip Dysplasia
Collie Eye Anomaly
Elbow Dysplasia
Epilepsy
Tumors and Cancer
Coloboma
Autoimmune Disease
Cataracts
Dalmatian Health Issues
The purebred Dalmatian can be prone to:
Hip Dysplasia
Deafness
Obesity
Urinary Stones
Epilepsy
Hyperactivity
Health Issues with the Australian Shepherd Dalmatian Mix
Both Australian Shepherds and Dalmatians can suffer from the deafness that is sometimes associated with white fur.
So be sure to talk with the breeder about any potential hearing issues. And if possible avoid puppies with white patches over the ear itself.
If you are buying a puppy rather than rescuing an older dog, make sure to check that the parents have both been properly health screened (see the issues listed above) and that the breeder is able to show you the relevant health certificates.
Exercise and Training your Australian Shepherd Dalmatian Mix
Because both the Australian Shepherd and the Dalmatian are active, high-energy dogs, you can expect your dog to be just as active and high-energy!
This is why it's important to know the exercise requirements and trainability of each purebred parent.
Australian Shepherd Exercise and Training
The Australian Shepherd was bred to be a working dog. Throughout the years, he has not lost the instinct to herd, and according to the AKC, this dog still enjoys herding- be it other dogs, children, birds, you name it!
He also hasn't lost his need for being outdoors and being on the move. Australian Shepherd mixes can be a lot to handle for first-time dog owners, as they are highly active and requires so much exercise.
This is also a highly intelligent breed, very trainable, and an independent thinker.
Dalmatian Exercise and Training
The Dalmatian is also quite an active dog. He is not known for his patience and has been known to become destructive when not exercised enough.
This is not a breed to be left alone for too long without the proper toys or activities to keep him entertained.
Dalmatian mixes are likely to be intelligent and respond well to training.
No couch potato!
This combination of parents is likely to result in an active intelligent dog that needs plenty of exercise and interaction from you.
It's not a dog that will be happy to snooze at home alone throughout a long working day. You'll need to spend time every day in training and games.
And at least an hour on exercising your dog. Come rain or shine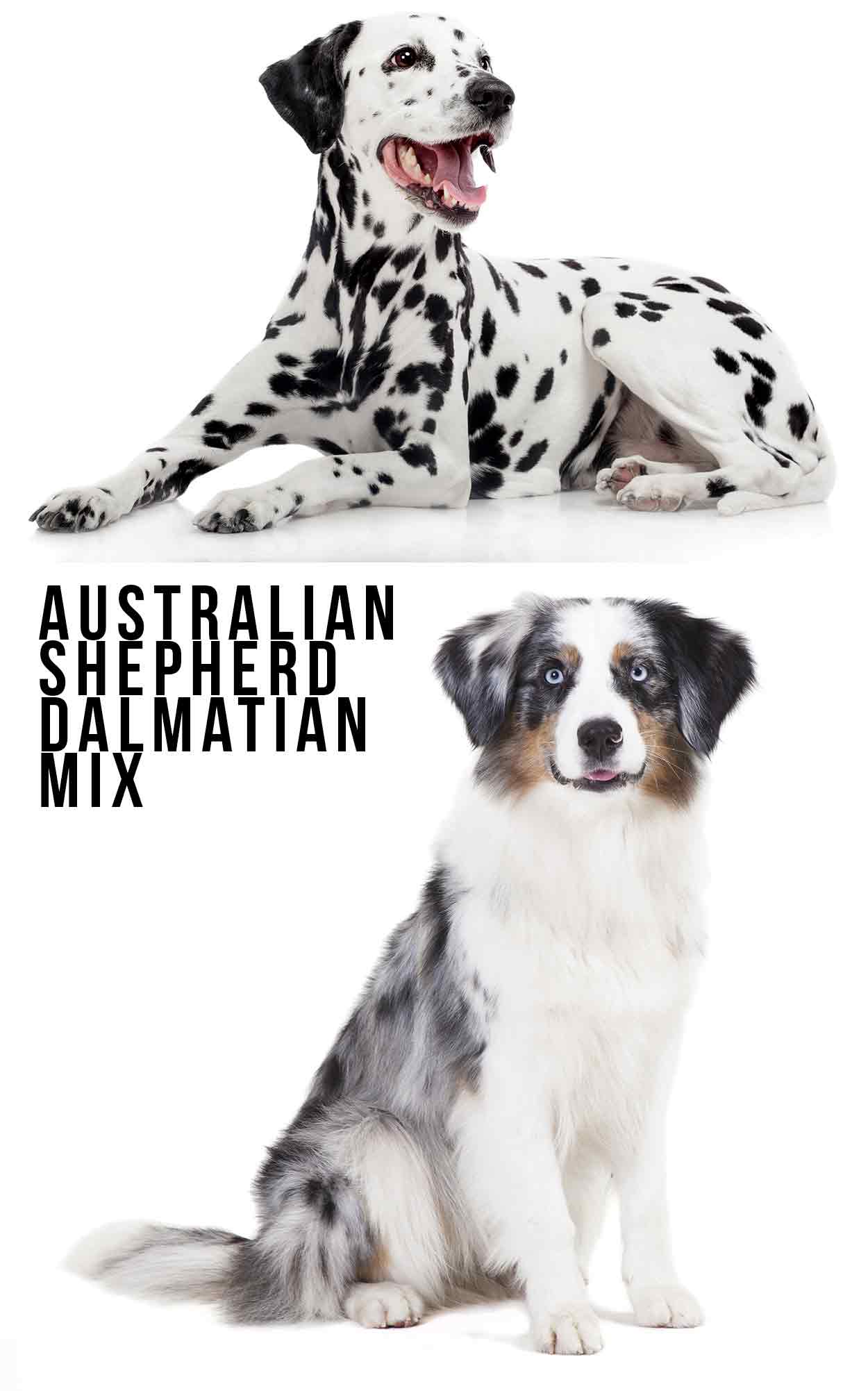 The Ideal Home Type for An Australian Shepherd Dalmatian Mix
Because the Australian Shepherd and the Dalmatian are active, intelligent dogs, you can expect their offspring to require the same amount of dedication and training.
This mix could make a wonderful addition to active families with older children, although they will need supervision with other dogs and household pets.
Remember, the Dalmatian is a noble dog who is not shy but may have strong guarding instincts.
Potential owners with young children should keep this in mind and should supervise their Dalmatian mix around young kids.
Early socialization and training will help your dog become a good canine citizen and ensure that your Australian Dalmatian mix is as happy and healthy as possible!
Finding an Australian Shepherd Dalmatian Puppy
Regardless of if you intend to rescue your Australian Shepherd Dalmatian puppy or purchase him from a breeder, the most important thing is to make sure you get him from a reputable source.
Always do your research before deciding where to get your pup.
Most shelters will cover initial vet fees, ensuring the dog is adoptable and ready for his new home.
Shelter puppies are not free,  most adoption fees are $50-$100.
If you have your heart set on getting your puppy from a breeder, be prepared to spend anywhere from $500 to over $1,000.
Always be sure to ask your breeder about temperament and health issues when looking to adopt a crossbreed.
We also recommend early health screening.
For help in finding a healthy, friendly, puppy check out our Puppy Search guide.
References and Further Reading
Carol Beuchat PhD, The Myth Of Hybrid Vigor In Dogs Is…A Myth, 
Journal of Veterinary Internal Medicine, Disease Progression and Treatment Response of Idiopathic Epilepsy in Australian Shepherd Dogs, Volume 26, Issue 1
Tiffani J Howell, Tammie King, Pauleen C Bennett, Puppy Parties and Beyond: the role of early age socialization practices on adult dog behavior, Volume 6, pages 143-153 
Domenico Santoro and Rosanna Marsella, Research in Veterinary Science,

Volume 73, Issue 3, Pages 231-236

Journal of Heredity, Volume 94, Issue 1, Analysis of Genetic Variation in 28 Dog Breed Populations With 100 Microsatellite Markers, D.N. Irion A.L. Schaffer, T.R. Famula, M.L. Eggleston, S.S. Hughes N. C. Pedersen 

Lowell Acumen DVM, DACVD, MBA, MOA, The Genetic Connection; a Guide to Health Problems in Purebred Dogs, Second Edition, 2011

Stanley Coren, The Intelligence of Dogs

,

1994