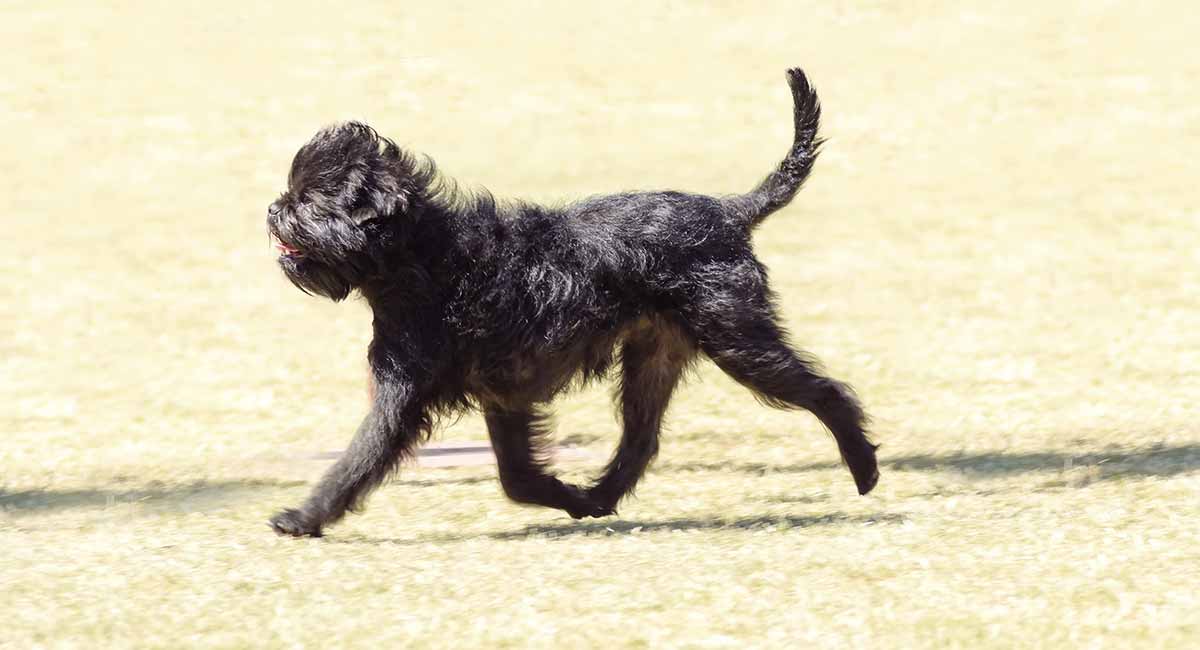 The cute Affenpinscher is a small, compact dog with big eyes, drooped ears and a short nose. It is known for its monkey-like appearance and funny personality! They can make great apartment dogs and watchdogs too. Loyal and loving social personalities keep them strongly bonded to their owners. Today we'll share facts, breed traits and learn all about the Affenpinscher. With tips to help you find a healthy, happy Affenpinscher puppy, and raise and care for them into adulthood.
We are going to share the remarkable history of the ratting work they used to do before turning to the modern lap dogs or purebred show dogs we know. We'll see how to keep your Affenpinscher fit and at the right weight, through training and exercise. And see how their intelligence and health compares with other breeds.
What is an Affenpinscher?
Affenpinschers are among the oldest and rarest toy breeds around. They were used as ratters throughout central Europe during the 1600s when rats spread diseases. Somewhat later, these little dogs were bred down in size. But they went up in the world to become loveable companions for noble ladies. But what the Affenpinscher lacks in size, they more than make up for in personality.
Where Does the Affenpinscher Come from?
The exact origins of the Affenpinscher are unknown. But they are thought to date back to 17th century Germany. They were somewhat bigger than the dogs we know today. Standing around 12 to 13 inches in height, bred for keeping rats out of stables, shops and homes.
The Affen is a terrier type of dog being a member of the subgroup Pinschers and Schnauzers. They are the oldest toy breed in Europe. These small dogs have a distinctive monkey-like face, and the name Affenpinscher denotes the breed. The word "Affen" is German for monkey with "pinscher" meaning terrier.
Later, miniaturization of the breed occurred, by crossbreeding them with Pugs, smooth-haired German Pinschers and the Silky Pinscher. The smaller Affenpinscher was used in the house as mousers as well as being perfect companions for ladies.
Arrival in the USA
The Affenpinscher first arrived in the USA during the mid-1930s. It was officially recognized by the AKC in 1936.
It is highly likely that the Affenpinscher helped develop both the Brussels Griffon and Miniature Schnauzer dog breeds. Later though, people favored the Griffon over the Affen, causing a decline in its popularity.
The Affen is now a rare breed. But it is still seen in the USA and other countries around the world.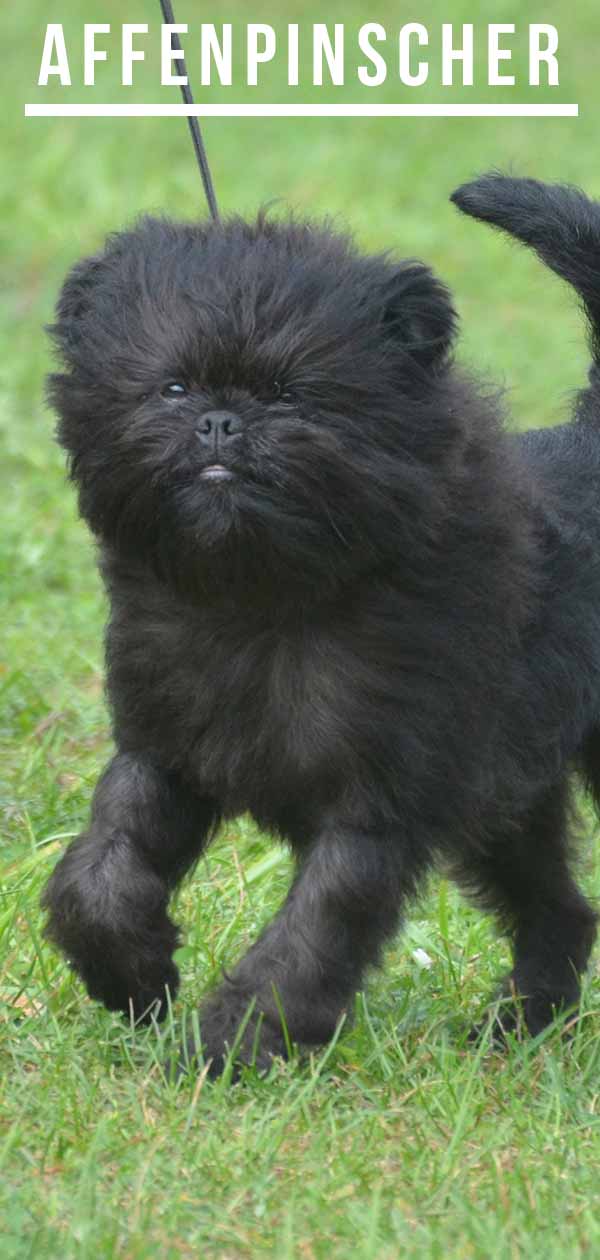 Fun Facts About the Affenpinscher
An Affenpinscher is seen at the forefront of the famous painting "Luncheon of the Boating Party" by French impressionist Pierre-Auguste Renoir, painted in 1881.
In 2013, a dog named Banana Joe became the first Affenpinscher to win Best in Show at the Westminster Kennel Club Dog Show.
The French describe the Affen as "diablotin moustachu" meaning "moustached little devil!"
What do Affenpinschers look like?
As a rare breed, you do not see the Affenpinscher very often. So how do we recognize this cute little dog?
The Affen is small and sturdy with a square body and short legs. But it is their monkey-like features and Einstein hairstyle that makes this breed so distinctive!
They stand a mere 9 to 11 inches in height and weigh between 7 and 13 pounds.
Their round, flat faces are surrounded by a long-haired mane revealing dark eyes, a blunt nose, prominent eyebrows and a thick moustache and beard. Giving them the comical look of a monkey.
But, if you are a Star Wars fan, you may argue they look more like Ewoks on four legs!
Most Affens have a somewhat undershot jaw with a shortened muzzle. And their small ears are set high facing forward being either erect or semi-erect.
Affenpinscher Coat Type and Colors
Their swirled coat is shaggy but neat with a dense, harsh and wiry texture that measures about an inch in length.
Black is the most common coat color for an Affenpinscher. But they can also be gray, silver, red or black and tan as well.
Are Affenpinschers friendly?
The Affenpinscher is a charming little dog who is loyal, loving and affectionate with a confident and outgoing personality. They make ideal companion dogs who can adapt to most home environments. His intelligence makes him a curious busybody, and he is always on the lookout for adventure.
The Affen has a fearless attitude due to their terrier ancestry and thinks nothing of taking on a bigger dog. Often in tense situations, you can see his little body shake with rage and excitement, taking a while for him to calm down.
They make excellent watchdogs as they are territorial by nature, being protective of their food and toys, and doing their tiny best to defend their family.
But like many small dogs, they like the sound of their voices and can be quite yappy. It is vital that you teach them a cue for quiet from the start. Especially if you don't want to fall out with the neighbors!
Playful and active this little cutie loves to monkey around and is guaranteed to keep you entertained! They are known to bat their toys with their agile paws and walk on their hind legs to attract your attention!
Affenpinscher Natural Instincts
These fun little dogs though are not recommended for households with small children. Children's actions may leave the Affen feeling nervous and defensive, causing them to lash out and bite.
Affens bond closely with their owners, so do not like to be left alone. Being left alone can cause destructive behaviors and the possibility of defecation and urination in the home.
They get along with other pets if raised with them. But because of their history as a ratter, it is not advisable to have pets such as gerbils, hamsters or guinea pigs with an Affenpinscher around.
Training an Affenpinscher
Early socialization and training of the Affenpinscher are essential in determining their character as well as producing a dog that is a pleasure to be around.
Keep in mind that this breed was once a ratter. So they have a strong prey drive being very determined and single-minded when something catches their attention. Because of this trait, the Affenpinscher tends to chase small animals. So you need to introduce them from a young age to deter their actions.
The Affen is suspicious of strangers. So expose your small pup to the outside world as soon as possible. Allow him to meet as many new people as you can in different environments and situations as well as in your home.
Taking him to the dog park or doggy daycare and enrolling him in puppy obedient classes allows him to be friendly with other dogs.
Positive Reinforcement
The Affen is naturally stubborn, which can make training a challenge. Always be consistent and use treats and positive reinforcement methods as a reward when they do something right.
Affenpinschers are intelligent dogs who are quick learners but become bored quickly. So keep sessions short with lots of variety to make it enjoyable.
Like many small breeds, the Affen is notoriously difficult to potty train because of their tiny bladders and requires great patience on your part! Crate training is one solution that is highly effective as no dog likes to soil where they sleep.
Exercising your Affenpinscher
Although the Affen isn't a big dog, they are full of life and tend to have high energy levels in short bursts. It is best to give them two or three short walks per day, as well as taking them to a dog park or open field sometimes to have a runaround. You can also play games with them in the backyard or indoors.
However, as a flat-faced dog with a short nose, care must be taken that they don't overheat. During hot weather always exercise your Affen in the coolest part of the day. For this reason, it is not recommended to take them swimming as they may struggle to breathe.
Affenpinscher Health
The Affenpinscher is a hardy breed. But it does have some concerning health issues that are either genetic or due to their confirmation. Responsible breeders will screen their stock for certain conditions, which reduces the risk of your puppy inheriting them.
Like other flat-faced breeds, the Affen may experience breathing issues and exercise intolerance. Especially during hot weather. Take care that they don't overheat which is extremely dangerous, resulting in possible death. Only walk your pup in the coolest parts of the day and ensure your home has air conditioning.
Most of the health conditions seen in the Affenpinscher are related to their joints and legs. This includes hip dysplasia, patellar luxation and Legg-Perthes disease.
You find hip dysplasia and Legg-Perthes disease in the hips. Which can lead to pain and discomfort, as well as mobility problems possibly leading to arthritis.
Patellar Luxation affects the kneecaps, which become slightly out of position or dislocated depending on the severity. Sometimes an operation is necessary in severe cases.
Eye and Heart Problems
Cataracts affect many dogs, including the Affenpinscher. They usually appear during adolescence and can impair vision.
Another condition often seen in the Affen is heart murmurs. These are caused by a disturbance in the blood flow to the chambers of the heart and indicate the possibility of a disease or condition.
Health Testing
When buying an Affenpinscher, health clearances from the breeder should include:
Ophthalmologist Evaluation
Patella Evaluation
Certificate from the Canine Eye Registry Foundation (CERF)
Affenpinscher Lifespan and Care
The average lifespan of an Affenpinscher is between 12 to 15 years.
Affenpinschers rarely shed so are ideal if you don't want hairs on your clothes and furniture. Many consider this a hypoallergenic breed. But allergens are in their dander and saliva.
Their coarse, shaggy coat needs brushing two or three times a week. They need a trip to a professional groomer at least every three months as their fur needs stripping, making it easier to maintain.
Other care requirements include regular brushing of the teeth, trimming the nails, and cleaning the ears.
Feeding Your Affenpinscher
As a small dog, your Affen will not need much food. Give high-quality dry food specifically designed for small breeds, divided into two meals per day.
Monitor your pup for any weight gain. As this breed is prone to obesity, which will reduce his lifespan.
Do Affenpinschers Make Good Family Dogs?
Affenpinschers are devoted to their owners but are not tolerant of young children. As tiny dogs, they are very fragile, and risk being hurt accidentally by a toddler who in turn could get bitten. They are most suitable for a family with older children.
Pros and Cons Of Getting An Affenpinscher
If you still can't decide if the Affenpinscher is right for you, here's a quick summary of the pros and cons.
Cons
Brachycephalic
Requires professional grooming
Not child-friendly
Suffers from separation anxiety
Not good with small pets like hamsters
Can be vocal
Difficult to potty train
Hard to find
Pros
Loyal and loving
Entertaining
Intelligent
Low shedding
Apartment friendly
Good watchdog
Easy going personality
Ideal for first-time owners
Adaptable
Rescuing An Affenpinscher
As not many people own an Affenpinscher, and they are not a difficult dog to live with, few owners tend to give them up for adoption.
However, it is not impossible. But you may have to widen your search to find one.
Finding An Affenpinscher Puppy
If you set your heart on owning an Affenpinscher puppy, then you will need to be patient as there are not many around.
You may have to drive several hundreds of miles to find a reputable breeder and probably go on a waiting list.
You should receive proof of genetic health tests along with an agreement signed by both parties.
Avoid buying from pet stores as they often have puppies from puppy farms which have unethical practices.
Read our puppy search guide for expert advice on finding the dog of your dreams!
Raising An Affenpinscher Puppy
Having a puppy is hard work. But it is also very rewarding.
Check out our puppy care and puppy training guides to help you on your way.
Affenpinscher Products And Accessories
As the Affen is prone to overheating check out these cooling pads along with the best interactive toys to stop him becoming bored.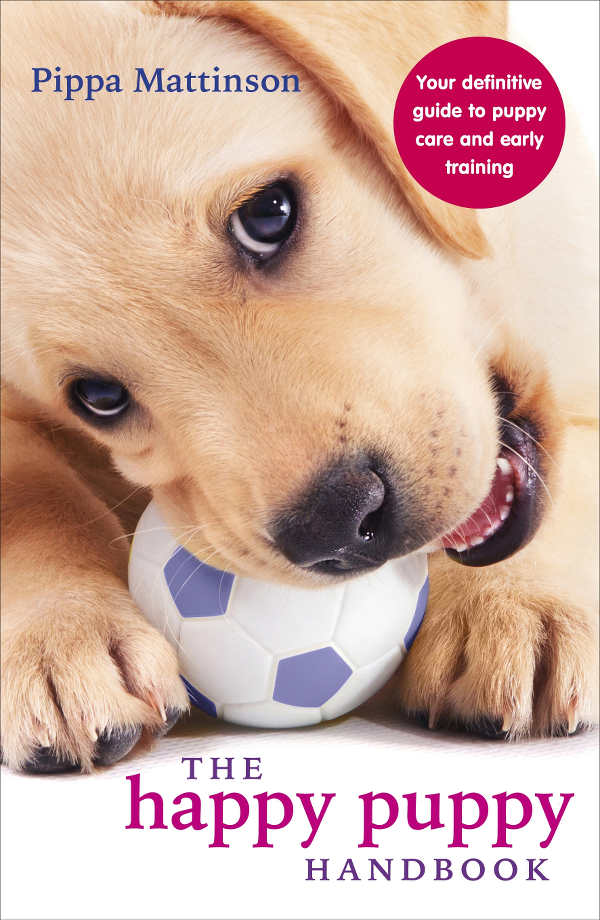 Similar Breeds
As the Affenpinscher is a profoundly brachycephalic dog breed, we cannot recommend you have one.
Here we suggest similar but healthier breeds:
Affenpinscher Rescues
If you are looking to rescue an Affenpinscher, then check out these organizations. If you know of any other, please list them in the comments box below.
USA
Affenpinscher Rescue of America
UK
Canada
Is An Affenpinscher Right For Me?
The Affenpinscher is a loyal and loving dog who will keep you entertained with his comical ways!
He is ideal for first-time owners and those who live in apartments due to his easy-going nature, small size and moderate exercise levels.
However, because of his terrier instincts, he has a high prey drive, and you will need to curb his barking. They are also not good with small children and cannot be left alone for long. So they are unsuitable if you are at work all day.
As a brachycephalic breed, he is prone to respiratory conditions which can impact the quality of his life and which is why we cannot recommend this breed.
If you still decide that the Affenpinscher is right for you, be prepared for a long wait to find one.
Do you own an Affenpinscher? How do they entertain you? Share your stories!
References And Resources