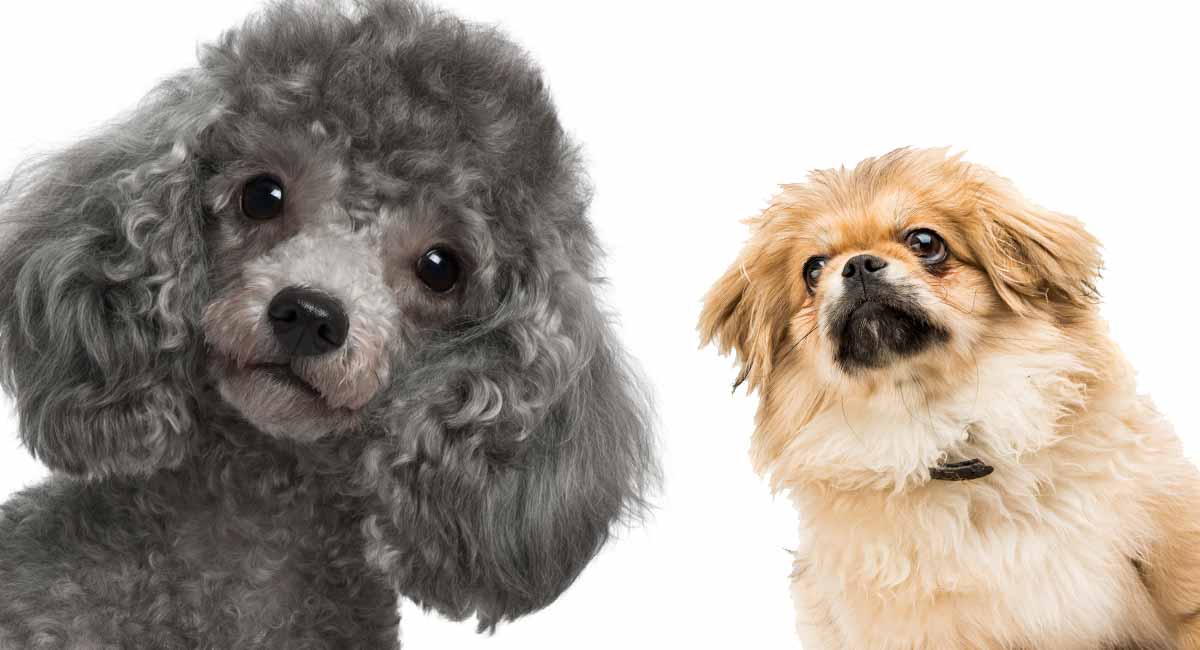 The Peekapoo is a cross between the large-eyed, regal Pekingese, and the smart, agile Poodle. The Pekingese Poodle mix is usually bred from a Miniature or Toy Poodle. This small, affectionate, designer dog needs daily exercise but is suitable for the novice owners, or family. Some Peekapoos will inherit the low allergen fur of their Poodle parent, and all will adapt happily to apartment living.
The Peekapoo has a medium length, wavy coat, floppy ears and wide eyes. Size will depend on the Poodle parent which can be a toy or miniature Poodle. But most Peekapoos will be under 20 pounds in weight. Most are inclined to bark, but their personalities can vary a lot from dog to dog, and the same is true for their health and lifespan!
Contents
Today we'll look at whether a Peekapoo puppy is the right fit for your home, lifestyle and family. We'll see whether these hybrid pups are good with kids, easy to care for and let you know how to find your own Peekapoo.
Peekapoo dogs are increasingly popular as lapdogs and apartment pets. But they can be surprisingly active, energetic dogs. This little companion can make a great pet, but it's worth bearing in mind that they still need training, exercise and attention, just as a bigger breed does.
What is a Peekapoo?
Peekapoo is a cute name for the Pekingese Poodle mix. When it comes to love, affection, and companionship, the Peekapoo has a lot to offer. These fluffy little teddy bear dogs have proven to be a great choice for those looking for a smaller companion dog.
Often referred to as "designer dogs", cross breeds like the Peekapoo sometimes have negative connotations. Some dog breed mixes have previously led to dogs being put in shelters when owners realize they are not the dog they expected. However, the Peekapoo is a hybrid dog breed that has been around for a while; this beautiful breed certainly isn't a passing fad.
There is nothing inherently wrong with cross-breeding dogs to create a breed that brings joy and happiness to new owners, as long as they are not bred in excess. On the other hand, there are some worrying health problems that you should consider when deciding on a pure or mixed breed.
Popularity: Steady since the 1960s
Purpose: Companionship, low-shedding
Weight: 10 – 20 lbs.
Temperament: Relaxed, loving, energetic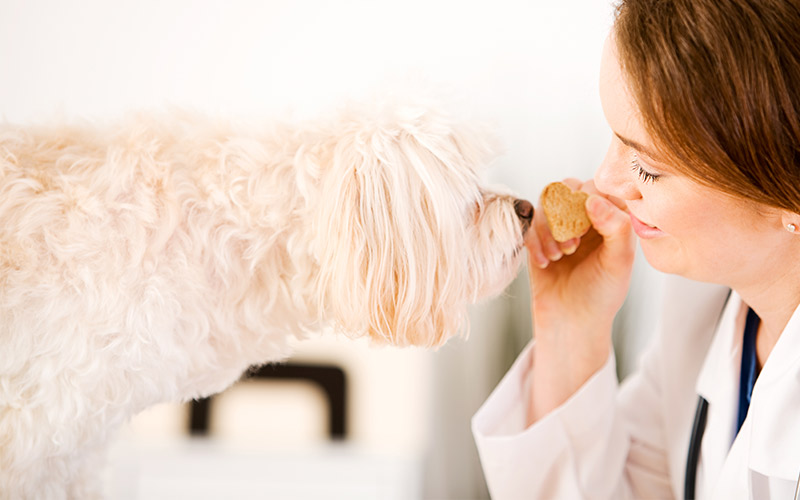 History and Original Purpose of the Peekapoo
The Peekapoo was developed by crossing a full Pekingese with a Poodle. The Pekingese and Poodle mix is one of the oldest "designer" hybrid dogs with the first being bred in the 1950s.
Originating from the United states, these dogs were originally bred in an effort to create a low-shedding dog suitable for people with allergies. As with all cross breeds, the Peekapoo can vary in temperament, appearance, and health.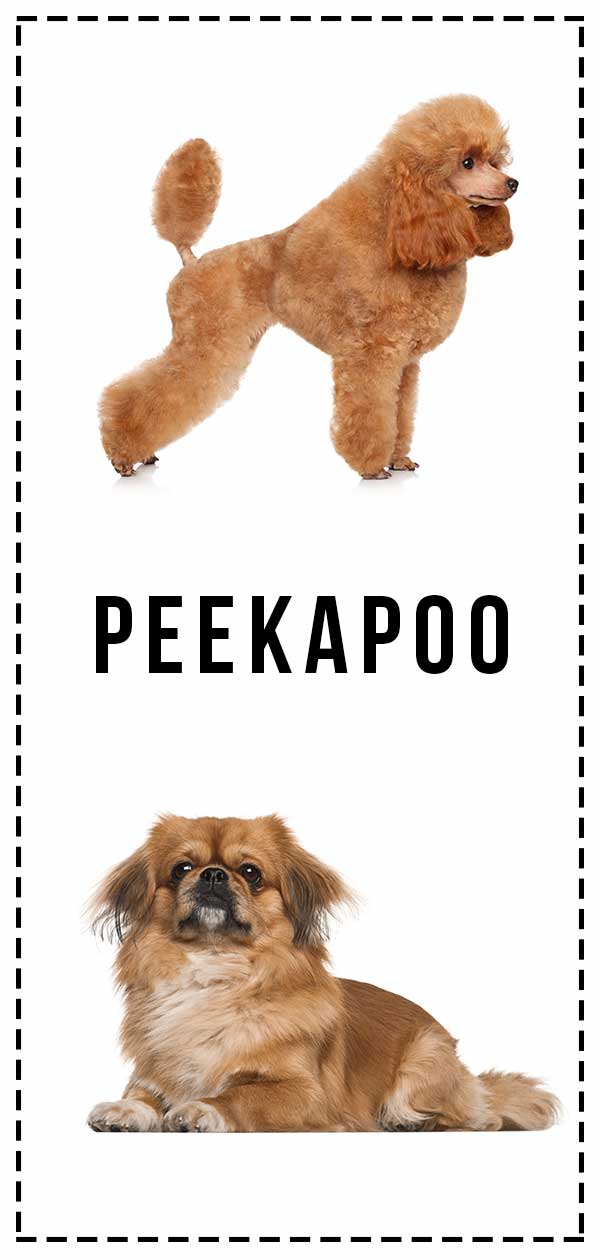 Fun Facts About the Peekapoo
This Poodle–Pekingese cross was one of the first ever mixed breeds bred from a Poodle! So, it's no surprise the Peekapoo is so popular: over half of the most popular mixed-breed dogs in the world are Poodle crossbreeds.
Peekapoo Appearance
The Peekapoo has droopy ears, a long tail and medium to long length fur. The coat is silky, wavy and occasionally tightly curled. Their noses range from long to flatten, and their eyes are normally fairly dark and wide.
How big is a Peekapoo?
Cute Peekapoo puppies are tiny, but how big does a Peekapoo get? Poodles come in three sizes, from the large Standard Poodle to the medium Miniature Poodle and tiny Toy Poodle. But Peekapoo puppies are bred from the Miniature or Toy varieties.
Because of their Miniature or Toy Poodle parentage, Peekapoo adults stand 11 inches tall on average. Like a lot of hybrid dogs, weight can vary between offspring. A Peekapoo should be under 20 lbs, with some weighing in at just 10 lbs.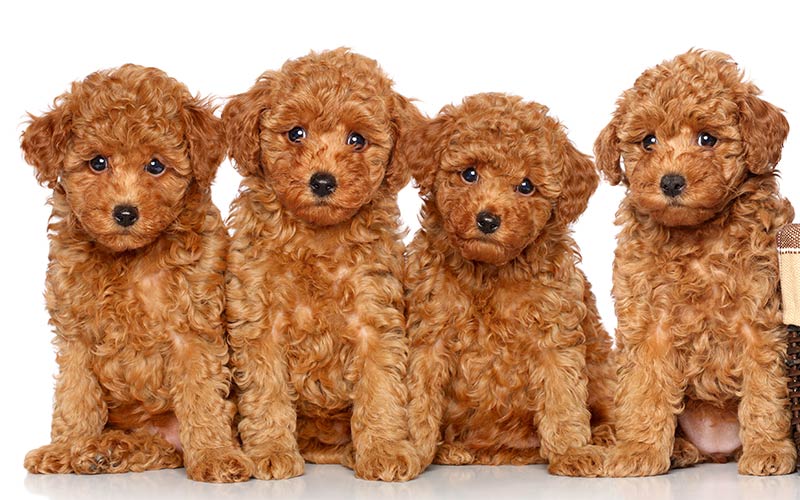 Peekapoo Colors and Coats
The Peekapoo can exhibit some distinct variations in coat color. This is fairly typical for any designer dog breed out there. For example, your Peekapoo may be a fawn color, white with brown or brindle patches, white with black patches, silver, gray, chocolate brown, or any combination of the above!
So, if you are looking for a specific color, such as a black or a white Peekapoo, you could have a longer wait.
Grooming
The Peekapoo's wavy soft coat is not only beautiful, but fairly easy to maintain in general. This is because they do not have an undercoat like some breeds. Thus, they do not usually shed a lot. But, your Peekapoo could have a coat more like their Poodle parent than the Pekingese parent.
In general, regular bathing and brushing is all that you'll have to do. The Peekapoo's coat varies from mid to long but if you don't want to mess with brushing regularly you can get their hair clipped short.
In the hotter months of summer, your Peekapoo may be much more comfortable if their hair is cut at least once a month.
Is the Peekapoo Hypoallergenic?
This mixed breed was originally bred for owners with allergies. But is there really such a thing as a hypoallergenic dog?
Because the Peekapoo does not shed excessively, many people with allergies can tolerate a Peekapoo better than a lot of other dog breeds. For this reason, they are often called hypoallergenic dogs. However, this is not technically correct.
Poodles are a hypoallergenic dog breed, but Pekingese are not. The Peekapoo is a cross between the Poodle and the Pekingese, and there is no way to tell which parent dog the Peekapoo will take after.
Peekapoo Temperament
These fabulous little dogs can have an outgoing and active personality. While they may be perfectly content to cuddle up on your lap one moment, they would love to go on a walk with you in an instant!
Poodles are loyal and loving dogs, with lots of intelligence and energy. They also tend to be fairly laid back around people, adoring of their families but also calm with strangers. The Pekingese is a lapdog, with the heart of watch dog. They will cuddle up on your lap in the evening, but also be sure to let you know if anyone approaches the house.
Since they are a hybrid, they may exhibit more Pekingese traits than Poodle traits or vice versa. However, both the Poodle and the Pekingese are friendly and outgoing dogs, the difference between one Peekapoo and another may not be as noticeable as with some other hybrids.
Unfortunately, the health of the Pekingese parent may be passed on to the puppy, which could make for an energetic dog who is unable to burn off their energy properly.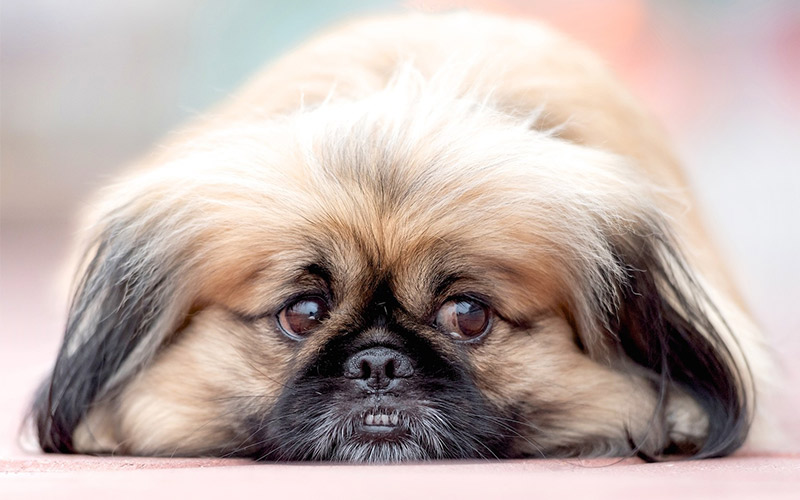 Are Peekapoos Good With Kids?
Although loving with their family, they can be a little intolerant of man-handling and therefore aren't always the best choice for kids.
As a result of their parent breed's personalities, Peekapoos can be playful and friendly with people but they also can be protective of their family.
While most will not lash out, training is very important — specifically, early socialization — to ensure they do not become overly protective.
Training and Exercising your Peekapoo
Peekapoos have the potential to be high energy dogs at times. Poodles, the Peekapoo's parent dog, are clever pups that need lots of interaction in order to work their brains and burn off energy.
They are great dogs for active families who like getting out and about. This is also a common trait among their Peekapoo puppies. When puppies, they can be aggressive little chewers. Peekapoo puppies need chew toys such as teething rings to help when they start to teeth. Other toys for play can help keep them entertained.
It is key to socialize your Peekapoo as young as possible. Socializing early and getting them used to children will prevent any major barking and nipping issues.
The Peekapoo is a very smart little dog and tends to learn new things quickly.
Using positive reinforcement techniques, such as a little treat when your puppy does what is asked of them, will help them learn even faster.
Peekapoo Health and Care
The Peekapoo's facial structure can make them more prone to respiratory problems. This is because the Pekingese parent is a brachycephalic dog breed. Unfortunately, about 67% of Pekingese have Brachycephalic Obstructive Airway Syndrome (BOAS).
BOAS is a horrendous condition for a dog to live with, and makes it hard for them to breathe even when at rest. Especially on very hot days, a Peekapoo can be at risk of overheating, particularly if they are being very active or are spending a lot of time in an area with little or no shade.
If you plan on taking your Peekapoo on vacation to the beach, it might be a good idea to get them a good clipping before you go out. Also, taking along some shade for them will help prevent any heat-related issues.
Only you can decide how you feel about the morality of buying a breed or mixed breed dog that has breathing problems.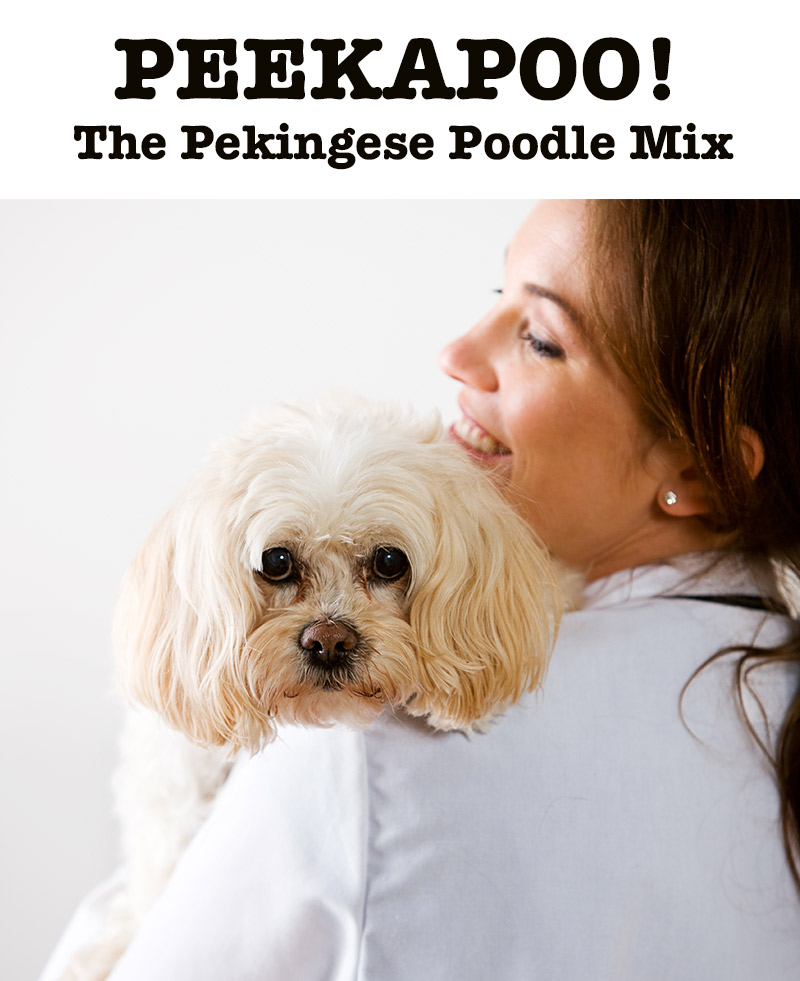 Being crossed with a dog with a full muzzle might reduce the chances of your pup having problems, but it won't remove them completely.
So, if your heart is set on this cross, it is essential that you choose a breeder who has used a Pekingese parent with a fuller muzzle. Make sure they provide evidence that a vet has confirmed they don't have BOAS. This will give you the best chance of not bringing home a puppy that suffers.
It's also important to remember that this condition as well as other health concerns can greatly impact your pup's life expectancy.
Peekapoo Life Expectancy
Luckily, the Miniature Poodle is considered one of the longest living purebred dogs. They live on average 14 years. A Pekingese may live between 13 and 15 years.
Cross-bred dogs tend to live on average a little longer than their purebred cousins, so you can assume that a Peekapoo will live up to 15 years.
Smaller dogs on average live longer than large breeds too, so this also lies in the Peekapoo's favor. However, if you buy a puppy with a brachycephalic face, then this life could be filled with discomfort and potentially expensive medical bills.
This is also an important factor to consider if you have other family members who will care for and love your Peekapoo.
Do Peekapoos Make Good Family Pets?
The Peekapoo, when socialized properly and from health-tested parents, could make a loving and fun family pet. However, buying a dog that has a brachycephalic-prone parent is risky. If your heart is set on a Peekapoo, make sure that you speak to the breeder thoroughly and meet the Pekingese parent.
Importantly, make sure that they have a pronounced muzzle, and have never required surgery or medical intervention for respiratory problems. This risk is one reason that many wannabe Peekapoo owners opt for adoption instead of purchasing a new puppy.
Rescuing a Peekapoo
If you are looking for a dog of any age, then Peekapoo rescue could be a great option. As mentioned above, you can be fairly sure that an adolescent or fully grown Peekapoo doesn't have serious medical concerns or require costly vet bills.
Also, you can see what the older dog's temperament is like, and miss out on that bity puppy stage! However, a rescue Peekapoo may not be a mix of two purebred dogs, and could possibly be a little more guesswork.
But, they can still make wonderful pets; rescuing a neglected or orphaned Peekapoo is a hugely rewarding experience, and will make for a very happy pup once you bring him home.
If you have your heart set on a puppy, however, or you are looking for a specific color of dog, then you'll need to find a breeder.
Finding a Peekapoo Puppy
Like any designer dog breed, you need to be careful about who you are getting them from. For starters, asking for the medical history of the parents or having access to pedigree records helps potential dog parents ensure they are making a good decision.
With one brachycephalic parent, it is essential you get a certificate of health from a veterinarian. Make sure you have evidence the Pekingese parent does not have BOAS.
In addition, good breeders have only a few dogs, who live as family pets in the home. They should clearly know their owner, their own name, and have a strong bond with the family.
Peekapoo Puppy Price
If a price sounds too good to be true then you should be alert and cautious about your purchase. While occasionally someone just wants to find a good home for a Peekapoo, you should expect to pay $500–$1500 for a puppy.
You can find tips on avoiding puppy farms here — it's not always as clear as you might think!
Raising a Peekapoo Puppy
Raising a puppy is no easy task, not to mention potentially expensive.
Especially if you buy a puppy that has one brachycephalic parent, health insurance is essential as the chances of them needing veterinary care are high.
Although Peekapoos are a healthy and long-lived breed, purchasing one from the wrong kennel could mean problems down the road.
You also need to add in the cost of getting your puppy their shots and other 1st year of life medical care. Some dog parents choose to get health insurance for their puppy that covers a large portion of these costs and provides emergency coverage as well.
The Peekapoo cannot be registered with the AKC as they are a mixed breed, but they can be registered through The American Hybrid Canine Club under the name "Peke A Poo".
Don't forget, we've got lots of free guides to help you raise your new Peekapoo pup with confidence.
Peekapoo Products and Accessories
No new pup experience is complete without the perfect accessories.
In particular, you'll need to consider getting some supplies if you plan on taking your Peekapoo out and about.
Remember that this breed can easily overheat. Luckily, we have just the right accessories lined up for you:
As with every dog breed, there are some noteworthy pros and cons of bringing home a Peekapoo.
Pros And Cons of Getting a Peekapoo
Cons
Can inherit serious health issues like BOAS
May require expensive veterinary treatments
Can overheat in warm weather
Prone to protective behaviors if not socialized early
Pros
Friendly and playful temperament
Make great family pets
Typically low-shedding or non-shedding
Good exercise companions
If you're still unsure after reviewing our list of pros and cons, consider comparing the Peekapoo with other breeds before making your decision.
Comparing the Peekapoo with Other Breeds
There are some other lovely healthier small breeds and mixes you might like to check out, and you can read all about them in the articles below:
If you have your heart set on a Poodle mix or Pekingese mix, then check out these similar breeds.
Similar Breeds
Peekapoo Breed Rescues
USA Rescues
UK Rescues
Australia Rescues
Canada Rescues
Have you had any serious health issues with your Peekapoo, or were you lucky enough to find a healthy, happy Pekingese Poodle mix for your family? Let us know in the comments below!
If you've enjoyed this guide, make sure you take a look at our full guide to Poodle mixes!
Related Articles
References And Resources