The Maltipoo is a Maltese Poodle mix. Small dogs, they weigh just 5 to 20lbs, depending upon the type of Poodle parent.
They are designed to have hypoallergenic coats, but this is not always the case.
Despite this the Maltipoo dog is a very popular cross breed, and one look at an adorable Maltipoo puppy is enough to melt anyone's heart.
Maltipoo FAQ
It's easy to be smitten with the Maltipoo, but before you get one, there are some important things you should know about Maltipoos.
Or any gorgeous designer dog like the Maltese and Poodle mix.
Let's take a closer look at all things Maltipoo!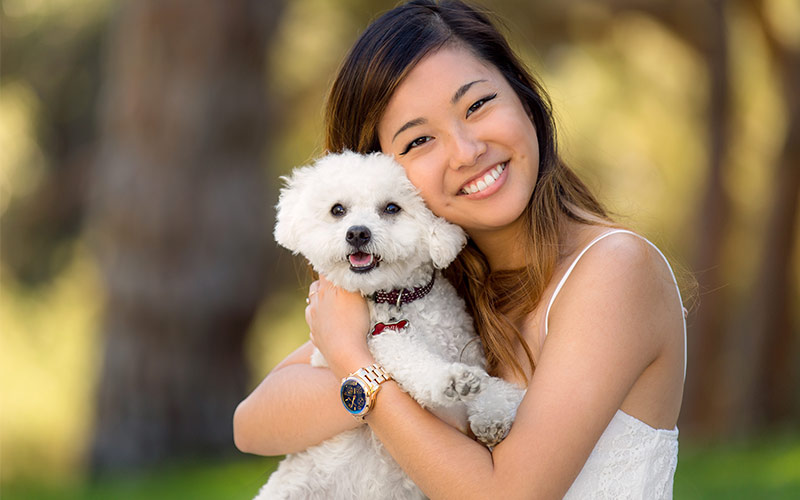 Welcome To Our Complete Guide To The Maltipoo. The Beautiful, Adorable Maltese Poodle Mix.
What is a Malitpoo?
A Maltipoo is a cross between a Maltese and a Poodle. Usually a Toy or Miniature Poodle and not the larger Standard Poodle.
The Maltese is a toy breed known for its silky white coat, black button eyes, and loving, perky personality.
An ancient breed originally from the island of Malta, the Maltese has been a pampered lap dog for many centuries.
The Poodle has been a popular choice for many cross-breed dogs like the Maltipoo, Labradoodle, and Cockapoo.
Poodles are known for their intelligent, active nature. They also have a hypoallergenic coat.
Like the Maltese, the Poodle is an old, established breed that has been around for a very long time.
What is the history of the Maltipoo? Let's take a look.
Maltipoo history
Designer mixed breeds like the Maltese Poodle cross are a fairly recent development in canine history.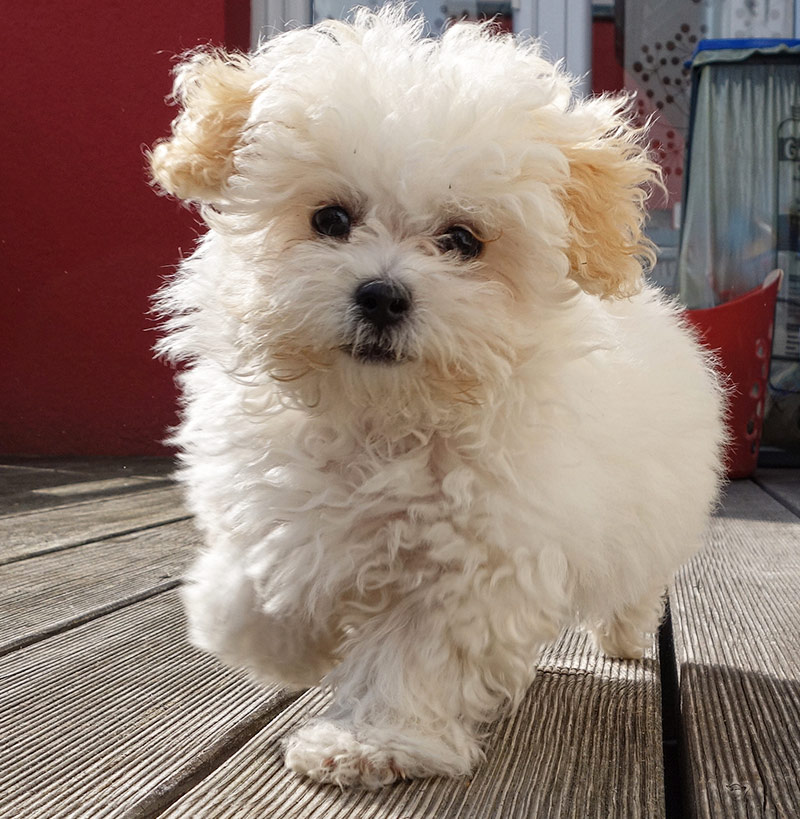 Breeders often choose Poodles to cross with other breeds, with the goal of combining the Poodle's hypoallergenic coat with the other breed's looks and personality.
In the case of the Maltipoo, the Maltese crossed with a Toy or Miniature Poodle aims to create a charming, teddy bear-like little dog with a happy and affectionate personality.
However, as with any cross breed the outcome is not predictable. You could have a pup that looks like a Poodle, but has a Maltese temperament. Or a dog with a Maltese appearance and a Poodle personality. Or any range in between.
So you need to be certain that you love both Poodle and Maltese temperaments and looks before you choose a Maltipoo puppy.
How big do Maltipoos get?
Maltipoo adults are generally small dogs, like their founding breeds.
The Maltese is a toy breed, ranging from 6-8 pounds and 8-10 inches in height.
Toy Poodles weigh between 4-6 pounds and measure 10 inches high. Miniature Poodles are a bit bigger at 10-15 pounds and 10-15 inches.
Because either toy or miniature Poodles are used in the Maltipoo, the size of a full grown Maltipoo can range from 5-20 pounds and 8-14 inches tall.
This variation means that your puppy can grow to be a true toy Maltipoo, but could also be a bit larger too.
You won't be able to predict your Maltipoo's adult size, but you can guess that it will be somewhere between the maximum and minimum heights of their parents.

Maltipoo temperament
Both Poodles and Maltese dogs are known for their engaging and charming personalities. With the Poodle getting high marks for smarts and the Maltese for affection.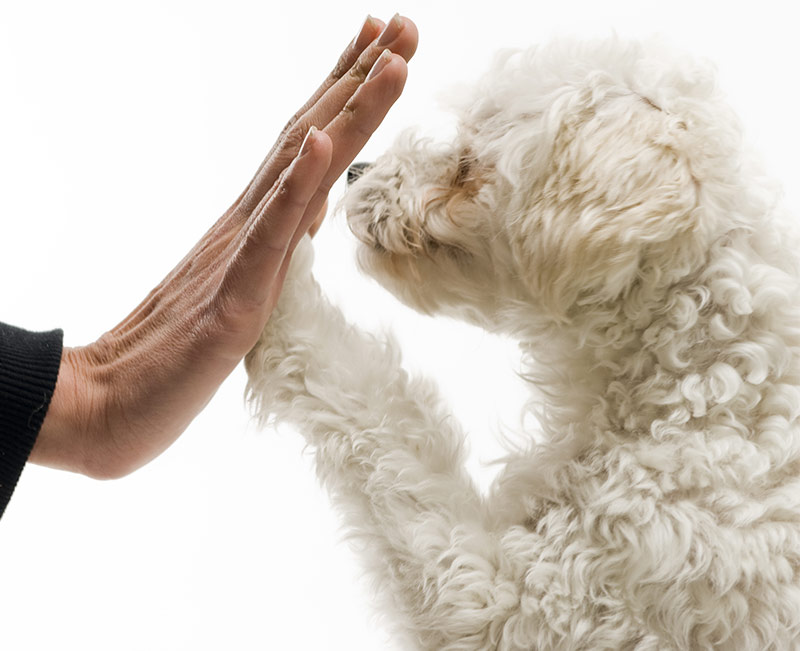 Being a mix, your Maltipoo puppy could grow up to be more like her Poodle ancestors, or more like her Maltese ones. Whichever turns out to the be case, a good temperament should always a high priority for Maltipoo breeders.
You may also be interested in
the Morkie
– an adorable Maltese Yorkie mix
The Maltipoo is well known as a sweet and loving companion animal.
Like all dogs, the Maltipoo needs good training and socialization from puppyhood on.
New owners should be aware that they can bark more than other dogs, and their devotion to their humans can lead to separation anxiety.
Is the Maltipoo hypoallergenic?
Are Maltipoos hypoallergenic? One of the main goals of crossing Poodles with other breeds is to create a dog that's good for people with allergies.
Is this true for the Maltipoo?
First the bad news…there is no such thing as a 100% hypoallergenic dog. Most pet allergies are due to dander—dead skin flakes—not any particular kind of fur.
Certain breeds like Poodles have less dander and shed less than other breeds, which can be good for people with allergies.
The Maltese, like the Poodle, also does not shed much and is frequently listed as one of the more hypoallergenic dog breeds. This is all good news for Maltipoo lovers!
Your Maltipoo will not shed fur and dander as much as other dog breeds, and could be a good choice if you have allergies. But this is by no means a certainty.
Be sure to spend time with Maltipoos in their home environments to see how you react before bringing a new Maltipoo puppy into your home.
Meet both the Poodle and Maltese parents, and make sure they both have temperaments you would be happy to share your life with.
Maltipoo shedding
Poodles and Maltese are both low-shedding breeds, which is good for allergies as we've seen. However, minimal shedding doesn't necessarily mean that their coats are low maintenance.
Although the Poodle has curly fur and the Maltese has straight fur, both Poodles and Maltese have long coats that require weekly grooming, as well as regular baths and trimmings.
The Maltipoo's coat is medium to long in length, with a soft, fluffy texture and some degree of wave or curl.
Your Maltipoo will need regular grooming and baths. Many Maltipoo owners also clip their dog's fur, especially on the face.
Maltipoo health
Are there any Maltipoo health conditions new owners should know about? If you are considering a teacup Maltipoo, it's important to understand the health problems of so-called "teacup" varieties.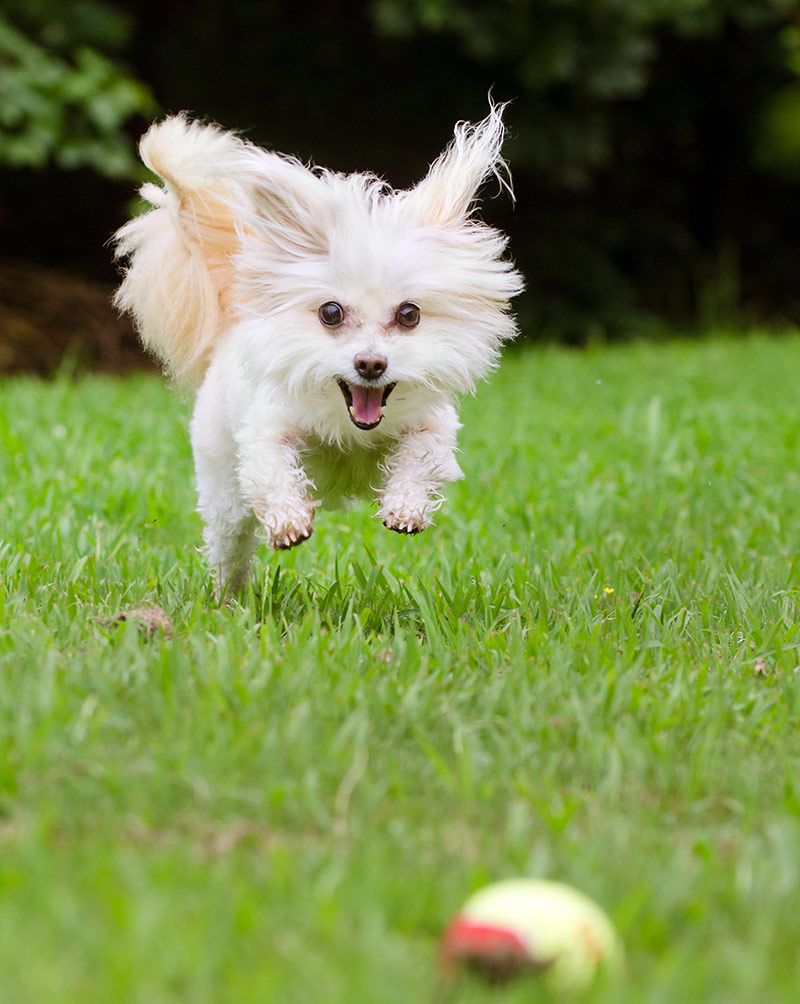 Dogs bred for extremely small size can suffer from serious health conditions like fragile bones and improper bone development. Many teacup dogs will have soft spots on their skulls even when they are full grown.
A normal size Maltipoo has the genetic advantage of being a cross breed. Because pure bred dogs can suffer from inherited diseases, mixing breeds can lead to a more diversified gene pool and more robust health.
What are some of the genetic conditions common to the Maltese and Poodle?
A heart condition called mitral valve prolapse has been identified in some Maltese. A serious brain disease called necrotizing meningoencephalitis is also found in the Maltese.
Standard Poodles can be prone to a variety of autoimmune conditions. However, they are not usually used to breed the Maltipoo. More common issues in miniature Poodles are orthopedic and eye problems, as well as epilepsy.
Will a Maltipoo inherit the genetic diseases of Maltese and Poodles? A Maltipoo can get certain health conditions from its founding breeds. Every dog is an individual, but there are a few problems new Maltipoo owners should be aware of.
Maltipoos can suffer from the neurological conditions "white dog shaker syndrome" and epilepsy.
Maltipoos can also be prone to joint and orthopedic problems that are common to small dogs. An eye disease called progressive retinal atrophy can also occur.
Maltipoo lifespan
What is the Maltipoo life expectancy? Of course, all dogs are individuals, but in general the founding breeds of the Maltipoo have relatively long lifespans.
The average life expectancy of a Maltese is 12 years. For miniature Poodles, the average lifespan is 14 years and for toy Poodles it's 13 years.
Maltipoos are generally given a range of between 10 and 15 years, with 12-13 years often listed as the average lifespan of a Maltipoo.
Like other small breeds, they tend to have longer lifespans than large breed dogs.
Maltipoo puppies
Interested in a Maltipoo puppy? Few puppies are as adorable as the cuddy, teddy bear-like Maltipoo! Here are a few facts about Maltipoo puppies.
Maltese-Poodle puppies are the result of directly breeding a toy or miniature Poodle with a Maltese. Less common are puppies that come from two Maltipoo parents. A reputable breeder will be able to provide details on your puppy's parentage.
Because Maltipoos are known to have some of the genetic health conditions common to both Maltese and Poodles, it's important to have your new puppy health tested for issues that affect both parent breeds.
Your Maltipoo puppy's parents should have certification from both the Orthopedic Foundation for Animals and the Canine Eye Registry. Progressive retinal atrophy can be ruled out with a DNA test.
A Maltipoo's puppyhood lasts until he is one year old. Start housetraining your Maltipoo puppy right away. Other forms of socialization and training can start early too.
The most common behavioral problems you will want to focus on are barking, separation anxiety, and jumping.
Maltipoo breeders
Like other designer cross breed dogs, Maltipoos are not recognized by the American Kennel Club or other similar organizations. But you can still find reputable breeders if you're looking for a Maltipoo puppy.
It is always a good idea to search for Maltipoo breeders in your area that welcome a home visit from potential buyers.
That way you can check out the home environment where your puppy is raised. A good breeder will also like to meet you to make sure their puppy is going to a good home.
Cute, small dogs like Maltipoos are always popular. You will see online ads for Maltipoo puppies, and it is common to find Maltipoo puppies for sale in pet stores. It is possible that these puppies come from large-scale puppy mill breeding operations.
To avoid buying from a puppy mill, make sure you choose a small-scale local breeder who raises the puppies in a loving home environment.
Visiting a breeder in person and talking to other customers is a good way to make sure you are getting a quality dog.
Maltipoo price
How much will you pay for a Maltipoo puppy?
The cost of a Maltipoo puppy purchased from a breeder can vary.
Maltipoo prices range from around $400 to as much as $2,000. Expect to pay around $700-$800 for a dog from a good breeder.
Remember that Maltipoo puppies for sale online and in pet stores can come from puppy mills. Very low prices could be a red flag, and you may find that you will be spending the money you save on vet bills instead.
A quality puppy from a good breeder is worth the extra cost. Breeder prices will vary, depending on things like their reputation, geographic location, the lineage of their dogs, and the demand for their puppies.
Maltipoo rescue
Interested in Maltipoo adoption instead? Maltipoo rescue is a great option for fans of the breed who would rather adopt, not shop.
Because Maltipoos are so cute and popular, many Maltipoo puppy purchases can be impulse buys by inexperienced owners. This means that some of these Maltipoos will end up at animal shelters or rescue organizations.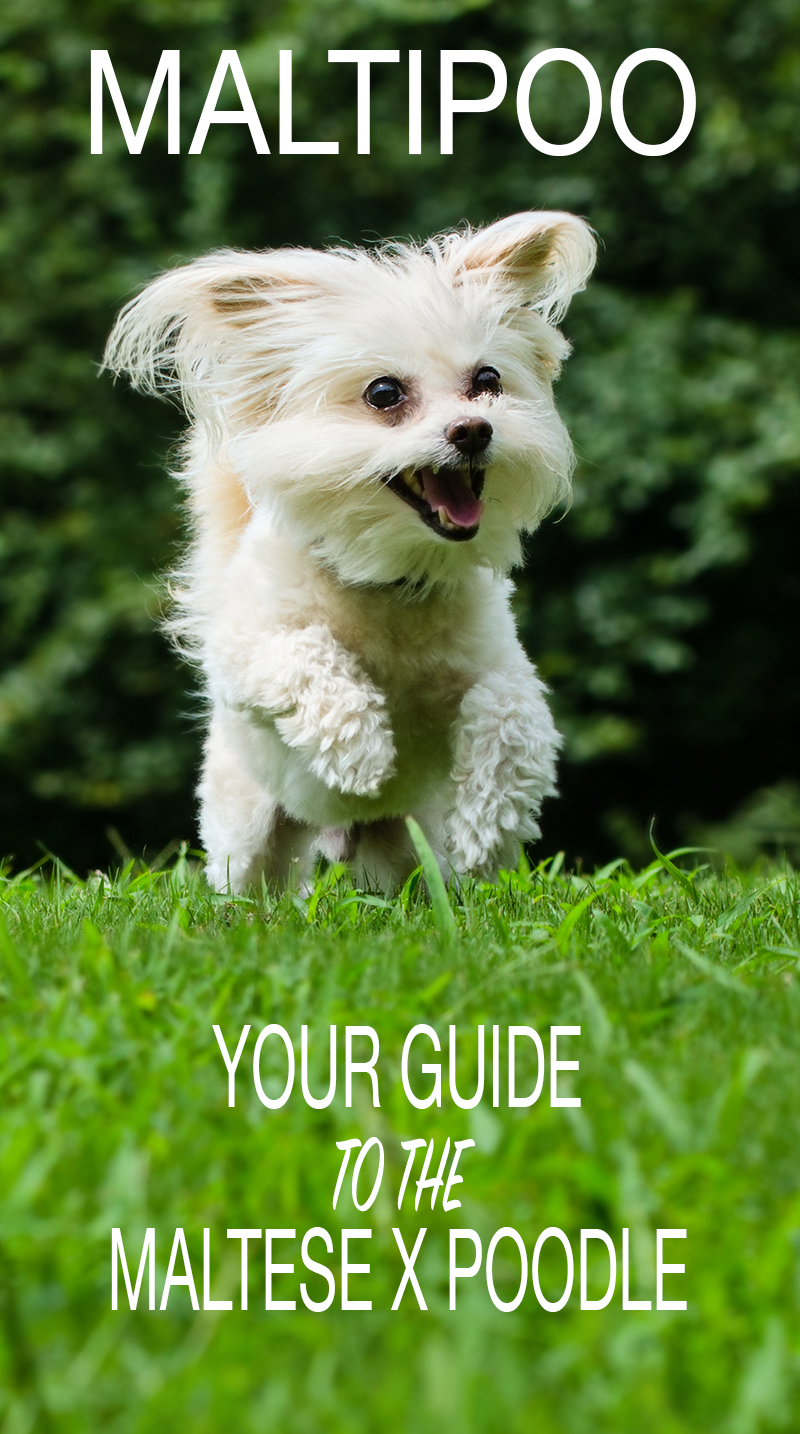 There are established rescue organizations devoted to Maltipoos, other Poodle mixes, and small dogs in general. Many Maltese breed rescue groups will also have available Maltipoos. Most major metropolitan areas will have a rescue group that focuses on dogs like the Maltipoo.
You can search these specific breed-type rescue organizations for adoptable dogs, but most animal shelters and nationwide rescue clearinghouses will identify Maltipoos and allow you to specify "Maltipoo" as a breed in your search criteria.

Is a Maltipoo right for me?
Would a Maltipoo fit in well with your family?
These chasmatic, intelligent little dogs will thrive in an environment where someone is around for much of the day. With owners who are commited to training, socialization and regular exercise. As well as a whole lots of love.
You will need to make sure you find a good breeder, that health tests there stock. And would be advised to go for a Miniature rather than Toy mix, as they are less likely to be so small and fragile.
Maltipoo personality can be as gorgeous as their appearance, and these lovely little dogs can make wonderful pets.
References
Farrell, L.L., Schoenebeck, J.J., Wiener, P., et al. "The Challenges of Pedigree Dog Health: Approaches to Combating Inherited Disease." Canine Genetics and Epidemiology, 2015.
Oberbauer, A.M., Belanger, J.M., Bellumori, T., et al. "Ten Inherited Disorders in Purebred Dogs by Functional Breed Groupings." Canine Genetics and Epidemiology, 2015.
Suh, S.I., Choi, R., Hyun, C. "Familial Mitral Valve Prolapse in a Maltese Dog Family." Journal of Biomedical Research, 2015.
Schrauwen, I., Barber, R.M., Schatzberg, S., et al. "Identification of Novel Genetic Risk Loci in Maltese Dogs with Necrotizing Meningoencephalitis and Evidence of a Shared Genetic Risk across Toy Dog Breeds." PLoS ONE, 2014.
Pedersen, N.C., Brucker, L., Green Tessier, N., et al. "The Effect of Genetic Bottlenecks and Inbreeding on the Incidence of Two Major Autoimmune Diseases in Standard Poodles, Sebaceous Adenitis and Addison's Disease." Canine Genetics and Epidemiology, 2015.
American Kennel Club