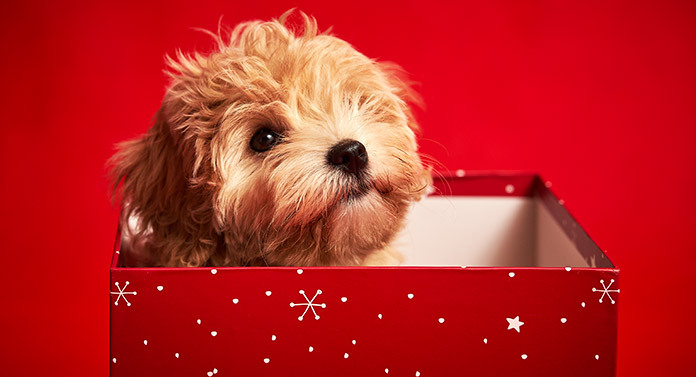 The Maltipoo dog is a cross between the gentle, affectionate Maltese and the clever, athletic Toy or Miniature Poodle. Also known as the Miniature Maltese Poodle, Maltipoos are small, charming, companion dogs. The full grown Maltipoo weighs less than 20 pounds, and is well suited to apartment living. Coat colors vary but are often white or cream, and low shedding.
Contents
The Maltipoo generally gets along well with children, seniors and family pets too. They are happy to swap your lap for walks and games in the park. The Maltipoo's tousled coat need regular grooming and clipping but in return, these playful little dogs are intelligent, loving, and easy to train.
Where Do Maltipoos Come From?
The Maltese Poodle mix has only become popular in the last few decades. But both parents are from ancient breeds with a long history. The Maltese originates in Europe (although whether it is actually from Malta is disputed). It has been a pampered lap dog for many centuries.
The Poodle was first bred in Germany, as a water dog. These dogs helped hunt and retrieve in and around water. Some standard Poodles are still used for this purpose today.
Like other retrieving breeds, Poodles are known for their intelligence. Over time smaller versions of the Poodle have been bred as companion dogs. Giving rise to today's Toy and Miniature Poodles. By crossing the clever poodle with the friendly Maltese, breeder hope to create a charming, affectionate, and bright little dog.
Over the last few years, Maltese Poodle dogs have become really popular! This could be partly because their appearance makes them look like adorable little teddy bears! In fact, you'll see plenty of celebrities showing off these little pooches! Rihanna has an adorable Maltese Poodle dog called Oliver.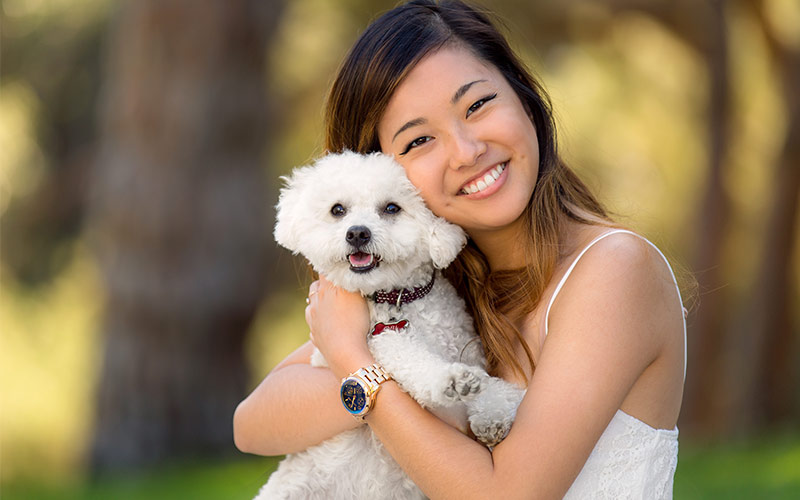 Some other famous owners (with their pup's names in brackets) include: Ashley Tisdale (Blondie and Maui), Miley Cyrus (Sophie), Blake Lively (Penny) and Michele Kwan (Ginseng). The Ziegler family from the popular show "Dance Moms" even have a Maltipoo called Maliboo! You may have seen her in some of the earlier episodes!
Full Grown Maltipoo Appearance
The appearance of a cross breed dog is never entirely predictable. Your pup may look like a poodle, or a maltese, or any combination of the two. Looking at the parents can help us to estimate what your Maltese Poodle mix could look like. You won't be able to predict your Maltese Poodle dog's adult size. But you can guess that it will be somewhere between the maximum and minimum heights of their parents.
Poodle
Maltese
Maltipoo
Size
Miniature/Toy
Toy
Toy (or a little larger)
Height
10-15 inches
8-10 inches
8-14 inches
Weight
4-6 lbs (toy)
10-20 lbs (mini)
6-8 lbs
5-20 lbs
Is the Maltipoo Hypoallergenic?
The Maltipoo's coat is medium to long in length, with a soft, fluffy texture and some degree of wave or curl, depending on what it inherits. One of the main goals of crossing Poodles with other breeds is to create a dog that's good for people with allergies. Is this true for the Maltese Poodle hybrid? First the bad news…there is no such thing as a 100% hypoallergenic dog. Most pet allergies are due to dander—dead skin flakes—not any particular kind of fur.
Low Shedding Breeds
Certain breeds like Poodles have less dander and shed less than other breeds. This can be good for people with allergies. The Maltese Poodle cross, like the Poodle, also does not shed much. It is frequently listed as one of the more hypoallergenic dog breeds. So this is all good news for Maltese Poodle mix lovers!
Your pup will not shed fur and dander as much as other dog breeds, and could be a good choice if you have allergies. But this is by no means a certainty. Be sure to spend time with Maltipoos in their home environments to see how you react before bringing one of these puppies into your home.
Grooming & General Care
This little breed needs regular grooming, to keep any knots out of their fur. Make sure to check their ears regularly for any excess wax. And keep on top of their nails with nail clippers or grinders if needed. Choose a high quality food. But ensure you don't overfeed your pup, as this could lead to obesity.
Coat Care
Poodles and Maltese are both low-shedding breeds, which is good for allergies as we've seen. However, minimal shedding doesn't necessarily mean that their coats are low maintenance. Although the Poodle has curly fur and the Maltese has straighter fur, both Poodles and Maltese have long coats. They require weekly grooming. As well as regular baths and trimmings. Many owners also clip their dog's fur, especially on the face.
Are They Good Pets?
The Maltese and Poodle mix, is well known as a sweet and loving companion animal. Both Poodles and Maltese dogs are known for their engaging and charming personalities. With the Poodle getting high marks for smarts and the Maltese for affection. Being a mix, your puppy could grow up to be more like her Poodle ancestors. Or more like her Maltese ones.
As with any cross breed the outcome is not predictable. So you need to be certain that you love both Poodle and Maltese temperaments before you choose this puppy. Make sure to meet both the Poodle and Maltese parents. And make sure they both have temperaments you would be happy to share your life with.
These chasmatic, intelligent little dogs will thrive in an environment where someone is around for much of the day. With owners who are committed to training, socialization and regular exercise. As well as a whole lots of love.
You will need to make sure you find a good breeder, that health tests there stock. And would be advised to go for a Miniature rather than Toy mix, as they are less likely to be so small and fragile. Maltipoo personality can be as gorgeous as their appearance, and these lovely little dogs can make wonderful pets.
Maltipoo Barking
Like many small dogs, Maltipoos have a tendency to bark. There is much you can do to reduce barking and avoid it becoming a problem.
Try to ignore your Maltipoo puppy when they bark for attention or because they want you to give them something. It's very cute when they are small, but it can become an annoying habit.
Instead, reward your puppy for desirable behaviors such as sitting quietly, or just standing quietly with all four paws on the floor. Put a treat by your Maltipoo's nose when they are laying in their basket, or sitting on your lap. You can use up most or even all of your puppy's daily food ration simply reinforcing the behaviors you want to encourage.
Training Small Breeds
New owners should be aware that Maltese Poodle hybrids can bark more than other dogs. So if you're looking for a quiet breed, a Maltese and Poodle cross might not be for you. On top of this, the breed's devotion to their humans can lead to separation anxiety. So really they need to be in a home where they won't be left alone for long periods of time. Or introduced very gradually and gently to staying alone. This is not a quick process, so do plan to be around for the first months your pup is with you!
Like all dogs, this breed needs good training and socialization from puppyhood on. A Maltipoo's puppyhood lasts until he is one year old. Start housetraining your puppy right away. Other forms of socialization and training can start early too. The most common behavioral problems you will want to focus on are barking, separation anxiety, and jumping. Socialization will help to avoid any unwanted aggression towards other dogs and people.
Exercise Needs
To stay happy and healthy, the Maltese and Poodle cross will need regular exercise. Their small size can mean they seem suitable for smaller homes, but even a dog this small needs the opportunity to stretch its legs. Make sure your pup gets outside for a walk, run, or some busy training games, on a daily basis. They might also enjoy swimming! Do be aware that, extra small toy breeds can have issues with fragile bones, which can affect their safety when exercising. You can read more about this in the health section below.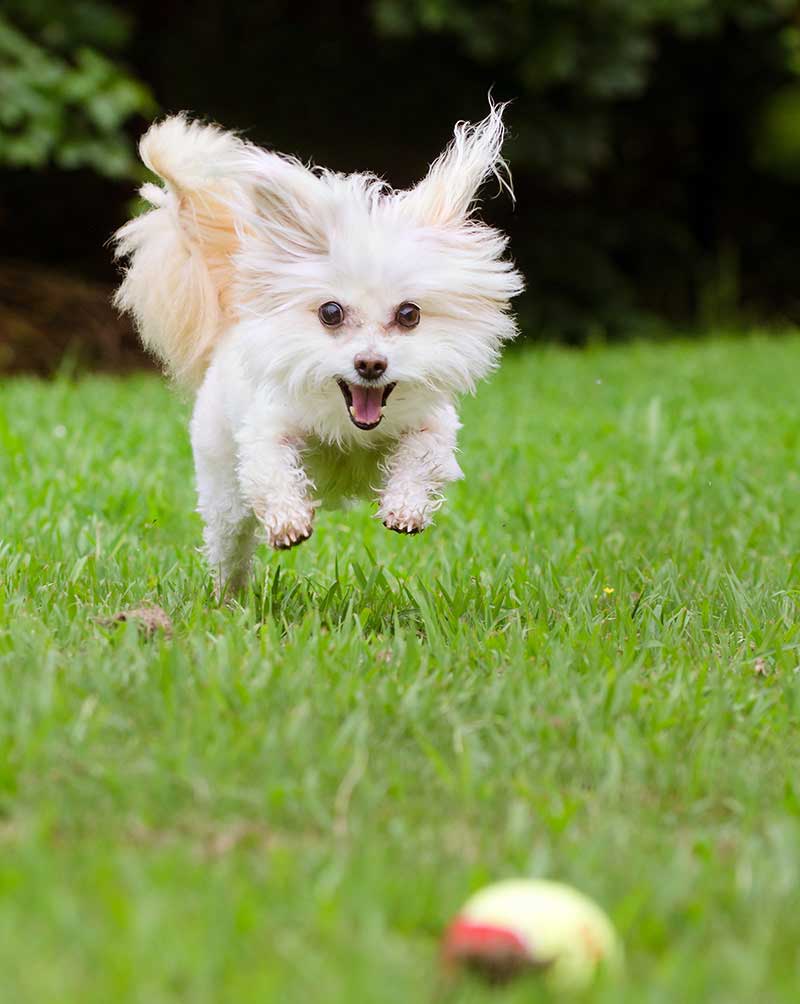 Health Issues
There is a wide belief that cross bred dogs are automatically more healthy than pure bred dogs. But nature isn't quite so simple. Regular mixing of genes will definitely make our dogs healthier as a group, in the long run. But a first generation cross like a Maltipoo may be at risk of inheriting health problems from both its parents.
A Maltese Poodle mix has the potential to inherit health problems from both or either parent. Some of these problems may reduced by mixing genetics with another breed – but this isn't guaranteed. Make sure the parents have had all the usual health tests recommended for their breed, before purchasing a pup.
Maltese Poodle Cross Health Risks:
| | |
| --- | --- |
| | |
| Heart: | Mitral valve disease |
| Brain: | Epilepsy, necrotizing meningoencephalitis |
| Eyes: | Progressive retinal atrophy |
| Joints: | Luxating patella |
Maltipoo Health Risks
What is the Maltipoo Life Expectancy?
Of course, all dogs are individuals, but in general the founding breeds of this cross have relatively long lifespans. The average life expectancy of a Poodle and Maltese mix is 12 years. For miniature Poodles, the average lifespan is 14 years and for toy Poodles it's 13 years. Poodle Maltese mixes are generally given a range of between 10 and 15 years, with 12-13 years often listed as the average lifespan of a Maltipoo.
Rescuing a Poodle and Maltese hybrid
Maltipoo rescue is a great option for fans of the breed who would rather adopt, than shop. Because Poodle Maltese hybrids are so cute and popular, many puppy purchases can be impulse buys by inexperienced owners. This means that sadly some of these Maltipoos will end up at animal shelters or rescue organizations.
There are established rescue organizations devoted to Poodle Maltese crosses, other Poodle mixes, and small dogs in general. Many Maltese breed rescue groups will also have available Maltipoos. You can search these specific breed-type rescue organizations for adoptable dogs. And most animal shelters and nationwide rescue clearing houses will allow you to specify "Maltipoo" as a breed in your search criteria.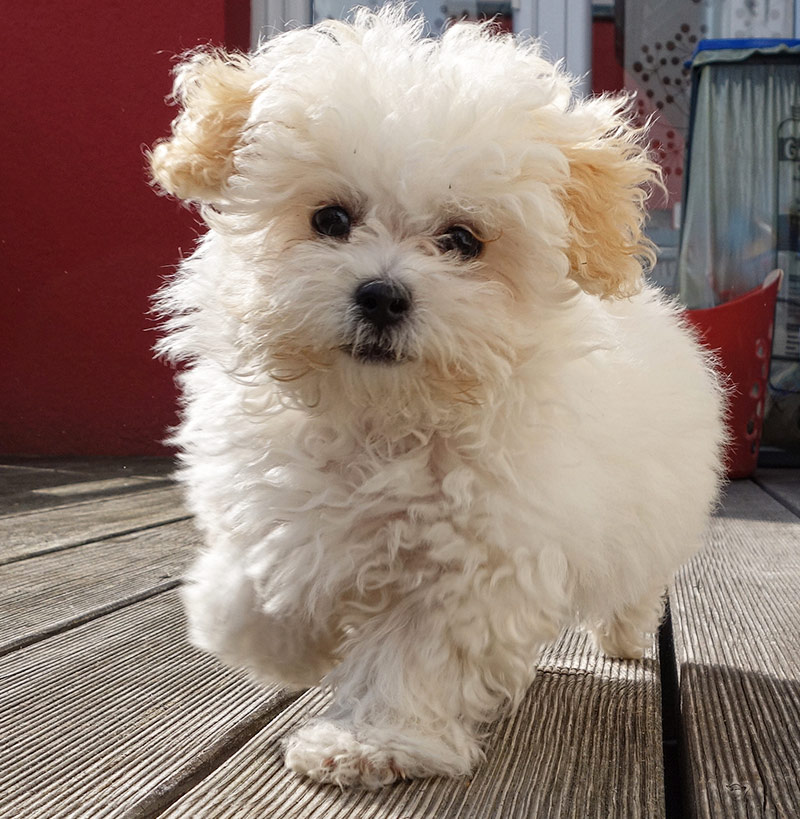 Finding a Maltipoo Puppy
Like other designer cross breed dogs, Poodle and Maltese hybrid puppies are not recognized by the American Kennel Club or other similar organizations. But you can still find reputable breeders if you're looking for a Poodle and Maltese mix puppy. It is always a good idea to search for breeders in your area that welcome a home visit from potential buyers. That way you can check out the home environment where your puppy is raised. A good breeder will also like to meet you to make sure their puppy is going to a good home.
Where to Avoid
Cute, small dogs like Maltipoos are always popular. You will see online ads for Poodle and Maltese cross puppies, and it is common to find these puppies for sale in pet stores. It is possible that these puppies come from large-scale puppy mill breeding operations.
To avoid buying from a puppy mill, make sure you choose a small-scale local breeder who raises the puppies in a loving home environment. Visiting a breeder in person and talking to other customers is a good way to make sure you are getting a quality dog.
Maltipoo Price
How much will you pay for a Maltipoo puppy? The cost of a puppy purchased from a breeder can vary. Maltipoo prices range from around $400 to as much as $2,000. Expect to pay around $700-$800 for a dog from a good breeder.
Remember that Maltipoo puppies for sale online and in pet stores can come from puppy mills. Very low prices could be a red flag, and you may find that you will be spending the money you save on vet bills instead. A quality puppy from a good breeder is worth the extra cost.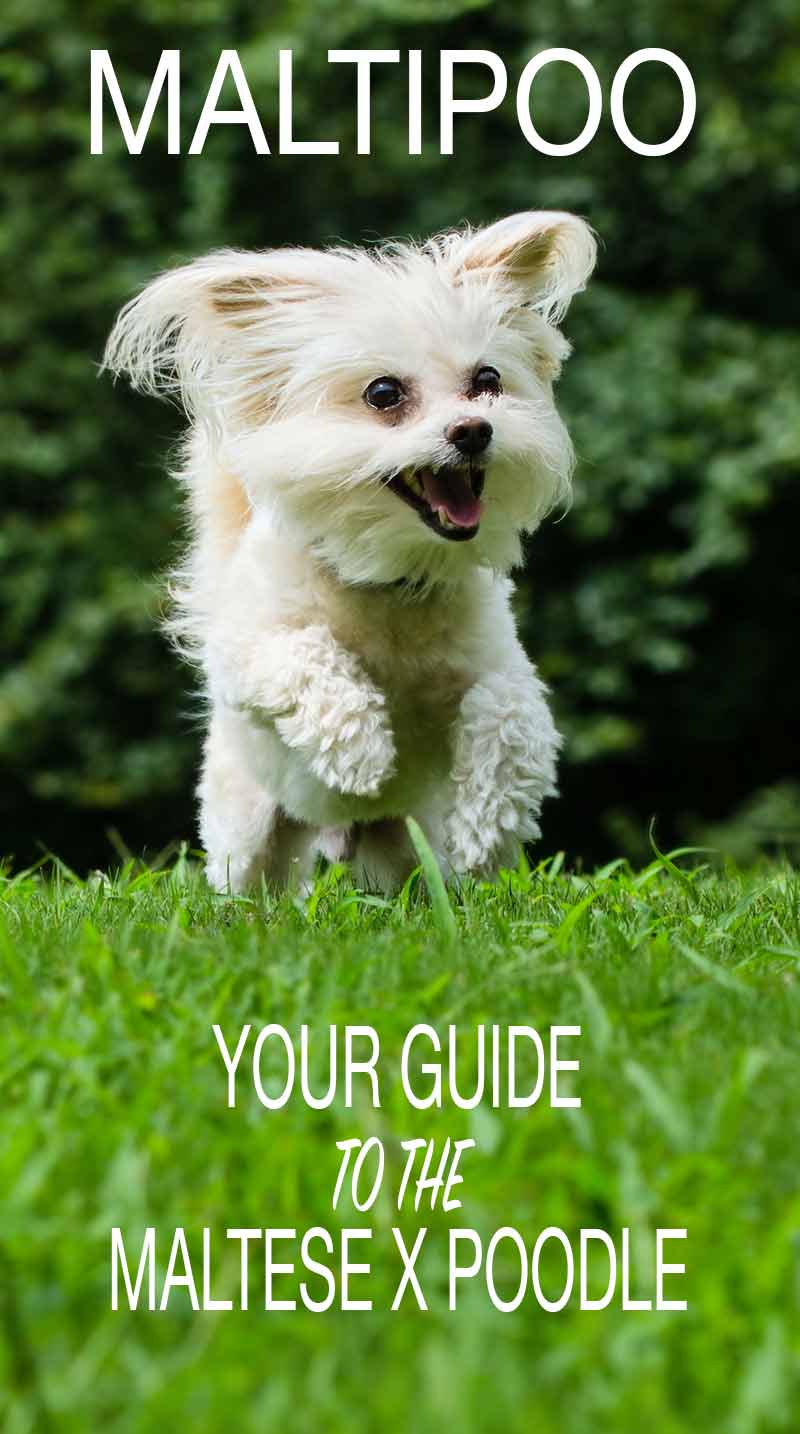 Raising a Poodle and Maltese Hybrid Puppy
Puppies should not be collected until they are 8 weeks old. It's a good idea to have your puppy next to your bed for the first four or five nights. Maltipoo puppies will need four or five meals a day for the first four weeks. And then three meals a day until they are six months old.
All puppies get under your feet, but tiny puppies are particularly vulnerable. If you have children the main risk to your puppy in the first few weeks will be accidents. Create a puppy zone in your house for the first few weeks rather than giving the puppy access to the whole house. Have some ground rules for children about moving slowly in the puppy's zone, and sitting down to cuddle the puppy.
Potty training a tiny dog can take a bit longer than with larger dogs, so you will need to be patient, especially if your Maltipoo puppy's mother or father was a toy poodle. That's simply because tiny puppies have tiny bladders that don't hold much urine.
Take your puppy to their puppy pad, or outside, very frequently for the first few weeks. Clean up any accidents quickly and whenever there has been an accident, take your puppy outside more frequently for a few days afterwards.