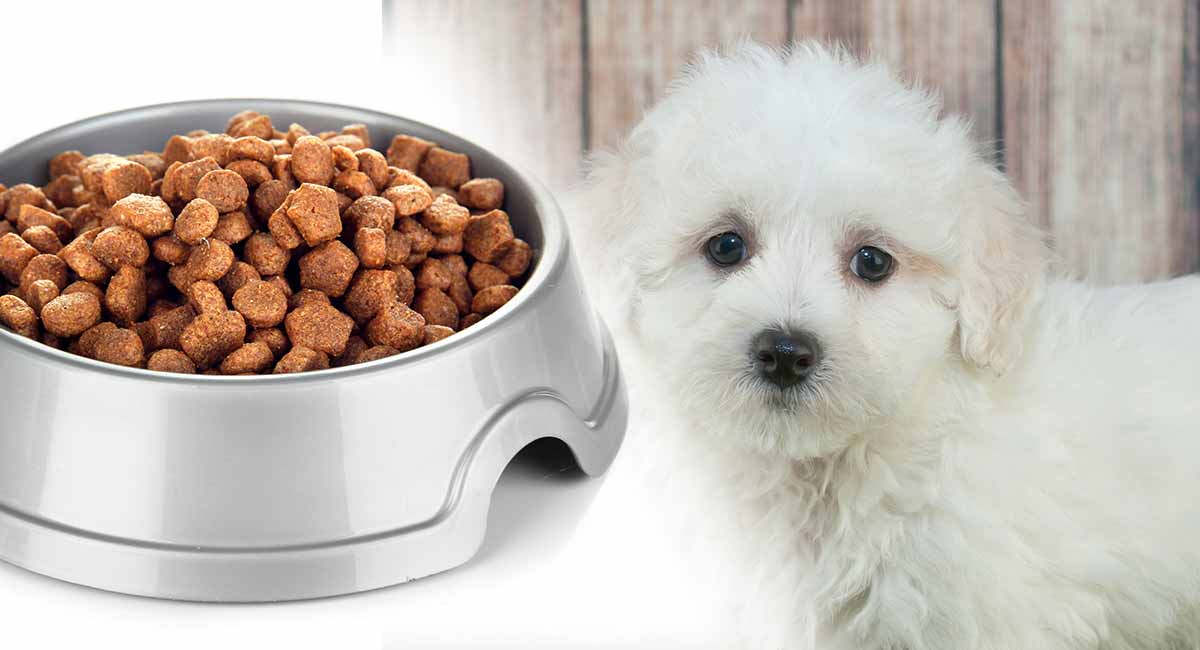 Feeding a Maltipoo puppy the right diet until they reach adult size can be full of surprises. For example, these small dogs need more calories per pound than larger dog breeds. And a puppy weaned onto a poor diet can't start a better one overnight. Feeding a Maltipoo puppy wisely sets them up for healthy growth and a long life.
Feeding a Maltipoo Puppy
Are you wondering what you should be feeding a Maltipoo puppy? This adorable mix of the Maltese and a Toy or Miniature Poodle is in high demand for their silky white coat and charming personality.
All puppies require a wide range of nutrients, vitamins, and minerals to be healthy. But do small dogs have any special nutritional requirements? In this article, we'll look at how much to feed, how often to feed, and what to feed a Maltipoo puppy. You'll also find this advice handy if you have any other small Maltese mix, including the Malshipoo or Morkie.
Swapping Puppy Food Brands
You may want to switch your Maltipoo puppy's food when you bring him home.
But this shouldn't be done immediately to avoid putting undue stress on your new pet.
Changing a puppy's diet can sometimes lead to digestive upset.
This is in part due to the fact that the length of a dog's gastrointestinal tract is much shorter than that of humans.
Since their digestive processes need to occur within a shorter time period, it puts additional stress on their ability to digest and utilize food.
For this reason, it's not uncommon for dogs to have sensitive stomachs.
This can lead to symptoms such as stomach cramps, indigestion, gas, diarrhea, and vomiting.
Since introducing a new food causes changes in the gastrointestinal tract, you need to change foods gradually.
How to Swap Puppy Food Brands
Once your puppy has been with you for several weeks and has become accustomed to his new family, you can start to change his food from what the breeder has been giving him.
This process should always be done over a period of approximately one week.
Start by mixing about three-quarters of the old food with one-quarter of the new food for the first two or three days.
Then switch to equal portions of each food for another two to three days.
Next, combine three-quarters of the new food with one-quarter of the old.
At this point, you should be able to completely phase out the old food.
It's important to monitor your dog closely any time you switch foods.
If they develop any of the above signs of digestive problems, consult a veterinarian as soon as possible.
This gradual food changeover process should be used whenever you're changing your dog's diet.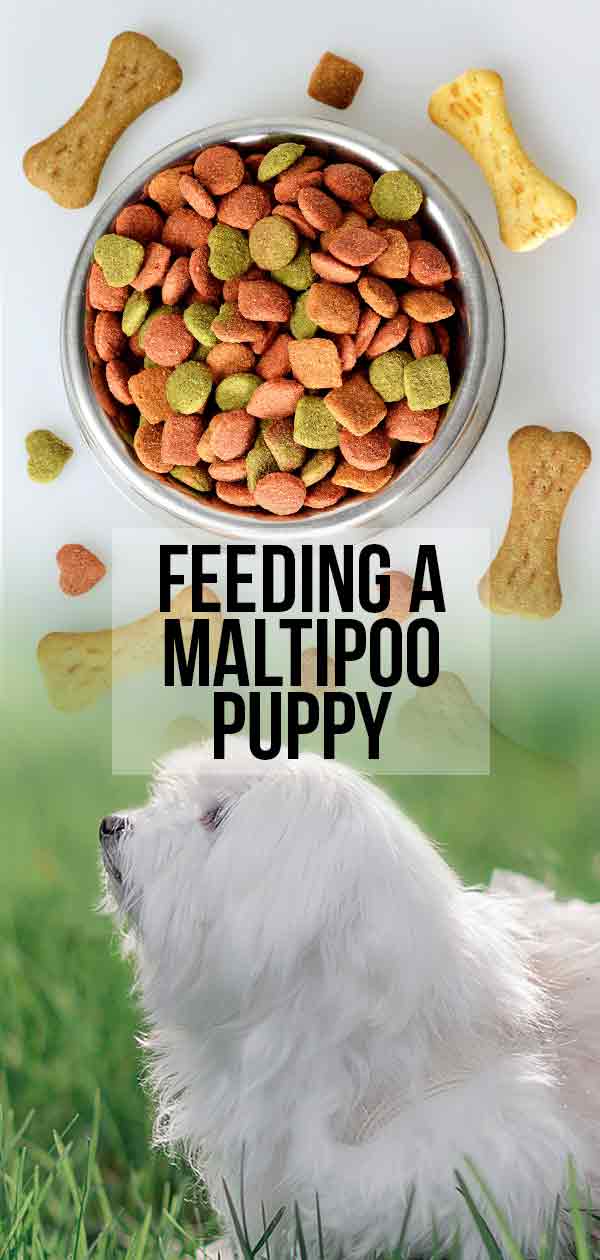 Maltipoo Puppy Diets
Small dogs like the Maltipoo require a food that's specifically formulated for their size.
You may be surprised to learn that small and toy dogs actually need more calories per pound than larger breeds.
This is because they have a higher metabolic rate.
Protein plays an important role in the canine diet.
Choose high-quality protein sources such as lamb, chicken, turkey, and fish.
Avoid brands with generic meat and meat by-products.
Vegetables, vitamins, and minerals will also help keep your Maltipoo's digestive system healthy.
When it comes to the amount to feed your puppy, the calorie count of commercial foods can vary quite a bit.
Low-quality foods contain things like artificial additives and fillers that contain few nutrients.
These brands should be avoided.
It's also important to remember that each dog is an individual.
Your puppy's age, activity level, and individual metabolism will affect the exact amount of food they'll require.
Commercial foods will list feeding guidelines on their packaging, but you may want to consult with a vet about your puppy's specific requirements.
Our guide to the best foods for Maltipoos is a good resource that recommends brands specifically formulated for small breeds.
How Feeding Changes as a Maltipoo Puppy Gets Older
As your Maltipoo puppy gets older, their nutritional and caloric needs will change.
This breed has quite a variance in size.
How big they get will depend on whether the Maltese was crossed with a Toy or Miniature Poodle.
A full-grown Maltipoo's weight can range from 5 to 20 pounds.
They can stand from 8 to 14 inches.
The most rapid weight gain will occur from birth to three months of age.
After that growth will often come in spurts.
Smaller breeds reach maturity earlier than large dogs.
This 2004 study found that the period of rapid growth was reached by 11 weeks of age for toy breeds, but for small dogs, it continues until 14 to 16 weeks.
It also found that both toy and small dogs reach 99% of their adult weight by the age of 9 or 10 months.
Maltipoo puppies should be fed four small meals a day.
When they stop growing they can be transitioned to an adult formulated dog food which contains less protein, fat, and calcium.
Once they start eating adult food, their meals can be reduced to two or three times a day.
It's a good idea to have your vet check out your puppy before switching to adult food.
Remember to change their food gradually so as not to upset their delicate tummies.
What to Feed a Maltipoo Puppy
Whether you decide to feed your Maltipoo puppy dry food, wet food, or a raw or homemade food diet, you'll need to satisfy their specific nutritional requirements.
We'll take a closer look at all of these diets to help you understand the pros and cons of each.
Feeding a Maltipoo Puppy Kibble
Dry food, or kibble, is a popular choice for its convenience, cost, and ease of use and storage.
It's also good to use for training because it's easy to carry around.
There's a seemingly endless variety of dry pet food options.
Make sure to choose one that's specifically designed for toy or small breed puppies.
These formulations are extra-small to prevent the risk of choking, making it easier for little dogs to eat.
However, some dog owners choose not to feed their pet dry food due to product recalls for contamination.
There's no question that there's a big difference from brand to brand and that some kibble contains preservatives, additives, food dyes, and questionable meat sources.
But there are plenty of good quality dry foods to choose from.
Reading the label is important.
The first five ingredients listed will tell you if the kibble is even worth considering feeding to your pet.
Feeding a Puppy Wet Food
Wet or canned food usually has fewer preservatives and more meat protein than dry food.
It's also widely considered to be more palatable.
While it too offers plenty of options, it's almost always more expensive than kibble.
Another downside is that soft, wet food has been associated with contributing to dental problems in dogs.
Because their mouths are so tiny, Maltipoos' teeth can be very crowded and this already puts them at risk for periodontal disease.
If your puppy prefers the texture and taste of wet dog food, you may want to mix it with kibble, as the dry food can help remove plaque from their teeth.
Feeding a Puppy Raw (BARF)
Raw food diets for dogs have never been more popular.
However, much of the current scientific evidence suggests these diets can lack nutritional elements and may even put your pet at risk for infectious diseases.
Knowing how to store and handle raw meat properly is crucial to avoid contamination.
Proponents will argue that this is a more natural way to feed your dog and point to benefits such as shinier coats, healthier teeth and gums, fewer allergies, and less obesity.
If you do decide on a raw diet, consult with your veterinarian to ensure it meets your Maltipoo's nutritional needs.
Feeding a Puppy a Homemade Diet
While a homemade diet can be more natural, tastier, and allows you to control exactly what your dog eats, it can also pose some concerns.
It can't be overstated how important it is to ensure your puppy gets the proper nutrients in the right amounts.
Even a slight deficiency or imbalance can lead to growth and developmental problems that will plague them for the rest of their lives.
Feeding your puppy a homemade diet is very time-consuming.
Before you commit to this diet, be prepared to do a lot of careful planning and consult with your veterinarian to ensure it has all the nutrients your puppy needs to be healthy.
How Much Should I Feed My Maltipoo Puppy?
Small dogs, like the Maltipoo, need more calories per pound than larger breeds.
Their delicate digestion can be prone to gastrointestinal problems.
They're also at risk for hypoglycemia, or low blood sugar levels, especially when they're young.
This is due to a combination of high metabolic rates and low sugar and body fat.
Blood sugar levels can drop if they go without eating for too long.
For this reason, they should be fed small meals more often.
Signs of hypoglycemia in dogs include:
Weakness
Lethargy
Shaking
Seizures
Inability to focus
Tilted head
Unconsciousness.
Portion size can vary depending on the calorie count of the food brand.
The recommended amount on the label should be a fairly good indicator.
Is My Puppy the Right Weight?
Unfortunately, it's easy for little dogs like the Maltipoo to put on weight.
This can lead to all kinds of health issues.
A weight problem can become worse if they don't get enough regular exercise.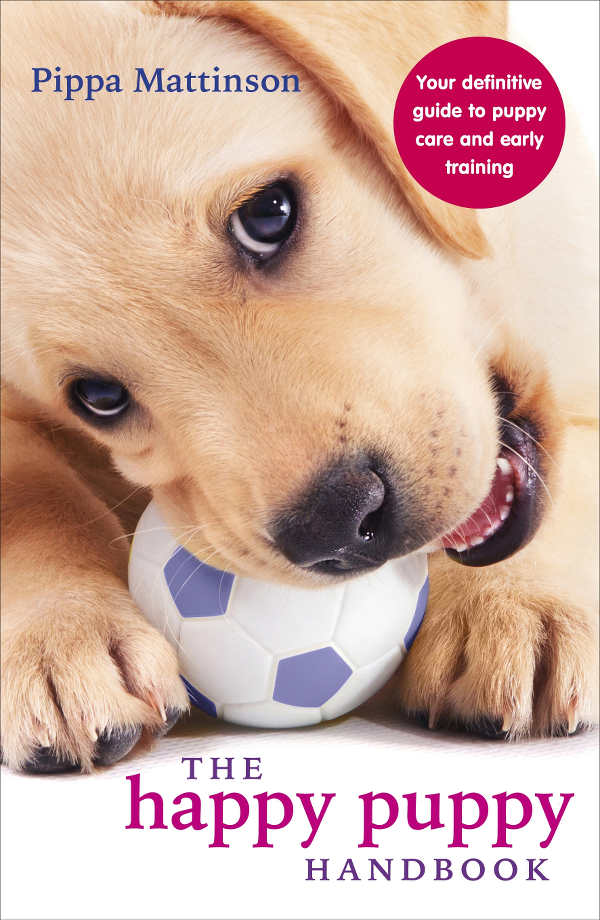 Once your puppy is 12 to 14 weeks old, they should be walked for 20 minutes, twice a day.
However, being too thin can also be unhealthy.
The easiest way to tell if your puppy is overweight or underweight is by touch.
Put your hands on either side of their ribs.
If their ribs feel sharp or are easily visible they may be underweight.
On the other hand, if you feel a layer of fat or have to press down to feel their ribs at all, then your dog is likely overweight.
My Puppy is Still Hungry
Your Maltipoo gobbles down his food and then looks at you with those shiny, black eyes wanting more.
If you give them additional food, you risk overfeeding them, which can quickly lead to an overweight puppy.
Try spacing out meals so that they get the same amount of food, but in smaller, more frequent portions.
Another way to slow down their eating is to use a slow-feeder bowl. They're designed to make it impossible to gulp food quickly.
Puzzle feeders and similar toys require them to work at getting at the food, providing mental stimulation while slowing food intake.
If your Maltipoo puppy is continually hungry, consult with your veterinarian to rule out any health problems.
My Puppy Won't Eat
Conversely, sometimes a puppy won't eat at all.
This is not uncommon when you first bring them home.
Leaving their mother and moving into an entirely new environment can be very stressful for a wee pup.
However, if they won't eat for more than one or two meals it's time to make a visit to the vet.
How Long is a Maltipoo Considered a Puppy?
A Maltipoo is usually considered an adult when they're one year old.
Smaller versions may grow to their full size by the time they're 9 or 10 months.
However, before changing their food from a puppy to an adult formulation, check with your vet.
It's preferable to give an adult dog puppy food rather than feeding them adult dog food too soon.
Do you have a Maltipoo?
We'd love to hear about what you've been feeding them in the comments below.
References and Resources
Bauer, JE, "Digestion in Dogs and Dietary Transitions Among Pet Foods,"

Vetscience LLC, 2012

Middleton, RP, "Small Dog Metabolism and Other Unique Characteristics,"

Nestlé Research Center

Weber, MP, et al., "Digestive sensitivity varies according to size of dogs: a review,"  

Journal of Animal Physiology and Animal Nutrition, 2016

Hawthorne, AJ, et al., "Body-Weight Changes during Growth in Puppies of Different Breeds,"

The Journal of Nutrition

,

2004

Imanish, M., et al., "Outbreak of

Salmonella enterica

serotype Infantis infection in humans linked to dry dog food in the United States and Canada, 2012,

2014