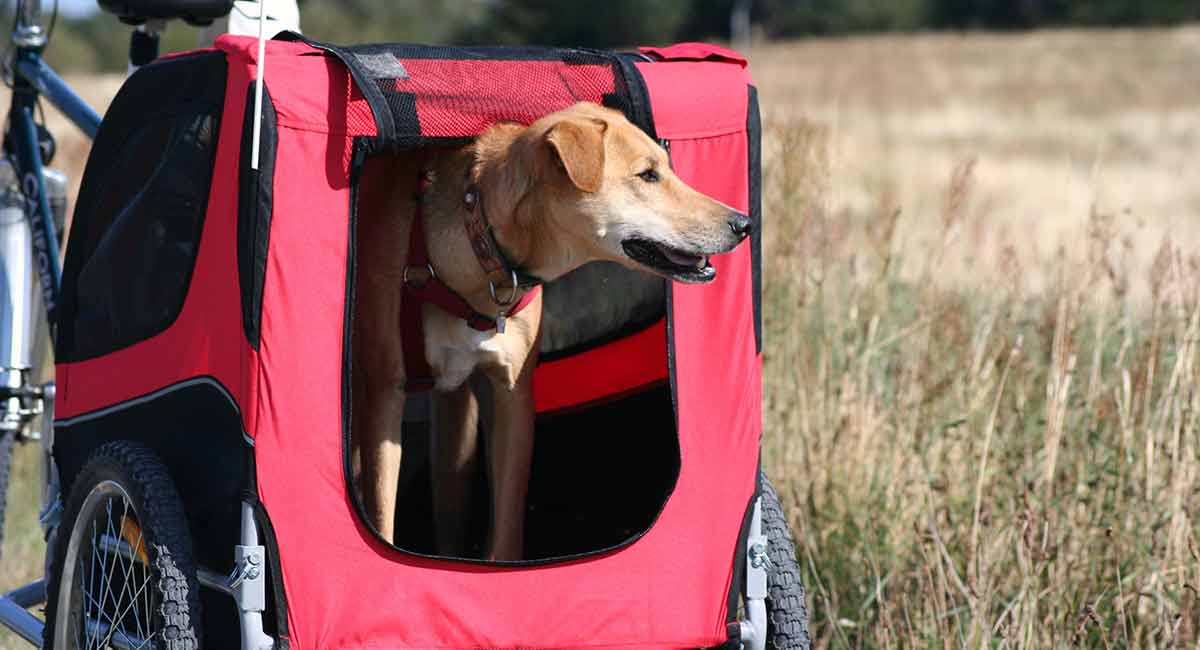 What are the best dog bike trailers available on the market today?
That's the question you'll be asking if you're planning on buying a dog bike trailer.
If you haven't already been considering it, why might you want one?
In this article, we'll look at why some dog owners choose to transport their pet in dog bicycle trailers.
Also, we'll examine what you should look for in a top-quality dog bike trailer.
We'll finish off by reviewing some of the very best dog bike trailers you can buy today.
Why would you want to buy a dog bike trailer?
There are two main circumstances when dog owners might consider buying a dog bicycle trailer.
We will examine them briefly below.
Dogs with mobility issues
If you have a sick, injured, or disabled dog, you can instantly improve his well-being and quality of life by taking him out for trips in a dog bike trailer.
Even though your pet can no longer enjoy long runs through the countryside, he can still enjoy the ride.
And experience of seeing and smelling the world around him from the comfort of a dog bike trailer.
It's not uncommon for large breeds to suffer ligament and joint injuries that can require months of crate confinement to heal.
You can prevent your dog from going stir-crazy by taking him for an exhilarating outing in a dog bike trailer.
He can enjoy all the fun of a walk and feel the wind blowing through his fur, without risking further damage to his injury!
Senior dogs
Senior dogs whose mobility is compromised by arthritis and old age can benefit greatly from getting around in a dog bike trailer.
For elderly dogs, movement is slower and more uncomfortable that it used to be.
However, they still want to enjoy their daily walks with their beloved owner.
A dog bike trailer that converts to a stroller is perfect for seniors.
When your dog is too tired to walk any further he can hop into the bike trailer and carry on just like he did in the old days!
What to look for in a dog bike trailer
Be sure to buy a dog bike trailer that fulfils all your needs.
For example, if you own a Corgi, you won't need a big trailer built to carry a 60 pound Boxer!
Trailer size and capacity
Before buying a dog bike trailer, be sure to measure your dog's length and weight.
This is especially important if you have a large breed.
Hitching hardware
There are different methods of hitching dog bike trailers to bikes.
Opt for one that you'll find easy to hook up.
Also, look for models that have a secondary safety strap.
This will prevent the trailer from coming loose if the primary hitch fails.
Manoeuvrability and handling
A well-designed dog bike trailer will be easier and more enjoyable to use than an unwieldy model that you struggle to steer.
Ease of handling is also crucial from a safety point of view.
This is important when avoiding potholes, cars, or other dangers.
Solid construction
The best dog bike trailers are well-made, with a robust, solid build.
Look for a strong frame, high-quality fasteners and connectors, and hearty wheels.
A solidly-built trailer will last much longer than a flimsy one.
It will also be safer for you and your dog.
Easy storage
If you're restricted on space, a trailer that can be stored easily is very important.
Some trailers can be partially collapsed as a space-saving measure.
Trailer entry point
Dog bike trailers have several different entry methods.
These include from the top, the front, or the side.
A large dog bike trailer works best with a side or front entry system.
That's especially true if you have a large dog or a pup with mobility issues.
Flexible-use dog bike trailers
Many large dog bike trailers can be used for other purposes.
For example, some trailers can double as a dog stroller.
These are useful when your pup is too tired to keep on walking or when you're in an area that doesn't allow cycling.
Accessories
Some trailers have interior dividers so that you can travel two dogs at once, or use one side of the trailer for carrying other items.
You may need to unhitch your dog bike trailer from time to time while you're out and about.
A kick-stand makes this much easier by supporting the front of the trailer while it's disconnected.
This keeps pressure from being exerted on the hitch.
Some trailers have exterior pockets that are useful for carrying items such as cell phones, keys, water bottles, and treats.
Choose a trailer whose pockets can be zipped shut or secured so that you don't lose anything in transit.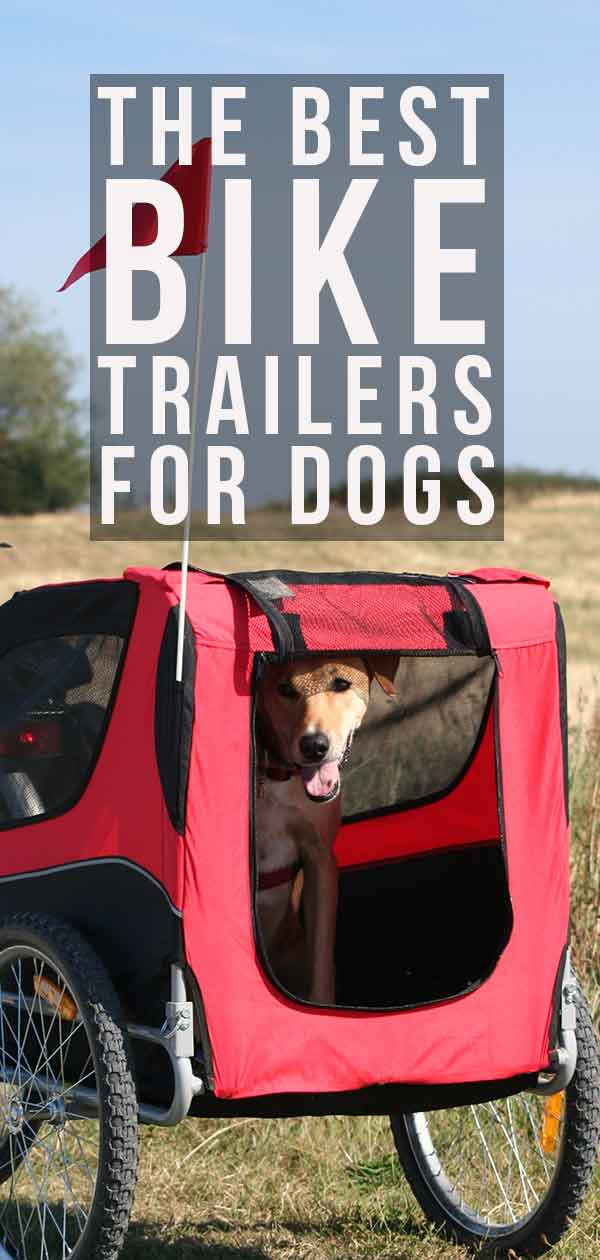 Dog bike trailer safety equipment
The safety of you and your dog must be paramount when choosing and using a dog bike trailer.
Look out for the best dog bike trailers that feature the following safety equipment:
Reflectors: Reflectors make you more visible to other road-users. They are essential for all trailers, especially if you're planning on venturing out at dawn or dusk.
Safety flags: Flags can catch the attention of motorists when you're riding. Look for safety flags mounted on poles, extending well above the height of both your bike and the dog bike trailer.
Interior attachment points: You must keep your dog secured to the trailer so that he can't fidget around too much or jump out. Look out for D-rings or leash ties that are securely attached to the inside of the trailer.
Parking brake: A parking brake is essential to prevent the dog bike trailer from moving while you're loading and unloading your dog.
Best dog bike trailers
Okay, so now you know what you're looking for!
Let's dive into our reviews of the best dog bike trailers currently on offer.
Aosom Elite II
The Aosom Elite II Pet Dog Bike Bicycle Trailer is collapsible for easy storage and transport.
The steel frame and air-filled wheels make for a solid, comfortable ride for you and your pet.
The outer shell has several large mesh panels for good ventilation, and the clear front panel ensures a great view for your dog.
This trailer has a leash hook fitted inside so that your pup will be safely contained.
A safety flag is also included.
PetSafe Solvit
The PetSafe Solvit HoundAbout Aluminum or Steel Bicycle Trailer is a great large dog bicycle trailer.
The robust metal frame is collapsible for easy storage and is covered by a 600 denier polyester shell.
Mesh provides good ventilation and a nice view for your passenger.
The floorboard is washable in case of accidents.
On sunny days, provided you have a dog that won't try to jump out, you can roll back the roof, turning the trailer into a cabriolet!
The universal hitch allows for fitting to almost any model of bike.
Reflectors are included for excellent visibility in poor light.
Schwinn Rascal
The Schwinn Rascal Pet Trailer has a sturdy folding steel frame and quick-release wheels for total ease of storage and transport.
The hitch will fit most bicycles and is easy to fit.
Your pet will enjoy a smooth, bump-free ride on the trailer's aluminum-rimmed wheels with their air-filled tires.
There's an adjustable internal leash to keep your dog secure inside the trailer.
Mesh provides good ventilation and a nice view, and there's an adjustable bug screen.
A safety flag is included to give excellent daytime visibility.
Double Duty Trailers and Strollers
Best Choice Products 2-in-1 Pet Stroller and Trailer is perfect if you need a pet stroller as well as a dog bike trailer.
The frame is lightweight and is covered by a water-resistant polyester shell so your pet will stay dry and sheltered inside the trailer.
The trailer has some nice additional features, including a dual door design for easy entry and exit.
Reflectors and a safety flag increase your visibility.
And a hand-lock brake system to prevent the trailer from moving when you're loading and unloading your pet.
DoggyRide Mini
The DoggyRide Mini Dog Bike Trailer is an ideal small dog bike trailer.

It's a high-quality piece that you can use as a stroller if you choose the optional kit too.
The lightweight, powdered steel frame is covered with a strong, weather-proof nylon shell.
Extra features include an interior pouch and water bottle pocket, a sunroof, and UV-resistant mesh panels to the front and sides of the trailer.
Best dog bike trailers – in summary
A dog bike trailer can be the perfect way to provide an elderly or immobile pet with the outdoor experience he used to enjoy when he could walk or run with you.
If you use a dog bike trailer to get your dog out and about, why not tell us which one you chose and why?
What features do you find extremely valuable? Which features do you wish your dog bike trailer had?
Tell us about your experience in the comments section below!