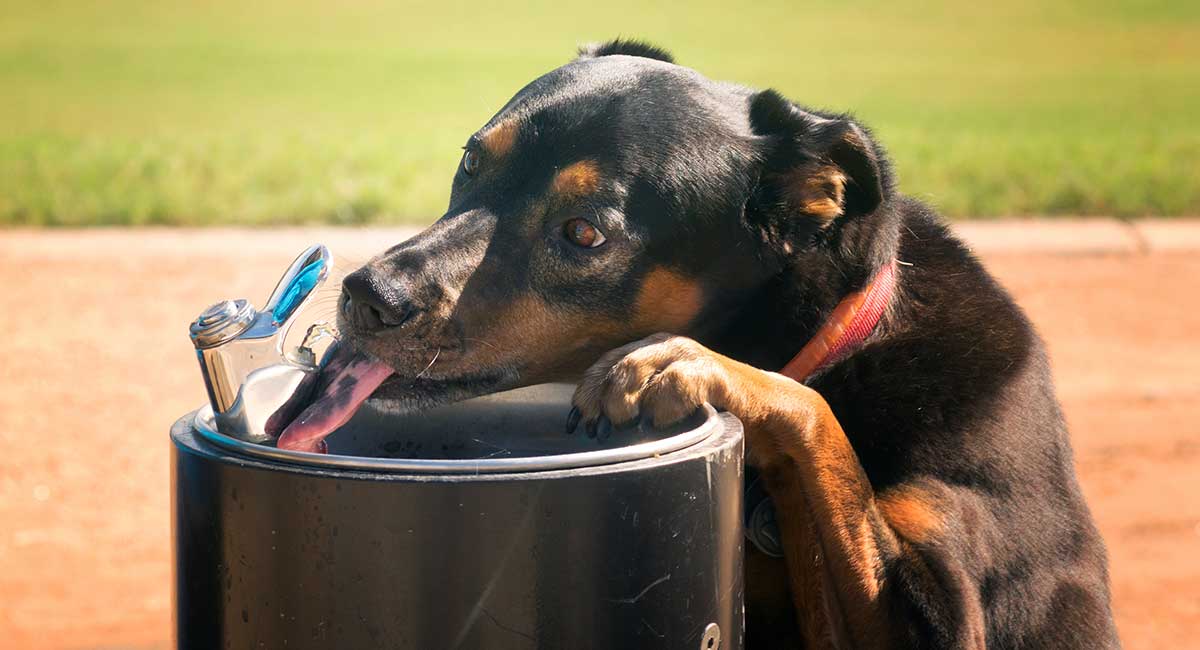 A dog water fountain can be a great way to keep your dog cool and hydrated on hot days. But dog water fountains vary just as much as dogs do.
Some require refilling more often, but some refill themselves automatically. Others can provide cooled or warm water. You will also need to consider price, cleaning, and ease of use for your dog!
Access to clean, safe drinking water is one of the most important things for a dog. So, let's take a look at which dog water fountain is best for you.
Our Favorite 3 Dog Water Fountains
MATOP Dog Water Fountain
The freestanding API Dog Water Fountain Step On Unit requires no electricity or batteries to work.
All you have to do is train your dog to step down on the pad (where the paw print is) to get an instant drink of fresh water.
It hooks to your hose using a 40-foot tube. The on-demand water system ensures your dog never drinks stagnant water again.
Bergan Autowata Pet Waterer Automatic Fountain
The simple to use Bergan Autowata Pet dog water fountain outdoor connects right to your garden hose for a continuous supply of on-demand fresh drinking water.

Owners say it holds up to a quart of water at one time, making it one of the best large dog water fountain options on the market today.
Best of all, the company has been making the same product successfully since 1968. One unique use owners suggest is that you can also connect it indoors using your washing machine hose!
Dogit Fresh & Clear Drinking Fountain for Large Dogs
This Dogit water fountain for dogs is made especially for large dogs and can hold a whopping 355 fluid ounces of water!
The drinking dome is elevated so even large senior dogs can drink in comfort. Its design is a pretty dark blue with a white base that offers a 360-degree drinking rotation.
There is also a purification filter and a splash-guard.
Jump Straight to What You Need

Why Should I Get A Dog Water Fountain
If you had to pick out your top least-favorite dog-related household chores, which ones would you choose?
For many dog parents today, it is cleaning out the water bowl! Yuck!
What IS all that stuff floating in there….spit, hair, dirt, random bits of kibble….ewww.
After all, you love your dog (and you freely admit you let her lick your face) but sometimes you have to wonder how she finds that dirty water appetizing!
The truth is, she probably doesn't.
But dogs really need continual access to drinking water, so in most cases, your dog will take whatever water is available.
Thermoregulation in Dogs
Did you know that your dog doesn't have the same type of sweat glands on his body as people do?
The few sweat glands your canine does have are located in his paws and on his nose, but these are just to keep his paw pads and sniffer cool.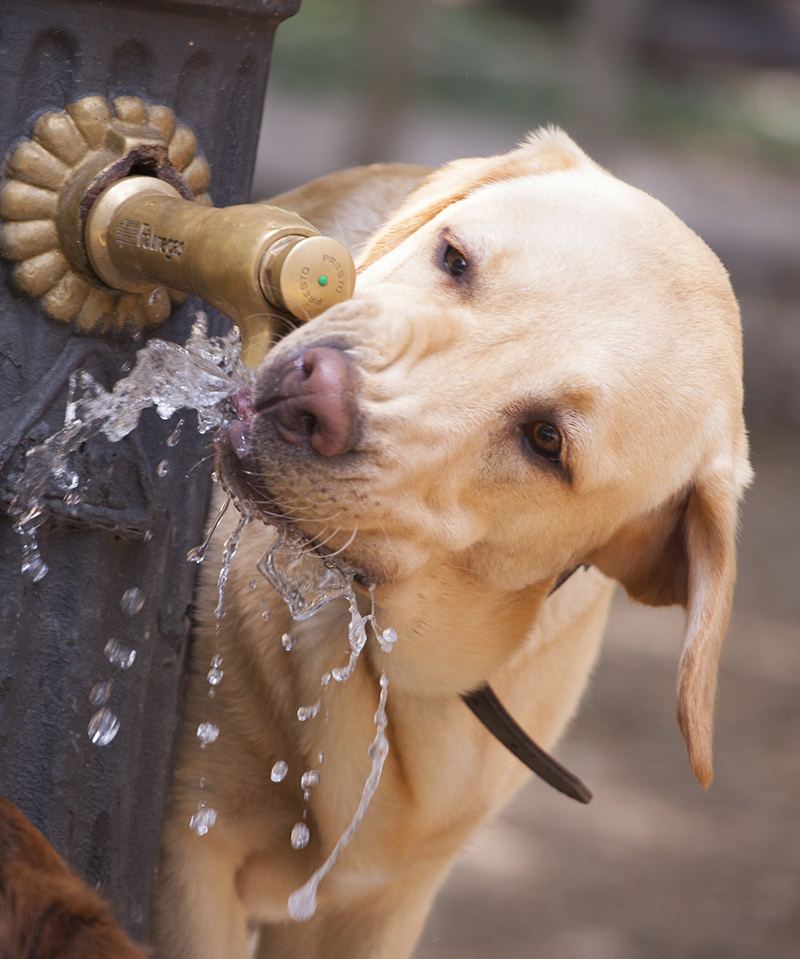 He can't use these small, localized sweat glands to cool his whole body.
So dogs rely far more on maintaining healthy skin and having constant access to water to regulate their body temperature in the heat, a process known as thermoregulation.
Dogs start to pant heavily when they are overheated or dehydrated, and this is a behavior canine Veterinarians called "thermal panting."
While this is a health issue that can become serious quickly, drinking water can resolve the situation equally rapidly (whew!).
Dogs can also dilate the blood vessels around their face and ears to help rapidly cool off, but this works best after the type of short-term body temperature elevation caused by exercise rather than by a long, hot, sunny day.
Hydration and Temperature Regulation
While dogs clearly have lots of neat tricks to keep different areas of their bodies cool, hands-down, the best method is still making sure your furry best friend has plenty of fresh water to drink at all times whether he is inside or outside.
Happily, you are about to read about some amazing options for inside and outside use!
All of these fountains are highly rated, dog-safe, easy to clean and made to ensure the water your dog is drinking is fresh, clean, pure and highly oxygenated.
Now you just have to decide which ones to pick out for your dog!
Choosing the Best Dog Water Fountain
Of course, the best dog water fountain for your dog will match their needs and your home.
Questions you might ask include:
How big is your dog, or do you have several?
How long do you want to go between refilling a reservoir, or would you like it to automatically refill?
Is it for inside or outside?
What is your budget?
Do you have a preference for the materials?
Do you want the ability for cooled or heated water?
Are you super-busy and want to be able to put the bowl in the dishwasher?
The best water fountains for dogs will have a filter to help maintain a sanitary and more appealing water supply. This filter is not generally of the type to purify water from a questionable source, but more to keep floaties at bay.
As far as materials, your options are generally plastic, metal and ceramic for the dog water bowl. Fountains with metal or ceramic bowls will be the more durable choices, while plastic may be good if you are on a budget.
Clean Water for Dogs
Many dog parents today worry about offering their pup tap water.
Veterinarians state that any water that is safe for you to drink is safe for your dog to drink as well. So you can let this be your guide when offering your dog drinking water.
If you are unsure about the safety of your local tap water supply, you can check it here.
Most of the dog water fountain options showcased here come with replaceable carbon filters as well as additional water filtration systems to keep debris out, freshen the taste and ensure the water your dog drinks is pure and tasty.

Some will feature a more complete filtration system in case your tap water is of questionable safety.
Best Outdoor Dog Water Fountains
While it is definitely important to make sure your dog always has access to fresh, clean water while indoors, if your pup is like most, she is probably most at risk from overheating and dehydration when she is busy playing and running outdoors.
This makes these outdoor dog water fountains essential for your dog's health while she enjoys the great outdoors. Outdoor-specific fountains are made to withstand the elements and sometimes connect directly to a garden hose.
Lixit Faucet Waterer
The popular and highly rated Lixit Faucet dog water fountain hose can be used indoors (with faucets) and outdoors (with hoses).

It is an equally good choice for a small, medium-sized or large dog water fountain.
There is an automatic shut-off for when the fountain is not in use.
Easy-Clean Water Bowl Water Bow Stainless Steel Hose
The Easy-Clean Water Bowl Hose outside dog water fountain is about as easy as it gets – just connect it to the garden hose (or washing machine hose for indoor use).

There is a floating valve that detects low water levels during drinking and rapidly replenishes the water in the dog water bowl. Fountain is also very quiet so it won't startle your dog or disturb you.
Best Indoor Dog Water Fountains
Unless you have a true outside-only dog, your pet dog will probably do most of his drinking indoors.
While you probably think the sweet sound of your pooch lapping up his water is cute (what dog parent doesn't?), you are probably slightly less keen on the sound of a noisy running water fountain, even if it keeps your dog's water fresh at all times.
These indoor water fountains have plenty of water storage capacity and are easy to clean and maintain. Best of all, they are QUIET!
Pioneer Pet Big Max Stainless Steel Fountain
The Pioneer Pet Big Max 128-ounce-capacity dog water fountain stainless steel is simple, elegant, easy to clean and dishwasher safe.
It works with a replaceable charcoal filter to keep the water clean and pure.
Dogit Design Fresh and Clear Dog Drinking Fountain
This Dogit water fountain for dogs is affordable, functional and suitable for multiple pet households. It includes a multi-filter system and keeps the water flowing continuously for better oxygenation and freshness.
This fountain holds 200 fluid ounces of water at any given time and is elevated to help tall or senior dogs drink more easily.
You Think Super Silent Pets Ceramic Drinking Fountain for Dogs
The fun Silent Pets Ceramic dog drinking water fountain comes in a pretty blue and white lotus pattern ceramic dish that is dishwasher-safe. Even pets with plastic allergies can use this dog water fountain safely.

The activated carbon filters are replaceable and the original fountain comes with a four-pack of extra filters. It offers three ways to drink water and the fountain itself has a 2.1 liter capacity for multi-pet households.
Automatic Pet Water Fountains
The automatic pet water fountain is a relatively new entrant into the dog water fountain marketplace. But dogs and owners alike just love these fountains!
From uniquely lovely designs that can make a simple automatic pet water fountain look like a lotus bowl and LED lights to make finding a drink in the dark a breeze, you and your pup will both enjoy the extra features in these high-tech water fountains!
Uniclife Pet Water Fountain Automatic Electric Drinking Bowl with LED Light
The very popular and highly rated Uniclife Automatic Dog Water Fountain is a good choice for small to medium-sized dogs. It comes in two fun designs (cube, flower).
This pet water fountain includes an activated charcoal filter for fresh, clean water. At night, the blue LED light helps your dog find the fountain easily.
PetSafe Drinkwell Pagoda Pet Water Fountain, Ceramic
The highly-rated and well built PetSafe Drinkwell Automatic Dog Self Serve Water Fountain with a 70-ounce capacity features an upper and lower dish for multiple dogs to drink at once.
It is suitable for small to medium-sized dogs.
You can put it in the dishwasher for cleaning. This fountain comes in four fun colors (blue, red, white and taupe). It uses a replaceable carbon filter for continual water freshness.
Drinkwell 360 Pet Fountain
The lovely Drinkwell 360 Stainless Steel Dog Water Fountain Indoor can be used as a small, medium-sized or big dog water fountain. You can customize the continuous water flow for one or multiple pets.
It is dishwasher safe (top shelf) for cleaning. It uses a carbon filter for freshness.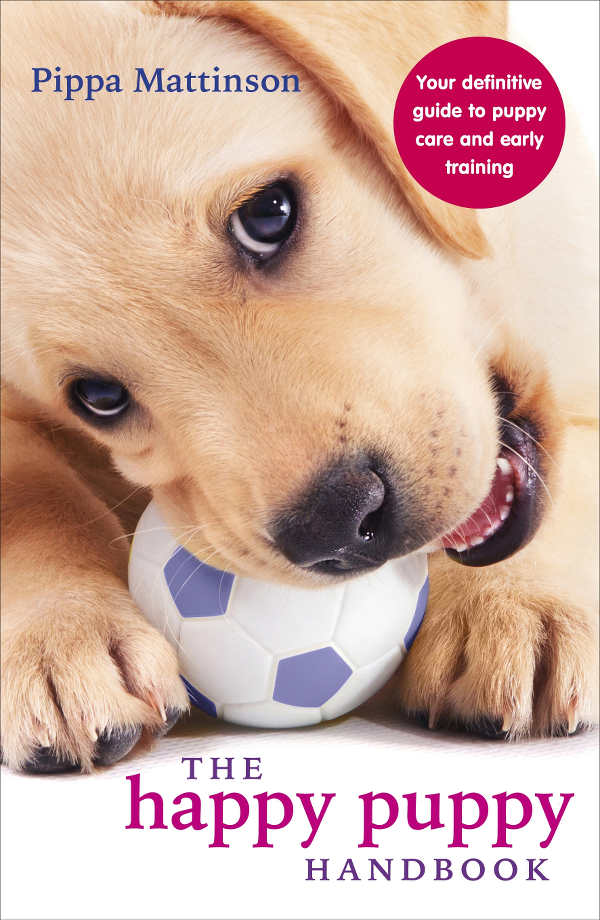 If you prefer, Drinkwell also makes a ceramic version of the same.
Large Dog Water Fountain
Large dogs' needs are, well, larger than their small or medium-size canine counterparts. This includes the amount of water they can drink in one sitting.
These large dog water fountain products will make sure your large dog always has a sufficient and ready supply of fresh water to drink!
K&H Manufacturing CleanFlow Water Filter with Reservoir
For a simple, functional large dog water fountain, this K&H system gives you your money's worth. It comes with a BPA free drinking bowl and a reservoir that detaches for refilling and cleaning.
Both components are dishwasher safe. You can choose from three sizes (small, medium, large).
The large size holds 2 gallons of water in the bowl and an additional 1.5 gallons in the reservoir. The charcoal filtration system filters the water 130 times per hour for pure, drinkable water.
Petmate Deluxe Fresh Flow Dog Fountain
This attractive and highly rated Petmate Deluxe Large Dog Fountain runs quietly with the help of a splash-resistant ramp.
The fountain works by using electric power (with a 6-foot cord), a submersible pump and a carbon filter to keep water ever-flowing, clean and oxygenated.
You can choose from two colors (black, bleached linen) and three sizes (50 ounces, 108 ounces, 216 ounces).
What is the Best Dog Water Fountain?
We hope you have enjoyed this curated list of the best dog water fountain options for indoor and outdoor use!
We have looked at options to go indoors and outdoors, with automatic water supplies and ones designed specifically for large dogs.
Don't forget to take a second look at our top choices, as one may be exactly what you need.
We'd love to hear which fountain you selected and why you and your pup love it!
Your experience just might help another newbie dog parent make this important decision for their own pooch!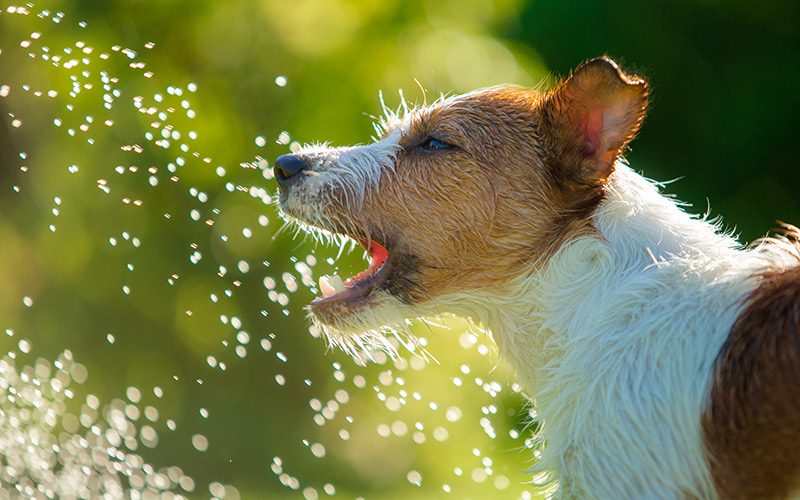 References and Resources
Ward, E., DVM, "The Importance of Your Pet's Skin and Coat, and the Role of Diet in Keeping Them Healthy," VCA Hospitals, 2013.
Baker, M.A., et al, "Thermal panting in dehydrated dogs: effects of plasma volume expansion and drinking.," National Institutes of Health (NIH), 1989.
Goldbaum, K., "Do Dogs Sweat?," Live Science, 2016.
Coren, S., Ph.D., F.R.S.C., "Do Dogs Sweat?: Dogs do not sweat in the same way humans do.," Psychology Today, 2010.
Traverse, T.K., "Is Tap Water Safe for Dogs?," Pet MD, 2017.