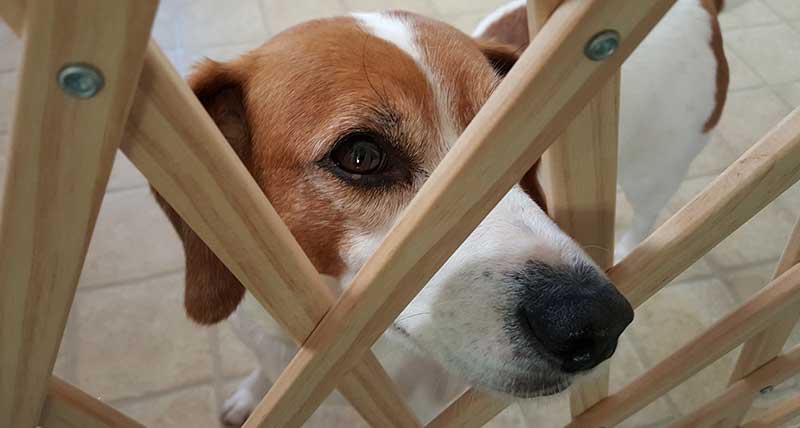 The best dog gates will keep your dog from accessing areas you don't want him to. Dog gates can be used to keep your dog out of muddy parts of your back yard, or away from non-dog-friendly areas in your home.
Plus, puppies can be initially timid in new places, and they can quickly wriggle into an unsafe area. A dog gate immediately cordons off an area, creating a puppy zone.
Also, if you have kids, a dog often appreciates having his own space away from grasping hands and poking fingers.
Products included in this article were carefully and independently selected by the Happy Puppy Site team. If you decide to make a purchase from one of the links marked by an asterisk, we may earn a small commission on that sale. This is at no extra cost to you.
The Top 5 Best Dog Gates
Keep reading for more detail, and even more options.
Freestanding Dog Gates
Freestanding dog gates are often the best dog gates for wide openings.
They are also easily portable, so you can relocate the gate whenever you need to, without having to detach and reattach the gate to a door frame.
1. Richell Wood Freestanding Pet Gate
The Richell Wood Freestanding Pet Gate* is an elegant dog gate that comes in a natural wood or glossy white finish.
The side panels of the gate have wide rubber feet to stop the gate from being pushed over or slipping on polished flooring or tiles.
The gate comes in two sizes from 39.8 to 71.3 inches wide. You can also fold the gate neatly for storage and travel.
Note that this freestanding dog gate is only suitable for small dogs that weigh 20 pounds or less.
2. Primetime Petz 360 Freestanding Gate
The Primetime Petz 360 Freestanding Dog Gate with Door* is a smart, four-panel wooden dog gate, standing 30 inches tall and spanning openings up to 72 inches.
An extremely useful feature of this freestanding dog gate is the neat, integral walk-through door that's housed in the second panel.
The gate's hinges rotate 360 degrees, allowing unlimited configurations and making this dog gate very versatile.
The gate is fitted with rubber feet to prevent it from slipping and to protect your floors from scratches.
You can fold the lightweight gate for easy storage and moving.
3. Richell Premium Gate With Door
The Richell Premium freestanding pet gate* is 32 inches tall. So will work well if you have a larger dog.
It has two adjustable side panels that move at increments of 10 degrees. And it has locks at the top and bottom for extra security.
Plus, it features a handy gate in the middle panel. So, you can easily pass through this gate, while your dog stays where he's meant to!
Adjustable-Tension Dog Gates
Adjustable-tension gates are often the best dog gates for stairs.
These gates can be adjusted to fit perfectly across the top or bottom of stairs and in doorways.
The main drawback of these gates is that you have to step over them to get around them.
That's no problem if you have a very small dog and a correspondingly small gate.
But you might want to choose a different style if you need a high gate.
1. Evenflo Position and Lock Tall Pressure Mount Gate
The Evenflo Position and Lock Tall Pressure Mount Wood Gate* is designed to pressure-mount in any doorway or across your stairs without the need for additional hardware, leaving paintwork unblemished.
The wooden gate expands from 31 to 50 inches. The interior of the gate frame is filled with plastic mesh, rather than bars, removing the danger of your dog getting his head stuck.
2. Regalo Walk-Through Gate
The Regalo Walk-Through Gate* is a sturdy steel and pressure-mounted hardwood dog gate.

The gate will fit openings from 29 to 44 inches wide.
The interior door opens easily via a latch and secures simply by closing, so you can pass through without having to move the gate.
With a height of 38 inches, this gate is most suitable for medium to small dogs.
3. Summer Wood and Metal 5 Foot Pressure Mounted Gate
The Summer pressure mounted gate* is great if you're looking for a stylish tension dog gate. It is 32 inches tall. But will fit in gaps from 36 – 60 inches wide.
It features a wide, hinged door that swings in both directions, so you have easy access to your puppy-free areas.
You can choose between oak and slate, or pine and slate finishes to match your home decor. Plus, the pressure-mounted tension bolts are great for keeping walls and doorways mark-free.
4. Safety 1st Decor Pressure Mount Fastening Gate
Another stylish option is the Safety 1st Easy Install Tall and Wide dog gate*. This gate is easily opened with just one hand, so you can access all areas of your house.
It fits into gaps ranging from 29 inches to 47 inches. Plus, the pressure-mounted installation means set-up is super easy, with no drilling.
It has a SecureTech pressure indicator which also lets you know when the pressure needs adjusting for additional safety.
Foldable, Hinged Dog Gates
Dog gates with hinges can be easily folded away for storage or when traveling.
This design of dog gate is ideal for visitors in your home who bring a nosy dog with them.
Simply set up the dog gate where needed to keep a curious canine contained.
1. Kleeger KLG-195 Wooden Pet Gate
The Kleeger KLG-195 Wooden Pet Gate, Foldable & Freestanding* unfolds to form a "Z" pattern.
This freestanding, foldable gate is attractively designed with a cut-out, black and white zebra print pattern.
The gate is made from lightweight wood and fits openings of up to 45 inches wide.
At a maximum height of 19 inches, this gate is best for small dogs.
2. PAWLAND Wooden Freestanding Foldable Dog Gate
The PAWLAND Freestanding Foldable dog gate* has a foldable and expanding design. You can choose from 3 or 4 panels, in the colors white or espresso.
It stands on rubber non-slip feet, so you don't need to worry about attaching it to your wall or door frames.
It's 24 inches tall, and can extend up to 80 inches to cover any extra large gaps in your home.
3. Regalo 192-Inch Super Wide Adjustable Gate
The Regalo 192-inch adjustable dog gate* is the perfect choice for people who have extra-wide, or awkwardly shaped areas they need to gate.
It is 28 inches tall, and can be converted from an extra-wide gate to a playpen if necessary. It comes with a pack of 4 wall mounts for easy set-up.
Plus, it features a walk-through door. So you can easily access any areas your pets are being kept out of.
Walk-Through Dog Gates
Walk-through gates are perfect for use in doorways and can make the best dog gates for large dogs.
These gates have a doorway set within them so you can open the gate to allow humans (and large dogs) to walk through without having to step over it.
1. Regalo Easy Step Extra Tall Walk-Thru Gate
The Regalo Easy Step Extra Tall Walk-Thru Gate* is 41 inches, making it a perfect dog gate for large dogs.
It gate expands to fit openings between 29 and 37.5 inches wide.
The durable steel gate is pressure-mounted for easy setup. There's also a 6-inch extension kit.
2. Summer Multi-Use Deco Extra Tall Gate
The Summer Multi-Use walk through gate* is a great option if you need easy access to the areas your dog isn't allowed in.
This metal gate has pressure-mounted installation. Plus, it is available in a range of sizes from 28.5 – 48 inches to 28.5 – 52 inches.
The gate within this gate is designed for one-hand opening, making it even easier for you to move through.
3. Summer Decorative Modern Home Walk-Thru Gate
If you're looking for a more stylish design, the Summer Modern Home Decorative gate* will be perfect for you.
The arched, walk-through doorway in this gate features a beautiful pattern that will look great in your home. It is 30 inches tall, and fits in gaps between 28 and 42 inches wide.
It is pressure mounted for easy set-up. Plus, has auto-close and hold-open features for even easier access.
4. Carlson Extra Tall Walk Through Gate
Another great option is the Carlson extra tall walk-through gate.*  This gate has a lot of great features that will make it perfect for your home.
It has a smaller door within the gate that smaller pets can use, as well as a walk-through gate for you.
But, this gate reaches up to 36 inches tall. So, it's a perfect choice if you have larger dogs that can jump over smaller gates!
Dog Gates Within Dog Gates
Some dog gates are fitted with an additional integral gate, allowing your pet to walk through when the mini-gate is open.
This feature can be really handy if you like to allow your dog access to a room when you're there to supervise him but prefer to keep him out when you're not around.
Also, you can use the small dog door to allow your pet access to his safe space while keeping annoying kids out.
This design usually makes the best dog gate for small dogs.
1. Lil' Tuffy Expandable Gate with Small Pet Door
Carlson Pet Products' Lil' Tuffy Expandable Gate with Small Pet Door* expands to fit openings between 26 and 42 inches wide.
The gate is only suitable for small dogs, standing just 18 inches tall.
This pressure-mounted dog gate has a small integral pet door, measuring 10 inches x 7 inches. The door is ideal for allowing little dogs and cats to pass through while keeping everyone else out. There's also a neat locking feature.
The gate is made from strong, durable steel and is finished in a smart, white non-toxic coating.
2. Carlson Extra Wide Walk Through Gate with Door
The Carlson extra wide gate* is a great choice for a number of options. It's a pressure-mounted gate that can fit in gaps from 29 to 36.5 inches wide.
This gate has a small 8 x 8 pet door, that can let your smaller animals pass through, while bigger dogs are still kept out! Plus, there's a walk through gate for you, so you aren't trapped as well!
Safety measures include a safety-lock and a non-toxic finish.
3. Carlson Design Studio Home Decor Walk Through Gate
This Carlson Pet Products walk-through gate* features a 10 x 7 inch door that smaller animals can walk through.
It is adjustable and folds flat for easy storage when not in use. The gate is 30 inches tall, and fits in spaces that are 30 – 32 inches wide.
Plus, it has a black finish, and is fashioned with cherry wood accents. So this is a really stylish choice, if you're looking for a gate that will suit your home decor well.
Best Dog Gates: What to Consider When Making Your Choice
We've looked at a lot of dog gates today. But there are some important features and qualities to remember when you're choosing the best dog gates.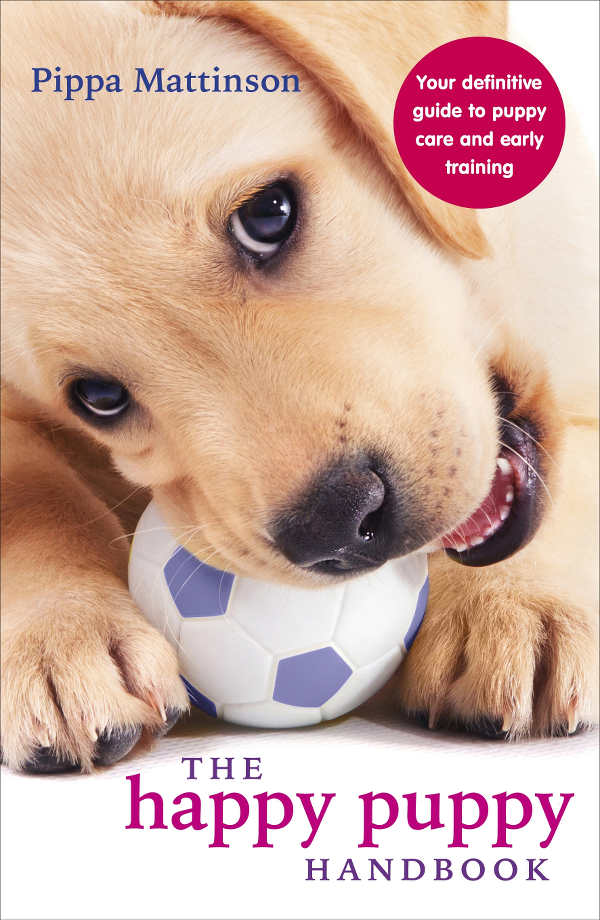 Obviously, you'll want to look at the best dog gates reviews. Buyers' experiences can be invaluable when narrowing down the market.
Budget and Quality
Always buy the best-quality dog gate you can afford.
There's an old saying: "Buy cheap, buy twice." That's true when it comes to dog gates.
A dog gate made from cheap materials will most likely not last long.
Secondly, a flimsy dog gate may not withstand the attention of a large dog.
Your pup could easily get through the gate and into trouble.
Material
Dog gates come in several materials, including wood, plastic and metal.
The material you choose will depend on how you want the dog gate to look in your home and on your dog.
Wooden gates tend to blend better with interior décor schemes than plain, white metal ones.
However, wood is not a good idea if your dog is a serial chewer.
Security
If you have a large dog, you'll need a higher dog gate than you would for a small breed.
A low dog gate that would be ideal for your Chihuahua won't keep your Labrador confined for long.
Location
A major consideration that will influence your choice of dog gate is where you're going to use it.
Be sure to measure the space that you want to section off from your pup.
If the gate can fit in a doorway or across your stairs, it's a good idea to choose an adjustable dog gate.
Best Dog Gates: Summary
A dog gate offers the ideal solution for owners who like to keep certain areas of their homes to themselves.
There are several different styles of dog gates to choose from, depending on your individual circumstances and requirements.
Do you have a dog gate in your home?
If you do, we'd love to hear about what type of gate you chose and how you narrowed down your choice.
Share your experience with us in the comments section below.
Affiliate link disclosure: Links in this article marked with an * are affiliate links, and we may receive a small commission if you purchase these products. However, we selected them for inclusion independently, and all of the views expressed in this article are our own.