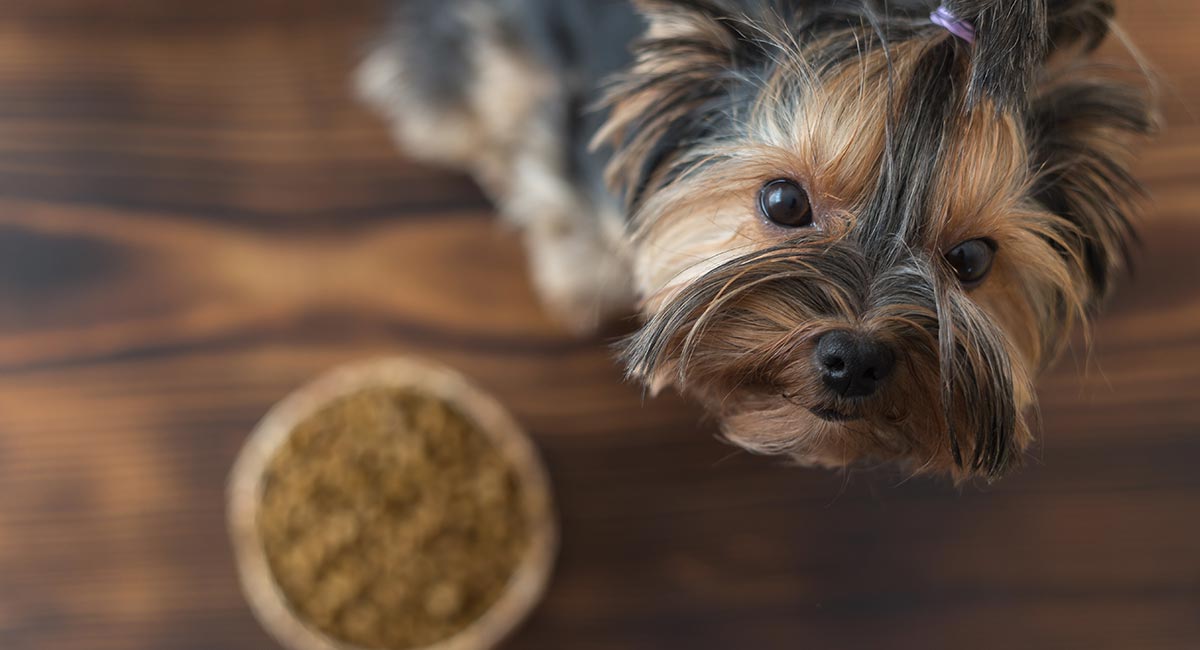 The Yorkshire Terrier is a toy-sized dog with a spritely personality. They do best on a high nutrient density diet with plenty of protein. The breed tends to be healthy and long-lived, and no doubt the best dog food for Yorkies will help them to make the most of these many years.
Products included in this article were carefully and independently selected by the Happy Puppy Site team. If you decide to make a purchase from one of the links marked by an asterisk, we may earn a small commission on that sale. This is at no extra cost to you.
Best dog food for Yorkies
So, exactly what is considered the best dog food for Yorkies?
That depends!
So much better than a generic recommendation is personalizing your pup's diet based on their age, activity level, and any specific health concerns.
Energy Needs
Small dogs that are at least moderately active, such as the Yorkie, need around 40 calories per pound of body weight per day.
This means a 7-pound dog would need 280 calories a day and a 5-pound dog would need 200 calories a day. This obviously varies with activity level and whether the puppy is still growing.
Unlike their colossal personalities, Yorkies come equipped with small stomachs and little mouths.
It's important that they eat several smaller meals throughout the day to avoid stomach upset. This can also lead to more steady blood sugar levels and prevent hypoglycemia.
A balanced Yorkie diet will be high in protein and omega fatty acids and free of artificial ingredients and additives such as corn, wheat and soy fillers. Checking ingredients is important when selecting the best dog food for Yorkies.
So, are you ready to discover just what is the best food for Yorkies, with your own canine in mind?
Let's get started!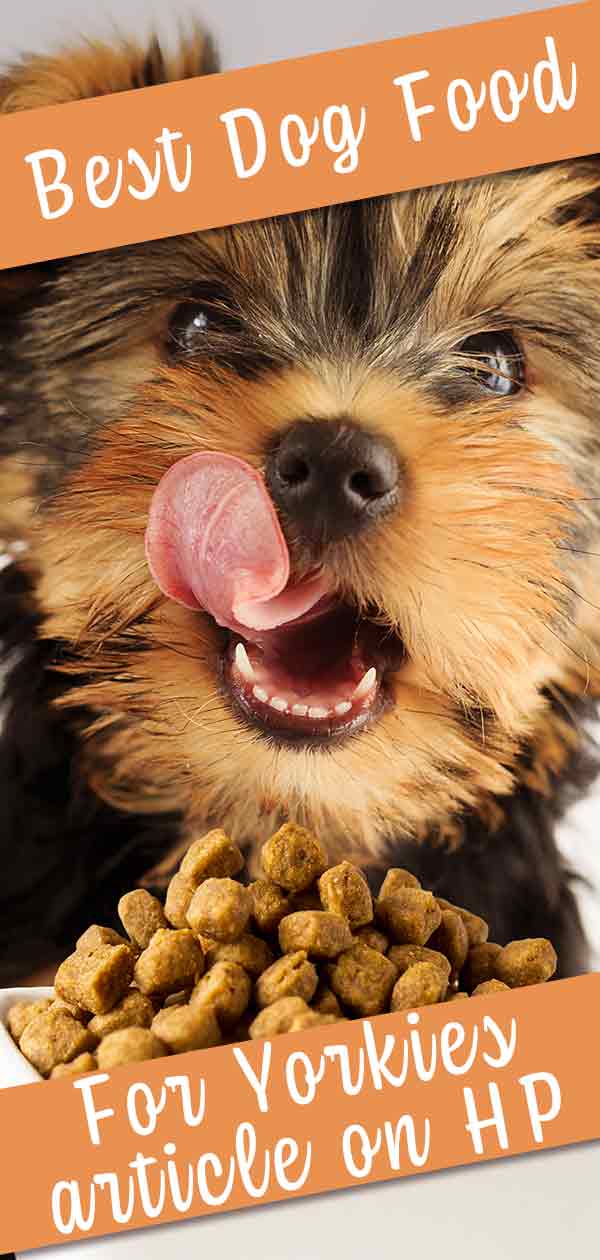 Yorkie Health and Diet
The best food for Yorkies is designed with their size and potential health issues in mind.
Yorkies tend to have delicate digestive systems. Bone and joint health can be a concern as well.
Hypoglycemia is another big issue among these small dogs, especially when young. The best food for Yorkies needs to be easy to portion out regularly through the day.
Likewise, liver and eye problems can also beset these adorable pups.
Given these unique health concerns, it's only natural that owners would wonder, "What is the best food for Yorkies?"
We've reviewed several types of the best dog food for Yorkies that you will want to consider when it comes to ensuring your pup's health and happiness.
Yorkie Dog Food Choices
When choosing the food for your Yorkie friend, you have several decisions to make. Will his food be fresh, from scratch? Wet? Dry? Grain free? Raw? Or some combination?
Freshly prepared foods can have superior nutrition, but require planning, care, and preparation time.
Wet foods provide added moisture, but they can be messier depending on your dog's manners!
Dry foods are convenient to store and feed but present chewing difficulties that wet foods don't.
Grain free foods have gained in popularity recently and potentially do have some health benefits.
Raw foods would be attempting to replicate a natural canine diet.
So which is the best dog food for Yorkies? As you read through this review we will recommend our favorites in each category, and the choice is yours.
Best dry dog food for Yorkie adults
The main benefit of dry food is convenience.
It can be left out all day for free feeding. It is easy to carry while traveling or hiking.
As a bonus, the crunchy texture aids in keeping tooth plaque at bay.
If you're considering a dry dog food, these brands are both well respected.
Royal Canin MINI Yorkshire 28 Canine Adult Dry Dog Food
The legendary Royal Canin* brand is popular with dog lovers for a reason.
Their specialized formulas are tailor made for a plethora of breeds and needs.
Not only is this dry food specially made to meet the nutritional needs of Yorkies, it comes in a convenient, small package (just like your fur baby!) that's perfect for traveling.
It contains almost 30% protein and has the omega fatty acids necessary to promote healthy skin and a lush coat.
BLUE Life Protection Formula Adult Dry Dog Food
The Small Breed Blue Life Protection* flavors are plentiful and include chicken, fish or lamb, all with brown rice.
The chicken is deboned, and there are absolutely no poultry by-products.
Your Yorkie will delight in the awesome fruit and veggies add-ins, and there is no corn, wheat or soy to interfere with her digestion.
ORIJEN Dry Dog Food, Six Fish, Biologically Appropriate & Grain Free
This Orijen dog food* consists of real, nutritionally dense foods. The six fish flavor is only one of their offerings, but we like it for the heavy inclusion of wild-caught salmon.
The omega-3 fatty acids found in wild fish are great for a dog's brain, joints, and hair.
Best wet food for Yorkies
We've had a look at the best dry food for Yorkies, but what is the best dog food for Yorkies that comes in a can or pouch?
Although dry food is great for some dogs, it might be that a wet food is in order if your animal has a small mouth, sensitive gums or missing teeth.
All things that can be relevant to a lot of Yorkshire Terriers.
Whether it's a luxury or a necessity, here are a couple of solid choices for you to consider when it comes to the best wet food for Yorkies.
Nutro ULTRA Small Breed Adult Pate Dog Food
Nutro Ultra Small Breed Pate* is made in the USA and contains elements to support your small dog's immune system.
The all natural ingredients provide for your pooch's ongoing heart health and contribute to a glowing coat and healthy skin.
Nature's Variety Instinct Grain Free Natural Wet Canned Dog Food
With Nature's Variety Instinct dog food*, the balanced fat, protein and calorie levels are specifically tailored to the needs of small breeds.
This is a grain and gluten free dog food.
It is made with real poultry and contains no corn, soy or wheat.
A great choice for your small breed dog.
Neutro Max Wet Food
Nutro Max High Quality Wet Food* comes in chicken flavor for puppies.
Most notably the brand contains no added artificial flavors or preservatives, no corn or soy protein, and no chicken by-product meal.
The twelve-pack contains 12.5-oz. cans, enough for the hungriest of growing bodies!
Best raw dog food for Yorkies
You may have heard of a raw diet for dogs and you may have tried it. The basic premise is to feed your favorite pup a diet that is as close as practical to what she might get as a wild canine.
These types of diets tend to be very high in health-promoting nutrients and avoid unhealthful fillers.
While it is completely possible to prepare fresh food for your pup from scratch, dehydrated products such as those below can definitely make the process easier, either as part of her regular diet, or when time is tight or you're away from home.
While some nutrients are lost in the process of dehydration or freeze drying, it is far fewer than are lost in more intensive processing.
So, here are a few of our favorite easier raw diet solutions.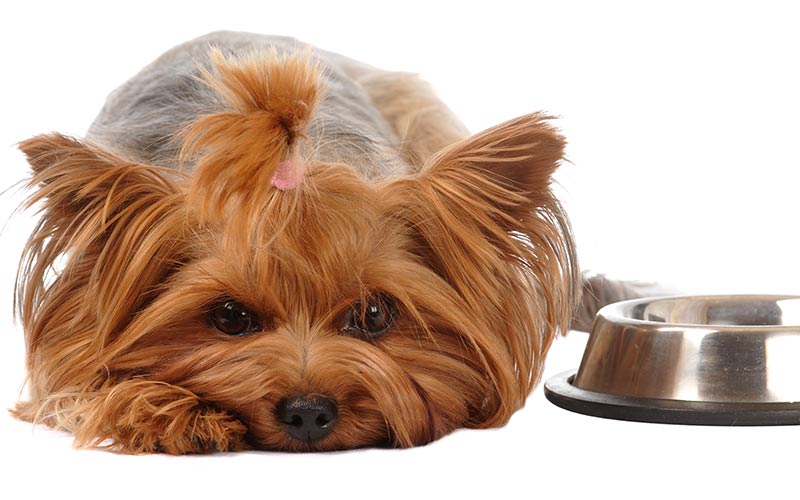 Dr. Harvey's Veg-to-Bowl Fine Ground Dog Food
If you want to feed you dog real, recognizable foods with the convenience of quick preparation, Dr. Harvey's line* is worth checking out.

This version is ground finely for small mouths. It is a base of dehydrated grains and veggies to which you will add fresh meat.
TruDog: Feed Me: Freeze Dried Raw Superfood
Trudog* is the yang to the yin of the dehydrated base style raw dog foods. It is pretty much just clean freeze dried meat.

This could work really well with the above for a complete just-add-water raw food while on the go.
ORIJEN Dry Dog Food
Another offering by Orijen, this is a well-conceived comprehensive raw-based diet solution*.

That is, it contains freeze dried animal foods as well as vegetables and probiotics. It is a grain free option.
The relatively long list of ingredients means you're getting a wide variety of nutrients beyond covering the basics.
Best grain-free food for Yorkies
Given the tendency to a sensitive digestive tract, many Yorkies may do well trying a grain free diet. Such a diet is often easier to digest, as grain was not a significant part of a wild canine diet.
Some of the options we have already seen are grain free, but here are a few more.
Taste of The Wild Grain Free High Protein Dry Dog Food 
Made by a family-owned and run company in the US*, this option is not only grain free, but also based on wholesome nutritious foods.

This version contains wild venison and is formulated specifically for small dogs.
In addition, it contains probiotics for digestive health and several vitamin/mineral supplements.
Wellness Core Natural Grain Free Dry Dog Food Small Breed
Made by a family-owned company, Wellness Core Natural Grain Free Dry dog food* is a great choice.

It is composed of a high proportion of meat. Kibbles are of an appropriate size for small mouths.
Best food for Yorkie puppy
The best food for Yorkie puppies is high in protein and fat to support the pups growth, and also contains adequate vitamins and minerals. In addition, as their mouths are quite small compared to other breeds, small bites or soft foods work much better for your young Yorkie friend.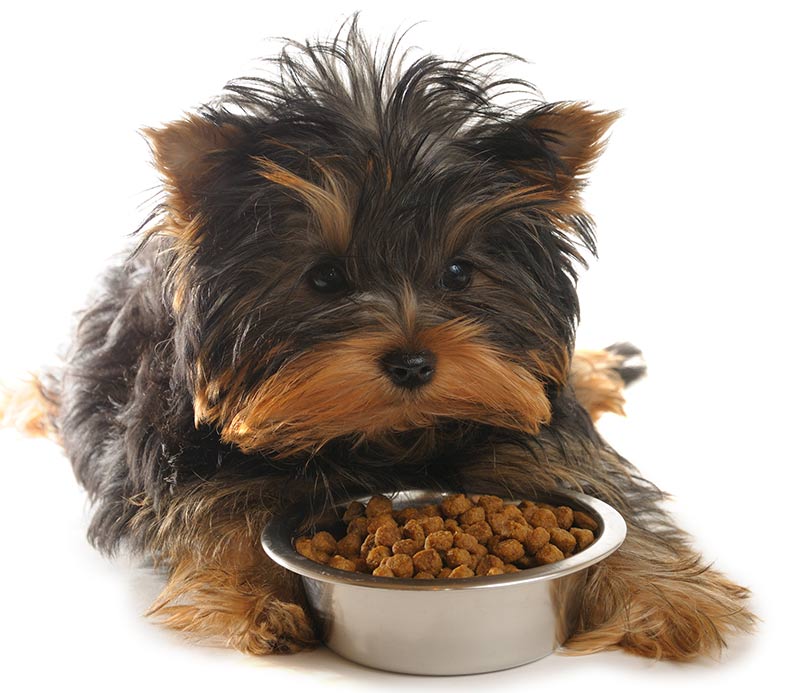 It's easy for Yorkie pups to develop low blood sugar levels if they go too long between meals.
You will want to feed your new pup a minimum of four times a day, in small sensible portions.
But what is the best food for Yorkie puppy meal times?
These tasty options are sure to tempt your fur baby!
ORIJEN Dry Dog Food
Let your puppy be in touch with her wild nature by enjoying this biologically appropriate and grain free Orijen food.*

It contains no mystery meat meals.
ROYAL CANIN Yorkshire Terrier Puppy
Royal Canin Yorkshire Terrier Puppy Food* is highly rated by puppy owners. It is a dried food that comes with a high-intensity aroma.
As well as a flavor sure to attract even the busiest of pups.
The crunchy bits have a unique property that limits dental plaque and tartar, and ingredients to nourish their coat to a glossy shine.
Merrick Classic Plate
Another good option is Merrick Class Plate*. This puppy food is grain free and contains no gluten, for easy digestion.
It's also free of added flavors, preservatives and artificial colors.
Best dog food for Yorkie seniors
Senior animals whose sense of smell is diminished may not be as eager to eat as they once were.
Wet foods offer a richer, more enticing aroma than dry food, and are easier to chew.
CESAR Classics Poultry Flavored Adult Wet Dog Food Trays
Specially made for seniors, Cesar Classics Wet Food Trays* come in a variety of flavors sure to tempt your older dog.
It comes in a smooth, easy to eat pate style that's a cinch for mature dogs to eat and digest. And it's packed chock full of the necessary vitamins and minerals that highly-charged small dogs need to thrive.
Blue Buffalo Homestyle Recipe Natural Senior Wet Dog Food
Give your older dog a treat they will enjoy with this wet, wild food based Blue Buffalo Senior Dog Food.*

It contains Glucosamine and Chondroitin for their joint health. No wheat is used as a thickener — good for sensitive dogs.
Nutro Ultra Senior Dry Dog Food
Real, recognizable food ingredients distinguish this wholesome, well-balanced Nutro Ultra Senior Dry dog food.*

It is specially designed for small breeds.
Best food for toy dogs
Because toy dogs need to eat so little, it is important to make sure they get maximum nutrients from each bite.
Another consideration is the actual size of any kibbles needs to be small enough for the toy dog to comfortably manage.
Nutro Ultra Dry Dog Food with A Trio of Proteins from Chicken
This natural toy dog food offering from Nutro* is based on whole grains, meat, and fruits and vegetables.

It contains several prebiotics for digestive health.
It lacks artificial preservatives, hyper-processed animal protein meals and super processed grain fillers.
Wellness Complete Health Natural Dry Toy Breed Dog Food
Made just for the smallest pups, Wellness Complete* provides the full-spectrum nutrition your little Yorkie needs.

It contains no meat by-products, fillers or artificial preservatives.
Plus, it contains glucosamine and chondroitin for maintaining joint health.
Blue Buffalo Wilderness Natural Adult Toy Breed Dry Dog Food
This Blue Buffalo toy dog food* is specifically designed with small kibble, high energy and extra vitamins and minerals.
Best food for dogs with hypoglycemia
Feeding multiple meals throughout the day is the best way to prevent you tiny dog from getting low blood sugar, or hypoglycemia.
If for some reason, you still notice the signs of shaking, drowsiness, weakness or confused behavior, the best food to feed in the moment is honey.
Honey should be immediately rubbed on a hypoglycemic dog's gums for fast absorption of the sugar.
How much should I feed my Yorkshire Terrier?
The rule of thumb for very small dogs is to feed 40 calories per pound of dog's weight per day. Of course, many factors, including the dog's activity level will influence this, but it is a starting point.
So how do you know if your Yorkshire Terrier is at a healthy weight?
One of the easiest methods is to compare him to a body condition chart such as below.
By feel, you should be able to feel his ribs without probing. They should not, however, be extremely prominent.
Looking from either the top or the side, you should see a clear waistline. Bulging would be a sign he is carrying excess weight. Sharp hip bones would be a sign he is underweight.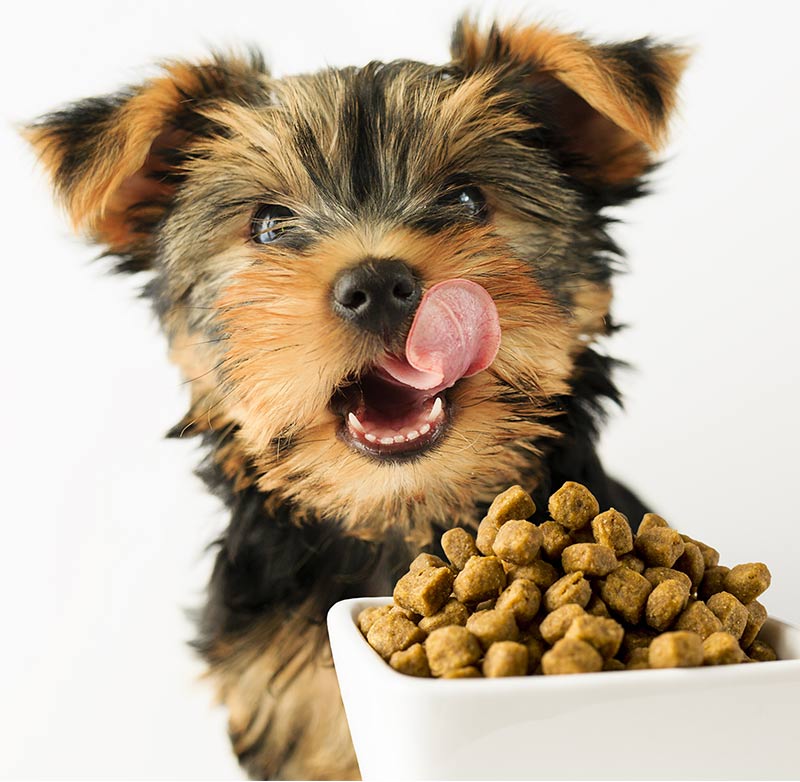 Yorkie Weight and Diet
A normal healthy weight range for Yorkshire Terriers is 3 to 8 pounds. Some dogs may simply be larger though, and it is not so uncommon for a larger Yorkie to be healthy at 12 or even 15 pounds.
As they are so small, weighting them is as simple as weighing yourself holding your pup, and then alone. Subtract your own weight from that seen when you were holding the pup to get your dog's weight.
If your simple checks and weighing show your dog appears to be out of the ideal range, it would be a good time to see the vet.
The vet can ensure that there are no underlying health issues contributing to weight changes and may be able to give some additional ideas for weight gain or loss.
Let's look at foods for over and underweight Yorkies.
Best Yorkie Food For Weight Loss
If your dog needs to lose a little weight, a food with slightly lower fat (and thus calorie) content, but still high protein.
A few good quality foods that fit these criteria and are suitable for a toy breed, such as the Yorkshire Terrier are below.
Hill's Science Diet Dry Dog Food
The Hill's Science Diet weight management food* is based on in-house research into weight loss in dogs.

It contains chicken as the first ingredient and added antioxidants.
Nutro Ultra Weight Management Adult Dry Dog Food
This weight management dry food from Nutro* provides the benefits of wholesome food ingredients with a macronutrient breakdown appropriate for weight loss.
The small breed version should be a great choice for an overweight Yorkie.
Best Dog Food For Yorkies to Gain Weight
Once the cause for being underweight has been identified and is being addressed, you will want to optimize nutrition for you friendly dog as she re-gains to a healthy weight.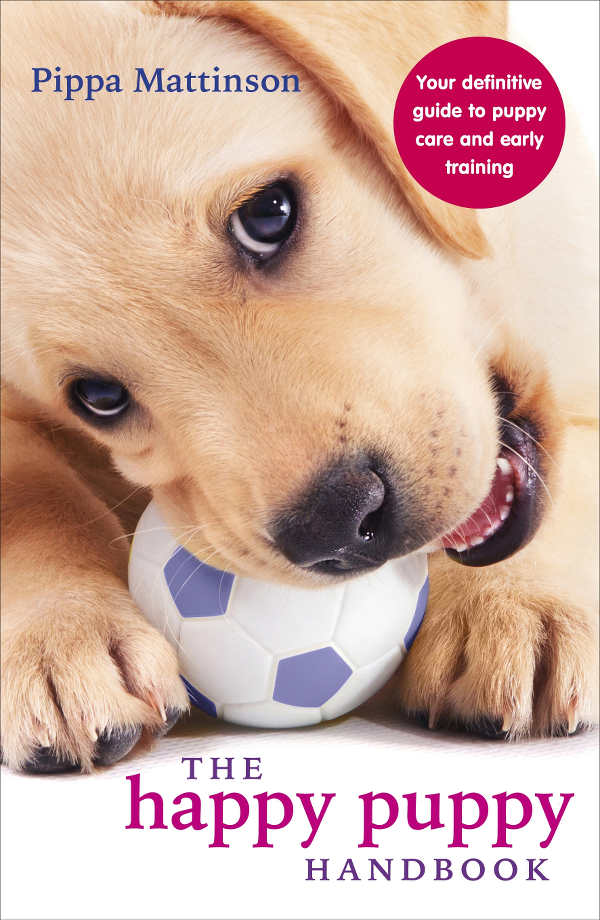 Needs are a bit different than for maintenance — Focus on an overall diet with ~30% of calories from protein and about 20% from fat. You can either supplement a regular dog food with additional meat, or look for an all-in -one solution that has higher protein and fat content.
In many cases, at least supplementing with some wet food can be helpful for an underweight dog. It may be easier to digest and often holds more appeal if your dogs appetite is low.
Vital Essentials Freeze-Dried Mini Nibs 
This freeze-dried duck* is not really an all-in-one solution, but as 100% meat, it is very nutritionally rich to help your dog gain healthy weight. It could go well with a raw food base mix or your dog's favorite food.

A big bonus is the simplicity. If it is digestive troubles that has been making your pup have a hard time keeping on weight, this is probably safe.
Blue Buffalo Blue Wilderness Wet Dog Food
Another great offering from Blue Buffalo*, this wet dog food is complete and balanced, so does not need any other supplementation.

It is grain free and, aside from the added nutrients, is a very simple formulation with high protein for a wet food.
Best Food For Yorkies With Sensitive Stomachs
It's all too easy for Yorkies to develop an upset tummy after mealtime.
These excellent choices are specially designed for small breeds with sensitive digestive systems.
Hill's Science Diet Small Breed
Hill's Science Diet for Small Breeds with Sensitive Stomachs* is a great choice for a lot of Yorkie owners.
Beet pulp provides the prebiotic fiber needed for smooth digestion and contributes to a solid stool.
The easy-to-digest ingredients are balanced with a generous amount of antioxidants, omega-6 fatty acids, and vitamin E.
It is specially formulated with small breed adult dogs in mind.
Solid Gold Holistic Dog Food for Small & Toy Breeds
Dogs in all stages of life can benefit from Solid Gold Holistic's specially formulated blend* designed to cater to sensitive digestions.
This dog food is aimed at small breeds, and even comes in wet or dried varieties.
It's free of corn, wheat and soy fillers and packed with superfoods, including fiber-rich pumpkin, to aid in digestion.
Best Food For Yorkies With Allergies
It's not uncommon for small breed dogs like Yorkies to have allergies to particular ingredients.
Fortunately, a limited ingredient diet can help to combat them.
Dick Van Paten's
Natural Balance Limited Ingredient Diets 
Natural Balance* has a more economical choice for a limited ingredient diet.

There are multiple flavors, which may help if your dog has sensitivities to less common allergens. Complete and balanced, it provides full nutrition for your dog with simple and wholesome ingredients.
Blue Buffalo Basics Limited Ingredient Diet
Another fantastic offering from the Blue Buffalo company, this limited ingredient dog food* is great for Yorkies with food sensitivities.

We love that the focus is on clean, real, wholesome ingredients.
Best Food For Mini Yorkies
As regular Yorkies are already toy -sized dogs, the requirements for the even tinier mini Yorkies are actually not so much different.
The biggest thing is to make sure the food bits are small enough to be easily accommodated by their tiny mouths.
Best Dog Food for Yorkies Summary
Other factors, including your budget and your dog's preferences, will dictate the food you choose to feed her. Our reviews have highlighted some of our favorite high-quality foods from which to choose to nourish your special small dog.
As you can see, there are many many options for name brand foods devoted to small breeds, making the variety of Yorkshire terrier food almost limitless.
And that's a good thing since rambunctious Yorkie's can expend energy almost as fast as they consume it!
If you're unsure about which will be the best dog food for Yorkies for your pup specifically, be sure to consult with your vet.
What do you feed your Yorkie?
We'd love to hear your thoughts in the comments below!
Everyone also knows dogs often eat things they shouldn't. So check out our guide to dogs eating plastic in case your dog ever manages to swallow something he shouldn't!
Affiliate link disclosure: Links in this article marked with an * are affiliate links, and we may receive a small commission if you purchase these products. However, we selected them for inclusion independently, and all of the views expressed in this article are our own.
References and Further Reading
McEwan, N.A., Macartney, L., Fanconi's syndrome in a Yorkshire Terrier, Journal of Small Animal Practice, 1987.
Lane, M., The Yorkshire Terrier: An Owner's Guide to a Happy Healthy Pet, Second Edition, Howell Book House – Wiley Publishing, 2001.
American Kennel Club
American Veterinary Medical Association