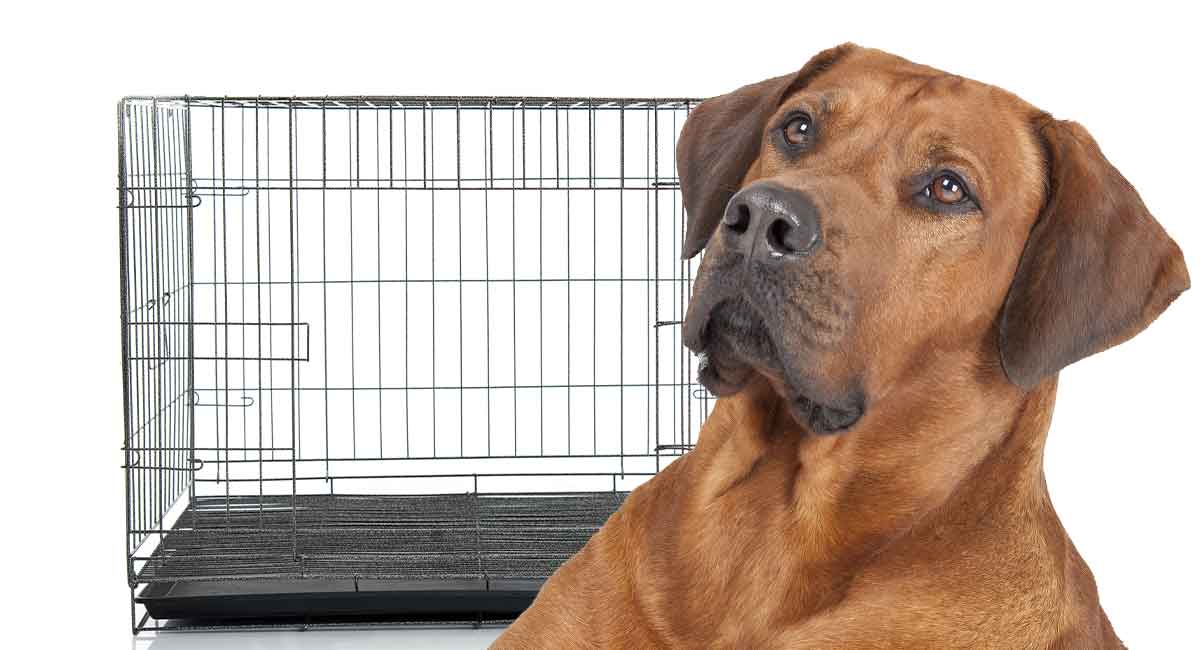 Finding the best heavy duty dog crate can solve a multitude of dog owning headaches.
Whether a pooch is a determined digger, a power chewer, or just completely oblivious to his own size and power.
A heavy duty dog crate will stand the test of time better than a straightforward wire crate.
Products included in this article were carefully and independently selected by the Happy Puppy Site team. If you decide to make a purchase from one of the links marked by an asterisk, we may earn a small commission on that sale. This is at no extra cost to you.
Our Top Heavy Duty Dog Crates
If you're looking for a robust and durable dog crate, there are no shortage of manufacturers in the market, vying for your buck.
We've rounded up all our favorites here. So whatever your needs or priorities, you're sure to find the perfect solution in this article.
But first, here are our top three, podium-placing picks:
Choosing The Best Heavy Duty Dog Crate
Before you start parting with cash, how can you tell if you need a heavy duty dog crate?
And should you look for, if you do?
The most common dog crate construction is either plastic-coated or stainless steel wire, with a plastic tray in the bottom.
Some people prefer to go for wooden or decorative crates, so they blend more seamlessly with the decor.
But heavy duty dog crates are different again. These ones are designed to last.
Who Are Heavy Duty Dog Crates For?
A heavy duty dog crate is a great choice if you know you're going to be using it for a long time.
Or, if you like to travel with your dogs, and you need to know it can withstand being bumped about a bit.
They're also great for big and heavy dogs who like to sleep against the walls of the crate.
Finally, they're a durable investment against dogs who like to dig in their beds, or who like to chew.
What Aren't Heavy Duty Dog Crates For?
However, heavy duty dog crates aren't a solution to behavioral problems.
For example, if a dog isn't crate trained, or has separation anxiety, then simply putting them in a crate they can't chew their way out of isn't the answer.
They will still be anxious and miserable, until you tackle the root of their behavioral problems.
LUCKUP Heavy Duty Dog Crate
This robustly constructed dog crate* comes in 4 generous sizes, from 38 inches long to 48.5 inches long.
The largest size also has a gable top, to allow extra standing height for tall dog breeds.
The bars on the base are wide and flat, to avoid pressure sores on the feet of heavy dogs.
The doors each have two locks to foil budding escape artists, and the two largest models both have feeding doors too.
Needless to say, heavy duty dog crates on this scale can get heavy in all senses of the word. So these crates come with lockable wheels too, so you can easily roll it into a new location.
SMONTER Heavy Duty Dog Crate
The diamond lattice structures on this super tough crate* aren't just there for decorative appeal.
They're cleverly designed to deter chewing, by making the spaces too small for a dog to fit their jaw through.
This crate comes in two colorways, so you have a bit more freedom to match it to your decor.
And it comes with all the standard features you'd expect from a heavy duty crate for big dogs – strong materials, secure locks and locking wheels.
Amazon Basics Heavy Duty Stackable Kennel
Amazon Basics' standard crates are rapidly achieving cult classic status among pet parents for their well thought out design and robust quality, at a very competitive price.
And this, their heavy duty alternative*, is set to be the same.
It is easy to assemble, collapse, and transport, and it has a clever sprung catch on the door.
However, not all of the bars are thick rolled steel – some are plastic coated wire, which may not be quite tough enough to stand up to determined chewing.
Furthermore, there's nothing separating your dog from the plastic tray at the bottom – often the first casualty of doggy teeth!
But, if you're looking for a heavy duty crate because you want it to last a long time, and transport easily without being prone to damage, then this could well be your answer!
AmazonBasics Hard-Sided Pet Travel Carrier
If you're planning to travel with your pooch by air, you'll need to make sure your crate meets the airline's requirements for housing them safely during the journey.
That usually means a hard sided plastic crate like this one*.
It opens at the front and the top, but benefits from ventilation all around.
It is supplied with extra screws for permanently securing the top and bottom section if you wish.
Since most purposefully heavy duty dog crates are only manufactured in large sizes, we think this is also a great everyday durable crate for smaller dog breeds.
The hard plastic sides and close-spaced wire door will make it difficult for you pup to do much damage by chewing.
And the whole thing can be easily wiped clean time and time again.
Rolling Plastic Wire Door Travel Crate
For larger breeds, this great alternative comes with wheels*, and two handles for lifting.
Once you reach your destination, the wheels simply snap off so you can use it as a static crate.
It also comes with two dishes for food and water, which clip onto the wire door, which saves you having to buy them separately.
We think the sturdy plastic construction would be well suited to dogs who like their permanent crate to be cosy and den-like too.
Noz2Noz Soft-Krater Crate
For transporting dogs by car, or vacations, soft crates are a popular option.
Inevitably, soft fabric crates aren't as indestructible as metal and plastic ones.
So they're not suitable for all dogs, especially ones who already have a proven reputation for trashing their stuff.
But, some soft crates are more heavy duty than others. And we love this one by Noz2Noz* because it has thick sides and reinforced corners to buffer against wear and tear.
So if you think that a soft crate won't work for you because most of the options on the market are too flimsy, this one might be enough to make you think again!
New Age Pet ecoFLEX Pet Crate
The ecoFLEX pet crate* is a great piece of responsible design.
It is made from recycled plastic and wood composite, with aluminum bars.
Besides being functional, it also doubles up as an attractive piece of furniture. The different colorways make it easy to choose something sympathetic to any kind of interior.
We think this crate qualifies as heavy duty because it will last a (human!) lifetime and still look in great condition.
However, previous purchasers have said that it doesn't stand up well to heavy chewers or destructive dogs.
Pro Select Modular Kennel Cage Graphite
These tough crates by ProSelect* are all about function, function, function.
Which is to say, they're not much to look at.
But, they're made from zinc-plated, powder coated steel, which will last years without corroding or wearing down.
Their modular design is perfect for crating multiple dogs without wasted spaces and awkward cleaning gaps between them.
The doors can be completely removed for easy cleaning.
They're on the more expensive side, but you can trust that you're investing in kit which will last a long long time.
Heavy Duty Dog Playpens
Dogs who destroy their crates commonly do so because they haven't been fully crate trained yet, and weren't ready to be left alone so long in one.
For dogs who aren't crate trained yet, a heavy duty playpen is a safe alternative to keep them contained while you answer the door or take a shower.
If you have a new puppy, you can put a pen around their crate, to create the perfect puppy-safe play zone.
And for older dogs, they are a handy zone for returning their stuff to, too.
This 8-panel pen by Iris* is made with heavy moulded plastic, and it has non-skid rubber feet to keep it in one place.
Since it's plastic, you can use it indoors and outdoors, without worrying about it rusting.
And, you can buy it in a whole spectrum of funky colors.
For older dogs who might pose a chewing risk to plastic, Go Pet make a galvanized metal alternative*.
You can purchase multiple sets to create larger enclosures.
But the gate doesn't reach the floor, so small breeds and some puppies might need a hand hopping in and out.
Choosing The Best Heavy Duty Dog Crate
So there you have all our favorite heavy duty dog crates.
Do you swear by one that we've missed?
Tell us which it is in the comments box down below!
Affiliate link disclosure: Links in this article marked with an * are affiliate links, and we may receive a small commission if you purchase these products. However, we selected them for inclusion independently, and all of the views expressed in this article are our own.