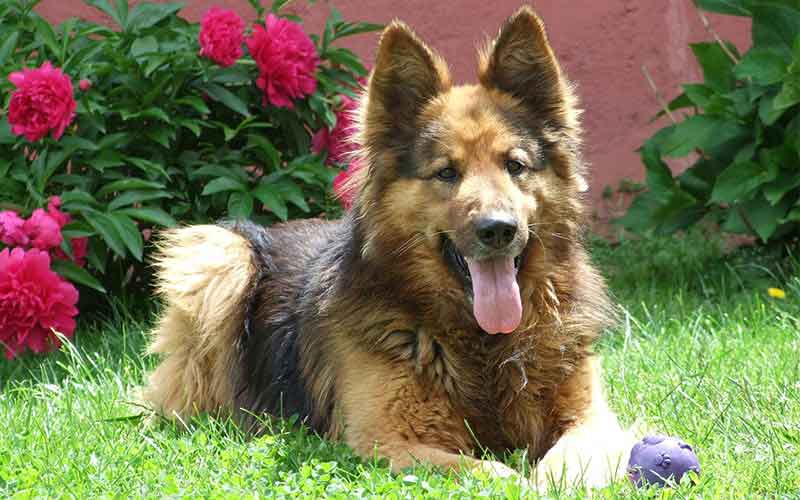 Finding the best German Shepherd names for such an amazing dog can be a challenge. These cool canines are popular pets and working companions. Loyal, loving, strong and intelligent, you'll want these personality traits to be reflected when you pick a name for your baby German Shepherd puppy.
Contents
Today we have hundreds of awesome German Shepherd names to inspire you. From the classic to the very unusual. You'll find plenty of names that reflect the awesome power and intelligence of this loyal breed. And we also share our system for creating truly original names for German Shepherds, names that reflect your own unique family and lifestyle.
Unique German Shepherd Names
The main problem with lists of dog names, is that they are often not that unusual, and not often truly unique. And if they are unique to begin with, they don't stay that way for long once they have been posted up on the internet. But don't worry! We have a great technique for creating totally unique dog names. Names that are completely personal to you. And we are going to share that with you, today! We are also going to share our own lists of awesome names for GSDs. Names that reflect the history and origin of these wonderful dogs, and the amazing service that they have given to mankind
Choosing a puppy name can often be source of disagreement at what should be a happy time, so we'll also give you some tips for shortlisting the best German Shepherd names that you find and picking the winner. Some of the most popular German Shepherd names right now are:
These are nice names. But perhaps you are looking for something a little different! A great way to pick an unusual name is to brainstorm a whole bunch of words that aren't usually used as names. To do that, you'll need to choose a theme, and build your word collection around that theme. Jotting words down quickly on a big sheet of paper is the best way to do this. Here's an example of a quick brainstorming session around the theme "wilderness". We can add those to our Wilderness Collection below!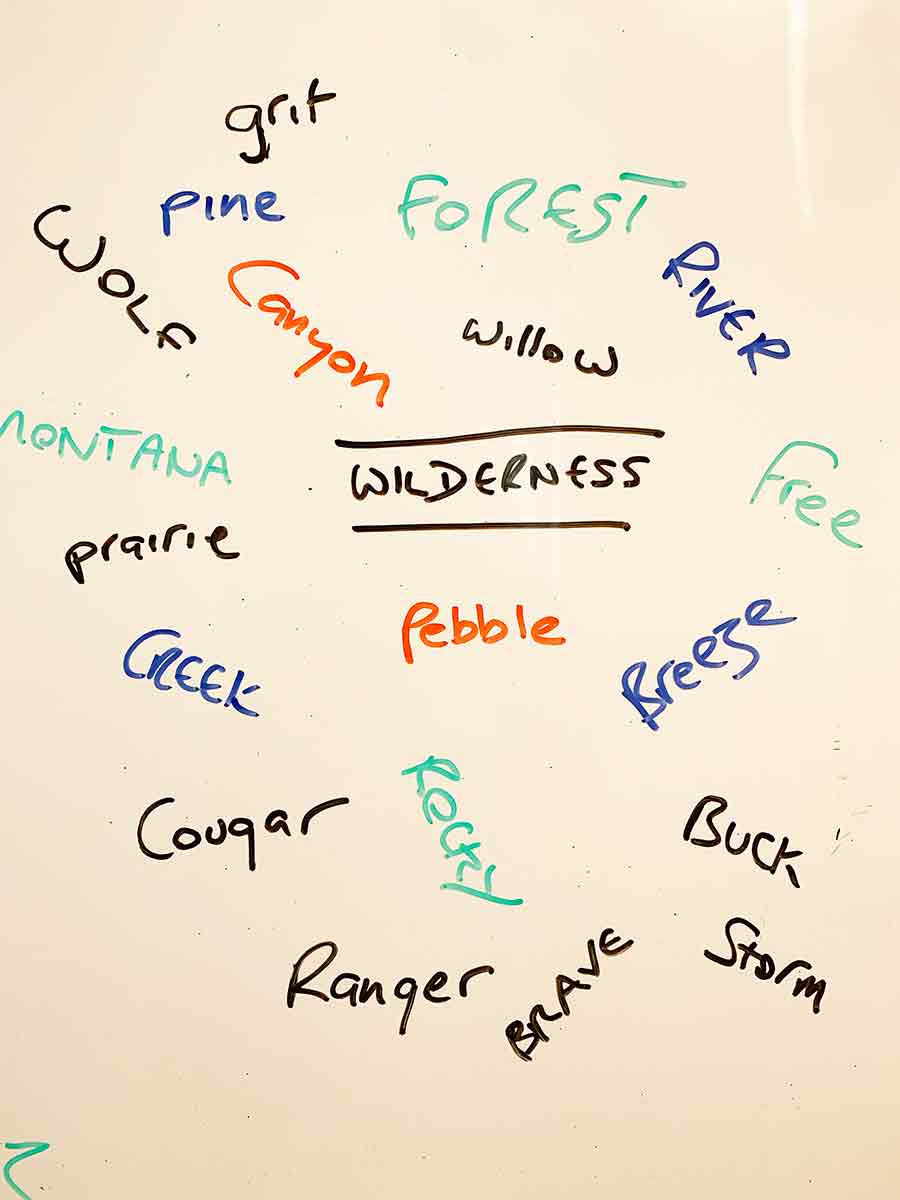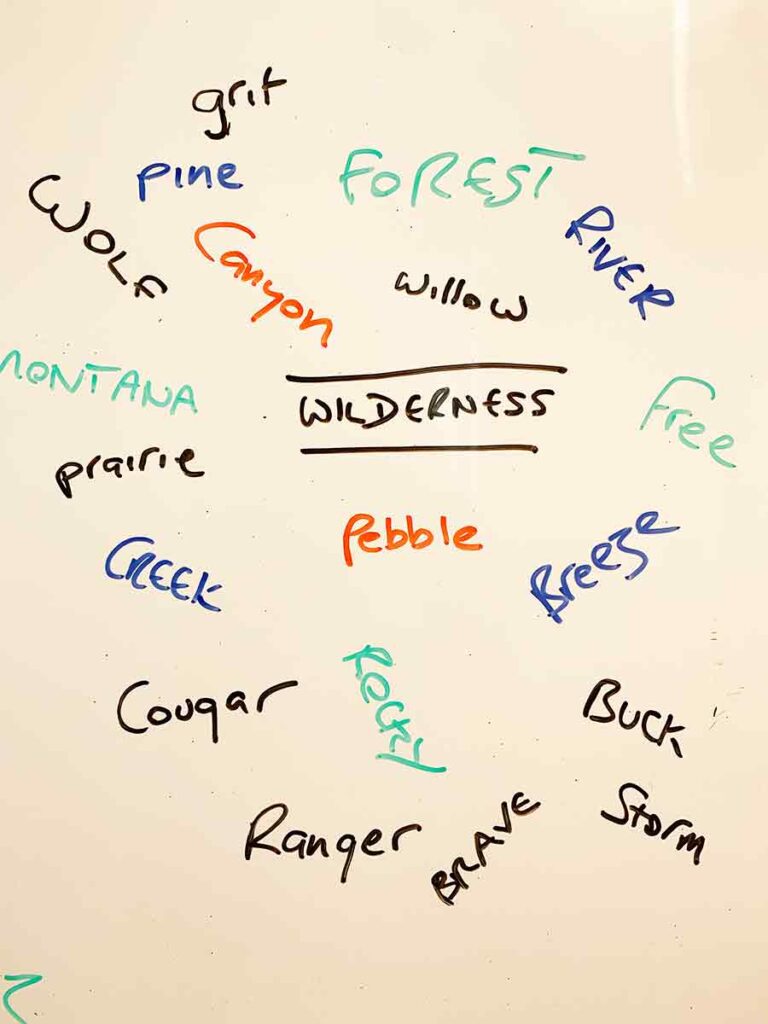 Wilderness Themed Names
Willow
Forrest
Breeze
Buck
Storm
Bison
Ranger
Rocky
Wolf
Moose
Elk
Wolf
Bear
Rain
Summer
Dakota
Montana
Sequoia
Pebble
Maple
Aspen
Brook
Savannah
You can see that we don't include all the words from our brainstorming sessions. Some of them are rejected when we start making shortlists. And we've added some extras to the list that came to mind as we compiled it. The main point of brainstorming is to get you started. And it works pretty well for that purpose.
You'll notice there are a few place names sneaking into that list and that leads us to another very useful theme that is especially good for finding original German Shepherd names, and that's place names
Place Names For German Shepherd Dogs
Place names can make awesome original dog names. We are going to use mainly cities in our place name themed collection. But you could use states or even geographical areas or entire countries countries instead. Think 'Sahara' or 'Africa'.
You could brainstorm a collection of places you have visited and that may have happy memories for you. Or simply names that sound nice and have an interesting meaning. Many city names are very pretty. And some sound more masculine while others sound more feminine. In general, names ending with the letter A tend to have a softer more feminine feel to them.
City Names For Boys
Boston
Darwin
Benson
Toledo
Baxter
Reno
Rialto
Denver
Dover
Scipio
Shelby
Urban Names For Girls
Vienna
Paris
Sydney
Tacoma
Tulsa
Batavia
Ramona
Dallas
Roselle
Selsa
Sitka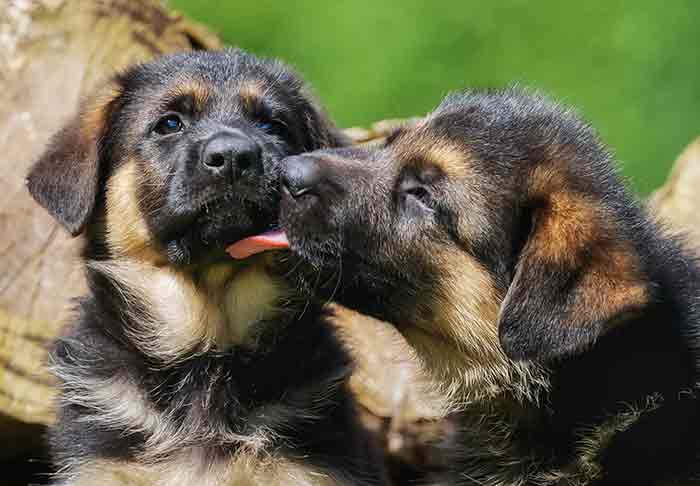 What Makes A Good German Shepherd Dog Name?
The GSD is an extremely versatile breed that is a favored service dog, police dog, guard dog, or household pet. Easy to train, shepherds are incredibly loyal dogs that bond closely with their family. So it's not surprising that many families like to choose a human name for their shepherd dog.
Human names for dogs can pay homage to a dear friend or family member or may remind family members of a much loved film or even a holiday destination. Good GSD names are ones that reflect the personality of your new friend, or some other attribute such as the color of their coat. Or, that have a special meaning for you and your family
Shepherds are most commonly associated with a long bicolor coat (solid tan, silver, red, or cream coat with black saddle, face, and leg markings). But they also come in solid colors like black, blue, gray, liver, sable, and white. You could brainstorm a collection of names around a color such as blue or gray. Think 'sky' or 'mist', or 'storm'. We've made a couple of color themed lists for you below.
Originally bred for herding and guarding livestock, German Shepherds are known worldwide for their courage and strong protective instincts. And have a long history of serving in the armed forces and as watchdogs. We'll look at some collections based on those roles in a moment. But first let's share some classic names grouped into boy dog and girl dog themes. We've split up Shepherd names by gender in the following sections.
Classic Female Names
We think that powerful and independent women, both real and fictional, serve very well as an inspiration for your German Shepherd girl's name! Female German Shepherd names can reflect your dog's feminine looks and "pampered pooch" status. They may also reflect her strong female personality, if you prefer. Here is a list of names reminiscent of strong women that would perfectly complement your beautiful German Shepherd.
Ella (short for Eleanor Roosevelt)
Amelia (Amelia Earhart)
Katniss (after the main character in The Hunger Games trilogy)
Liz (short for Her Majesty Queen Elizabeth II)
Hermione (Harry Potter)
Nancy (Nancy Drew series)
Xena (Xena the Warrior Princess)
River (Dr. Who)
Jackie (Kennedy)
Cleo (Cleopatra of Egypt)
Ursula
Flower Names For A Female German Shepherd Puppy
Flowers and plants can make great girl german shepherd names. Here are some to get you started
Bluebell
Pansy
Ivy
Rose
Heather
Lily
Buttercup
Daisy
Holly
Clover
And if you're looking for more unique female german shepherd names, look for less common flower names such as:
Petunia
Clematic
Verbena
Anemone
Violet
Peony
Primrose
Lavender
Inspiration for German shepherd female dog names can also from trees and shrubs, and from herbs and spices. Many of these work well for both male and female dogs.
Traditional Boys Names
Not only are there powerful women in history, but there are also plenty of courageous and heroic male figures. You have ample choice of German Shepherd boy names as you make your selection. Here is a list of male German Shepherd names that will help to convey your boy's intelligence or strength.
Apollo
Julius (Caesar)
Caesar
Achilles (of Troy)
Bert (short for Albert Einstein)
Huck (Finn)
Teddy (Roosevelt)
Thor (Norse god)
Stallone (Sylvester)
Rambo
Aladdin (Disney)
Rocky (from the movie)
Zorro (Legend of)
Zeus
German Names
A list of German Shepherd Dog names wouldn't be complete without a few names from the GSD's country of origin! Let's look at some german people names for dogs.
Male German Dog Names
As its name suggests, the GSD breed was created in Germany way back in 1899. German male dog names can reflect your dog's german heritage. Here are some German names and their meanings that may suit a male German Shepherd
Adalard ("brave")
Agustine ("majestic")
Alaric ("noble leader")
Dolphus ("noble wolf")
Fonsie ("noble and eager")
Fremont ("noble protector")
Gregor ("vigilant watchman")
Hubbard ("bright mind")
Kaiser ("long haired")
Kort ("bold")
Otto ("wealthy")
Female German Dog Names
German female dog names are often quite traditional and beautiful. Here are some German names and their meanings that may suit a female German Shepherd.
Ada ("noble and serene")
Bathilda ("heroine")
Erma ("warrior)
Ethel ("noble")
Felisberta ("intelligent")
Githa ("bright and shiny")
Schatzi ("sweetheart")
Holle ("beloved")
Ida ("hard working")
Joli ("pretty")
Mady ("maiden")
Minne ("resolute protector")
Of course names don't have to be traditional or even deep and meaningful. Many popular modern german names ae very beautiful and fitting for a Shepherd puppy. More german girl dog names can be found by searching for the current most popular german baby names. You'll be spoilt for choice!
If German Shepherd dogs are the first breed you think of when a police dog or guard dog is mentioned. You might consider naming your GSD based on his bold personality.
Police Dog Names
As we mentioned previously, German Shepherds are commonly used as police dogs. When they're part of a K-9 unit, GSD dogs need a name that's easy to pronounce when the handler gives commands, but that also packs a little "oomph." Besides, police dogs are hard workers and deserve a commanding name! Here are a few names we think would be suitable for police dogs or those who clearly have aspirations in that area!
Sarge
Scout
Blue
Tracker
Duke
Hooch
Chip
Gunner
Boots
Flash
Storm
Buzz
Deputy
Ritz
Blitz
Rango
Ranger
Tazz
Bells
Snoop
Scooby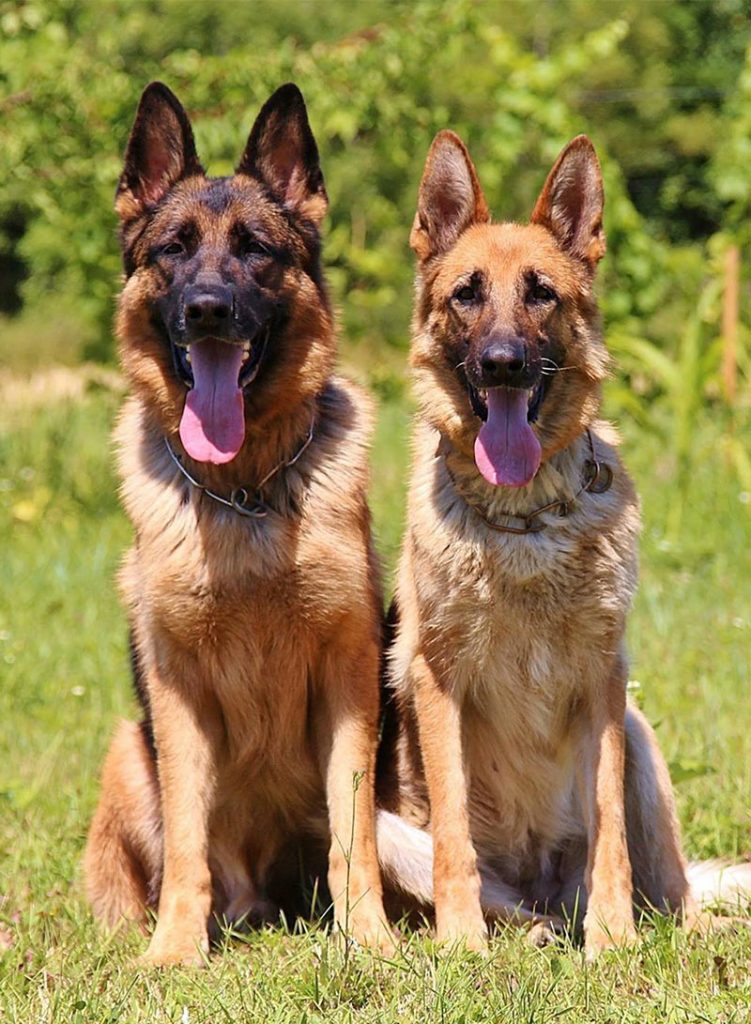 Military Names For A Shepherd Puppy
Sargeant
Comando
Marine
Patton
Rifle
Grant
Sherman
Sheridan
Clay
Decker
General
Palmer
Tank
Captain
Soldier
Car Names For Dogs
Naming your dog after your favorite automobile can be a fun idea. German cars are popular world wide, but you can cast your net a bit wider when thinking about dog names based on cars, trucks and motor bikes. Here are some ideas
Porche
Harley
Buick
Mercedes
Cadillac
Ford
Tesla
Axle
Dodge
Lincoln
Mack
Mustang
Jeep
Viper
Chevrolet
White German Shepherd Names
Some solid-colored German Shepherd Dogs are white. Bicolor Shepherds can also be white with dark points. The following is a list of names that draw attention to your pooch's pearly white fur coat!
Lacey
Cloud
Glacier
Nilla
Puff
Clover
Skylark
Ivory
Champaign
Bones
Whiteout
Powder
Sugar
Doily
Pasty
Alabaster
Prism
Snowman
Suds
Coolwhip
Black German Shepherd Names
There's nothing more visually striking than a solid black German Shepherd Dog—what a handsome sight! Here are some names inspired by your pup's dark coloring.
Ember
Ash
Knight
Midnight
Moonshine
Bear
Panda
Tophat
Panther
Shade
Thunder
Tornado
Jet
Smoke
Shadow
Pebbles
Rocky
Black Top
Pumice
Vulcan
Twilight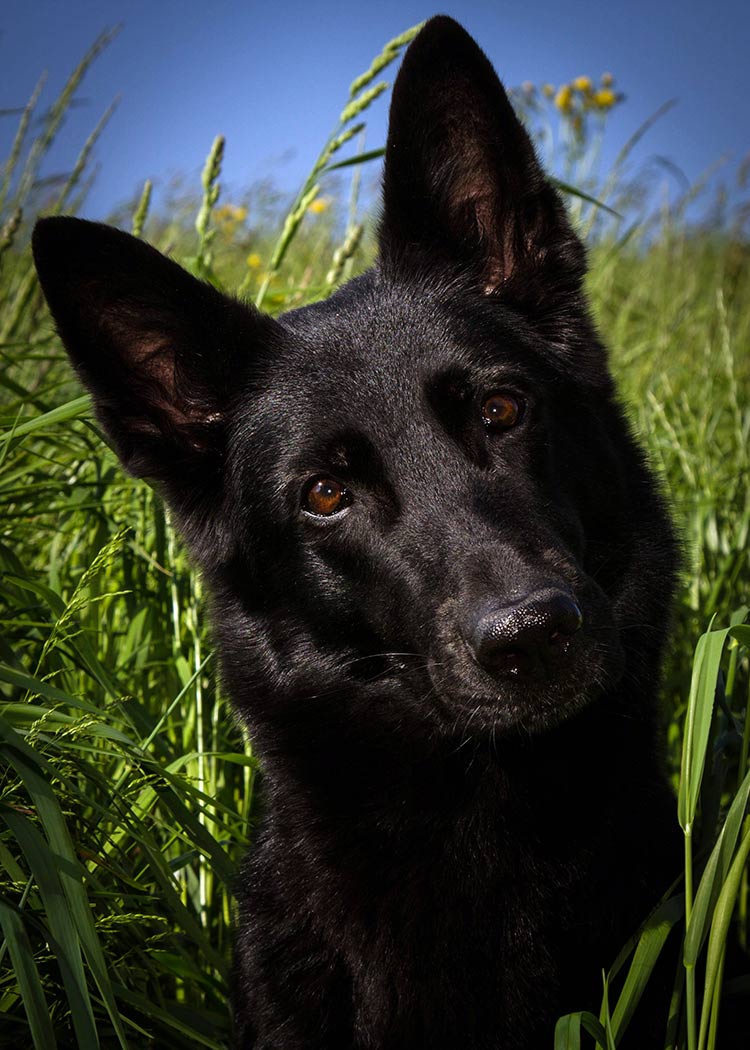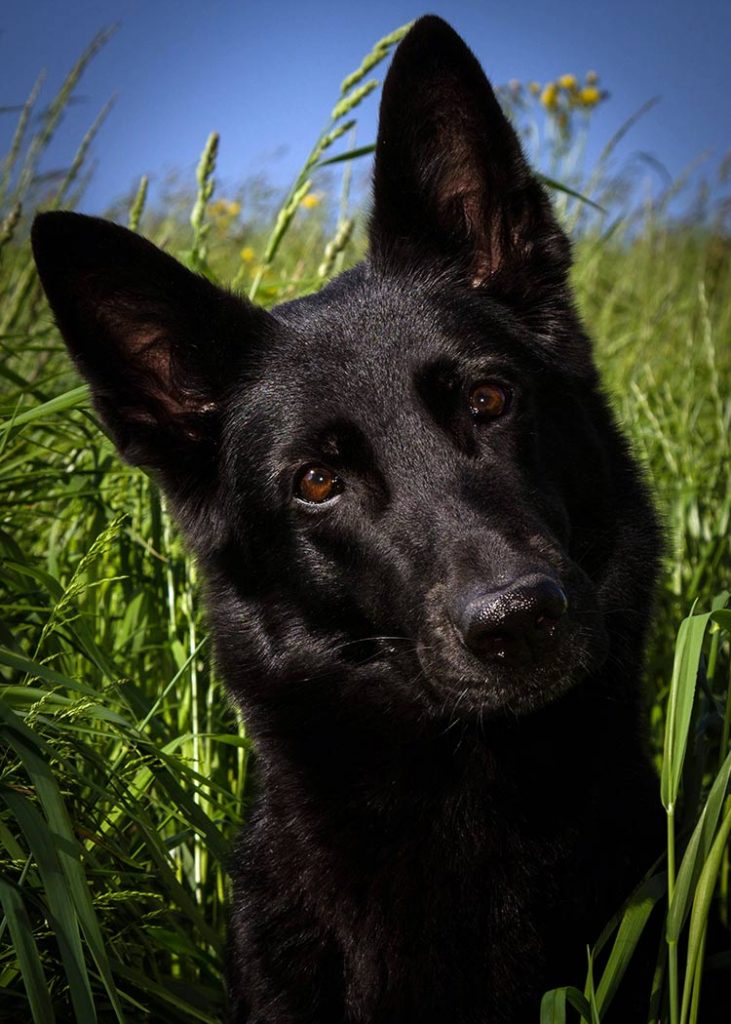 Cute Shepherd Puppy Names
Let's be honest, all puppies are super adorable, regardless of their breed. Still, your German Shepherd pup won't stay little forever. But you can still give them a name that will preserve their cuteness even after they're grown. If you've got a cute puppy, consider one of these names for your fur baby!
Gremlin
Tater Tot
Tudball
Mudbug
Ruger
Chewy
Bugsy
Nipper
Zippy
Bowser
Bunny
Baby
Geisha
Missy
Daisy
Marbles
Butterbean
Thimble
Tiny Tot
Tink
Screech
Barky
Cool German Shepherd Names
If there ever was a cool dog, it's definitely the German Shepherd Dog. With his noble profile and stoic physique, the Shepherd just oozes confidence and style. So, if you'd like to play up how cool your pup is, we recommend selecting one of the following super suave names.
Ice
Maverick
Mr. Freeze
Rico Sauvé
Dash
Arrow
Dude
Titus
Axle
Ferris
Zarr
Kai
Blaze
Harper
Gwen
Pizazz
Estella
Quinn
Annala
Sonora
Branwen
Claude
Damaris
Juniper
Neva
Unusual German Shepherd Names
Every dog is a unique individual with their own personality and mannerisms. Their name should set them apart from the crowd! You can find inspiration for a unique name in everyday objects. You might also try looking up famous landmarks or even city, country, or state names for ideas. Here are a few of our top choices for truly unique names.
Arris
Cairo
Monticello
Forge
Kylo
Gunther ("Gunny" for short)
Big Ben
Berlin
Bangor
Peru
Taj
Hollywood
Macchu
Liberty Bell
Paris
Nevada
Asia
Sydney
Topeka
Indiana
Mississippi (Missy for short)
Arizona
Niagara
Kaya
Fergie
Zelda
Zedakia
Strong German Shepherd Names
Below are some names that literally mean "strong" in different languages.
Ethan
Ekon
Zale
Neron
Takeshi
Angus
Barrett
Bernard
Brian
Denzell
Steele
Adira
Bree
Briana
Gabriella
Isa
Ivy
Keren
Rita
Valentina
Valerie
Kwan
Big Dog Names for German Shepherds
Your big dog should have a name to complement their formidable (but totally hug-able) size! After all, what's the fun in having a large dog if you can't emphasize their "gentle giant" status? Here is a list of names that complement a big dog rather nicely.
Tank
Bear
Titan
Gulliver
Mammoth
Bull
Mama Bear
Mac
King
Trooper
Cargo
Queenie
Goliath
Tonka
Maximus
Big Bertha
Tex
Moose
Moo-Moo
Little John
Tough Dog Names For German Shepherds
A hard-working dog with a can-do attitude needs a name as macho as they are! Here are a few badass German Shepherd dog names for your favorite tough dog.
Jagger
Lucrezia
Major
Rebel
Bane
Terminator
Diesel
Roxy
Fang
Jaws
Nikita
Hawkeye
Natty Bumpo
Bond
Kade
Trinity
Uma
Carmen
Rizzo
Scully
Havoc
Chaos
The Foodie Edition
If you're a foodie like I am, you'll catch yourself often leaning toward food names for your pets. Not because you want to eat them (they're cute, but not THAT cute), but because some of these names are just perfect! And we love food just as we love our pets. Win-win!
Juice
Sushi
Kale
Nacho
Oreo
Sage
Ginger
Olive
Cookie
Candy
Honey
Taco
Reader Picks: Male German Shepherd Names
We've incorporated some of your dog names into this post already. But here are some extras we loved!
Bruce
Raider
Stormi
Foggy
Jasper
Judge
Levi
Rudy
Baron
Hunter
Remington
Baus (pronounced "boss" but with a German spelling twist)
Priscilla
Nadia
Lily
Ava
Star
Abby
Jade
Duchess
Aja (pronounced asia)
HeidiHo
Coco