You'll find hundreds of awesome male dog names on this page, together with inspiration for coming up with original boy dog names that no-one else has thought of! We'll also show you how to create a shortlist and come up with the best male puppy name for your new friend.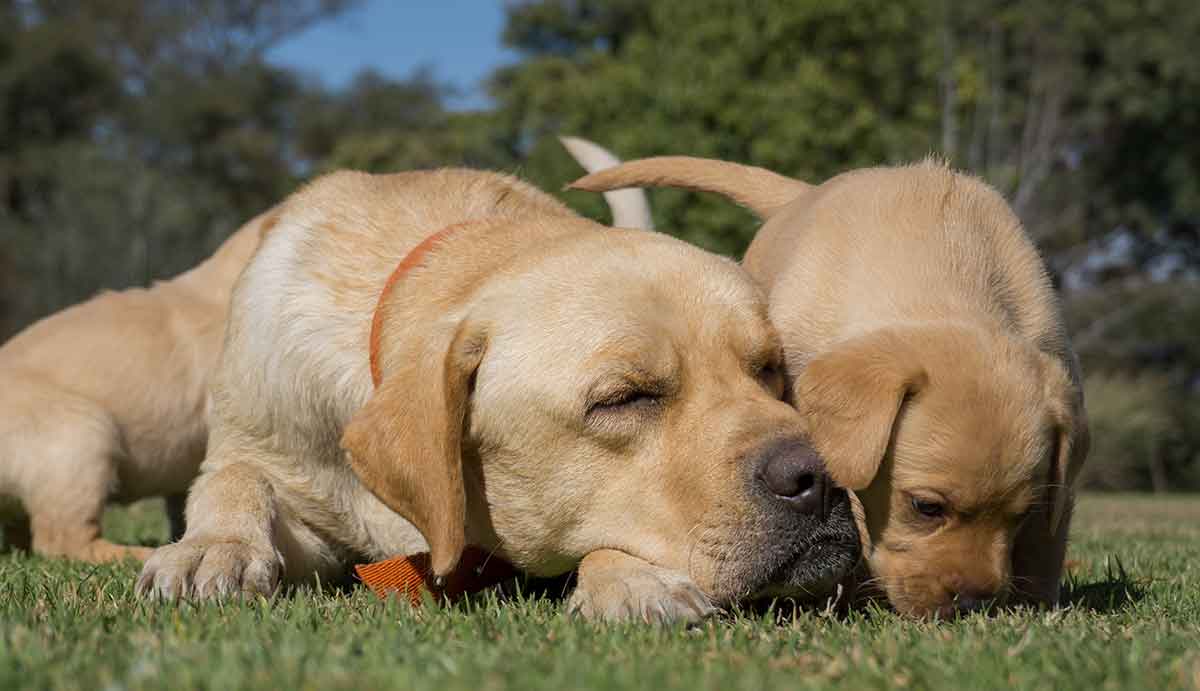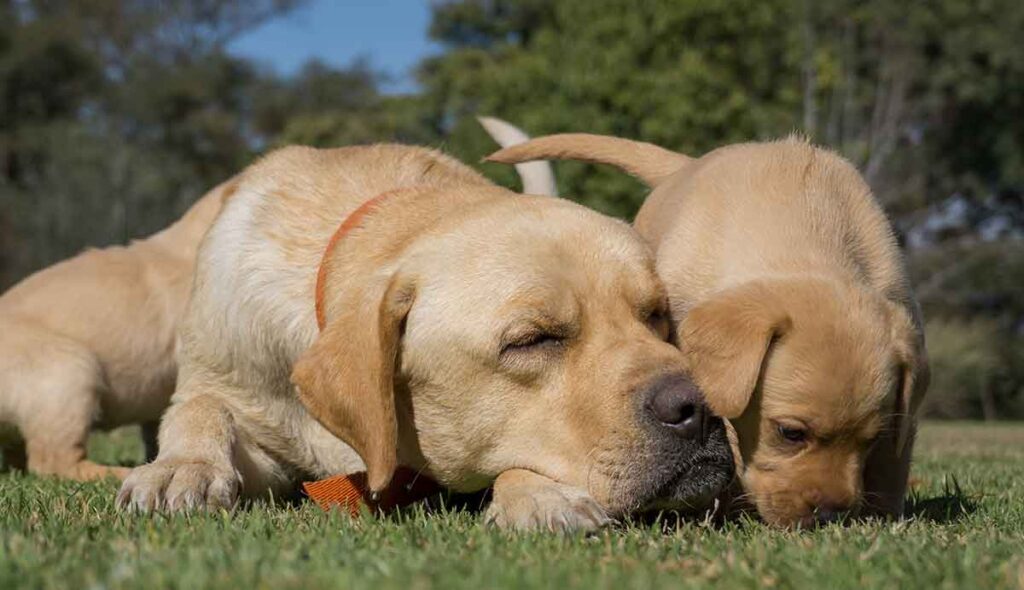 How To Choose The Best Male Dog Name
Choosing names is hard and we can help you with that! It's especially hard if you have to share that decision with other family members. With four kids in our family, there were six of us choosing new puppy names, so I feel your pain! I found some great ways for us to make that choice though, so I'll be sharing my tips for getting the whole family to agree!
Contents
Let's start by checking out the most popular dog names boy dogs can have – ones that are trending right now. And then move on to searching for some more original dog name ideas.
20 Popular Names For Male Dogs
Here are some of the top boy dog names that are enduringly popular…
| | |
| --- | --- |
| Max | Bear |
| Duke | Cooper |
| Milo | Finn |
| Murphy | Buddy |
| Dexter | Buster |
| Harley | Bailey |
| Bentley | Ollie |
| Oscar | Simba |
| Ben | Teddy |
| Casey | Jack |
That's just the start! We have hundreds more names waiting for you. Those popular dog names above, are lovely, timeless names, and you may end up settling on one of them. But there are some great ways to come up with more original boy dog names. The first step is to get creative and capture a 'pool' of ideas. For best results spread those ideas out over a large sheet of paper, or a whiteboard, or you could pin notes onto a corkboard.
If you use a whiteboard, remember to take a photo of the contents with your smartphone, just in case someone comes along and wipes out all your hard work! Once you have your paper or noticeboard ready and a pen to hand, it's time to start finding inspiration for boy dog names unique to you and your family.
TOP TIP: You'll be more creative if you start with a clear surface – remove all your old notes first!
You'll notice that many of the above are also names for dogs male human baby boys share too. Here are some more boy names for dogs that you might want to add to your 'ideas' pool
Boy Dog Names
| | |
| --- | --- |
| Micky | George |
| Billy | Jed |
| Cody | Gary |
| Taylor | Toby |
| Vinnie | Wilson |
| Samson | Cary |
| Connor | Finn |
If you like the idea of using a person's name for your dog, now is the time to start writing down your favorite boy dog names – don't make a list, just jot them down randomly on a big sheet of paper. Here's why.
Brainstorming Dog Names For Males
Lists of dog names for males are a great way to get inspiration, and we have a big A-Z for you below, but when you are gathering your initial pool of ideas, I think you'll find it helpful to use a more random brainstorming technique. With lists, the items in the middle tend to get passed over. Especially if the list is a long one. Brainstorming means finding a theme and jotting down ideas around that theme. And it's a technique that's thought to work because it's how our brains work too, with ideas branching off a central theme. Here's an example of brainstorming dog boy names using the theme 'vehicles'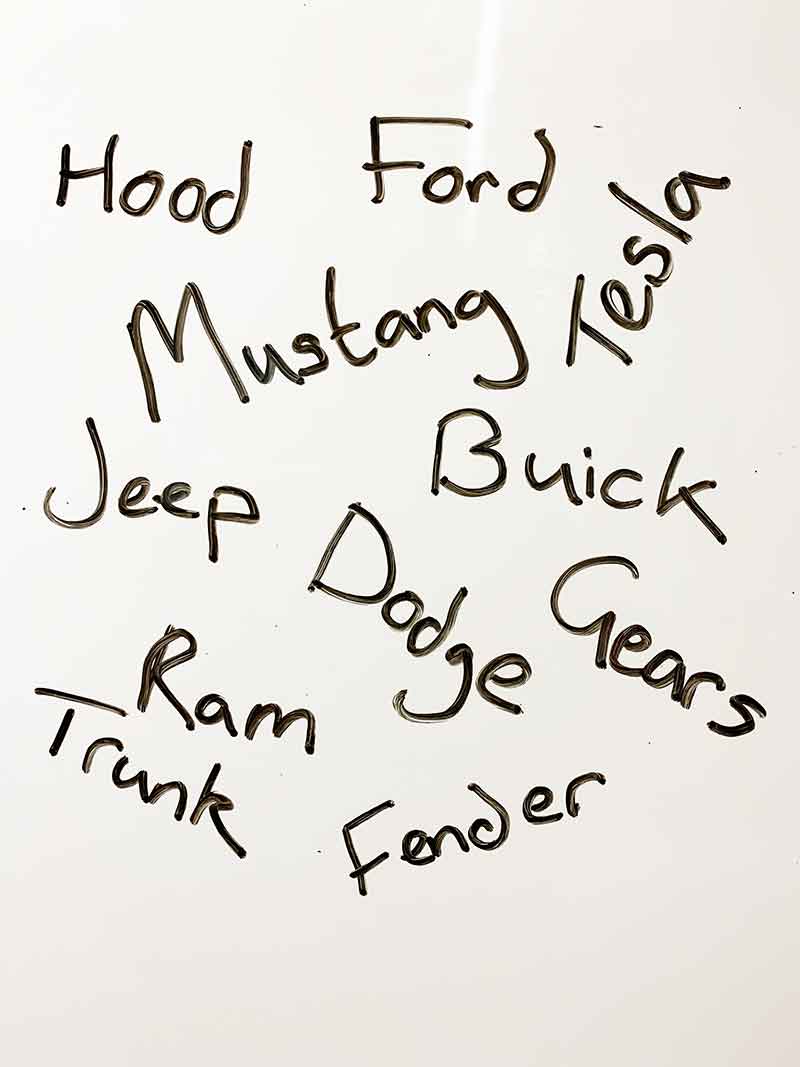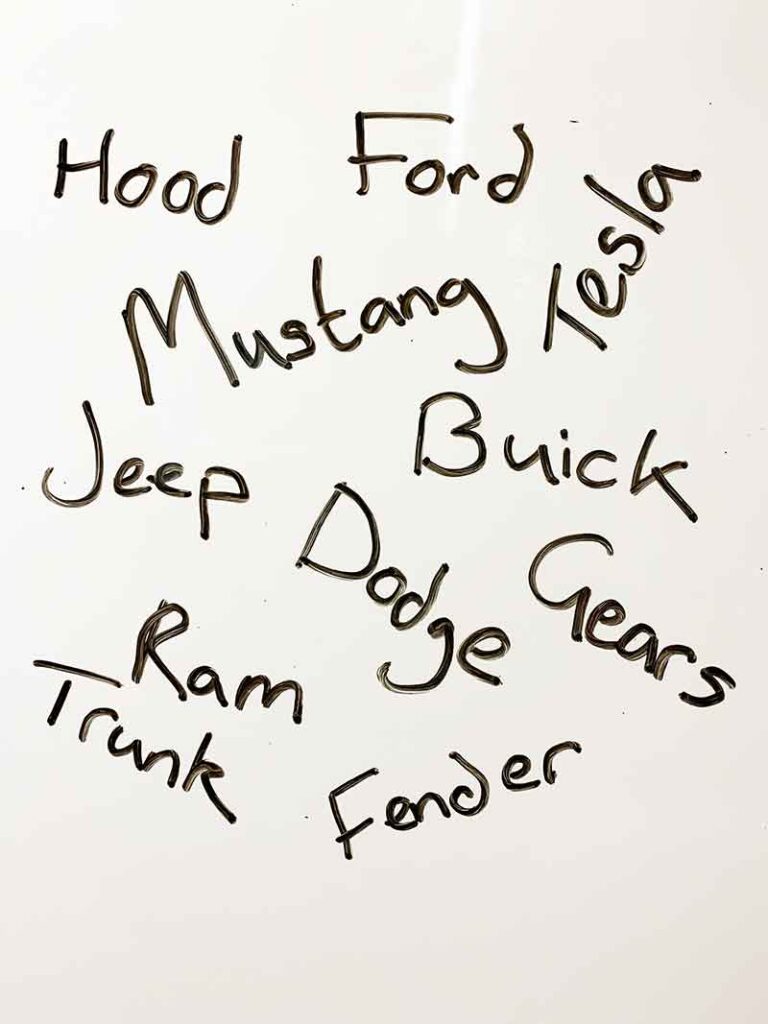 Cars, trucks, and motorcycles often have interesting names. I bet you can think of lots more vehicle names that would also make cool male dog names. Notice how this kind of mind map view give all the names an equal chance of getting your attention. You can then put your favorites onto you final shortlist. Here's an example of some names created around the theme of strength and power
Strong Male Dog Names
Names that emphasize strength are popular with large dog breeds. But they can be fun as ironic names for smaller, slimmer built dogs too. Or for owners that never miss leg day!
Arnold
Brute
Blaze
Rocket
Clark (Superman)
Gaston
Wolf
Hagrid
Herc (Hercules)
Dozer
Odin
Hulk
Ajax
Jordon
Mufasa
Shaq
Stallone
Tank
Tarzan
T-Rex
Wolverine
Finding Uncommon Boy Dog Names
Stay in creative mode for a while yet. Finding original dog names for male dogs is very rewarding but you need a decent sized pool of names from which to make your final shortlist. So you'll probably create several mindmaps, around several different themes A great place to store these name collections is on your phone. Just take a picture of each one for safekeeping. You'll notice some superhero themes creeping into that list above! Sometimes one theme leads to another so don't be afraid to grab another sheet of paper or take a photo of your whiteboard, rub it out, and start over with the new theme.
TOP TIP: Don't try to make a decision straight away, assemble a collection of 30-50 names that you like the sound of. Let the ideas roll in! This stage is all about creativity, not about finding the perfect name. Here are some examples of themes you could use to find uncommon dog names for boy dogs.
Boating
Music
Literature
Food
Basketball
Nature
Famous Painters
We'll expand on some of these below, and also give you some classic collections based around attributes your dog may have such as size, color, and personality types. Okay, let's take a closer look at the 'boating' theme
Male Dog Names With A Boating Theme
If fishing or boating is your thing, then one of these nautical names might appeal. Some are not uncommon, and some are very usual. But they all have a nice 'ring' to them.
Skipper
Sailor
Captain
Bosun
Anchor
Drift
Minnow
Ledger
Jig
Fender
Tiller
Boy Dog Names With A Music Theme
Whether you are into heavy metal, rap, or classical music, there is bound to be a theme that's personal to you. You can can use that theme to brainstorm male dog name ideas. You don't need to be contrained by the number of musicians you can think of, you can use musical terms, and the instruments they play too! Here are some ideas:
Snoop
Clapton
Lennon
Axl
Bowie
Hendrix
Bonno
Or you could go back a bit further in time with these!
Presley
Sinatra
Gershwin
Bing
Armstrong
Basie
Django
You could expand on these themes or jot down some more theme ideas of your own. The more collections you make, the more likely you are to find the perfect name for your puppy. Here are some more traditional name collections now, for you to browse. Keep a pen handy to jot down any that especially appeal to you. We'll start with male names for big dogs.
Creating Unique Dog Names
There are an almost infinite number of themes you could use to brainstorm name ideas. From food, to films, from sporting stars to holiday destinations. The more personal the theme is to you and your life, the more likely you are to find a truly unique name for your dog. Things that trigger great memories are good. Your favorite locations, near and far. The only limit is your imagination. Attributes of your dog can be great themes. Their size and color for example.
Here are some names based on size themes. You don't have to give a big dog a big dogs name of course, it can be humorous to do a reverse and call your Chihuahua 'Tank'.
Big male dog names
Andre (the Giant)
Aragog (Harry Potter series)
Beethoven
Big Red
Brawny
Eifel
Hogan
Johnny (Bravo)
Mighty Joe
Monty (short for 'Montezuma')
Sequoia ('Coy' for short)
Shrek
Sully
Vulcan
Zeus
Small male dog names
On the opposite end of the spectrum, if your small-breed male puppy is destined to remain cutely compact, then cute boy dog names might reflect his uber-adorable small size. These are popular with toy breeds, but again big breeds with tiny names are pretty adorable too. We like the following cute male dog names perfect for Yorkies, Chihuahuas, and other tiny dogs, or dogs that are tiny at heart.
Cheerio
Chipper
Jerry (Tom and Jerry)
Jiminy
Cricket
Little Bear
Pee Wee
Simon
Peanut
Pebble
Squirt
Button
Stitch
Pickle
Stuart (Little)
Tot
Theodore ('Theo' for short)
Thimble
Tiny Tim
Tweety
If you haven't collected 30 to 50 male dog name ideas yet, you'll find an A-Z with hundreds of dog names at the end of this article. But maybe you are ready to make your shortlist now? Let's look at some great ways to do that!
Making A Shortlist
If you have several theme boards, get each family member pick their two favorite names from each board, and write them down on a scrap of paper. Picking your final dogs name boy or girl, is really hard! So with kids you'll need to be both patient and persistent (setting a time limit can help here). When everyone has made their selection, the pieces of paper can all be folded and placed in a jar. Pick ten out (take turns) and pin those ten up in the kitchen for a few days before making your final choice
Name Picking Game
Another great way to narrow down your shortlist is to pin all your name choices onto a notice board, with each name on a separate note. Each day, each family member gets to remove one name – the name they like the least – from the shortlist. Until there are only three left. Leave those three names up there on the board for a few days more, and if you still can't agree then fold them up and put them into a box, and get a friend to pick out the winner.
Funny boy dog names
If humor is your thing, then choosing a funny name for your pooch could be the perfect option! For example, you could give them a size swap name like we looked at earlier. Or name your pooch after an especially funny fictional character or TV show! Here are some funny male dog names that are sure to raise a few giggles:
Acorn
Barky McBarkstein
Bugs (Bunny)
Captain Underpants ('Captain' for short)
Cat-Dog
Daffy (Duck)
Dwight
Ernie
Godzilla
Herman
Jaws
Peanut
Sheldon (Cooper)
Stewie
Woody (Toy Story)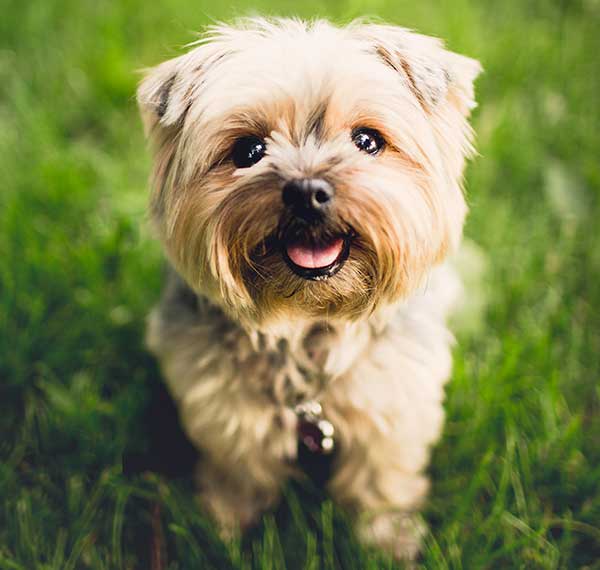 Another fun way to name is through your pup's good looks!
Handsome dog names male dogs will love
Puppy names, boy are there a lot of them! Is your little man devilishly handsome and charming? Is he the star of the show wherever he goes? If so, then naming him after his good looks could be fun! After all, such a feast for the eyes shouldn't go unnoticed! You might name your handsome pooch after a famously good-looking fictional character, or perhaps a dreamy male celebrity. Here are some puppy names male dogs will suit royally! They will find perfectly complement your little prince:
Beau
Bond (James Bond)
Clint (Eastwood)
Dapper Dan ('Dan' for short)
Edward (Cullen, Twilight trilogy)
Eric (prince, The Little Mermaid)
Fabio
Finnick (Odair – The Hunger Games trilogy)
Han (Solo, Star Wars)
Mr. Darcy
Prince Charming
Rico Sauvé ('Ricky' for short)
Smith
Viggo (Mortensen)
Zooko
And of course, your little boy is a big cutie…
Cute boy dog names
Cute boy puppy names don't have to be sickeningly sweet or overly girly to get their point across. In fact, cute dog names for boys can simply be uber cute human names for two-legged boys! After all, who doesn't love a crazy adorable puppy with an equally adorable name?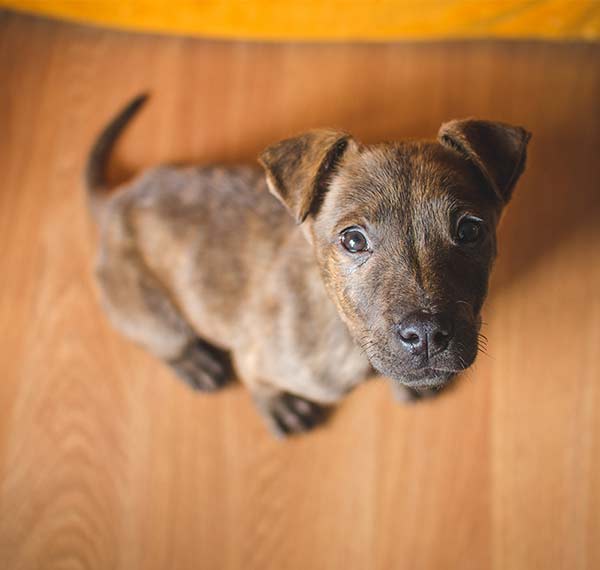 Bubs
Cubby
Dobby
Elliott
Finley
Happy
Minion
Piglet
Pipsqueak
Pokey
Pooh Bear
Puffball
Puppers
Screech
Todd
You can find more original cute dog names male pups will love by building personalized word collections around small things in your home. They don't have to be names in the traditional sense – think 'crayon', 'peg' and 'pocket'. One or two syllables is usually best.
Cool dog names
Your puppy will be the coolest dog at the park if you give him a handle that reflects a cool person, or an awesome thing! Cool dog names male pups will really suit include:
Beckham
Damon
Doc
Garth
Harley
Hawkeye
Tonto
Lucias
Luigi
Malfoy
Mario
Parker
Jeeves
Rip
Salvatore ('Sal' for short)
Shades
Stefan
Wyatt
What can be cooler than the unusual?
More Unique dog names
Unique boy dog names are a lovely way to emphasize your pup's extra special-ness! Like people, animals are unique individuals with their own quirks and things that make them so lovable! So, why not name your pup something that will make him stand out in a crowd? Unique or unusual names for boy dogs can be inspired by the names of famous landmarks or even cities, countries, or states. Here are a few truly unique boy dog names:
Austin
Bora
Bristol
Dallas
Diego
Ford
Fuse
Indy
Juneau
Leland
Nash
Nile
Peru
Sioux
Teton
Have you got enough names now for your 'creative pool'? If not it's time to scroll on down for a massive A-Z of dog names followed by an awesome list of names of our readers very own dogs. Some of those are quite unique! You'll find more are added regularly in the comments sections too. Don't forget to add yours when you have made up your mind. And good luck with your new puppy!
A to Z Male Dog Names
Good male dog names are easy to pronounce, and don't sound like any commands you might want them to learn later. Traditional human names are a nice way to find something that flows easily off the tongue. And so are classic names for male dogs, like Hooch, Rex, or Buddy, choices that have been popular for dogs for years. Scroll down to get your ultimate A – Z, or click on the links below to jump straight to your favorite letters. We've tried to include a range of names in each group, with something for everyone!
You'll find even more ideas for that letter by clicking the long link below each list.
A
Ace
Acorn
Adam
Ajax
Alex
Alfie
Alpha
Andre
Aragog
Archie
Arnie
Arnold
Arthur
Austin
Awesome! It's the male dog names that start with A! Check out our full list of dog names that start with A
B
Bailey
Barky
Basil
Beau
Beethoven
Ben
Bertie
Billy
Bruno
Brutus
Bubs
Bugs
Brilliant! Here are some good boy dog names that start with B!Check out our full list of dog names that start with B
C
Captain
Casey
Casper
Chalk
Chance
Chase
Chaz
Chester
Chip
Clark
Clint
Cody
Cooper
Crikey! It's time for the boy dog names that start with C! Check out our full list of dog names that start with C.
D
Dale
Dandy
Danny
Dargo
Dash
Dave
Deke
Derek
Dexter
Dill
Drogo
Duke
Dylan
Delightful! There are some great puppy names boy dogs could rock that start with D! Check out our full list of dog names that start with D
E
Earl
Echo
Eddie
Elon
Elvis
Enzo
Eric
Ernie
Errol
Euan
Evan
Excellent! It's the male puppy names that start with E! Check out our full list of dog names that start with E
F
Fabian
Fabrice
Falcon
Falstaff
Fang
Fenda
Filch
Finn
Flynn
Frank
Freddie
Frodo
Fabulous! Some male puppy names that start with F! Check out our full list of dog names that start with F
G
Gabe
Galaxy
Garry
Gerry
Ghost
Gibson
Gill
Glenn
Gonzo
Grit
Gunner
Gunter
Great! Now it's the male puppy names that start with G! Check out our full list of dog names that start with G
H
Hamish
Han
Harley
Harry
Hashtag
Haze
Hector
Henry
Hero
Hill
Homer
Hooch
Hurrah! These cool boy dog names start with H! Check out our full list of dog names that start with H
I
Ice
Icon
Iggy
Imp
Inca
Indie
Indigo
Inky
Itchy
Ivan
Ivor
Impressive! These male puppy names start with I! The letter I list contains some of the more unusual names. How many other great names beginning with I can you think of?
J
Jabba
Jago
Jason
Jasper
Jazz
Jerry
Jethro
Jigsaw
Jingles
Jinx
Johnny
Just what we wanted! Male dog names that start with J! Check out our full list of dog names that start with J
K
Karl
Kenny
Kent
Kermit
King
Kipling
Kit
Knight
Knotts
Knox
Knuckles
Kurt
Killer male puppy names that start with K! Check out our full list of dog names that start with K
L
Laurie
Lancelot
Len
Lennon
Leo
Lincoln
Linus
Louie
Lucas
Lucky
Luke
Lovely! It's the male puppy names that start with L! Check out our full list of dog names that start with L
M
Marlon
Mars
Matt
Maverick
Max
Meatloaf
Micah
Micky
Mike
Mischief
Morris
Muppet
Magnificent male puppy names that start with M! Check out our full list of dog names that start with M
N
Nando
Nano
Napoleon
Nacho
Nash
Nathan
Nautilus
Nelson
Nemo
Nick
Niles
North
Nothing beats a male puppy name that starts with N! Check out our full list of dog names that start with N
O
Oakley
Oats
Obi
Odin
Oliver
Omar
Onyx
Orville
Orwell
Oscar
Otter
Owen
Outstanding! It's the names for male dogs that start with O! Check out our full list of dog names that start with O
P
Pacino
Paddy
Parker
Pavlov
Peanut
Penn
Percy
Pickle
Pinch
Pluto
Poacher
Presley
Perfect male dog names starting with P! Check out our full list of dog names that start with P
Q
Quarz
Quasimodo
Quatro
Quibble
Quill
Quin
Quincy
Quip
Quixie
Quiz
Quality! These male puppy names that start with Q! Which is your favorite so far? Don't forget you can add your own ideas and suggestions in the comments box below.
R
Race
Rags
Raisin
Rambo
Raymond
Rebel
Rex
Rico
Robby
Robin
Rocco
Rocky
Ronnie
Remarkable male dog names that start with R! Check out our full list of dog names that start with R
S
Sal
Sam
Scottie
Scout
Scrabble
Sergeant
Sherlock
Socrates
Soldier
Snoopy
Spinner
Stan
Steve
Superb! These male puppy names start with S! Check out our full list of dog names that start with S
T
Tacco
Tan
Tarzan
Teddy
Tenyson
Theo
Thor
Tiller
Tracker
Trojan
Troy
Trumpet
Terrific male dog names that start with T! Check out our full list of dog names that start with T
U
Uber
Ukele
Ulrich
Ultrasonic
Ulysses
Unicorn
Usk
Ustinov
Utah
Utopia
Unbelievable! We've got to the male puppy names that start with U! Still not found the right one for your pup? Read on!
V
Vagabond
Valentine
Vandal
Vanish
Velvet
Victor
Vince
Vinnie
Virgil
Vodka
Vulcan
Victory! We've found the male puppy names that start with V! Let's look at some more great names next!
W
Wag
Wally
Warrior
Watson
Webley
Wick
Wilbur
Wilf
William
Wilson
Winston
Wonderful male dog names that start with W! Check out our full list of dog names that start with W
X
Xanadu
Xander
Xango
Xavier
Xax
Xerxes
Xox
How eXciting! These male puppy names that start with X. These names are great for a unique pup!
Y
Yani
Yarrow
Yeats
Yeller
Yenko
Yeti
Yogi
Yogurt
Yes! It's the male dog names that start with Y! Can you think of any more great names starting with Y?
Z
Zorro
Zack
Zappo
Zeiss
Ziggy
Zippy
Zork
Zorro
Zulu
Zippy! Here are some great male puppy names that start with Z! Check out our full list of dog names starting with Z. TIP: It's a good idea for boy puppy names to be relatively short and its best to avoid a name that sounds like another pet or family member's name.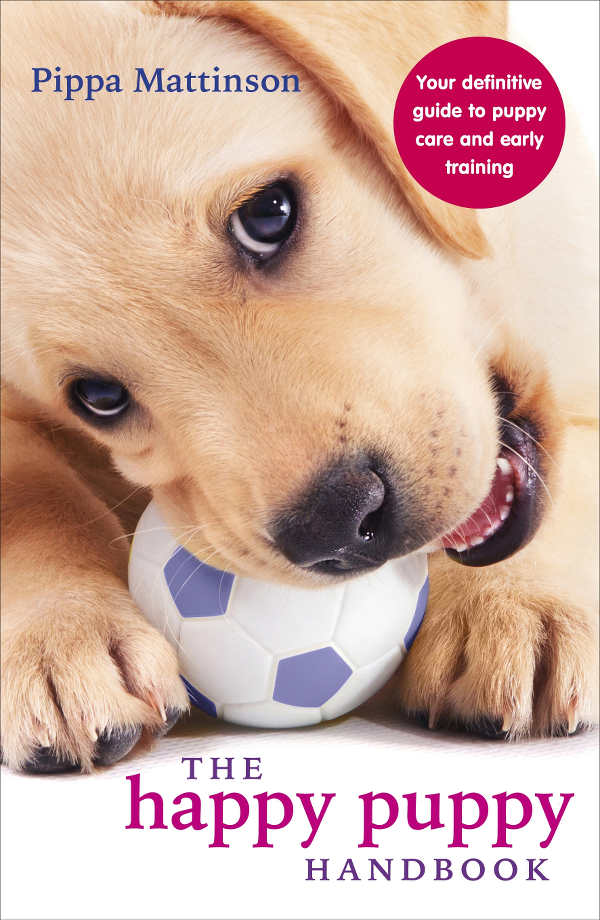 Male Dog Characters
Dog names male characters use on the tv or in film can be popular choices for dogs too.
Beethoven
Marley
Rex
Peanut
Brian
Snoopy
Scoobie
Bolt
Hooch
Garrick
Duke
Max
Male Dog Names by Category
The nice thing about naming a male puppy is that you can find inspiration in just about anything. Including simple everyday items in your home, and the wider world outdoors. Scroll down for some off the wall, and classic, ways to name your pup.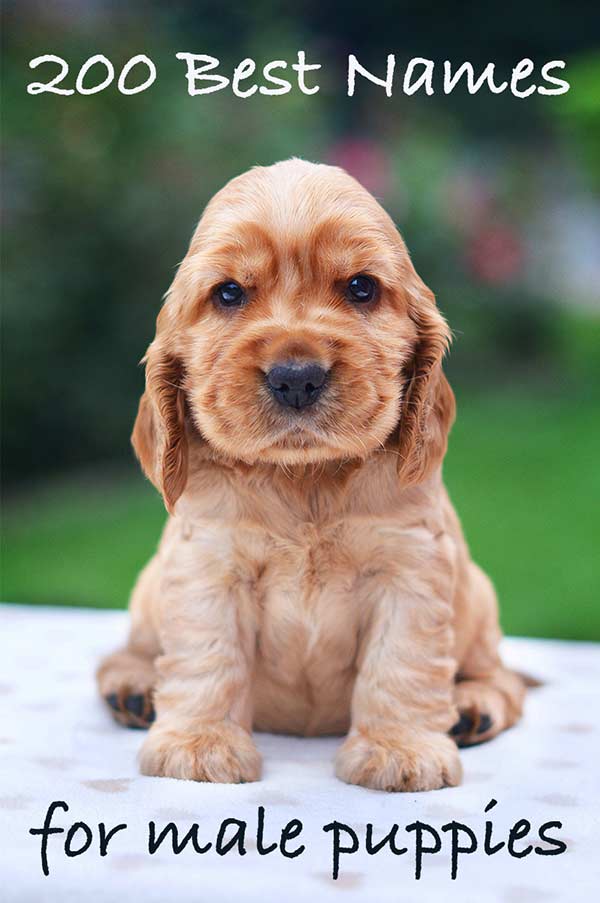 There's More!
Don't forget, you can also find inspiration for unique names for dogs (male or female) in everyday objects. Try brainstorming household items, hobbies, and crafts for very unusual names, such as
Caddy
Basket
Stitches
Tea-leaf
You can add a twist with a different spelling. As in Sox instead of socks.
More very popular male dog names
Not everyone wants to have an unusual dog. Boy names for dogs that are popular are often common because they are so appealing :
Fido
Lassie
Marley
Otis
Pongo
Scooby
Skip
Spot
Teddy
Tucker
Wishbone
Great male dog names from our readers
There really are a lot of wonderful names to choose from that will complement your perfect little boy puppy. Here are some really great boy dog names, unique in that they came from our amazing readers. We add to these at regular intervals so don't forget to add yours!
Alex
Artemis
Atticus
Axel
Bandit
Barkley
Beauregard
Benson
Bentley
Blaster
Blue
Bolt
Boris
Buzz
Chaos
Chester
Colby
Colt
Corby
Dakota
Deeks
Digby
Doby
Elliot
Elwood
Everest
Fargo
Fletcher
Forest
Geyser
Gus
Hank
Hashbrown
Howie
Hugo
Levi
Logan
Jeter
Kaiser
Kane
Kelpie
Kodak
Lars
Leo
LeRoy
Malachi
Major
Marrone
Maurice
Michi
Moose
Murphy
Newton
Nougat
Otis
Parka
Pilot
Pomroy
Popcorn
Rayzr
Reece
Reef
Ringo
Rooster
Ruger
Smokey
Spud
Tank
Tino
Torro
Tucker
Tyson
Wade
Waggles
Wyatt
Zarley
Most popular male dog names
The International Dog Name survey illustrates just how trends in names for dogs, male or female, change over time. And shows us the names that are hot right now!
Top 100 male dog names
The favorites this year are:

| | |
| --- | --- |
| Bailey | Charlie |
| Max | Buddy |
| Cooper | Jack |
| Toby | Bear |
| Scout | Teddy |
| Tucker | Dexter |
| Finn | Riley |
| Harley | Henry |
| Oscar | Brodie |
| Murphy | Marley |
| Milo | Blue |
| Bruno | Leo |
| Monty | Sam |
| Loki | Alfie |
| Bamey | Harry |
| Jasper | Ozzy |
| Rocky | Angus |
| Duke | Gus |
| Ollie | Shadow |
| Archie | Jake |
| Zeus | Rufus |
| Bruce | Buster |
| Winston | Baxter |
| Ginger | Jackson |
| Remington | Beau |
| Chester | Diesel |
| Hunter | Koda |
| Stanley | Thor |
| Ben | Oakley |
| Ruger | Simba |
| Bentley | Casey |
| George | Ranger |
| Dixie | Hank |
| Harvey | Jax |
| Juno | Moose |
| Ruben | Bertie |
| Gunner | Logan |
| Nova | Oreo |
| Rudy | Tank |
| Woody | Arlo |
| Billy | Cody |
| Oliver | Rocco |
| Sparky | Ace |
| Bandit | Barley |
| Benji | Copper |
| Hugo | Louie |
| Merlin | Otis |
| Reggie | Remi |
| Rusty | Wagner |
| Arthur | Bobby |
Best male dog names
The name that you give your dog will follow him around for a lifetime. So finding something that suits you both is important. But whatever you settle on in the end, that will be your dog's name. And love it or hate it, the rest of the world will quickly just come to associate it with him. So choose something that works for you, and enjoy building that amazing bond with your new furry friend.
Still Can't Decide?
Can't quite settle on the right name yet? Then check out our other awesome puppy names articles in our main dog name library! And once you have made up your mind, don't forget to tell us your favorite dog's name in the comments box below