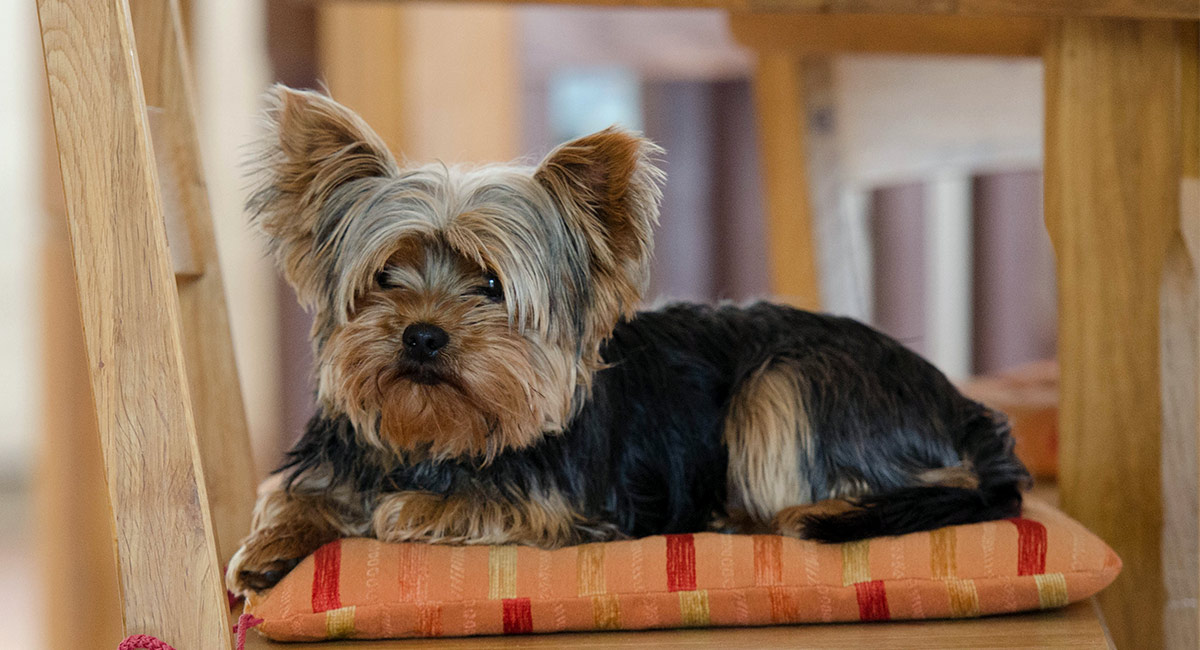 Yorkshire Terriers are small in size, but big in personality. The best Yorkie names know just how to show that off.
Our top 20 Yorkie names for 2019 are:
| | |
| --- | --- |
| Pip | Fudge |
| Bella | Leo |
| Bud | Missy |
| Archie | Chloe |
| Fox | Banjo |
| Fizz | Toto |
| Lexi | Dylan |
| Binky | Skittles |
| Bonnie | Puzzles |
| Chip | Nacho |
But we've got plenty more inspiration for you than that!
From cute to unique, funny to tiny Yorkie dog names. We've come up with over 200 brilliant ideas.
Naming Your Dog
Bringing home a new puppy or rescue dog is a momentous occasion.
You will have spent weeks finding the right Yorkie, and setting up your home ready to welcome him in.
But choosing the perfect Yorkshire Terrier names, well, that can be a little bit tricky.
Because your new pal is going to be keeping it for years to come.
So how do you pick the perfect name for your Yorkie?
Yorkie Puppy Names
There are no hard and fast rules when it comes to naming a puppy, or an adult dog for that matter.
Although some rescue dogs come with a name already attached, you might choose to select something different. To really cement that fresh start.
Regardless of your pup's age, you want a name that is going to suit him, or her, down the ground.
And with a Yorkshire Terrier, the ground is never too far away!
I've named a lot of pets over the years, and always find a good way to start is to choose the type of name you think would suit them best.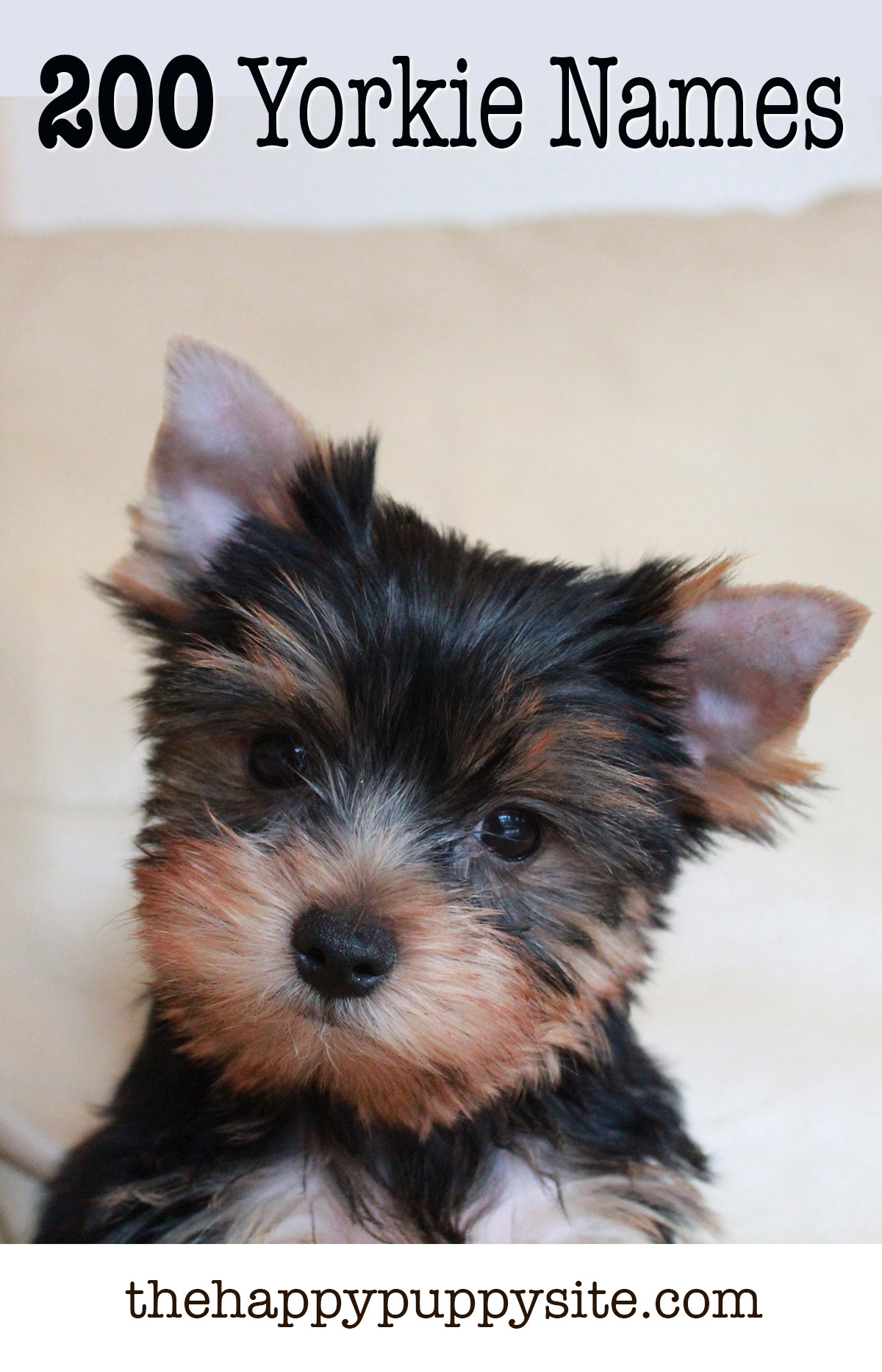 That might be one that is cute, funny, unusual or a reflection of their personality of appearance. Or simply a beloved traditionally human name.
For this reason, I've broken down our Yorkie names into categories. Helping you to flick straight to the type of name that takes your fancy.
So what are we waiting for?
Let's get cracking with some great Yorkie puppy names male dogs of an disposition would suit.
Male Yorkie Names
Boy Yorkie names that are based on human names don't have to be dull. In fact, they can be great fun!
Do you love modern names, or are you a fan of the older more traditional style?
Either way, there are some lovely ideas for Yorkie puppy names male dog owners might like to consider.
Aiden
Archie
Bailey
Billy
Caden
Connor
Dylan
Ethan
Euan
Evan
Freddie
Gabe
Grayson
Harry
Henry
Jackson
Jake
Leo
Liam
Logan
Lucas
Mason
Matty
Miles
Ned
Noah
Oli
Owen
Sammy
Seb
None of those Yorkie boy names quite your thing? Check out 200 more awesome male dog names here. 
From Yorkshire Terrier names male dogs will suit, to some great Yorkie girl names.
Female Yorkie Names
Yorkie girl puppy names can of course be taken from human names as well.
There are literally thousands of options when it comes to choosing a human name, but the best ones for dogs are generally those that are fairly short.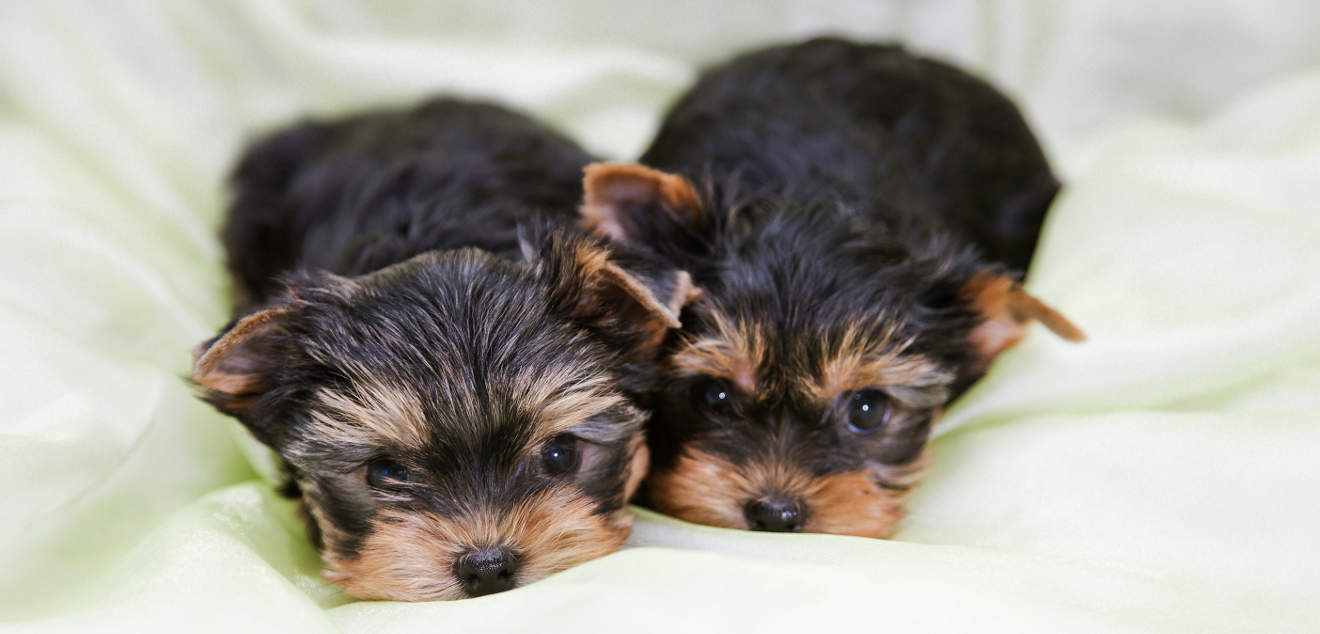 And that don't sound like any potential commands you might teach her as she grows up!
Here are a few of our favorites.
Abi
Aria
Ava
Bella
Brandy
Brooke
Callie
Chloe
Clara
Ellie
Emma
Florie
Gracie
Hannah
Harper
Izzy
Layla
Laurie
Lexi
Liv
Lottie
Mel
Mia
Paisley
Reagan
Riley
Sara
Sophie
Viola
Zoe
Find 150 more brilliant female dog names here.
Yorkshire Terrier names female or male don't have to be derived from human names, of course.
They can be based on the seriously adorable nature of your new pal.
Cute Yorkie names
Yorkies are cute. It's just an undeniable fact.
These tiny dogs have adorable little faces, beautiful coats and a wonderful nature to match.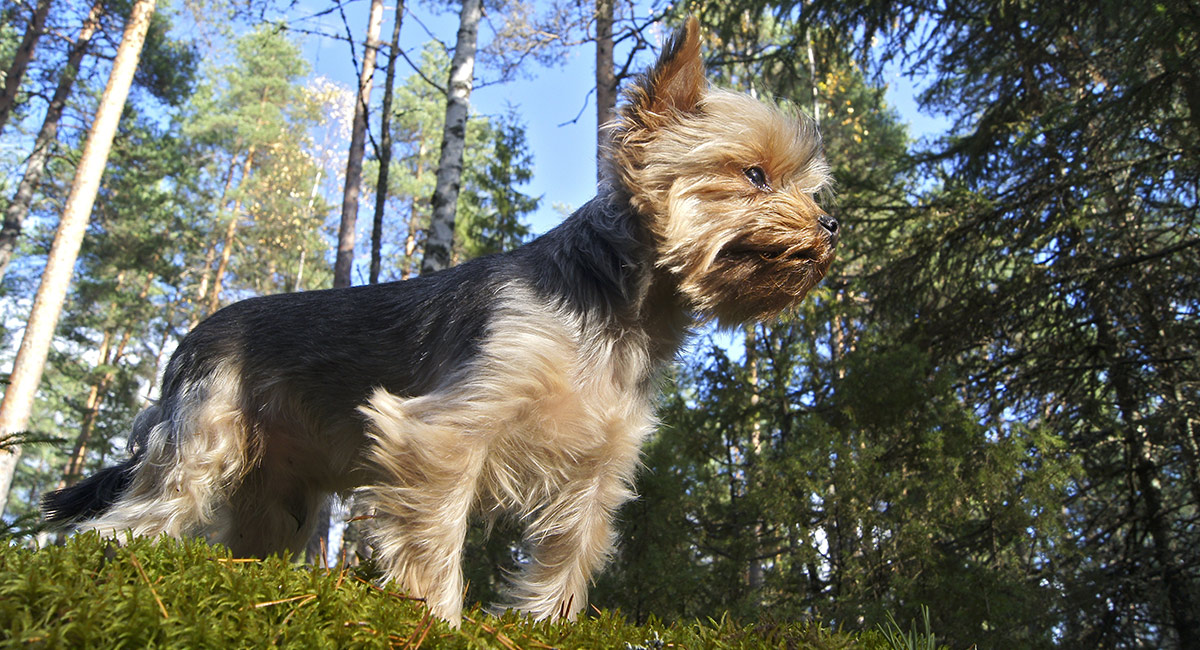 So why not celebrate that in their name!
Whether you are looking for cute female Yorkie names or cute boy Yorkie names, there are some seriously sweet ideas right here.
Angel
Apples
Baby
Banjo
Bon Bon
Bounty
Bubbles
Butterscotch
Buttons
Cadbury
Candy
Dolly
Droplet
Fudge
Herby
Hula
Jellytot
Kinder
Liquorice
Lolly
Mento
Mingle
Nibbles
Sherbert
Skittles
Snickerdoodle
Star
Twirl
Whirl
Whisper
Check out 200 more cute dog names here.
If you find Yorkshire Terriers cute, you could be forgiven for finding teacup Yorkies even cuter.
Teacup Yorkie Names
Teacup Yorkies have huge appeal. These pint-sized pets are adorably small and when pups can literally fit in a cup!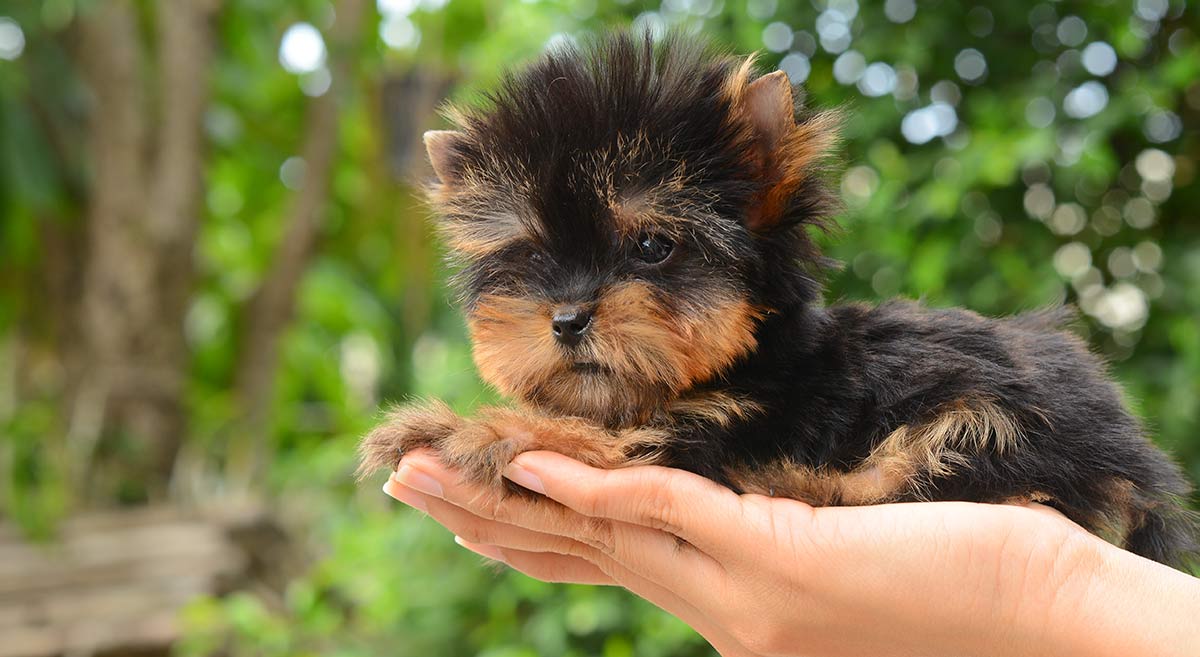 Here are some tiny-inspired Yorkie dog names, male or female pups will sound super sweet with.
Bee
Binky
Bitsy
Boots
Bud
Byte
Chi Chi
Chip
Confetti
Cupcake
Dew
Elf
Fifi
Fizzy
Gem
Gummy
Jewel
Missy
Mouse
Niggle
Nudge
Paws
Pebbles
Pocket
Rascal
Smidge
Smudge
Tiara
Tiptoe
Zu Zu
If you are thinking of bringing home a Teacup Yorkie, make sure you check out this article first as they unfortunately have a lot of health problems.
Unique Yorkie Names
It's hard to be unique.
If you've ever tried to think up an email, website url or company name, you'll soon have realized. There are some great ideas out there, but a whole lot of them have already been nabbed by someone else!
Coming up with a unique Yorkshire Terrier name is no mean fete, but you it is one you can achieve.
My top method is to think of a random category, and follow it along it's lines.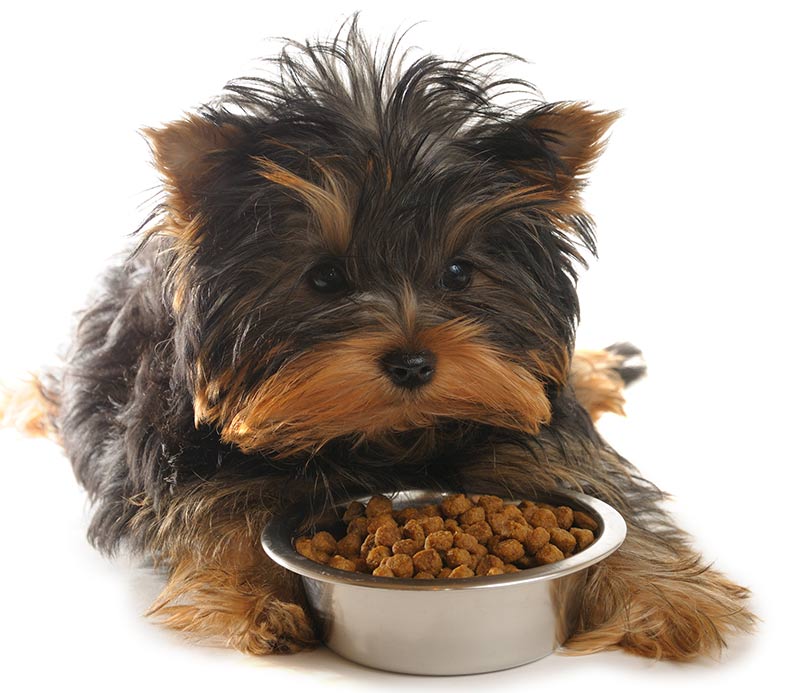 Products, brands, the natural world.
There are more words out there than any of us could think of in a year, let alone that window of time you have to name your puppy.
But you can speed along the process by thinking of things that you like, and the objects, ideas or places associated with them.
Here are some unusual ideas to get your journey started.
Aesop
Beer
Cactus
Champagne
Cola
Crisp
Dancer
Dash
Eagle
Floss
Fly
Frostie
Hornet
Nitro
Pepsi
Popcorn
Prom
Rage
Rebel
Revel
Rocket
Rolo
Scar
Soda
Sticks
Toga
Topic
Trip
Twix
Wasp
You can find over 300 more unique dog name ideas here!
Cool Yorkie Names
If you want a cool dog, then you've come to the right breed.
Yorkies aren't just cute, they are packed with personality. They've got the look, and the attitude to match.
Cool Yorkshire Terrier names can be a great way to celebrate your dog's charisma in style.
Ace
Bonnie
Bowie
Brisk
Bruce
Buddy
Carly
Cash
Cher
Cherry
Dusty
Elvis
Fox
Freddie
Galaxy
Jagger
Jarvis
Jett
Joni
Kat
Lemmy
Livewire
Mist
Nikki
Ozzy
Picnic
Sinead
Sprite
Stevie
Tango
Find 250 more cool dog names in this awesome list.
Funny Yorkie Names
Looking to go somewhere a bit different with your naming process? Then you've probably considered the idea of funny Yorkshire Terrier names.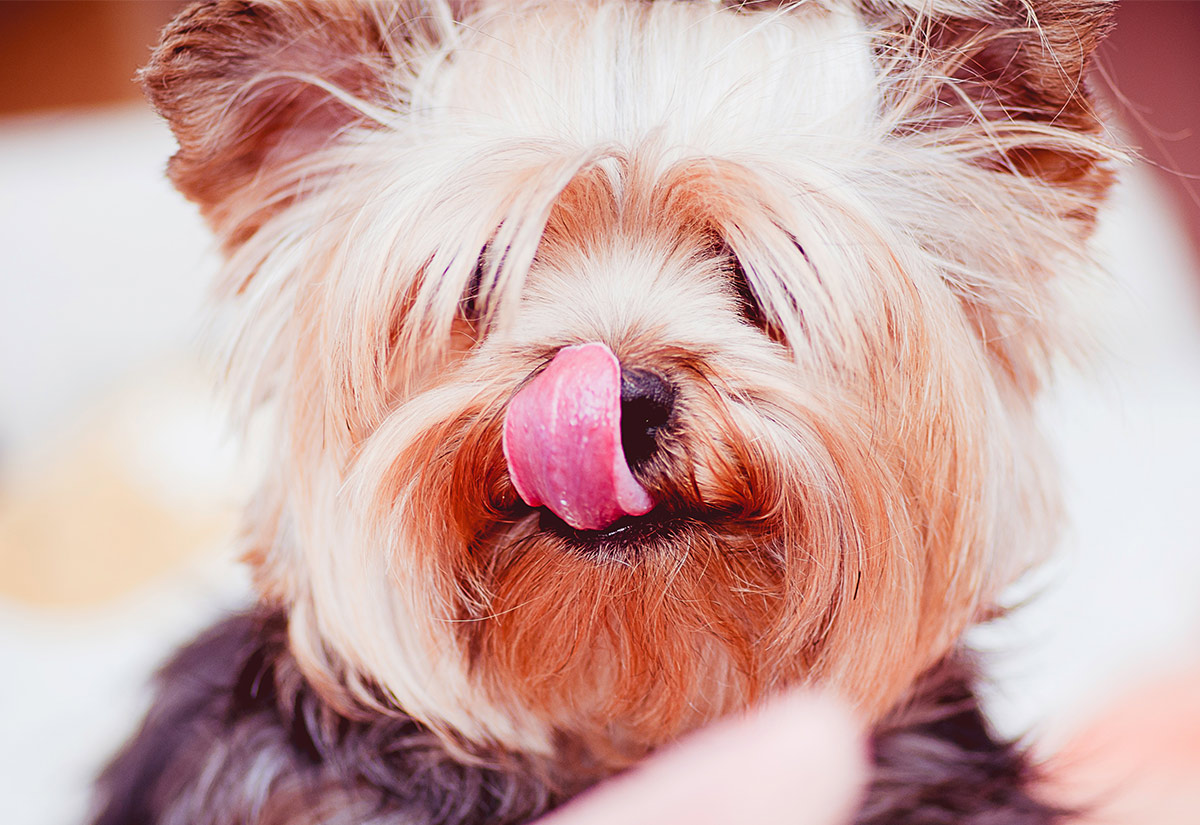 Funny dog names can be silly words, random ideas or something that doesn't fit the breed at all. For instance, big dog names for small breeds like the Yorkie.
Here are some ideas that might just give you a bit of a giggle.
Axel
Boomer
Bubba
Cheese
Chomp
Crush
Dogzilla
Dozer
Fanta
Fiesta
Grape
Grizzle
Hagrid
Hellboy
Hodor
Hulk
Jello
Juggernaut
Kong
Mars
Mr. Pipp
Octane
Pop
Santa
Squirt
Tank
Thor
Unicorn
Wham
Zeus
Check out lots more funny dog name ideas here!
Just remember, you want to still like this name in ten years' time!
So don't pick anything that could be taken offensively, or that you think might become embarrassing down the line.
Best Yorkie Names
Good Yorkie names last their lifetime.
They are easy for you to say, your dog to understand and the locals at the dog park to hear called out a few times a day.
Try to pick something that resonates with you, and that suits your puppy's appearance or personality.
Whatever you choose, we wish you and your adorable new Yorkie a lifetime of happiness together.
What did you decide to name your Yorkshire Terrier? Are you stuck for ideas? Let us know all about it in the comments section below!