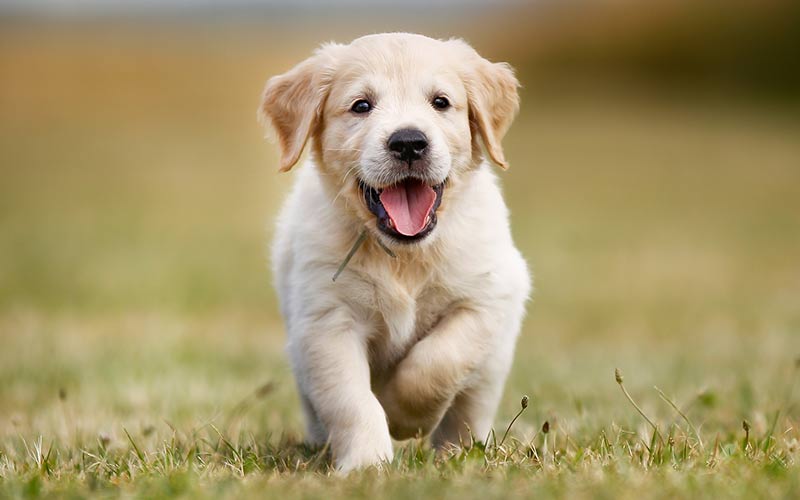 The best Golden Retriever names celebrate their adorable temperament and striking good looks.
But they also fit in with your own unique style and personality. We've got hundreds of ideas that you're going to love. So, let's get started!
Best Golden Retriever Names
Great Golden Retriever names make a statement, honor something you care about, or are just plain fun.
Here are some firm favorites to get you going:
| | |
| --- | --- |
| Rusty | Scout |
| Cookie | Summer |
| Tess | Max |
| Luna | Chip |
| Bailey | Sammy |
| Willow | Trixie |
| Rosie | Harvey |
| Teddy | Biscuit |
| Duke | Sunny |
| Snowy | Chloe |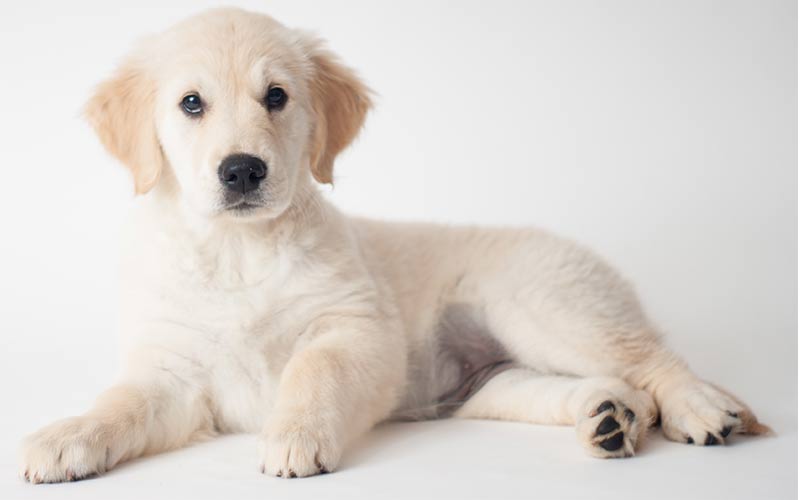 Want Some More?
These popular choices are a great starting point, but what if you want something a little more special.
Tailored towards your dog in particular, rather than Golden Retrievers in general?
Golden names for Golden Retrievers
Although Golden Retrievers are traditionally thought of as purely golden coated, they actually come in quite a range of shades.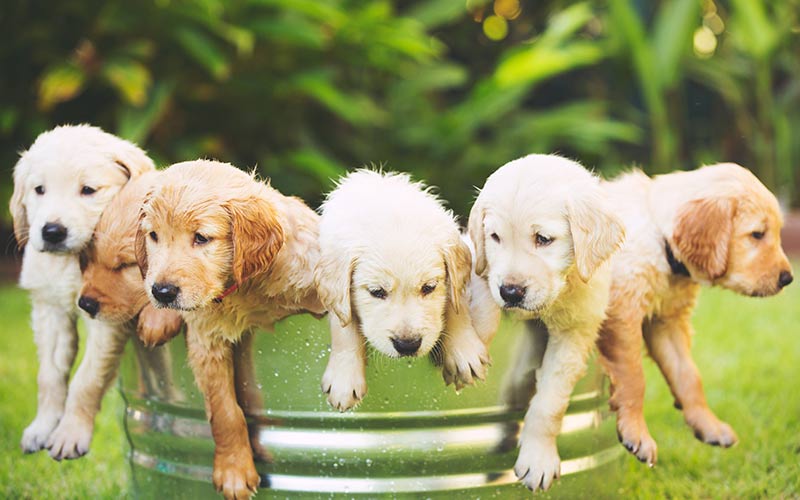 Why not celebrate your dog by naming them after their uniquely beautiful tone?
Rusty
Treasure
Wheat
Tawny
Gilt
Dusty
Auric
Lemon
Autumn
Sandy
Jewel
Ginger
Cash
Daisy
Chips
Straw
Nugget
Gem
Coral
Moon
Buck
Marigold
Honey
Desert
Carat
Mustard
Bling
Bullion
Flax
Amber
Red
Pan
Lemon
Butterscotch
Blondie
Precious
Bay
Lightning
Fortune
Moon
Pyrite
But Golden Retrievers aren't only in the gold spectrum!
White Golden Retriever Names
From purest white to custard cream, we love our pale pups just as much!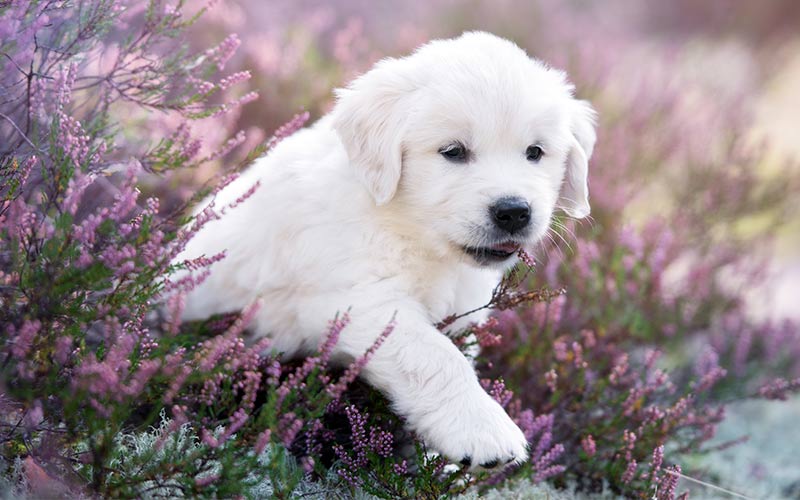 For the snowflakes among us, here are some wonderful white themed names:
Ivory
Ash
Lily
Blanche
Crystal
Pearl
Chalk
Milk
Chardonnay
Ghost
Crackers
Blanca/o
Fairy
Diamond
Glimmer
Platinum
Casper
Snowflake
Phantom
Smoky
Ice
Lily
Sky
Opal
Salty
Snowy
Frost
Shimmer
Glossy
Spirit
Another good way of naming your Golden Retriever, and honoring their status as fully-fledged family members, is with a human name.
Traditionally Female Golden Retriever Names
These classically feminine names would suit any golden girl beautifully.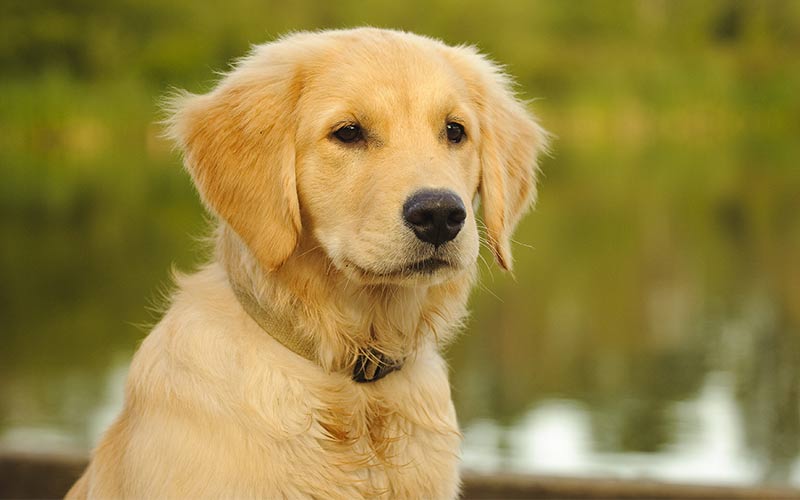 From modern to historical, any woman's name can make a good match for the right dog.
Sadie
Lola
Lucy
Ginny
Bella
Caz
Jennie
Tina
Julie
Lotta
Sasha
Tilly
Rose
Izzy
Linda
Faith
June
Hope
Sue
Isla
Gwen
Honor
Mary
Suzie
Emma
Mia
Katie
Anna
Summer
Harley
Annie
Maya
Sasha
Ester
Chloe
Zita
Ella
Faith
Etta
Maya
Mia
Lizzie
Sophie
Belle
Gypsy
Indie
Jade
Ariel
Willow
Jasmine
Althea
Anya
Buffy
Audrey
Druscilla
Sia
Stella
Ally
Lexie
Ruby
Cassie
Marilyn
Luna
None of these quite float your boat?
Find hundreds more female dog names in this amazing list.
Classic Male Golden Retriever Names
Bouncing baby boy Goldies do brilliantly with traditionally male human names too.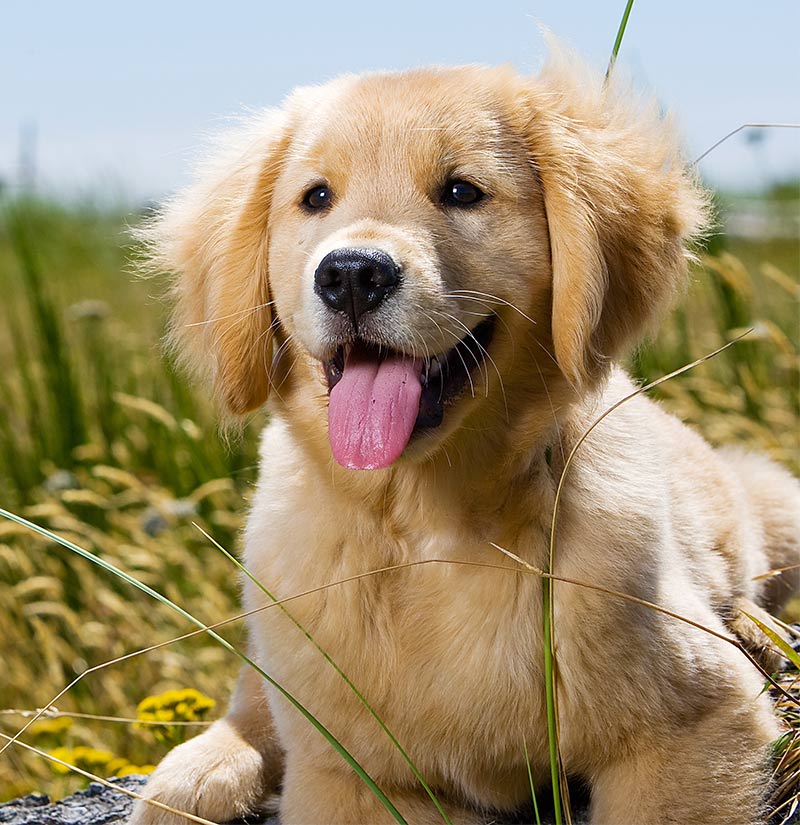 These names range from the staid and sensible, to the modern and fun.
George
Mason
Simon
Tanner
Harry
Ty
Andy
Arthur
Shaun
Magnus
Bill
Raph
Jay
Gabe
Ben
Dave
Ned
Jason
Bailey
Sammy
Evan
Eddie
Euan
Barney
Jack
Aiden
Noah
Sam
Toby
Charlie
Alan
Henri
Smith
Dexter
Teddy
Duke
Bear
Bob
King
Knight
Bruce
Doug
Quade
Stirling
Dollar
Dorian
Sun
Sunny
Glorie
For more great male dog ideas, check out even more ideas right here.
Any of these names would suit a Goldie well, but not everyone wants to use traditionally human names on their dogs.
And a lot of us want something that is more individual.
Unique Golden Retriever Names
Do you want to pick a name as unique as your dog? One that makes people do a double take?
Do you want to show off your knowledge by naming your dog after a character from literature or mythology?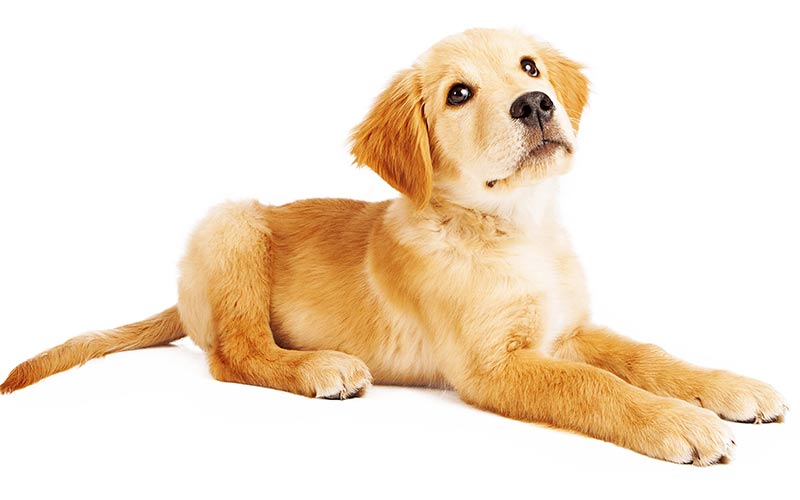 Or do you just want to highlight your dog's individualism?
Here are some ideas for you to springboard off!
Spy
Twist
Sudoku
Spinner
Lilith
Trick
Gemini
Disco
Avocado
Spruce
Voltaire
Jolt
Boatswain
Banner
Byron
Crush
Basil
Jinx
Trillion
Swap
Asa
Wilt
Bosie
Shakespeare
Sherlock
Bjorn
Inchyra
Carter
Flax
For more names guaranteed to set your dog apart from the rest of the pack, visit our complete directory of unique dog names.
Or try to think of a topic you like, and just pull random words from it to see if any fit!
Because what could be cooler than a name that matches your personality as well as your dog?
Cool Golden Retriever Names
I don't know about you, but when I'm out with my dog it's nice to feel confident.
And what could draw more admiring glances than an awesome name!
Something that oozes personality and individuality.
Could one of them be the perfect fit for your Golden?
Spark
Harley
Scout
Cliff
Dozer
Buddy
Ford
Summer
Capri
Rogue
Ace
Bandit
Chase
Jude
Jet
Jethro
Rush
Micah
Chance
Tarley
Target
Kingsley
Dagger
Artemis
Arrow
Ora
Mystic
Elder
Storm
Bananas
Cool is really subjective, so think of what makes you happy and feel proud. Or impressed!
And go from there.
You can also check out even more cool ideas to impress your friends here.
But what if you want something a bit more sentimental?
Cute Golden Retriever Names
Is your Goldie the cutest thing ever? I bet he is!
And given that will be the first thing anyone notices about him anyway, he might as well have a name to match!
Cookie
Trixie
Biscuits
Fluffy
Blossom
Sugar
Sweetie
Spring
Tinkerbell
Fairy
Sweetpea
Sugarsnap
Cupid
Romeo
Fifi
Marley
Tiggy
Gracie
Buttercup
Roxie
Golden
Brew
Gold
Marigold
Glimmer
Goldie
Goldilocks
If this list is on the right track, and you'd like some more similar ideas, we've got more cute dog names here too.
Funny names for Golden Retrievers
There is nothing like a good laugh to lift the spirits.
And giving your pet a humorous name can certainly bring a shine to the day.
It can also be fun to pick an ironic name.
One which doesn't match your dog's real personality or looks at all.
Just make sure the novelty won't wear off!
We Love These Ideas
Tiny
Fidget
Wiggles
Kitty
Splash
Curly
Curtains
Woofer
Yap
Mr Barkington
Jaws
Juggernaut
Dread
Squiggle
Jiggles
Puff
Kooky
Dodger
Sparkle
Ruff
Rex
Paws
Boss
Skipper
Trump
Cheeks
Twizzle
Mate
Spill
Mess
Prancer
Captain
Jelly
Boots
Whizz
The one thing we'd caution with funny names is not to take the joke too far. Or to make it personal.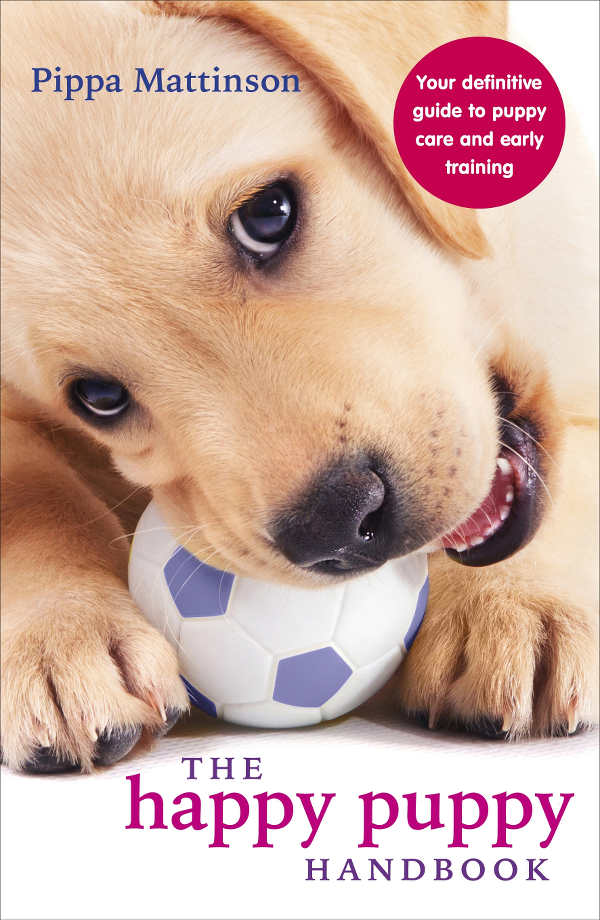 Choose a name you won't flinch to hear called out across the dog park!
Like something seriously strong sounding.
Tough Golden Retriever Names
The Golden Retriever is famously soft and gentle.
These placid dogs are a popular choice for families with young children, and few people would ever call them tough.
But if strong sounding names are your jam, then your charismatic Golden will have no trouble pulling off one of these bold names.
Baron
Trent
Samson
Blaze
Jupiter
Champ
Thor
Cobra
Odin
Blade
Hercules
Rage
Zeus
Bruiser
Tank
Tower
Spektor
Spike
Arthur
Radar
Camo
Boudicca
Beretta
Arya
Colt
Kali
Purdy
Macha
For more tough sounding dog names, check out our long list here.
Best Golden Retriever names
The name you pick is as much about you as it is about your dog, so remember to go with your instincts.
Stick with something you are confident you won't change your mind about in a few years time.
And remember, once your dog's name is settled, whether you pick will be the right choice for you both.
Why not let us know your favorite Golden Retriever names in the comments section below?