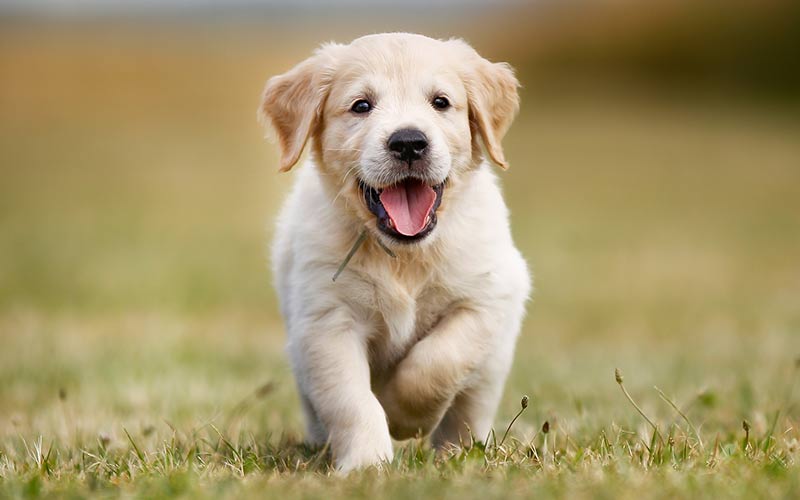 The best Golden Retriever names show off their adorable temperament and  striking good looks.
But they also need to fit in with your own unique style and personality.
Fortunately, there are a lot to choose from!
Our favorite Goldie names for 2019 include:
| | |
| --- | --- |
| Rusty | Scout |
| Cookie | Summer |
| Tess | Max |
| Luna | Chip |
| Bailey | Sammy |
| Willow | Trixie |
| Rosie | Harvey |
| Teddy | Biscuit |
| Duke | Sunny |
| Snowy | Chloe |
Golden Retriever Names
Golden Retrievers are among the most popular breeds in the world for many reasons.
They are great with children and make wonderful family pets.
These friendly beauties are playful and patient, fairly easy to train, and a whole lot of fun too!
In this article we are going to look at finding the right name for your perfect new puppy.
Naming Your Golden Retriever Puppy or Rescue Dog
One of the first things you'll need to do around the time you bring your furry friend home is give them a name.
Naming your dog is important.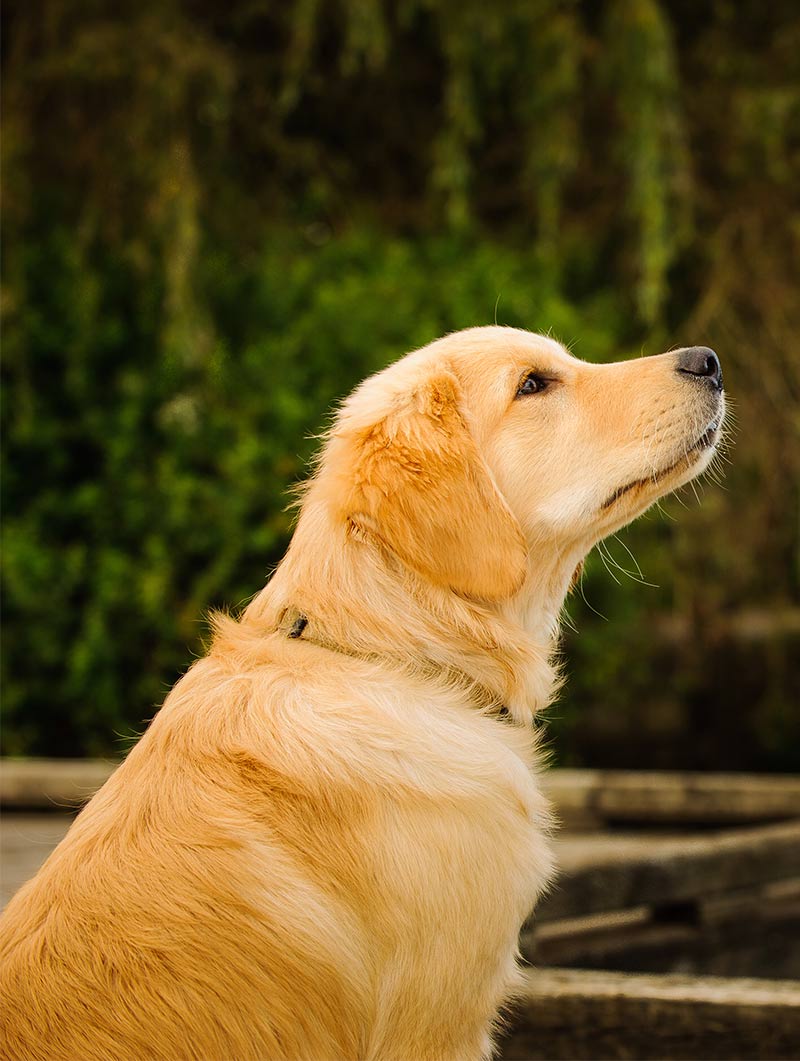 After all, once you've chosen a name you and your dog will have to live with it for many, many years to come!
It's a big decision, and doing some research is a great first step.
We're here to deliver inspiration, and some time honored principles to choosing a name you'll never fall out of love with.
The Key Ingredients Of Good Golden Retriever Names
The most popular Golden Retriever names are short, sweet and easy to say.
There are several reasons to pick something simple over a name long, complicated and full of syllables.
There will be times when you need to quickly call your dog back in public. It's easier to shout out something that is quick and easy to say.
In the same vein, make sure your dog's name is something you're comfortable broadcasting outside.
Some names which seem eminently witty at home can suddenly feel embarrassing in a crowded park!
If you have young children, pick a name that is easy for them to learn. That way they can help train your Goldie to respond to their new name without even trying!
Sources of Inspiration
It can be nice to pick a name that matches your dog's temperament.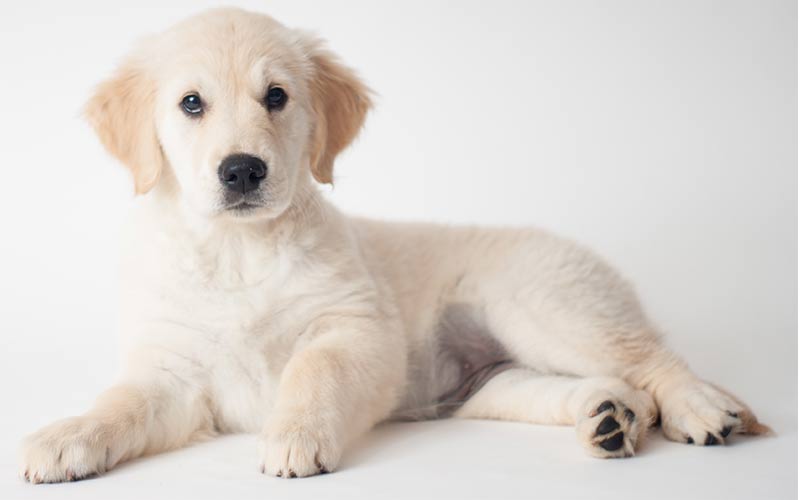 Each breed has their own traits, but each dog is still unique.
Alternatively, it can be fun to pick a jokey name which does not match your dogs real personality at all – such as calling a sweet tempered dog who would never bite anyone in their life 'Jaws'.
But just make sure the novelty won't wear off!
Alternatively, you might consider your dog's looks, or look to popular culture for great ideas.
Now let us tell you some of our favorites!
Best Golden Retriever Names
We can't name your dog for you, but we can point you in the right direction.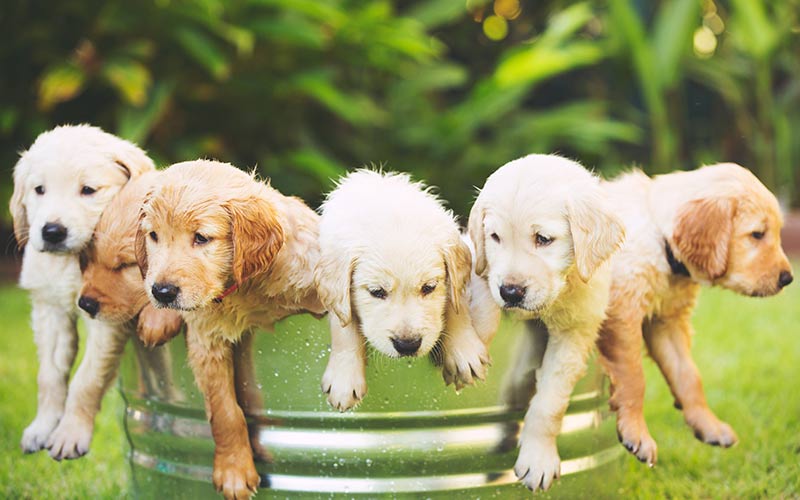 Here are some of the most popular Golden Retriever names we've been hearing lately:
Rusty
Charlie
Bailey
Abby
Sandy
Molly
Ginger
Daisy
Max
Buddy
Popular names are commonly used for a reason – they're easy to like!
But that doesn't mean that they will necessarily be the right name for your pup.
Another good way of naming your Golden Retriever, and honoring their status as fully-fledged family members, is with a human name.
Classic Female Golden Retriever Names
These classically feminine names would befit a Golden Retriever beautifully.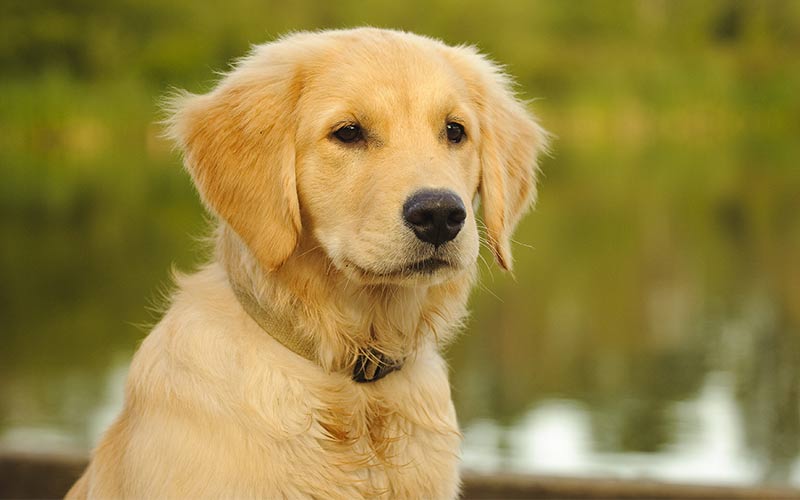 That doesn't mean you couldn't use them for a boy if you like though. Dogs don't know the difference!
Sadie
Lucy
Bella
Jennie
Julie
Sasha
Rose
Linda
June
Sue
Gwen
Mary
Emma
Katie
Summer
Annie
Sasha
Chloe
Ella
Faith
Maya
Mia
Lizzie
Sophie
Offbeat Female Golden Retriever Names
These girls' names are a little more unusual.
You probably won't meet another one in the dog park!
Belle
Gypsy
Indie
Jade
Ariel
Willow
Jasmine
Althea
Anya
Buffy
Audrey
Druscilla
Sia
Stella
Ally
Lexie
Ruby
Cassie
Lola
Marilyn
Luna
If you're still interested in reading more female dog names, visit us here for more ideas.
Male Golden Retriever Names
What if your new pup is an adorable little boy?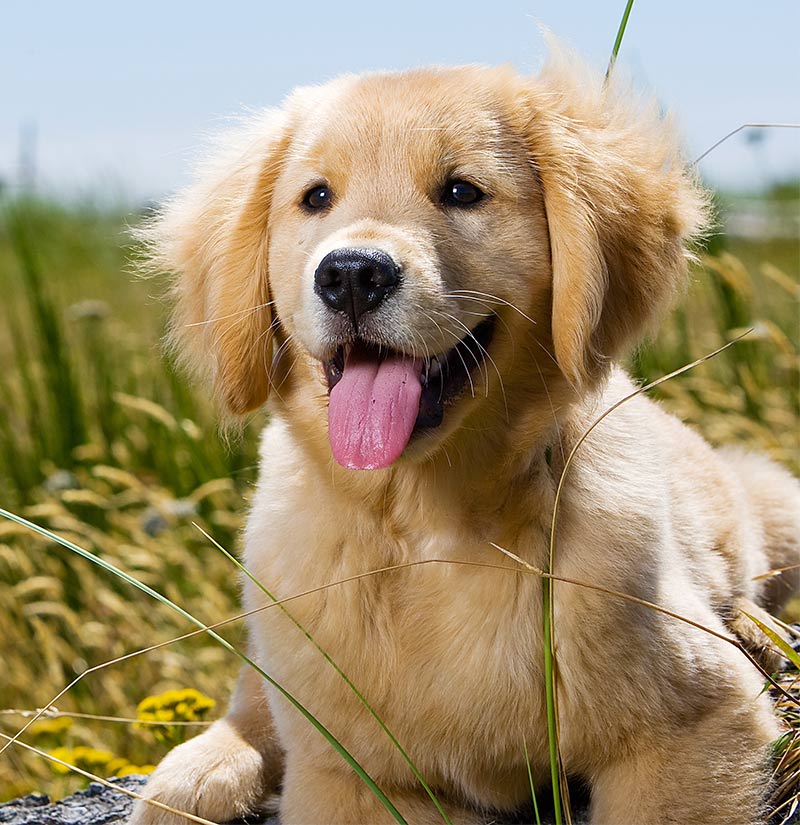 Here are some great names for a male Golden Retriever.
We certainly couldn't blame you for borrowing from this list for a girl as well though!
George
Simon
Harry
Andy
Shaun
Bill
Jay
Ben
Dave
Jason
Sammy
Eddie
Barney
Jack
Aiden
Noah
Sam
Toby
Charlie
Unusual Male Golden Retriever Names
If you prefer your pets' names a little less conventional, what about these?
Alan
Henri
Smith
Dexter
Teddy
Duke
Bear
Bob
King
Knight
Bruce
Doug
Quade
Stirling
Dollar
Dorian
Sun
Sunny
Glorie
For more great male dog ideas, peruse even more lists right here.
Any of these names would suit a Goldie well, but not everyone wants to use traditionally human names on their dogs.
And a lot of us want something that is more individual.
That's where our next list of names comes in…
Cool Golden Retriever Names
We think these names ooze personality and individuality.
Could one of them be the perfect fit for your Golden?
Sparky
Scout
Amigo
Buddy
Summer
Shaggy
Nana
Rogue
Bandit
Jude
Jethro
Micah
Tarley
Kingsley
Artemis
Jin – Chinese for 'golden'
Ora
Mystic
Elder
Storm
Bananas
Find still more cool dog names to impress you over here.
Cute Golden Retriever Names
Is your Goldie the cutest thing ever? I bet she is!
Why not choose a name which is just as adorable as your furry friend?
Cookie
Trixie
Biscuits
Fluffy
Blossom
Sugar
Sweetie
Spring
Tinkerbell
Fairy
Sweetpea
Sugarsnap
Cupid
Romeo
Fifi
Marley
Tiggy
Gracie
Buttercup
Roxie
Golden
Brew
Gold
Marigold
Glimmer
Goldie
Goldilocks
If this list is on the right track, and you'd like some more similar ideas, visit us here.
Unique Golden Retriever Names
Do you want to pick a name as unique as your dog? One that makes people do a double take?
Do you want to show off your knowledge by naming your dog after a character from literature or mythology?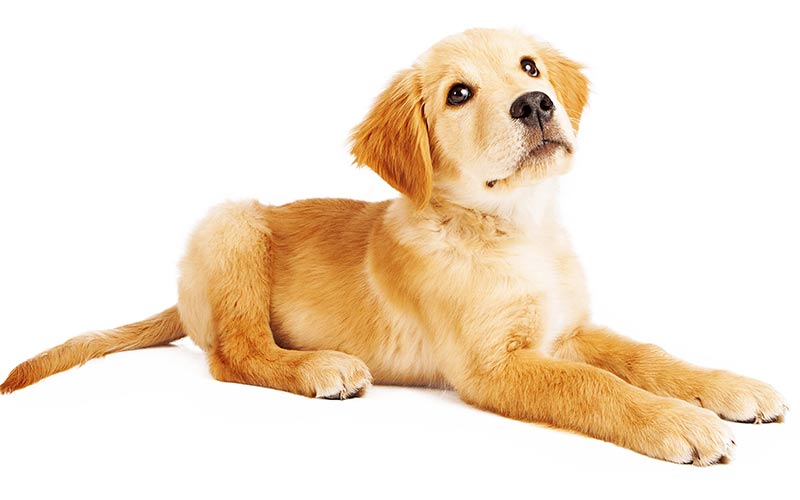 Or do you just want to highlight your dog's unique personality?
Get inspired with this list of unique Golden Retriever names!
Spy
Sudoku
Lilith
Gemini
Avocado
Voltaire
Boatswain
Byron
Basil
Trillion
Asa
Bosie
Shakespeare
Sherlock
Bjorn
Inchyra
Carter
Flax
For more names guaranteed to set your dog apart from the rest of the pack, visit our complete directory of unique dog names.
Tough Golden Retriever Names
The Golden Retriever is famously soft and gentle.
These placid dogs are a popular choice for families with young children, and few people would ever call them tough.
But if strong sounding names are your preferred esthetic, then your charismatic Golden will have no trouble pulling of one of these bold monikers.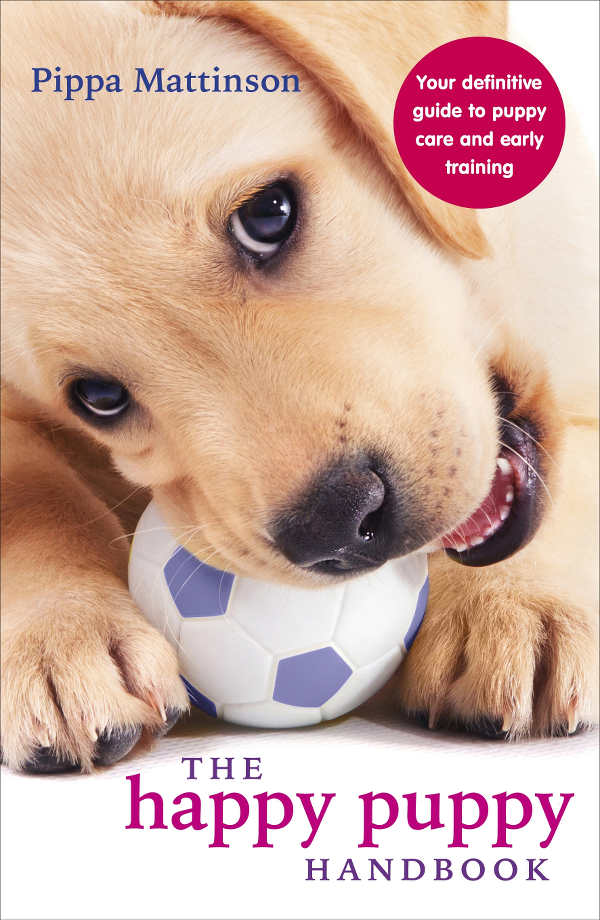 The Perfect Companion For Life With A New Puppy
Baron
Samson
Jupiter
Thor
Odin
Hercules
Zeus
Spektor
Arthur
Radar
Boudicca
Arya
Kali
Macha
For more tough sounding dog names, visit our full list here.
White Golden Retriever Names
Is your dog as white as snow?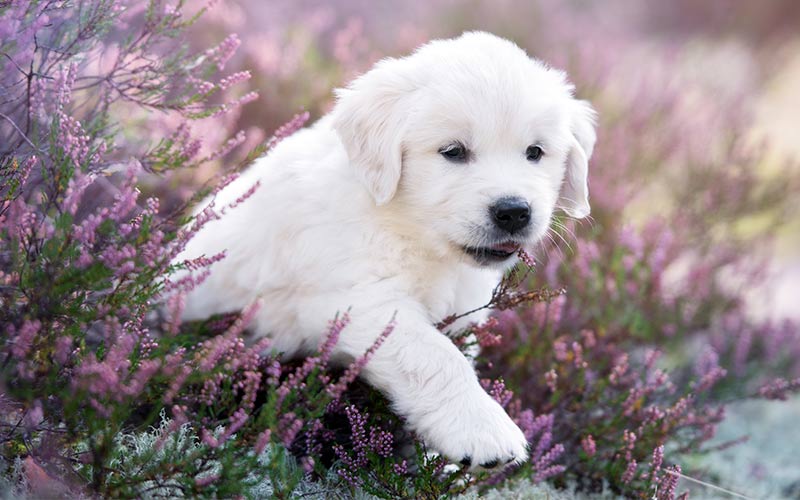 Why not pick a name that matches their coat!
Blondie
Ivory
Lightning
Moon
Leia
Chalk
Chardonnay
Crackers
Fairy
Diamond
Casper
Snowflake
Phantom
Smoky
Lily
Sky
Opal
Salty
Snowy
Frost
Shimmer
Glossy
Fun Facts About Golden Retriever
Golden Retrievers are a distinctive breed. They aren't hard to spot due to their gorgeous long coats and large size.
The most distinctive thing about the Golden Retriever is their amazing fur.
Although they are named 'golden', the colors range quite a lot. From a dark gold that is almost red, to a pale golden that could fairly be described as white.
In America, Golden Retrievers are the third most common breed registered with the AKC – testament to all their wonderful pet qualities!
Goldens' intelligence, devotion, and dependability make them among the most popular breeds for service dogs as well.
Whatever your reason for bringing a Golden Retriever into your life – to work, show, support you or simply share your life and keep you company – you are certain to have a joyous life together.
Congratulations!
Best Golden Retriever names
Choosing the perfect name for your dog isn't easy.
The name you pick is as much about you as it is about your dog, so remember to go with your instincts.
Stick with something you are confident you won't change your mind about in a few years time.
Hopefully this list has shown you just how many options there are.
Why not let us know what you decide to call them in the comments section below?