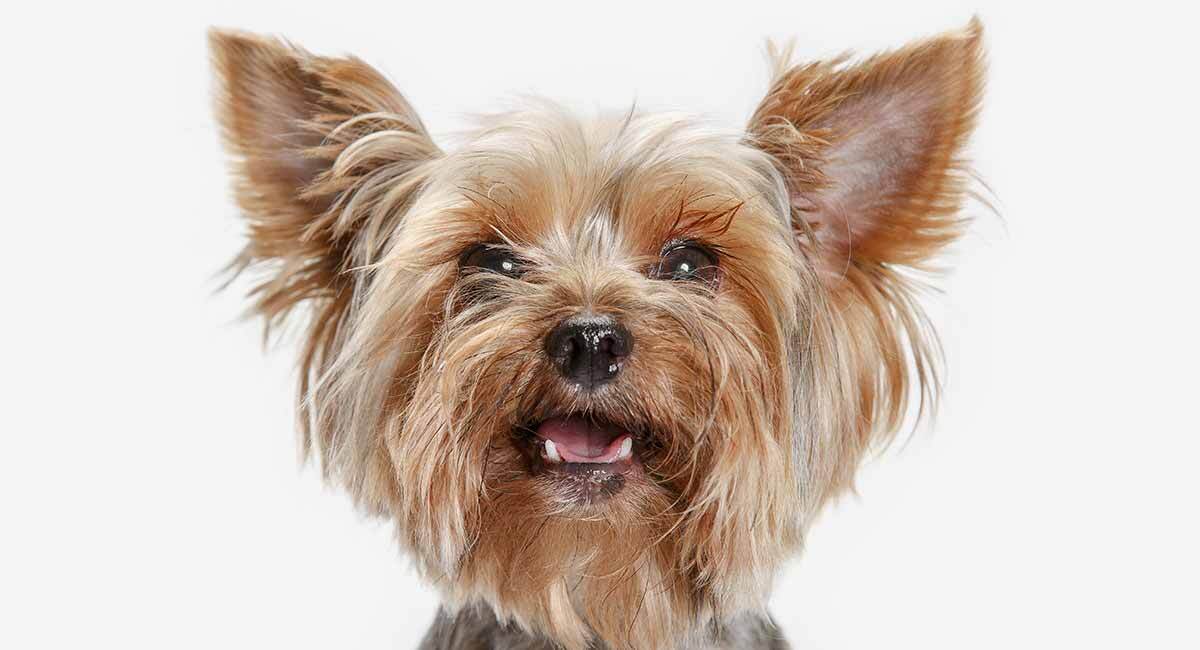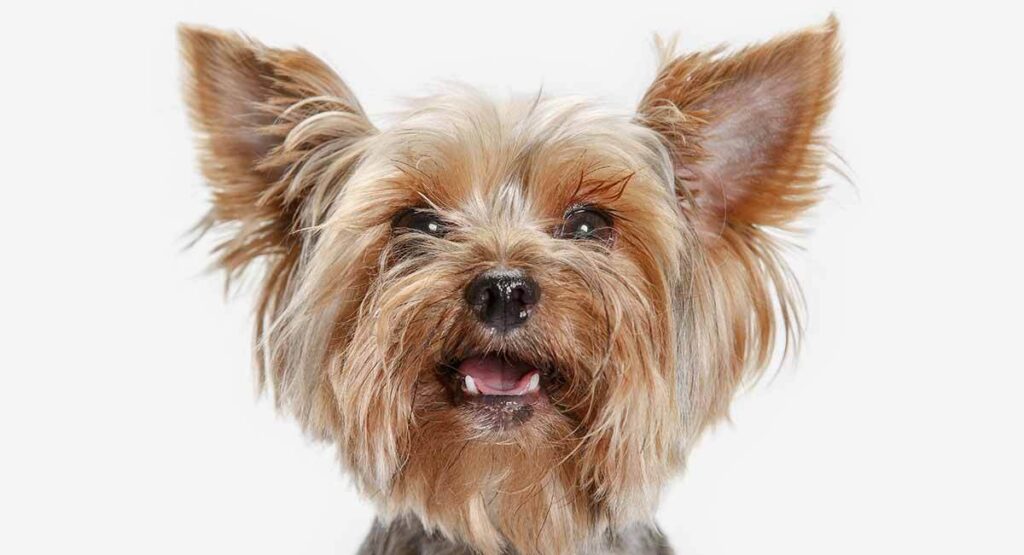 The Yorkie, or Yorkshire Terrier, has long silky hair, in black and tan or parti colors. A toy dog, they weigh between 5 and 7 pounds, and stand 6 to 9 inches tall. They have a medium muzzle, compact body and furry tail. A Yorkie dog will be affectionate, bold, loyal and lively. They also have the stubborn terrier streak, and chase instincts from their past as a pest exterminator. Although confident dogs, they are also very trainable and easy to motivate with food. Today we'll take a look at Yorkie breed traits, characteristics, personality and appearance. Giving you tips for adopting, raising, grooming and caring for a Yorkshire Terrier puppy into adulthood. We'll let you know how long your dog might live, and help you to keep them fit and healthy.
Yorkshire Terriers make excellent companion dogs, apartment pets and lap dogs provided they have the exercise they need. A comparatively easy pet dog, they are a good choice for new puppy owners and families with kids too. Yorkies need a home where someone is in most of the time to give them attention as they are prone to separation anxiety. But in the right set up, they can make playful, energetic, loving pets.
Contents
Adult Yorkie dogs don't usually have extreme haircuts, despite their long hair. Owners do often however tie back their fur from around their faces. This makes it easier for the dog to see, and less frustrating for them. It also stops their hair falling into their food or water dish.
What is a Yorkie?
A Yorkie is the common name for the Yorkshire Terrier. A hard working yet friendly dog, they come from working routes but now make amazing family pets. They are also well established in the show ring, with their flamboyant haircuts and lively gait.
Common Yorkshire Terrier Questions
Follow the links to find out more!
| | |
| --- | --- |
| Are Yorkshire Terriers good family dogs? | Yes, but won't suit homes with small children and need daily grooming. |
| How much are Yorkie puppies? | $1800 – $3500, with champion bloodlines costing much more |
| Are Yorkie dogs hypoallergenic? | No dog is truly hypoallergenic. Yorkie dogs are low shedding but need daily grooming. |
| Do Yorkshire Terriers bark a lot? | Yes, most Yorkies bark a lot because of their terrier roots. |
| How long does A Yorkie dog live? | The Yorkshire Terrier life span, on average, is between 12 and 16 years. |
Where Do Yorkies Come From?
The Yorkshire Terrier was previously known as the Broken Haired Scotch Terrier and was first seen in England in the mid-1800s. In the late 1800s, the name Yorkshire Terrier came about. The exact origins of the tiny but tough little Yorkie are a source of speculation. Many believe that the first versions of this dog started with Scottish laborers that migrated to England.
The breed has a history as a pest exterminator in 19th Century English factories. They were tiny enough to get into the nooks and crannies chasing after vermin.
In 1865 one particular Yorkshire Terrier, called Huddersfield Ben, was born. He was so successful in the show ring and the ratting ring that he was put to stud. He sired many pups and is considered the foundation of the breed we know today.
The popularity of the dog took off after the UK Kennel Club recognized the Yorkshire Terrier as an official breed. They went from a working dog to a canine companion. And they graced the laps of many Victorian-era ladies.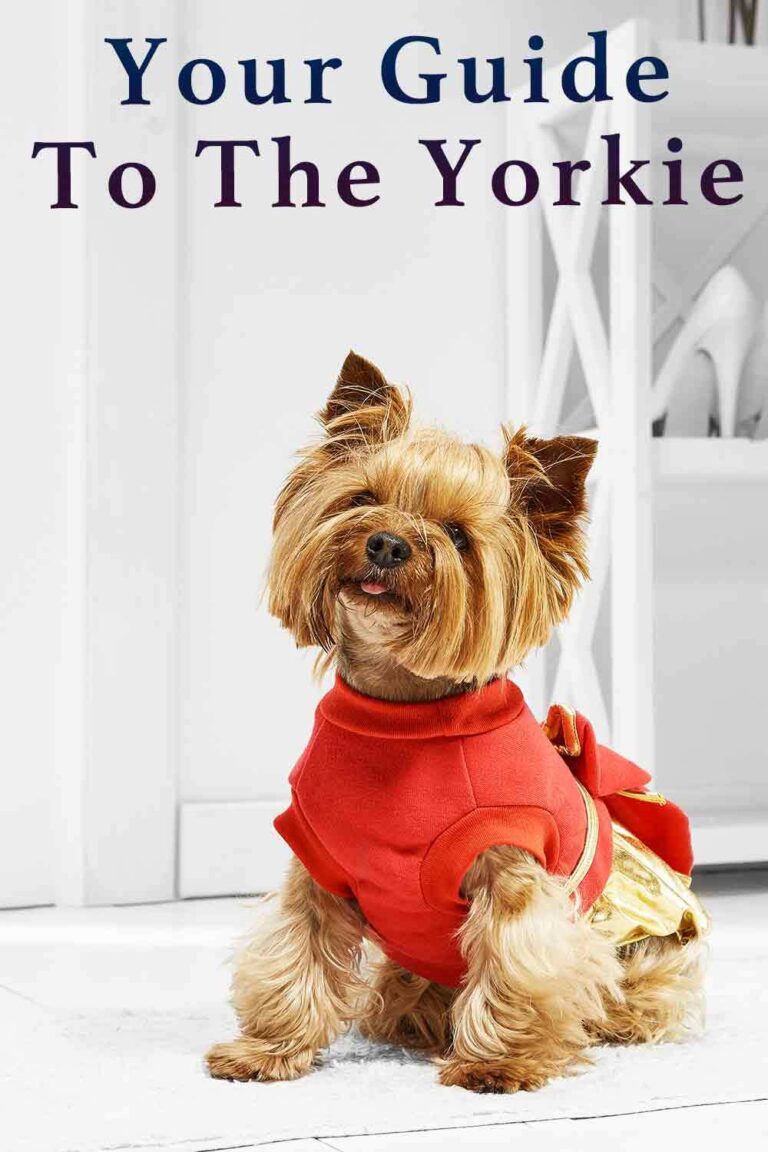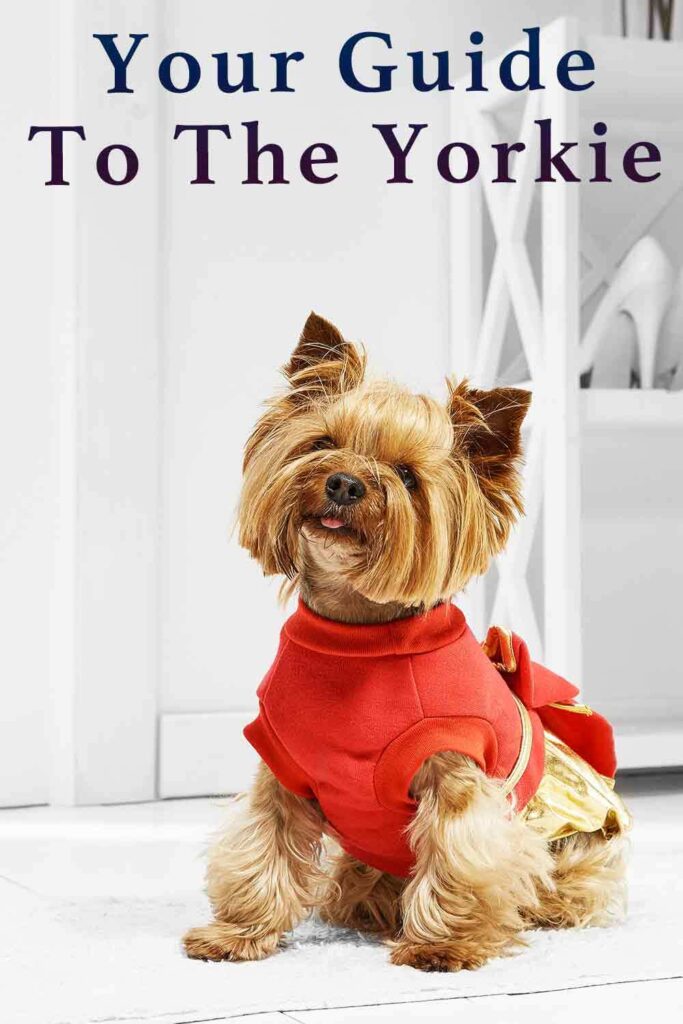 Fun Facts About Yorkies
The word "Terrier" means "of the earth," and refers to the small and feisty dog that was once used for working underground and hunting in small, hard to reach spaces. The Yorkshire Terrier is derived from this breed of dog.
There have been numerous celebrity owners of Yorkies over the years, Including Audrey Hepburn, Joan Rivers, Missy Elliot, Natalie Portman, Paris Hilton, and Simon Cowell.
A Yorkie named Mr. Famous was in Audrey Hepburn's movie "Funny Face," and a Yorkshire Terrier named Pasha belonging to First Lady, Tricia Nixon once lived in the White House.
Yorkie Appearance
The Yorkie is a small and evenly proportioned dog with a luxurious coat of hair. This breed certainly stands out in a crowd. Their color is described as dark-steel-blue across their back. When you collect your puppy, this dark blue coloration will look almost black. Yorkshire Terriers are tan on their face and chest. They may not reach its adult hue until as late as three years old. Some Yorkies can even have parti coloring.
However, this beautiful, flowing hair can tangle and break easily. Their coat needs almost as much care and maintenance as human hair because their hair is so similar to.
| | |
| --- | --- |
| | Yorkie |
| Size | Toy breed |
| Height: | 6 – 9 inches |
| Weight: | 5 – 7 pounds |
| Color: | Tan and dark blue (can look black) |
| Markings: | Tan coloring is across their face and chest, darker markings are over their backs |
| Coat type: | A very long coat that will be smooth, silky, glossy and straight if left unclipped |
Coats, Grooming and Haircuts
A Yorkie's long coat should be brushed every day, but it is not advisable to brush their long hair against a carpeted floor. Yorkies should be bathed weekly, and It is advised to start these grooming routines early on with your puppy so that they are familiar and tolerant of them.
Yorkshire Terrier fur is normally styled and given a neat center parting from head to tail in the show ring. The hair on the top of their heads is held up and away from their eyes often with a clip or bow. This styling prevents their vision from being impeded and also gives them the required look.
When their coat is worn long, great care needs to be taken to keep it looking both silky and straight Some owners will even apply coat oil and wrap the hair to prevent breakages. For pet owners, a slightly shorter cut or all over clip will be a lot more practical and minimize your time spent on grooming. This breed is well served with regular trips to the groomers.
Are Yorkies Hypoallergenic?
As mentioned earlier, Yorkies have long coats with a similar texture to that of human hair. It's important to make sure it is well managed. If neglected, their silky hair can get matted and tangled. It can also break easily. We will touch more on Yorkie grooming and coat care later.
Yorkshire Terriers do not shed a huge amount, as long as their fur is well looked after. But, no dog breed is 100% hypoallergenic. If you suffer from dog allergies, there is still a chance that you will be allergic to a Yorkie. Spend some time with a puppy before bringing them home to make sure they will suit your lifestyle.
How Big Are Yorkies?
Small dogs like Yorkies are usually fully grown at around one year of age. You can expect your Yorkie to reach anywhere between 6 and 9 inches tall by their first birthday. According to breed standards, Yorkshire Terriers should be no more than 7 pounds in weight. Show dogs normally weigh between 5 and 6 pounds.
However, it is common for pet Yorkies to exceed the 7-pound weight limit. Often this is simply because the dog is naturally larger in size than the breed standard. But be careful to make sure that your terrier doesn't weigh more than he should due to excess body fat. Being overweight is very unhealthy for dogs, especially smaller breeds. Your vet will be able to tell you whether or not your Yorkie is a healthy weight for their frame.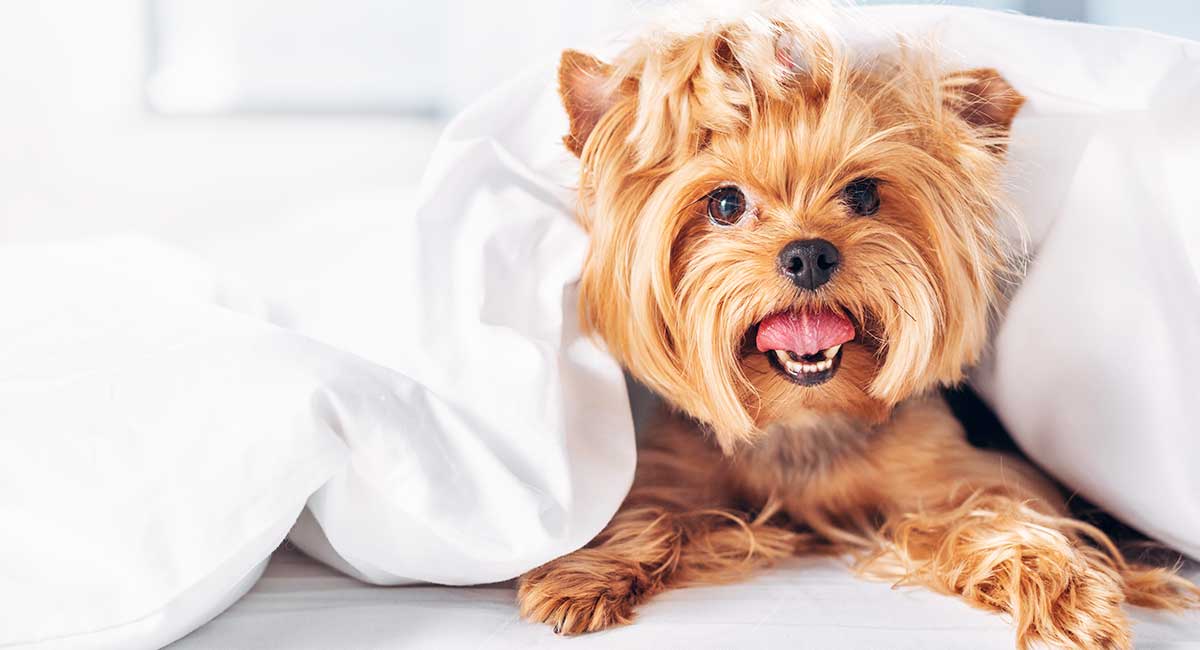 Teacup Yorkies
It is possible to purchase Yorkie puppies specifically bred to be even tinier than the breed standards. But these so-called teacup Yorkshire Terriers are plagued with health issues.
Yorkie dogs are already very small. Breeding teacup Yorkshire Terriers to be even smaller can lead to behavioral and training issues, on top of the health problems and general delicate bodies. Potty training a dog with a teeny tiny bladder is very tough!
Yorkie Temperament
Yorkie dogs are terriers. This means that they are normally bold, confident, and stubborn. They also have a high prey drive because they were originally bred to work in vermin control. As a result, they tend to not want to make friends with other small pets.
Yorkies are small in stature but this isn't something that they are aware of. They will face larger animals with the same tenacity as they would rats and mice. They are also naturally suspicious of strangers. So, early socialization to both people and other animals is very important. Despite the bravado with strangers and other animals, most Yorkies are loving and loyal to their closest family members.
Yorkie Barking
Another hang-up that Yorkies bring with them from their hunting Terrier roots is barking. Terriers were bred with a preference for those that barked. It helped to alert their handlers to find them.
There are some training techniques that may help minimize this tendency if this is not a quality you are looking for in your new pet. But, if barking is something you'd rather avoid, it may be best to choose a different dog breed.
Training and Exercising your Yorkie
It is important to start both training and socialization early. Waiting to start can increase the typical terrier stubborn streak. Yorkshire Terriers are eager to please dogs and respond well to positive training techniques and praise. They are also smart dogs that can pick up new tricks very quickly. Get them used to meeting new faces from the start as Terriers tend to be wary of strangers. For example, take your puppy out to the park and have different friends over to your house.
When it comes to Yorkie barking, you can try to minimize this habit by how you respond to their barking. Dogs bark more when they learn that making a noise gets results. So, you can help reduce your puppy's barking tendencies by ignoring them when they bark and praising them when they are quiet.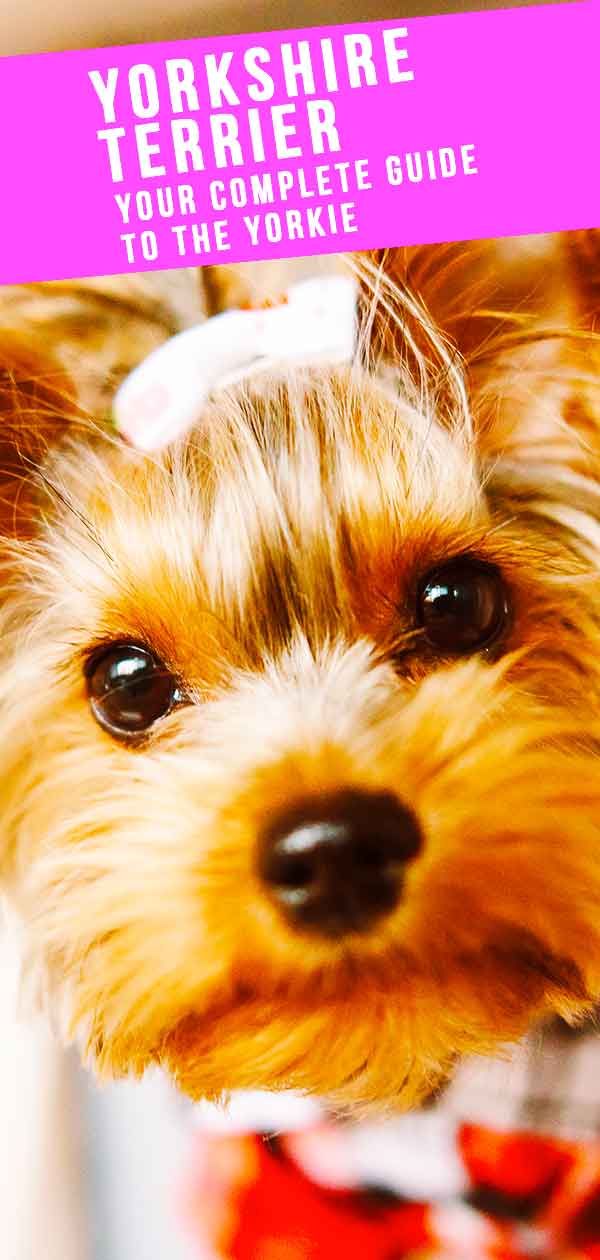 Yorkshire Terrier Exercise Needs
Yorkies still need to exercise a lot even though they are small and considered lap dogs. Not just to keep them fit, but to stop them from getting bored. They require a couple of short walks a day as an adult or a few fifteen-minute play sessions in the backyard. Yorkshire Terriers are bright little dogs and can be taught to enjoy retrieving games like fetch.
They tend to do well in canine sports like rally and agility. These sports activities along with puppy obedience classes can be a great way to train, exercise, and socialize your puppy at the same time. Traditional walks are fine for healthy Yorkshire Terriers. However, it is best if you build up the distance gradually. Just be sure that they are not getting overtired keeping up with your long legs!
Yorkie Health and Care
The following are some health issues which you will need to be aware of. Some are specifically associated with their small size. Yorkie health risks to be aware of:
| | |
| --- | --- |
| Heart: | Patent ductus arteriosus (PDA), mitral valve disease |
| Eyes: | Progressive Retinal Atrophy (PRA) |
| Joints: | Legg-Calve-Perthes, Patellar Luxation |
| Other: | Congenital Portosystemic Shunt (PSS), Cushing's Disease, Hypoglycemia, Tracheal Collapse, Hemorrhagic Gastroenteritis (HGE), skin allergies, dental problems |
Heart Problems
Yorkshire Terriers are susceptible to heart problems. In fact, heart failure is the main cause of death in older Yorkshire Terriers. And this condition is exacerbated in Teacup Yorkshire Terriers.
Two of the conditions they are prone to are patent ductus arteriosus (PDA) and mitral valve disease. PDA is caused by a small vessel in the heart that didn't close up after birth. This causes fluid to build up and puts a strain on the heart. Dogs with PDA have a specific type of heart murmur. It can often be repaired with heart surgery once detected. Signs of this condition include coughing, shortness of breath, fatigue during exercise, and weakness in the hind legs.
Mitral valve disease is more common in older dogs. It is the result of weakened heart valves that allow a backflow of blood. This puts a strain on the heart. This disease can often be managed with medication and annual heart testing. Breeders should have proof of thorough cardiac evaluations of both parents and not breed a dog with PDA or mitral valve disease.
Progressive Retinal Atrophy (PRA)
PRA causes a breakdown of the retina. This results in complete blindness. Signs can start to show in dogs between 3 and 9 years old. Often the first noticeable sign is night blindness. PRA is hereditary and reputable breeders should be screening for this genetic condition.
Legg-Calve-Perthes
Legg-Calve-Perthes disease is a rare, but serious degenerative orthopedic condition. It is a hip problem mainly seen in small breed dogs. And it often presents in Yorkie puppies from 5 to 8 months old.
The symptoms are caused by the spontaneous degeneration of the head of the femur. This is the long leg bone which sits in the hip socket and allows for the smooth swing of their leg. There is no cure for this nasty condition, but it can be managed with pain control surgery and medication.
Patellar Luxation
Patella Luxation is very common in small dogs, like the Yorkshire Terrier, and may present as early as 4 months old. A malformation of the knee results in the dislocation of the knee joint.
Signs include a bow-legged appearance or an abnormal gait, and pain. There may be an audible "pop" when the knee dislocates. Treatment may require massaging the knee back into place, using a knee brace, or surgery. If your dog has patellar luxation, your dog should not exercise too much or be allowed to jump.
Congenital Portosystemic Shunt (PSS)
Portosystemic shunt is also known as a liver shunt. It is an issue Yorkies are genetically predisposed to and it is a pretty nasty one. Congenital portosystemic shunts occur in just under 0.2% of all purebred dogs. There are more Yorkshire Terriers with this disease than any other breed.
Defects in the development of the veins of affected dogs cause blood to flow abnormally. Some of the blood goes around the liver. The body cannot grow or work effectively without adequate blood supply. Nor can the liver adequately remove toxins.
This can result in stunted growth, seizures, and even behavioral issues. PSS is sometimes treated with diet and medication and other times it requires surgery.
Cushing's Disease
Yorkshire Terriers have a higher prevalence of developing Cushing's Disease. This disease is caused by overactive adrenal glands that produce too much steroid hormones.
Symptoms of Cushing's Disease include excessive drinking and urinating, potbelly, increased appetite, decreased activity levels, thin skin, and hair loss. Treatment often involves closely monitored medication, ensuring your dog is getting the correct dosage.
Hypoglycemia
All toy dogs are prone to hypoglycemia. This condition can be fatal if not recognized and treated. Dogs are most susceptible after exercise or a period of excitement, and also if they miss feeding time.
To avoid this severe fall in blood sugar levels you need to feed little dogs more often than you would larger breeds, especially during the first few months of life. Signs and symptoms include seizure, collapse, and weakness. Contact your veterinarian if you observe any of these signs in your pet.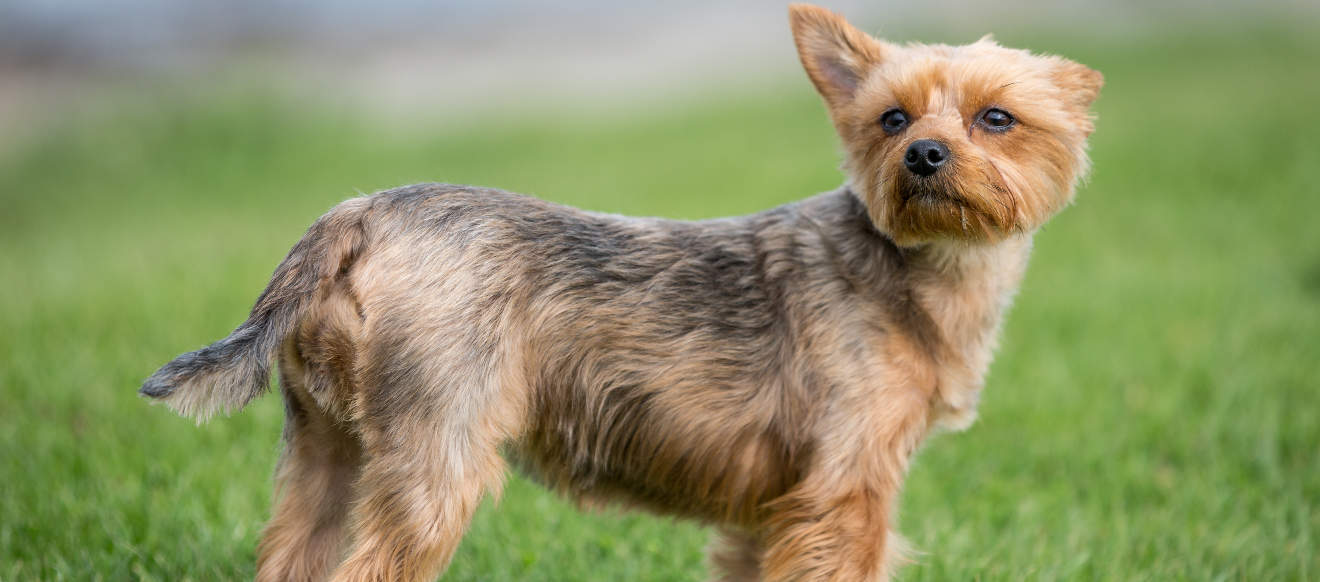 Tracheal Collapse
Tracheal collapse is another serious condition which Yorkies are prone to. They are one of the three breeds most likely to be affected. This condition happens because the rings of cartilage in the windpipe are malformed. This can be a disaster because then they are not strong enough to support breathing,
Signs include wheezing, fatigue or collapsing after exercise, and difficulty breathing. The risk of your dog developing this condition increases if you smoke around your dog or if your dog is overweight. Mild cases of this condition may only require medication while more severe cases may need surgery.
Hemorrhagic Gastroenteritis (HGE)
GHE is an idiopathic disease that can affect any breed. However, it is more common in small breeds like the Yorkie. This is an acute and serious disorder that can result in death if left untreated. And it can come on from out of nowhere in an otherwise healthy dog.
The symptoms of this disease are large quantities of bloody diarrhea, decreased appetite, lethargy, a painful abdomen, and fever. Diagnosis by a vet may require extensive testing. And the treatment usually includes intravenous fluids, potassium, and electrolytes. Antibiotics and other medications may also be administered.
Skin Allergies
Dogs can also have allergies just like humans. Atopy is a common skin allergy that Yorkies can develop. Signs of allergies present in the form of persistent licking, rubbing the face, and ear infections. Contact your veterinarian if you think your dog has allergies.
Dental Problems
Yorkies, like many dogs, are also susceptible to minor health issues like dental disease and skin allergies. Brushing your dog's teeth weekly with vet recommended canine toothpaste will help prevent dental-related illnesses.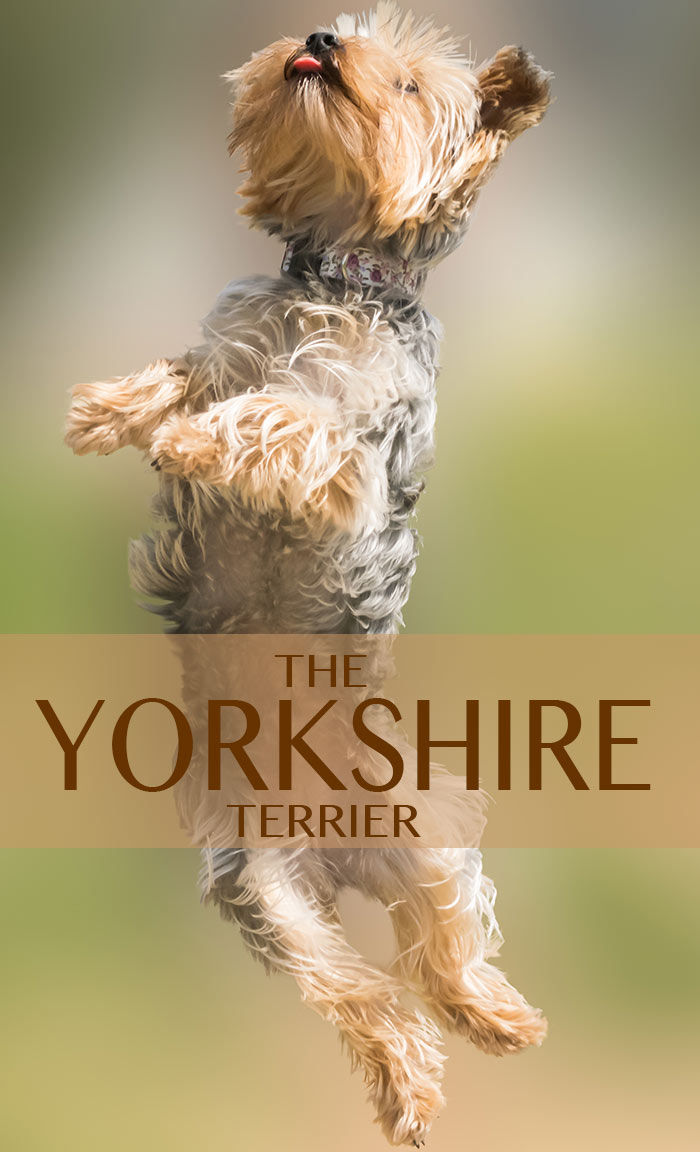 What is the Yorkie Life Expectancy?
The Yorkie lifespan is pretty good in general. The Yorkshire Terrier life span, on average, is between 12 and 16 years. Your Yorkshire Terrier they should remain fit well into their senior years if they stay healthy.
Do Yorkies Make Good Family Pets?
Yorkies make better family pets for those with older children. Younger children will need closer supervision around Yorkshire Terriers. Children under the age of 8 are prone to the accidental rough handling of pets.
Yorkshire Terriers are generally tolerant dogs, but they have been known to snap or nip, especially in response to annoying handling. It is always a good idea to let dogs have space from kids when they want it.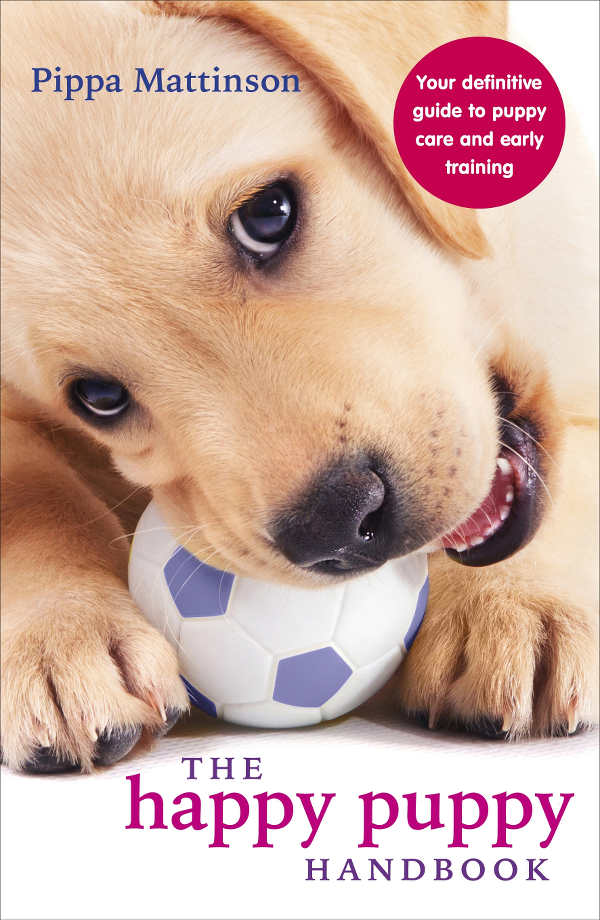 Pros And Cons of Getting A Yorkie Dog
| | |
| --- | --- |
| Pros | Cons |
| Loyal, affectionate, and make great lap dogs | Can be very vocal dogs |
| Fairly low exercise needs | Not ideal for families with young children |
| Low shedding breed that can be good for allergies | High maintenance coat that needs daily brushing |
| Usually live into their teens | Predisposed to some serious health issues |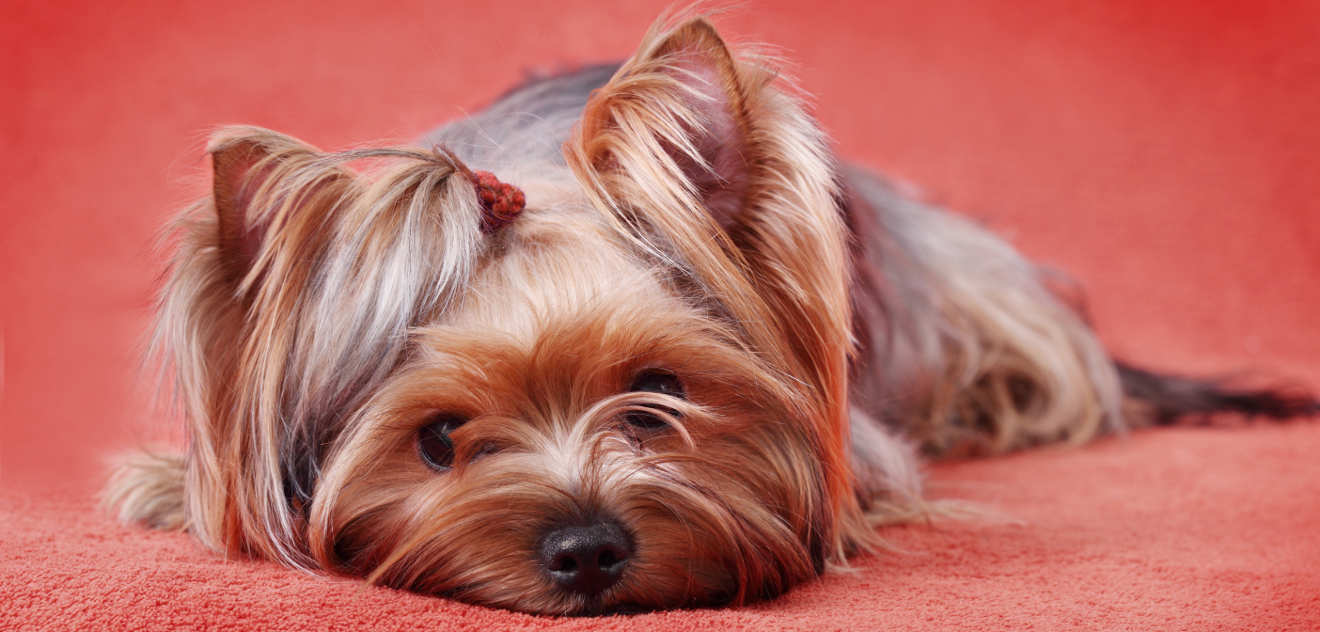 Rescuing a Yorkie
Yorkshire Terrier adoption of a rescue Yorkie is a fantastic way to bring a new pet into your family. It can be cheaper than buying a purebred from a breeder and previously housed dogs can sometimes come already trained. Work closely with Yorkshire Terrier adoption center staff to ensure that the dog you select will be the right fit for your home.
Finding Yorkie Puppies
The best way to find a happy, healthy Yorkshire Terrier pup is by researching a reputable breeder. A good breeder will conduct thorough health checks on their dogs. Plus, they should provide a clean and loving home for both the parents and pups.
Breeders should be happy to answer all your questions and will likely have a few questions of their own to ensure their puppy is going to an appropriate home. You can use our puppy search guide for more help.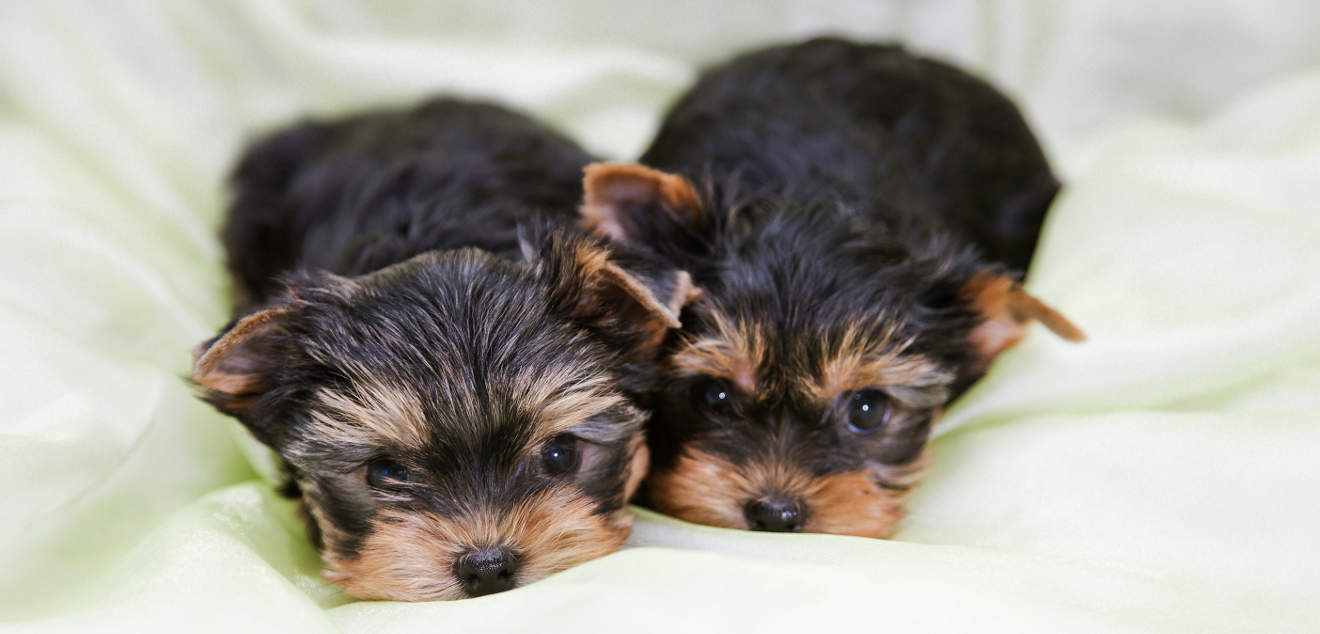 Where to Avoid
Pet stores, online ads, and puppy mills tend to supply unethically bred dogs. They purely produce to meet the demand for popular purebred dogs. These dogs are often unhealthy and poorly treated. It is best to avoid purchasing your pup from any of these scenarios.
Yorkie Price
Yorkshire Terriers are small but the cost of puppies can be pretty big. In general, puppies can cost anywhere from $1800 to over $3500. Show puppies will usually cost a lot more than those bred as family pets. But, prices will also vary depending on where you live and the current demand.
Remember that this is only the initial cost. On top of this, Yorkies need good quality food, regular trips to the groomers, plenty of toys, and of course routine health checks and vaccinations.
Raising a Yorkie Puppy
Training your tiny but bold new companion will probably keep you rather busy! Here are some tips on puppy training and socialization, as well as some helpful information about the costs of having Yorkie puppies, feeding your new friend, and other general puppy care:
With the guides above, there's nothing you won't be ready for!
Popular Yorkie Breed Mixes
Yorkshire Terrier mix breeds are becoming more and more popular! If you are interested in having a pint-sized companion like a Yorkie, you might find the following Yorkshire Terrier mix breeds intriguing as well:
Comparing the Yorkie with Other Breeds
If you aren't sure whether a Yorkie is right for you, you can compare it to similar breeds. Take a look at some comparisons in the guides below.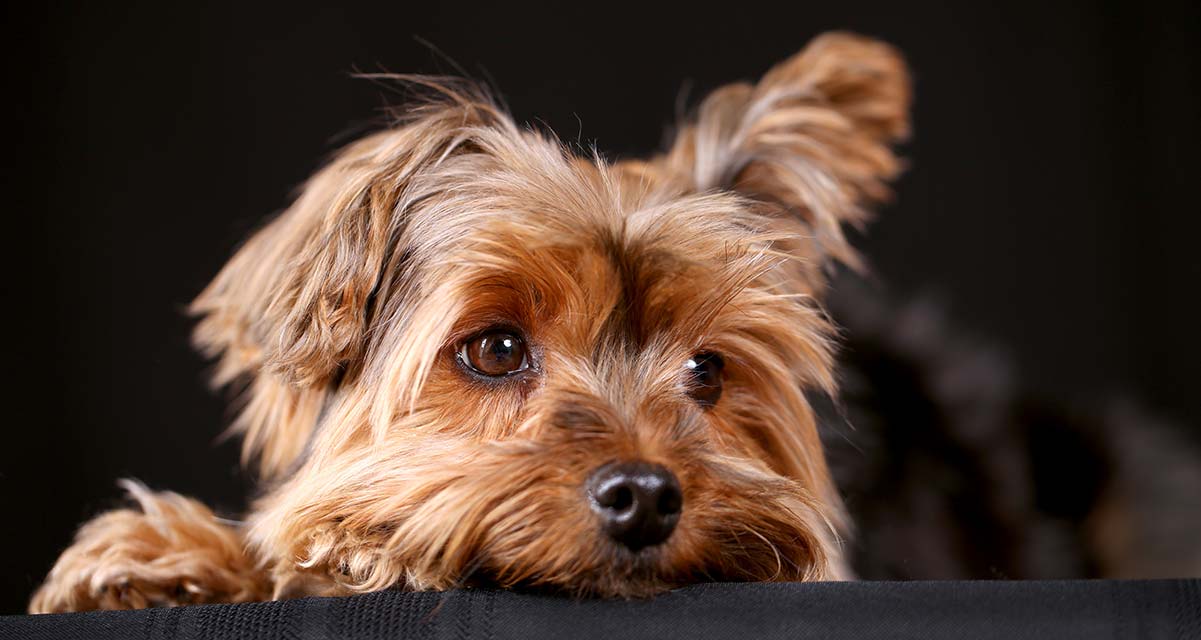 Similar Breeds
Here are a few other breeds that may also interest you if you are thinking about getting a Yorkshire Terrier.
And, no matter what small breed you choose, you need to prepare with the right products.
Finding a Yorkie Rescue Center
The Yorkie is a Lovely Pet
This loyal and affectionate tiny Terrier makes a great companion for individuals or families with older children. The Yorkie doesn't need a lot of space for exercise and can thrive equally in an apartment or a house with a yard. Their exercise needs are fairly low but their grooming needs can be high.
The best-suited home for this breed is one that can set aside a little time each day for coat maintenance. They also should go to a home where a little barking won't be a big problem. They are a bold and lively dog and can make a cute but attentive guard dog if that is what you are looking for.
References And Resources