Cool dog names give your already awesome pup an extra special edge.
We've got some unique ideas, which are sure to make your pet the top dog at the park.
Let's get started with the top 50!
Top 50 cool dog names
Our favorite cool dog names of the moment are:
| | |
| --- | --- |
| Bolt | Hunter |
| Alpha | Wolf |
| Spike | Rhino |
| Saber | Titus |
| Blaze | Ripley |
| Chess | Maze |
| Ace | Flare |
| Quiz | Tricks |
| Harley | Rex |
| Bandit | Enigma |
| Raven | Storm |
| Ripper | Archer |
| Cobra | Gunner |
| Valley | Tango |
| Shadow | Juno |
| Flame | Apollo |
| Thunder | Quartz |
| Mocha | Pistol |
| Frisk | Rider |
| Copper | Pip |
| Ice | Dirt |
| Solo | River |
| Vice | Shot |
| Stinger | Kong |
| Red | Shank |
Quick Links
We've split these cool names into categories. You can jump to any section by clicking the links below!
Getting inspired
Cool puppy names come in many forms. For some more general ideas, check out these fun lists:
Cool dog names male
Cool boy dog names sound great when they're human names.
Not just traditional or popular options, but those that are short and snappy to say.
Normally two syllables or less works well.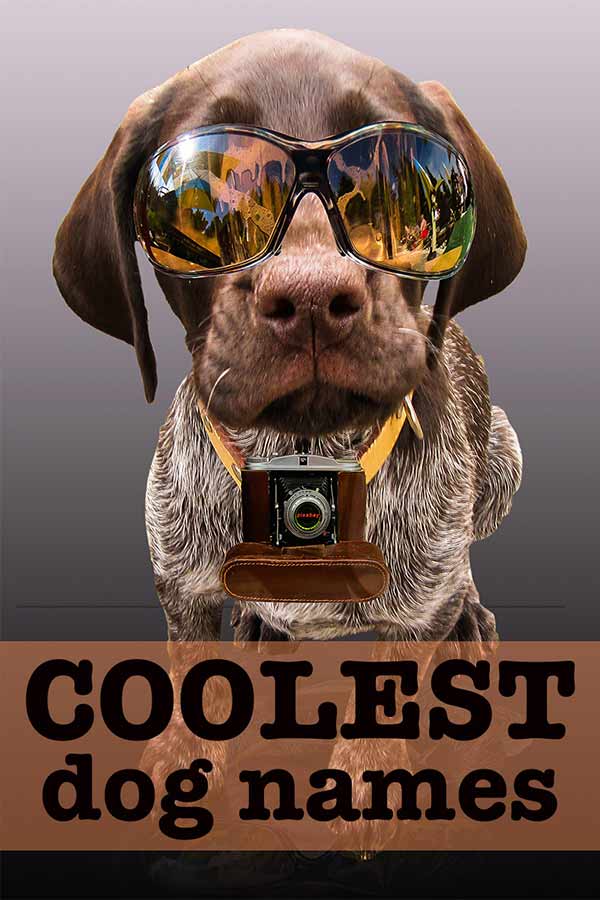 Cool dog names that easily roll off the tongue, and that your pup will instantly recognize.
Check out these awesome male dog names, and see what you think:
Ade
Alex
Alfie
Bede
Ben
Bodhi
Brad
Byron
Cliff
Curtis
Dane
Duke
Ed
Felix
Gabe
Heath
Jake
Joel
Jude
Kai
Leo
Luke
Noah
Oakley
Phoenix
Reid
Riley
Ryder
Scott
Seth
Shay
Theo
Troy
Ty
Wade
Will
Zane
You can find 200 more awesome male dog names here.
Cool female dog names
Cool girl dog names don't have to be wild or random.
They can come from traditional baby name routes, or even the names of awesome female characters.
Check out these seriously cool female dog name ideas:
Ali
Azra
Bree
Brooke
Callie
Coral
Dita
Freya
Hadley
Harley
Indie
Jazz
Lana
Leah
Leia
Lexi
Liv
Lula
Maya
Nala
Nell
Neve
Nicki
Poppy
Posie
Romy
Rowan
Ruby
Sage
Seren
Skye
Sophie
Summer
Sydney
Tia
Taya
Tess
Wendy
Willa
Zelda
Zen
Check out 150 more brilliant female dog names here.
Super cool dogs need super cool dog names. And what better way to come up with a great name than to go unique.
Cool unique dog names
Thinking up unique dog names can be tricky, because everyone wants to be different!
But never fear.
A great way to find cool dog names is to think of a topic that's fairly universally considered to be cool.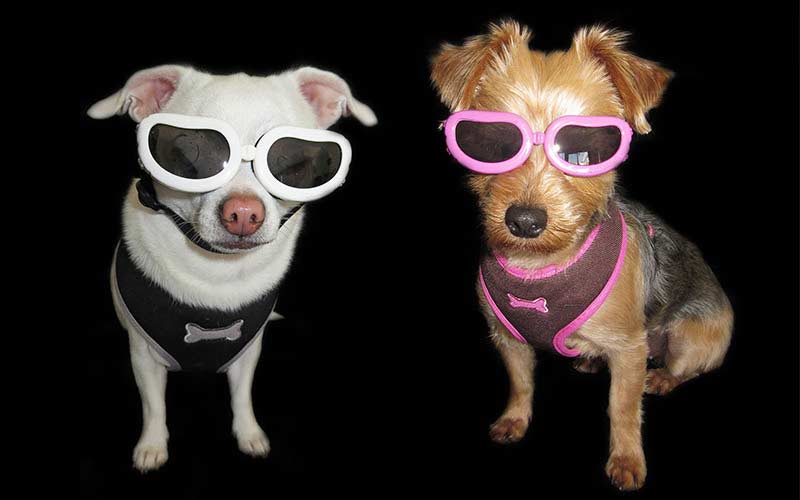 Like the beach, surfing, motor bikes. Whatever takes your fancy, and you think will make your friends enthusiastically give you a high five.
Then go through that topic picking out relevant words that are short, snappy and really stand out.
Let's Go to the Names!
Check out these fun cool unique dog names to get inspired:
Apex
Astra
Beach
Boss
Chief
Chill
Cove
Crush
Dream
Drone
Dude
Ever
Fig
Fire
Flicker
Grass
Hitch
Ice
Journey
Leader
Moss
Ocean
Palm
Reef
River
Rune
Skates
Surf
Trick
Ursa
Cool small dog names
Really cool dog names for tiny dog breeds come in all shapes and sizes.
All dogs are cute, but our pint-sized pups really take the (dog) biscuit when it comes to adorable.
Does the dog in your life have a cat in theirs? Don't miss out on the perfect companion to life with a purrfect friend.

The Happy Cat Handbook - A unique guide to understanding and enjoying your cat!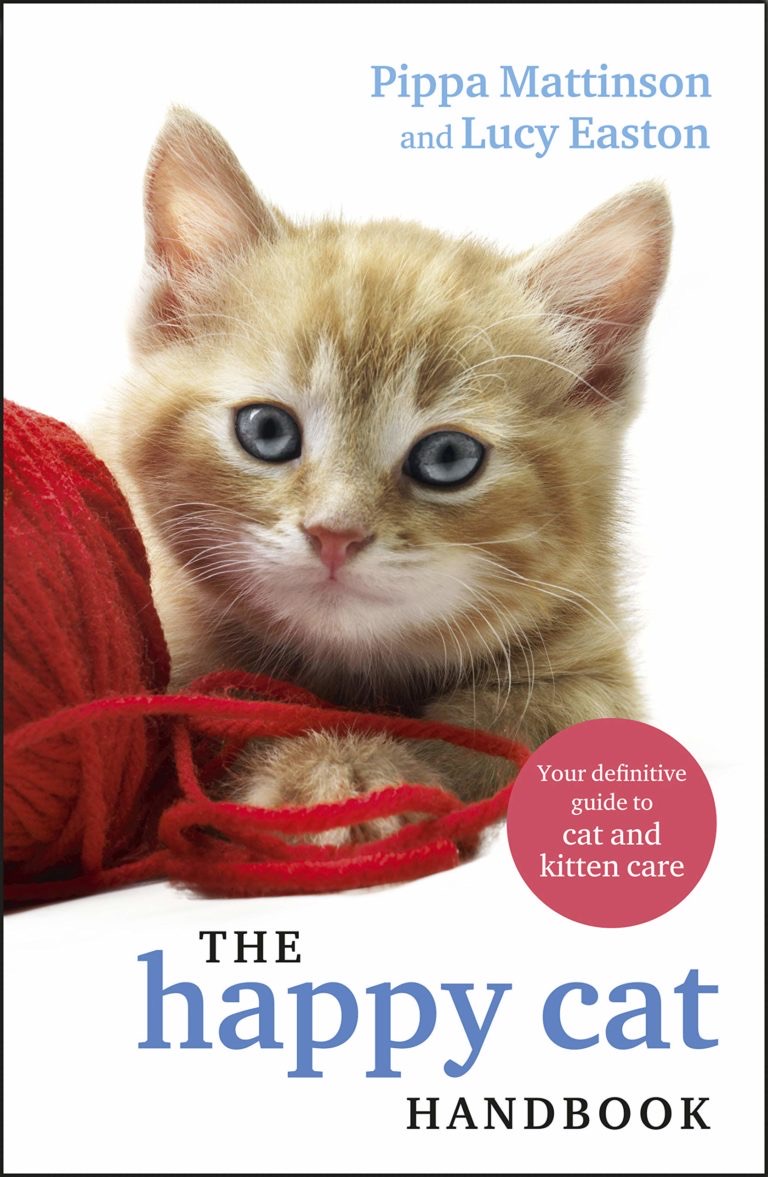 Check out these fun ideas for cool names for small dogs:
Ant
Baby
Bean
Bitty
Boo
Bubbles
Chichi
Cutie
Dinky
Dumpling
Elf
Fifi
Honey
Imp
Itsy
Jellybean
Kiki
Lolly
Peanut
Penny
Pez
Piccolo
Pickle
Pixel
Pixie
Sugar
Sweetie
Taffy
Tiny
Titch
Tinker
Trifle
Trixie
Cool big dog names
Cool big names can show off their impressive (or soon to be impressive) stature. They can be deadly serious or poking fun in their direction.
Large dog names inspired by fictional characters, like TV giants or tall creatures are good fun. And so are those that are purely descriptive. Dog names inspired by fictional characters usually become more popular as their shows do! Can you recognise any of the names in this list?
Let's Get Started
If you've got a large breed puppy, why not consider one of these cool big dog names:
Alpha
Bear
Bertha
Boomer
Brick
Brock
Bruiser
Brutus
Bulk
Butch
Dragon
Elf
Everest
Gator
Groot
Hagrid
Hercules
Hulk
Jabba
Jumbo
Kong
Max
Monster
Moose
Rhino
Samson
Sherman
Stag
Sumo
Tank
Titan
Titus
Wun Wun
Zilla
Don't forget, if you want a bit of a laugh when naming your puppy then you could switch things up.
Give your small breed dog a big dog name, or your giant dog a small puppy name instead.
Fast dog names
Do you have a seriously speedy dog? Are you looking to bring home a sighthound puppy?
Then one of these cool fast dog names might well be a great choice.
Inspired by the world of racing, both human and vehicles, as well as some plain cool fast words.
Check out this great list for some awesome ideas:
Ace
Alonso
Arrow
Blaze
Blur
Bolt
Bullet
Chase
Dash
Ferrari
Flare
Flash
Flock
Gant
Hamilton
Hendrick
Jeter
McLaren
Mo
Racer
Rapid
Rocket
Sonic
Speedy
Sprint
Swift
Vettel
Whiz
Zippy
Dangerous dog names
We all know your dog is going to be a total sweetie pie. But that doesn't mean that you don't want him to look or sound fierce.
Dangerous dog names are great fun, and we have some awesome ideas for you here:
Blade
Cobra
Colt
Croc
Crisis
Cujo
Dagger
Diablo
Doom
Fang
Gnasher
Grave
Gunner
Hunter
Jaws
Killer
Knife
Lightening
Menace
Ninja
Peril
Psycho
Razor
Reaper
Rebel
Risk
Sabre
Scar
Shark
Slash
Spike
Spine
Steel
Wolf
Choosing a cool name
In a house piled high with pets, I've had more than my fair share of naming to do.
And I find the best way to go about it is to decide what type of name you want to give your pet.
You already know that you want a cool dog name. One that you can be proud of, and repeat with confidence.
And who can blame you!
In all likelihood you're going to be calling this name out, and saying it repeatedly for the next ten years or more.
The Best Cool Dog Names
You are never going to find a name that everyone in the world thinks is cool. But I think that you can come pretty close, especially in your own social circles.
The most important thing to remember when naming your dog is that it only really matters how you feel about the name.
How easy it is to say, for your dog to distinguish from other words, and how much you like it.
The coolest dog name is the one that suits you and your pup the very best.
What Name Did You Choose?
Have you picked your dog's name now? Did you choose one from our list, or was your idea from somewhere else?
Why not share it with us in the comments section below?
More Cool Dog Name Ideas!
Still not sure what to name your dog? Then why not check out our other awesome dog names lists here: