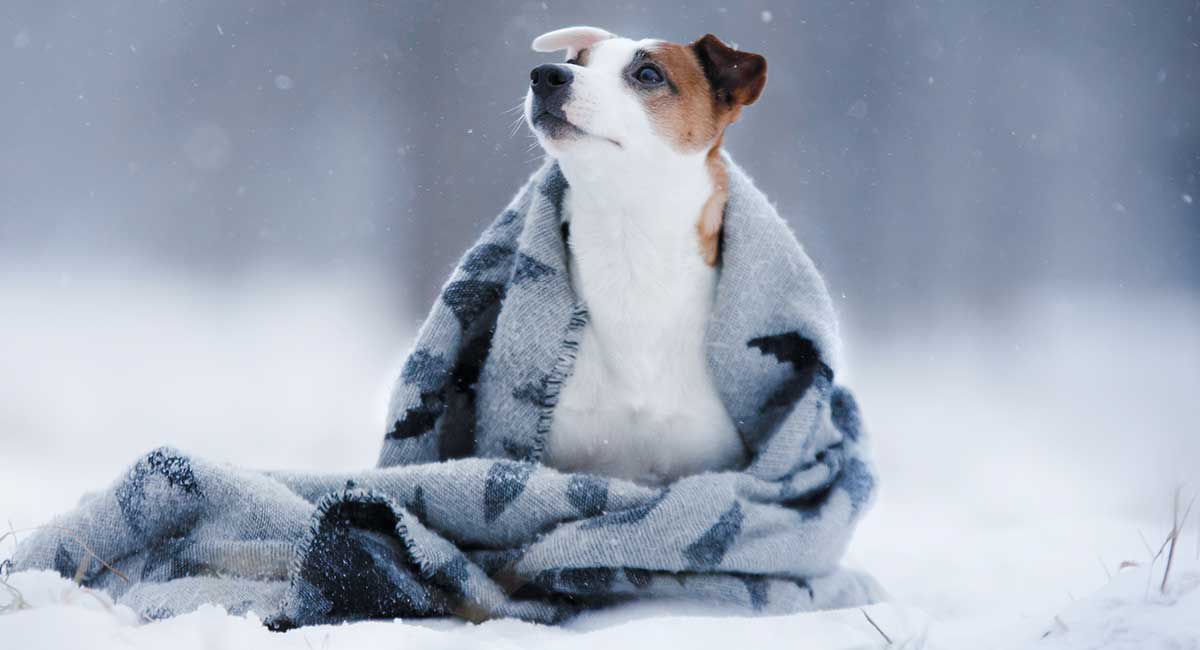 Dog names that start with W are wonderful for Whippets, Weimaraners and Westies! But any dog can rock a wicked W name, and beginning with your favorite letter is a great way to narrow down your search.
Contents
Adding a new puppy or rescue dog to your family is so fun and exciting! But it can also be a lot of work! There is so much to do to get ready, from selecting supplies to organizing training to outfitting your home and vehicle to accommodate both people and a pup! And in the midst of all this, somehow you also have to find the time and the inspiration to pick out your pooch's new name. This is where we come in!
Naming Your Dog
As you are considering your many choices for naming your puppy or rescue dog, it may help to think of different name categories.
Trendy
Every year certain names become suddenly fashionable. Trendy dog names may reference popular movies, celebrities, fictional characters, products or games, apps, breaking news, and other timely trends.
Traditional
Then there are names that may not be "hot" right at this moment, but they truly never go completely out of style. This is an especially good category to focus on if you want to compete with your dog in canine athletics or in the show ring.
Many purebred show dogs in particular have traditional names that are quite long and go back for generations!
Breed-based
Breed-based names can be one of the most interesting dog names categories! This category of names may reference a dog breed's history, birthplace, personality, colors, appearance, K-9 job, famous canines of that breed, and other creative naming ideas.
Letter-based
Another great naming category is to choose a name that starts with a particular letter. This is a particularly awesome way to brainstorm your pup's new name, because anyone can do it.
Think of the letter – for example, "W" – and then just start free-associating every word or phrase you can think of that starts with that particular letter.
Don't stop yourself – just keep churning out ideas and writing them down so you can review them for ideas later.
Top W Dog Names
If there is one thing you can count on once you choose your dog's new name, it is that you will be using it a lot! So you want to be sure you pick something that is creative enough that it won't bring every dog in the neighborhood running when you call.
But you also want to pick a name that is short enough to say easily and often and one you won't ever feel embarrassed to yell out loud in mixed company. Without further ado, let's launch our search with a list of the best dog names that start with W!
Wabash
Wondra
Watcher
Wondergirl
Wildfire
Walkman
Watanabe
Weeju
Wimberly
Wonji
Wilkens
Whipple
Wendeline
Welch
Wassail
Wingfoot
Wakita
Wolfsbane
Wardell
Wallo
Willvera
Wilea
Woochi
Woz
Wookie
Wiki
Wreck-It (Ralph)
Woody
Warlock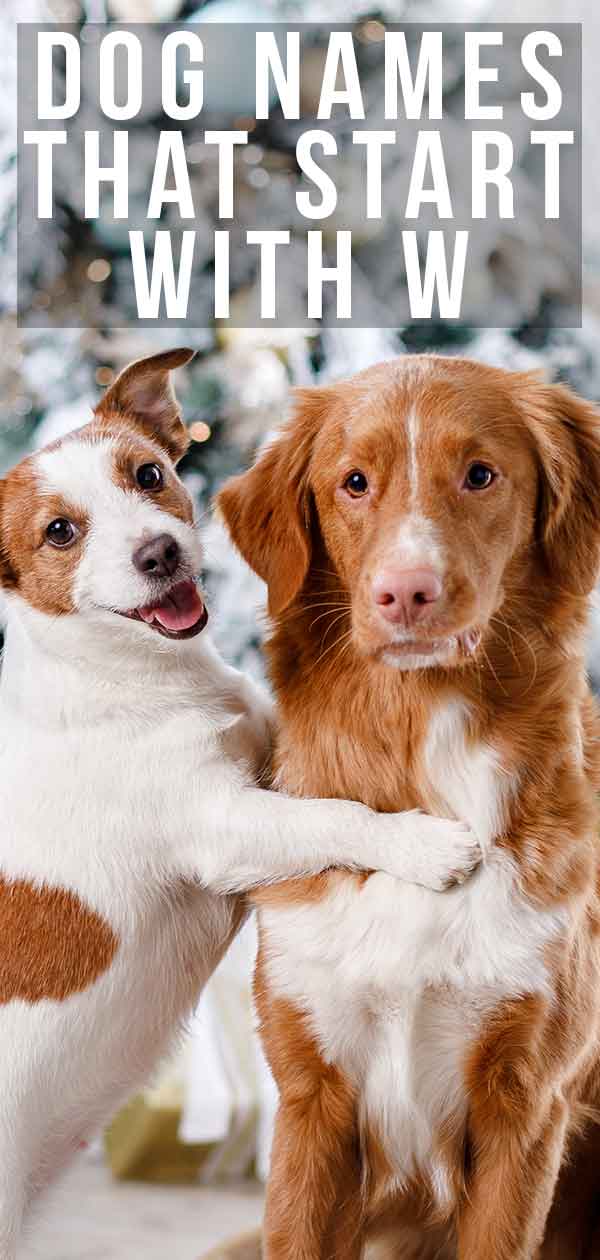 Female Dog Names That Start With W
These lovely female dog names that start with W will give you lots of ideas for naming your sweet lady pup!
Wynonna
Wyn ("fair")
Wren
Wynette
Wendy
Wioleta
Winnifred
Wanda
Willa Jo
Wednesday
Winslet
Waverly
Waterlily
Wangi
Wati
Wenda
Whitney
Wilhelmina
Windflower
Wallis
Wanetah
Wunmi
Wirena
Winiata
Willadean
Wisteria
Wedelia
Wikolia
Welcome
Male Dog Names That Start With W
We hope you enjoy browsing through this list of male dog names that start with W!
Wright
Wesley
Winston
Woodrow
Wilson
Wolfgang
Winton
Werther
Weston
Winthrop
Warren
Wendell
Wenzell
Winters
Wulfric
Winner
Whitaker
Walton
Warwick
Wentworth
Wenlock
Woosnam
Wyoming
Watts
Welwitch
Waterson
Wellington
Willoughby
Wyclef
Wolcott
Cool W Dog Names
This list of awesome dog names that start with W can help you capture your canine's badass vibe!
Wisdom
Wynton (Marsalis)
Willis
Wrecker
Will (Smith)
Wade
Willa
Walt
Washington
Wen ("culture")
W.C.
Wallace
Whit
Wil
Watson
Winter
Wilt
Wainright
Wickley
Wai ("water")
Weiss
Wesh ("woods")
Westby
Wetherby
Wheatley
Witton
Wirake ("friend")
Willard ("brave")
Wilder
Wollaston
Cute Dog Names That Start With W
Picking out cute dog names that start with W may get easier after you read through this inventive list!
Winnie (the Pooh)
Wim
Wilma ("the Flintstones")
(Free) Willy
Wilkie
Wilbur
Wasim ("handsome")
Widad ("love")
Walleye
Willow
Wiz
Whiff
Wink
Walby
Watchdog
Webfoot
Webster
Welby
Wag
Wetu
Whitby
Wicasa
Wilny
Wrinkles
Woodchuck
Woolly
Wetzel
Wayra ("wind")
Wader
Woodpecker
Funny W Dog Names
Is your new canine companion a natural comic? Then you might find that one of these funny dog names that start with W matches your pup's personality precisely!
Wall-E
Whine
Wiley (Coyote)
(Where's) Waldo
Waylon (Jennings)
Whiskers
Wemba ("belly")
Wide
Wildebeast
Wag
Wassup
Will.i.am
Whiz
Warthog
Wood
Whoopie
Walk
Walrus
Wait
Wamba ("stomach")
Wapi ("lucky")
Weaver
Wombat
Wing
Whale
Wilu ("chicken hawk squawking")
Wallaby
Wagtail
Wildcat
Wrangle
Wonderfully Unique W Names
This list of unique dog names that start with W draws inspiration from cultures around the world!
Wynter
Wislawa.
Willka ("sun")
Willem
Wilda ("wild")
Wikiola
Wafai ("loyal")
Waimarie ("good luck")
Wakana ("harmony")
Waleria
Wambui ("zebra")
Werner
Wayna ("young")
Wilfred ("seeking peace")
Waris
Wass
Whitmire
Wilmer
Wynnie
Wadley
Wadsworth
Washburn
Wassily
Waunakee ("peace")
Welsh
Wendell
Wensley
Wichado ("willing")
Wyan
Wymer
Wickedly Tough Ideas
These tough dog names that start with W can capture the all-go, no-stop, active nature of your energetic pup!
Wyatt (Earp)
(John) Wayne
Waman ("eagle")
Walter ("army leader")
Wangchuk ("mighty")
Wymond ("battle protector")
Wolf
Waltraud ("strength")
Wu ("military general")
Warrior
Wolfram ("wolf raven")
Wairimu ("gian")
Walburga ("fortress ruler")
Walker (Texas Ranger)
(Sir William) Wallace
Ward ("to guard")
Wayan ("strength")
Wazo ("guard/protect")
Wei ("power")
Wibawa ("authority")
Wigand ("war")
Wake ("watchful")
Walena ("defending")
Walwin ("hawk")
Wang ("king")
Waring ("protection")
Wies ("famous warrior")
Wikoli ("victory")
Wilmot ("resolute")
Wouter ("fierce warrior")