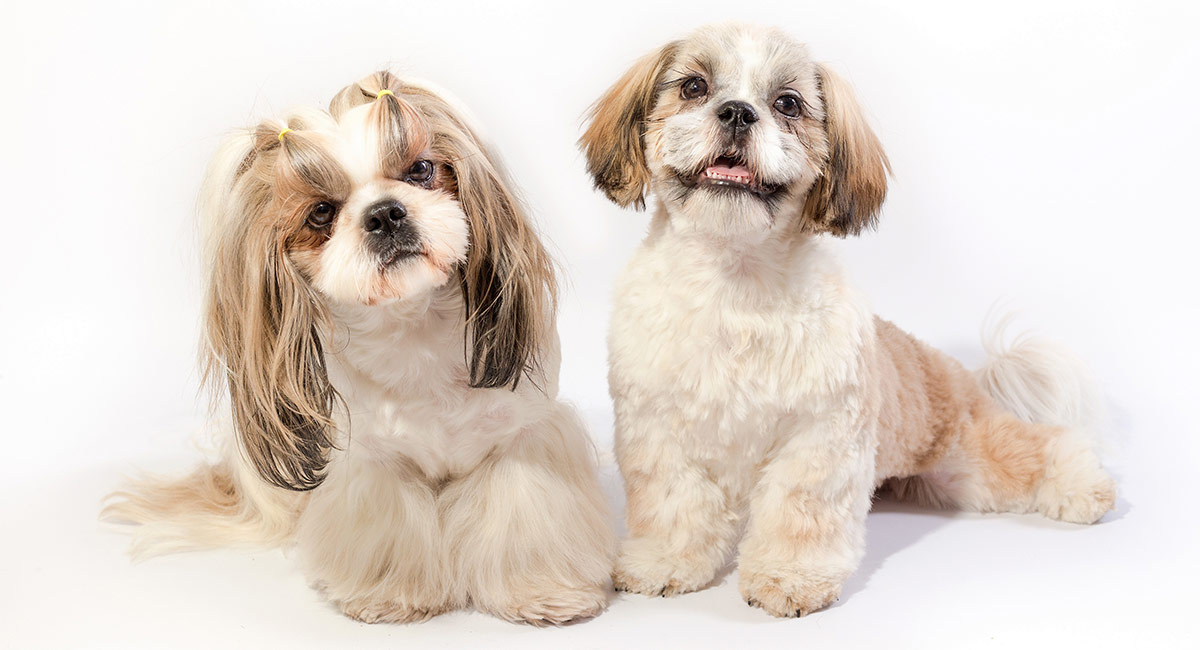 Ready to bring home your very own puppy, but struggling to find good Shih Tzu Names
Here's our guide to the very best Shi Tzu dog names,
Including suggestions for male puppies, female puppies, cute names, funny names, and more!
Are you about to welcome a Shih Tzu puppy into your home, but having trouble with deciding on a name for your new furry friend?
For some, a name for a new pet might come like an instant flash of inspiration.
For everyone else, we'll share our ideas with you!
Maybe you'll get that instant inspiration, that "click" moment where you know one of these names must be the one for your Shih Tzu.
Or maybe some of these names will serve as a jumping-off point to think of your own.
Either way, we hope these ideas will help you to de-stress this important process.
Naming Your Shih Tzu
Before diving into Shih Tzu puppy names, there are some considerations you may want to note about the naming process.
One popular way of naming a new pet is to go off of personality or appearance.
While every dog is unique, there are some distinct characteristics you can expect to see in a Shih Tzu.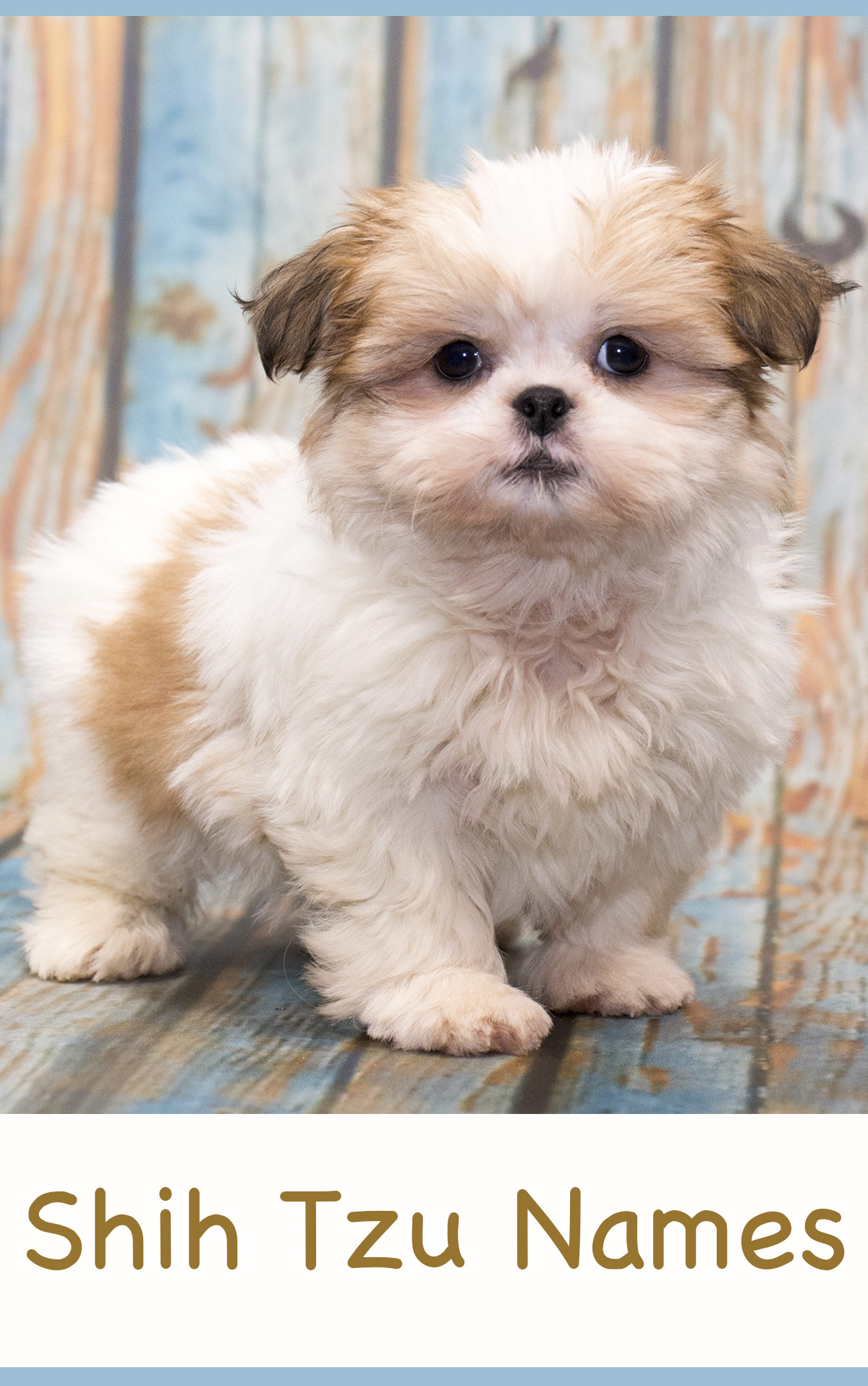 First, Shih Tzu are known for being playful and affectionate.
Furthermore, they are largely home-bound pups, preferring to lounge indoors than run full-speed through a park.
Remember before you look for your puppy, that their characteristic appearance can cause problems with breathing or walking.
Make sure you know all about these potential issues before committing to bringing your new friend home.
All of these traits can be seen as a reflection of their ancestors' lives as "palace pets" hundreds of years ago in imperial China!
Shih Tzu are also very distinctive in their appearance.
These dogs, small enough to be put in the "toy breed" category, have beautiful, distinctive, flowing coats, and a hard-to-place but adorable facial expression.
Frequently Shih Tzu have coats of black, white, or a mix of both.
That being said, there are many other possibilities, including blue, gold, red, and silver, just to name a few.
Now that you know more about the Shih Tzu, let's dive into some suggestions, starting with Shih Tzu names for male puppies.
Male Shih Tzu Names
In this section, as well as the next on female name ideas, we will focus on "standard" human names for your Shih Tzu puppy.
This presents a unique challenge for a dog such as the Shih Tzu—their appearance is so distinctive, and carries its history as canine royalty wherever it goes.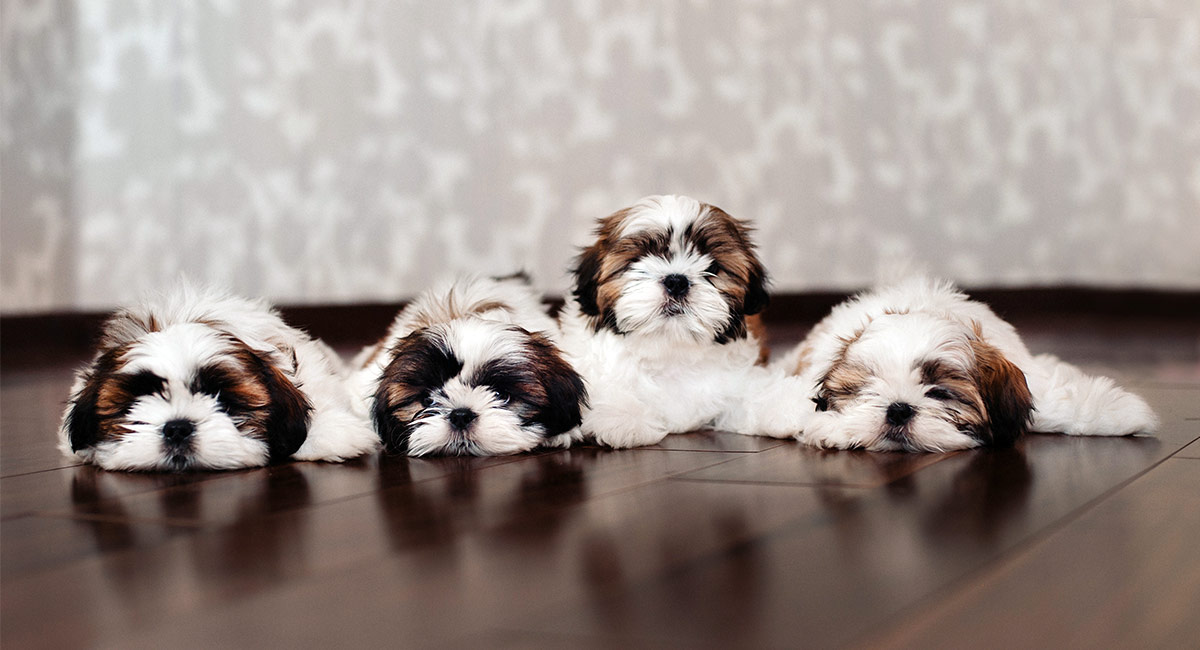 We need to address the impulse to use a "dignified," even formal name while recognizing the practical realities when naming a pet.
When training your puppy, or just calling for your buddy from one side of the room to another, chances are you won't want to be bogged down by a four-syllable name, just for the sake of appearances.
For these reasons, this and the following section will try to choose longer names carefully, many of which can be easily shortened to nicknames, along with some shorter, and still dignified names.
For male Shih Tzu puppies, here are some ideas:
Jameson
Aiden
Adam
Jackson
Lance
Gabe
Charlie
Cole
Cooper
Danny
Lucas
Logan
Oliver
Nathaniel
Bobby
Wesley
Kingston
Bennett
Richie
Eddie
Colin
Bradley
Jesse
Brady
Kenneth
Jasper
Charlie
Cody
Damien
Felix
Cesar
Donnie
Archer
Holden
Ralphie
Louie
Remmy
Melville
Marshall
Cohen
Walker
Porter
Theo
Ace
Female Shih Tzu Names
Similar to our previous section, we've picked out some stately, even queen-like names for a female Shih Tzu.
While some are sort and sweet, others are several syllables, but can also be shortened to nicknames. It's up to you which way to go.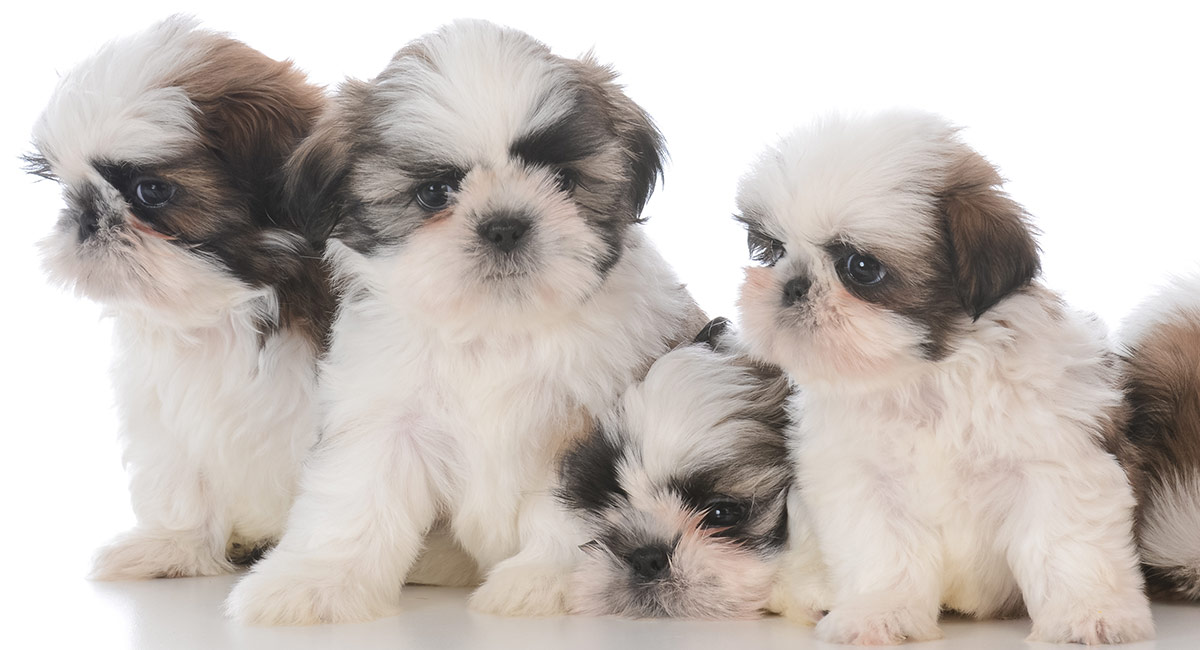 Here are some ideas to help you get started!
Sophia
Olivia
Mia
Isabel
Charlotte
Amelia
Gracie
Victoria
Lilian
Natalia
Alexandra
Brooke
Penelope
Samantha
Allison
Ariana
Stella
Gabby
Lucy
Madeline
Ellie
Carolina
Claudia
Serena
Juliet
Gloria
Marie
Eve
Eliza
Alicia
Alice
Coraline
Chloe
Elana
Maria
Valencia
Natasha
Tina
Michaela
Christie
Josephine
Nikki
Tricia
Shirley
Noelle
Cute Shih Tzu Names
Shih Tzu dogs seem to be made for cute names.
Their small size, flowing coat, and big eyes arguably make them one of the more precious, conventionally adorable dog breeds.
In addition, Shih Tzu typically have personalities on the playful and affectionate side.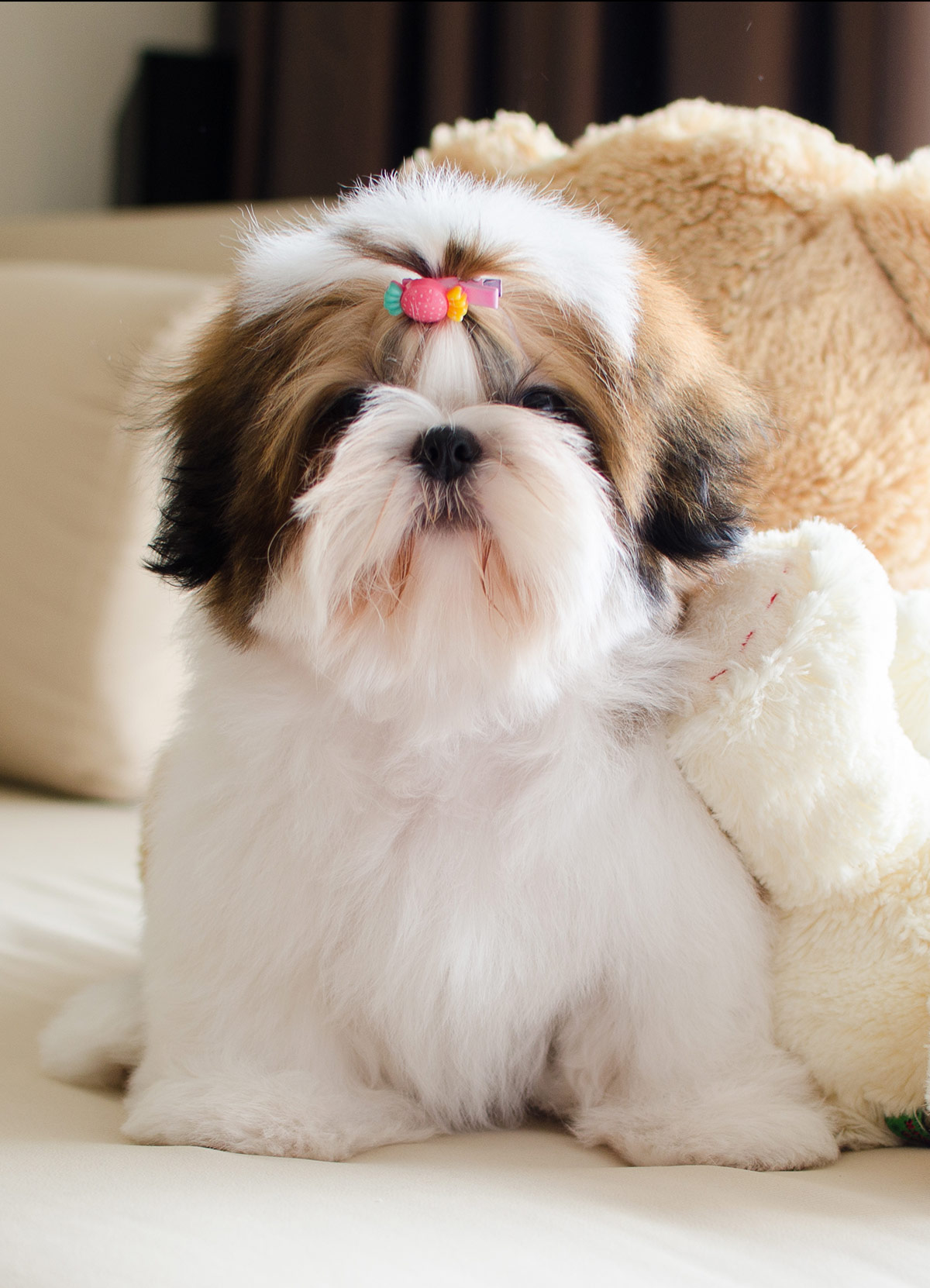 We've used these traits to offer some suggestions for cute Shih Tzu names.
Joyful
Charmer
Darling
Precious
Allure
Sweetie
Enchantress
Cuddly
Angel
Winsome
Dainty
Pipsqueak
Dazzler
Pizzazz
Glamour
Amity
Bestie
Kindly
Goodie
Lady
Cookie
Lucky
Perky
Peppy
Bubbly
Spunky
Bouncy
Jolly
Frolic
Merry
Whimsy
Sleepy
Munchkin
Peaceful
Serenity
Chinese Shih Tzu Names
We briefly mentioned Shih Tzu being referred to as "palace pets."
This actually goes back to China hundreds of years ago, where Shih Tzu were kept by rulers within imperial courts.
They were especially present in Peking courts, specifically as both "a pet and companion for royalty."
Shih Tzu, sharing the name of "lion dogs" with several similar breeds, were so valued that they literally marched alongside humans in official processions.
As Sharon Lynn Vanderlip explains in her book The Shih Tzu Handbook, such "lion dogs" would follow "at the heels of emperors and empresses"
Given this rich history, it would be wrong for us not to include some Chinese dog names for Shih Tzu.
Most of these names will stem from terms for royalty, beauty, power, and affection. Of course, going this route means taking special note of Chinese pronunciation, which in general can take a bit of practice.
Still, we think these potential names would be well worth the extra linguistics homework!
Gongzu (Princess)
Nuwang (Queen)
Keai (Cute)
Wangquan (Royalty)
Junzhu (Monarch)
Meili (Beautiful)
Shunu (Lady)
Zu (Lord)
Guowang (King)
Huangdi (Emperor)
Huanghou (Empress)
Bo (Precious)
Shizi (Lion)
Juhua (Chrysanthemum)
Ganqing (Affection)
Qinre (Affectionate)
Zhengui (Precious)
Keai (Lovely)
Chongbai (Adored)
Heai (Kindly)
Qiangda (Powerful)
Jilie (Fierce)
Tiaopi (Playful)
Emo (Imp)
Ezuoju (Mischievous)
Banlu (Companion)
Reqing (Warmth)
Qiangdu (Strength)
Yonggan (Brave)
Chundu (Purity)
Kekao (Trustworthy)
Pengyou (Friend)
Xiyue (Joy)
Black and White Shih Tzu Names
Appearance is often a key inspiration in naming a pet.
Shih Tzu come in many colors, with either a one-color coat or various combinations of different colors.
Some of the more commonly seen coats are all black, white, or a combination of the two.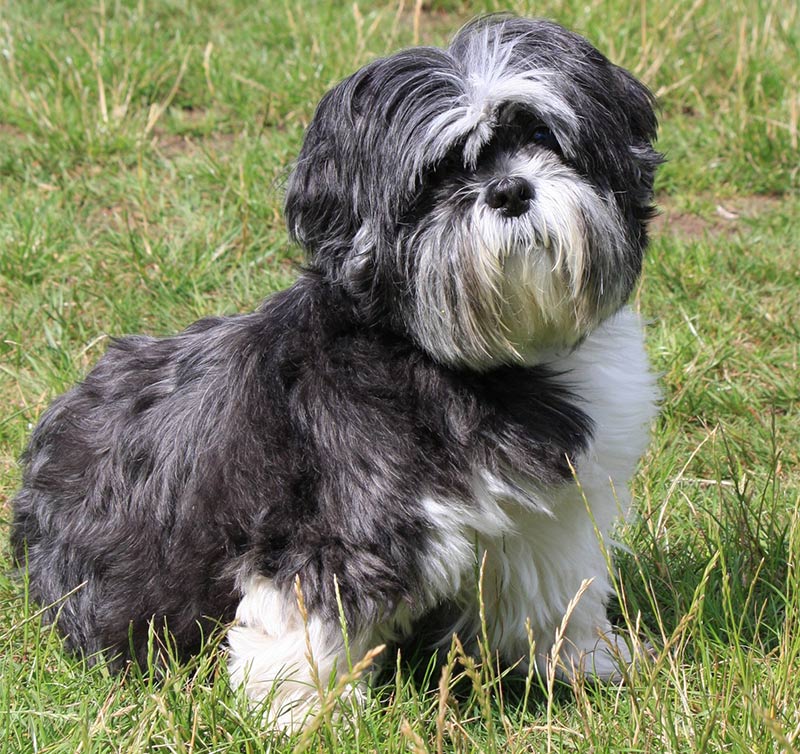 Here are a few ideas for Shih Tzu names for black and white pups.
Some may be more fitting than others, depending on the ratio of black to white coloring.
Oreo
Moonbeam
Moonlight
Twilight
Midnight
Luna
Dusky
Nightfall
Starry
Starlight
Snowy
Snowfall
Snowflake
Blizzard
Ghostly
Specter
Icy
Ebony
Ivory
Shiny
Eclipse
Shadow
Smoky
Murky
Shady
Nightlight
Frosting
Vanilla
Patchy
Milky Way
Famous Shih Tzu Names
Back in their days in China as palace pets, Shih Tzu were often called "lion dogs," the "chrysanthemum-faced dog," and, perhaps strangest sounding of all, the "sleeve dog."
This last term referred to their small size, as they traveled easily within the sleeves of the well-dressed elite.
Any one of these terms could make for a vivid mental picture in our heads for the Shih Tzu.
The Shih Tzu breed just doesn't quit with its distinctive identity (or in this case, identities)!
While these three terms were used to describe Shih Tzu in general, we can use these names as a jumping-off point for further name suggestions.
The main ideas we'll use here will be based on the Shih Tzu association with the fierceness of a lion, the beauty and delicacy of a flower, and their historical precedence for providing a source of revered, valuable companionship.
Here are some ideas for Shih Tzu names:
Imperial
Belle
Beauty
Titan
Fiery
Howl
Lion/Lioness
Stormy
Tempest
Regal
Ruler
Chiller
Companion
Tranquil
Harmony
Celebrity Shih Tzu Names
The Shih Tzu history does not end there, of course.
These "toy breed" dogs are very popular today, shown in part by the number of Western celebrities that have opted for their own palace dogs.
Most of the Shih Tzu names here are unconventional, and even if you don't have a particular affinity toward the celebrities mentioned here, you may find yourself attracted to the names they've chosen.
Here are some names, accompanied by their star/starlet owner: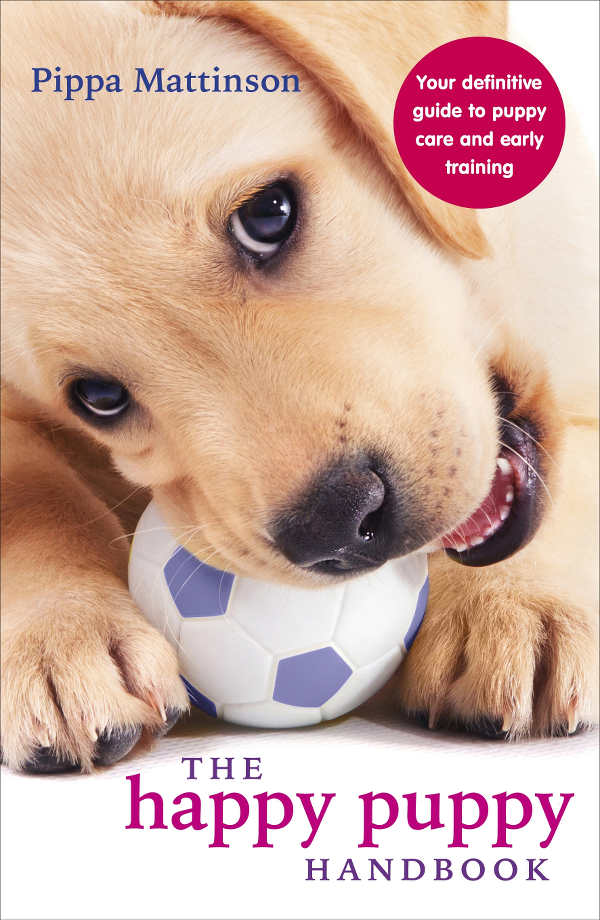 Honey Child (Nicole Richie)
Sumo (Susie Essman
Bella (Rebecca Mader)
Munchie (Beyonce)
Moulin Rouge (Zsa Zsa Gabor)
Choo Choo (Queen Elizabeth)
Bing and Bong (Mariah Carey)
Bonny (Colin Farell)
Lollipop (Andie MacDowell)
Harry (Geri Halliwell)
Balmer (Bill Gates)
Legend (Jacinda Barrett)
Panda (Betty White)
Rusty (David Hasselhoff)
Sebastian (Vanessa Williams)
Funny Shih Tzu Names
Sometimes one of the most enjoyable ways to name a puppy can be in an ironical sense, dramatically playing on some of the more over-the-top traits of the puppy in question.
And, no offence to the Shih Tzu, but their appearance especially lends itself to this train of thought, along with their royal heritage.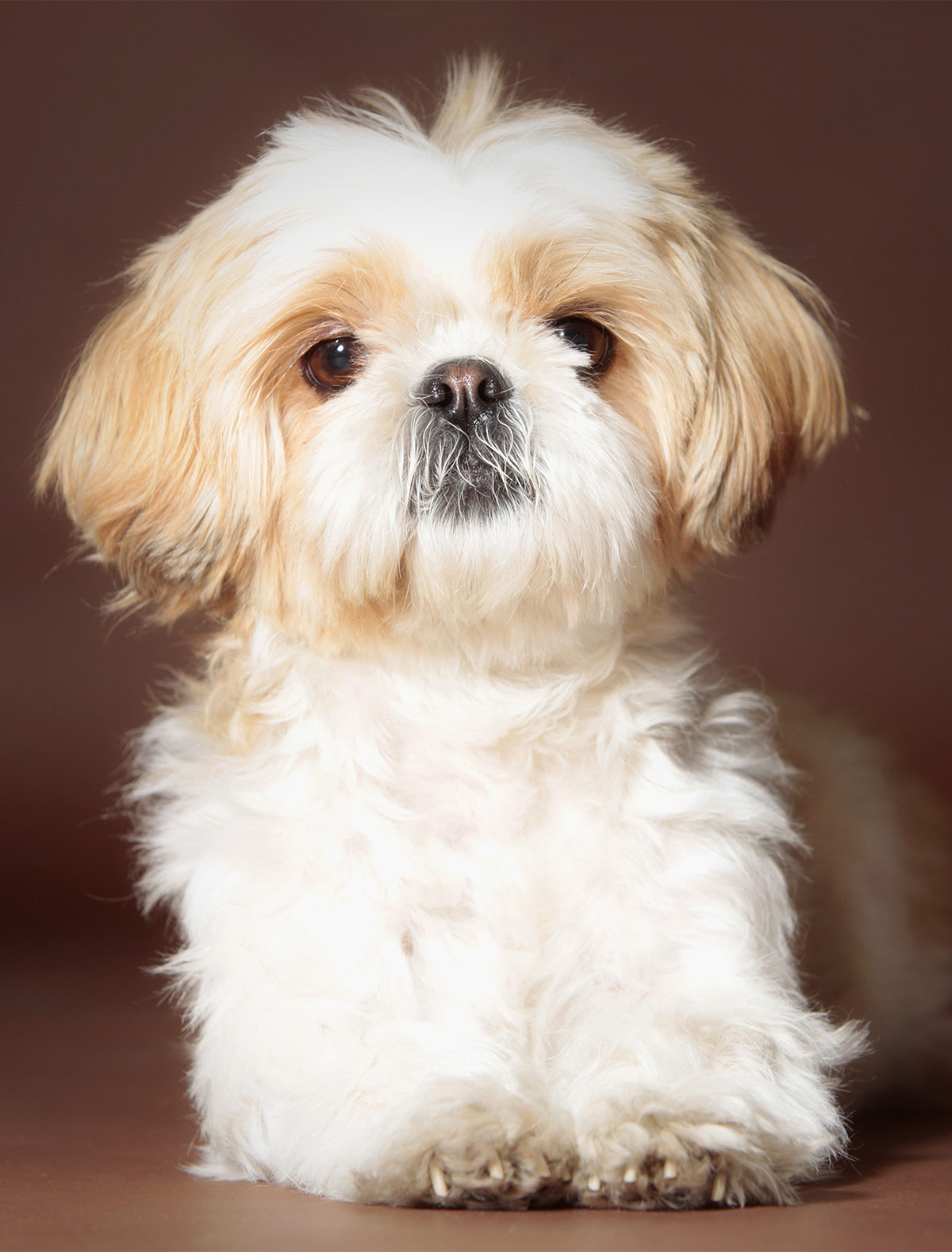 And, of course, there's their playful, mischievous nature and overall relaxed, home-body lifestyle.
Here are some funny Shih Tzu names, some obvious, some not so obvious.
Princess
Duchess
Queenie
Baroness
Diva
Starlet
Sparky
Riff-Raff
Crusher
Rascal
Devil
Doofus (my personal favorite!)
Wrecker
Dasher
Snappy
Speedy
Scoundrel
Imp
Goofy
Giant
Chief
Wacky
Kooky
Daffy
Nutty
Oddball
Funky
Shaggy
Tiny
Bouncer
Friendo
Scoundrel
Best Shih Tzu Names
Finding the right name for a new pet can seem intimidating, and understandably so.
It is an important decision for both you and your pet, since there are no take-backs once your pet has become accustomed to their new title.
With Shih Tzu names in particular, there are many different directions to go because it is such a unique, distinctive breed.
Having many options can quickly turn into having too many options.
In this article, we've done our best to provide a break-down for some basic naming categories, in the hopes of narrowing down what you're looking for in a name, or even the exact name you want to use.
If you're still drawing a blank for naming your Shih Tzu, you should consider looking to your favorite movies, TV shows, books, video games, and the like, for further inspiration.
We hope this article has provided you with several good ideas, or even the one perfect idea for naming your Shih Tzu.
If you are planning on bringing home a Shih Tzu puppy, make sure you check out our complete guide to the breed here.
And that you know what the right food is going to be for your new friend too!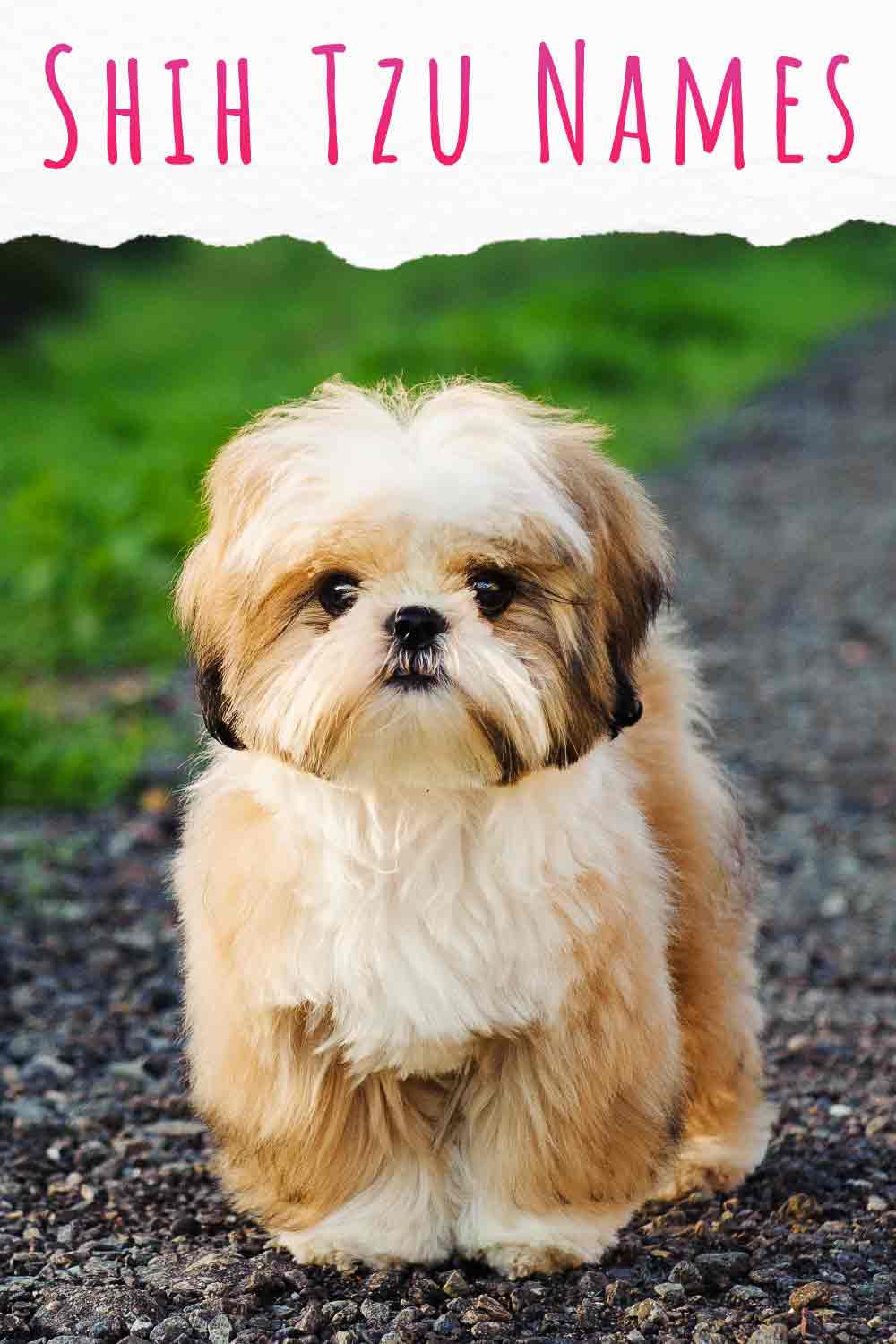 References