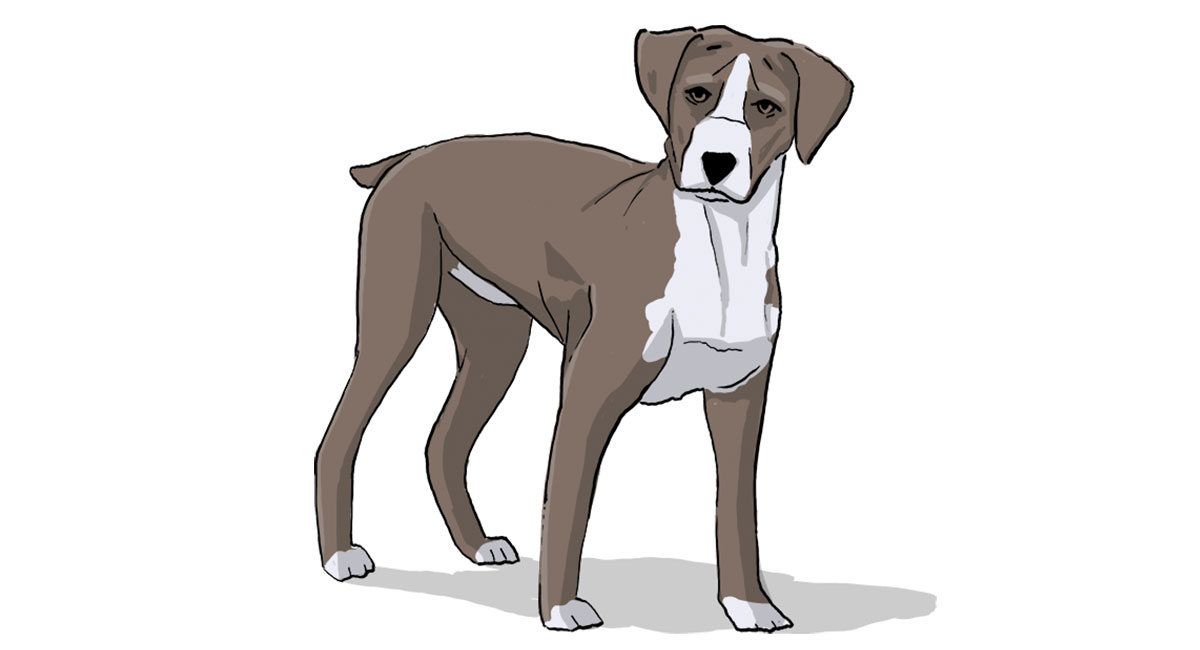 The Treeing Cur is a hunting and farming breed from North America. Although they are well-known hunters, they make loyal family pets for an active home too.
This dog has multiple skills and can herd large livestock and hunt down the smaller game. They are bred for their hunting ability, not appearance, making their breed diverse in the way they look.
Used for hunting squirrels, raccoons, wild boards, bobcats, mountain lions, and bears, they are intelligent and responsive.
The Treeing Cur can make a great family pet, but is it right for your family? Let's find out!
Where Does the Treeing Cur Come From?
The Treeing Cur is a great all-around working dog. Be it on a farm, a hunting companion or a family pet to hike with, this dog is happy working hard with its owner.
Originating in rural areas in the US, the dog was normally owned by those in the working class. The original breeders focussed on performance instead of looks. It became a recognized breed 1998 by the UKC in the scent hound group.
Treeing Curs are thought to have a mix of different hounds, terriers and other working dogs.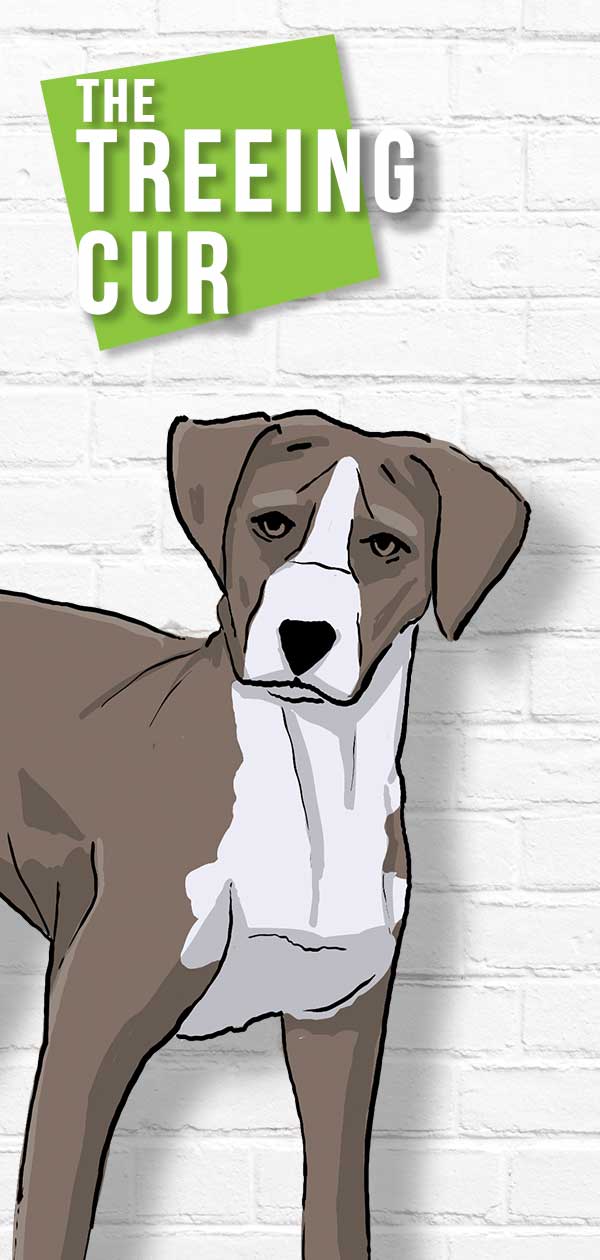 Appearance
The Treeing Cur is one of the most varied breeds in terms of appearance. All colors are acceptable, including brindles. The only color not accepted in the show ring is albino.
They generally stand between 18-24 inches tall at the shoulder and can weigh anywhere between 30-60 lbs. These are dogs that are well-muscled, with strong backs and legs. They have wide heads with a medium-length muzzle.
Brown eyes are preferred, but they can have blue, green or yellow eyes also.
They have a short, thin, straight coat.
Temperament
Treeing Cur are bred to hunt, herd and guard. This is exactly what they are bred do and do it well. You need to be a confident, competent owner to make the most out of your Treeing Cur.
If you are looking to have a combined working dog and family pet, then the Treeing Cur must be socialized to children at a young age. They are usually affectionate towards children and their own family.
Due to their innate ability to hunt small game, Treeing Cur would not be suited to life with another small fluffy animal. But Treeing Curs will get along with other dogs providing the correct socialization has taken place at a young age.
Treeing Curs are working dogs and need to be treated as such. If you are planning on owning a Treeing Cur, then you must be prepared to train the dog and provide hours of mental and physical stimulation.
This breed has a tendency to become overly protective of their home and family and will aggressively guard if not correctly trained from a pup.
Training
It is absolutely essential to train your Treeing Cur from the moment you bring them home. This breed, without training, can become overly guarding and antisocial towards people and other dogs.
All puppies require potty training, and this is best started from day one.
The sooner you start training your puppy the easier it will be. When they are a pup, start with basic commands such as 'sit' 'leave it' and 'stay'. Once the pup has mastered this, continue onto advanced commands necessary for their working life.
Once your pup is 4-6 months old, you can begin hunt training with dead squirrels. Reward for showing interest or barking.
Training Tips
It will be worth your while to train them to know a command like 'relax', for when they are up and guarding people you know. It will be a lot easier to teach this to a puppy than an adult dog which has developed a strong guarding behavior.
Be careful to avoid using aversive based training as it may cause a welfare issue, according to research published in 2017.
Treeing Cur have high exercise requirements and will run, herd and hunt all day. They need to be worked and can't just be left in a yard all day to self-exercise.
Health
Unlike many purebred breeds, the Treeing Cur has been bred for its hunting ability instead of appearance. This means the dog is generally healthy, doesn't have any breed-specific health concerns and has good skeletal conformation.
Occasionally a Treeing Cur will suffer from blindness, deafness or albinism. Check out this 2003 article on hereditary deafness in dogs for more information as to why it happens.
Their expected lifespan is 11-13 years.
The Treeing Cur has a short coat that is easy to maintain. If they become dirty from working, a hose off and quick brush will do. Bath them occasionally if needed. Don't bath them too often as it will ruin their natural hair oils and skin protection.
Their nails will need clipping regularly, and teeth will need maintaining with bones, dental sticks or regular brushing.
Best Diet
The Treeing Cur, if working, will need extra calories to compensate for the energy exerted while working. A high-quality, grain-free kibble with the correct amount of nutrients for a working dog will suffice.
If you plan on working your dog in hot weather, you may also need to give electrolyte supplementation to ensure they don't become dehydrated. As with all dogs, always provide access to fresh drinking water at all times.
Feeding a working dog on a raw diet is not usually recommended, as they will have to eat a lot of food to consume enough calories to work. But raw snacks and meal supplements to make mealtimes more engaging and mentally stimulating are a good way to occupy their busy mind.
Do Treeing Curs Make Good Family Dogs?
In short, yes.
But this recommendation comes with conditions. Providing the Treeing Cur gets plenty of exercise, correct training and socialization, they will make a great family companion. They are not suited to suburban living and will require at least 75 mins of hard activity each day.
Rescuing a Treeing Cur
Rescuing an older Treeing Cur is ideal if you would like a dog that is already trained. Start by contacting your local animal shelters to see if they have a pup looking for a home.
Finding a Treeing Cur Puppy
As with all purebred dogs, you need to find a registered breeder. Ideally, you'd like to see both the mother and father at the location where they were bred.
Always collect your puppy from the breeder and check over the premises to avoid buying a puppy from a puppy mill.
For more information, visit our puppy search page to help you find your perfect, healthy Treeing Cur.
Raising A Treeing Cur Puppy
Like any puppy, the Treeing Cur will need basic puppy training and then more advanced training for adult commands. Treeing Cur puppies will require specialist care, nutrition, and monitoring to ensure they mature healthily as working dogs.
The Treeing Cur will learn quickly through firm positive reinforcement, by rewarding and giving treats. This means giving a reward for the correct behavior and giving a firm 'no' for incorrect behavior. Reward-based teaching increases the rate of learning, as highlighted in this 2011 study.
As puppies grow and mature, they have different training and developmental stages.
Pros and Cons of Getting A Treeing Cur
Cons:
Can guard aggressively
High exercise requirements
Not ok to live with small animals
Pros:
Great working dog
Intelligent and trainable
Great active family pet if socialized
Similar Breeds
The Treeing Cur is a great working dog and family farm companion. If you are not sure about some of their qualities, then there are other breeds we would recommend.
Consider raising an Australian Shepherd puppy if you are looking for a herding dog that is more family or small pet-friendly.
If you are looking for an active hunting dog, then any gun dog breed like the Labrador Retriever, Golden Retriever, Irish Red Setter, or a working Spaniel may be better suited.
A German Shepherd or a German Shepherd cross are guard dogs without the high exercise requirements. All guarding dogs need to be well trained from a puppy to ensure they don't guard or attack at the wrong time.
Male dogs of most breeds will guard naturally, more so than female dogs.
Treeing Cur Rescues
There are no specific rescues for this breed. Check your local animal shelters first. For national shelters see below:
If you know of any Treeing Cur rescues, let us know down in the comments section so we can add it to the list.
Is A Treeing Cur Right For Me?
This is a loyal, active working dog which can also make a great family pet.
If you are a busy family, with little active time, living in suburbia, then the Treeing Cur is not for you.
If you own a family farm and need a canine hand to herd livestock or hunt game, but also want a dog to relax with by the fire, then this breed is a perfect match.
Do you own a Treeing Cur? We'd love to hear about them in the comments below!
References and Resources