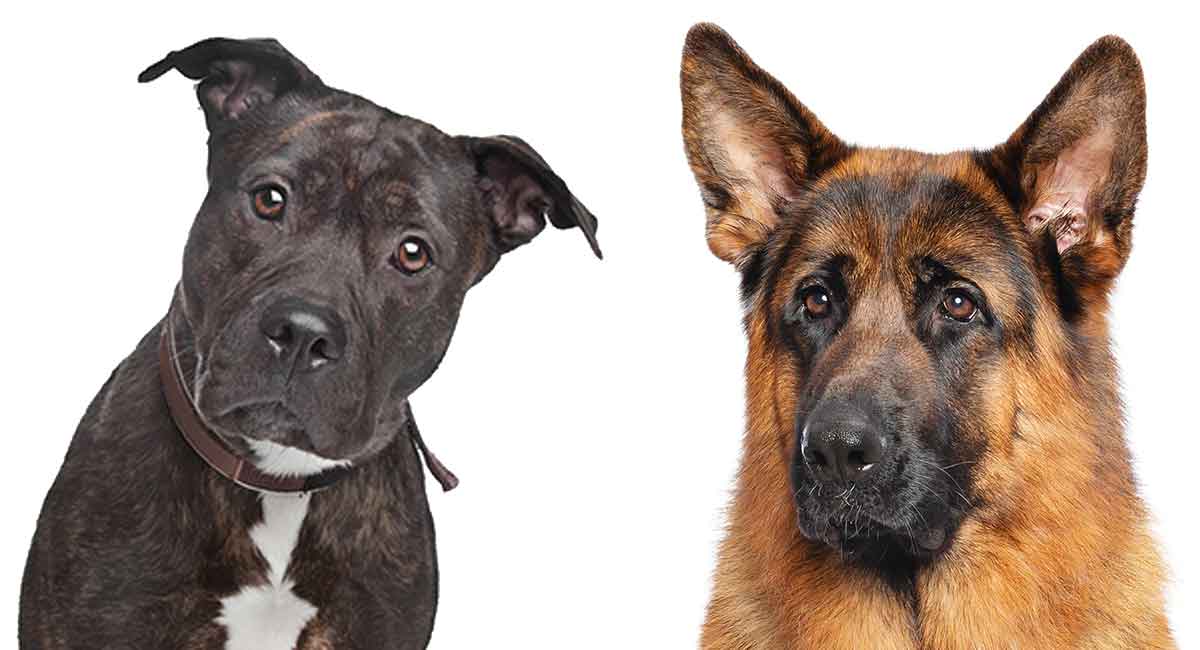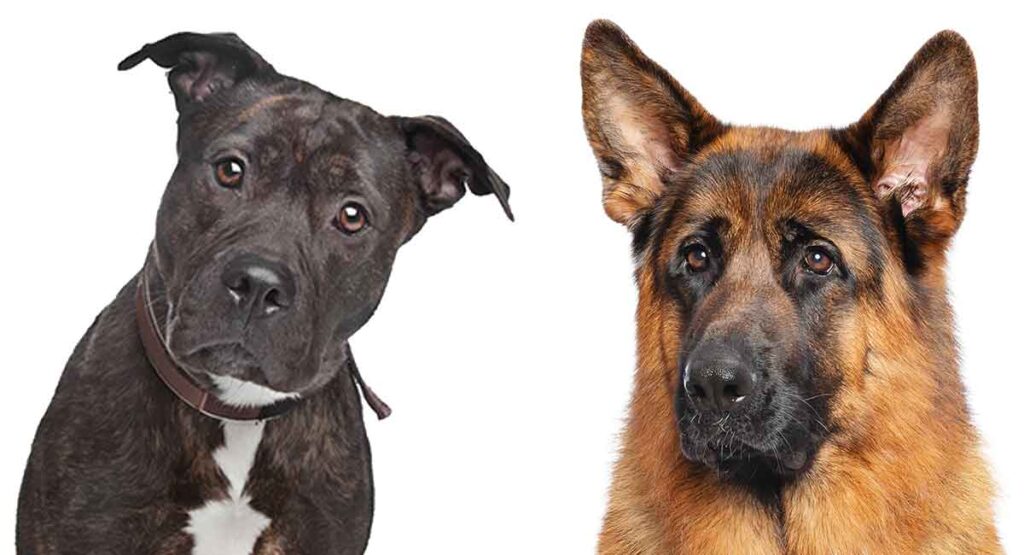 German Shepherd Pitbull mix dogs are affectionate, loyal, protective, and devoted to their families. A designer cross between a purebred American Pitbull Terrier and German Shepherd Dog, they are known as German Sheppits, Shepherd Pits or German Pits.
These bold, confident dogs are naturally protective and great watchdogs. Although there is some stigma around their tendency toward aggression, the German Shepherd Pitbull mix can be friendly provided they are socialized thoroughly, positively trained, given plenty of exercise and treated well.
Contents
Brave, playful and incredibly agile, this high energy hybrid's ancestors were intelligent working breeds, excelling at herding, guarding, bull baiting and fighting. They are still prized working dogs on ranches or farms, but can fit well into active families with older kids.
German Shepherd Pitbull mix puppies need lots of socialization, training and exercise. They require regular grooming despite their short coat, and can suffer from separation anxiety if left alone. However, when you give them everything they need, this mix can be an amazing companion for experience dog owners and working dog trainers too.
German Shepherd Pitbull Mix History
The parent breeds of this cross have interesting origins. A member of the herding group, the German Shepherd was developed with the hopes of creating the perfect herding and service dog.
Because of the cold and wet European climate, the German Shepherd had to be very hardy to handle long days in often brutal conditions. The German Shepherd was eventually recognized by the American Kennel Club (AKC) in 1908. At that time, it became popular with military, police, and service work.
Another native of Europe, the Pitbull hails from England, Ireland, and Scotland. Early Bulldogs and Terriers were crossed to create an athletic, bold dog primarily used for hunting. Specifically, these early "Pitties" were used for bull baiting, until it was banned in 1835. This is a practice where the dog would grasp a bull, bear, or other large animal around the head.
Today, Pitbulls are still very agile dogs that make excellent contestants in agility, weight pulling, and tracking tests.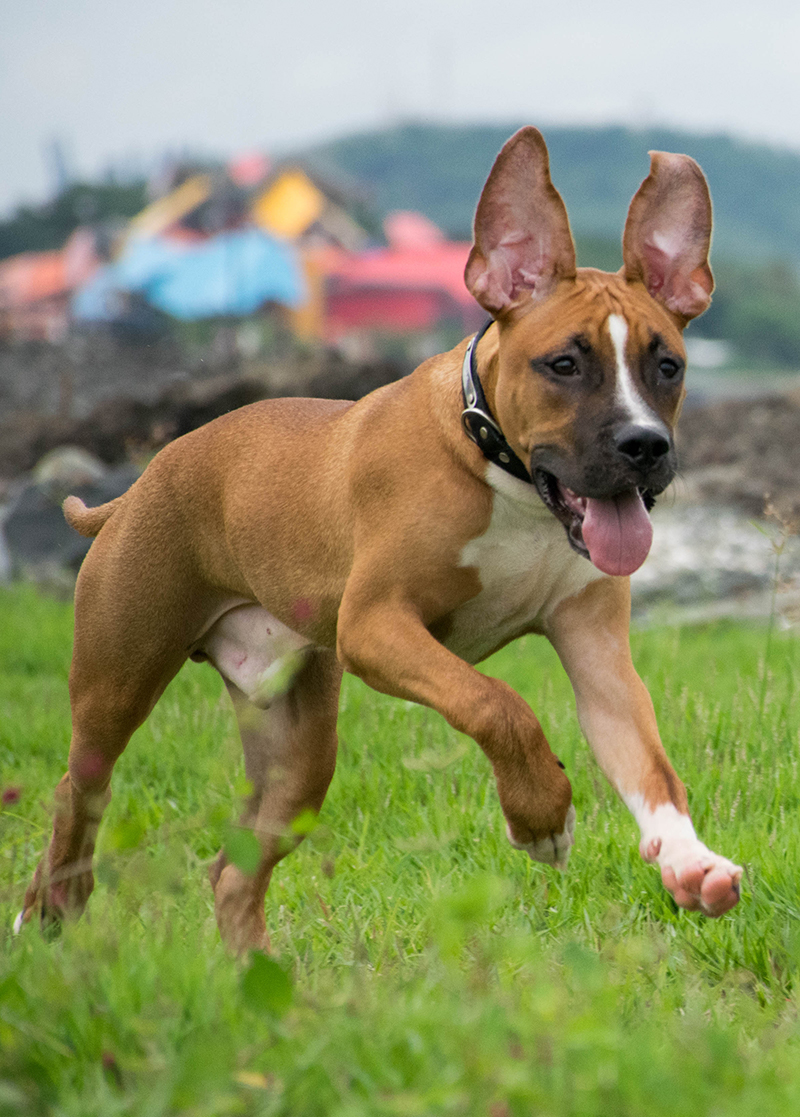 What Do German Shepherd Pitbull Mixes Look Like?
This mix will be tall with a medium build and a coat that will range in length from short to long, depending on their parents. They will have a relatively long muzzle, dark eyes, a long tail and pointed ears.
The German Shepherd Pitbull mix is probably going to be a large dog. You can expect a German Shepherd-Pitbull hybrid to grow up to 17–24 inches tall at the shoulder.
If a hybrid puppy takes after its German Shepherd parent, then they may mature to between 80 and 90 pounds. When they more closely resemble their Pitbull parent, then they may reach anywhere from 30 to 60 pounds.
Coats and Grooming
With mixed-breed puppies, you can't know for certain what their coat length or color will be. You can, however, make an educated guess based on their parents' characteristics as well as the general appearance of the parent breeds.
Additionally, hybrids may look more like one parent than the other, or they may appear to be a lovely mix of both parents. It's really a roll of the dice!
Similarly, a German Shepherd Pitbull mix may inherit the German Shepherd's medium-length double coat (a soft undercoat below a rough top coat). On the other hand, they may inherit the Pitbull's short and somewhat stiff coat.
If your mixed pup inherits the German Shepherd's double coat, they will need weekly brushing and a bit more during shedding season. However, the Pitbull's short and smooth coat could just use an occasional brushing.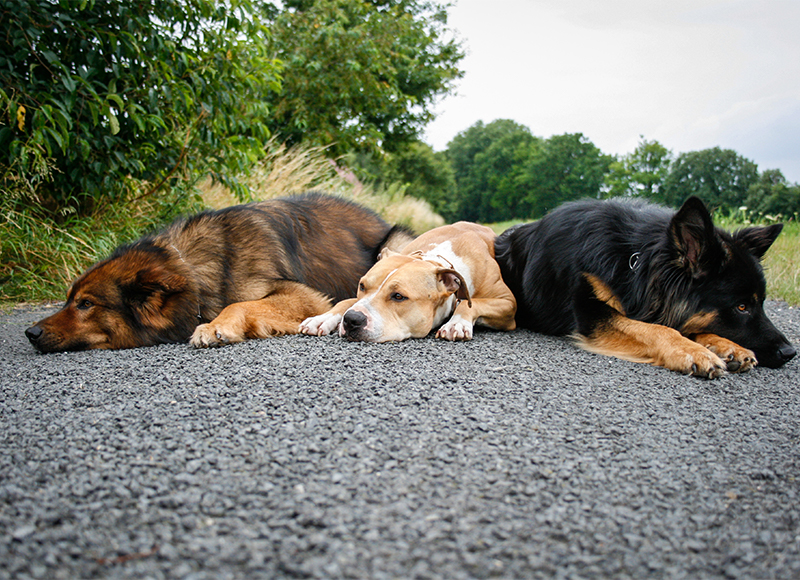 German Shepherd Pitbull Mix Temperament
Unfortunately, both the German Shepherd and Pitbull come with negative stereotypes. Both breeds are commonly associated with territorial aggression and biting, both of humans and other dogs.
Of course, with mixed breeds, you cannot say with much certainty how much the offspring of two purebred dogs will take after their parents. This goes for looks, health, and temperament. German Shepherd Pitbull mix puppies are no different.
In this instance, a major concern is how much of the Pitbull's temperament the offspring will inherit. So, let's first take a look at these purebred parent dogs individually to understand the temperament that your dog might inherit.
Are German Shepherd Pitbull Mixes Aggressive?
The Pitbull was first bred to fearlessly attack large animals and later to work, hunt and protect. This means that they are strong and agile enough to chase after such animals as cattle and hogs. Also, if needed, they can grasp and hold a moving animal with their powerful jaws.
Because of this, it's possible that a German Shepherd Pitbull mix can inherit the Pitbull parent's urge to chase or attack other animals. They can also be territorial.
However, more than 20% of Pitbulls, Akitas, and Jack Russell Terriers in the study were more likely to show increased levels of aggression toward strange dogs. Furthermore, fewer Pitbulls in the study had attempted to bite their owner or a strange human than those who had attempted to or had attacked a strange dog in the past.
Socialization
As we mentioned earlier, proper training and socialization with other dogs and humans from an early age can help to prevent a puppy with German Shepherd lineage from developing aggressive behavior later in life.
Training your German Shepherd Pitbull Mix
Since Shepherd Pitts are especially prone to hip dysplasia, you'll need to take extra precautions to ensure that your dog doesn't become obese. This is especially important if your dog has hypothyroidism in its genes. You'll need to plan for daily walks, play time, and off-leash exercise.
Additionally, both Pitbulls and German Shepherds are working breeds that are high energy. It's therefore best to keep them where they can play and run in a yard. They won't be happy living in a small apartment or spending long periods in a dog crate.
German Shepherd and Pitbull Health
Your puppy has the potential to inherit the following conditions from one or both of their parents:
Allergies – Allergic reactions to pollen, mold, and dust cause itchy skin on the feet, belly, folds of skin, and ears.
Hip dysplasia
Patellar luxation – When the knee cap pops out of place while the dog is in motion.
Hypothyroidism and subsequent dry skin – When the thyroid doesn't function properly, causing a lack of the thyroid hormone resulting in dry skin and coat, hair loss, obesity, and sometimes behavioral changes.
Zinc-responsive dermatitis – Dry, hairless, oozing skin on the face, nose, and/or foot pads due to lack of zinc absorption or lack of zinc in the diet.
Neuronal Ceroid Lipofuscinosis – Progressive nerve damage that results in weakness of the legs and sometimes blindness.
Progressive Retinal Atrophy (PRA) – An inherited disorder in which deterioration of the retina leads to eventual blindness.
Bladder stones –Pitbulls can inherit Hyperuricosuria. The urine is too acidic, which causes precipitation of solid masses called bladder stones or kidney stones (depending on where they form).
Lifespan
The average life expectancy of a German Shepherd is about 11 years. Similarly, the Pitbull typically lives between 11 and 13 years. This means that you can expect a German Shepherd Pitbull mix to live to be approximately 11 or 12 years of age.
Do They Make Good Family Pets?
If you're considering a Shepherd Pitt dog, you'll want to consider the following tips before making the decision to purchase one.
A Shepherd Pitt may mature to be a large dog with lots of energy. With the German Shepherd's intelligence and desire to work, they may also be a bit mischievous. They'll need a yard or large space to self-exercise in as well as multiple walks and play time throughout the day.
In addition to the energy outlet, exercise is also important for this hybrid due to the high probability of it developing hip dysplasia. This mixed breed may not require a lot of grooming if it inherits the Pitty's short coat. But if their coat is longer like the Shepherd's, then they'll need weekly brushing and more when shedding.
As mentioned, we do recommend socializing young puppies to strange people, children, and dogs, considering the Pitbull and German Shepherd's predisposition to territorial aggression. As a family dog, this hybrid may not be ideal for homes with young children or other dogs.
German Shepherd Pitbull Mix Puppies
A Shepherd Pitt from a breeder may range in price from $800 or more. Make sure that you meet both parents. They should be relaxed and confident around strangers, if not overly friendly. Make sure the breeder also shows you evidence of clear health test certificates.