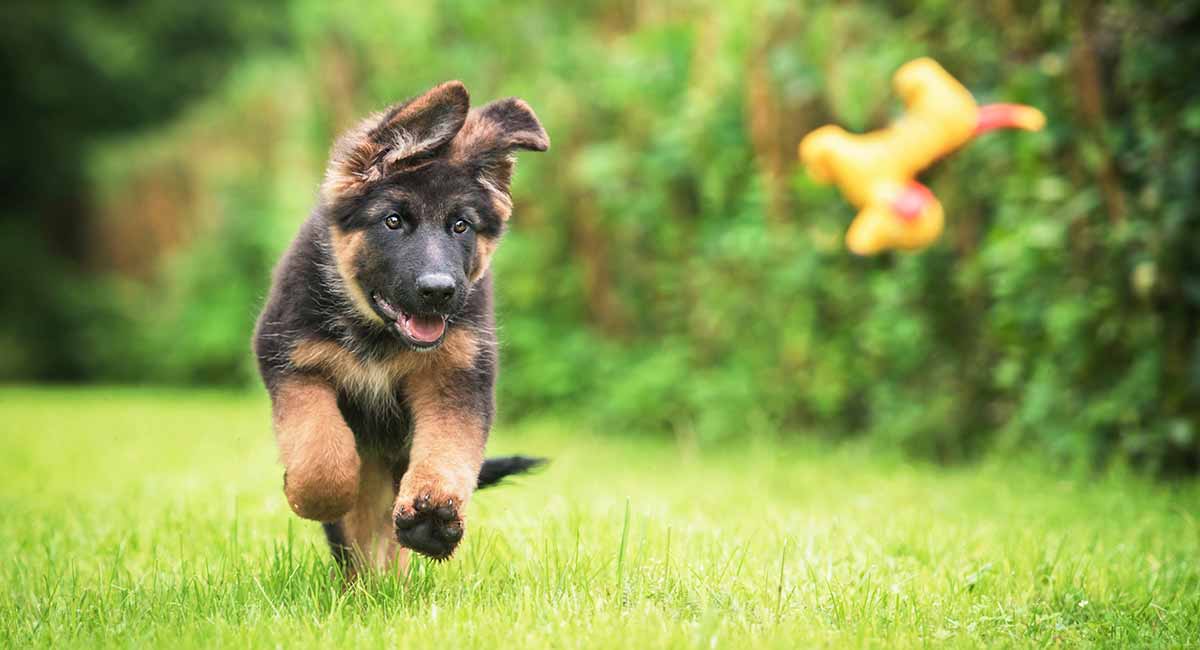 Herding dogs are some of the smartest dog breeds in the world. The herding dog breeds are mostly high energy dogs that love human company and need an active lifestyle.
We are all familiar with the popular Border Collie, star of the obedience ring and the agility circuit. However, there are some previously unusual herding dogs now reaching a wider audience.
What are herding dog breeds?
Every year the American Kennel Club (AKC) ranks 193 of the most popular dog breeds. There are many types of herding dog on this list – some of which you might not even have heard of before.
The AKC also recognizes a herding group of dogs, seperate from the working guard dog breeds. Herding dog breeds are those traditionally working dogs that have a strong instinct to control the movement of other animals.
Over centuries of selective breeding the natural instinct of these dogs to prey on cattle and sheep was minimized while maintaining their excellent hunting skills.
The herding impulse is so strong in these dogs that they may even gently herd their owners – especially the young children.
This strong instinct is also why scientists are using herding dogs, in particular, to map the genetics of behaviour. Because dog behaviour is so breed specific – even without training – they reason that there must be a strong genetic link.
Trending herding dog breeds
Many of the more familiar herding dogs breeds remain high on the AKC rankings. From the German Shepherd Dog, the Collie and the Border Collie to the pocket sized Shetland Sheepdog or Sheltie, a working sheepdog from the remote regions of Northern Scotland.
With the trend to urbanization the AKA rankings are showing that smaller dog breeds are becoming more popular. The stumpy-legged Corgis, bred for herding cattle, are going up rapidly in the rankings. A fast rising star is the recently recognized breed, the American Miniature Sheepdog, also called the Australian Miniature Sheepdog.
But there are many other types of herding dogs, bred either as sheep herding dogs or to herd cattle. We'll have a look at the 16 most popular herding dog breeds.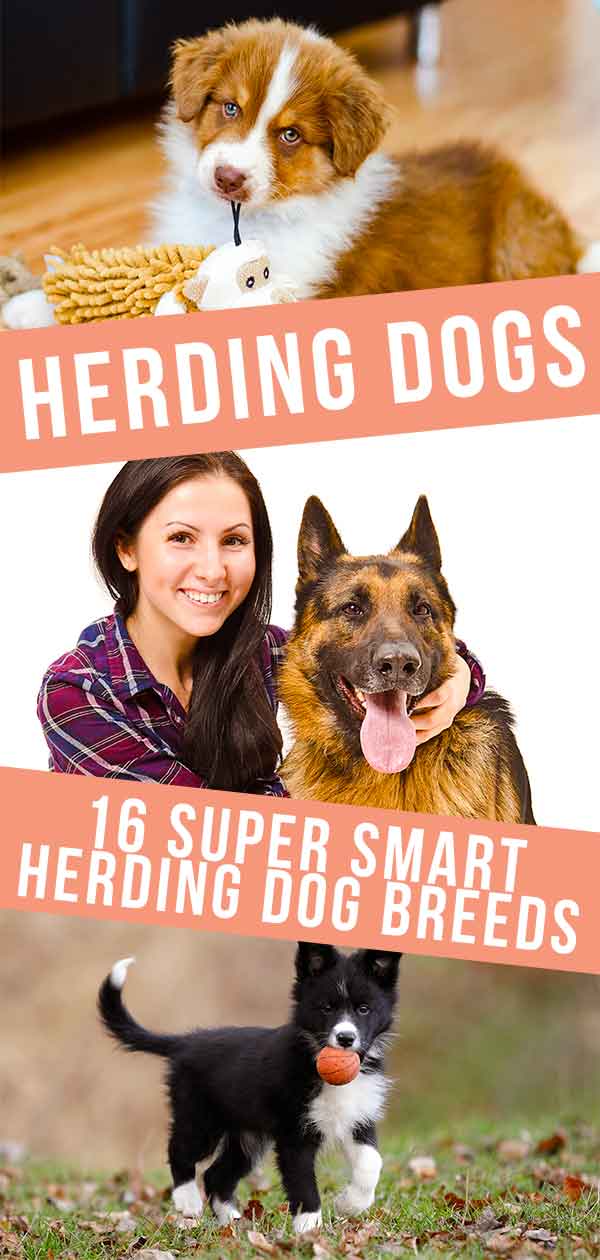 The most popular herding dogs
This list includes the top 16 herding dog breeds according to their AKC ranking. While you'll recognize some of the best known and most popular dog breeds there are also some rare and unusual dogs.
We'll start with the most popular and work our way along!
#No 1 The German Shepherd Dog
The most popular herding dog representative in the USA today is the German Shepherd Dog. It's the second most popular dog breed in the AKC rankings.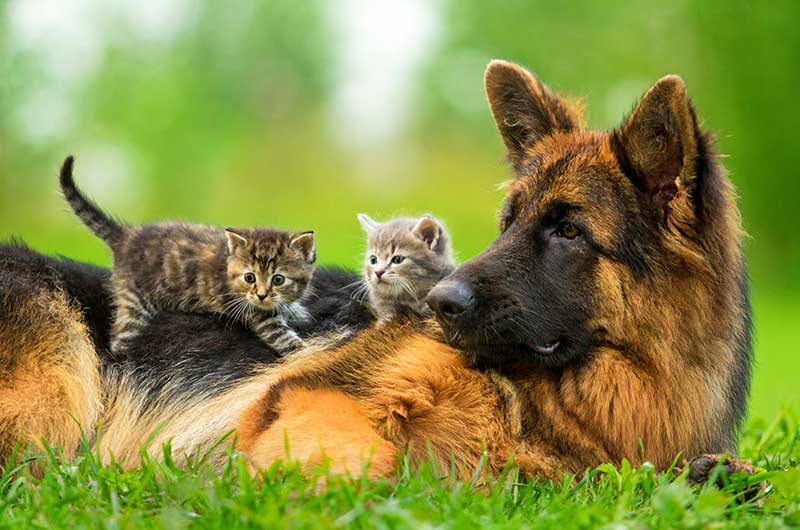 Known for its loyalty, intelligence and protective nature, the GSD is also one of the more controversial herding dog breeds. Concerns have been raised over the changing shape of the Shepherd and weakness in the hindquarters of some show dogs.
However, there are working GSDs with strong backs and hindquarters to be found in almost all regions, with the breed remaining a popular choice for military and police work across the world.
Below is a selection of our articles that include pictures and information about the German Shepherd Dog.
#No 2 The Pembroke Welsh Corgi
The Pembroke Welsh Corgi has jumped rapidly in the rankings to become the 13th most popular dog in the US.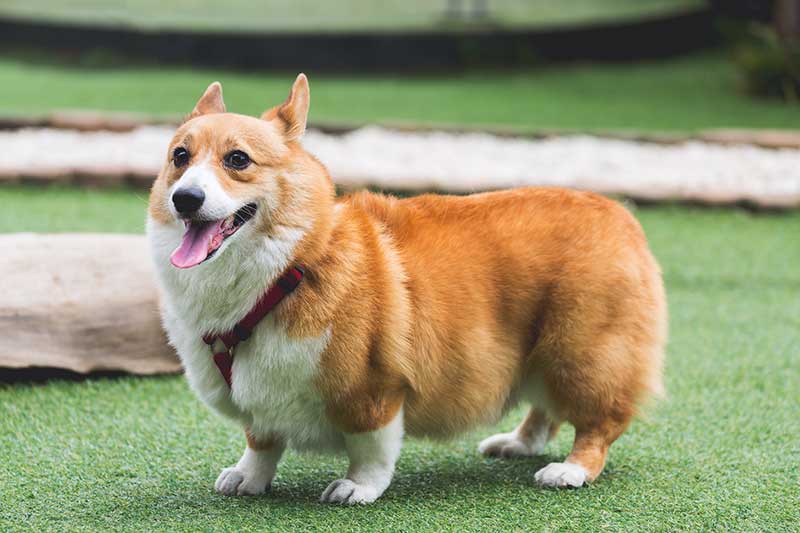 Corgis were bred for driving herds of cattle all the way from Wales to London, but these days they are more often kept as family pets. They're perhaps best known for being a favorite of the British royal family.
Pembroke Corgis are smaller and lighter than their Cardigan Corgi Cousins. They carry a gene that causes tail-lessness in some puppies.
Sadly, the Corgi's disproportionately long back and short legs predispose this breed to painful back problems.
#No 3 The Australian Shepherd Dog
Next in popularity is the Australian Shepherd Dog, ranking number 15 with the AKC.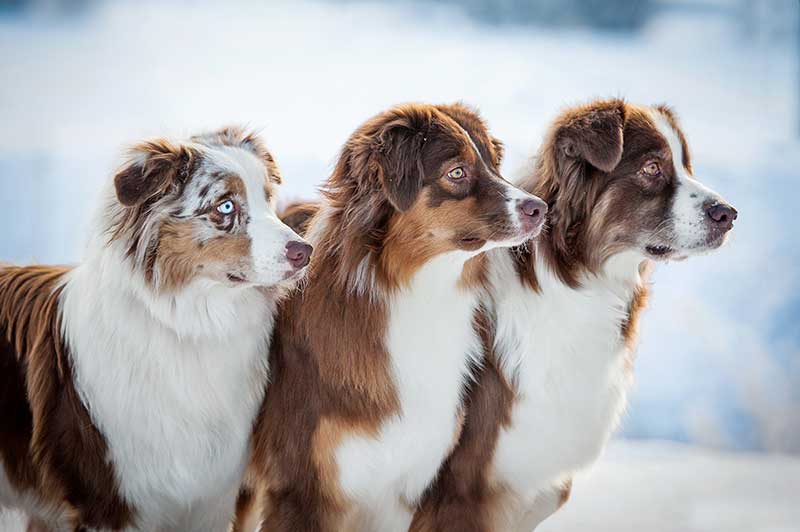 This Australian herding dog is an active, intelligent and strikingly beautiful sheepdog that has grown slowly but steadily in popularity.
The breed is still actively working in its native homeland, with its vast sheep and cattle farms.
You'll find more information about the Australian Shepherd Dog in these articles
#No 4 The Shetland Sheepdog
Affectionately known as the Sheltie, our fourth most popular herding breed and standing at number 25 in the dog breed popularity stakes overall, is the gorgeous Shetland Sheepdog.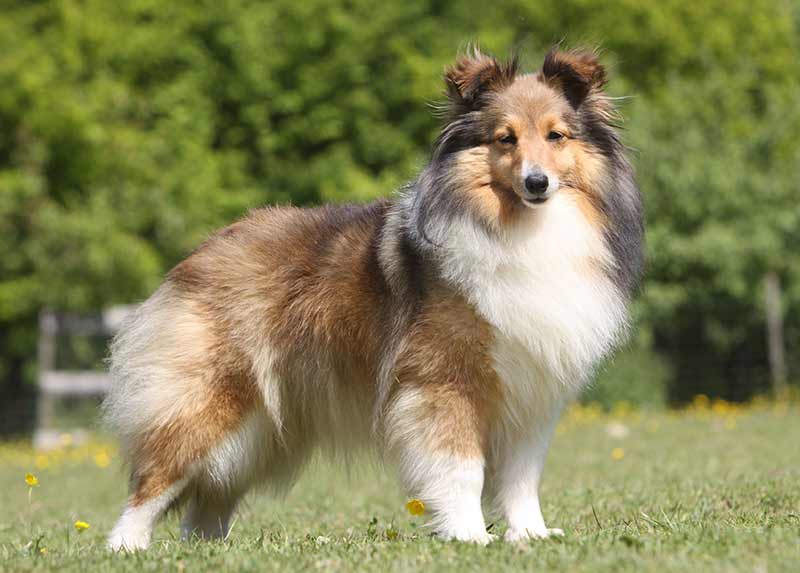 These sheep herding dogs with originally bred on the Shetland Islands Scotland. Looking for all the world like a miniature version of the Collie, this is a little dog with a big heart.
Smart and hard working, the Shetland Sheepdog is quick to bark and will warn you if strangers are about.
#No 5 The Miniature American Shepherd
This dog breed officially appeared on the AKC list in 2016 and by 2018 it had jumped to number 34.
This dog is trending in the US partly because of their smaller size. Some believe, however, that it's also because they've become a great hit on social media. They're very photogenic with their multicoloured coats and their eyes that are blue or brown – or one of each colour.
The Miniature American Shepherd was bred from the Australian Shepherd and is still often referred to Miniature Australian Shepherd. They were purposely bred in the 1960's by ranchers in California as smaller herd dogs.
Despite their small size, they're every bit true herding dogs – energetic, bright and loyal.
#No 6 The Border Collie
Border Collies need no introduction with their huge fan base in agility circles. These are bright working dogs that need a job to do or they can get into mischief.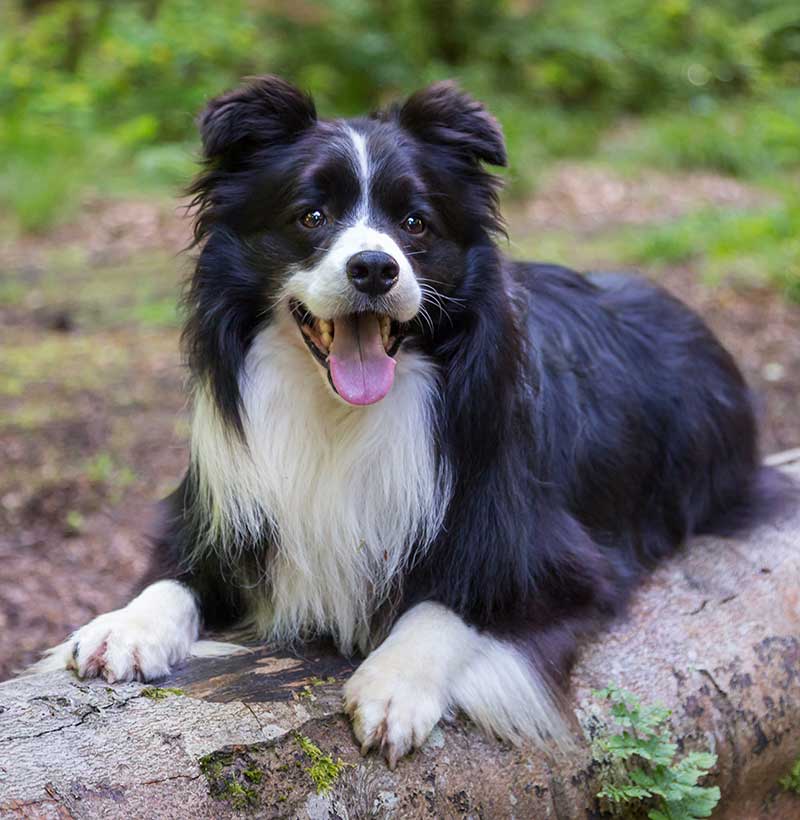 Border Collies are the 35th most popular dog breed in America overall, and are widely believed to be one of the cleverest dog breeds in the world.
These dogs were bred mainly as sheep herding dogs and originated from an area in Scotland which was right on the border with England – hence the name.
The following articles provide more information on this breed.
#No 7 The Collie
Collies (known as Rough Collies in the UK) come in at position 38 out of all dog breeds registered with the AKC, and are the seventh most popular herding dog breed.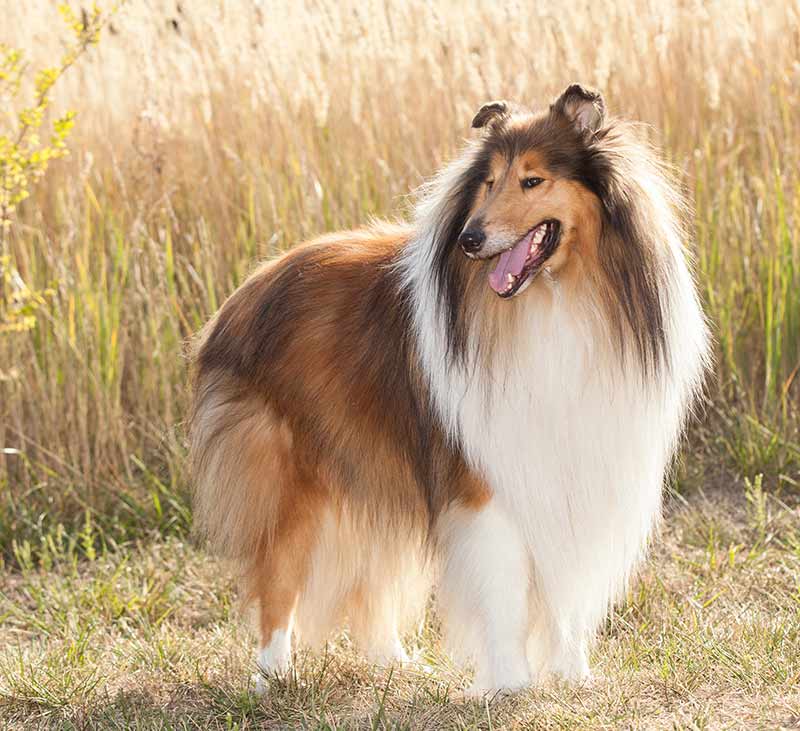 Collies are also of Scotch origin and this is where Queen Victoria fell in love with them. However, they really shot to fame – and popularity – through Lassie, the TV screen hero of the 1950s and 60s. Lassie was actually played by several different Collies.
This is another smart, easy to train breed that loves to please their owner.
#No 8 The Belgian Malinois
The Belgian Malinois at number 43 in the AKC's breed list is becoming increasingly popular not only as a pet, but also as a service dog and a competitor in working trails.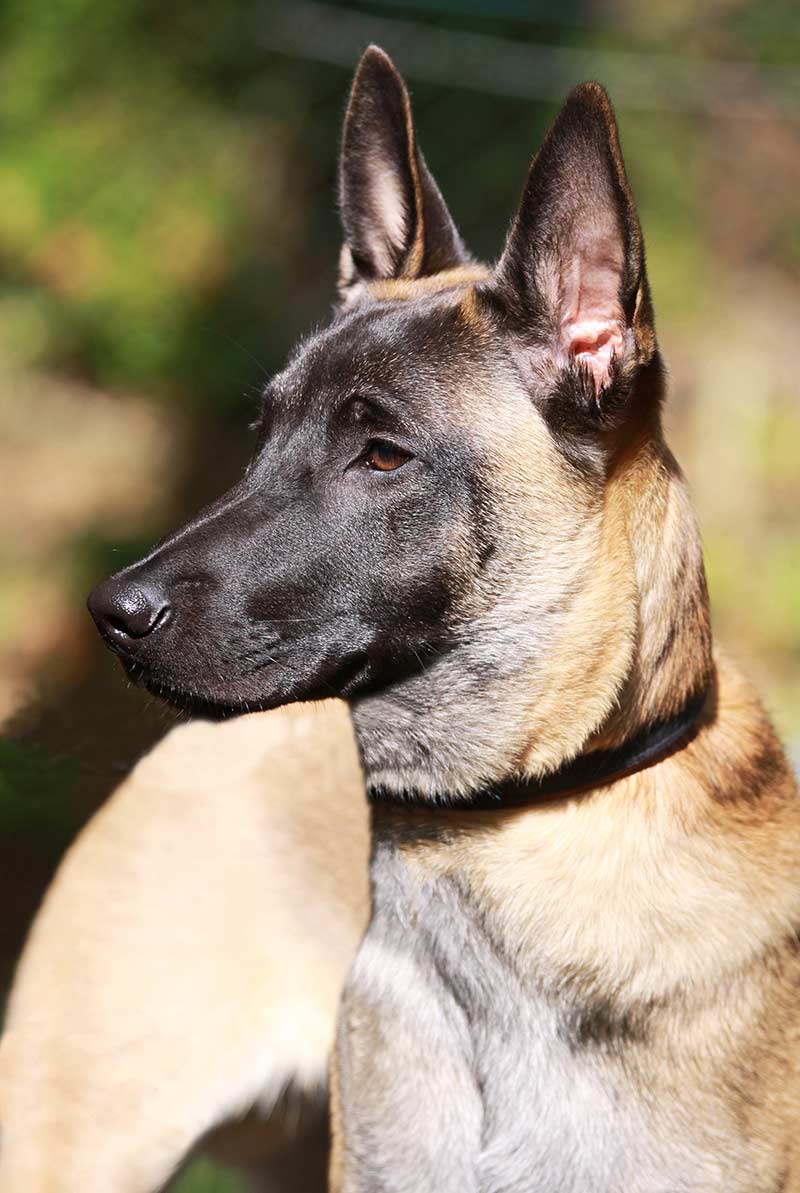 Similar in some ways to the German Shepherd, the Malinois has a better conformation with strong hindquarters and is replacing the GSD for service work in some regions
#No 9 The Blue Heeler
The Blue Heeler, or to give the breed it's formal name – the Australian Cattle Dog – is our ninth most popular herding breed.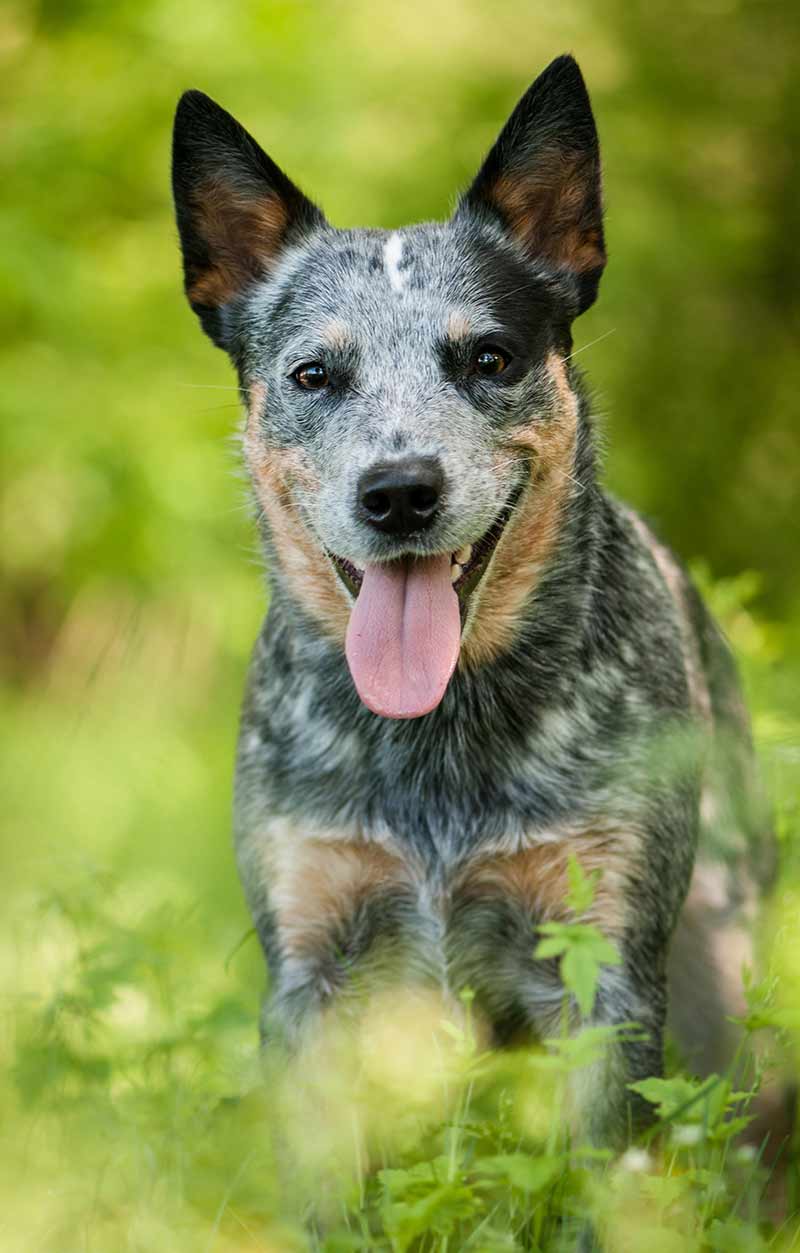 This Australian herding dog was bred for driving cattle in the harsh conditions of the Australian Outback. It's a tough and resilient dog with a sharp brain and a huge fan base.
The Blue Heeler is also a dog with a great conformation. Upright ears help keep ear infections away, and a balanced well proportioned body is great for strength and speed
It's a breed that also has Dingo blood running through it's veins! You can find out more about the origins and characteristics of the fascinating Blue Heeler in the links below.
#No 10 The Cardigan Welsh Corgi
The Cardigan Corgi, currently 68th on the AKC rankings, has also jumped up a few places in recent years.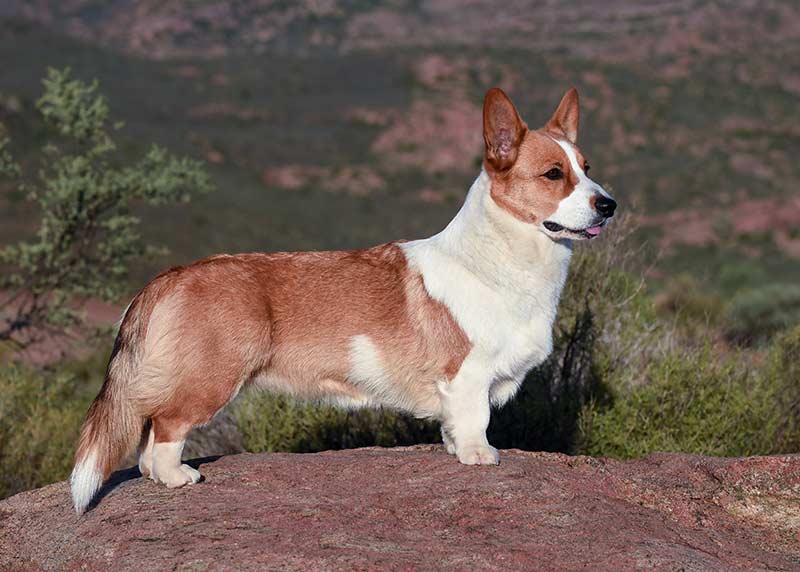 These short legged cattle herding dogs are a larger, sturdier version of their Pembroke cousins. They have bigger ears and their tail is held low and not high over their back as in the case of their Pembroke cousin.
#No 11 The Old English Sheepdog
The shaggy Old English Sheepdog is our eleventh most popular herding dog and currently comes in at number 72 on the AKC ranking list of dog breeds.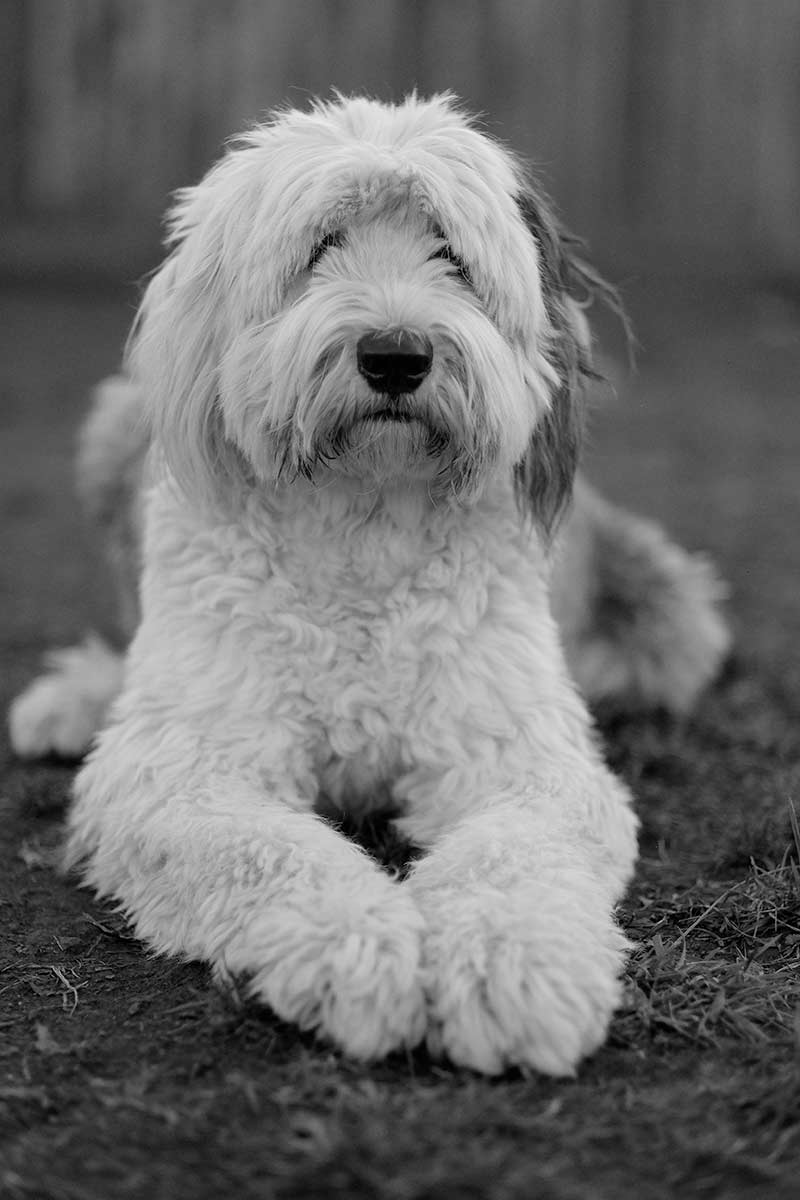 Famous in the UK for featuring in a popular TV advert for Dulux paint in the 1970s, this hairy herding dog is sometimes still known there as a Dulux dog.
This is not a breed for those that want a dog with a 'wash and go' coat. The Old English Sheepdog needs regular, thorough grooming or clipping to avoid matted fur.
#No 12 The Bouvier Des Flandres
Next, in twelfth place, we have one of the big boys! The Bouvier De Flandres, listed at number 84 by the AKC.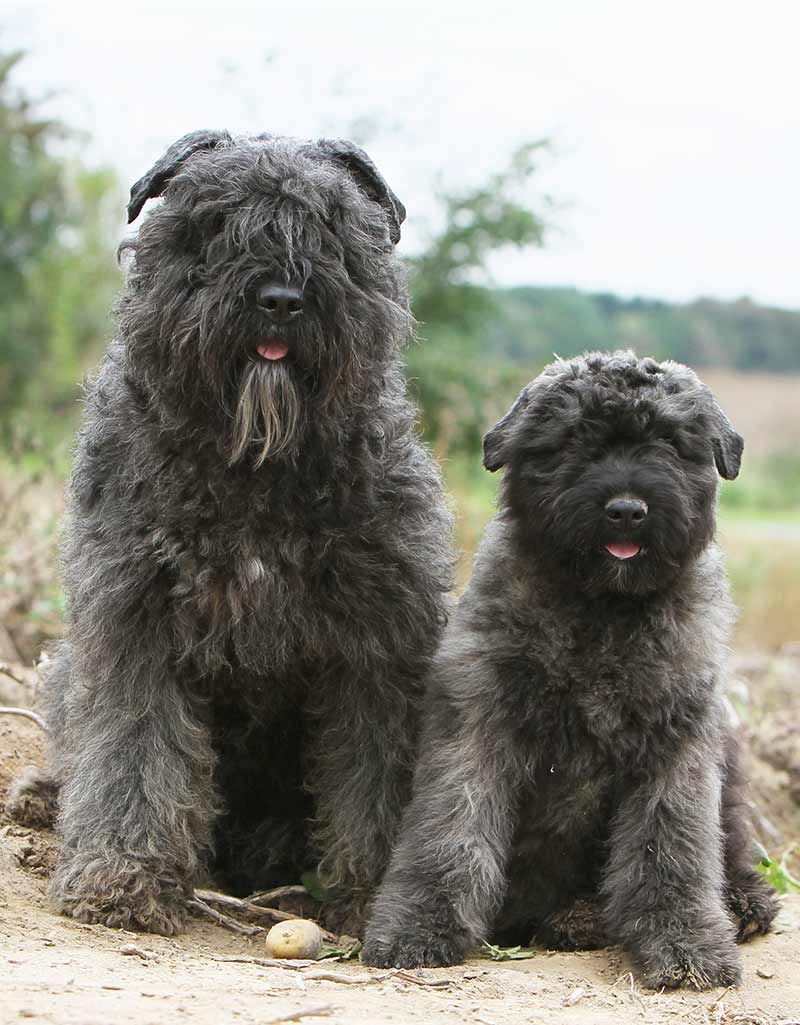 One of our largest herding dogs, this all purpose farm dog that can reach heights of 27 inches or more. It originated from parts of Belgium and France.
Like the Old English Sheepdog the Bouviers is a shaggy breed that needs thorough grooming.
In some regions you'll find breeders that still crop the ears of these dogs, but in most areas we are thankfully moving back to the natural ears that you see in this photo.
#No 13 The Belgian Tervuren
Next up on our herding dogs list, and number 106 on the overall dog breed rankings, is the Belgian Tervuren.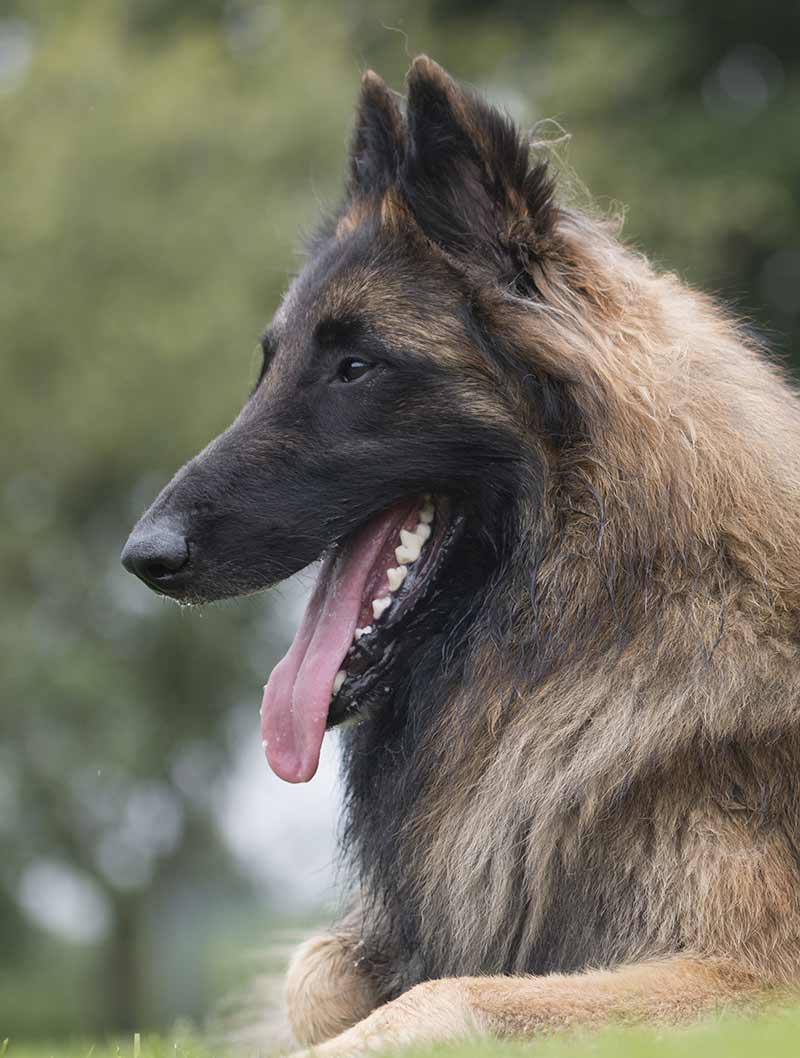 This striking and courageous dog is essentially a long haired version of the Malinois with a beautiful long silky coat in a rich fawn or red color. These dogs originate from a Belgian village of the same name.
The Tervuren has a dark mask and ears sometimes spreading down over the shoulders and beyond. A further distinguishing feature is the "collaret" around its neck.
#No 14 The Beauceron
Coming in at 124 in the AKC popularity stakes the Beauceron, like the Bouviers De Flandres, is another very tall herding dog.  But the similarity ends there.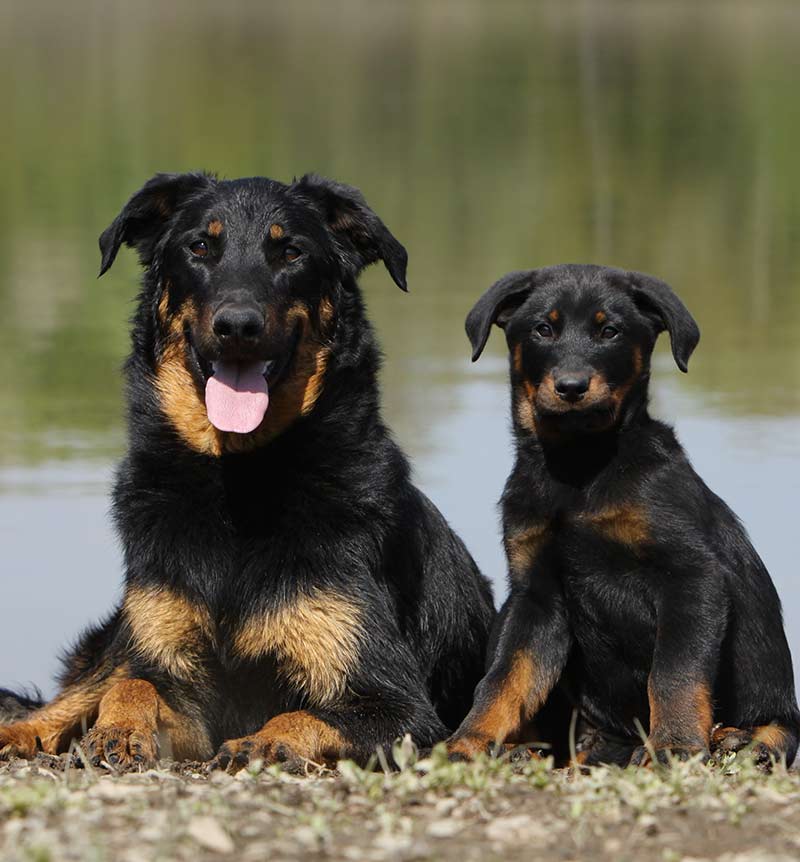 The powerful Beauceron has a neat, shortish black coat with red accents, including red feet. Their breed name comes from their French nickname Bas-Rouge, which means red stockings.
#No 15 The Belgian Sheepdog
The Belgian Sheepdog is at number 125 on the list of most popular dog breeds in the US.
Described as bright-eyed and bushy tailed, this dog is a long haired, black version of the Malinois.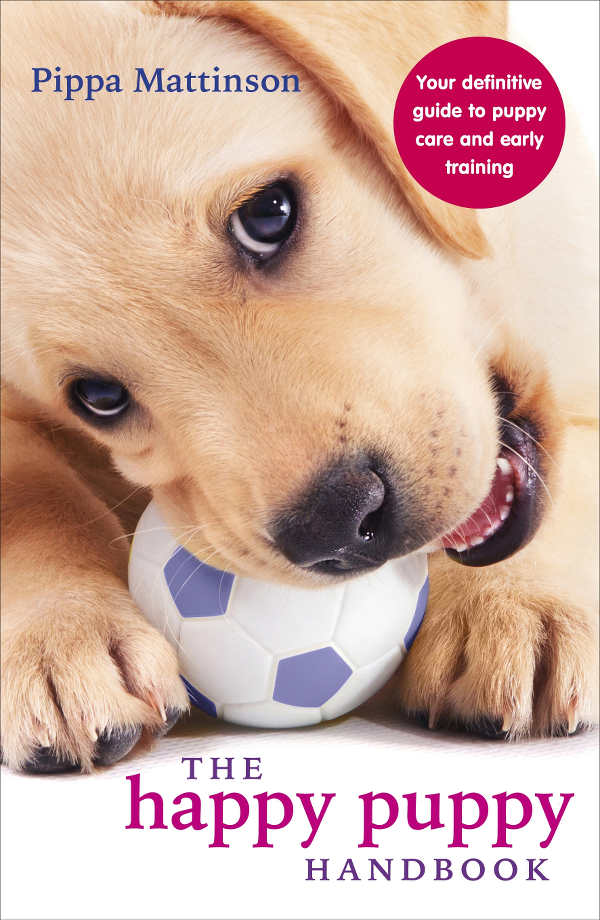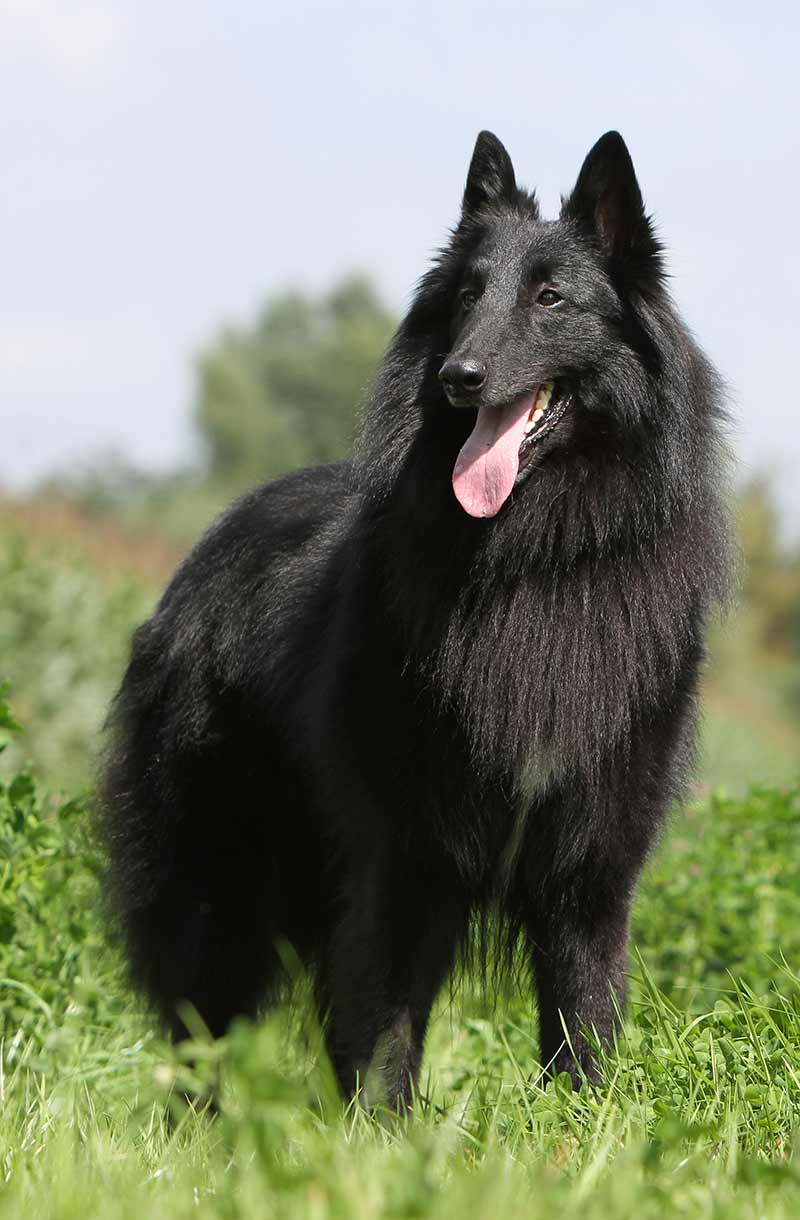 The Laekenois, the Malinois, the Tervuren and the Belgian Sheepdog were once a single breed.
These are all intelligent dogs popular with obedience and working trials competitors.
#No 16 The Bearded Collie
The last on our list of the most popular herding dogs is the medium sized Bearded Collie. Currently at number 127, this dog has also gone up in the rankings in recent years.
It resembles a leaner, lighter version of the Old English Sheepdog.

The bearded collie is a relatively old breed from Scotland, described as amusing, boisterous and independent.
Herding Dogs – behavior
There are two different types of herding dog maneuvers.
Some of our herding dog breeds are used to drive livestock forwards and to keep them on the move. These dogs include the cattle dog breeds.
Their behavior often includes a tendency to nip or bite at the heels of the animals they're herding. Sometimes they display this characteristic with their owners, but fortunately they can unlearn this behaviour because they're so highly trainable.
Then there are the dogs known as headers. They instinctively 'round up' livestock and move them towards their human partner. They circle the herd and stop and turn them around from the front by staring them down.
This is the behavior which we find so valuable in our sheepdog breeds and which we mostly see when we watch sheepdog trials.
Herding dog breeds, like gundogs, have been bred for generations to work as a team with their human handler and to take directions at a distance. This is why they're some of the most intelligent dogs and loyal dogs on the planet.
Sheep herding dogs are often intensely busy dogs and prone to obsessive behaviors if their emotional need to work and solve problems is not satisfied.
Some of our herding breeds were also once used to guard and protect livestock, and may have well developed guarding instincts that need to be properly managed.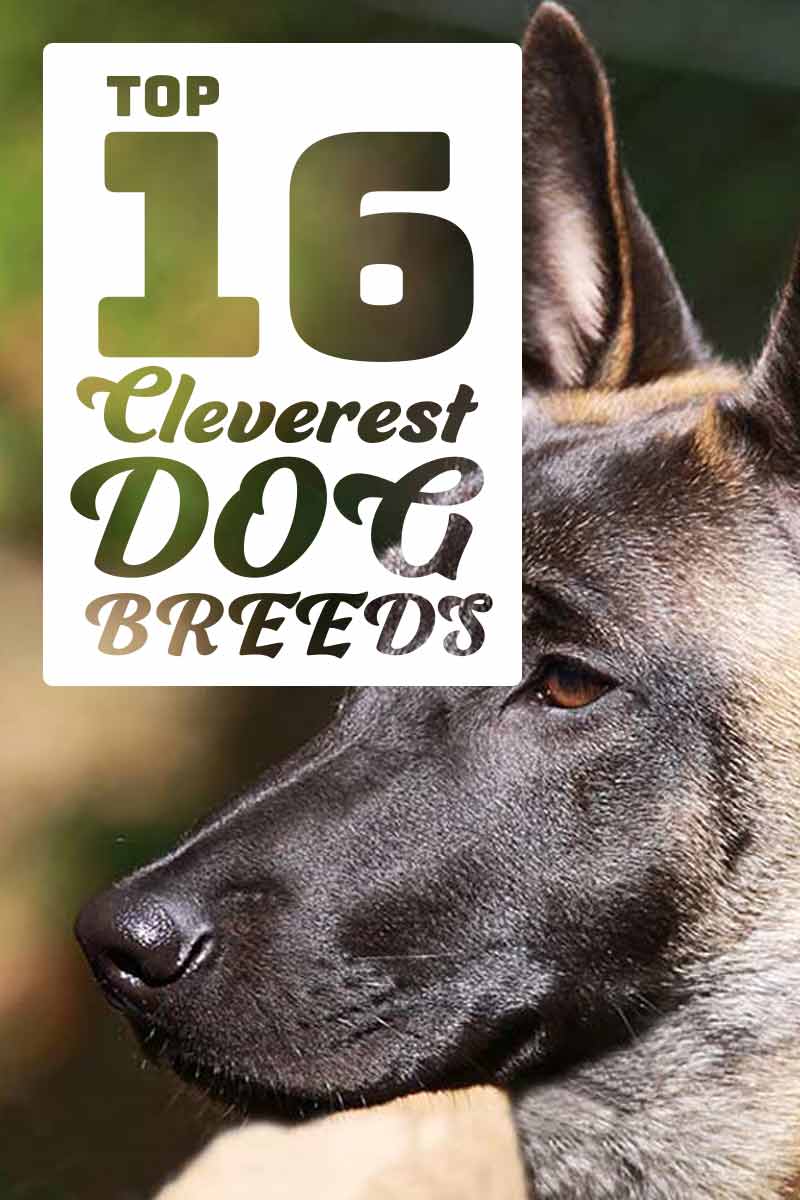 Herding dogs – Summary
Herding dog breeds are smart, energetic, hard working and loyal. They train easily and need to be thoroughly trained, and also kept busy to be happy.
These breeds are not the right dog for couch potatoes. They'll thrive in active families or with an enthusiastic trainer.
The short legged Corgis and some lines of German Shepherds are prone to conformational problems, but overall this is an athletic and healthy group of dogs.
Let us know if you are a fan of herding dogs, and tell us about your dog in the comments box below!
References and further reading
American Kennel Club. Belgian Tervuren. AKC.
American Kennel Club. Most popular dog breeds. AKC.
American Kennel Club. 2019. Herding group. AKC
Brooke, E. 2019. When a dog breed becomes a trend. Vox.
Priester, W.A. 1976. Canine intervertebral disc disease – occurrence by age, breed and sex among 8 117 cases. Thriogenology.
Spady, T.C. & Ostrander, E.A. 2008. Canine behavioral genetics: Pointing out the phenotypes and herding up the genes. American Journal of Human Genetics.