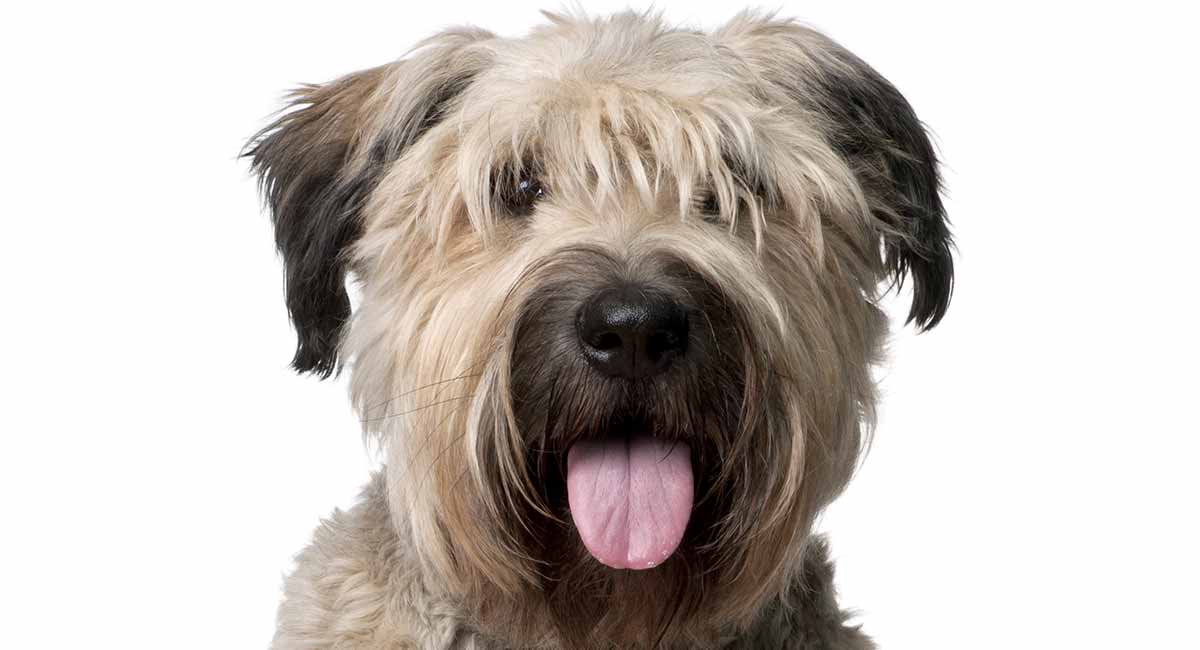 The Bouvier Des Flandres size together with their long, thick, shaggy coat gives the breed an impressive appearance. Despite their flowery sounding name, this is a breed known for hard work, fearlessness, and a calm nature – harking back to its roots as a faithful farm dog.
Let's find out more about this breed – its health, temperament, height and weight, and what kind of family it would best suit.
Contents
Where Does the Bouvier Des Flandres Come From?
Around the end of the 19th century in Belgium and France, local veterinarians noticed farm dogs in the area looked very similar to one another. These dogs were primarily used to herd cattle and pull carts.
In fact, when this dog was first noticed, there were 3 varieties of dog that were of a similar 'type'.
A smaller variety with upright ears, and two larger varieties, one of which may have been a cross with another smooth-haired dog found in the area.
It is not known how long the ancestors of these dogs dated back; they could indeed be quite ancient.
In time, a mixture of these dogs was the beginnings of the Bouvier we know today.
When the first world war broke out, these dogs were not needed so much for farming work. Rather, they were commandeered to work on the battlefield owing to their strength and fearlessness.
They worked largely as ambulance dogs, carrying stretchers on the battlefield. Sadly, many dogs lost their lives and the breed came close to the brink of extinction.
Thankfully, some of these early Bouviers were taken to other countries during this period, which played a part in saving the breed.
The breed made its way to America in the 1920s, and the breed was developed further both in America and in Europe, becoming the modern-day Bouvier Des Flandres.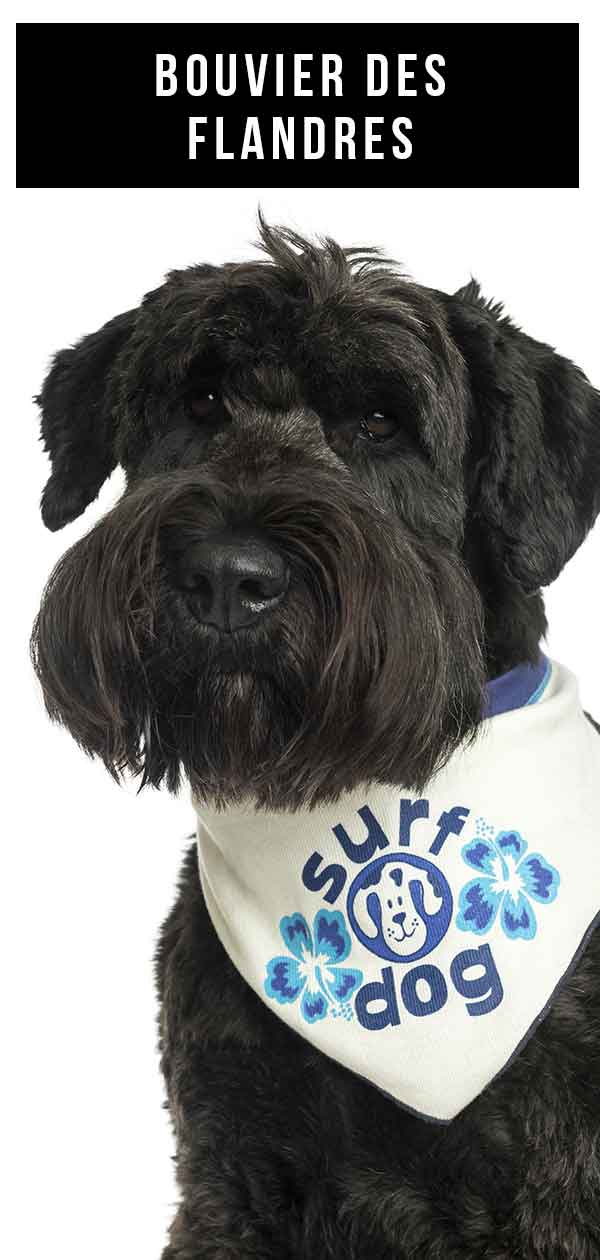 Fun Fact About the Bouvier Des Flandres
Ronald Regan and his wife Nancy were owners of a Bouvier Des Flandres named Lucky.
While Lucky lived at the White House for some years, in the end, her zest for life meant she was better suited to live on their ranch in California.
Lucky lived to the age of 10 and was buried at the ranch.
Bouvier Des Flandres Size And Appearance
The fully grown Bouvier Des Flandres is big, shaggy dog, standing from 23.5 to 27.5 inches at the withers.
They can weigh anywhere from 59 to 88 pounds, depending on size and gender.
They have a long, thick coat, ranging in color from fawn, to brindle, to black.
For showing, a small white star on the chest is permissible, however, some dogs may have larger white patches which is not a problem if your dog is a family pet.
An adult Bouvier Des Flandres is a sturdy and well-built dog, with a proportionate head, eyes that are neither sunken nor protruding, and have an intelligent expression.
Owing to their "beard", they are sometimes described as having a "menacing" expression on their face, although this could not be further from the truth when it comes to their true nature.
They are roughly as tall as they are long, and have muscular, powerful legs that are straight and sound.
Bouvier Des Flandres Temperament
The Bouvier is known as a generally calm and sensible dog.
In a study conducted in Sweden, out of 31 dog breeds, they ranked as one of the least aggressive, playful and social breeds. However, were more courageous and curious than other breeds.
While these dogs are not known to be aggressive, it must be remembered that they are large and powerful, and as such, training and socializing them from a young age is important.
Otherwise, their natural strength could make any behavioral problems an issue when they are fully grown.
Training Your Bouvier Des Flandres
One of the most important things to attend to when you bring a Bouvier into your family as a puppy is socialization.
They are not overly sociable with other dogs by nature and will grow to be large.
Socialization involves exposing your puppy to a variety of different situations from a young age. The pup learns that new experiences are nothing to be afraid of, resulting in a calm, relaxed dog when fully grown.
Similarly, training will be important, as that cute little fluffy puppy will grow to be a large and powerful dog. It is vital that you and your dog have a good relationship, and they will listen to your cues.
If you would like some more information on socializing your puppy, or how to train your dog, have a look at the articles below.
Socialization
Positive Training Methods
Bouvier Des Flandres Exercise
Adequate exercise is also a must.
Letting them roam in the yard will not be enough to keep them from becoming bored.
So, make sure you make the time to take them for a daily walk, and plan activities like agility trials, herding trials or even something as simple as tossing a frisbee about.
Otherwise, these dogs are known to be quite calm. So, if you put in the time and effort to socialize, train and exercise your Bouvier you will likely reap the rewards and have a calm, sensible, albeit large dog to share your life with.
Bouvier Des Flandres Health
The Bouvier is a relatively healthy breed, and in countries such as Britain, where the Bouvier population is quite small and breeders have taken great care with testing, genetic health concerns are quite rare.
The history of these dogs as a working breed means the primary focus was to breed a strong, hardy dog that is capable of work.
However, the breed is not completely immune and from data collected worldwide. Conditions that are likely to affect the Bouvier include:
Bloat, cataracts, glaucoma, elbow and hip dysplasia, ovarian cysts, pyometra, thyroid dysfunction and subaortic stenosis.
Being a less common breed, there is also a risk of inbreeding if breeders are not careful to bring variety into the gene pool.
Purebreds are less likely to suffer from inherited conditions if breeders are diligent with health testing.
Health testing ensures that fully grown dogs that carry these conditions are not used to breed, reducing the chances of the problem being passed on to the next generation.
If you would like to know more about Bouvier health and the tests that are available, you can find more information at the Bouvier Health Foundation.
Caring for Your Bouvier
As with any breed with a long coat, care needs to be taken that foreign objects don't get caught in the fur, and that the hair does not get matted or hide any skin conditions underneath.
The Bouvier's coat is prone to matting, as the undercoat gets caught in the coarser outer coat before it falls to the ground, creating a matted mess if the dog is not brushed thoroughly on a weekly basis.
You can expect one of these dogs to live from about 10 to 12 years.
As with any dog, be sure to provide them with a nutritionally balanced, high-quality diet.
Do Bouvier Des Flandres Make Good Family Dogs?
The Bouvier Des Flandres can make a great family pet for the right family. However, they are not a one size fits all dog.
They are big dogs and will need a lot of time and space in order to stay happy and healthy.
A fenced yard, while a must, is not enough to keep a Bouvier from becoming bored and over excitable.
Therefore, a daily walk and mental stimulation are important for these dogs.
Despite being large and sturdy, they will not do well living outside either. They crave time with their human family. They should be allowed inside where they will feel safe, secure, and part of the action.
Rescuing a Bouvier Des Flandres
Rescuing a dog is a great option if you are not in the position to raise a puppy. It is perfect if you would like to give a dog a second chance.
Make sure you have a good discussion with the rescue organization about your situation. This way, you can be sure to rescue a dog that will be a good fit with your family.
Bear in mind that some dogs are up for rescue because they had health or behavioral issues that the previous owner could not manage.
Sadly, some dogs were also mistreated or neglected.
As a result, time, patience and money may be required to get a rescue dog back on its feet.
But rest assured, any hard work is well worth the effort, as rescue dogs often appear acutely aware of the second chance they have been given and reward their new family with boundless love and gratitude.
Finding a Bouvier Des Flandres Puppy
When looking for a puppy of any breed, it is important that you purchase them from a reputable breeder who treated both the parents and puppies with love and care.
To ensure this is the case, be sure to visit the premises on which the puppy was born and raised.
Check that their living conditions are clean and dry, that they have room to play and roam, and that they have been allowed to bond with their mother and siblings.
Unfortunately, cute looking puppies in pet shop windows or puppies that are advertised online for enticingly cheap prices are often not raised in such ethical conditions.
Puppy mills are establishments created merely to make a quick buck off mass-produced puppies. Mother dogs and their babies are often neglected, sick and injured.
These dogs not only bear physical scars, but emotional ones as well. All too often they are not allowed time to play and bond with their canine family, leaving them a shell of the dog they deserve to grow into.
If you would like reliable information on how to choose a puppy, then check out our puppy search guide.
Raising A Bouvier Des Flandres Puppy
Training and socialization are vital for this breed. Despite their affable nature, they are big dogs and are not always the most sociable breed with other dogs.
Get started with training as early as possible.
It can be hard to know where to start when training a puppy, so you will find these guides helpful:
Pros and Cons of Getting a Bouvier Des Flandres
Cons:
Large dog. Will need extra supervision around children owing to their size.
Long, shaggy coat that will need regular grooming
Will need time and patience put into training and exercise.
Pros: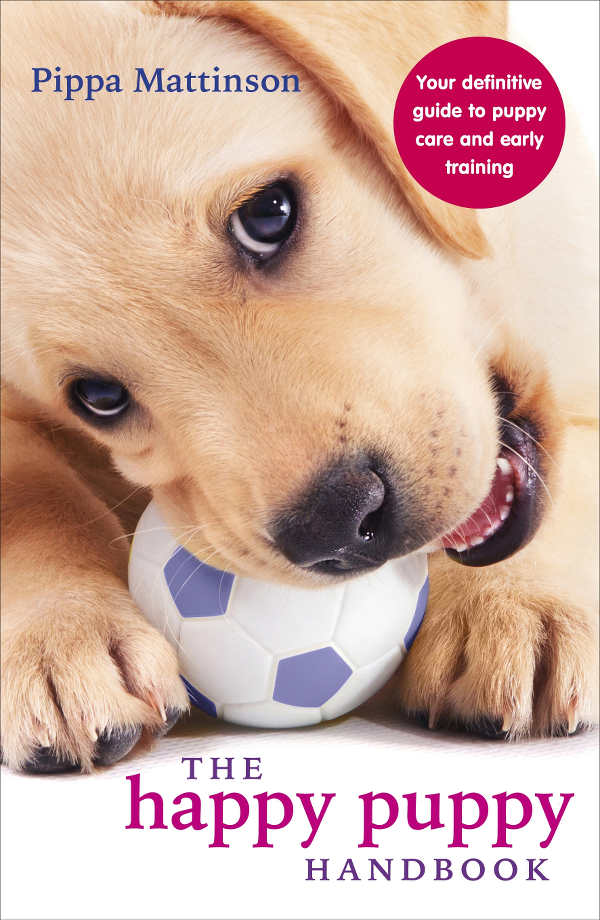 Loyal and courageous nature
Hard-working and trainable
Not known to be aggressive
Similar Breeds
If you like the sound of the Bouvier Des Flandres, but your mind is not completely made up, then here is a list of other breeds that you may also like which share some similar characteristics.
Giant Schnauzer
Dutch Shepherd
Newfoundland
Briard
Bouvier Des Flandres Rescues
Here is a list of rescue organizations dedicated to the Bouvier. If you of any others, please feel free to let us know about them in the comments section below.
American Bouvier Rescue League
Bouvier Rescue UK
Bouvier Rescue of Ontario
If there is no Bouvier specific rescue organization near you, try contacting a reputable rescue organization which may know of any Bouviers in need of a hand.
Sometimes breeders or breed clubs will also take in dogs that need a new home.
Is A Bouvier Des Flandres Right for Me?
The Bouvier is a lovable dog. However, it is only fair on both you and the dog that you have the right home to accommodate it.
This dog will grow big, and will need training socialization when young, and exercise throughout its life.
They will want to spend time with their human family. You will have to be sure you are prepared to let a big, hairy dog into your home (literally) and your heart!
Remember too that they will need weekly grooming to keep all that fur under control.
If you feel you have the time and space to give this dog the life it deserves, then you will be in for a treat with the company of a Bouvier.
References
The American Bouvier Des Flandres Club
The Bouvier Des Flandres Club of Great Britain
Svartberg, K., "Breed Typical Behavior in Dogs – Historical Remnants or Recent Constructs?" Applied Animal Behavior Science, 2006
Peeters, M.E., et. al, "Dysphagia-associated Muscular Dystrophy: A Familial Trait in the Bouvier Des Flandres" The Veterinary Record, 1994