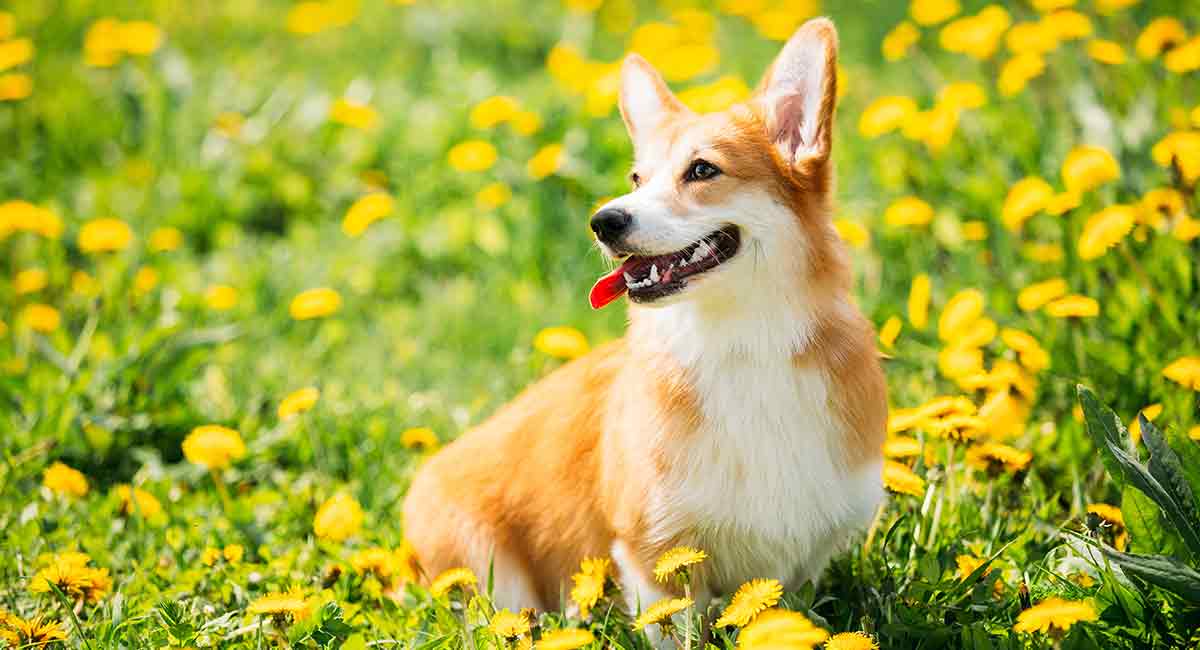 The average Corgi lifespan is twelve years old. This compares well with the average lifespan across all purebred dogs, which stands at eleven years. However, their unique shape brings some serious health issues than can reduce their quality of life, as well as their individual life expectancy. Fortunately, there is still a lot which can be done to guarantee your puppy enjoys good health and stays with you for as long as possible.
Contents
Average Corgi Lifespan
The good news is that, like most small dogs, your Corgi should be around for quite some time. They live between 12 and 15 years, with females exceeding males by one or two years.
Remember, though, there are two types of Corgi – the Cardigan Welsh Corgi and the Pembroke Welsh Corgi. Fortunately, one large survey revealed that both breeds of Corgi had roughly the same average lifespans. The median death age for Cardigans was 12 years, 2 months and the Pembroke 12 years and 3 months.
The survey also revealed that the two breeds had similar main causes of death, notably cancer and old age. But a higher percentage of Pembroke Welsh Corgi died of kidney failure or a urethral obstruction than the Cardigan.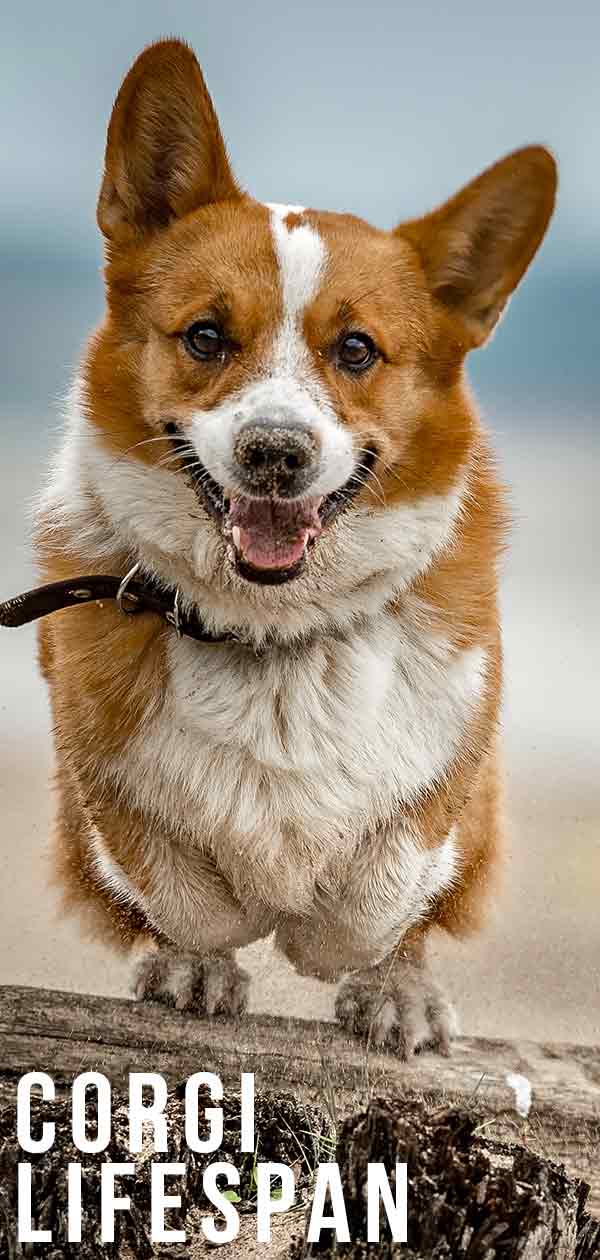 Size vs Mortality
Large mammals such as elephants generally live longer than smaller animals like mice. In the canine world, the relationship between size and lifespan is reversed. Smaller dog breeds have a far longer lifespan than larger dog breeds.
This might be because large dogs grow at a much faster rate than smaller dogs. Therefore, they age more quickly and develop age-related diseases far sooner than their smaller counterparts. As a result, the rapid cell growth that occurs in big dogs makes them much more vulnerable to death from cancer.
In addition to this, their internal organs do not have to work so hard to function compared to a larger sized dog.
Medium-sized dogs live an average of 10 to 13 years with large dogs averaging 8 to 10 years. The age range for small dog breeds is between 10 to 15 years with some living up to 18 years and longer.
The Impact Of Inbreeding
Purebred puppies have all kinds of benefits, like predictable looks and personalities. But they do have their downsides, and one of those is a small gene pool. Registering dogs and only breeding within the group will always mean that hidden recessive genetic disorders are more likely to appear. Mixed breed dogs and mutts often outlive pedigrees by over a year.
Corgi Health Concerns
The average Corgi is generally a healthy dog, but they are prone to specific health issues that can affect their quality of life. Because of their long heavy bodies and short legs, it is no surprise that the Corgi has an array of back problems as well as mobility issues.
As the Corgi has achondroplasia, a form of dwarfism, they are incredibly susceptible to intervertebral disc disease (IVDD). This occurs when the spine is ruptured or herniated, causing pain, inflammation, and sometimes paralysis.
Degenerative Myelopathy
Degenerative myelopathy is a progressive disease that affects the spinal cord, mainly in older Corgis, and is incurable. The condition starts with a loss of coordination in the back legs and then the forelegs until they can no longer walk.
Although there is no pain, as the disease progresses the dog is unable to function or behave normally, which can affect the quality of their life. Currently, there is no treatment available, but a DNA test can be carried out to identify dogs that carry the gene.
Hip Dysplasia
Hip dysplasia is where the thigh bone of the dog does not fit properly into the hip joint. It is an inherited condition. The symptoms are like those seen in severe canine arthritis. A good breeder will provide tests for this condition.
Von Willebrand Disease
A dog inheriting this condition often has bleeding gums and nose bleeds, as their blood is unable to clot. Corgis diagnosed with this disease are usually between three and five years old. Although there is no cure, DNA testing is available.
Obesity and Dental Problems
A Corgi needs 50 to 75% meat protein in their diet, keeping a close eye on calories as they are prone to weight gain. Dogs that have smaller portions each day than the average pup is given do tend to live longer. A study revealed that dogs who ate 25% less than the recommended amount for their size lived an average of two years longer than pooches fed more.
Because of their dwarf frames and short legs, extra weight can have an even more detrimental effect on Corgis and lead to:
joint issues
heart disease
breathing difficulties
skin and hair problems.
Corgis are also prone to dental issues, which if not treated can result in the loss of teeth. Dental problems can also put your pup in danger of damaging the heart, kidneys, liver, and joints. Regular brushing of the teeth, feeding high-quality food, and giving dental chews can help keep your Corgi's teeth in tip-top condition.
How to Help Your Corgi Live Longer
The Corgi was a working dog, herding cattle all day, so has high energy levels. It is vital that they have two daily walks, especially as they are prone to weight gain. They should also get the chance to have a run off the leash sometimes. Training your pup to be obedient with an excellent recall helps keep them safe.
They also require mental stimulation to prevent boredom. Provide games, go to dog training classes, play ball, and socialize with other dogs at the park or doggy day care.
Vaccinating your Corgi will protect them from various conditions that could otherwise be life-threatening. Yearly check-ups with the vet will help to catch any diseases early and ensure your pup stays healthy and potentially help you increase the Corgi lifespan.